This post may contain affiliate links. As an Amazon Associate I earn from qualifying purchases.
* * *
Dubrovnik had three strikes against it before I even arrived. It's crowded, it's expensive, it's gentrified toward tourists. I wasn't even sure there was anything to do there other than walk around and take pictures. In any other year, the rule would be three strikes and you're out: a city not worth my time. But this year isn't any other year. 2021, to put it mildly, has been weird.
Perhaps because of that, I let FOMO take over. I was sick of missing out on everything, cancelling plans and not living life. Suddenly, the hundreds of stories I had heard about how great Dubrovnik is made me think twice. Was Dubrovnik worth it? Was it as great as everyone says?
Since I couldn't make up my mind, I set up a quick poll on Twitter. People I respect and trust the opinions of consistently voted in Dubrovnik's favor. They said it was awesome, they said I'd love it, they said I should go. With time to spare after my Montenegro trip, I succombed to peer pressure and blocked off time for Dubrovnik before flying home. It was worth a chance.
While I'm not an expert — how can you be, after only a single short visit? — I now have a concrete opinion on whether or not Dubrovnik is worth visiting. There's no more wishy-washy indecision here!
First Impressions of Dubrovnik
My first view of Dubrovnik was looking down onto the city. We had driven north from Montenegro and pulled off at an overlook just south of the city.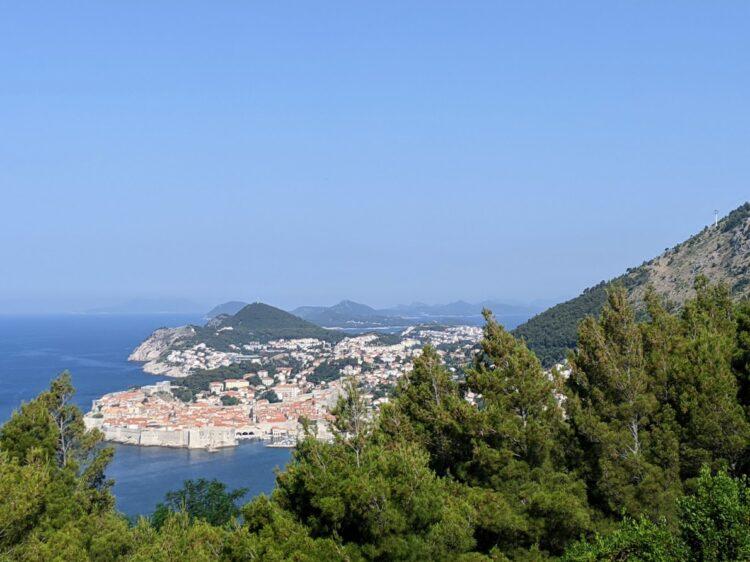 "That's it? It's smaller than I expected." Everything I'd read prior to our visit made Dubrovnik's walled Old Town seem substantially larger than Kotor's. And it was larger, but that doesn't mean it was large. From above, it looked like I could walk from end-to-end in half an hour.
But as they say, size isn't everything. For all I knew, Old Town was jam-packed with things to do and see. So after taking a photo, we piled back in the car for the last ten minutes to our hotel. We'd find out soon enough.
Dubrovnik Knows Hospitality
Eight years ago, on my first trip to Croatia (my how time flies!), I remarked that the locals were split down the middle between those actively welcoming guests and those annoyed by an influx of tourists. I couldn't blame them. I can't imagine having to constantly share my city.
But we received the warmest of welcomes when we checked into our Dubrovnik guesthouse. The owners went out of their way to make sure we knew everything we needed to get around, provided lots of extra little recommendations, and chatted like we were old friends. We were offered a shot of rakija — never mind that it was still morning — and gifted a bottle of wine to enjoy on our own later.
While you never know if a single family is representative of a culture as a whole, this was just the start. Despite the fact that tourists have overrun the city of Dubrovnik, everyone we met was friendly. I have to admit, I was shocked. My patience wouldn't have been nearly as pleasant 🙂
Inside City Walls
With so little time in Dubrovnik, we wanted to head straight to the Old Town.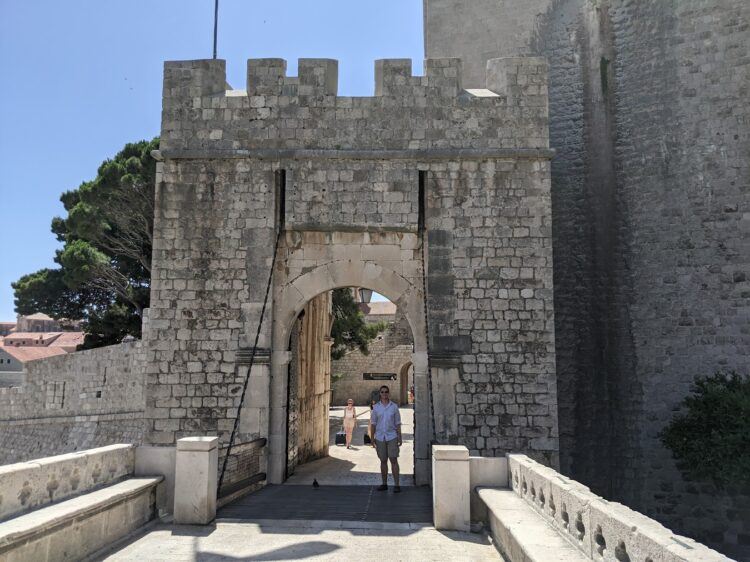 Every corner, every bend brought us a new view of the city. Dubrovnik is as impressive as they say.
It's simply beautiful. Your eye is drawn everywhere, to admire the architecture and wonder how on earth somewhere so eye-catching was built hundreds of years ago and managed to survive all number of natural disasters (seriously, the number of historical earthquakes Dubrovnik's been through is mind-boggling).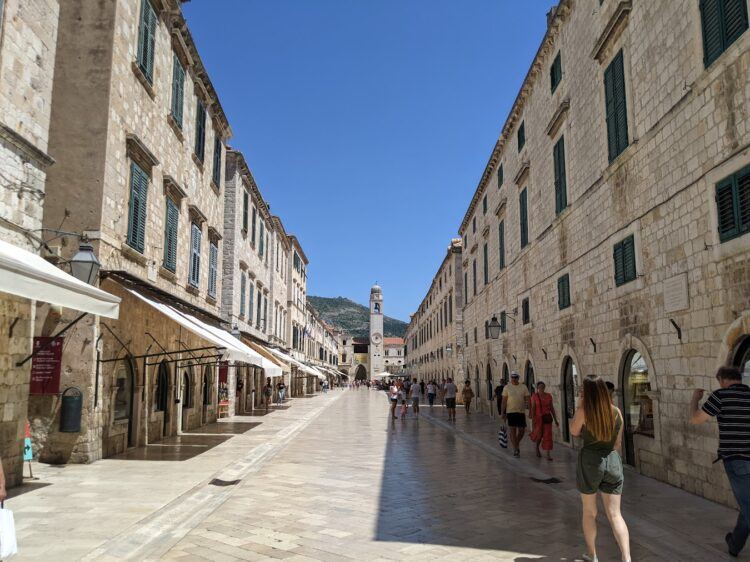 Wide-eyed, we did what every first-time visitor to Dubrovnik does: wandered around in amazement, getting lost in alleys and on staircases (so many stairs and hills), and taking photos.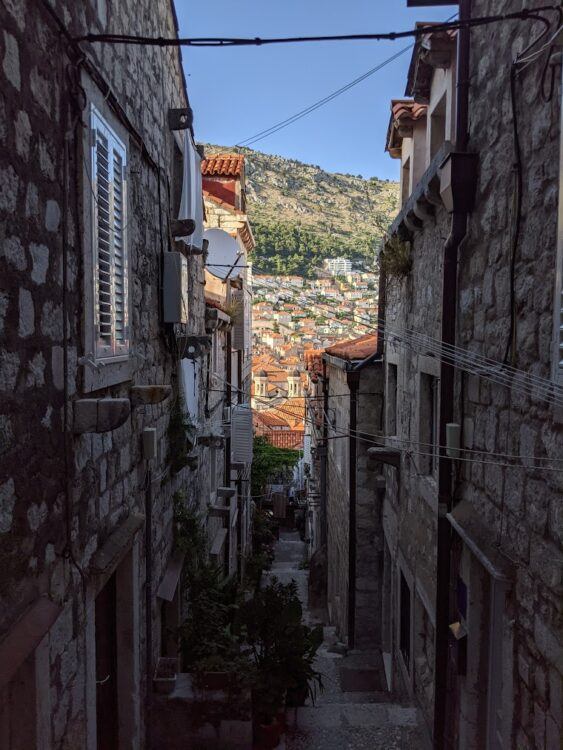 There was so much to look at that we almost forgot that every third building was a Game of Thrones souvenir shop.
We walked inside the walls and again outside the walls, taking in views of the Adriatic on one side and hills on the other. But honestly, for me, Dubrovnik was all about the architecture. After coming from the Bay of Kotor, the natural scenery was second string.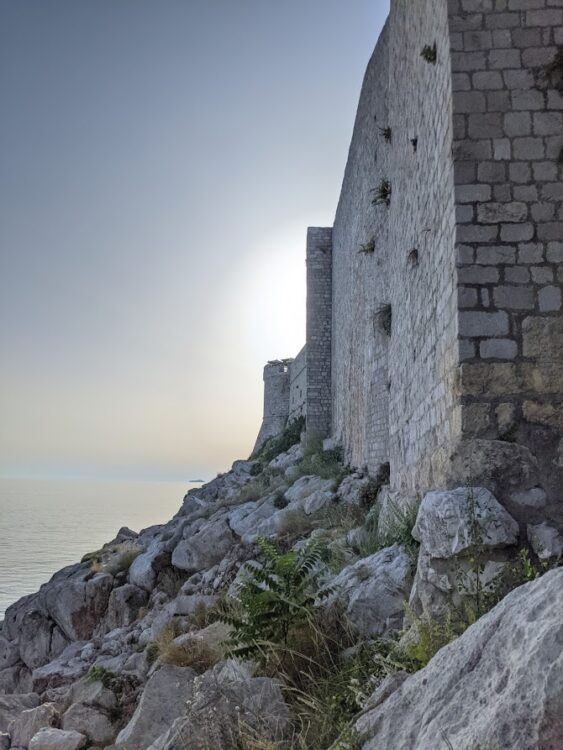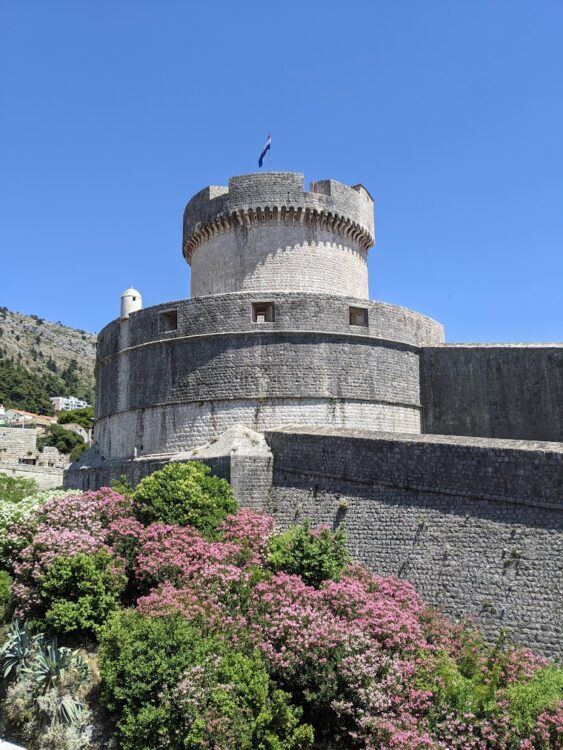 Life in Dubrovnik
Originally, we had intended to include a guided walking tour to learn more of Dubrovnik's story. It ended up being cancelled at the last minute: no reason was officially given, but I suspect it was because the guide wanted to watch the Croatia-Italy football game. The entire rest of the city was watching intently!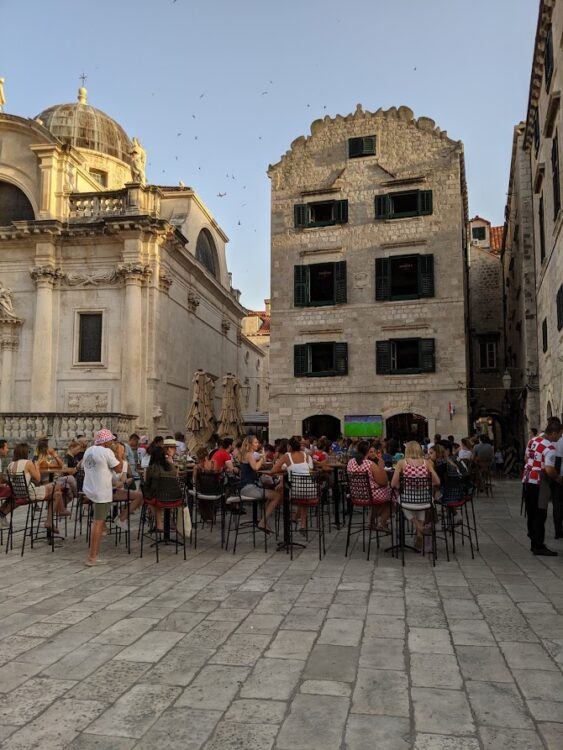 This ended up being a blessing. We grabbed a book and map to lead ourselves on a self-guided walk instead, which was far less organized with a whole lot of wrong turns (and awesome, unexpected finds).
But mostly, we allowed ourselves to spy on sports fans (a.k.a. everyone) and get caught up in the excitement. After all, it's a lot more fun to join the party.
Special Shout-Out to the Oysters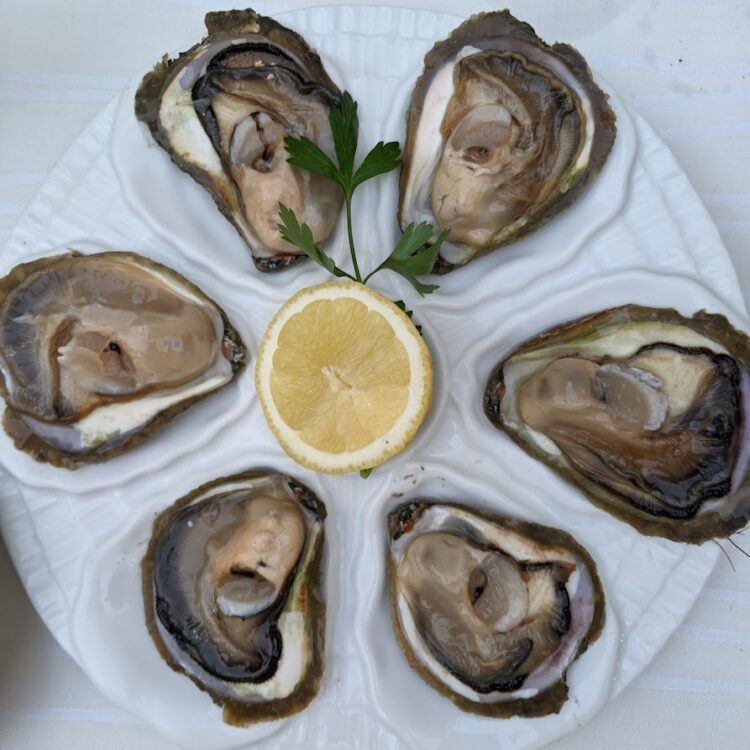 Before we even arrived in Dubrovnik, my husband and I had made a pact to gorge ourselves on seafood. That's what the Dalmatian coast does best and we intended to indulge.
Our first meal was casual, but tasty: fried squid and an octopus burger at Barba, a counter-service restaurant a block or two off the main drag. It was a shame the portion sizes were huge because we would've loved to order and sample more while washing it down with the best beer of the week, Barba's Pale Ale (the craft brewery is actually from Split, a few hours north of Dubrovnik).
But it was our second meal that stole the show. Our dinner at Proto was delicious without being pretentious, with friendly, attentive service. Everything was perfectly executed: it was a restaurant I wouldn't mind eating at again and again. Yes, it was expensive — like every restaurant in Dubrovnik — but I don't mind when the quality matches the price.
What We Didn't Do in Dubrovnik
Dubrovnik has more to offer than stylistic buildings and sublime seafood but we didn't do any of it and I have no regrets. There are beaches, boat trips, a hillside cable car, some small museums, cafes galore. We already had a taster of these activities in Montenegro, with half the crowds and half the cost. To me, it didn't bear repeating though it may appeal to you.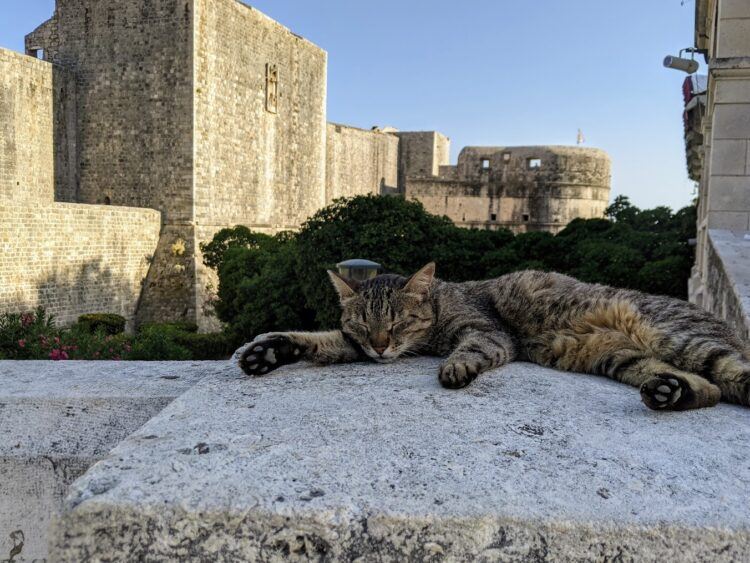 It's Worth Mentioning How Lucky We Were
We got lucky — really lucky — with a lack of crowds during our trip. It wasn't a coincidence; tourism was down because of covid and we purposely jumped into a June trip instead of allowing ourselves more time to organize for July or August. Sure enough, everyone we spoke to was gearing up for the tourist season with remarks about how busy the books were with upcoming reservations at hotels, restaurants and taxi services. Cruise ships were resuming schedules, too.
I had a great time in Dubrovnik but all of that comes with a grain of salt. I wouldn't have been nearly as happy rubbing shoulders with ten thousand other tourists (and yes, there can literally be that many on a busy day).
I'm grateful for this privilege but a lightly-visited city won't be repeatable for you…at least not if you'd like to visit from June through September. Set your expectations accordingly.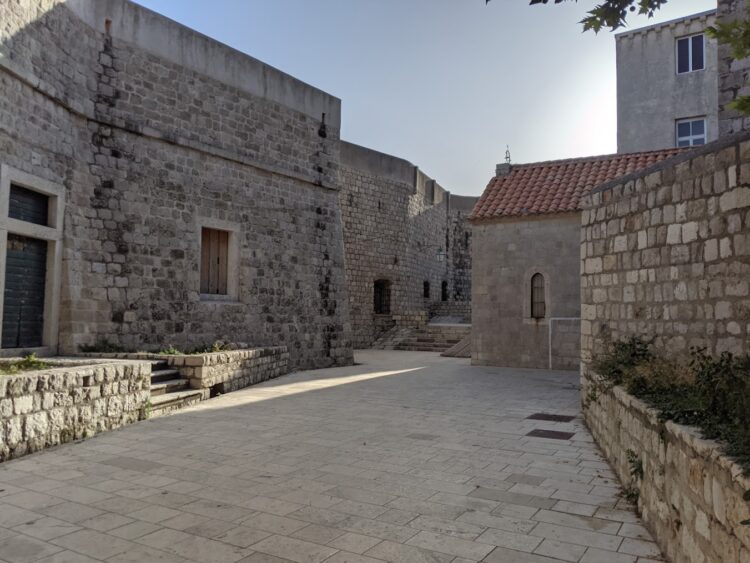 Overall, Is Dubrovnik Worth Visiting?
Yes, Dubrovnik is worth visiting.
I wouldn't go to Croatia JUST for Dubrovnik, but if you're in the neighborhood anyway it makes a great addition to your itinerary. I haven't been anywhere like it in the world.
It's smaller than I expected without a long list of must-do activities but the atmosphere more than makes up for it. I was content with one night there and thought it was long enough to take in a city almost too perfect to be real. You'll need longer if you anticipate adding in activities outside of the city walls or scheduling day trips.
For what it's worth, after dark was the best time of all so if time is short, squeeze it in from 4pm to 10am to make sure you get those enchanting evening hours.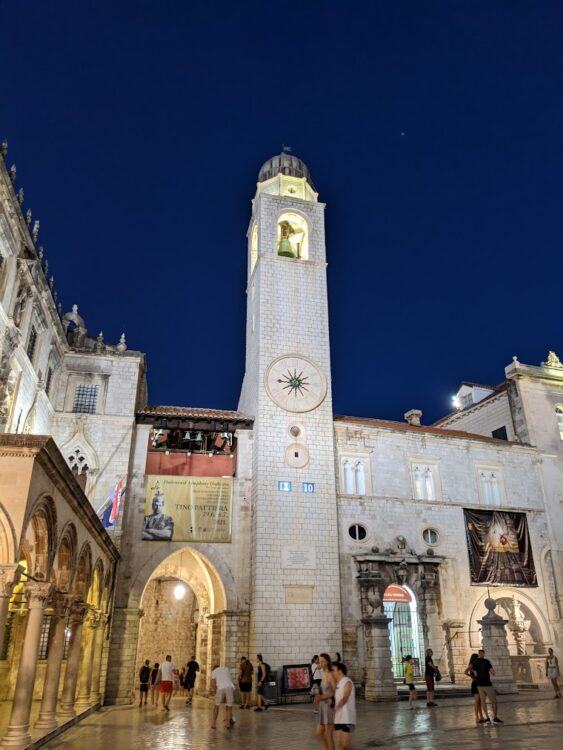 Where to Stay in Dubrovnik
My top tip is to stay outside the city walls. Otherwise, you'll be dragging suitcases through narrow alleys and up and down staircases in pedestrian-only areas. It's so much easier to have a car drop you off at your hotel door and then walk into town empty-handed.
On short trips, staying close is clutch. These are my recommendations:
Villa Ankora – where we stayed – These family-run apartments have everything you need, including a fully stocked kitchen, strong air conditioning, and reliable wi-fi. It took us about 10 minutes to walk into the Old Town (let's call it 8 going downhill and 12 coming back up!).
Villa Glavic – where I wanted to stay – Everyone raves about the views from here and you'll also have access to their more expensive partner hotel which has a pool and beach club, Grand Villa Argentina, across the street. I couldn't justify the price of either knowing that we'd be out exploring and not staying on-site.
Hilton Imperial – The Hilton gets good reviews, including from people I know personally, and has a really convenient location. Prices are high but if you have reward points to spare, this is the best-located chain hotel in the Dubrovnik area.
If you're there for multiple nights, staying farther out of town to be closer to beaches (or have resort amenities) might make more sense.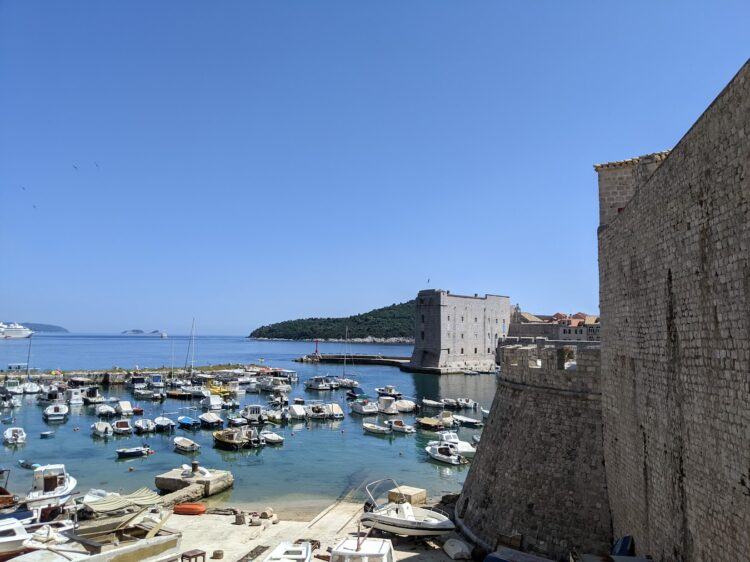 And the Million Dollar Question: Would I Go Back?
I enjoyed Dubrovnik and I'm really glad I went, but I don't feel compelled to return. Although the city is lovely — and definitely not overrated — it didn't call out to me. Dubrovnik is one of those places you have to see to believe but now that I've seen it, I don't have a reason to return.
Then again, I only spent 24 hours there and for all I know, there are secret, amazing places hiding in less-visited corners. They'll remain a mystery for me, but that doesn't mean you need to breeze through the same way. If Dubrovnik appeals to you, by all means…go! At the very least, I can assure you it's beautiful.
Read More About the Balkans