This post may contain affiliate links. As an Amazon Associate I earn from qualifying purchases.
* * *
Perched on the top of a hill, the village of Motovun Croatia is a scene straight out of a storybook. It's surrounded by medieval walls that overlook vineyards, each direction more beautiful than the last.
While most tourists flock to the beach and seaside towns in Istria, Motovun is just far enough to remain an untouched oasis. It's the type of city where you plan to stop for lunch and end up staying the night on a last-minute whim.
That's what I'd call a pleasant surprise.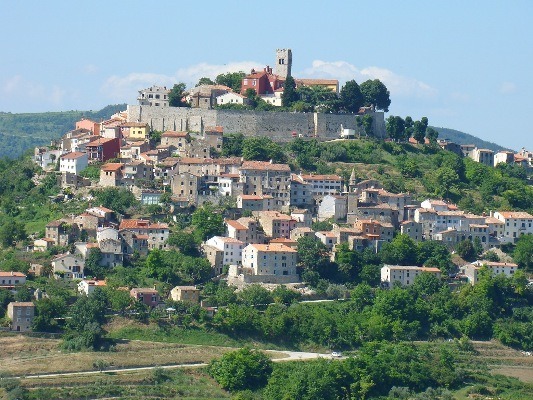 The reasons most travelers — myself included — don't plan on spending more than an afternoon is because Motovun seems like a small town. There are less than a thousand residents, no major attractions, and you can walk from one end to the other in forty-five minutes. Unless you stop and taste every single free sample of schnapps offered, you'll be in and out of town in two or three hours.
Despite the lack of things to do, this is a town where people come to stay awhile. In fact, I'd say the lack of things to do is the entire reason people come. This is Croatia's home of la dolce vita. The Mediterranean climate is ideal and the views can't be beat.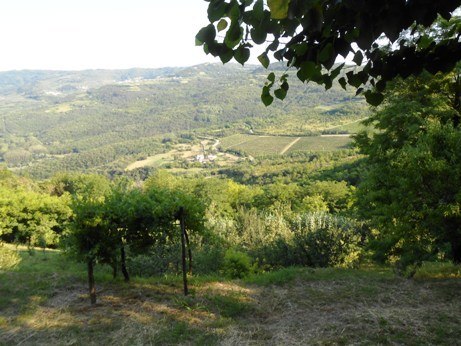 What makes Motovun so magical?
Once you walk in the galleries to explore artisan works and edible goodies, you'll stop to chat with shopkeepers. Next thing you'll know, you'll be welcomed like an old friend, treated to insight into what makes these local goods unique, and you'll discover what everyone in Istria already knows. There's nowhere quite like Motovun.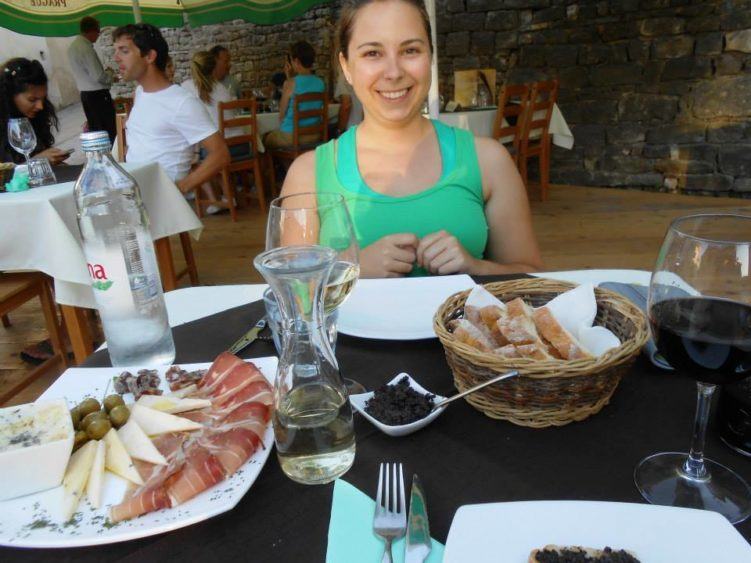 Istria's largest culinary claim to fame is being home to incredibly fresh and abundant truffles.
Black truffles are harvested in this area year-round and offered for sale in shops in their whole form as well as in oils, salts, and sauces. Every restaurant in this region will offer truffles in several of their dishes and if a frugal traveler in her 20s can afford these meals, anyone can.
We sampled black truffles in cheese, tapenades, and pasta dishes. Everything was delicious. White truffles, which are rare, expensive, and highly-treasured are only harvested during a short season in the fall. I'll have to return.
Even someone who doesn't care for the distinct earthy flavor of truffles will enjoy the food in Motovun.
I fell in love with their olives (even more so than the Moroccan ones I had earlier this year) and the local oil is ranked among the best in the world. Like neighboring Italy, rich prosciuttos and salty cheeses are mouth-watering whether as a stand-alone course or as ingredients within an entree.
The homemade pastas and breads we sampled were incredible and I heard wonderful things about the polenta and risotto as well.
Also giving Tuscany a run for its money are the local wines.
We sampled a few varietals, with our favorites being those (not surprisingly) made from indigenous grapes. The white Malvasia wines were well-rounded, often with a peach flavor and subtle floral notes. The red Terans were robust, fruit flavors and had a slightly higher acidity. I didn't care for them when drinking a glass on its own, but they were perfect when paired with food. Even once we left Motovun, it became my varietal of choice elsewhere in Istria.
I won't tell you not to go to Tuscany because there's obviously food, wine, scenery, and delightful attractions there as well. However, the inland hill towns of Istria make a wonderful alternative if you're looking for somewhere just a bit different.
If you go, though, make sure you invite me for dinner.
Anyone looking for some quality relaxation would be happy with a night or two here.
There are many places to sit on a patio and watch the world slowly go by and still others to sit back with a good book. Others may prefer to venture out for day trips. Renting bicycles past the olive groves would be a scenic way to get some exercise, you can watch artists work in their Grožnjan studios, and even the coastline is just over an hour away.
Truly, though, those who want to spend several days here don't do it just for the scenery and laid-back activities. There are dozens of places to do that, but not as many that also offer incredible food. Stay for awhile to eat several delicious meals and try all of the local wines.
Motovun surprised me with how much I loved it (in fact, it became my favorite town in Croatia).
MORE INFO TO PLAN YOUR TRIP
Need a hotel in Motovun? Don't miss the sunsets from the terrace at B&B Villa Borgo.

Love culinary gifts? Protect your wine and olive oil bottles in your luggage with these padded protectors.

Don't have a travel insurance policy yet? My pick is always RoamRight.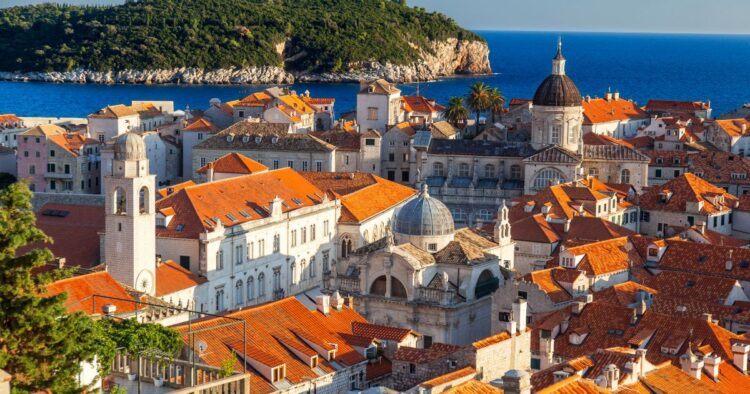 Dubrovnik had three strikes against it before I even arrived. It's crowded, it's expensive, it's…