This post may contain affiliate links. As an Amazon Associate I earn from qualifying purchases.
* * *
If you read any travel guides, you'll find suggestions on which beaches to visit in Istria. Most likely, these are beaches within walking distance of town (or maybe just outside it). Even the "best" beaches near Rovinj weren't that great as they were very narrow, crowded, and sometimes had garbage bobbing in the water. However, all the locals head to Kamenjak National Park, south of Pula and near Premantura. While out of the way, it offered nice scenery, warm water, and a vibrant local scene.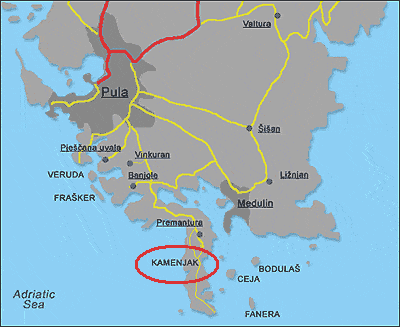 Before you start planning your Croatian beach vacation, let me give you the heads up that toplessness is accepted at Istrian beaches. These are family-friendly atmospheres and topless women will be in the minority, but it's worth noting if you're uncomfortable with that. Additionally, Istria is a very popular destination for naturists. While you won't find nude beaches directly next to major parking lots, you may stumble upon one by strolling down the beach to semi-secluded coves. Look for signs stating FKK (freikörperkultur or "free body culture").
The entrance to Kamenjak National Park is a few miles south of Pula and is well signed. However, the park itself is huge, offering nearly 30km of coastline, so it can take awhile to navigate through the park to where you want to be. Each cove, inlet, or small island has a different feel, so ask around if you're looking for a specific experience. While some coves may be pebbled, most beaches have flat rocks good for sunning (bring your own towel or mat).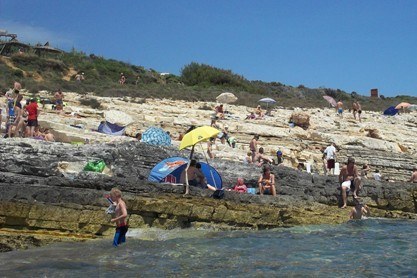 We chose a popular area near the Safari Bar. You'll find affordable plates of fried sardines or grilled squid with homemade sangria to eat in thatched palapas when you need some shade. There's also wooden swings and a watchtower to add to the Robinson Crusoe feel.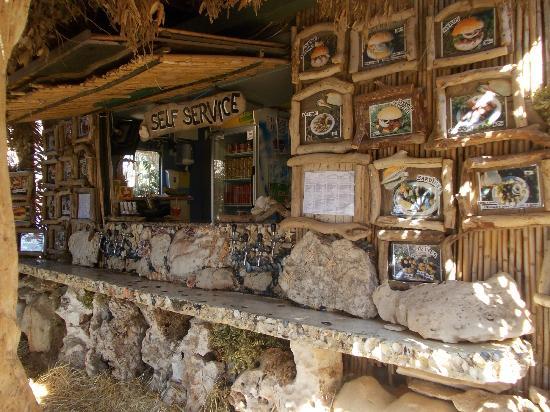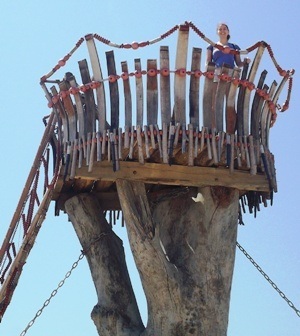 We camped out in the thick of things, spending most of our time in the warm, clear water. When we needed to dry off, the rocky pools were great places to look for anemone and other creatures.
Other stretches of coastline offered lessons and/or rentals for water sports. Windsurfing is especially popular here, but you'll find other options as well like stand-up paddleboarding or kayaking. True daredevils can take the plunge into the water below (I preferred just to watch).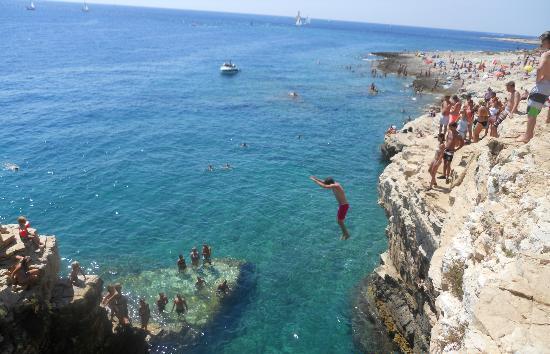 It is by far easiest to get to the park if you have your own car, though you could otherwise get there by taking bus #28 from Pula to Premantura and then renting a bike for the rest of the journey into the park. If you enter with a vehicle, you'll need some kuna for parking, but it's an inexpensive and fun way to spend a sunny day.
This isn't a white sand beach like the Caribbean, but the rocky cliffs are gorgeous and the water's perfect for swimming. All in all, I'm glad we made the detour to Kamenjak rather than limiting ourselves to places closer to town where the tourists hang out.
Read More About Croatia:
* * *
Join sightDOING on Facebook, Twitter, and Instagram for more travel conversation, articles, deals, and photos from around the globe!