This post may contain affiliate links. As an Amazon Associate I earn from qualifying purchases.
* * *
"Vodka is good medicine," Kamila assured me. She was standing in front of the Old Synagogue with a plate of bread and a tea cup of salt in her hands before my Krakow vodka tour. The bread is a symbol of hospitality; the salt, prosperity. In Poland, welcoming with bread and salt is an old tradition, one I thought was reserved for Polish weddings. I should know: I was married at Buffalo's Polish Falcon Club.
Despite being proud of my Polish heritage, I knew nothing about vodka customs. Curious about something that's such a big part of local life, I signed up for a vodka tour in Krakow.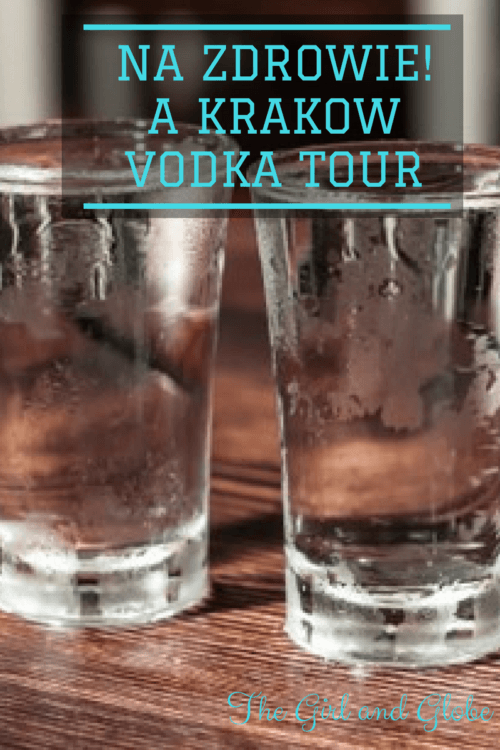 As luck would have it, the night of my tour, I was miserable from food poisoning. I hadn't eaten all day and suddenly I had the prospect of six shots of vodka in front of me. That may just be the official definition of stupidity. Even under the best of circumstances, I don't ordinarily drink liquor.
And so, I explained to my guides that I was just tagging along for cultural context. Drinking on an empty stomach is NEVER a good idea.
Except in Poland, peer pressure always wins when it comes to vodka. Off we went for a dose of good medicine.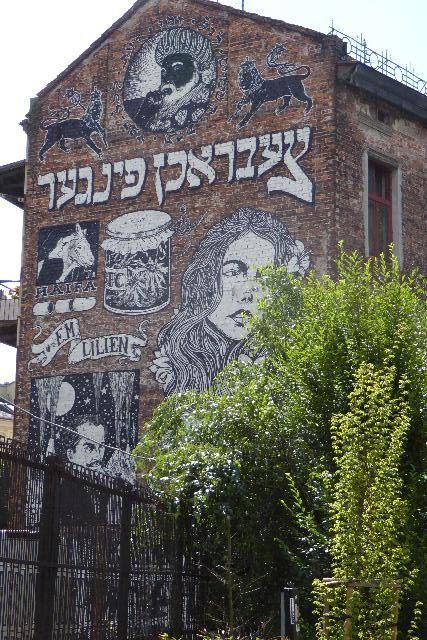 Our first stop was in the cellar of Zalewajka, a restaurant named after a sour soup that is a godsend for sour stomaches. There was hope after all!
Instead of soup, though, there's a plate of herring served Krakow style. It seemed a stretch to start my night with pickled fish covered in sour cream and raw onion, but it's the secret to drinking vodka. You need the fat to slow down the absorption of alcohol. That's why the Poles can drink all night without any sign of a hangover. All I know is it sure beats a Denny's Grand Slam at 3am.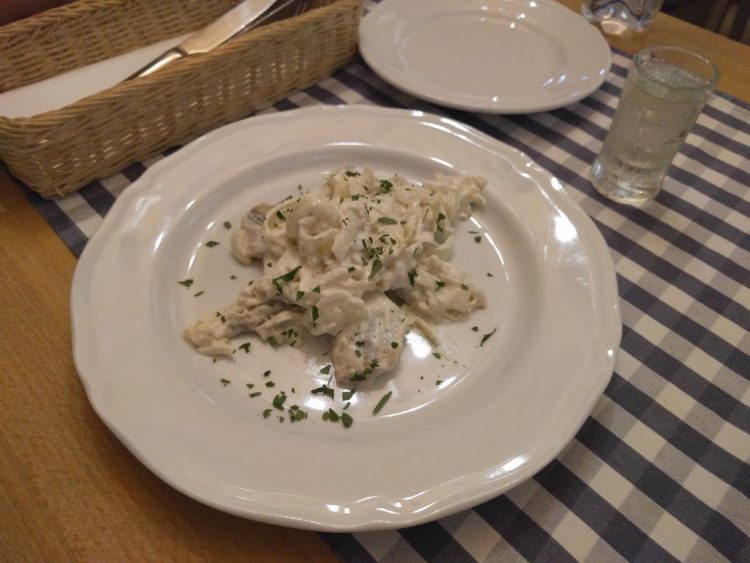 Finally we're ready for our first Krakow vodka tasting. It's Żubrówka, one I've had before thanks to my crazy Polish family. This specialty is infused with a long blade of bison grass (grown in Poland!), giving it a slightly herbal flavor. What I didn't know is the version sold in the United States isn't exactly the same. The real thing has coumarin in it, so the vodka is banned by the FDA for possible blood thinning effects.
But we're in Poland, so the only reasonable option is to take it like a pro.
"Do dna i na zdrowie!" To the bottom, and to health! Vodka's so strong that just saying cheers won't suffice.
The burn's not so bad for a novice like me, even though I'm more used to drinking my Zubrowka mixed with apple juice and cinnamon. Thinking I can re-gain some respect, I proclaim my love for these apple pie flavored tatanka cocktails.
Think again. Poles only drink vodka in exactly one way: ice cold shots. One shot after another, in a social setting, at almost any time of day.
The zubrowka wasn't so bad, but we were already moving to the next stop. Immediately, we were transported to the highlands of Zakopane. The wooden walls and lacy tablecloths seemed too cozy for taking vodka shots. We dug into oscypek, the same smoked sheep's cheese I ate from street vendors the week before in the mountains.
This time, our snack is paired with Wyborowa. Like most Polish vodkas, it's made with rye which is triple as efficient as potatoes when it comes to production. My nose burns from the scent alone while my brain cringes at the thought of 80-proof alcohol. I'm such a light weight.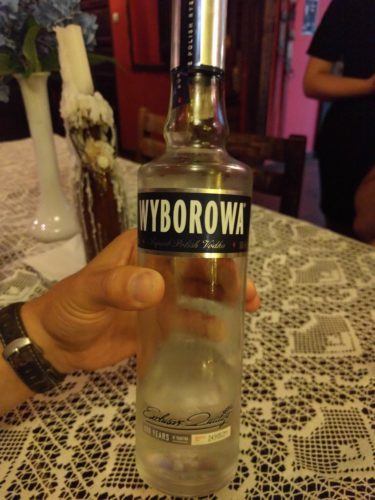 I taste it, a complete faux pas when it comes to Polish vodka. Just a drop on the tongue reminded me of prior drinking experiences. The wrinkle on my face when I tried my first martini. A wedding when taking a shot led to laughter and dancing. Toasting to travels with a cousin I visited in Laos.
But it also reminded me of a burn I don't enjoy, so I left it undrank. My husband tips the shot glass on my behalf, saying "do dna" once again. He's Polish through and through.
Our next stop is double the fun. The organic vodka pub looks and feels a lot more like a hipster bar. Kazimierz, the Old Jewish Quarter, is Krakow's Brooklyn. This time, our vodka comes flavored. One shot is a caramel and vanilla concoction reminiscent of a cupcake. I'm afraid to shoot it because I know it will be dangerously delicious. The second is honey-lemon, again coyingly sweet despite the high ABV.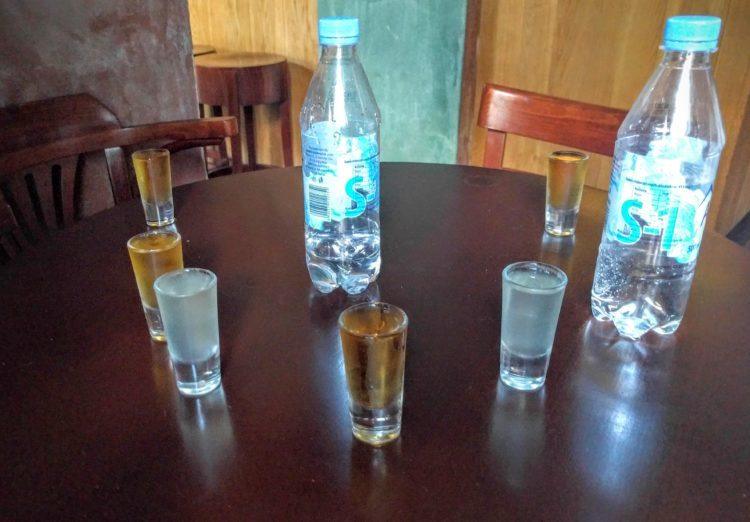 I don't mean to play the part of stereotypical girl, but the flavored vodkas seemed more inviting (at least until I found out they're bottled at the same place as windshield-wiper fluid). Whether it was smart or not, I took the honey lemon like a champ and left the caramel vodka for Mike. For reference, he's up to six shots now, in just 90 minutes.
For our last stop, we make it to Bania Luka in Plac Nowy. This is right in the center of the Jewish Quarter and this particular plaza is nightlife central. We had actually been there the night before — it's popular for a mix of locals and tourists due to its $1 drinks and being open round-the-clock.
Given that we didn't snack at all during our two dessert vodkas, this stop made up for it. A platter of kielbasy, pickles, marinated mushrooms, and cheese was waiting for us, along with two more vodkas. One was a wisniowka, a cherry vodka. It's usually served as an after-dinner cordial, but since it's more than 40% alcohol, it technically qualifies as vodka.
The other one, well…at this point I can't remember. Maybe sliwowiva (plum) or krupnik (honey)? Zoladkowa gorzka (herbs and spices)? I'll blame the vodka for my lack of memory!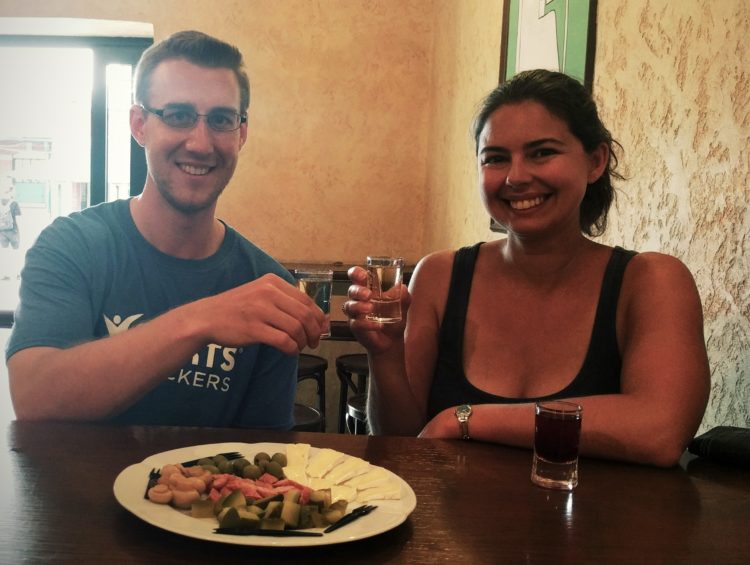 By the end of the night, I was convinced vodka is good medicine. I felt like my old self again, ate a full meal even after all the snacks we consumed during the tour, and enjoyed the rest of my Polish trip, Krakow vodka tour and all.
* * *
Want to read about more of my travel adventures? Check out all my Poland articles and join me on Facebook or Twitter to read about future trips!