This post may contain affiliate links. As an Amazon Associate I earn from qualifying purchases.
* * *
Even though most travelers head farther south to Dubrovnik and Split, but my sister and I had limited time in Croatia. As a disclaimer, we didn't even try to see the whole country (it's bigger than you think!) and instead stuck to Istria for the hill towns and seaside vacation spots along with a quick trip down to Plitvice National Park.
How to Get to Istria
Well, we drove: our first stop in Istria was only an hour from the Karst region of Slovenia.
Most visitors will fly into Croatia, with the major airports in the country easily connected to European hubs. You'll also find one daily flight to/from Philadelphia and Toronto and even some long-haul flights that head into the capital (Zagreb) from as far away as Doha, Dubai, and even Seoul.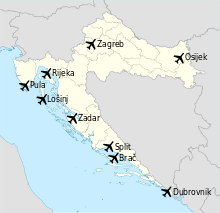 If you're already in Europe, you'll find trains from Austria, Bosnia and Herzegovina, Czech Republic, Germany, Greece, Hungary, Italy, Serbia, Slovenia, Switzerland and other countries further afield with a connection. There are ferries from Italy and crossing by land via car or bus is also possible from all neighboring countries.
Do Americans Need a Visa to Travel to Croatia?
No. Croatia is part of the European Union and Americans can visit for up to 90 days without applying for a special visa. Be aware that Croatia is not part of the Schengen Area, so allow time for immigration controls.
Any safety concerns in Croatia?
None. If two girls in their 20s felt comfortable traveling on their own, you should too. Taking standard precautions should be adequate.
Any health concerns in Croatia?
None. No special vaccinations or medications are required as long as you're up to date with standard immunizations. Foodborne illness or water concerns are also not an issue, so live it up!
What do things cost in Istria?
Well, it isn't cheap, but it isn't expensive. Think about the prices you pay at home in the United States and expect things to be roughly the same: $1-2 for a bottle of water, $2 for an ice cream, $5 for half-day parking, $20 a person for basic dinner, and $150 for a hotel room at a beach hotel.
There are plenty of ways to cut back on expenses, such as splitting a (delicious) $10 pizza for dinner or staying in a basic guesthouse for $65. And of course, there are plenty of ways to splurge as well, like buying $15 champagne cocktails.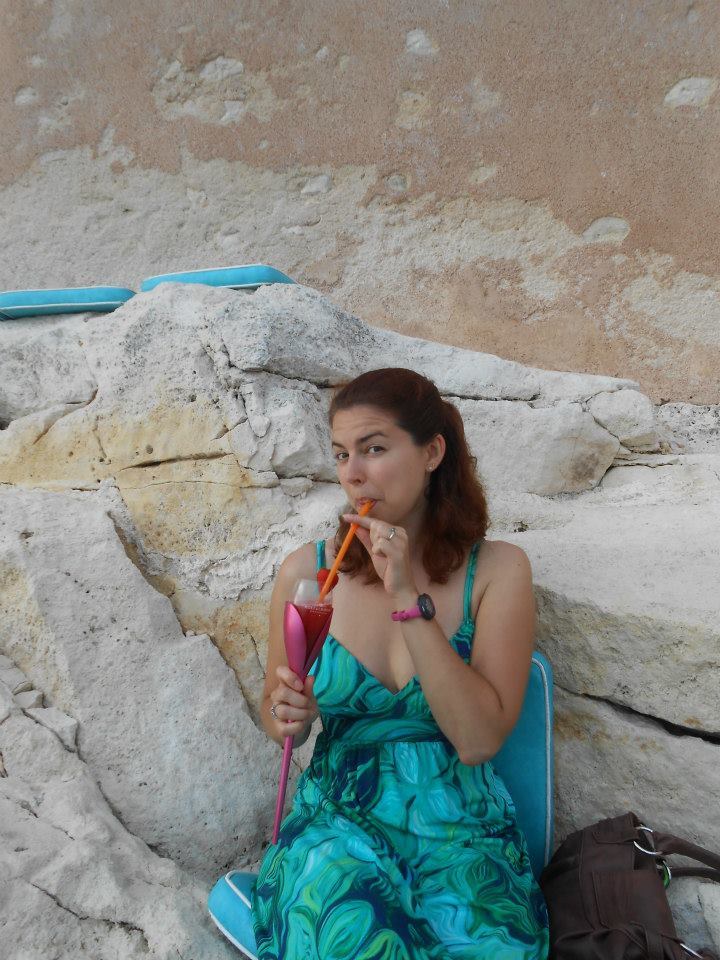 How do you pay?
The kuna is the official currency of Croatia, and it's easy to learn your way around the different bills and coins. Credit cards were widely accepted throughout Istria (lots of tourists!) and less so when we went down to Plitvice, though the park itself will accept plastic for entrance fees. ATMs are everywhere in the seaside towns, though the smaller towns may only have a few scattered about (ask around to find it).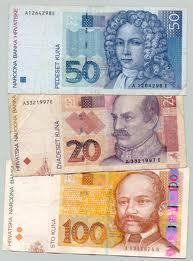 What's the weather like in Istria?
There's a reason high season in Croatia is during the summer. Our trip in early July featured lots of sunshine and temperatures in the 80s. It was great for the beach, walking around, and indulging in gelato.
The fall shoulder season is highly recommended, as September's seas will still be relatively warm while the crowds thin. If you travel in winter, especially inland, expect freezing temperatures and snow. I've seen some beautiful photos of lakes surrounded by snow, so if you're willing to bundle up, you could still have an extraordinary time.
Were the locals friendly? Any tips on making communication easier?
Our guesthouse owners throughout Croatia were incredibly friendly and more than willing to share recommendations near their home. Outside of the guesthouses, many locals seemed annoyed by summer visitors taking over their towns, which I don't exactly blame them for. However, smiling and saying Dobar dan (Good day) and Hvala (thank you) instantly relaxed them. Many people spoke English to some degree, although it varied considerably between those working in the hospitality sector and everyone else.
How do you get around?
Speaking only to the Istrian peninsula and Plitvice Lakes area, bus or car is the way to go.
Roads are well-marked but be prepared for traffic and congestion in the summer months and plan accordingly. Elsewhere in the country, there is transportation to major areas by train and ferry as well. Within towns, walking is suggested.
Was the food good in Istria?
Oh my goodness yes! Inland Istria is an agricultural center. Truffles are common and not all that expensive, so be sure to try them. The cheeses, hams, olives (and oils), wines, and breads were also delicious in the hill towns.
On the coast, there are tons of varieties of seafood, all unsurprisingly fresh. Grilled squid was a frequent offering, but you'll also find plenty of shrimp, fish, and to some extent, shellfish. Vegetarians can take delight in the fresh pastas, which are commonplace and consistently great.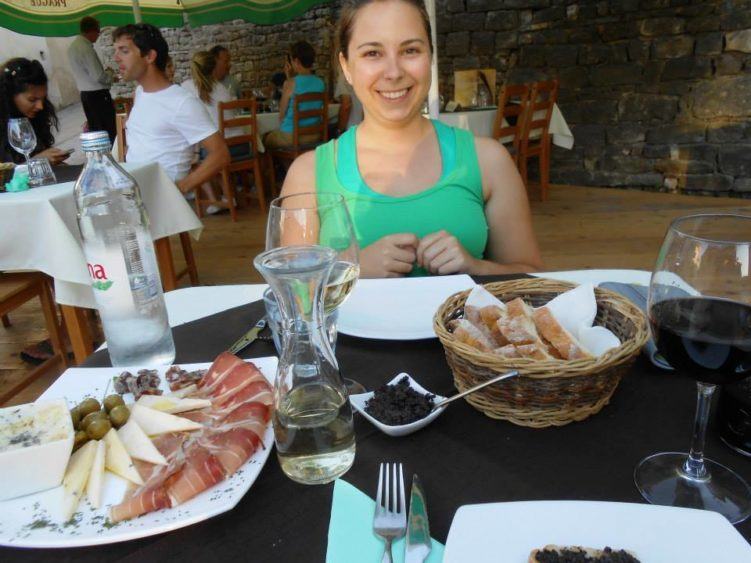 What should I see? Anything overrated?

Do go check out the archaeological ruins in Pula. My mind doesn't think of the Roman Empire when I think about Croatia, but there are some great sites there to tour and a lot of interesting history.
Skip the beaches, at least in northern Croatia/Istria. The water is warm, which was great, but the beaches themselves are rocky and/or pebbly and not the world's most beautiful coastlines. They are great for an afternoon of swimming and sunbathing, but I wouldn't choose Istria as a base for a weeklong resort stay. Southern Croatia could be a whole different story…or just head to a different region altogether.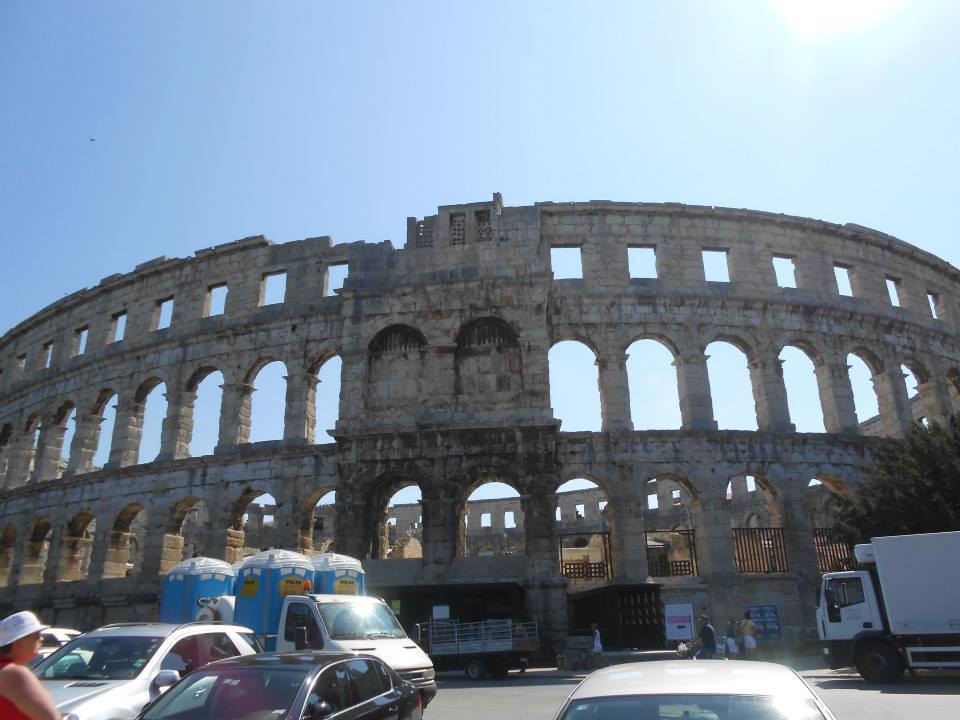 What to Buy in Istria
Bring home the food. Seriously! Even if you're not into gastronomy, chances are you have friends and family back home who would appreciate a bottle of olive oil or truffles. If you're planning on bringing other agricultural products, check the list to see if it's allowed or not. If all else fails, pick up a bottle of bisca rakija (mistletoe schnapps) to share with your friends as you tell stories and show photos.
* * *
Check out the articles below for a more in-depth look at Istria, Croatia!
Croatia Travel Stories
Get more inspiration -- and tangible planning information -- with these articles about Croatia.