This post may contain affiliate links. As an Amazon Associate I earn from qualifying purchases.
* * *
When we arrived in Montenegro, we weren't entirely sure what to expect. I suppose that's the beauty of booking a trip on less than a month's notice: research is limited to the absolute essentials, leaving plenty to discover after you arrive.
Thankfully, the incredible landscapes that inspired the trip were waiting for us in spades. Montenegro is so beautiful that calling it "Insta-Worthy" would be an insult. The rest, though, was a mixed bag of meeting our expectations and other times leaving us utterly surprised. The country's still not mainstream enough to understand what you're getting into until you're actually there.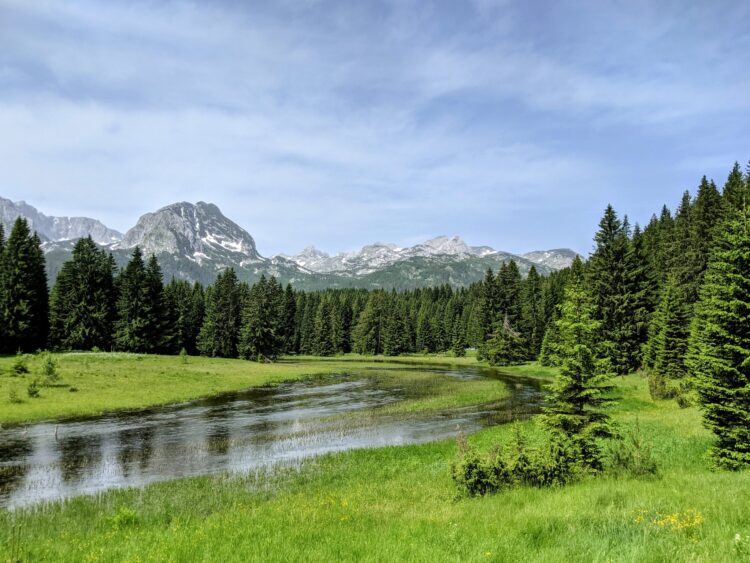 What startled us the most was how different each region was. In a country the size of Connecticut, how is there space to differentiate? But sure enough, we hopped from a village that reminded me of hillside Croatia to a town ruled by Ottoman influence. From there we visited an area where Yugoslavia still stands still (for better or for worse) to a practically-Venetian town and then a port that may as well be St. Tropez.
That's a lot of variety within one country's borders and it kept us on our toes. As soon as we figured out how things worked in one spot, we moved onto a different world. For the traveler that craves variety — without the hassle of actually hopping borders along the way — Montenegro wins a prize.
The constant changes, as well as a legacy of red tape, meant we had a few hiccups during our trip. For an experienced traveler, these will merely register as annoyances or inefficiencies. But for someone newer to travel, it's something to keep in mind. Montenegro was friendly, fascinating, and indisputably beautiful…but wouldn't be somewhere I recommend to anyone without several international trips under their belt already.
If you have a spirit of adventure, a little padding in your schedule, and a dose of patience, Montenegro will reward you. It's a proud country where locals are happy to share their culture and history, perhaps due to how young the country is (it only gained independence in 2006). We were glad we had 9 days to explore sice it allowed plenty of time for conversations, detours, and spur-of-the-moment plans.
I'll do my best to share the basics with you without spoiling the surprise. Because I promise, peeling back the layers is part of what makes this country unique from anywhere else I've been.
Traveling to Montenegro
The Podgorica Airport & Other Ways to Get There
Montegro's primary airport sits outside the capital city of Podgorica. From the USA, you'll have to connect through another European hub to get there, with options primarily on Star Alliance airlines. We flew Austrian Airlines through Vienna which was easy enough. Ryanair and Wizz Air also service Podgorica, if you're already in Europe and looking for a budget airline.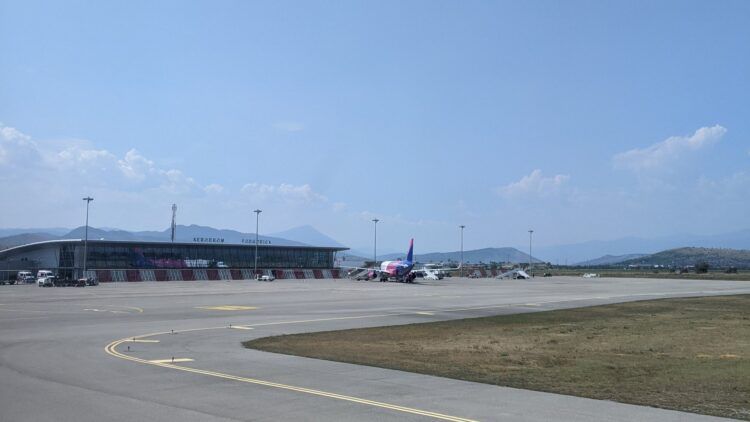 The Podgorica Aerodrom is really small which makes it easy to navigate. There are a few rental car options on-site (and more off-site), a few ATMs, and a convenience store in the Arrivals Hall where you can buy a local sim card for your trip.
The Tivat airport, on the coast and more convenient if you're heading to Kotor or Budva, is starting to gain more service options although many flights only operate during the peak summer season. Again, flights are primarily Star Alliance or low-cost carriers. We did not fly in or out of Tivat, but I dropped off a rental car here and it was an absolute madhouse so allow plenty of time.
Additionally, the Dubrovnik airport is a viable alternative for travelers. From the Dubrovnik airport to the cute town of Herceg Novi on the coast is only a ~35 minute drive; to Kotor, it's about an hour and 20 minutes. Be aware that border waits during peak season are notoriously long so avoid summer weekends if you can.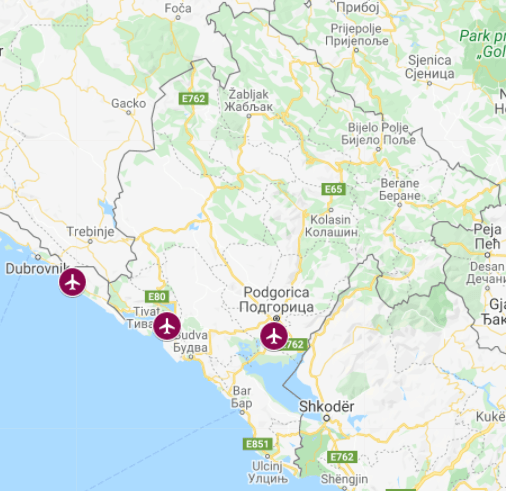 Where to Go in Montenegro
I'll dive into more details in future blog posts, but here's my quick recommendation: make sure you see at least one spot on the coast (I recommend Kotor) and one spot in the mountains (Durmitor National Park/Žabljak is the most logical option).
Since regions are so different, you won't get a good feel for the country as a whole if you don't sample a few.
How Long to Spend in Montenegro
While many visitors spend as little as one day in Montenegro (typically as a cruise stop or a day trip from Dubrovnik to Kotor), I think you could spend up to 10-12 days without running out of things to do.
For the average traveler, I'd recommend spending 2 full days on the coast and 2 days in the mountains for a minimum 4 day trip.
With a week, there are a number of easy day trips you could do from your base in Kotor to extend your stay. I also adored and highly recommend Virpazar, gateway to Skadar Lake National Park, as a day trip or better as an overnight. Hikers should make the long drive out to Prokletije National Park for a night or two.
What Was Overrated in Montenegro
Sometimes, knowing what to skip is just as important as where to go.
The capital city of Podgorica didn't wow us — while it may be a nice place to live, there's not much that will interest tourists. If you do go, time your visit for the evening: you can walk past the 2-3 photo spots in less than an hour and then stay for dinner and/or the nightlife scene.
We were also pretty neutral on the beaches in Montenegro (we went to 4, and asked around about others). On the bright side, they are clean and were plenty warm in late June. However, even the "best" beaches are typically rocky or covered in pebbles and nothing to write home about. By all means, go to the coast for a scenic stroll and a seafood meal. Jump in the Adriatic to cool off. But don't plan a beach getaway…there are far better destinations for that.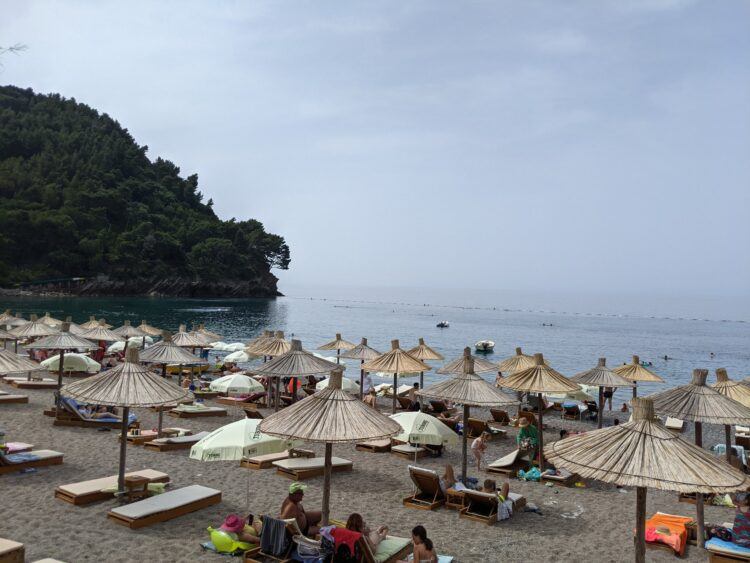 More FAQ About Montenegro
As an American citizen, do I need to apply for a visa ahead of time?
Nope, just show up. Passport control is fast and simple and covid requirements are reasonable: bring proof of vaccination or a recent PCR test (details subject to change).
Any safety concerns?
I've never felt safer. Cities aren't large, locals are friendly, and crime appeared non-existent.
But, in my husband's words, "driving is the wrong kind of adventure" so buckle up and be careful. Roads are narrow, curvy, and other drivers seem to expect that you'll get out of the way even if you have the right of way. Parking is as lawless as the wild west.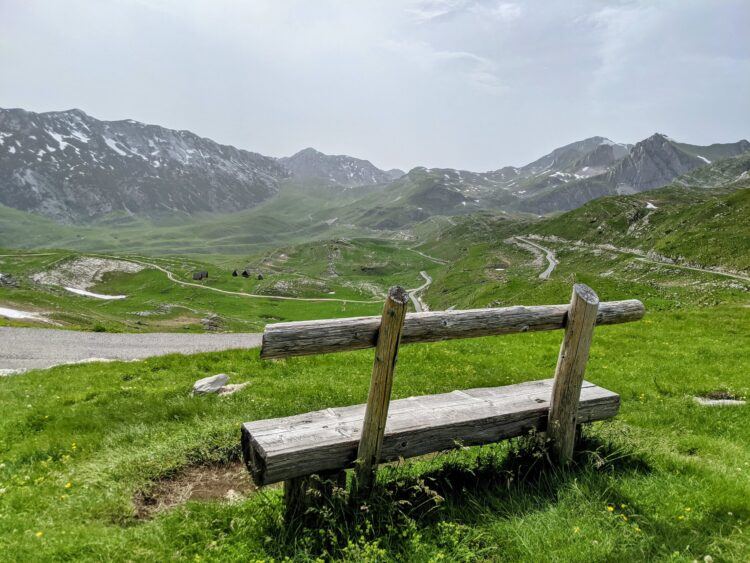 How do you get around?
Speaking of driving…
Compared to other European countries, public transportation is relatively limited in Montenegro. There are buses, but schedules are limited which limits what you can accomplish in a day. Unless you're cash-poor and time-rich, I'd strongly recommend a rental car.
Driving is on the right hand side of the road and navigation is relatively simple since there are so few roads. Rent the automatic if you're not confident with a manual transmission: there are so many hills that this is not the place to practice!
If you're not into the challenge of driving, you'll likely need to add in a few guided tours to reach out-of-the-way places.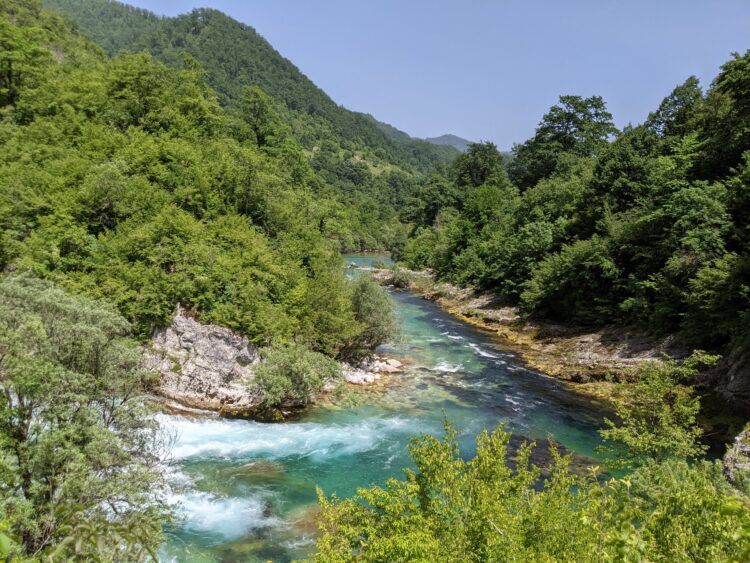 Any health concerns?
Not at all! Get comfortable and travel without worry.
How do you pay?
The euro is the official currency of Montenegro, so we were familiar with the coins and bills.
Cash is definitely king, so you'll want to stop at an ATM to be prepared. Except for in Kotor and Tivat, every restaurant and attraction we visited was cash only — and so were our hotels!
ATMs are widely available iand we had no issues using a Charles Schwab ATM card, which I love since it refunds all ATM fees as well as providing the bank exchange rate.
What does it cost?
Montenegro is way cheaper than Western Europe, but prices vary considerably based on where you are. Generally speaking, smaller towns like Virpazar, Plav, and Gusinje cost half as much as tourist centers like Kotor and Zabljak.
Our cheapest hotel was €40 but most were €80-90/night including breakfast. Our cheapest meal was €6 per person but most worked out to €15-20pp for a main, water, and wine. There are a few high-end restaurants on the coast if you're looking for a special night out, though we didn't find any that justified the price. Kotor is on the expensive side and some of the other coastal areas are expensive because they're places to "see and be seen." Eat where the locals eat to avoid the expense.
Admissions to the attractions we visited were also reasonable: national park admission was €2-4pp and a half-day sightDOING activity was typically in the neighborhood of €30-40.
Fuel for our rental car added up, at about €1,30 per liter ($6 per gallon), but thankfully distances are short and parking is often free.
What's the weather like?
We lucked out with beautiful weather over the course of our trip, with most days in the low 80s (mountains) to the low 90s (seaside). For mid to late June, we were quite pleased but be aware it can get brutally hot later in July and August!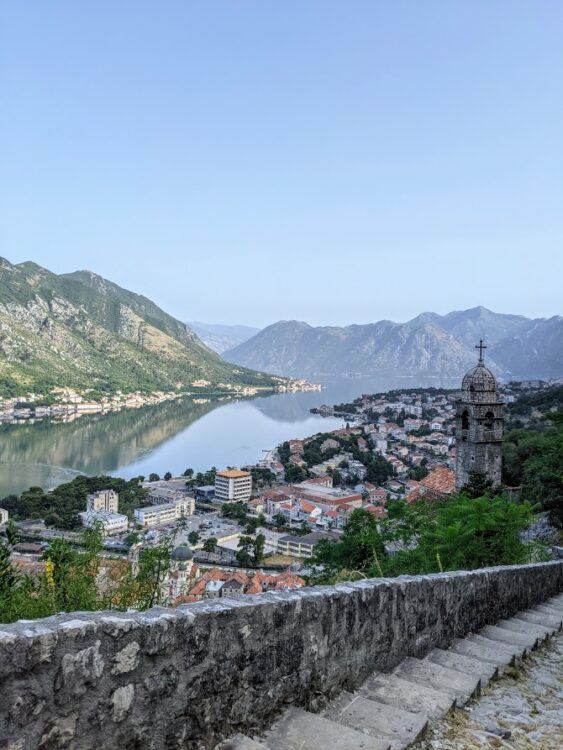 Watch out for a strong sun as it can make things feel warmer than your thermometer will have you believe.
I typically avoid summer travel in Europe since I hate crowds, but I think you just have to suck it up if you go to Montenegro. To experience the mountain trails and swim in the Adriatic, you need to be there from roughly June through September. So, if you want to do it "all", you'll have to be ready for some crowds.
Were the locals friendly? Any tips on making communication easier?
Hospitality in Montenegro is second to none. Our accomodation hosts and restaurant servers went out of their way to make us feel welcome and the other locals we met were equally open-armed. However, you'll need to break the ice if you'd like to have a conversation beyond pleasant hospitalities. If you initiate, they opened up and would talk your ear off!
Nearly everyone spoke at least some English, but it ranged from a handful of words to perfect fluency. With gestures, body language, and pictures, we never had an issue communicating even when their English (and my Montenegrin/Serbian) was limited. We always got a smile when we used the few words we knew.
Was the food good?
The food was good, but it lacked in variety.
Breakfast may include eggs, cheese, cold cuts (particularly salami and prosciutto — both beef and pork), yogurt, "pancakes" (crepes), burek (filo pastry, often filled with salty cheese), and bread.
On the coast, you can expect simply-prepared seafood (typically steamed, fried, or grilled). Mussels are popular and you'll also find sea bass, monkfish, shrimp, octopus, and more. Everything is served with potatoes, bread, or — if you're lucky — a green like chard or spinach. Garlic butter seems to come on everything.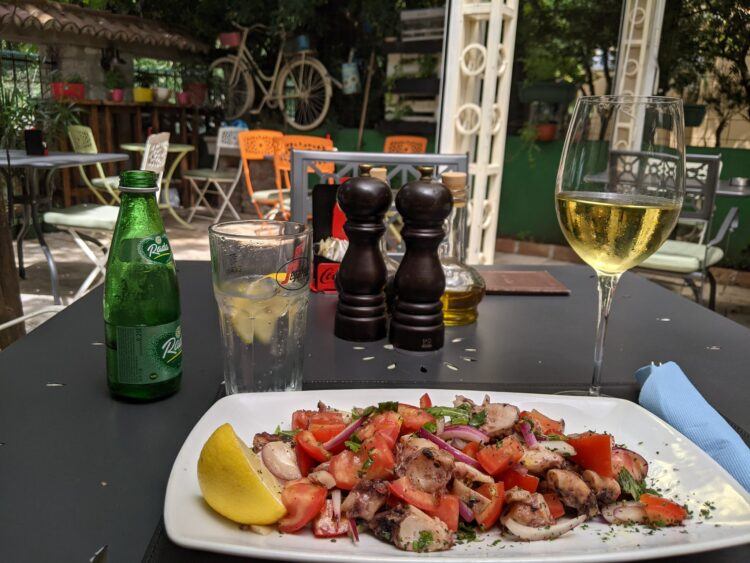 Inland, you'll mostly find lake trout or carp with more garlic butter or, for a change of pace, braised or stewed lamb. Again, it's served with bread, potatoes, and chard.
Fruit and vegetables were rarely offered in our experience. We ordered grilled veggies anytime we saw them on the menu and stocked up on fruit at the grocery store.
Any Last Thoughts?
Montenegro is ludicrously beautiful and hospitality is at the forefront of their culture, offering potential visitors a compelling case to come.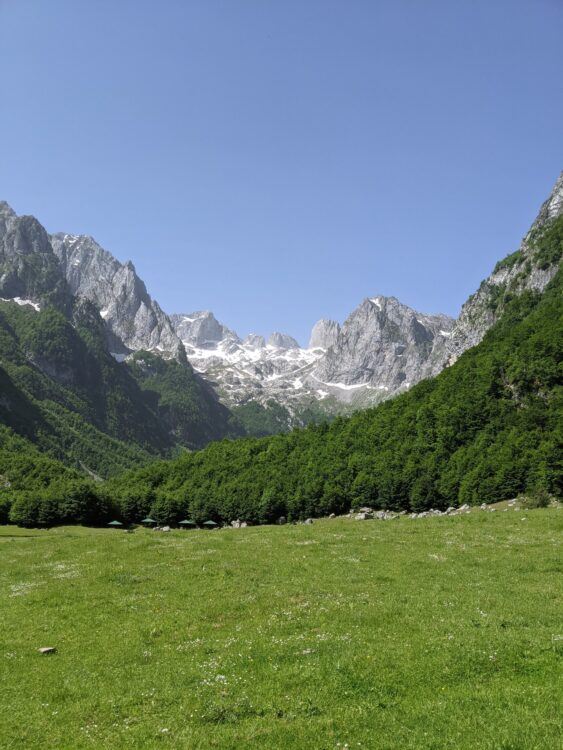 My favorite country in the Balkans (so far) is still Slovenia…another country with great scenery and lovely hospitality, but easier for travelers to get around.
Montenegro is not a destination for everyone. It's not the Europe you're used to — you won't find world-class museums or in-depth historical tours or iconic landmarks you've seen in movies.
It's also best for self-sufficient travelers who can prep things in advance. Hiking maps are usually sold in town rather than at the national park itself (a frustration we learned quickly!) and trails are often overgrown or ill-maintained. You'll need to ask around to find restaurants along the coast that aren't overpriced tourist traps. Driving is manageable but tiring due to being on constant alert and schedules seemed to work on an "ish" timeframe rather than true punctuality. This isn't a cakewalk.
If, after reading all this, you're ready to trade a little effort for a lot of discovery, congratulations: Montenegro might be a good fit for you! I'm certainly glad we went and I'd be happy to return someday. But, for the meantime, I'll be re-living some of the best experiences here on the blog. Whether you choose to visit Montenegro or not, there's a lot to share.
More Stories About the Balkans