This post may contain affiliate links. As an Amazon Associate I earn from qualifying purchases.
* * *
Discovering Virpazar wasn't an accident. As gateway to Montenegro's Skadar Lake National Park, it's well-visited and was a must-do in our plans. But, more importantly, Virpazar reminded me of another place in the Balkans I loved (at least on paper) and I wanted to capture that feeling oh-so-much.
No, Virpazar wasn't a lucky find. It was a calculated gamble, a destination I booked three nights in despite never setting foot in Montenegro before. It would either be everything I wanted or a very long time to spend in a very small village.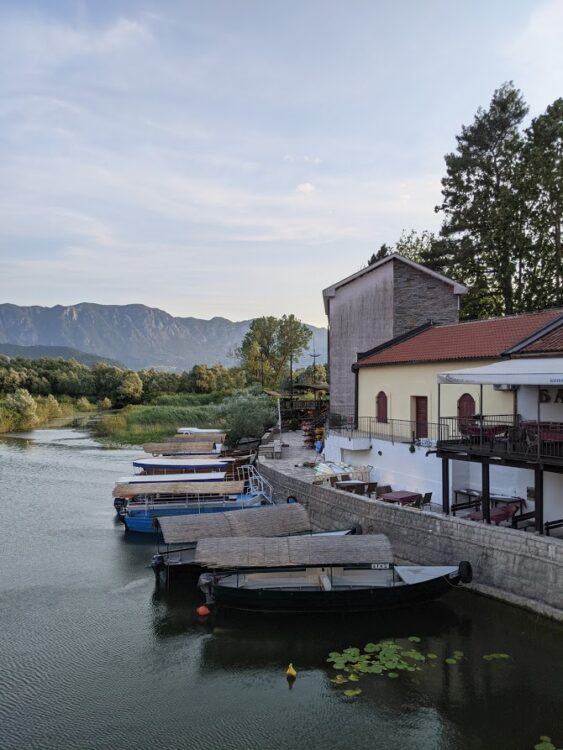 Upon arrival, it proclaimed everything a vacation should have: epic views, quiet corners, a bounty of flavors. There was the appeal of enough activities to keep you busy without overextending yourself. And there was Goldilocks' perfect balance of travel infrastructure. We found everything we needed without feeling like we were caught in a tourist trap.
Virpazar was a gamble that paid out handsomely.
Only twenty minutes from Podgorica International Airport, it was far more easy-going than the capital city. We spent the first 24 hours of our trip relaxing and chatting to locals while tasting wines we'd never heard of before. My husband slept in while I did yoga under the olive trees. Together, we took walks, got lost, and pet the neighborhood dogs.
After a lazy day of reading, swimming, sunbathing, eating, sipping (rinse and repeat), we started our exploration.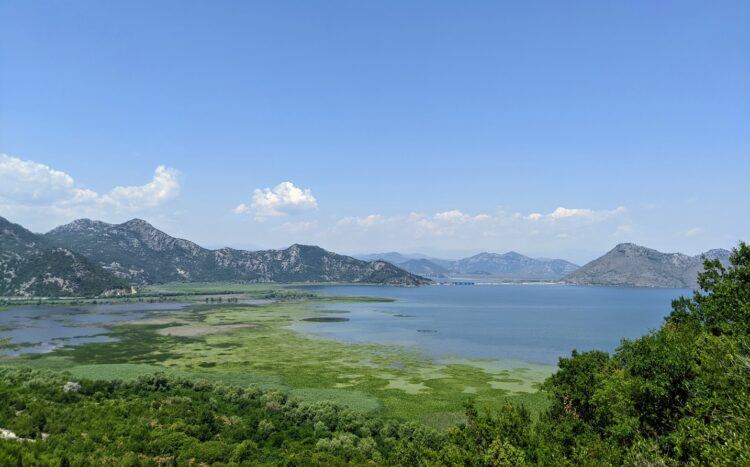 One of five national parks in Montenegro, Lake Skadar (or Skadarsko Jezero, in the local language) is an outdoorsman's delight. You can bike to sweeping vistas or hike through a valley to a secret waterfall. Most of the park is best explored by water. Rent a kayak or head out on a traditional boat through channels of lily pads in search of island monasteries, beaches, and other small towns.
But like Motovun — the Croatian city that inspired my visit here –the beauty of this area comes from its relaxed pace. As much as I love sightDOING, the downtime is equally important here. By late afternoon, all the day-trippers are gone and life settles into a state of calm. If there was ever a time to order a second glass of wine and spy on the locals, this is it.
I'm no expert on la dolce vita, but I sure gave it my best shot.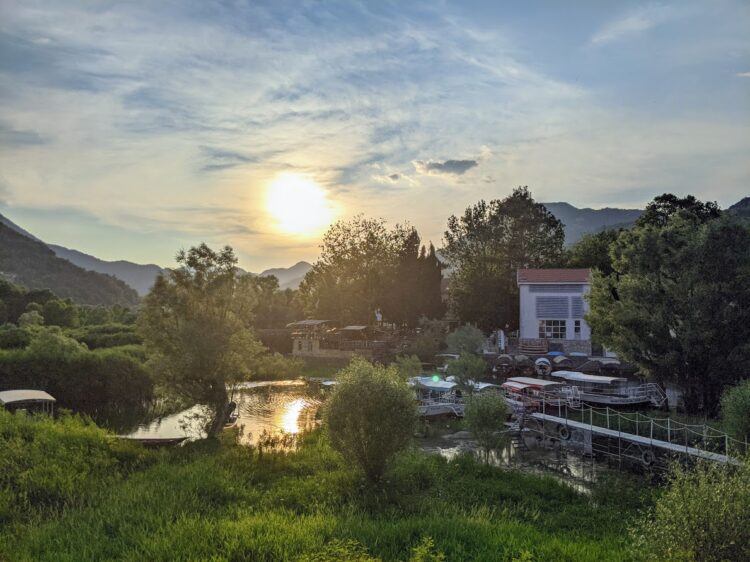 If you go…
Where to Stay in Virpazar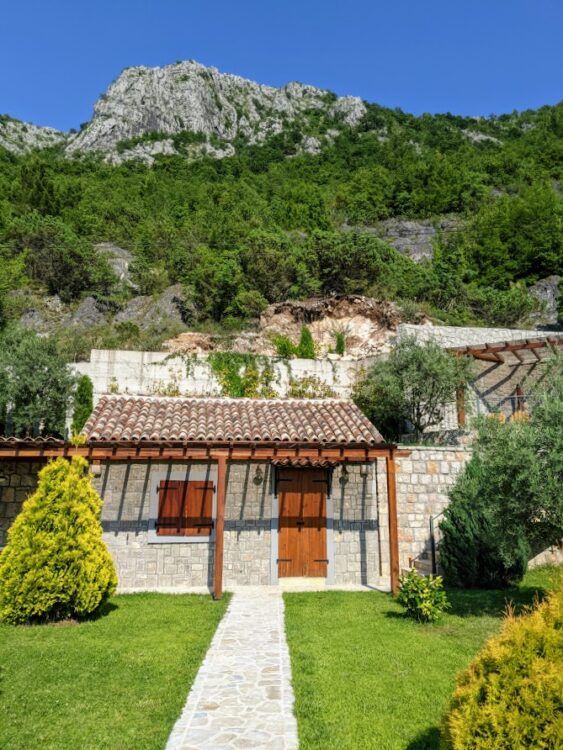 We stayed at Eco Resort Cermeniza, a collection of six small cottages on a family-run winery. Our room ws simple buy comfortable and the setting was gorgeous. The pool was a treat on a hot summer afternoon, too. We spent three nights, long enough to take in the best of Skadar Lake even with a relaxed schedule.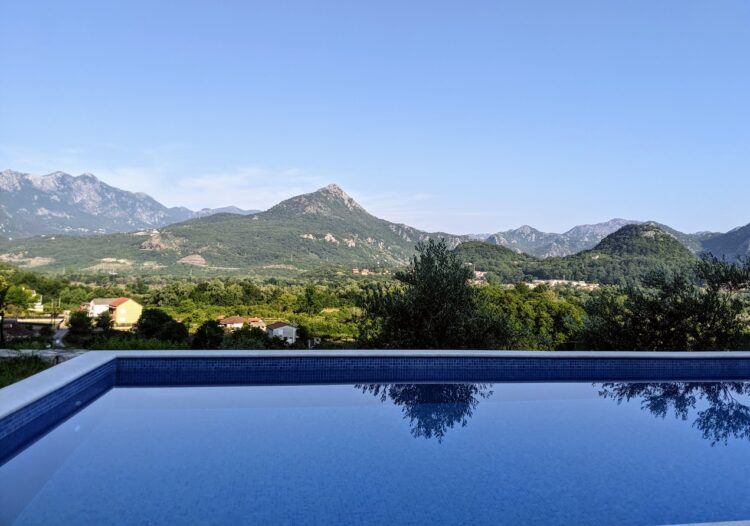 Be aware: it's a 20-minute walk or 5-minute bike ride from town, though the peacefulnesss was a selling point to me rather than a hindrance.
If they're sold out, my second choice would be Eco Villas Merak, which is a similar setup and basically right next door (but with smaller terraces).
Best Things to Do in Virpazar
(Other than wandering on a whim…)
Plan on about a half day for each of these activities, which means you'd need two days in Virpazar to enjoy them all. If you were ambitious, you could squeeze them all into a day and a half, but that defeats the purpose of traveling here!
Skadar Lake Boat Tour
The #1 thing to do in Skadar Lake is heading out on a boat tour. There are about a half-dozen different tour routes to choose from, ranging from 1-5 hours.
I'd recommend the 3-hour tour to Monastery Kom, which gives you a good taster of everything. You'll glide past lily pads, see a few small islands, briefly tour the church, and have time for a quick dip in the lake. The water was wonderfully warm in June.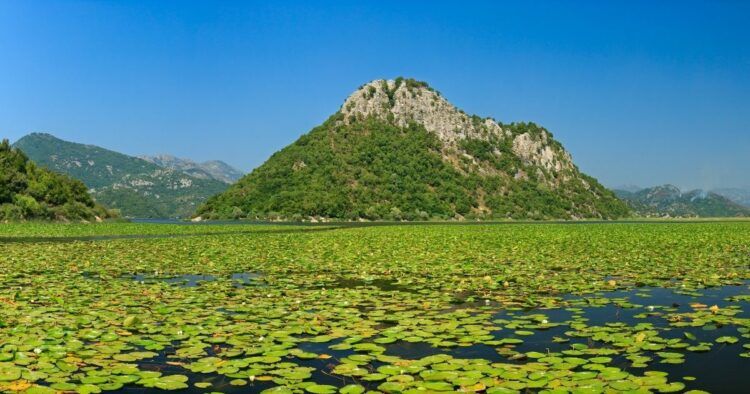 While the group tours are totally fine, you can also head to the harbor to arrange a private cruise if you have specialty interests (like bird watching or fishing), if you want to head out earlier or later than the standard tours, or if you just want extra time for swimming. The going rate was about 25 euro per hour per boat (not per person).
Alternatively, you can tour the lake by kayak…just allow a full day and/or plan a less ambitious route.
Wine Tasting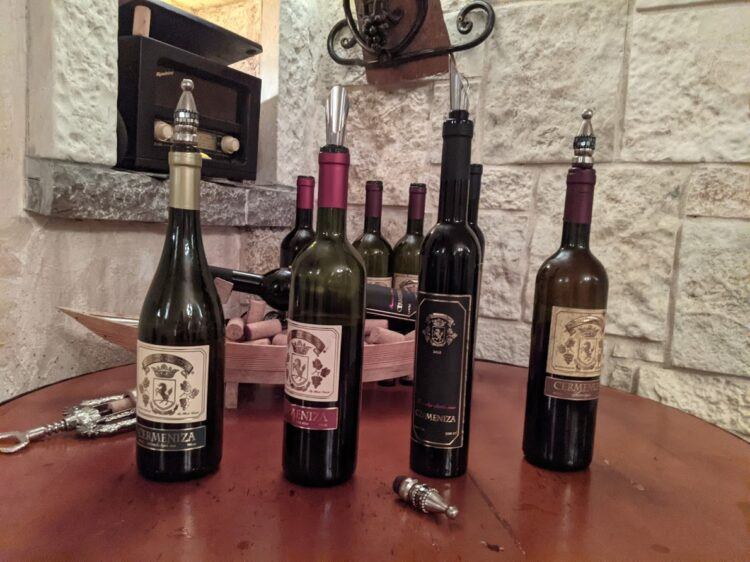 There are two varietals in this region you're likely unfamiliar with:
Vranac (the "black stallion", a deep red wine with sweet and spicy tones)
Krstač (a white wine, typically light and crisp)
If you're staying at Eco Resort Ceremeniza, you can arrange your wine-tasting on-site: Nemanja walked us through one white, two reds, a dessert wine, and two rakijas (herbal spirits). In-between sips, he'll delight you with stories of local life or give you a deep dive into Montenegrin history.
If you're not staying at the hotel, you can reserve a wine tasting in advance. Either way, stay for dinner at their delightful wine cellar. This also must be arranged in advance, but is easy to do by simply sending a message.
Biking to Pavlova Strana
If you like cycling, the trip to Rijeka Crnojevic and Pavlova Strana is the best option near Virpazar. You'll ride about 20 miles, with views of the hills and the lake, until you reach the small town of Rijeka Crnojevic, known for its picturesque old bridge. You'll keep heading uphill to the Pavlova Strana panorama, one of the prettiest views in all of Montenegro and then celebrate your efforts with a local charcuterie plate and wine.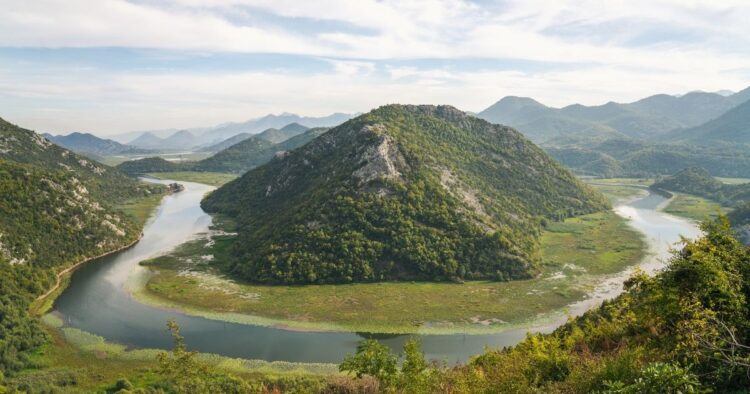 It's a great way to explore more of the lake region, both from a scenic and cultural perspective.
Don't attempt this on your own — go with a tour. For one thing, you'll want more reliable rental bikes (or e-bikes! no shame!) to tackle the hills along the way. Riding in a group with a support vehicle is also a major safety advantage on these curvy roads. Plus, you'll only have to ride one-way and they'll shuttle you back, which will save your legs. As much as I like to DIY, this is not the time to try.
(Not into biking? You can drive to these spots, too!).
Hike to Walnut Valley
For the most part, we were underwhelmed by hiking in the national park. Most trails are overgrown without a lot of variety in the views and you have to keep an eye out for venemous jumping snakes — yes, you read that right.
But, the hike through Walnut Valley to a waterfall is an exception. It's partially on private property, so you need to go with a tour or otherwise arrange permission in advance. And, it's still not perfect: there are still snakes and overgrown sections, though on a tour, your guide will help with bushwhacking and warning you about wildlife.
The trail leads along a river, through a forest, and to an Ottoman bridge where you can jump in if you like. There's a lovely lunch stop where you can choose from a wild boar ragu or a vegetarian plate straight from the garden. Then, there's a secluded waterfall and plunge pool to cool off and relax before you head along the river to your starting point again.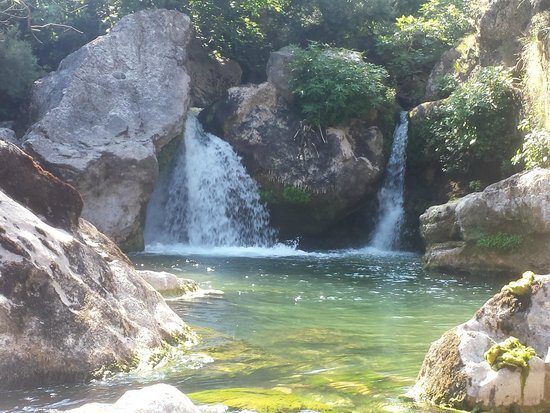 Where to Eat in Virpazar
There are two main dishes in Lake Skadar: lake trout and carp. They're both very good and seemingly always served with garlic butter and a side of blitva (a swiss chard and potato dish). Of course, you'll find other foods on the menu as well, with local prosciutto, cheeses, and olives making prominent appearances.
Don't worry too much about where you eat, since every menu looks exactly the same, with prices within 10% of each other. We didn't have a bad meal throughout our stay.
However, if you're looking for atmosphere rather than a unique plate, don't miss Restaurant Silistria. Better known as the "pirate ship", this is a one-of-a-kind dining experience in a beautiful setting.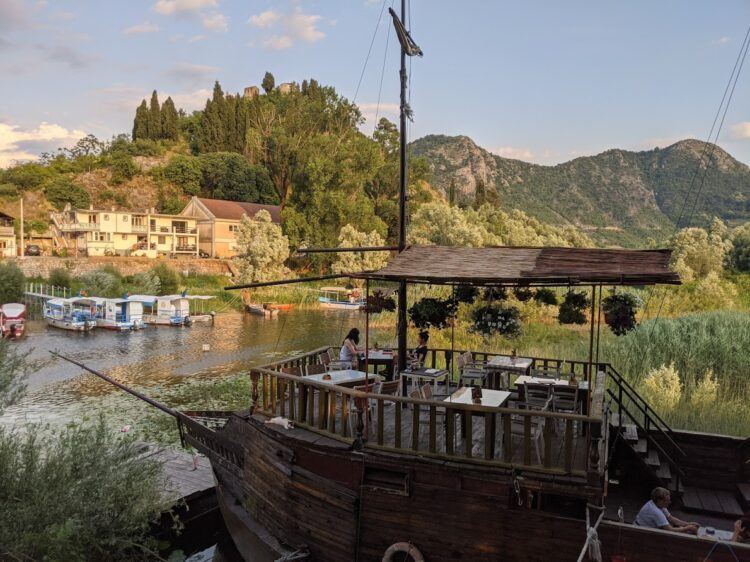 Day Trips from Virpazar
From Virpazar, you can drive to the capital city of Podgorica in 30 minutes, though in my opinion, the city isn't worth your time.
You can also get to Petrovac, on the coast, in a half hour. The more popular resort town of Budva is a full hour, as is Ulcinj in the south (which supposedly has the best beaches, though we didn't go).
Cetinje is about 45 minutes away, another town we didn't go to but would make a good stop on the way to or fro Lovcen National Park, 90 minutes from Virpazar.
Lastly, Virpazar is also close to several other small villages, mostly known for their wines, rakijas, and honey. We walked to Godinje and it was fine, but not noteworthy. By far, Virpazar was my favorite part of the region and a place I'd return to time and time again.
* * *
Any other questions about this dreamy spot in Montenegro?
* * *
More Stories About Montenegro