This post may contain affiliate links. As an Amazon Associate I earn from qualifying purchases.
* * *
A few months back, a friend and colleague surmised that more travelers would treat themselves when booking their next trip: after a year of nearly no travel, we'd be tempted to choose as much comfort and amenities as we could afford. I didn't buy it, at least not for my own personal circumstances. And sure enough, my own travels reflected the same things they have for years, with mosly modest hotels and economy fares.
At least, that's what I booked until I took a glance at my rewards balance sheet. Yes, I traveled even during the pandemic, but nearly everything was booked with cash: we had vacation rentals instead of hotels and deep-discount flights where it wouldn't make "sense" to use miles.
I was flush in rewards, a fabulous problem to have. Suddenly, there was no downside to treating myself. It would all be free, not even with an opportunity cost given my healthy balances. That's how we ended up booking two nights at the Regent Porto Montenegro, a five-star hotel that was charging 395 euro per night (or, in my case, 61,000 IHG points…I like nice things, but I ain't rich).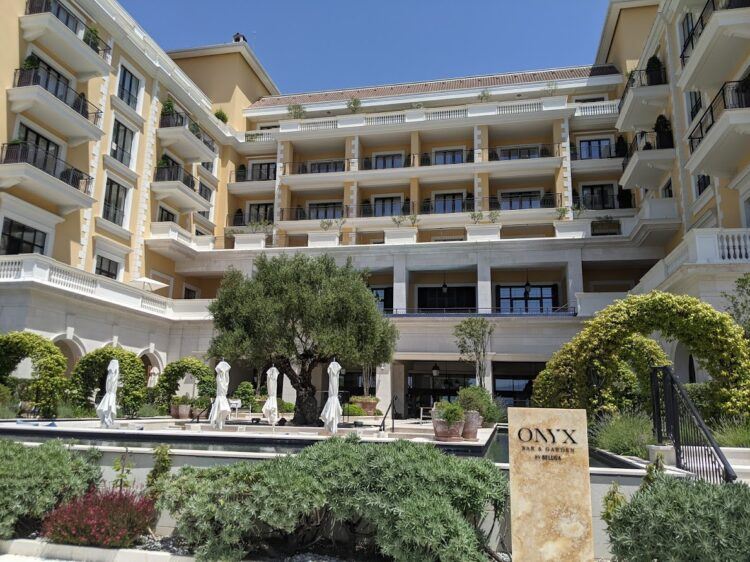 Having never stayed at a Regent Hotel before, I wasn't sure what to expect. Luxury can mean a lot of things and I was half-afraid things would be too stuffy and formal for me. I also know that luxury hotels can often add up to expensive bills, even if the room itself is free: extras like valet parking, breakfast, and poolside cocktails are always inflated at five-star hotels.
It was a gamble I was willing to take *evil grin*.
Arrival at the Regent Porto Montenegro
Pulling up to the Regent Porto Montenegro took any worries about stuffiness away from me. Though we were immediately welcomed by the valet and a bellboy, the service felt relaxed and genuine, similar to the hospitality we were treated to in Montenegro as a whole. After wrangling up all our things from the car — yes, we are those guests, whose suitcases "explode" during our journey as things are taken out and never put back in — we entered the hotel.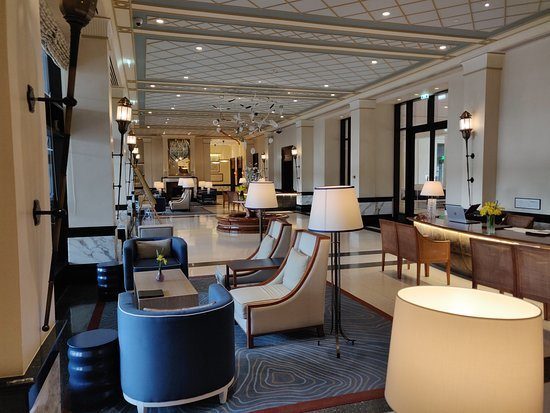 The main lobby at the Regent is bright and spacious, with a few different seating areas and wide corridors leading to other parts of the hotel. There are giant windows out to the back, inviting you to the outdoor terrace and bar along the port's promenade.
We arrived at the Regent Hotel on a Saturday at 1:30pm, knowing full well it was too early to officially check in. We didn't mind, figuring we could stash our suitcases away and grab lunch while we were waiting. Since staff was helping a few other guests before us, we were given cool towels and housemade lemonade to refresh ourselves while we were waiting. When it was our turn, we were informed our room was indeed ready, and that we were graciously upgraded to a one-bedroom suite rather than the deluxe room I had booked, presumably because of our platinum status.
All of check-in was friendly, though not exactly quick.
Regent One-Bedroom Suite (and How it Compares to a Deluxe Room)
We were escorted to our suite, with bags arriving shortly thereafter, and I have to admit my first thought was along the lines of "whoa, this is way more than we need!". (I didn't give it back, though…)
The one-bedroom suite had two entrances from the hallway, one in the bedroom and one into the living/dining area. Between these two sections, there is another internal, locking door. From what I could gather based on hotel photographs, the bedroom of our suite was nearly (exactly?) identical to a deluxe room, just with a larger terrace.
I'll start my virtual tour with the bedroom, since that's what anyone else will get if they book a regular room.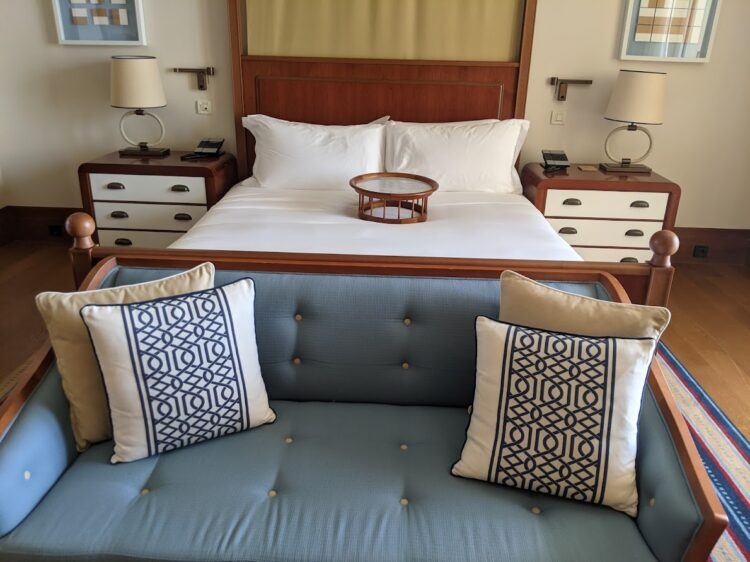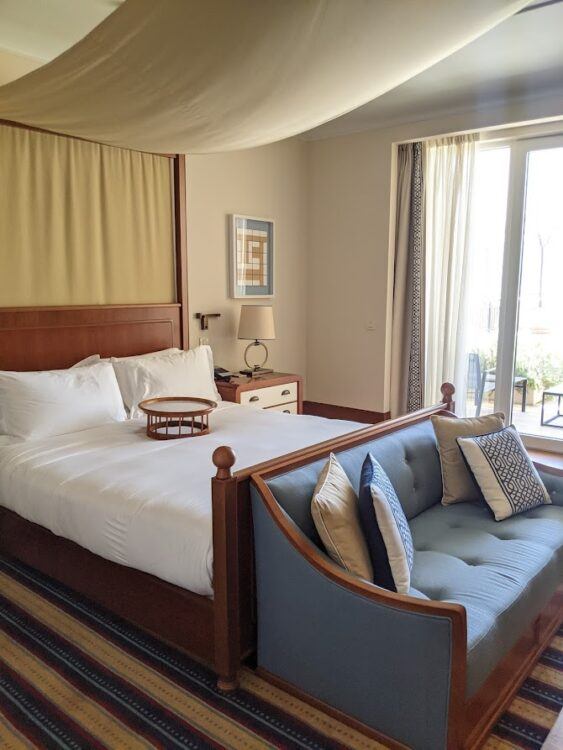 The room, while spacious and nicely appointed, was not necessarily anything special. Our king bed was comfortable, the air conditioning worked well, and at night the room was dark and quiet so it hit all of my travel requirements.
The bathroom was where it felt we had entered luxury status rather than just a nice hotel. In addition to a roomy shower, double vanity, and separate toilet, there was a large soaking tub that I would've loved to try if it wasn't 95° out. Bath salts and robes were provided.
What took this room over the top was the giant terrace overlooking the harbor. I'm pretty sure it's larger than the bedroom I use at home as an office. Wow!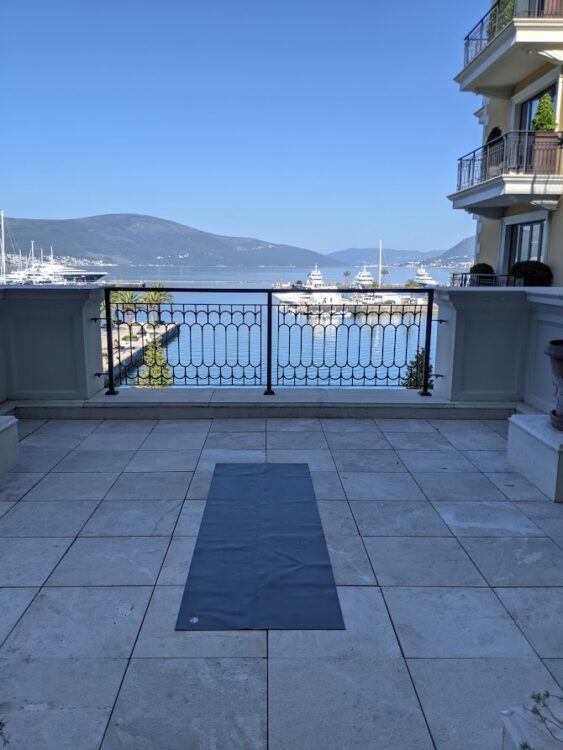 You can see the smaller, standard balconies that most rooms have: it would still be an enjoyable place to sit outside in the evening, though there's no room for anything but two chairs.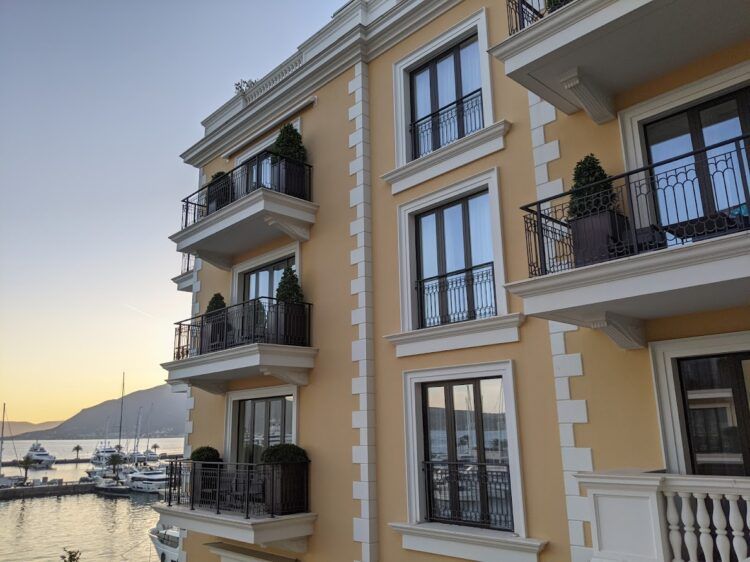 The second half of our suite was made up of a living, dining, and kitchenette all in an open floorplan. It's perfectly designed for longer-term stays, but even during our short visit we took advantage of it: Mike and I tend to keep different hours (he stays up later, I wake up earlier) so it was nice to have separate areas for when one person was sleeping and the other wasn't.
The kitchenette looked quite functional, though we didn't use it for anything other than keeping some sparkling water chilled or making up Nespresso or tea. There were burners, an oven, and a mini-fridge (and mini-bar) hidden away in the cabinets. There was even a dishwasher and a small washing machine if you need to do laundry. There didn't appear to be a ton of pots and pans, but for simple meals it should suffice.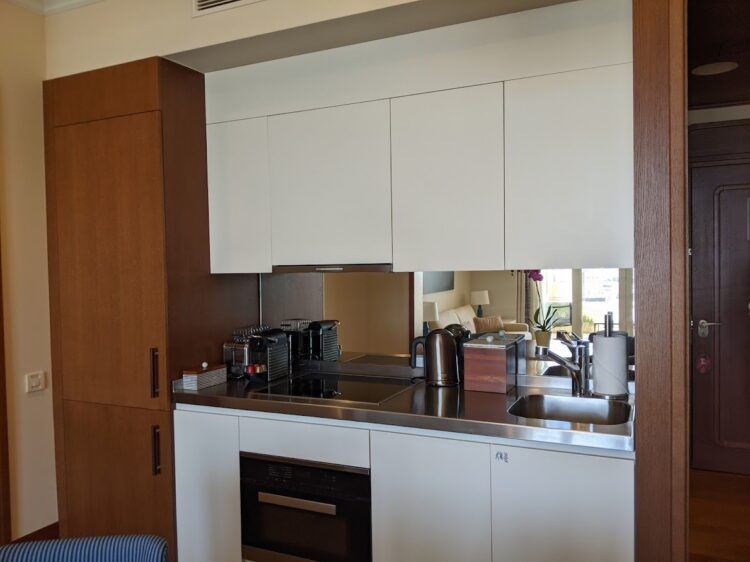 There was also a half bath on this side.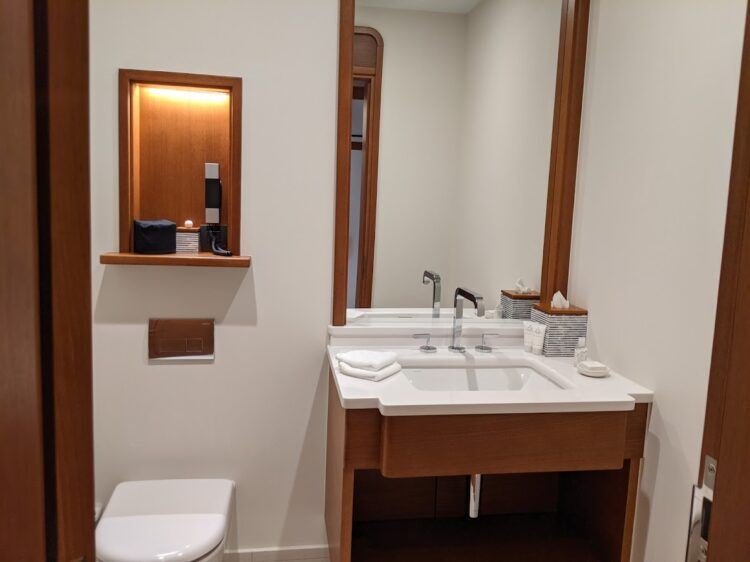 Housekeeping left us little gifts to make it feel extra homey as well.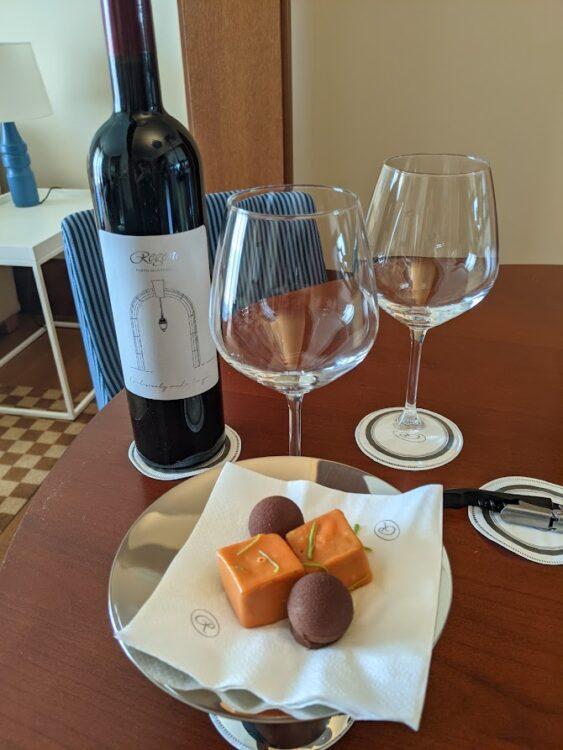 Heads Up: Rooms at the Regent Porto Montenegro are either in the Venetian Wing (like ours was) or the Pool Wing. The main difference, other than the location, as far as I could tell was the color scheme. Both were nautical themed to an extend, a fit choice for a marina.
Pools at the Regent Porto Montenegro
The main reason I was interested in this hotel was for the pools: as you may know, summer in Montenegro can be uncomfortably hot and the beaches lackluster. Having a beautiful pool is a real asset.
There are actually several pools at the hotel, two main ones in the pool club (along with two, small, shallow "children's pools" in the same area), one small outdoor pool separate from the pool club, and an indoor pool in the spa area (no spa treatment required for access).
At the pool club, you'll find an upper and lower terrace. The upper has a main pool, typically in the sun, with the two children's pools. This upper area had a higher-energy feel during our visit without being rowdy at all.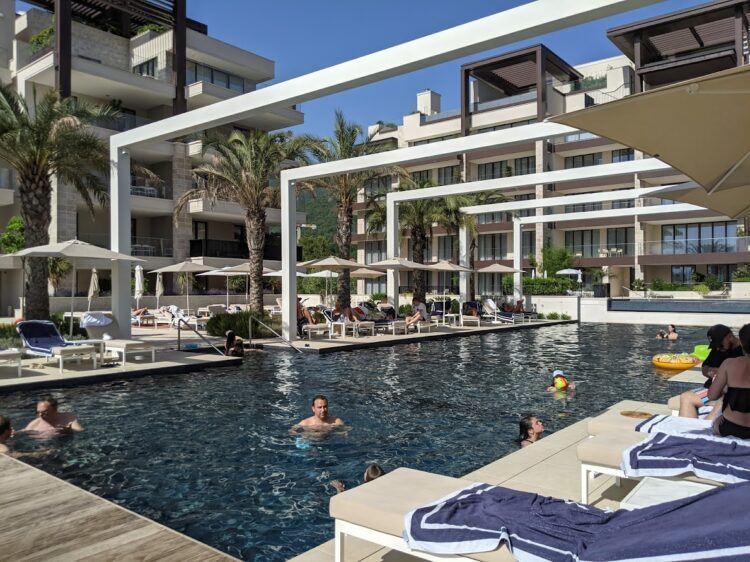 The lower terrace had more shaded seating, as well as cabanas you can rent (no fee as long as you hit the minimum food and beverage charges). It also featured an infinity pool overlooking the marina and attracted a more peaceful atmosphere.
In both areas, you could order lunch, snacks, or drinks. Service was spotty at best; don't expect anyone to come around and proactively offer to take your order. The Hugo cocktail — popular in Europe and practically unheard of in the USA — is a refreshing blend of prosecco, elderflower syrup, soda water, fresh lime, and mint for 10,50€. Most other cocktails ranged from 10-12 euros; mocktails around 4 euro.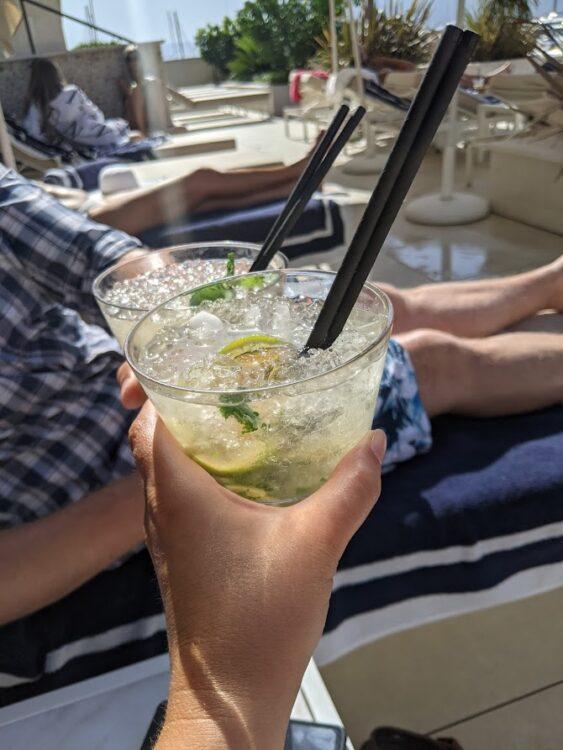 Near the gym, there's a small, quiet pool which we used once when we needed to escape the sunshine at the pool club. Unfortunately, the water at this pool was frigid so we didn't stick around long.
The indoor pool (and jacuzzi) weren't very popular during our stay — probably because it was beautiful outside!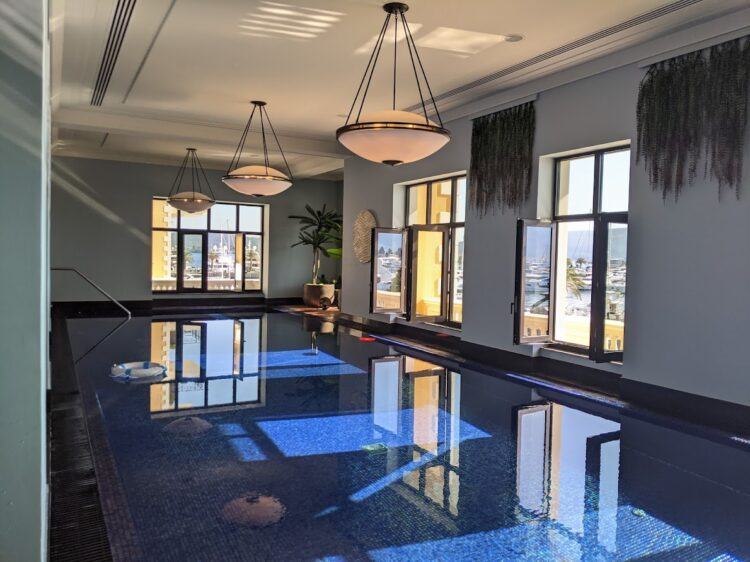 Regent Breakfast
At the time of our visit, breakfast is included in all rates (yes, even on award stays) from 7-11am daily. Prevous reviews mentioned a grand buffet, but they offered a la carte ordering during our visit, which I actually prefer.
We were told that we could offer one cold drink, one hot drink, one main dish, and one side though I got the impression if we wanted more, it wouldn't be a problem. A small bread and pastry basket was automatically offered.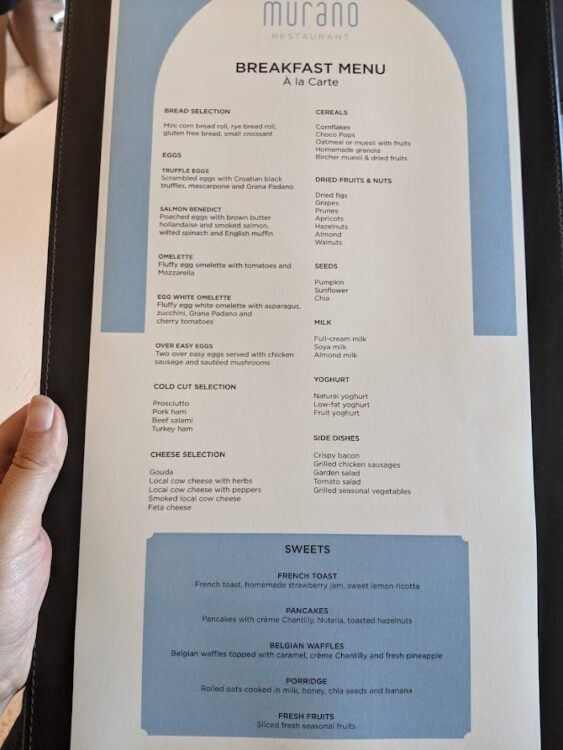 I sampled the truffle eggs and eggs benedict (sans salmon) during my stay. Both were good, neither were exceptional. The coffee was quite disappointing and I was unimpressed with both the filter coffee and cappuccino.
Our food was brought out on a nice timeline, fast enough that you could get on with your day but not so quickly you felt rushed. Like in most of Montenegro, no one really checks on you after you get your food so if you need anything else you'll need to flag a server down.
Our Big Splurge: The Spa
Considering the cost of rooms at the hotel, I was pleasantly surprised when I saw the cost of spa treatments. I was just "looking for the sake of research", but that turned into "booking for the sake of research". Sometimes I can't help myself and it wasn't my fault they still had appointments available for the next evening.
We were recommended to come to the spa an hour before the appointment, to make use of the facilities (steam hammam, dry sauna, jacuzzi, and "experience shower"). That seemed like a lot to me, so I made my way down about 30 minutes in advance to change and check things out. Turns out that was more than enough: these are three-stay facilities at best and the locker room was so disheveled the hotel should've been embarassed.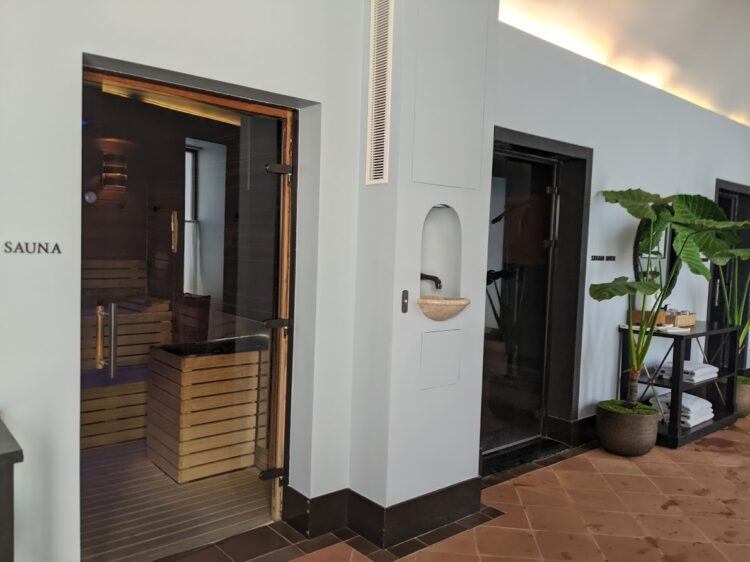 The hammam and sauna were both exactly what you'd expect. The mysterious experience shower was laughable. The concept is nice — choose a setting, like tropical rain — and you'll have multiple nozzles set up to shower you in a specific way. What I got was 60 seconds of an amateur light show, monkey soundtracks, and a mostly basic shower.
Thankfully, my spa treatment was phenonmenal. My masseuse was possibly the best I ever had, and my husband said the same about his. We both felt amazing afterward so any disappointment from the facilities themselves were long forgotten.
Strangely, though, the description of my treatment didn't line up too well with my experience.

I never had the "guided inhalation" and the mud mask was a dab of mud placed in the palm of my hand without covering any of my hands (or feet) other what the quarter-sized dollop touched coincidentally. Instead, about half my treatment was spent giving me an unexpected, lovely facial and the other half of my time was spent on a Swedish-inspired massage.
My husband who requested a different treatment mentioned a similar discrepancy in written description and what he received. Since we both enjoyed our treatments, it wasn't a big deal, but you'll want to talk directly to your therapist before booking if you want something specific.
Other Public Spaces at the Regent Porto Montenegro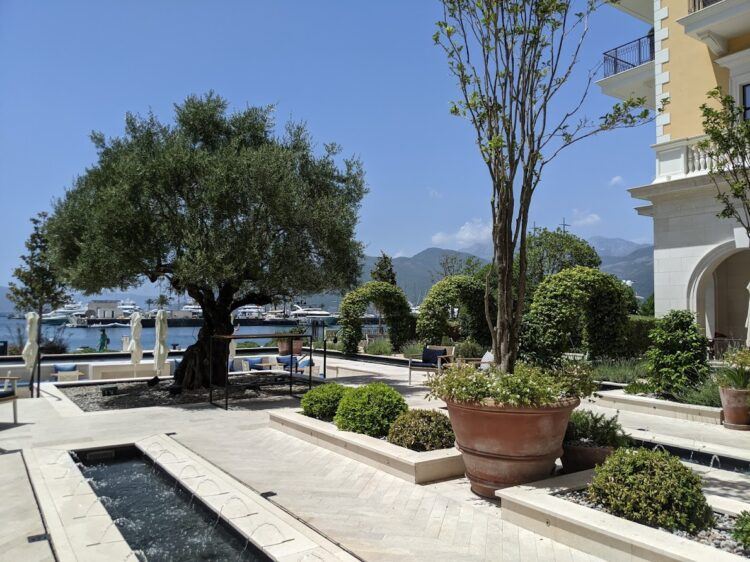 The hotel has a fitness center (currently limited to one person, or one family, at a time), indoor/outdoor lobby bar, indoor Library Bar and Lounge, and a casual eatery they call the Gourmet Corner with coffees, sandwiches, pastries, etc.
We attempted to get a drink one evening at the Library Bar — we were gifted a voucher for two drinks for being Platinum members — but when we arrived at 8pm, no one was there, including the staff. After waiting about ten minutes, we gave up and didn't bother to try using the voucher at the lobby bar instead. Though there was staff, it also felt dead and deserted and not the ambiance we were looking for, especially considering we had a bottle of wine we could drink on our terrace.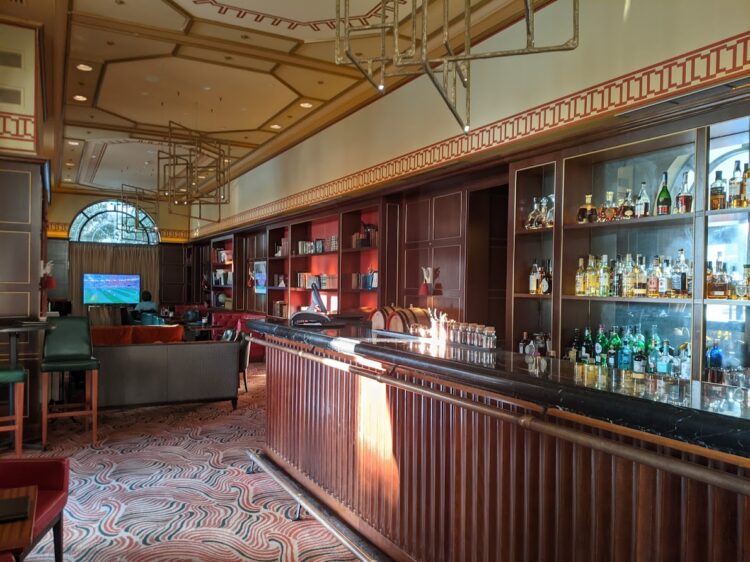 Some Thoughts on Porto Montenegro
The neighborhood of Porto Montenegro, a subsection of Tivat, is a 100% contrived experience that doesn't reflect greater Montenegro. There's high-end shopping, international restaurants, and yachts everywhere we looked. The yacht club is the place to be, with day parties at the pool and DJs or musicians several nights a week (you can access with cover charge, even if you're not a member).
Essentially, Porto Montenegro is a bubble where the ultra-wealthy (or posers, like me) can relax and enjoy the summer sun while their yacht is docked a hundred yards away. You can definitely walk to local restaurants (anything named "Konoba" is a good choice; it translates to tavern) but you won't accidentally pass them. You have to try.
If you want the Montenegrin experience, this is not it. But if you want access to a great pool complex, you're still only 20 minutes from Kotor Old Town, an hour from Herceg Novi (faster by boat!), or about an hour from Lovcen National Park. Tivat airport is only ten minutes away.
I don't feel like I missed out by staying here, but then again, we had already stayed overnight in Virpazar, Plav, Zabljak, and Kotor, not to mention the other towns we day-tripped to. So, by all means stay here if you want to, but make a conscious effort to explore outside the bubble, too.
What We Did in Porto Montenegro
Honestly, we chilled a lot. I did yoga on the terrace, drank coffee on the terrace, drank wine on the terrace… We also spent time at the pool and indulged at the spa. Frankly, we were tired from a lot of our earlier Montenegro adventures and enjoyed having a day full of nothing!
For our second day, we got more adventurous and booked a boat tour with Polar Star. The most popular excursion is about 3 hours, heading through the Bay of Kotor to see the fjords and the monastery on the island of Perast, then swinging out to swim at the Blue Lagoon. Since we had already been to Kotor and Perast independently, we customized a 4-hour trip to visit WWII submarine tunnels before swimming at the Blue Lagoon and eating lunch at Ribarsko Selo, a popular restaurant and beach club ($$$$).
The day was fabulous — no complaints — but could have been better. We should've extended it by another hour or two so we'd have more time at the beach club and maybe a random, secluded swimming stop somewhere in the sea. Next time!
As mentioned, this is a fine base for Kotor, Herceg Novi, Budva, or Lovcen. You're also in reasonable day-tripping distance for Trebinje, Bosnia and Herzegovina or Cavtat, Croatia, both of which I've heard great things about but haven't visited myself.
Would I Stay Here Again?
For free, of course I'd stay here again! The bed was really comfortable and the pool complex was excellent. I loved that breakfast and valet parking were included since it made everything easy and I enjoyed my spa treatment thoroughly. They also went out of their way to make the stay memorable, offering a generous upgrade and a free bottle of house wine. The grounds were beautiful, too.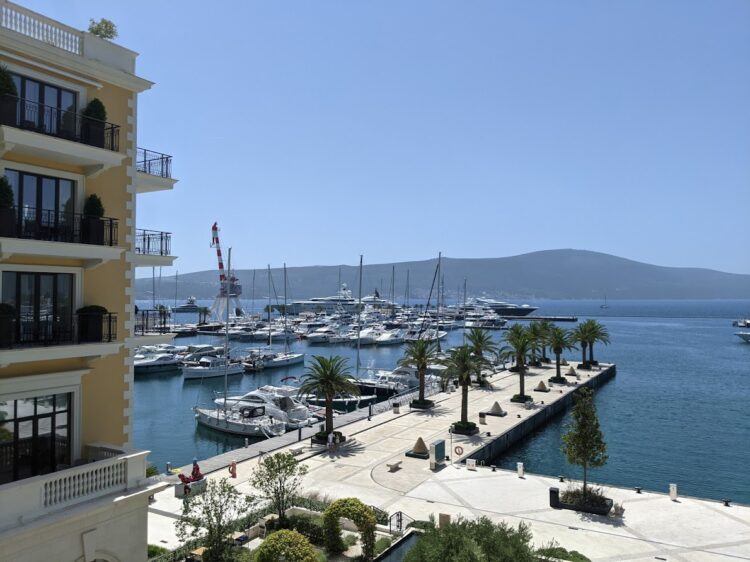 For a paid stay, though, it's not as obvious. Service at the hotel still had room for improvement and a few small changes would really help the property level up. The little things don't go unnoticed, at least not at a property billing itself as a luxury hospitality brand. Then again, it's a lot cheaper than the other high-end international brands in Montenegro, like Aman and One&Only.
For me, though, the hotel isn't worth the money for one simple reason: I like to be in the heart of things and not isolated from local culture. Porto Montenegro — the district, not the hotel — isn't my style.
Next time, you'll find me staying in one of the other Montenegrin coastal towns I enjoyed. That's a trade-off worth it to me, even if it means I have to subtract a star or two from my hotel stay.
More About Traveling in the Balkans