This post may contain affiliate links. As an Amazon Associate I earn from qualifying purchases.
* * *
It's no secret that I went to Montenegro for the scenery. The landscapes there are spectacular and offer immense variety — you'll never get bored. And, a tidbit that guidebooks won't tell you, is that practically every major route is pretty enough to be a scenic byway, even if it's never labeled as such (sadly, most roads don't have shoulders or pull-offs so you'll have to enjoy as you go without the ability to stop for photos).
But, despite the entire country qualifying as the subject of a photographic coffee table book, there are only five national parks. We didn't intend to visit all of Montenegro's national parks, but we found ourselves with enough time to detour a little. Since not everyone will have that kind of time, I'm here to share which ones you can't miss — and how to best explore each one.
National Parks in Montenegro
There are 5 national parks in Montenegro: Durmitor and Prokletije offer mountain scenery, Lovćen overlooks the coastal fjords, Lake Skadar is the largest lake in southern Europe, and Biogradska Gora is all about the forest.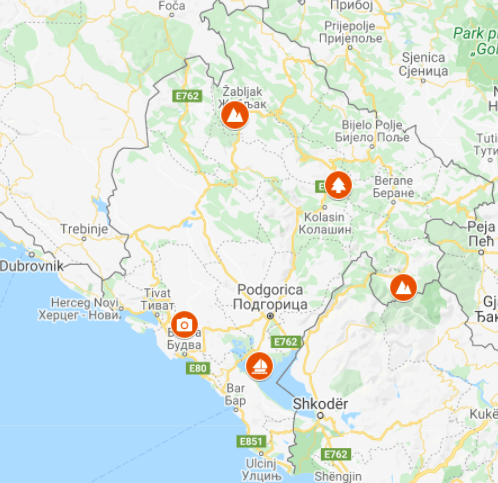 Durmitor National Park
If you only make time for one national park on your visit, make it Durmitor. It features extraordinary scenery and is a good base for several activities. There are all sorts of day trips from Kotor and Budva but be aware it's a lot of driving for a single day: the trip takes about 2.5-3 hours each way. It's much better as an overnight, especially since there's plenty to do.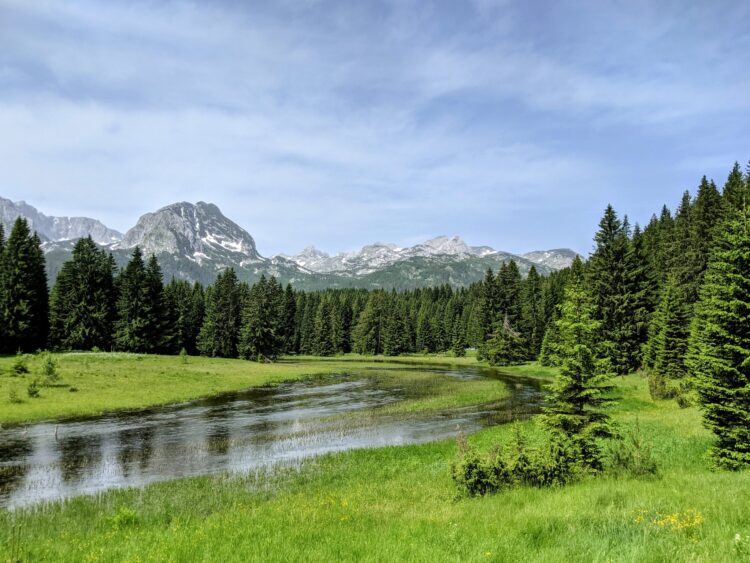 Durmitor National Park is different from the other parks in the country in that it encompasses a few different ecosystems. Most visitors focus on the Black Lake (Crno Jezero) section of the park, probably because it's close enough to walk to the nearest town (Žabljak). Most marketing photos of Durmitor focus on this area.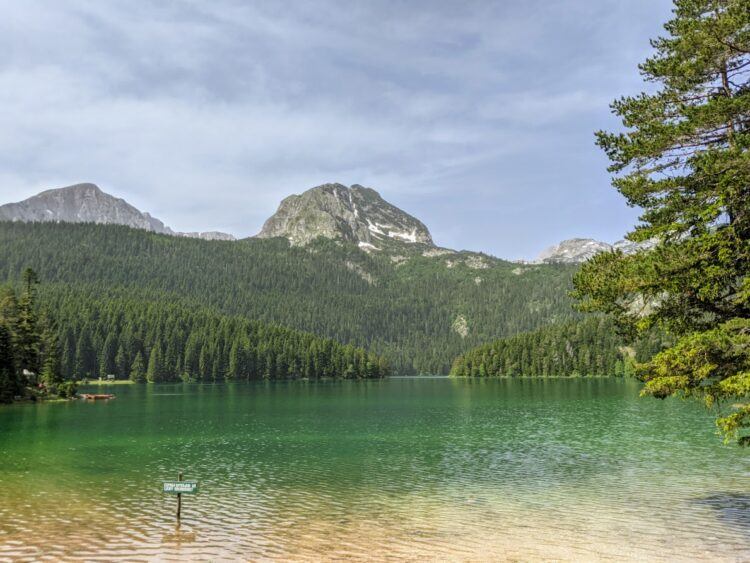 My favorite area, though, was along the Durmitor Ring Road. It winds between several rocky peaks, with each pass more impressive than the last. It takes about a half-day to complete — you'll want to stop for pictures constantly — though with a full day you can add in time for one of the dramatic hikes along the route or detour to Plužine for epic views of Piva Lake and Piva Canyon.
The last part of Durmitor National Park you'll want to discover is the Tara River Canyon, the deepest canyon in Europe. We got our first glimpses while driving between Mojkovac and Žabljak and it was so beautiful I wish I had brought along a dash cam so I could re-live it later. There aren't many spots to get close to the water, so your best bet is to join a whitewater rafting trip. We didn't, and it's one of my few regrets from this trip. If you also intend on skipping the raft trip, you can get great looks at the canyon below from Djurdjević Arch Bridge.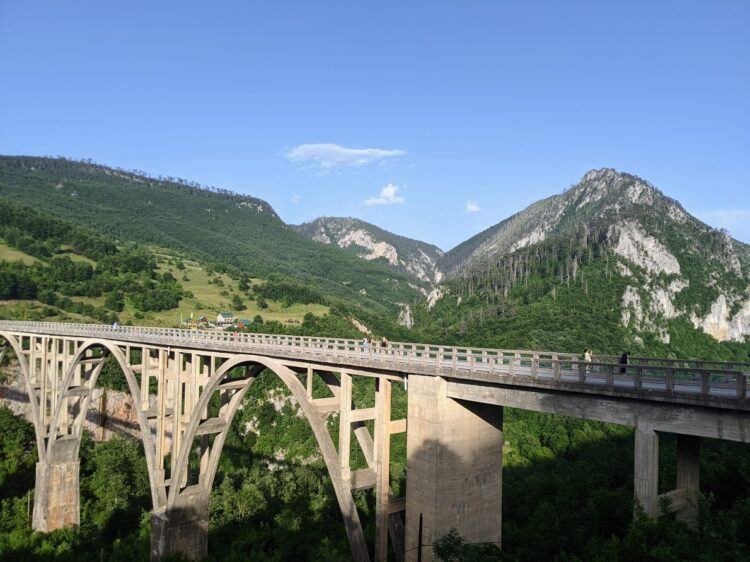 In a perfect world, you'd spend two full days at Durmitor National Park: one day driving and hiking the ring road, a half day rafting, and a half day at Black Lake for picnicking or strolling. With more time, you could also mountain bike, horseback ride, drive ATVs, zipline, or of course, add in several more hikes. In the winter, it's a major ski town.
Where to Stay Near Durmitor National Park: The best base is the town of Žabljak, which is growing at rapid speed. By far, the nicest place in town is Hotel Soa and by American standards, it's very affordable (they were sold out for our visit, but we did enjoy dinner there). We stayed at Borovnica Sweet Apartments, which was fine but not noteworthy; there are countless other guesthouses and apartments in town. I can also recommend Restoran Or'o for at least one meal — their lamb was the best in town and the patio a real delight.
Prokletije National Park
Far away from everything else, Prokletije National Park sits on the Albanian border about 4.5 hours from Kotor (3 hours from Podgorica or Zabljak). It's a long drive with some boring sections and a few busy parts with trucks, so is it worth going out of your way?
The answer, for hikers, is indisputably yes. The "Accursed Mountains" are home to jagged peaks, rocky spires, and deep ravines, each in contrast to the wildflower meadows that distract you from the potential hazards of mountain passes. It's a remote wilderness, so untouched it still feels secret, and yet there are a handful of very achievable trails to take in the immensity.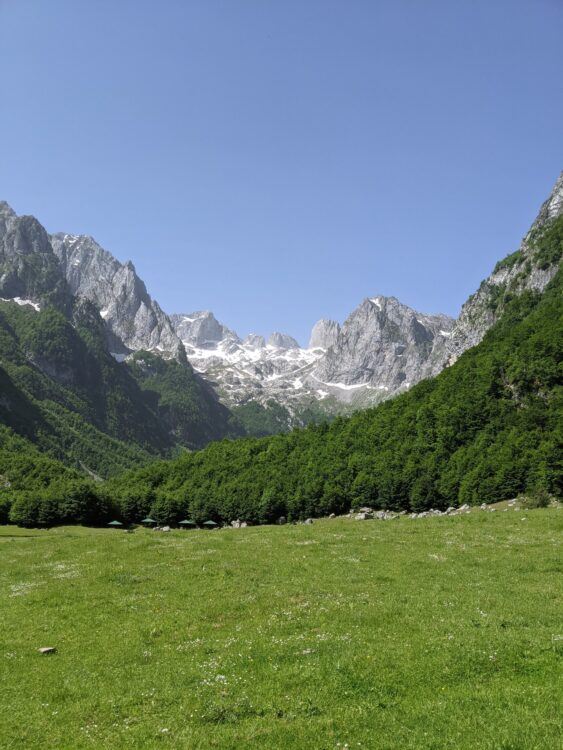 Here, there are two main sections: Grebaje Valley and Ropojana Valley. Both lead you through the low spots of the valley, looking up at impossibly high mountains, some of which were still covered in snow in late June. A few glaciers even glimmered in the sunlight, in areas you'd never reach by foot.
From Grebaje Valley, we tackled the "Three Peaks" hike, one of the greatest trails I've ever had the pleasure of hiking. It leads you through forests and past waterfalls to the most glorious alpine meadow before heading up to, yes, three summits. (If you suffer from vertigo, I recommend just doing one peak, Volušnica, to avoid a short knife ridge).
Ropojana Valley is more mellow, a lovely place to take a scenic drive or perhaps rent bikes if you can find them. You'll pass clear springs, a waterfall, and a spectacularly blue pool.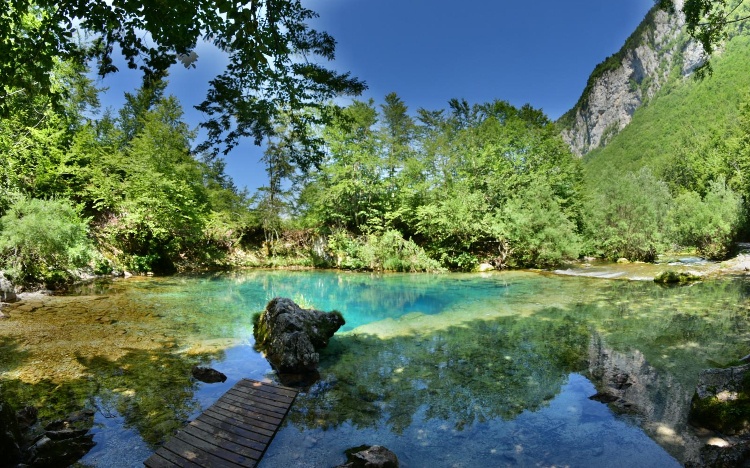 If you have no intention of adding a strenuous hike in the mountains to your travel plans, Prokletije is not for you. It's beautiful, even in the valleys, but a very long way to travel to take a few photographs. However, if you're looking for a physical challenge and amazing wild beauty, you need to add this to your plans. Someday, I now hope to visit the Albanian side of the mountains for more of this vast wilderness.
Where to Stay Near Prokletije National Park: We stayed in the town of Plav, which in retrospect I wouldn't do again: we couldn't sleep due to the oddly loud nightlife scene (and I couldn't even join in, since this old-school Muslim town thinks only men can go out at night). Then, you're woken up at the crack of dawn by the call to prayer. Instead, stay right inside the park at a quiet, simple guesthouse like the Bungalows Katun Maja Karanfil. We snooped around after our hike and had lunch there. I wouldn't hesitate to stay there given the excellent service we were treated to.
Lovćen National Park
Probably the most-visited national park in Montenegro, Lovćen was also the most boring in my opinion. It's a one-hit wonder: there are (admittedly) gorgeous views from the top of the mountain but…that's it. There is no more.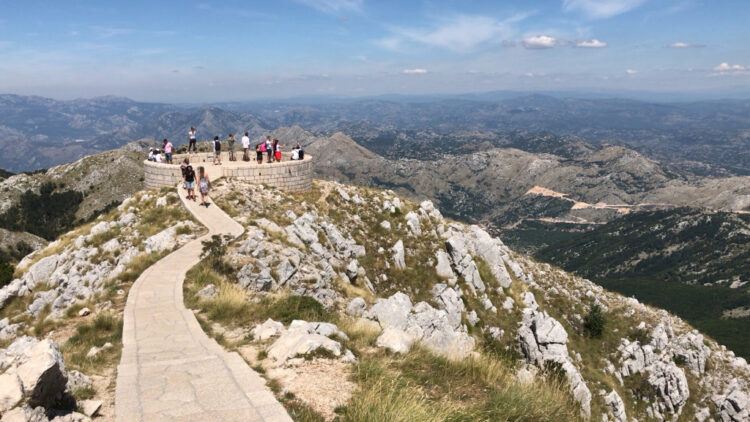 That said, Lovcen is famous not only for its views, but for its significance as the final resting place of Petar II Petrović Njegoš. This nineteenth-century prince did wonders for the country, uniting tribes, establishing a central government, and improving infrastructure nationwide. Locals visit to pay their respects at his mausoleum in addition to enjoying the view.
Perhaps I'm biased because I've never been one who needs to take in viewpoints above cities — not anywhere in the world – – but I was underwhelmed here and was just as happy taking in the views from Kotor's fortress.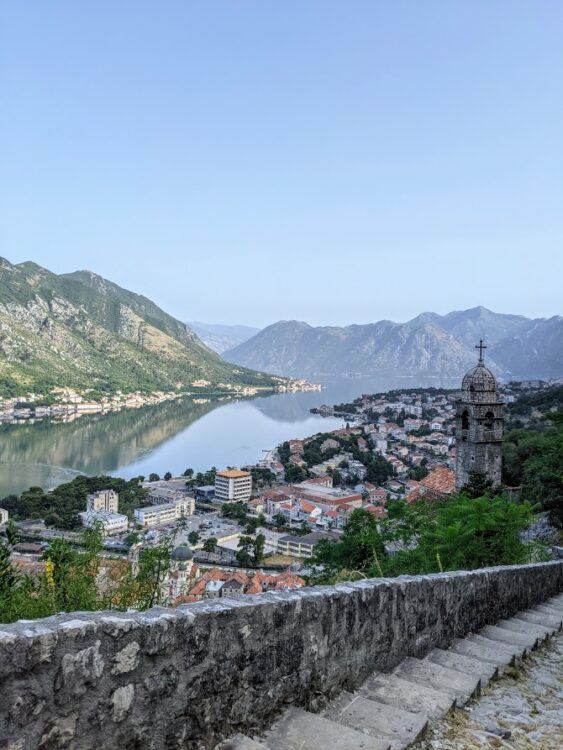 The road up to Lovcen National Park from the Bay of Kotor is famous for its two dozen hair-raising switchbacks (or "serpentines", as they're referred to locally). Don't attempt it unless you're a confident driver: there are plenty of tours that will drive it on your behalf. Or, you can approach the park from the backside, which is more convenint to Cetinje, Podgorica, and Budva anyway.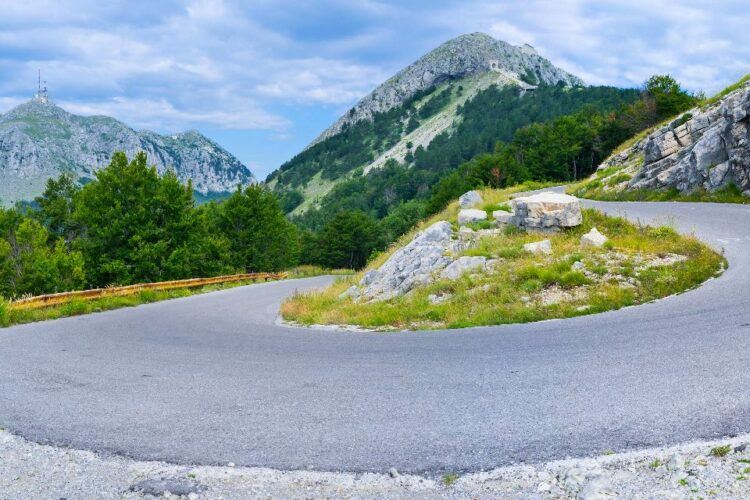 I think this is 100% skippable, but if you decide to go, it's a half day at most for the drive to/from the park and an hour or two at the top to walk around and enjoy the views. Heads up: there are a lot of steps to get to the tippy top!
Lake Skadar National Park
Lake Skadar, also referred to as Skadarska Jezero, is overlooked a lot, unless you happen to be staying on Montenegro's coast for a week and need a few day trips to round things out. And what a shame: I loved this area and the quiet allure it offers.
Unlike other parks, this one is hard to visit independently. The best way to explore the environment is by water, something that shouldn't be a complete surprise given that it's a massive freshwater lake. Boat trips leave from several towns along the lake to take you onto the water to uncover small islands, historical monasteries, and an incredible amount of bird life. You'll miss out on 90% of what the park has to offer if you don't get on the water.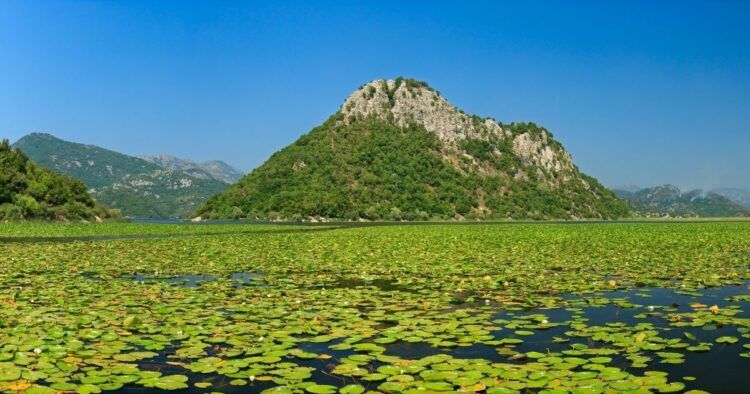 For the other 10%, you can explore by walking and biking, or even a scenic drive or two. This fertile area is also an amazing spot for wine-tasting, which is probably the perfect way to end a day outdoors. I've written extensively about Virpazar and Skadar Lake, so I won't re-hash it all here.
Where to Stay Near Lake Skadar National Park: As I've mentioned previously, I think Virpazar is the best town to base yourself in if you stay overnight. Our stay at Eco-Resort Cermeniza was beyond brilliant; I could've spent twice as long and been very happy. If you'd rather day-trip, it's doable from Kotor (75 minutes each way), Budva (50 minutes), and Podgorica (30 minutes), among others.
Biogradska Gora National Park
Biogradska Gora is the smallest of Montenegro's national parks, so small we almost skipped it. However, it's drastically different from any of the others. In fact, it's home to one of Europe's three remaining virgin rainforests. Yes, a rainforest! Something you never expect to find in Montenegro.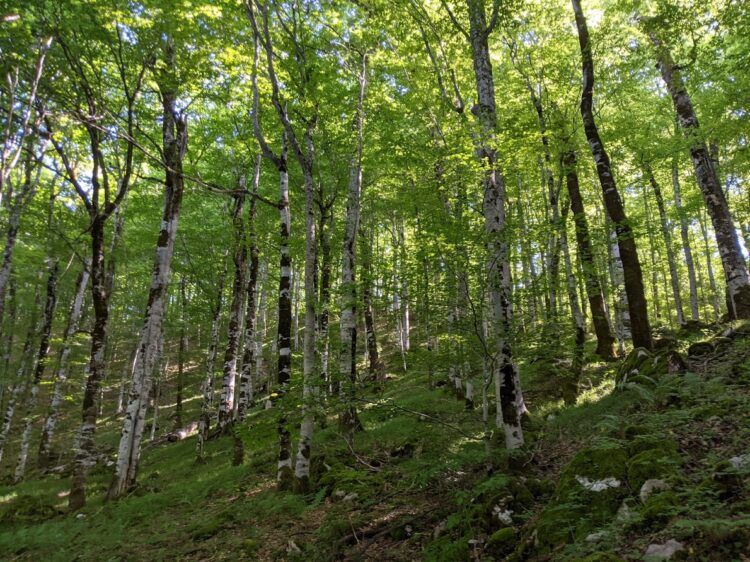 The main section of the park is otherworldly, with colossus leaves and ferns you may expect to see in Jurassic Park but not the Balkans. We came across giant snails and never-ending greenery just a few miles away from the main road. Coming in with no expectations, we found ourselves delighted.
Here, most people walk around the lake. It takes about an hour and is relatively easy walking, without many obstacles. Part of it is even on boardwalks, so you don't upset the flora below. For even more peace, rent a boat and find a spot on the water to simply breathe it all in.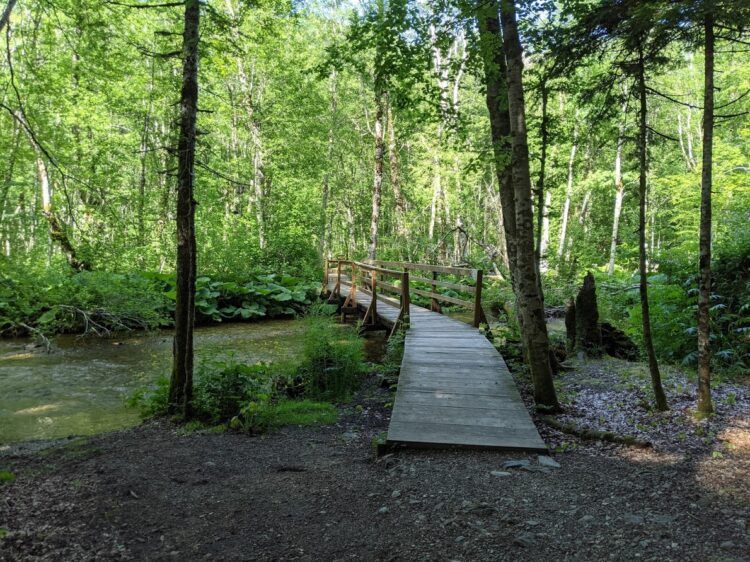 I only found out after our visit that there's another recommended hike, to Bendovac Viewpoint, through primeval forest to panoramas of the surrounding mountains. If I go back, I'll be sure to go.
Where to Stay Near Biogradska Gora National Park: We visited en-route to Prokletije, but if you intend to spend the night, the nearest town is Kolašin. It's mostly visited during ski season, but it looked awfully tiny to be a "resort town"! Still, the Bianca Resort & Spa looked awfully inviting. When you have sore muscles from a trek, you know how nice it can be to have a jacuzzi, solarium, sauna, steam room, indoor pool, and spa treatments at your disposal.
More Tips for Montenegro National Parks
The national parks here aren't like the ones you're used to in the United States (or even most of Europe). Visitor's centers are basic at best and other park facilities like bathrooms and restaurants are limited or sometimes nonexistent. It's best to assume you need to bring in everything you need — food, water, trash bags, and so on. For short visits, don't sweat this: there are restaurants and other services just outside park boundaries.
You also won't find ranger-led activities or even maps for sale (although staff is happy to answer questions or point you toward equipment rentals when available).
Entry fees are modest, 1-4 euro per person per day, and cash only.
Keep Reading About Montenegro