This post may contain affiliate links. As an Amazon Associate I earn from qualifying purchases.
* * *
When it comes to travel, I tend to obsess. I belabor over the tiniest details, ending up in a fit of indecision for absolutely no good reason. Sometimes, I spend so long deciding that the "best" option ends up sold out while I'm making my mind, causing me to start all over and look for second best. Oy.
For the most part, this obsession isn't a healthy thing, but it does mean that I've spent an extraordinary amount of time researching and comparing Montenegrin coastal towns so you don't have to. Better yet, now I've been to them so I have personal opinions to add to the mix. So, if you've been deciding where to stay in Montegro and get stuck between Kotor or Budva or any number of other towns, I'm here to help.
Overview of Montenegro Coastal Towns
If you're just starting your research, you'll find that the most popular stretch of Montenegro's coast ranges from Herceg Novi in the north (near Croatia) to Sveti Stefan, which is about halfway down the coastline heading south toward Albania. The two most popular towns are Kotor and Budva, in-between. I've marked these in red on the map below. There are also some lesser-visited places you may hear mentioned in yellow (Tivat, Perast, Dobrota, Petrovac, Luštica Peninsula, Ulcinj).
This entire stretch only ranges about 55 kilometers, though due to heavy traffic and narrow roads it can take a long time to get from A to B!
Where to Stay in Montenegro – Most Popular Options
Kotor
Nearest Airport: Tivat (15 minutes), Dubrovnik (90 minutes), Podgorica (100 minutes)
Biggest Advantages: Fascinating Old Town, Picturesque Setting
Biggest Disadvantages: Limited Hotel Amenities, Can Get Crowded, No Great Beaches
I'm starting with Kotor, since it should be on everyone's list of where to go in Montenegro even if you don't spend the night. The Old Town is incredibly interesting, with a lot of Venetian heritage in addition to the Montenegrin history you expect to find. It's a beautiful town to walk through, with UNESCO World Heritage Status, and good reasons to pull out your camera around every corner or alleyway.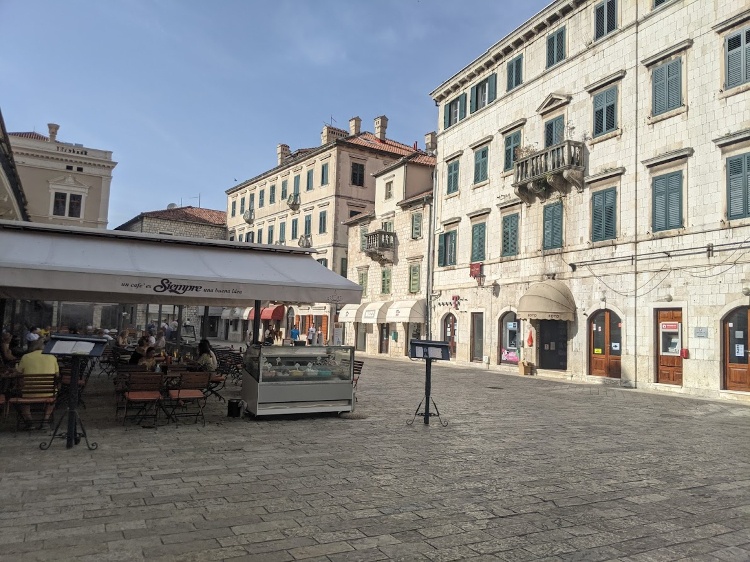 The best things to do in Kotor include:
Aimlessly exploring the medieval area
Joining a walking tour to understand the history of Old Kotor
Walking the walls around Old Town
Visiting the Maritime Museum (worth it even if you're not interested in the history – it's a cool building/former palace)
Walking up to the fortess for views overlooking the city
Boat trip through the fjord to Our Lady of the Rocks (Perast)
Honestly, that looks like a lot but you can do it all in a day, leaving you with plenty of time to day trip up and down along the coast or inland to other areas (Lovćen National Park is probably the most popular day trip). It's a relatively central, convenient base.
I really liked Kotor, but it can get crowded in the summertime from cruises and people day-tripping from Dubrovnik. Staying overnight means you can explore in the mornings and evenings when it's less busy. Since it's so popular, expect prices to be somewhat higher and be prepared for souvenir shops, sightseeing touts, and tempting ice cream on every corner.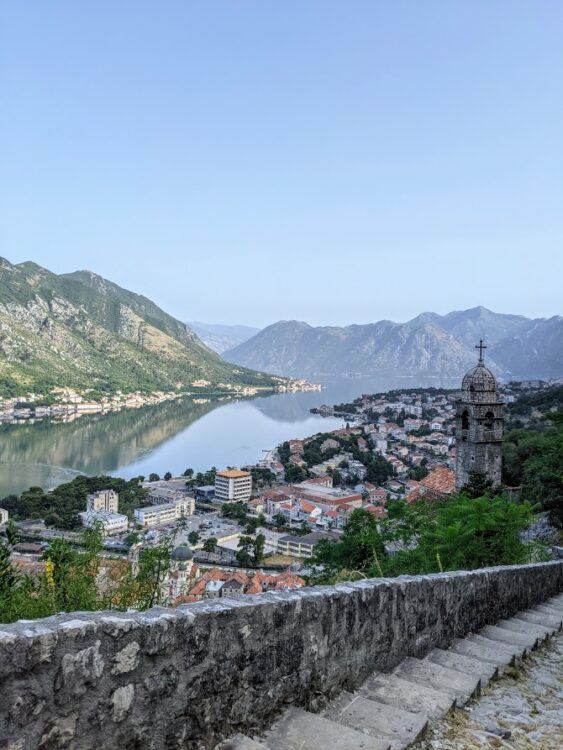 The beaches in Kotor aren't great, so this is a better fit for someone interested in history or ambiance than someone looking for fun in the sun.
Where to Stay in Kotor: We stayed at the Porto In Hotel, which is a solid three-star hotel with strong air conditioning (you'll want it) and easy parking about 100 meters away. The hotel is about a five-minute walk outside the city walls, which means it's way quieter at night.
Budva
Nearest Airport: Tivat (40 minutes), Podgorica (75 minutes), Dubrovnik (120 minutes)
Biggest Advantages: Major Nightlife, Nice Beaches
Biggest Disadvantages: Can be crowded, Focus on parties instead of local culture
South of Kotor, Budva is another popular place for visitors. It puts you in close proximity to Bečići Beach, a long sandy stretch that's different from the rocky, pebbly beaches you find in most of the country. This area has tons of resorts and a huge assortment of bars and clubs, which depending on your personality you'll either love or hate. Although there is an Old Town, it's not nearly as well-preserved as the one in Kotor.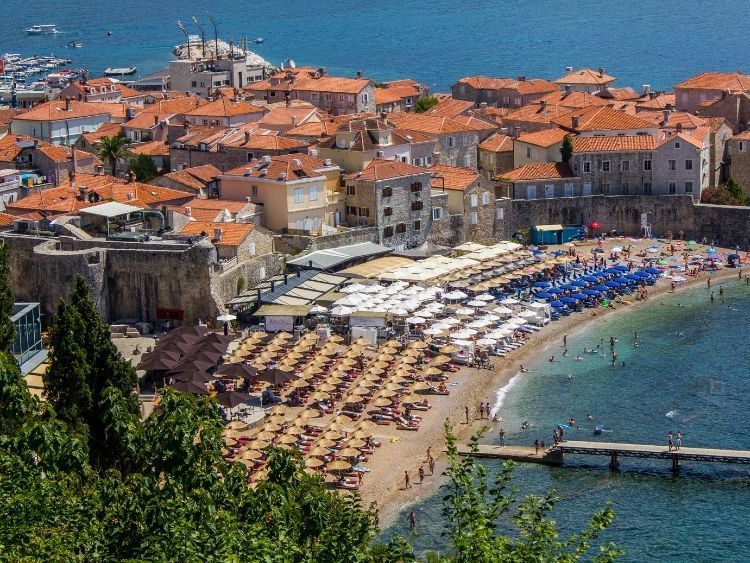 This area is super touristy, and sadly losing a little of its local personality, so you'll have to specifically seek out authentic restaurants if you want to avoid tourist traps.
Go to Budva if you want to party all night long or if you want lots of beach days, hotels with big pools, and water sports.
Where to Stay in Budva: Presumably you're coming here for a beach holiday, so I'd recommend a resort with a full set of amenities like the Iberostar Bellevue. It's walking distance to several beaches for variety's sake and Old Town is about a 30-minute walk away (or quick taxi ride).
Sveti Stefan
Nearest Airport: Tivat (50 minutes), Podgorica (60 minutes), Dubrovnik (130 minutes)
Biggest Advantages: Less Crowded, Beautiful Beaches
Biggest Disadvantages: Expensive, Isolated
About 10 minutes south of the Budva Riviera, you'll find the islet of Sveti Stefan, connected to the mainland by a narrow spit. While this is a popular photo stop on tours, not many people go to Sveti Stefan itself — access is limited to anyone staying there at the Aman resort ($$$$) or choosing to pay for day access to its pricey beaches.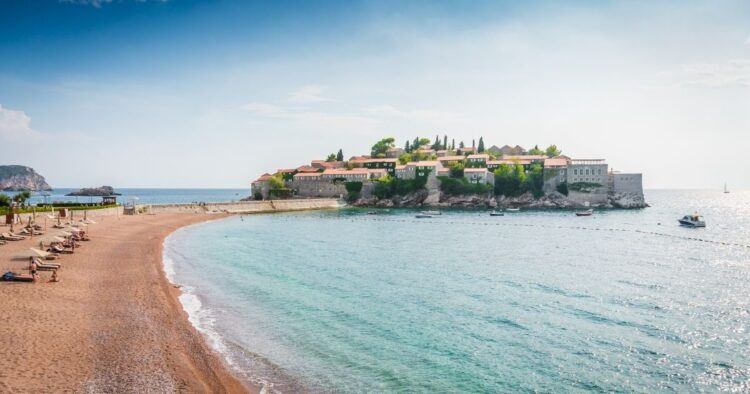 However, there are a few hotels on the mainland facing Sveti Stefan without being on the island itself. There are a few public beaches, even if it's not "the" beach. The water looks incredibly clear, though I can't personally confirm. In general, this is an expensive area without much to do other than enjoy the views and the beach and I tend to look for more than that.
Where to Stay in Sveti Stefan: The Aman has mediocre reviews so I'd stay at the new Vivid Blue Serenity Resort, which looks stunning. There's an infinity pool, spa, well-rated restaurant and of course, fabulous views.
Herceg Novi
Nearest Airport: Dubrovnik (35 minutes), Tivat (60 minutes), Podgorica (2 hours 45 minutes)
Biggest Advantages: Authentic Old Town, Picturesque Coastal Setting
Biggest Disadvantages: Lots of Hills, Too Far for Many Day Trips
Kotor and Budva get all the attention, but I think Herceg Novi is a solid option that's worth considering. Like Kotor, there's tons of historical architecture, fantatic alleyways to explore, and a great Old Town. It has all the amenities a traveler wants, like ultra-fresh seafood restaurants and comfortable hotels, yet tourism isn't quite as in-your-face as it is farther south. You'll find some crowds, but far fewer than Kotor itself.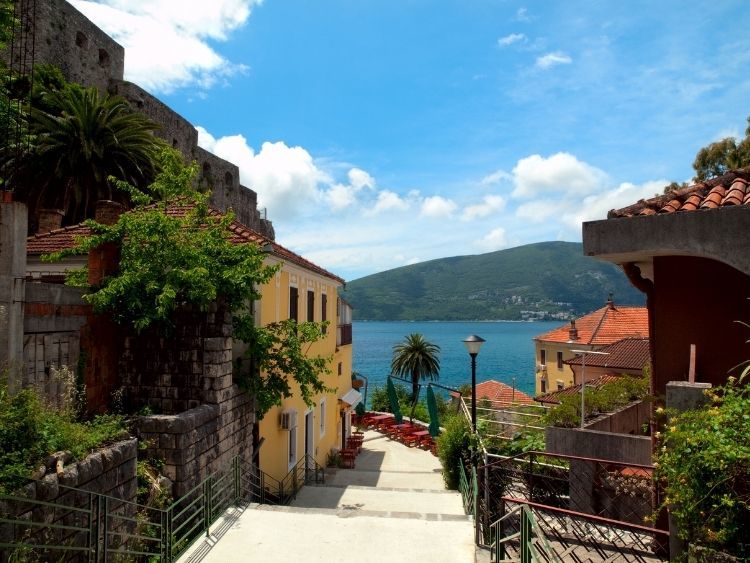 Unfortunately, Herceg Novi is far enough north that a lot of day trips will be too far for comfort, which makes this a better base for travelers who anticipate sticking to the coast rather than heading to any national parks in Montenegro. Still, it's really easy to day trip to Kotor (1 hour away) and even stop at Perast along the way.
The best things to do in Herceg Novi:
Wander the Old Town and explore quiet corners and alleys
Taste wines at the Savina Winery
Rent a kayak (or join a tour) to paddle to the adorable village of Rose
Walk the seaside promenade toward Igalo or Meljine (or both!)
Join a boat trip to Zanjice Beach and the Blue Cave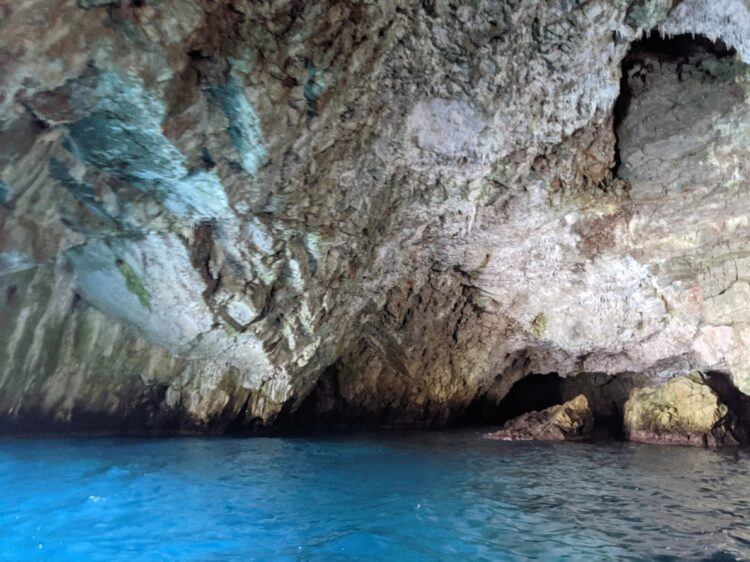 If I go back to Montenegro, this is where I would stay.
Where to Stay in Herceg Novi: I love the architecure and design at Guesthouse Villa Stari Grad, plus it has a stellar location.
Other Montenegro Coastal Towns to Consider
These other towns along the Adriatic aren't quite as popular as the others — which might be a plus in your book.
Tivat (and Porto Montenegro)
Nearest Airport: Tivat (10 minutes), Dubrovnik (90 minutes), Podgorica (105 minutes)
Biggest Advantages: Luxury hotels, Stress-free environment
Biggest Disadvantages: Expensive, Culturally-isolated
Tivat and Porto Montenegro are often used interchangeably, although they're technically not the same. Porto Montenegro refers to a subset of Tivat, a neighborhood if you will, putting you close to the marina, yacht club, and luxury shopping.
Tivat the city is totally fine, with local taverns and shops, but I'd rank it pretty low compared to spots like Kotor, Budva, or Herceg Novi. On the other hand, Porto Montenegro will appeal to a certain set of travelers: it's an upscale, polished enclave that puts you in vacation mode (at the expense of overlooking some Montenegrin flair).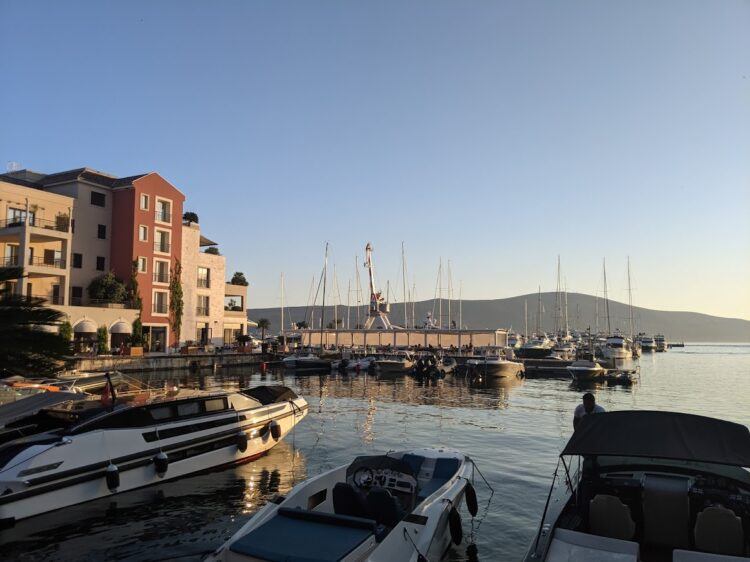 If you want a high-end hotel with all the bells and whistles, you want Porto Montenegro. It's easy enough to day trip within the region from here, as long as you have a car or driver.
Where to Stay in Porto Montenegro: The Regent Porto Montenegro is the nicest place in town and is walking distance to all the shops, restaurants, and other amenities within the port area. We stayed for two nights and enjoyed the pool and spa.
Dobrota
Dobrota is so close to Kotor that a lot of Dobrota hotels actually market themselves as being in Kotor (it's about a 40-minute walk or 7-minute drive between the two). I'm calling it out separately so you know there's a difference.
Staying in Dobrota means you'll find lower prices — or more amenities for the same price — as staying in Old Town. It's quieter, more relaxed, and with more of a local feel, since you're surrounded by residents instead of tourists. You can walk the coastal pathway, dine at local restaurants, and find your own favorite stretch of beach.
Where to Stay in Dobrota: There are a lot of apartment options, both on Booking.com and Airbnb. If that doesn't appeal to you, try the Palazzo Radomiri Heritage Boutique Hotel for seaside views and a pool.
Perast
Perast is a small town along the Bay of Kotor. Most visitors come on a day trip or as a quick stop en route between other destinations.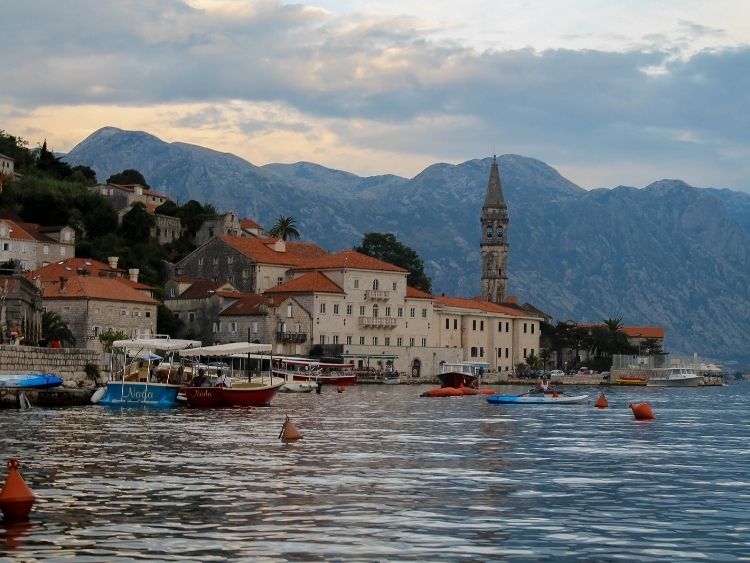 How small is it? Boat trips leave from Kotor Old Town and only take 1.5 hours, including the boat ride itself, a quick stop to see the island monastery, and allowing about half an hour to walk through the town of Perast. This is what I'd recommend you do too — if you decide you want to spend more time in Perast, no big deal, you can just taxi/bus back to Kotor instead of returning on your boat tour. It's only 15 minutes.
Where to Stay in Perast: Perast is worth seeing but I wouldn't plan a whole vacation around it unless you want somewhere to relax, read, and escape the rest of the world. In that case, I'd choose somewhere charming like the Conte Hotel.
Luštica Peninsula
The Luštica Peninsula refers to a relatively large area, with one side along the Bay of Kotor and another along the Adriatic Sea. For the most part, it's more rural than the rest of the coast, with quaint fishing villages, olive groves, and all types of beaches.
Right now, it's mostly undeveloped but that's already starting to change: there's a brand new Nikki Beach Club now and they're starting to build something on Mamula Island. I imagine in 5 years, things will look very different. We only explored a small fraction of the peninsula (Zanjice Beach & the Ribarsko Selo restaurant) but there's certainly more to see.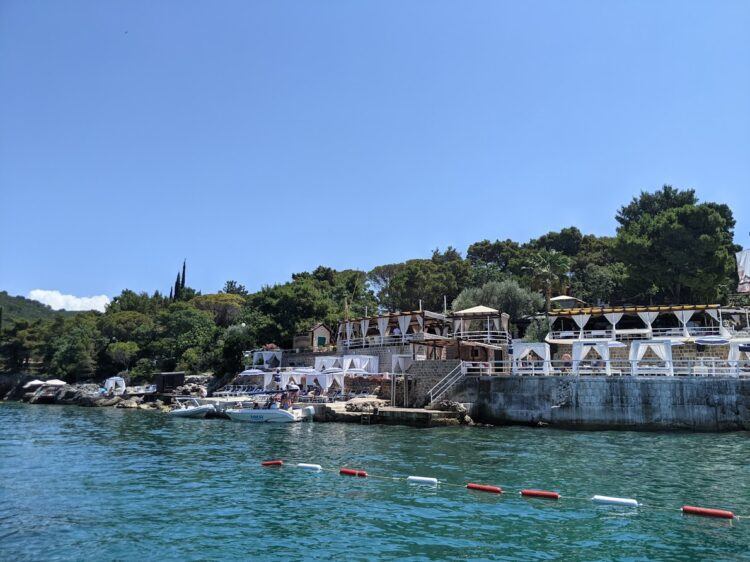 Right now, going means you can see a part of Montenegro that's still only lightly touched by tourism but it also means you're a long drive away from any of the most iconic attractions in the area.
Where to stay on the Lustica Peninsula: I'd specifically seek out somewhere with self-catering options, so you don't always have to drive for dinner. The Apartments Bellavista have everything you need, including a prime seaside location.
Petrovac
Petrovac is south of Budva, and an easy half-day trip from Virpazar and Skadar Lake, which is how we visited. It's the ubiquitous seaside resort town, with two main beaches, some scenic coastal walks, and all the seafood restaurants you can ask for. It's laidback and very family-friendly.
Compared to other coastal towns in Montenegro, Petrovac is a one-hit wonder, where everything is focused around the beach.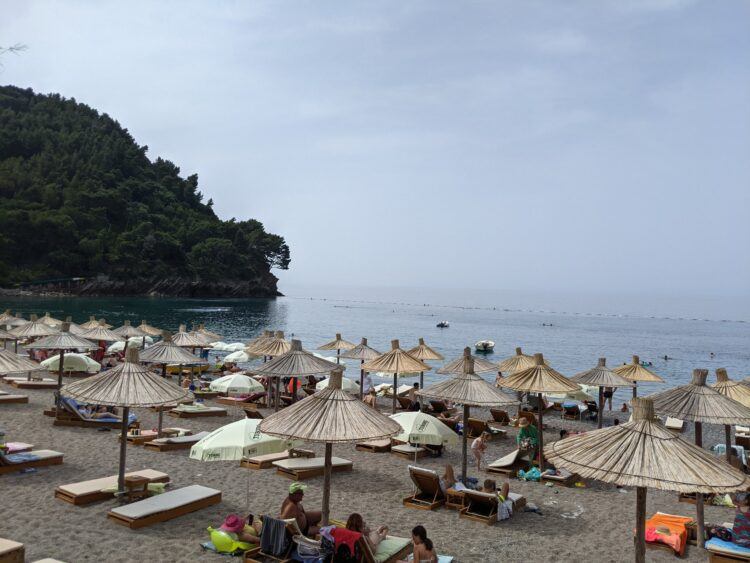 We were a little disappointed to find the Russians outnumbering Montenegrins by what felt like 4:1, but if you're after a lazy beach day, it's still a fine option.
Where to Stay in Petrovac: Try the Hotel Rivijera, which puts you on the far side of Petrovac Beach, letting you split the distance between restaurants on the boardwalk and the "better" Lučice Beach.
Ulcinj
Last in my guide is Ulcinj, a town I never visited but heard nothing but good things about. It's in the far south, practically on the Albanian border, and because it's not near any of the country's most-visited destinations, it's a whole bunch cheaper even though the beaches are (supposedly) nicer. At the very least, they're longer: Velika Plaža is the longest beach in Montenegro, at 14 kilometers long.
In addition to the beaches and water sports you'd expect on an Adriatic getaway, there are also some nature reserves known for birding. The olive groves and Old Town are other popular activities.
Much of the city population here is ethnically Albanian, so I presume there's a different feel than you'll find farther north.
Where to Stay in Ulcinj: The Hotel Palata Venezia is a former castle that's within walking distance of three beaches and Old Town. Perfect!
Bottom Line
If all of this leaves you with information overload, here's a quick summary:
Choose Kotor for history
Choose Herceg Novi for small town delights
Choose Budva for nightlife
Choose Ulcinj for beaches
Choose Porto Montenegro for luxury
Remember, some of these towns are all very close to each other which means you can definitely take day trips as well. In fact, I recommend you do so that you can discover the best of the Montenegrin coast!
All in all, you can't visit Montenegro without spending at least a little time in this region of the country. The Adriatic is beautiful, inviting, and has so much to offer.
More Stories About Montenegro