This post may contain affiliate links. As an Amazon Associate I earn from qualifying purchases.
* * *
People ask me all the time how I get foreign currency before a trip and the quick answer is… I don't. Why would I, when I can get cash on demand from any ATM in the world with no upcharge, no foreign transaction fee, no ATM fees, and at a fair exchange rate?
Seriously, Charles Schwab Checking and their international ATM card have changed how I travel!
Why You Don't Want to Convert Dollars to Local Currency
No matter how you do it, exchanging dollars for foreign currency will cost you. Ordering it from your local bank ahead of time is probably the best bet — you'll get closer to the official exchange rate and pay lower fees (probably — it depends on your specific bank). But you'll still pay something for the privilege and there's a good chance you'll have to plan in advance. Most banks only keep the most popular currencies on hand (like euros, Canadian dollars, British pounds).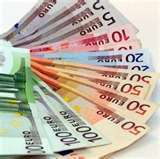 Trading currencies at the airport is usually the worst option out there. Yes, lots of places will advertise "no fee" but then they give you such a terrible exchange rate that you're losing 4-5% on every transaction. If you need $500 in cash, that means you're paying $25 in fees…maybe more! In countries like China and Japan where cash is king and credit cards aren't widely accepted, you can imagine that the amount of cash you need for a two-week vacation could add up to a lot of fees!
Getting money from an ATM — which will disperse local currency — is definitely a convenient option since it means you don't have to carry USD to exchange later, but it can also be expensive. My husband once used our bank card at a Guatemalan ATM and between the 3% foreign transaction fee, the fee charged by the ATM itself, and the bank's fee for using an out-of-network ATM, he paid $13.50 to take out $150 worth of Guatemalan quetzales. Ouch!
Travel is expensive enough as it is and avoiding bank fees can be one way to maximize the value of your spending.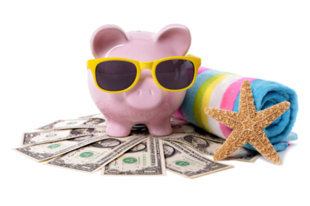 The Best International ATM Card
Once I discovered the Charles Schwab ATM card, I knew I could never go back.
If you use their international debit card (which also works in ATMs, like most debit cards), Charles Schwab…
disperses local currency based on official foreign exchange rates (no mark-ups!)
has no foreign transaction fees
does not charge a Schwab out-of-network fee
will REFUND all fees from ATM owners at the end of the month
That's right: they are the best international ATM card because they have ZERO fees.
How Having a Fee-Free ATM Card Changed My Travel Habits
Now that I know I don't have to pay a fee to withdraw cash, I no longer worry about fees anywhere in the world. Previously, I'd withdraw the maximum amount so that I only had to pay one withdrawal fee… and then I'd end up nervous carrying hundreds of dollars around.
Now, I have the freedom to take out just what I need for the near future. I can go back for a second withdrawal anytime. This is especially helpful at the end of the trip when I don't want to be stuck with leftover currency before I go home. Take out the bare minimum instead of overestimating; you can always get more later.
How to Get a Charles Schwab Checking Account with No Foreign Transaction Fee Debit Card
In order to qualify for an account with no fees and ATM refunds, you'll need to sign up for both a brokerage account and the Charles Schwab High Yield Investor Checking Account. Accounts can be set up 100% online and neither account requires any monthly service fees or minimum balances. Yes, it really is that simple!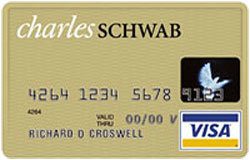 The Benefits to a Charles Schwab ATM card:
No minimum balance required
No monthly maintenance or service fees
All ATM fees (worldwide!) are refunded at the end of the month
Exchange rates are automatically charged at (or very near) official market rates
Card is a Visa and has worked every time I've used it, all over the world
Funds are FDIC insured
My brokerage account has been completely empty for the past 7 years. You don't need to fund the brokerage account or make any investments, but you DO need to open an account in order to access Charles Schwab checking.
Technically, my checking account at Schwab earns interest, though at low interest rates. Because of this, and also for convenience, I still do my primary banking elsewhere and simply transfer money in and out of my Schwab account before my international trips. Online transfers between banks are simple and smooth, but you do need to plan ahead because it can take 1-3 business days. In fact, I like having Charles Schwab checking as a dedicated travel account; it means the vast majority of my money is safely in another account on the off-chance my ATM card is lost or stolen abroad.
Schwab Checking Customer Service is AMAZING
I had my first issue with an ATM abroad last year in Sri Lanka. Like always, I put my no-fee debit card in the ATM and made my withdrawal request as usual. I asked for a lot of money — the equivalent of US $500 — and the machine made a humming noise like it would to spit out money. Instead, I got no cash whatsoever and a receipt that showed $500 had been debited from my account.
I stood there in disbelief for a minute… the money left my account, but I was left cashless!
Thankfully, it was a painless phone call to Charles Schwab to clear up the matter. Although it took about two weeks, I did get the entire $500 credited back to my account after they reviewed the ATM transaction logs, videos, etc. The machine had malfunctioned, but Schwab made sure I didn't lose out.
I've been using my Schwab card since 2007 and have saved hundreds, if not thousands, in bank fees because of it. All those savings let me travel more often!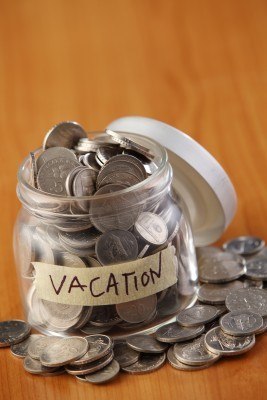 * * *
Are you a Charles Schwab customer? Have you found other banks that refund ATM fees internationally?