This post may contain affiliate links. As an Amazon Associate I earn from qualifying purchases.
* * *
Although I've practiced yoga while traveling for about seven years now, this has been the first year I've gone out of my way to travel with a yoga mat. Over time, I've gotten frustrated with the sanitation of rental mats at local studios (or more questionably, the hotel gym) and I've gone from doing yoga while traveling about once every five or six days to roughly every other day. With that kind of frequency, bringing your own mat makes a lot of sense — but it isn't always easy.
Why I Practice Yoga While Traveling
Long ago, I discovered that yoga made me feel good but it took awhile to realize that it extended to travel. Yoga is both a physical workout and a meditation, two things that are great for you no matter where you are. I started doing yoga while traveling on a business trip — it wasn't vacation so I wanted to stick to my healthy routine and stay somewhat fit. When I realized what a help it was both physically and mentally, I added it to my leisure travel, too.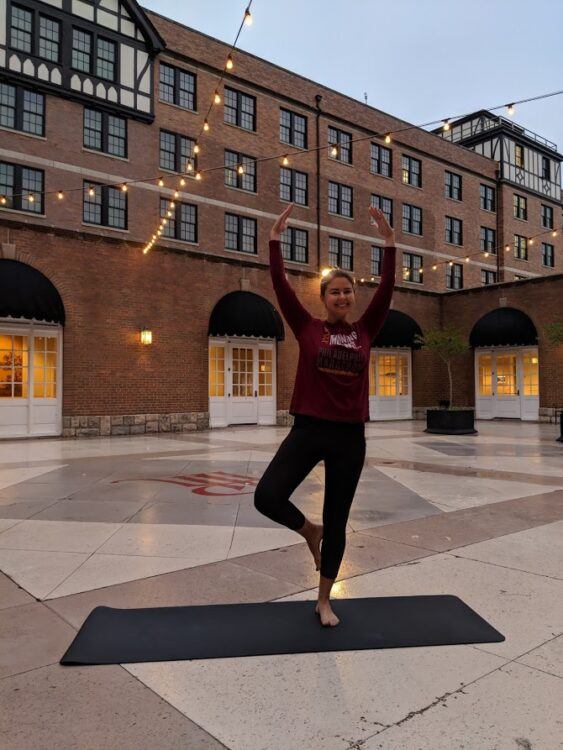 Yoga helps me sleep better, clear my head, and physically stretch my body after a cramped flight or a long day of walking. I do energizing practices when I'm fighting jetlag to stay awake and restorative practives when I'm too excited to end my day. Many days, 15 minutes is enough, though other days I'll practice for a full hour so I have plenty of opportunity to stretch, focus on my breathing, and quiet my mind.
Joining local classes and special events can also be a ton of fun. Why limit yourself to traditional tourist activities when you can add in yoga at rooftops, breweries, museums, and other fun spaces?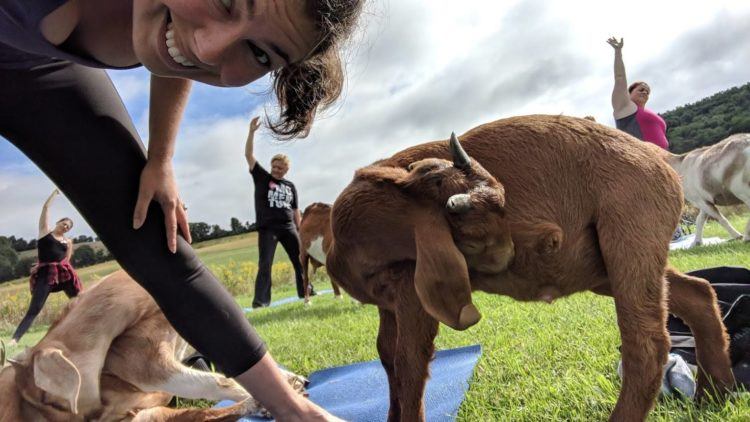 Some people build time into their vacations to read a book or sleep in past breakfast. My husband likes time for guilty pleasures like watching a movie. I just happen to carve out some time for yoga.
Do You Need a Travel Yoga Mat?
If you're not planning on doing a lot of yoga, you won't need a travel-sized yoga mat. You can improvise without a mat. Maybe lie a towel on your hotel room floor or do yoga without a mat at all in grassy parks or sandy beaches. For a lot of postures, this is totally fine. You won't have the same sticky grip, but that's not always necessary.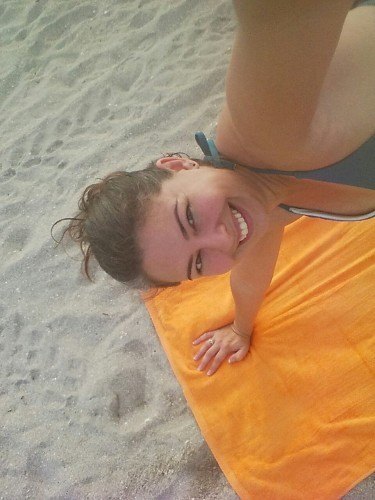 Some hotels (like Kimpton!) have yoga mats for guests and some have generic exercise mats in their gym. Some resorts even have on-site classes that you can join, with mats available to borrow. Or, plan on heading to a local studio to take a class and rent one there. I've taken classes in other countries and it can be a fun way to see other styles and maybe even meet other people.
Traveling with a mat is best for someone who intends to do yoga regularly and needs a reliable amount of grip and/or cushion.
How to Pack a Yoga Mat
If you're traveling by car, it shouldn't be any trouble at all to pack a yoga mat. Just roll it up, throw it in the trunk, and be on your merry way.
If you're traveling by plane, it's a little more complicated since the amount of luggage you can bring is restricted.
Yoga Mat – Carry On Options
You can roll up your mat and bring it as your carry-on (the TSA even says so). This is the easiest way to travel with a mat and means you can even stop into airport yoga rooms (my favorite is at Chicago O'Hare) while waiting for your flight. If you go this route, I recommend paying for a mat strap or sling. It's a cheap solution that keeps the mat neatly rolled up throughout your journey.
The problem with bringing a mat as your carry-on is it means you can't bring a suitcase onboard…just a small personal item for underneath the seat and the yoga mat in the overhead bin. That may or may not work for you.
Checking Your Yoga Mat
You can also check your yoga mat and pick it up at baggage claim at the end of the trip. If you have a yoga mat bag, throw an address tag on it and you're good to.
Unfortunately, unless you get free checked bags, this is a costly way to transport it. Because of this, most people will want a mat that they pack inside of a suitcase they're bringing anyway.
While I've put my regular mat inside of a 62″ checked suitcase, it will not fit in a carry on unless you smush and damage your mat. You'll need a specialty travel yoga mat if you intend to fold it up and pack it in a carry on!
Luckily, I've done the trial and error for you and found an awesome foldable yoga mat for travel. It folds compactly and fits inside my personal item, carry-on, or any other suitcase.
Foldable Yoga Mat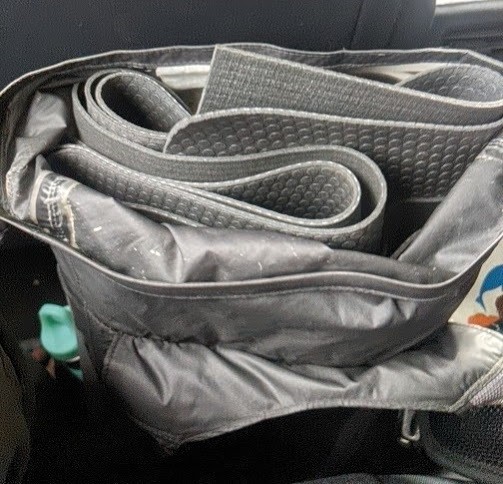 My Manduka travel mat folds easily to fit in my favorite day bag. The creases release with a shake or two when I'm ready to roll it out on the ground and it has an impressive amount of grip so I can do all types of poses.
Buying a foldable yoga mat took me from being an occasional travel-yogi to one who can squeeze it in whenever I want!
But, if this mat's not for you, I have a few other options.
Best Yoga Mats for Travel
I've gone ahead and done the research on some of the most popular travel yoga mats on your behalf. There's not necessarily a "perfect" mat because each one has its own pros and cons. This list should help you decide which one's best for your needs.
This is the mat I use and I'm very happy with it. It's one of the few mats that's actually foldable (versus rolling it), which makes it a breeze to travel with. I chose it primarily for its portability, but I love how grippy it is so that I can use it even if I'm hot and sweaty. Bonus...it cleans up easily, too! Although I love it, you should know it's super thin (about half of a standard mat, which is why it folds compactly) which means there's very little cushion. If you need a lot of knee support or otherwise, this is not the mat for you.
Dimensions: 71 inches x 26 inches
Thickness: 2.5mm
Weight: 2.4 pounds
Pros: Foldable, great grip, lightweight
Cons: Pricey, zero cushion, you need to break it in (easy, but plan to do at home in advance - here's how)
I've used and liked this mat, although it will not fold for packing -- you'll need to roll it up. Still, it's a lightweight option compared to standard mats with a full 6mm of comfortable cushioning. It doesn't move around on the floor and has enough grip for casual use, but it doesn't have that traditional rubber feel and isn't intended for intense practice.
Dimensions: 72 inches x 26 inches
Thickness: 6mm
Weight: 2.1 pounds
Pros: Affordable, well cushioned, lightweight
Cons: Edges curl if stored while rolled up, average grip, doesn't fold
I haven't tried the Yogo mat, but it has a lot of design features perfect for travelers. It's made from natural rubber so it should have tremendous grip. There are also straps attached to the mat itself for easy carrying without a case AND to easily hang it over a shower rod if you need to rinse it on-the-go. However, this is the thinnest mat on the list so don't expect major support.
Dimensions: 68 inches x 24 inches (long version is 72x29)
Thickness: 1.5mm
Weight: 2.1 pounds
Pros: Lightweight, folds compactly, eco-friendly
Cons: Very thin, expensive
PRO TIP: Whenever possible, keep your mat laid flat instead of rolled or folded up. That'll help it dry completely which keeps it cleaner and more hygenic before your next use.
Yoga Videos for Travel
I'm not a huge fan of self-directed workouts, so I rely on apps and videos to guide my practice when I can't make it to a real class.
On YouTube, I like:
BK Yoga Club – I'd categorize most of their classes as "gentle vinyasa". There's just enough movement to get you flowing without leaving you sore. Their classes are usually 10-30 minutes long and Paris and Alicia bring positivity to your day.
Yoga For Business Travelers (Five Parks Yoga) – This 30 minute practice is a "feel good" stretch, hitting everywhere that's likely to be tight after sitting all day in transit.
Yoga for Flexibility (Yoga with Copper) – At home, I like Copper's bikram-ish sequences but on the road, this hour-long vinyasa class is a better bet. It's paced well and balances stretching with enough physical effort for revitalization.
I've also tried a few apps – my favorites for travel are the Down Dog app which is highly customizable (about $50/year) and the Peloton app ($13/month) which makes it feel like you're in an instructor-led vinyasa class. There are other great yoga apps out there, but in my opinion some of the others are too intense for traveling (but Alo Moves is awesome for home).
Namaste on Vacation
I'm well aware that doing yoga while traveling isn't for everyone. It's okay to give up your wellness routine on vacation and simply relax and enjoy yourself. But for me, a little yoga makes a big difference in my energy levels. Dragging a bulky mat around is annoying but a foldable, lightweight mat is a tool that makes it easy to add a short practice every day.
More Travel Gear Tips