This post may contain affiliate links. As an Amazon Associate I earn from qualifying purchases.
* * *
Ever since I married my husband — engineer, outdoorsman, and overall pragmatist — I have to admit that I choose function over fashion when it comes to clothing. Sure, I clean up well when I need to, but first and foremost I'm about performance.
But I'm here to let you in on a little secret: unless you're bushwalking or camping or taking part of an extreme challenge, your safari clothes don't need to be high-tech. In fact, you might already have everything you need in your closet. Deciding what to wear on safari is only as complicated as you allow it to be. Don't overthink it!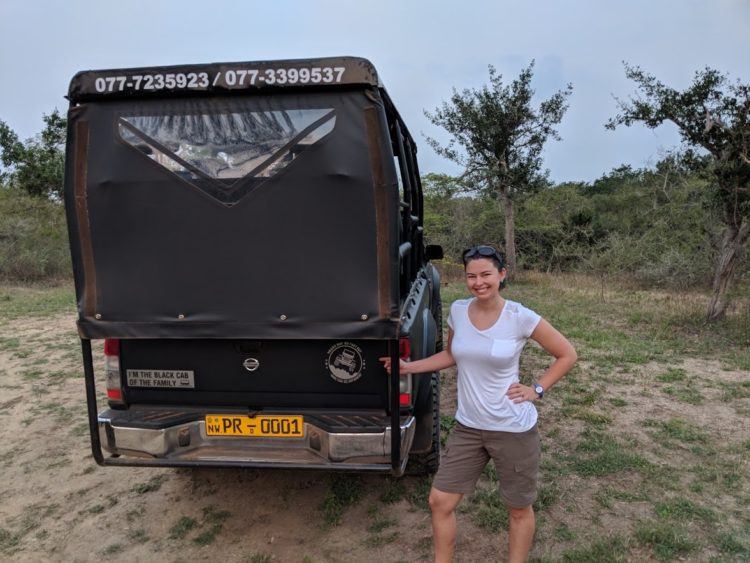 Am I Even Qualified to Tell You What to Wear on Safari?
Sure, I've only been on one African safari. But I've also gone to two different safari parks in Sri Lanka, visited numerous wildlife reserves in Central America, and camped — the version where you carry your own gear 20 miles into the woods — in numerous states, climates, and seasons.
Let me tell you: there are definitely times when what you wear matters, but there are also times when it matters a little less.
If you're planning a vacation where you stay in a lodge and take game drives from there, it matters a little less.
So, What Does Matter When Choosing Clothes for Safari?
1) Versatility: Small planes have strict weight limits and lodge rooms can be a jaunt from the parking lot, so versatile clothing helps you pack light. Pack clothes that you can wear more than once.
2) Comfort: You're going to spend a lot of time in the car, so you'll want to wear something that's comfortable to sit in for hours at a time.
3) Practical Fabrics: Synthetic materials like nylon are often quick-to-dry, making them great for laundry on the go or activities when you expect to sweat. On the other hand, natural materials like linen and hemp are lightweight and breathable.
4) Sun and Insect Protection: As we'll get to, this matters more in some places than others, but it's definitely something you'll want to keep in mind.
Packing Layers
People imagine Africa as hotter than hell, all the time.
In reality, there's a good chance your safari takes you to somewhere where it can be quite cool when you're up at sunrise or in the evening, especially in an open-air vehicle. Since game drives tend to be at these cooler points of the day, when animals are most active, it's worth packing convertible pants and a jacket or sweater. As a bonus, you can always slip those long-sleeves back on if the bugs get too annoying.
Packing layers is a good idea on every trip, but it's an absolute must if you're heading on safari.
What About Bugs?
Just like anywhere in the world, insect activity varies by the time of year and type of ecosystem. Most of the safari parks I visited in Kenya weren't too bad during my visit. It helped that our game drives kept us out of heavily wooded areas.
You'll want to pack insect repellent, and if you're traveling to a malaria zone, the type you bring is important. I used 30% Deet, but if you have sensitive skin or just prefer a more natural alternative, you can also use oil of lemon eucalyptus. Just be careful with what you buy — lemon eucalyptus oil (an essential oil that smells good) is not the same as oil of lemon eucalyptus (which has high concentrations of p-menthane 3,8-diol [PMD], proven to repel mosquitoes).
No matter what you're wearing, you can also spray your clothing with permethrin in advance. This easy-to-use spray adds an extra layer of repellent and lasts for up to six washes or six weeks, whichever comes first. It's a cheaper alternative than buying specialty "Bugs Away" clothing.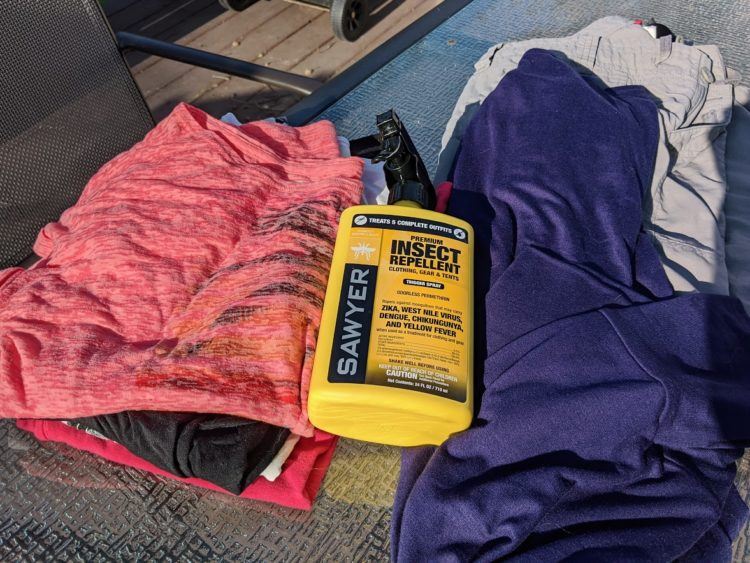 For more on repellents or antimalarial pills, check out this guide by Bemused Backpacker.
Sunburns HURT
I learned this lesson in Hawaii several years ago but apparently I needed to learn again: my sister SUCKS at applying sunscreen on my back. (I love her to death, I really do, but she missed a lot of spots!)
The sun is strong in Kenya, and in other safari countries too, so you'll want to load up on sunscreen or keep your skin covered (as I did for days after initially getting burned badly!).
Sunglasses are also a must, both as sun protection and as a way to keep dust out of your eyes whenever your safari vehicle picks up speed and kicks dirt in through the open sides or windows.
I detest hats and avoid them at all costs, but if you're more open-minded than me, you can bring a lightweight sun hat like this one that packs down for your suitcase, is sweat-wicking, and rated UPF 50 for extra sun protection.
Two Safari Outfit Ideas for Women
I brought too many clothes with me when packing for safari and found myself gravitating to the same few clothing items over and over again. If you're looking for women's safari outfit ideas, this is where I'd start.
My favorite safari outfit for game drives: a "swing tank" (flowy, super-soft, and great to beat the heat) with linen pants. And best of all, you can buy the whole outfit for $35-42 depending on how you hit a sale at Old Navy. Both pieces are easy to care for and look alright even after being smushed in your suitcase.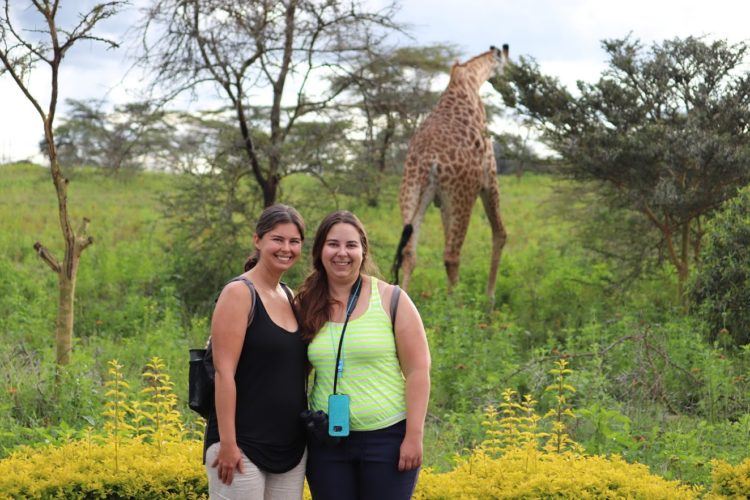 On more active days, I paired my beloved Prana Halle pants with a short sleeve Merino wool tee. These are more expensive pieces of clothing, but they're wardrobe staples for anyone who's active or outdoorsy. The Prana Halle pants have great stretch and quick dry properties but look more presentable at the dinner table than standard convertible pants. And Merino wool — if you haven't heard me rave about it before — is breathable, moisture-wicking, and it never smells even if you wear it a few times.
Why Safari Clothes are Traditionally Beige
There's a reason that neutral colors are portrayed as what to wear on safari. Bright colors are out because they make you conspicuous to animals. Dark clothes (blacks and blues especially) attract biting tsetse flies. And white just gets too dirty from dust or mud or being worn too many times before you do laundry!
That leaves tan, beige, and those khaki uniforms. Fashion at its finest.
I'm sure you can tell I paid little heed to color recommendations — I wasn't about to spend a ton of money on all new clothes for safari. I wore white, as long as it was something old that I wouldn't be heartbroken if it got too dirty. I wore colors, just not when I was on walking safaris (I figured on game drives, most of my body was obscured by the vehicle anyway). And I wore dark clothes whenever I didn't expect tsetse flies to be a problem, meaning my blacks were just fine as long as I didn't wear them in the evening or in areas with thick brush.
If you're buying brand new, your best options are khaki, olive, or brown. But if you're making do with what you've got, don't sweat it too much.
On game drives, you won't need special safari shoes, since you won't be covering a lot of ground. I brought three pairs of footwear on my trip: a pair of lightweight sneakers for hikes and walks, a pair of knock-off "Toms" which I wore more often than not, and a pair of slip-on sandals to head to the pool (and Diani Beach, when we were on the coast).
BONUS TIP: Pack a low-impact sports bra for bouncy drives (especially if you intend on standing while the vehicle is moving). They're usually built to withstand sweating, too!
Recommendations for Safari Clothes (Womens)
Need safari outfit ideas or just one or two pieces to add to your packing list? No problem: here are my favorite safari clothes for women. Mix and match with what you already own to save a bundle.
There's nothing fancy about this tank, but it holds up well, is very comfortable, and just the right temperature for safaris.
I love how cool and flowy these pants are. Since they're linen, they do wrinkle, but the fit and fabric make it look decent even when you can't find an iron. Easy to wash and wear, too!
I promise, this wool isn't scratchy at all! This shirt is perfect for safari, and merino wool is versatile enough that it's a perfect investment for other trips, too, either as a standalone shirt or for layering.
I'm obsessed with the these pants — they move and stretch beautifully for hiking, but look nice enough that you can pull them off as real pants for dinner at the lodge or walking in town.
If you don't already have a fleece jacket, they are the perfect outer layer for safari. Warm enough that you'll be comfy and cozy, but not so much you'll sweat when the sun comes out. This one by Columbia will last a long time and hold up well.
I wore sandals a lot on my game drives, but when I wore "real" shoes, I always paired them with Smartwool socks. No matter how wet, sweaty, or gross my feet have gotten, with Smartwool I've never had smelly or blistered feet.
If you're going to wear a hat, this one with moisture-wicking fabric and UV sun protection is the perfect choice.
Need more help planning your trip? Check out this safari packing guide or start budgeting for Kenya!