This post may contain affiliate links. As an Amazon Associate I earn from qualifying purchases.
* * *
Just about everyone who goes to Kenya plans a safari to the Masai Mara. The wildlife sightings there are supposed to be awesome, but the seasons didn't align for my own trip: it would be too rainy with high chances of road closures, not to mention the animals would either move out or hide in the (very thick) bush. Out of necessity, I started exploring other options, finally settling on a Kenya wildlife safari from Diani Beach.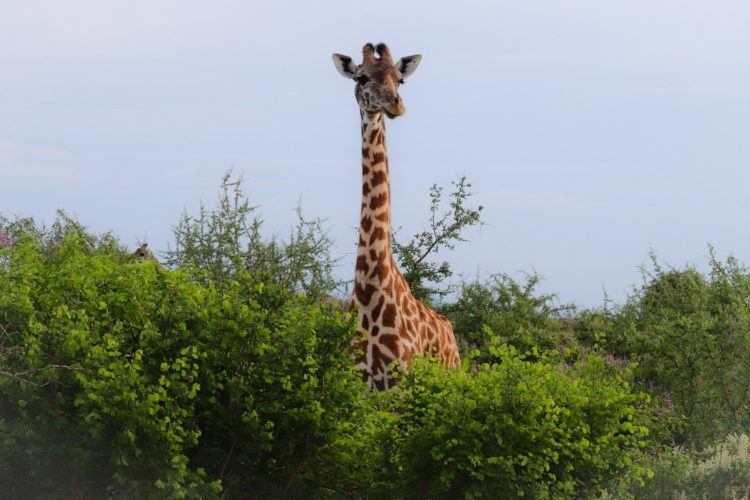 There are a lot of advantages to this plan, even if the weather is just fine in the Masai Mara. By departing from the coast, you have access to several different Kenya wildlife parks, each with very different scenery. Seeing different things had great appeal to me — not to mention, you can squeeze in a few days at the beach!
>>>>> Related Post: Everything I Wish I Knew While Kenya Safari Planning <<<<<
The shortest of trips leaving from the coast (either a Diani Beach of Mombasa safari) go to Tsavo East National Park, which can be seen in as little as 2 days/1 night and is worth carving out time even on the tightest of schedules.
Add on extra nights and you can also reach Tsavo West National Park, Amboseli National Park, or Taita Hills Reserve. I couldn't choose, so I went to all of them. If you're wondering where to visit on your safari from Diani Beach, I've got you covered with details below.
There's one park outside Diani Beach that's advertised as a day trip: Shimba Hills National Reserve. The park is situated about 1-1.5 hours from the beach (faster in the morning, longer in the afternoon when traffic is heavier), so it's definitely a long day!
Regardless of who you book through, your day probably has the same schedule: a morning game drive, a hike to Sheldrick waterfall (you can swim if you like), lunch at the lodge, and a short drive in the afternoon before returning to your hotel in Diani.
Wildlife sightings may include elephants and sable antelope, but otherwise it's mostly smaller species like mongoose, shrew, and fruit bats.
If you're going anywhere else in Kenya for safari, skip it. The wildlife won't compare. However, if you're looking for a day trip where you can swim under a waterfall, it might be worth it.
Don't Miss: Tsavo East National Park
This was the first stop on our Kenya wildlife safari and it impressed right from the very beginning. We entered the park around noon — a time of day not known for wildlife activity — and even on that midday drive to our lodge, we saw TONS of animals. We weren't expecting anything (it wasn't even an official game drive), but luck was immediately on our side.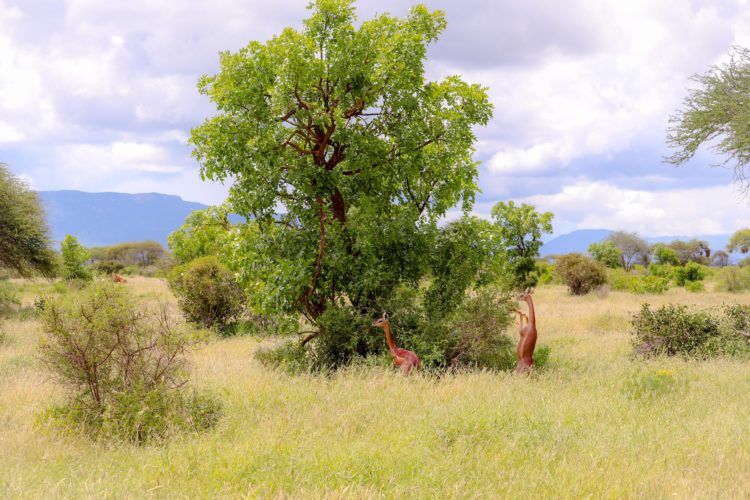 We had two official game drives in Tsavo East, one at dusk and the other at dawn the next day, and both were full of great viewings.
It's a great option for anyone short on time (and even those who aren't): elephants are abundant, and you've got good chances of also seeing zebras, giraffes, lions, and plenty of hooved animals.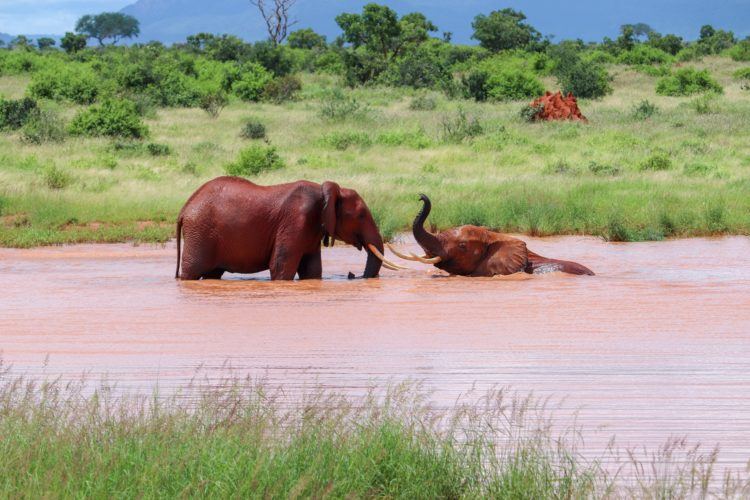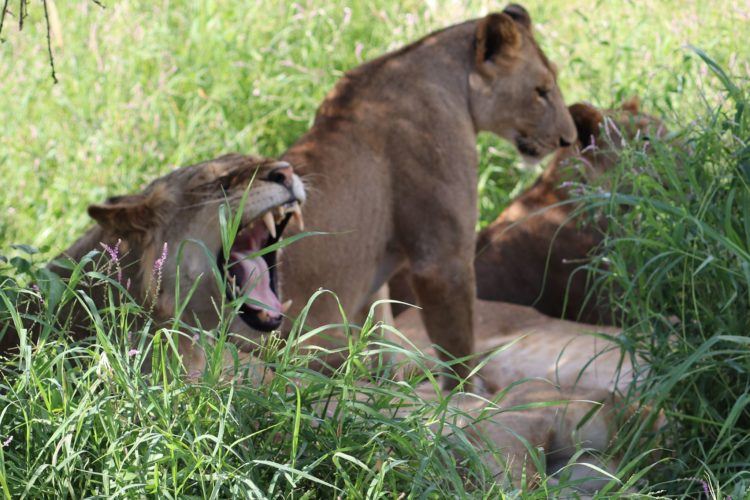 We stayed at Voi Safari Lodge right inside the park. Rooms are basic but adequate, similar to what you'd find at a motel back home. What it lacked in the room was more than made up for by its location. We could see animals from our window, from the restaurant, and from the pool deck. There were also a bajillion steps down to a hide by the watering hole, so you could observe animals up close and personal. The food here was terrible, but if you can suck up a bad meal or two, I'd recommend it (especially considering its low price).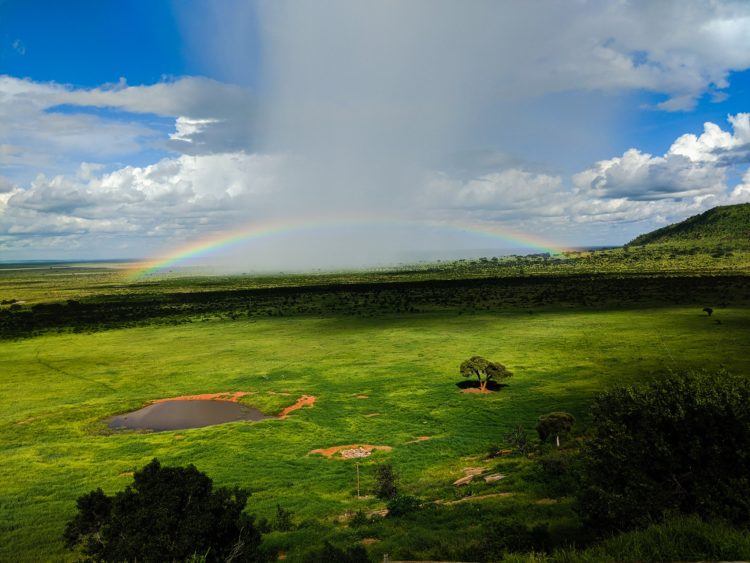 The Underdog of our Diani Beach Safari: Tsavo West National Park
Tsavo West isn't super popular because the bush remains relatively thick year-round, which means wildlife is harder to spot since it's obscured by scrub and trees. There are plenty of animals here, but it definitely takes more skill and concentration to find them. Over the years, I've really honed these skills, with two tricks that anyone can steal:
Always keep scanning the landscape. Let your eyes run from left to right, foreground to background, over and over. It is surprisingly tiring to do this, so don't be surprised if you show up to dinner exhausted from "doing nothing".
Look from the highest vantage point you have. Ideally, you want to look over the bushes right next to the road and see out as far as you can. For me, that meant standing up while driving to look out the pop-up roof. I think I ended up with a pair of "sea legs!".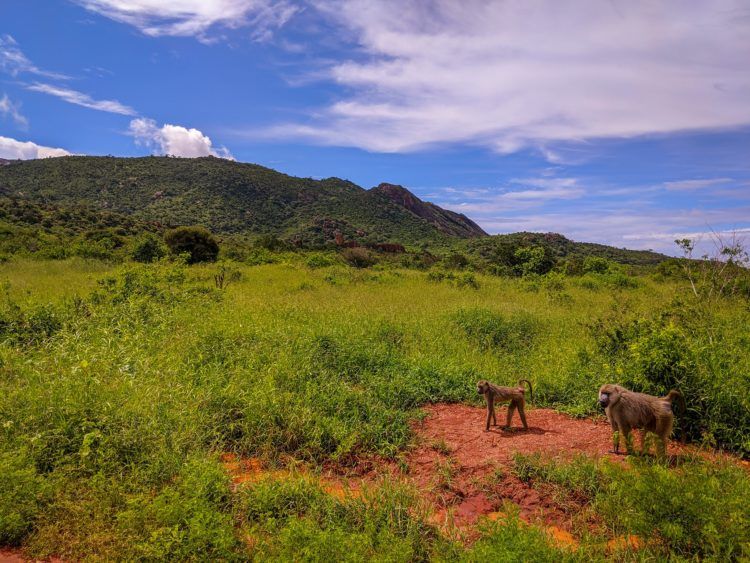 So why go here if viewing is so challenging? Well, because the park has a healthy population of black rhino, hippos, and crocodiles — all animals you probably won't see in other parks on your Diani Beach safari. There are also chances to see plenty of other favorites, although wildlife density is lower than Tsavo East.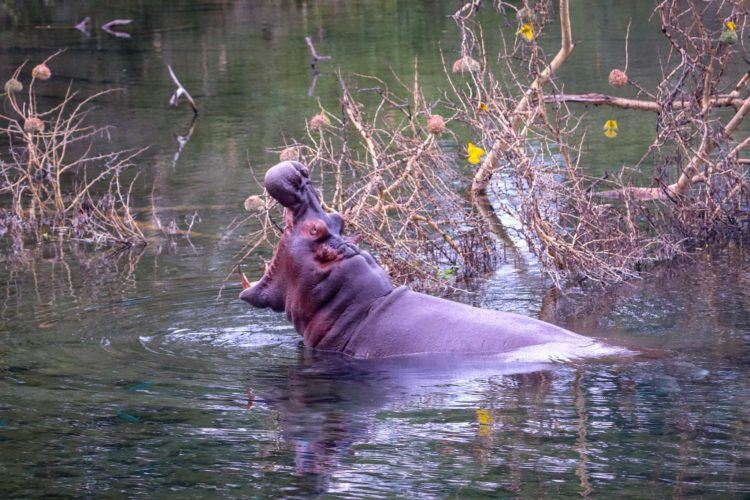 Want to see the rhinos? There's a designated "sanctuary" at Tsavo West (this is NOT a zoo, it's simply an adjacent section of national park land). Only a certain number of vehicles are allowed in every day, and only during set hours. Any reputable driver will be happy to make reservations for this in advance, so be sure to ask!
The park itself is beautiful, too…the most beautiful place in all of Kenya, based on what I saw. The red rocks are stunning against blue skies and green brush! Head up toward Mzima Springs and you'll drive past volcanic hills and the old Shetani lava flows. The springs themselves are in a lush jungle setting with clear water that makes it easy to see underneath the surface.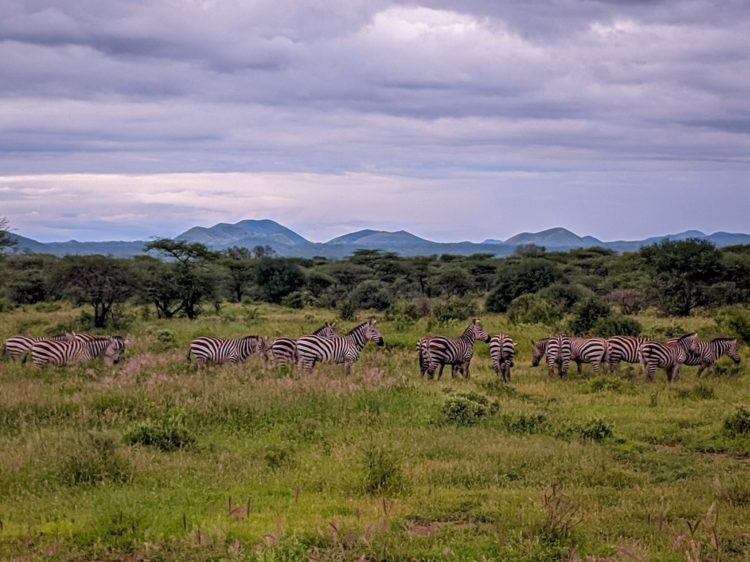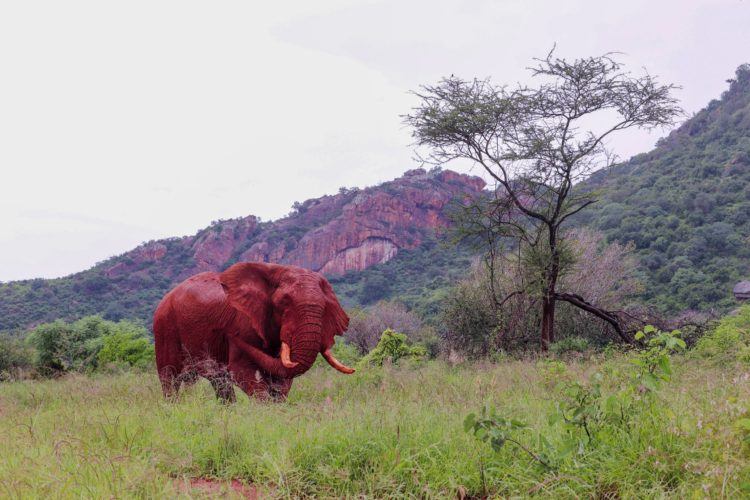 Here we stayed at Ngulia Safari Lodge here, a property of about 50 rooms inside the park. Please don't stay here; it's cheap (which is what appealed to us), but the food was abysmal and there was nothing to write home about from the rest of the property facilities. I think you can do better if you ask your safari operator for recommendations.
Skip It Unless It's Dry Season: Taita Hills Game Reserve
There are two over-the-top properties in this wildlife sanctuary that reel you in with images of an experience different from the rest of your Kenya safari tour.
First, the Lion's Bluff Lodge (where we stayed), which has thatched bungalows at the top of a hill so you can look down into the valley to see elephants crossing the plains. There's also the Sarova Salt Lick Lodge, where cabins are built on stilts, so the wildlife passes right underneath you.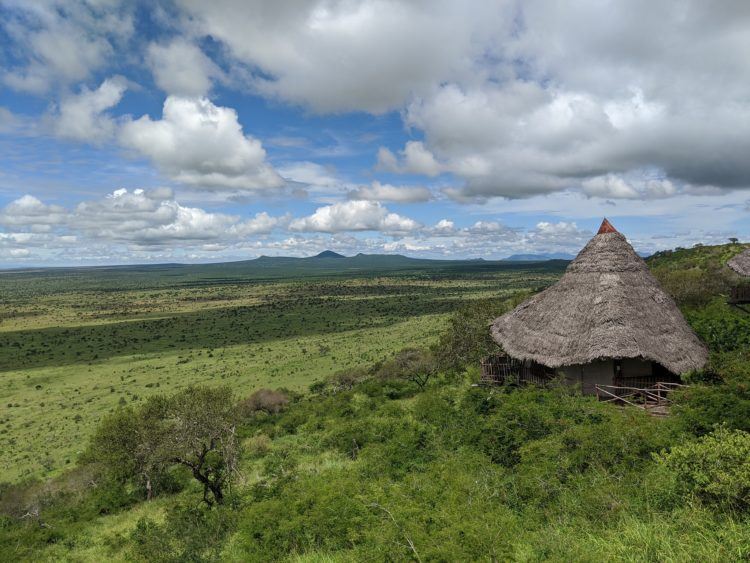 The park is small, which is simultaneously a good and bad thing. Bad because that means less wildlife; good because it means rangers often know where the game is hanging out.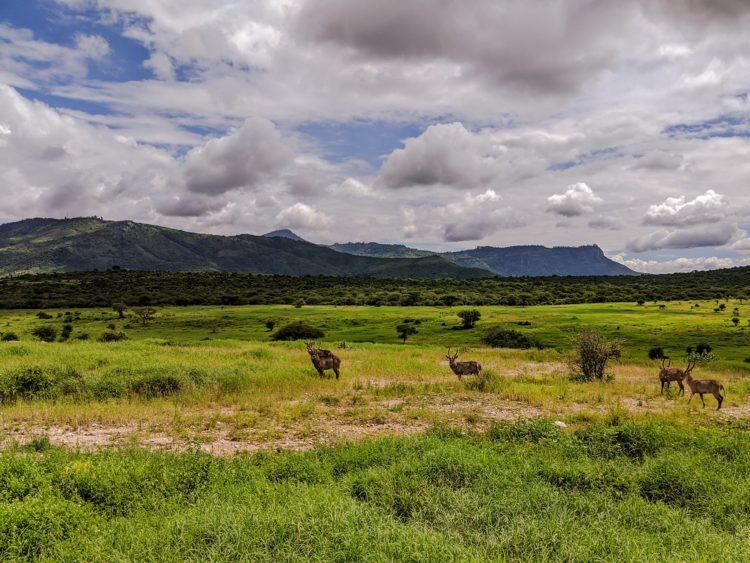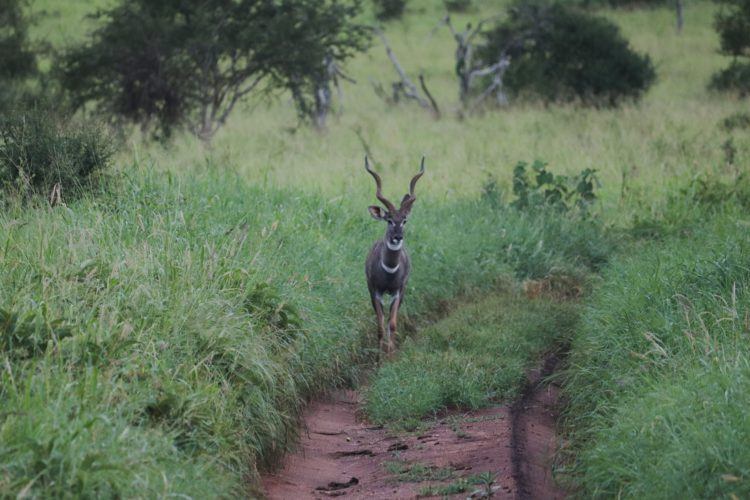 Additionally, since this isn't a national park, there are opportunities for night drives here. Everyone hopes the same thing: to see rare, nocturnal animals, but our experience was like many people's…bucks, buffaloes, and a few smaller predators (like civet cats). We also saw bush babies up close and personal on lodge property promptly at dusk.
We were underwhelmed with sightings here and that seems to common unless you're visiting during the height of dry season (try January-February or July through September). If you do go, after seeing both hotels, I'd recommend the Sarova Salt Lick; I think being able to watch the animals from their designated hides would be better than watching from the top of a hill.
I Need to Return to Amboseli National Park
Amboseli is visited on many Kenyan safaris, whether you start in Diani Beach/Mombasa or Nairobi because it's a fabulous spot for game. It's best known for "Amboseli elephants"; technically, these are the same species you'll find throughout the country, but in Amboseli they tend to grow much larger with impressive sets of tusks.
The park is mostly plains, with a few marshy swamps, so the flat landscape means it's also easier to spot wildlife throughout the terrain. My favorite sighting was a Somali ostrich (the larger of two species in Kenya), but you'll be spoiled for choice here.
If you're lucky, you'll also see Mt. Kilimanjaro while you're visiting, although it's most commonly seen in the wet season!

One big downside to Amboseli: because it's low land, some roads can become impassable when it rains. Indeed, we only saw a fraction of the park during our visit and I hope to return someday.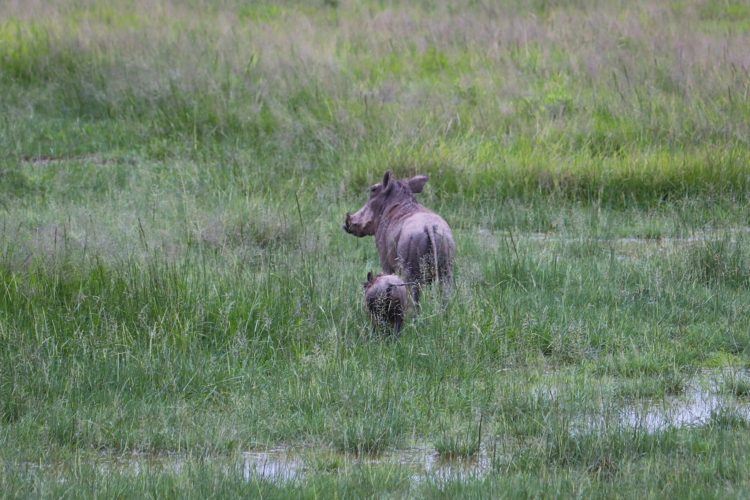 Here we stayed at Kilima Safari Camp, which is about 100 meters outside the Kimana park gate. This was a lovely place to stay, despite being (barely) outside the park, with fabulous service from every staff member we encountered. I also enjoyed climbing up the watchtower with a good pair of binoculars — you'll probably see quite a bit!
Other Kenya Wildlife Parks to Consider
If you're researching all your options, you'll want to look at more than just places easy to reach from Diani Beach.
Check into:
Masai Mara for the classic safari experience
The Ark and Aberdare National Park (my mom and sister loved it, but it's pricey!)
Lake Nakuru National Park (hint: it's in my itinerary, below, even though it's more easily accessed from Nairobi)
Lake Bogoria – famous for it's flamingoes but there's not much else there and the road is supposed to be awful
Ol Pejeta Conservancy – recommended by two separate friends and probably the best spot to see chimpanzees
Samburu Game Reserve and Buffalo Springs National Reserve (they're adjacent, without fences, and are so far from Nairobi that you may want to see both if you're going all that way)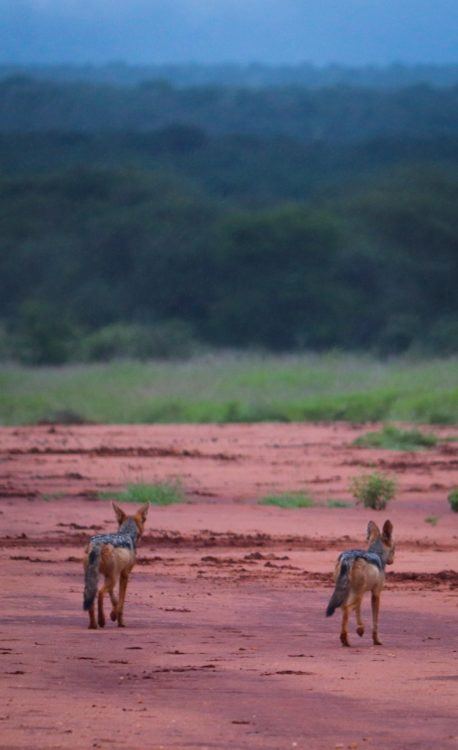 Lazy? Steal my Itinerary and Copy my Kenya Wildlife Safari
Not everyone will love my itinerary, a modified/improved version of what I did. It's busy, with a lot of packing and moving (which means you see a lot of variety, but you'll have long days).
It 100% skips the Masai Mara, the most popular place for a Kenya safari. Why? Because you really need 3+ days there and that means you'll be limited on what else you can see in the country.
So really, this set of plans is for anyone who has two weeks and wants to mix in a bunch of Kenya for the best of all worlds.
Days 1 & 2
It's a long flight from the USA to Kenya. Arrive in Nairobi in the evening and get a good night's rest!
Days 3 & 4
Fly from Nairobi Wilson airport to Ukanda Airstrip and then take a 10-minute taxi to Diani Beach. It's a no-hassle transit. You'll spend day 3 enjoying the beach or pool (you're still getting over the long flight, right?) and day 4 diving or snorkeling.

Hint: Sails Restaurant was my favorite meal of the entire country.
Day 5
Start your safari at Tsavo East National Park. Although you'll see a variety of wildlife here, it's particularly loved because you have above-average chances of spotting lions. Plan on an evening game drive here (and a morning drive on day 6 before leaving).
Day 6
Head onward to Tsavo West National Park. Make sure your driver gets a reservation to head to the rhino sanctuary within the park. I thought a stop at Mzima Springs would be a little lame, but it's actually quite lovely.
Day 7
Continue to Amboseli National Park, which looks nothing like the Tsavo parks and has different species to look out for. If you're lucky, you'll also see Kilimanjaro peaking through the clouds, which is a spectacular sight.
Days 8-9
After a morning game drive in Amboseli, head north to Lake Naivasha (once you factor in a lunch stop, this will take most of the day).

Spend day 9 in Naivasha exploring Hell's Gate National Park in the morning and Crescent Island in the afternoon. I heard multiple reports of great meals at Camp Carnelley's restaurant, so I'd recommend grabbing lunch there even if you have full board at your lodge. Apparently it's worth it for fresh fish and a smoothie with a great view!
Day 10
Keep heading north to Nakuru National Park (about two hours from Naivasha). I didn't go here, but my mom and sister did and it seemed like an incredible spot to add to your itinerary. Since it's relatively close to Nairobi, it can get busy on weekends so go on a weekday if you have the flexibility.
Day 11
BONUS DAY: There's a dozen ways you could spend an extra day in Kenya, but here are some of my favorites:
* If you're traveling mid-January through mid-March, add an extra day in Diani Beach to (hopefully) swim with whale sharks.
* If you're a hiker, day trip from Naivasha to Mount Longonot National Park for a hike to (and around) the crater.
* If you're a night owl, spend a night at "The Ark" in Aberdare National Park. You can watch animals at the floodlit watering hole all night (the hotel will optionally ring your room 24/7 when something notable arrives).
* If you just want more animal sightings, add an extra day of game drives to Amboseli where animal densities are high.
Day 12
No matter where you're coming from, you should arrive back in Nairobi in time to have a sundowner cocktail overlooking the Ngong Hills at Hemingway's and maybe another drink from the Ibis Rooftop Bar after dark. The trip is starting to wind down, but your time in Nairobi will still be great.
Day 13
Spend the day in Nairobi. I'd suggest taking a walk in Karura Forest (I wish I had known there were honey badgers!), shop for handmade clothes that you actually want to wear at Amani or arts and crafts at Spinners Web, and go out in the evening to J's to chat with locals (a great mix of Kenyans and expats) and maybe join everyone on the dance floor!
Day 14
Fly home after a great trip!
No matter where you include within Kenya safari tours, one thing's for sure: it's going to be wonderful!