This post may contain affiliate links. As an Amazon Associate I earn from qualifying purchases.
* * *
In June, Governor Cuomo issued an executive order requiring a 14-day quarantine period for people traveling to New York from states with "significant community spread" or residents returning home after travel.
UPDATE: New York now has two options for visitors (or residents returning after travel):
1) Quarantine for 14 days upon arrival in New York
2) Take two COVID tests: one is taken up to 3 days prior to travel to New York and one is taken on day 4 in New York. You can end quarantine early once you have official results of two negative tests.
Despite the pomp and circumstance around the policy, it was well-known that there was little enforcement for the first few months. Hotels may have been policing out-of-state guests, but there was no one checking up on residents or visitors staying with friends or family (or likely even an Airbnb). Travel forms were available at airports and online, but no one checked to see if you filled one out. I'm sure there was a lot of self-enforcement, but that didn't stop it from being a running joke in online forums and social media.
Based on all the stories I'd heard, I was shocked when someone practically shoved a clipboard in my face at the Buffalo airport when I flew home from Wyoming. The front-and-back traveler health form was mandatory. Skip it, and you could face fines of up to $2,000.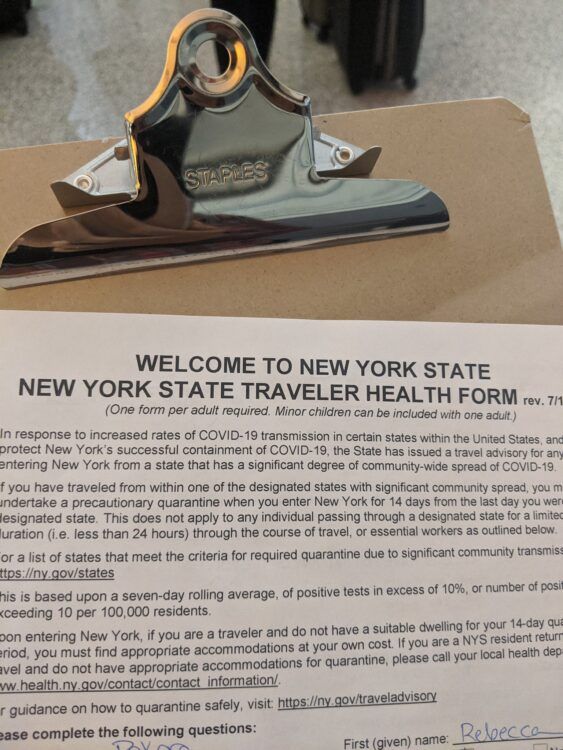 Turns out the form was just the beginning. I received an official quarantine order so there's no question about whether or not it applies to me:
… WHEREAS, the Department [of Health] has received a report, pursuant to §2.10 of the State Sanitary Code and to §2101 of the New York State Public Health Law, that you …have traveled from within one of the designated states with significant COVID-19 community spread (emphasis mine)

…

WHEREAS, the Department has determined that, in order to mitigate morbidity and mortality from COVID-19, that you must be confined to your home under such conditions as will prevent transmission of COVID-19 to others.

THEREFORE, IT IS ORDERED that you remain within the premises of your home and follow the precautions and directions specified in the attached COVID-19 QUARANTINE INSTRUCTIONS (the "INSTRUCTIONS"). You may not leave these premises for any reason, including to go to work, or to attend school, unless authorized by the Department …

IT IS FURTHER ORDERED that you may not have direct personal contact with other persons who do not reside in your home except as authorized by the Department; and

IT IS FURTHER ORDERED that you shall cooperate with the Department's efforts to monitor your compliance with this Order and the infection control measures outlined on the attached INSTRUCTIONS.

This Order shall remain in effect until fourteen (14) days … from the last day you were in a designated state with significant COVID-19 community spread and have remained free of COVID-19 symptoms.

…

FAILURE TO COMPLY WITH THIS ORDER MAY SUBJECT YOU TO FURTHER ACTION BY THE COMMISSIONER, INCLUDING INVOLUNTARY DETENTION IN AN APPROPRIATE FACILITY, OR SUCH OTHER ACTION AS THE COMMISSIONER MAY DEEM NECESSARY TO PROTECT THE HEALTH OF OTHERS. FAILURE TO COMPLY WITH THIS ORDER IS A VIOLATION OF THE ERIE COUNTY SANITARY CODE ARTICLE I §5(a)(v), FOR WHICH YOU MAY BE SUBJECT TO CIVIL PENALTIES. FURTHERMORE, WILLFUL VIOLATION OF OR REFUSAL TO COMPLY WITH A HEALTH ORDER IS A MISDEMEANOR UNDER NEW YORK PUBLIC HEALTH LAW SECTION 12-B.
Both my husband and I were separately assigned to state health representatives to check in with us throughout our two-week quarantine. We were questioned on where and how we're quarantining, how we're acquiring groceries and medications in the meantime, and how we expect to fulfill our work obligations. We got the run-through on covid symptoms (just in case you're not familiar with them already) and what to do if we become symptomatic. Daily for fourteen days, we'll have to report our health by text message with other sporadic check-ins as they deem necessary.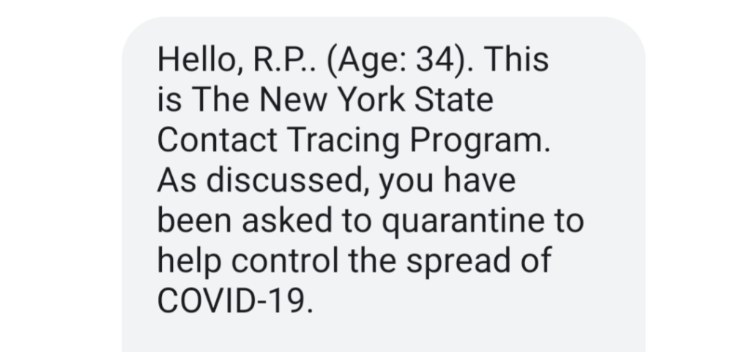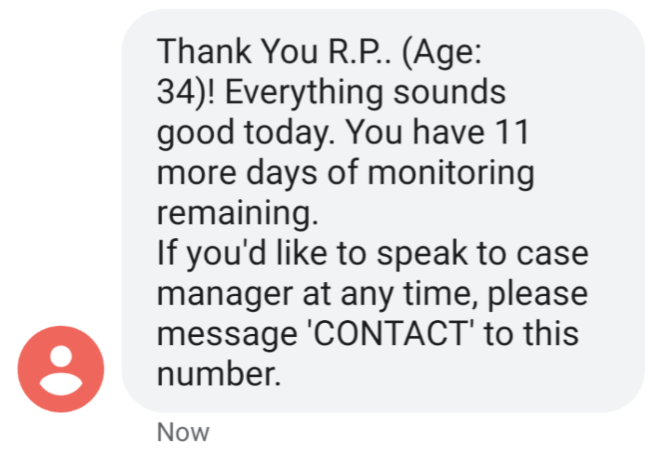 My officer seems way more intense than my husband's, suggesting that the two of us don't ever share a room in the next two weeks and that we sanitize our home daily. These steps feel over the top considering we traveled together and are both quarantining from the public (they make more sense in cases where only one household member travels/quarantines).
To be clear, I'm not complaining. Wyoming wasn't on the restricted travel list when we left home, but we knew it was likely to be added mid-trip. We prepared for this in advance and knew that being responsible back at home was just as important as minimizing risk on the trip itself.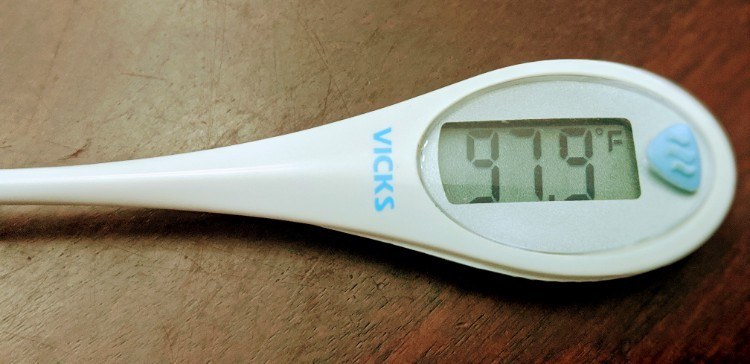 I'm sharing this so you know New York has seriously stepped up their game. If you were thinking of visiting, be aware that a 14-day quarantine may applyand that it is taken seriously.
If you live in New York and are hoping to travel out-of-state, assume that you'll need to spend two weeks in isolation thereafter. The high-risk states list is updated weekly and with covid cases rising in many states, there's a good chance your destination is added even if it's not at the time of booking or even when you leave home. Discretionary travel to high-risk states can also disqualify you from paid sick leave if you end up ill (regardless of whether or not it's covid), so that's something to consider as well.
As for me, I'll be comfortably at home for the next two weeks. I've got a new book to read, new recipes to try, and a pantry cabinet to paint. It might not be as exciting as travel, but it's enough to keep me busy for awhile.