This post may contain affiliate links. As an Amazon Associate I earn from qualifying purchases.
* * *
As an avid hiker, I was surprised by the Ghorepani Poon Hill Trek in Nepal. I envisioned dirt trails with scenic mountain vistas in all directions. I expected pathways surrounded by goats and sheep but not many people. I thought I'd sleep on thin mats on teahouse floors and pantomime conversations with locals who didn't speak English. I expected sore legs from climbing serious mountains.
I was completely wrong…except for the sore legs part.
There are some serious uphill climbs.
The Poon Hill Trek from Pokhara
This is Nepal's most popular route and a classic Himalaya trek.
Compared to hiking to Everest Base Camp or the Annapurna Circuit, this short trek makes sense for anyone without the time or physical stamina for a more intense endeavor. It takes just 4 or 5 days to hike to the summit of Poon Hill, so it fits well in a two-week Nepal itinerary. It's easy to reach from Pokhara and just a quick flight away from Kathmandu.
The Ghorepani Poon Hill Trek is also popular since prices are low, permits are easy to obtain, and packing is simple.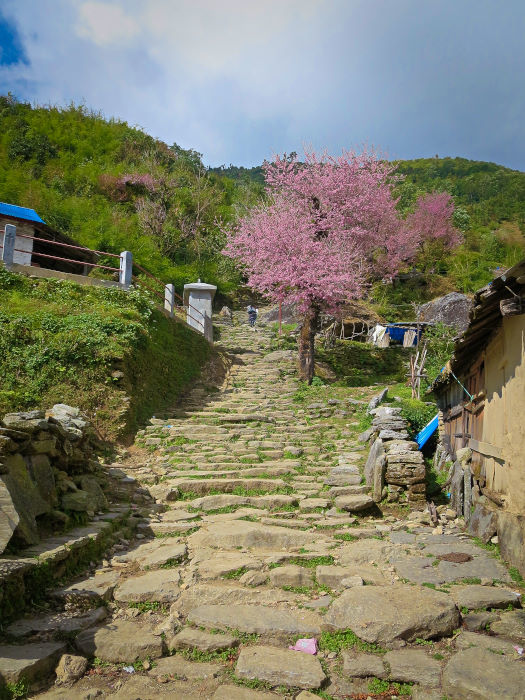 Why You Should Include This Trek in Your Nepal Travel Plans
First, let's talk about why you should trek in general. A huge part of Nepali life is based on the Himalayas. Locals don't just gaze at the mountains from the distance; they actually live in small communities dotted up and down the mountain-side.
Trekking in Nepal is about more than nature or scenery: it's also the only way you'll get up close to this part of their local culture. To some extent, you can observe daily life as villagers walk the same paths and climb the same stairs. If you can, take an extra day at a homestay along the route — we had a local family who let us help gather eggs and cook a meal. If you have a porter or guide, they can help translate but any type of exchange is lovely.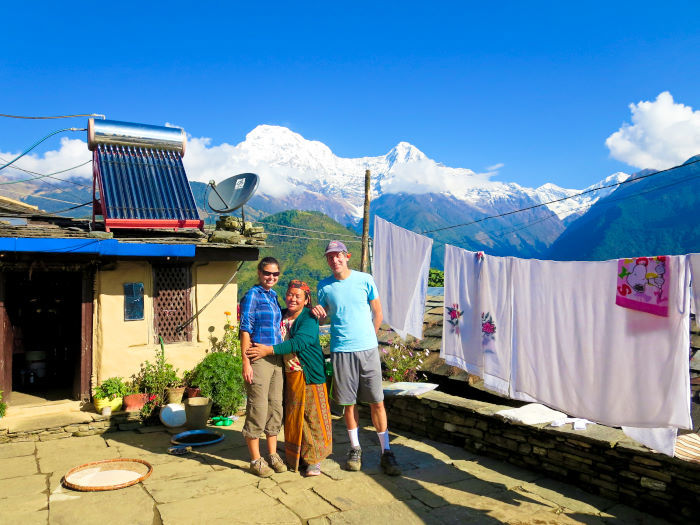 Being able to do this without spending 8 or 10 days climbing to Annapurna Base Camp ("ABC" trek) or even longer to Everest is invaluable.
The Route and Ghorepani Poon Hill Map
Starting from Pokhara, we met up with the staff of 3 Sisters Adventure Trekking, the only company in Nepal to focus on employing women to act as guides and porters.
They explained our route: From Pokhara, we'd drive to Nayapul and then hike a circuit from there up to Ghorepani and back down via Ghandruk before driving back from Nayapul to Pokhara.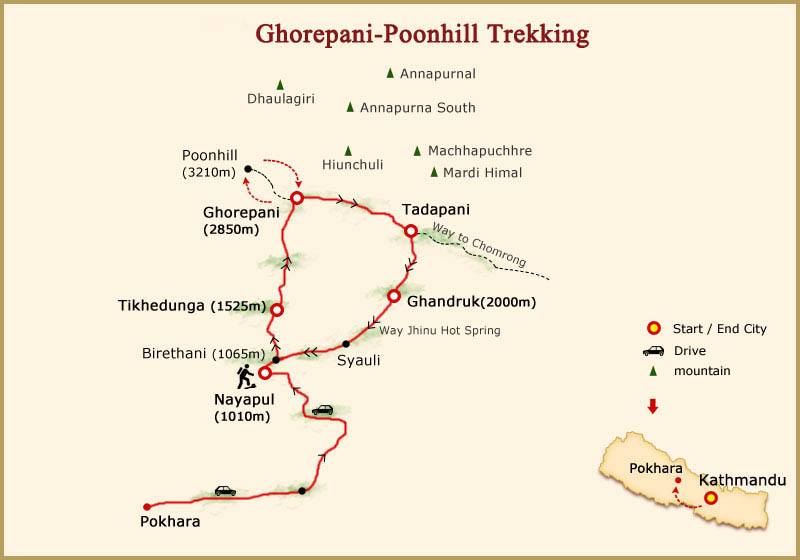 Day 1: Shuttle from Pokhara to the start of the trail and hike from Nayapul to Hille (about 3.5 hours)
Day 2: Hike from Hille to Ghorepani (about 7 hours)
Day 3: Sunrise hike from Ghorepani to the Poon Hill summit (about 1.5 hours) and then continue onward from Ghorepani to Ghandruk (about 9 hours). This is a LONG day, so the Poon Hill Trek 5 days version splits it in half.
Day 4 (or 5): Hike from Ghandruk to Nayapul (about 4.5 hours)
Parts of the trek is nature trails, heading through rhododendron forests with rainforest-like foliage all around you. Other parts are stone staircases (4,080 in a row, at one point) that head from village to village and are used by locals as well as visitors.
What is the Ghorepani Poon Hill Trek like?
The walk itself is pleasant and follows part of the old Trans-Himalayan Salt Trade Route. Views change from farms to terraced rice fields, waterfalls, gorges, and forests. We had a few good mountain views along the way, though the clouds unfortunately obscured them most of the time.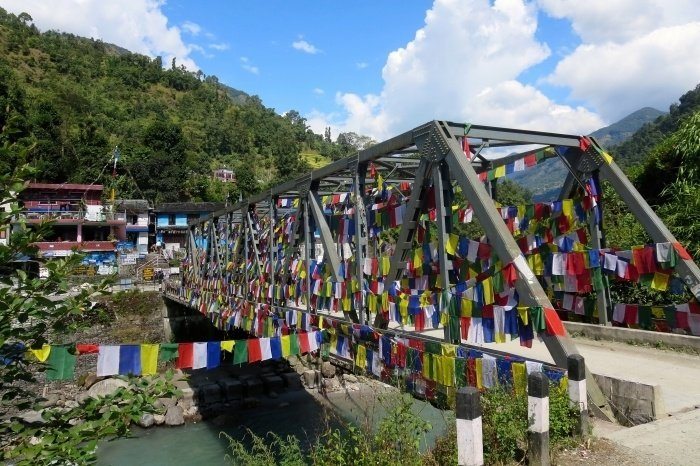 Most groups wake up early every day. Your hike on the Ghorepani PoonHill trek is very rarely on flat ground: you'll alternate between uphill trails or going up and down stairs built into the mountainside. Groups stop for tea when needed, giving your legs a break,. You can order a hot lunch to warm up if you're there on a windy, rainy, or snowy day.
Once you arrive at your guest house for the night, you slip into a pleasant rhythm of playing cards, reading books, and drinking tea. Chances are, you'll recognize other trekkers from along the route and make new friends.
The Downside to Poon Hill Trekking
Perhaps because it's so accessible, the mountain trail can be congested during high season when up to 300 new trekkers start every day. Some villages feel like tourist centers with restaurants, souvenir stands, and wi-fi instead of the simple local life I expected to pass.
Shame on me for not doing my research.
That doesn't mean you should skip the Ghorepani Poon Hill Trek in Nepal. I enjoyed myself, but it's important to set expectations in advance.
Should You Complete the Ghorepani Poon Hill Trek in 4 or 5 Days?
As a young, fit hiker, I thought four days was perfect. Guides split the route into manageable chunks and explain trail highlights along the way. Any longer, and I think I would have gone stir crazy with too much time at the tea houses (as it was, my travel companion and I beat the average trek time on a consistent basis).
However, if you're not acclimated to the altitude or if you have any physical limitations, doing the circuit trek in 5 days is a smarter bet.
>>>>> I highly recommend learning more about acclimating to altitude. This guide to acclimating was written after a trip to Machu Picchu and Cusco (roughly the same altitude as Poon Hill), but is very relevant to this trek as well.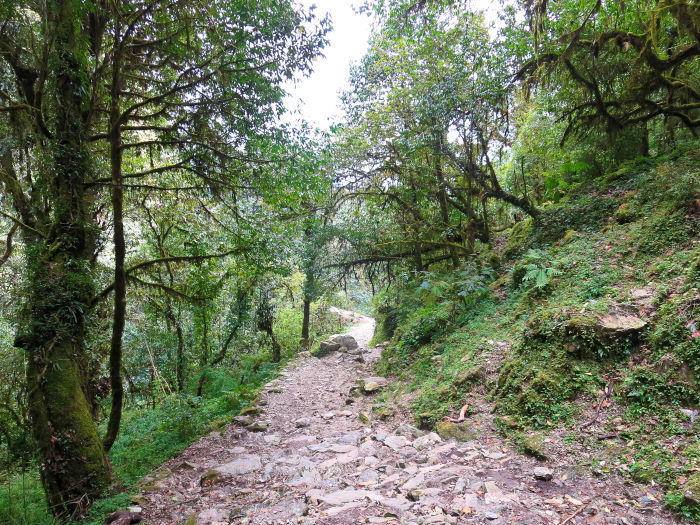 Costs on the Ghorepani Poon Hill Trek
Basic rooms cost 200-400 rupees per person per night ($2-4) and hot showers are typically available for 100-150 rupees. Meals range from 300-1000 rupees, depending on what you eat and where you are (the higher you go, the more expensive). Trekking permits are required and are an additional cost.
As I mentioned, we used a guide and porter at a cost of $25 and $15 day per day, respectively. You'll be able to navigate with a guide, but I enjoyed being able to ask questions about the villages, customs, altitudes, and more. Help the local economy out and enjoy a Nepali's perspective and conversation along the way.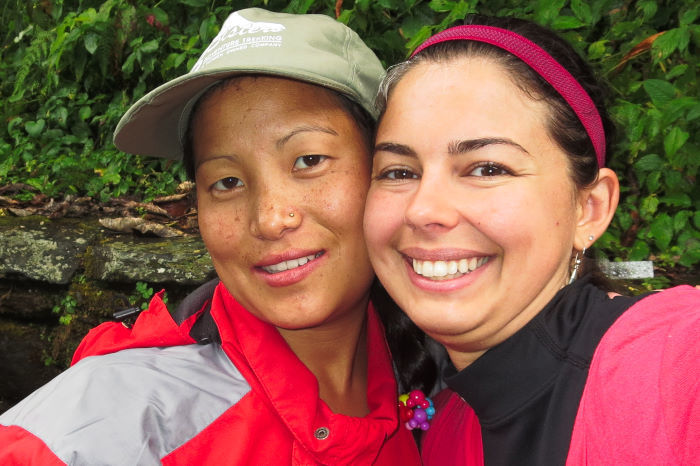 Sunrise from Poon Hill
The absolute highlight of the journey is the side trip to Poon Hill. Here, at 10,230 feet in elevation, you're provided with 360-degree views of the surrounding snow capped mountains.
You'll see Annapurna (26,545 feet), Annapurna South, Gangapurna, and Macchupucchare (better known as Fish Tail). The views are impressive enough to justify a 4:30am wake-up call and strenuous climb.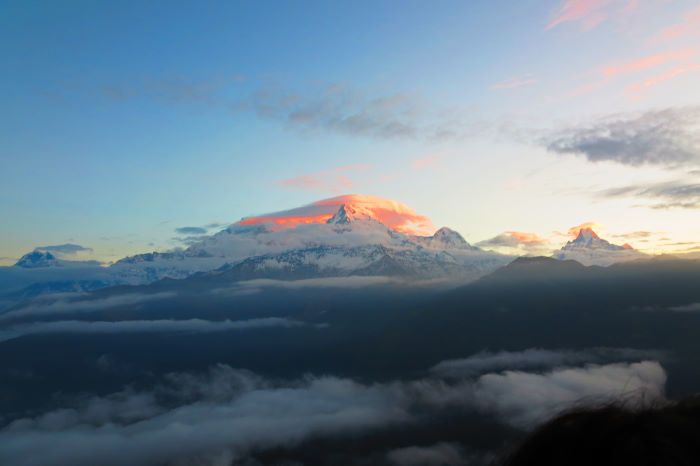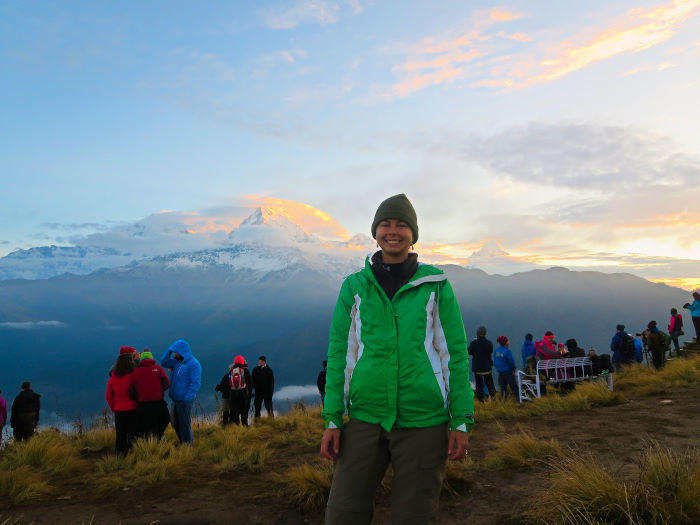 What to Pack on the Ghorepani Poon Hill Trek
You need less than you think. Most guide shops and/or hotels in Pokhara will let you store the majority of your luggage there while you're trekking.
The non-negotiables:
Upgrade your sneakers to waterproof hiking shoes and break them in ahead of time. Wear high-quality Smartwool socks, which keep you from sweating (and therefore help avoid blisters). Hint: you might want something to slip into at teahouses, like flip flops.
Layers are key and I like Underarmour Cold Gear with a warm sweater. Learn more about layering in my guide for winter packing.
Some people swear by trekking poles. I've never used them, but my mom loves her lightweight ones for other hikes.
I should have brought a sleeping bag liner, especially since I already had one at home.
Don't skimp on sunscreen. You burn faster at high altitudes.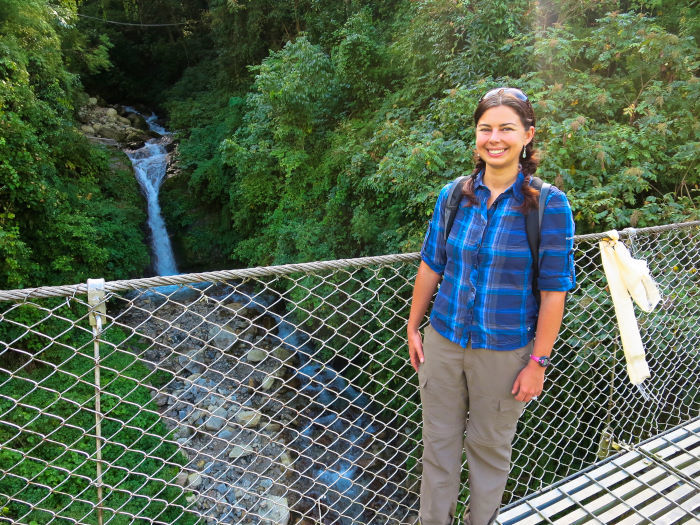 Logistics for Pokhara Travel
How to Get to Pokhara
From Kathmandu to Pokhara is a 7-hour bus ride, maybe a little shorter if you find a tourist bus with fewer stops. But the best option is to fly Yeti Airlines (sit on the right side heading toward Pokhara for mountain views).
Where to Stay in Pokhara
I spent one night at the 3 Sisters Lodge before my trek, which was average at best. However, after my trek I stayed at Butterfly Lodge which I absolutely loved. Clean, comfortable rooms in a quiet setting just a block away from restaurants and shops.
Best Tours in Pokhara
You should really spend another day or two in Pokhara, especially if you haven't acclimated to the altitude before your trek. I really enjoyed my visit to a Tibetan community and wished I had seen sunrise at Sarangkot.
After your trek, choose one of the many spas in town for a therapeutic massage!
Plan the Rest of Your Nepal Trip
Check out all my Nepal articles like what to do in Kathmandu and Frequently Asked Questions about traveling in Nepal.
The Ghorepani Poon Hill trek was not at all what I expected it to be, but I'm still glad I did it.
* * *