This post may contain affiliate links. As an Amazon Associate I earn from qualifying purchases.
* * *
If you only go to one place in South Dakota, you better make it Custer. Somehow this park manages to pack in epic scenic drives, wildlife sightings so easy it's practically guaranteed, and hikes that take you through the best of the black Hills. Of course, squeezing it all into one day in Custer State Park requires some strategic planning, but it can be done — and it'll be the most awesome part of your trip. Here's how to make the most of a single day.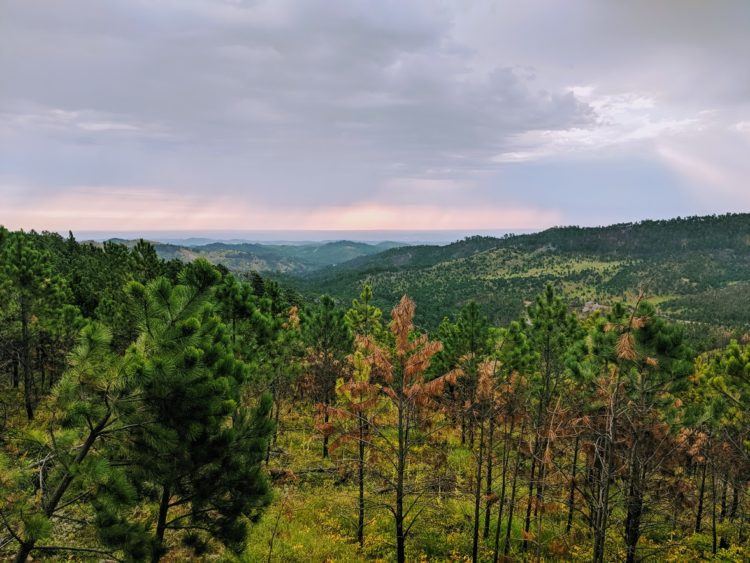 An Overview of Custer State Park
Custer State Park sits in the southern black hills of South Dakota — about 30 minutes from Mount Rushmore, 45 minutes from downtown Rapid City, 90 minutes from Sturgis, or two hours from the Badlands.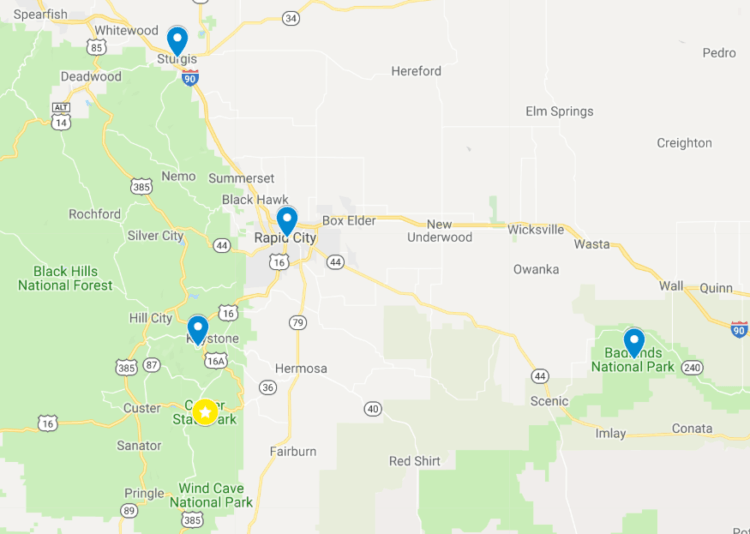 The closest airport is in Rapid City, although flights there are infrequent and expensive. Denver airport is less than six hours away, making it a viable choice for roadtrippers with more time than money.
Things to Do in Custer State Park
First off, let's get on the same page: even though it's a state park, it's so big that some visitors mistakenly think of it as Custer National Park. While that's incorrect, it's helpful to keep that in mind as you get a feel for the scale (and opportunities) of the park.
The main things to do in Custer State Park include driving the wildlife loop (and searching for bison), enjoying Sylvan Lake, and hiking one or more of the many trails. If you're in a rush, you can squeeze an overview into a few hours but spending a full day is ideal.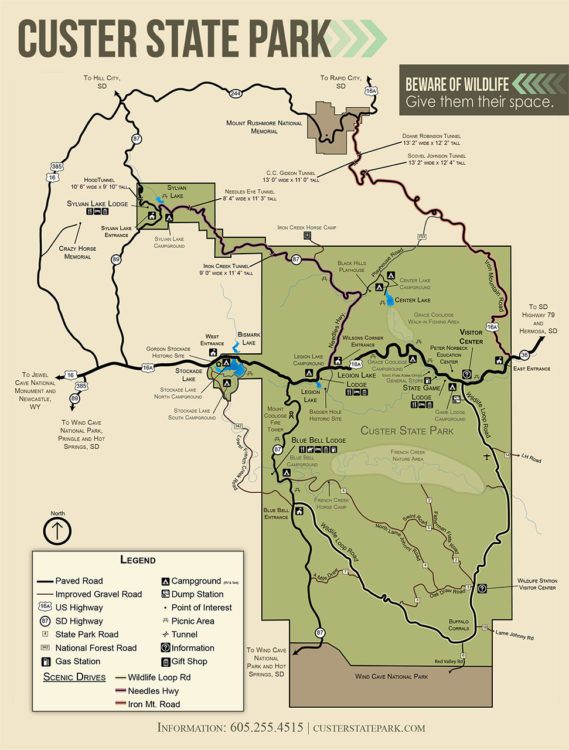 How to Spend One Day in Custer State Park
First Thing in the Morning: Drive the Custer State Park Wildlife Loop Road
Your first stop of the day should be the Custer State Park wildlife loop. As you might imagine, the best part of the day to see animals is early in the morning, so it's worth setting an alarm.
This 18-mile drive takes most visitors an hour — you can expect slow speed limits and (hopefully!) lots of wildlife traffic jams.
Bison are the most commonly seen animal in the grasslands around here, but you may also see pronghorn antelope, elk, deer, or the famous burros that live here.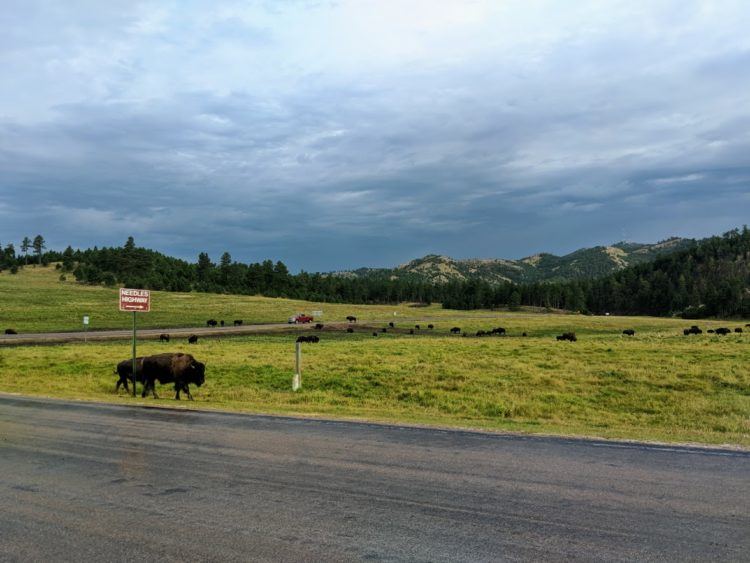 Although the park offers jeep tours of the wildlife loop road — kind of like a South Dakota safari — there's really no need for that. Even the smallest rental car can safely navigate this road and you should have no problem spotting wildlife on your own.
Don't worry too much about which direction you drive the loop in. Since it's a circle, you'll easily see the whole thing no matter where you start.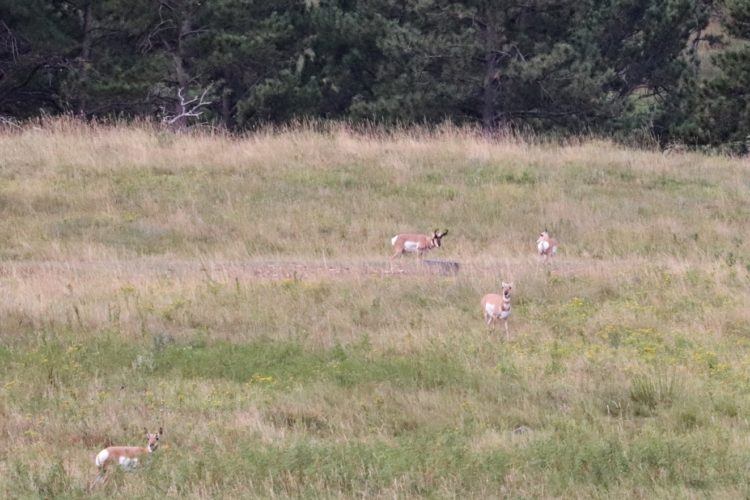 Drive up the Needles Highway to Sylvan Lake
Your next destination in the park is Sylvan Lake and the journey to get there is just as lovely as the lake itself. You'll head up Hwy 87, better known as the Needles Highway.
This spectacular road was built in 1922 and passes overviews of the Black Hills and ponderosa forests. You'll also drive past (and through!) granite rock formations, some of which look like its namesake "needles".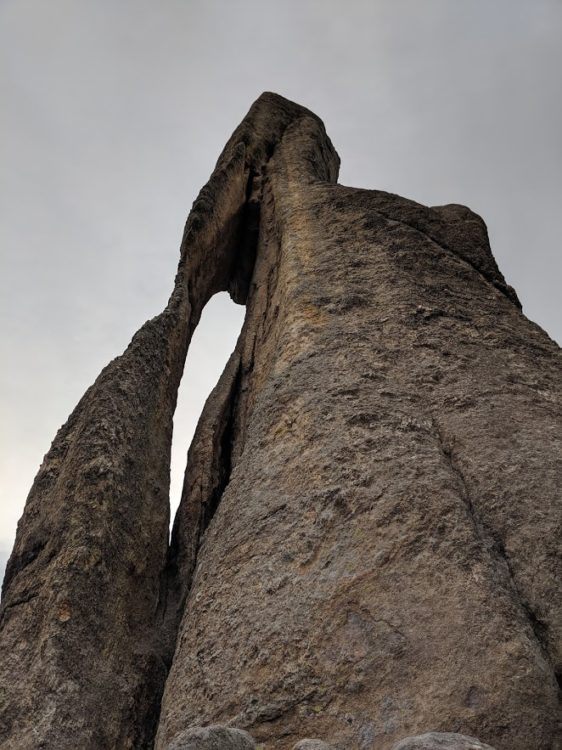 You'll actually drive this road twice, going to and from Sylvan Lake, but I recommend taking photo stops on the northbound route simply because the earlier you stop, the less traffic there will be.
Although the entire 14-mile drive is lovely, the best section is the short spurt between Cathedral and Sylvan Lake: you'll want to slow down and pay attention for sure…both for the views and the narrow, one-lane tunnels.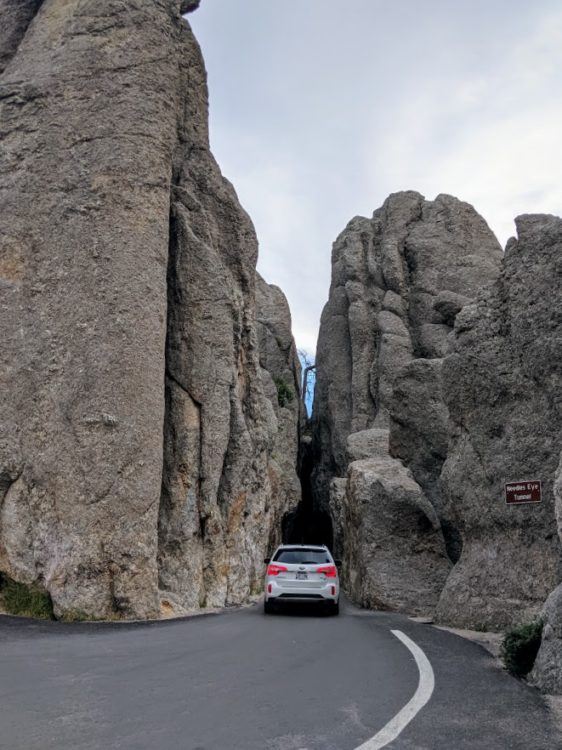 Hang Out at Sylvan Lake
If it's warm and sunny, you could spend hours and hours at Sylvan Lake. There's a small area for swimming, plus there are boat rentals (choose from canoes, kayaks, or paddleboards). If you have a valid South Dakota fishing license, rumor has it that there's plenty of trout here!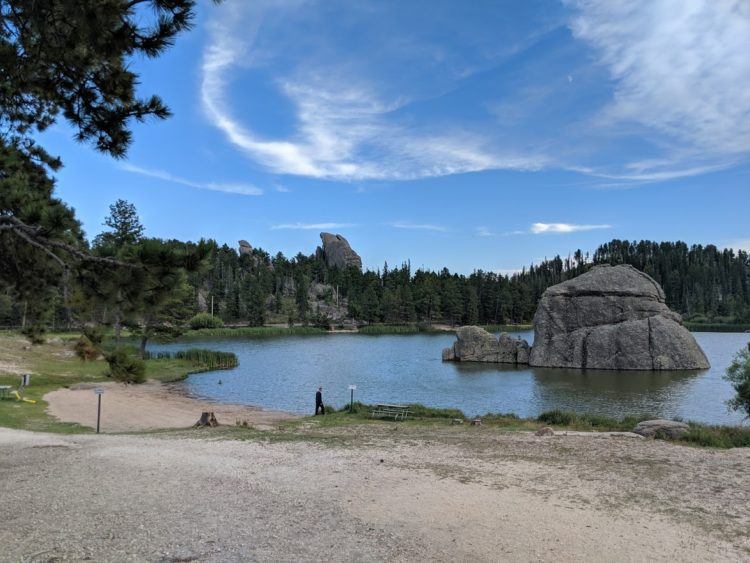 For our September trip, swimming was out of the question, but it still makes a great place for a picnic lunch or even just a stroll.
Custer State Park Hiking
There are quite a few trails in Custer to choose from and there's no way to fit them all into one day.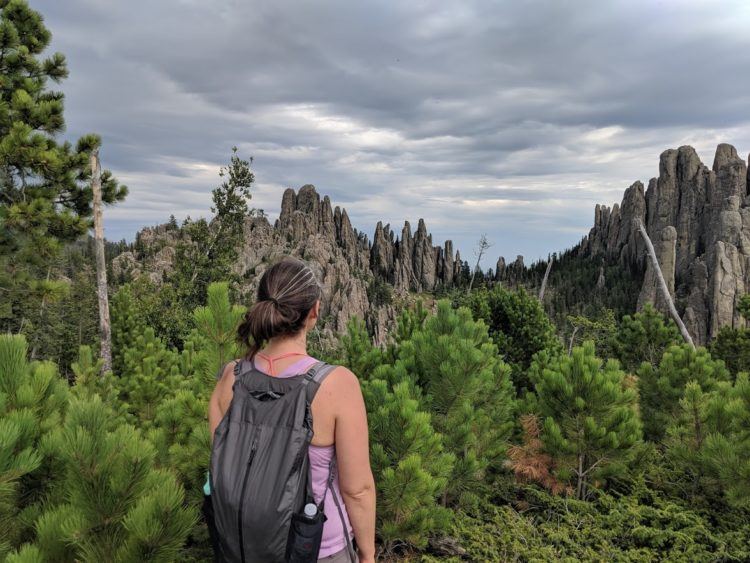 Some of the most popular hikes in Custer State Park are:
Little Devil's Tower (about 2.5 miles out-and-back): for great views of Cathedral Spires, Black Elk Peak, and the Black Hills forests. Requires some scrambling and short, but strenuous climbs.
Cathedral Spires (about 3 miles out-and-back): get up close to this unique rock spires. The trail has some steep sections and connects easily to Little Devil's Tower and/or Black Elk Peak if you'd like to create a longer hike.
Black Elk Peak (8+ miles, depending on the route you take): climb to the the highest point east of the Rockies (and west of the Pyrenees — that's pretty cool!). This hike was formerly known as Harney Peak and is sometimes still referred to as such.
Sunday Gulch (3 mile loop): this loop descends into the gulch with views along the creek. It's rated strenuous and can be extremely slippery in spring (after snow melt) or anytime after a soaking rain.
Lover's Leap (3 mile loop): hike to views of Mount Coolidge, Black Elk Peak, and Cathedral Spires. Watch for bison and poison ivy along the trail.
Prairie Trail (3 mile lollipop): unlike the other Custer State Park hiking, this trail focuses on the prairie ecosystem rather than the forests for a different perspective. Don't let the name "prairie" fool you; it's still strenuous.
We ended up hiking Little Devil's Tower, Cathedral Spires, and Black Elk Peak as one long, continuous hike (rather than three separate trails). Of the three, Little Devil's Tower was by far my favorite; not only are the views fabulous, but the scrambling is fun.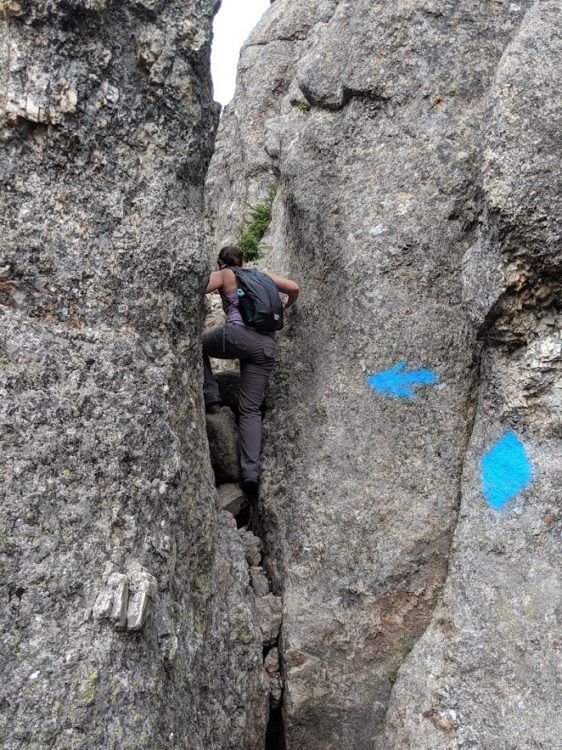 As we walked from Little Devil's Tower toward Cathedral Spires, we came across a family of mountain goats, which was incredible luck. The Cathedral Spires spur isn't too long if you're already hiking Little Devil's Tower anyway, so I recommend combining them if you're physically able. It should take you 2-3 hours to start from Sylvan Lake, climb Little Devil's Tower, detour to Cathedral Spires, and return.
Frankly, with only one day in Custer State Park, I'd recommend skipping Black Elk Peak trail. Yes, it's cool to bag a high peak, but the views weren't particularly different than Little Devil's Tower. If you really want to add a third hike to your day, I'd choose Sunday Gulch or Prairie Trail instead for variety's sake. Unfortunately, I didn't have time for either on this particular visit.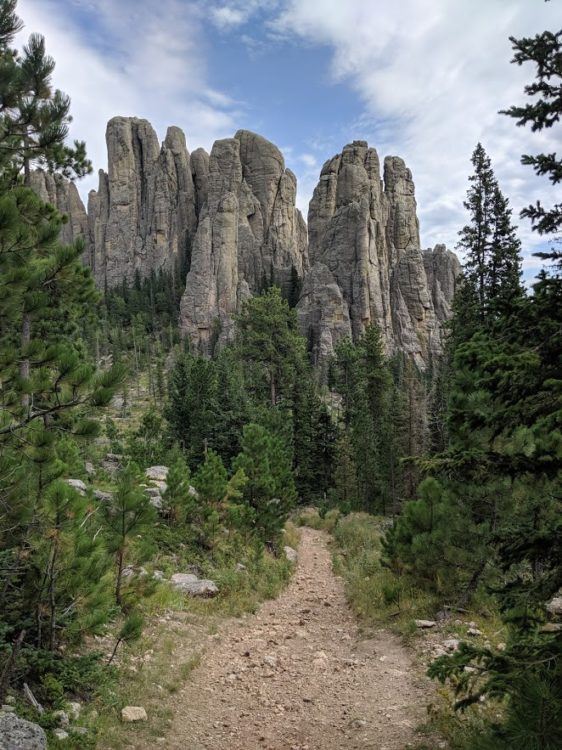 Leave the Park via Iron Mountain Road
You'll need to retrace your route a little from the trailheads at Sylvan Lake. Head back down the Needles Highway, this time turning on the shortcut at Playhouse Road. This will drop you off exactly at the best part of Iron Mountain Road.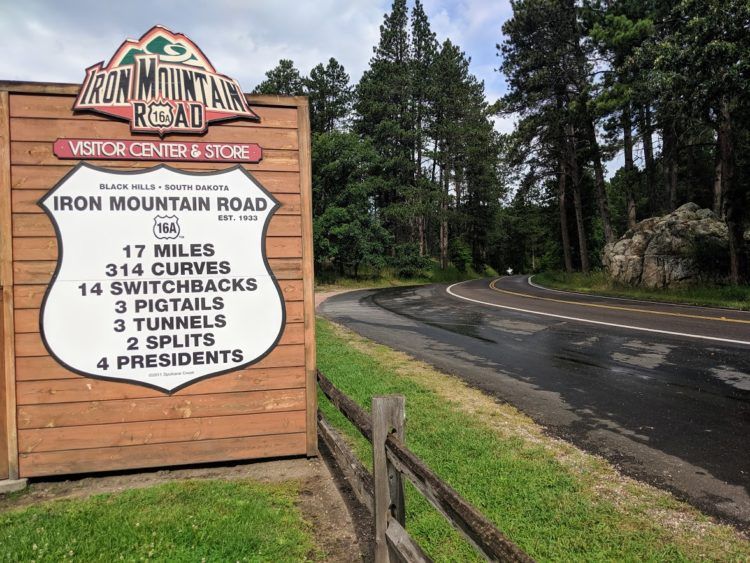 Another scenic byway, this road is also referred to as route 16A. It's a 17-mile journey, although I don't think it's necessary to drive the whole thing. From Playhouse Road heading northbound, you'll almost immediately hit two pigtail bridges and then continue through three tunnels (perfectly framing Mount Rushmore).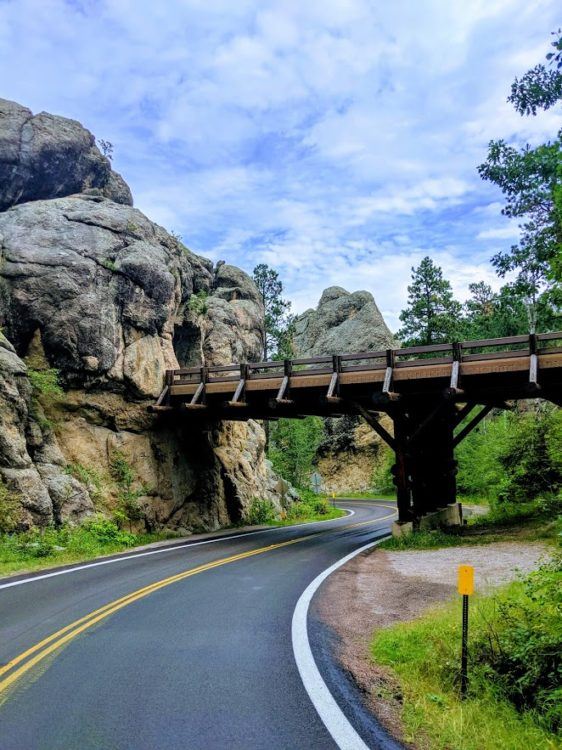 This is a fabulous drive to end your day in Custer State Park. In fact, there's a good chance your timing will be spot on to head directly to Mount Rushmore for the lighting ceremony or head to dinner in town. After all, I'm sure you've worked up an appetite.
More Logistics for Your Visit
Custer State Park Entrance Fee
The park charges by vehicle rather than by person. A carload costs $20 and your admission is valid for seven consecutive days (so you can spend an extra day or two visiting if you like!).
Since this is a state park, the America the Beautiful national parks pass is NOT valid.
Custer State Park Hours
You can enter the park 24 hours a day, but if you enter outside of manned hours, you'll need cash to pay for the entry fee.
Ranger stations and visitor's centers are typically open 8am-8pm during high season (Memorial Day to Labor Day), 8am-6pm for the remainder of September, and 9am-4pm from October 1 through Memorial Day.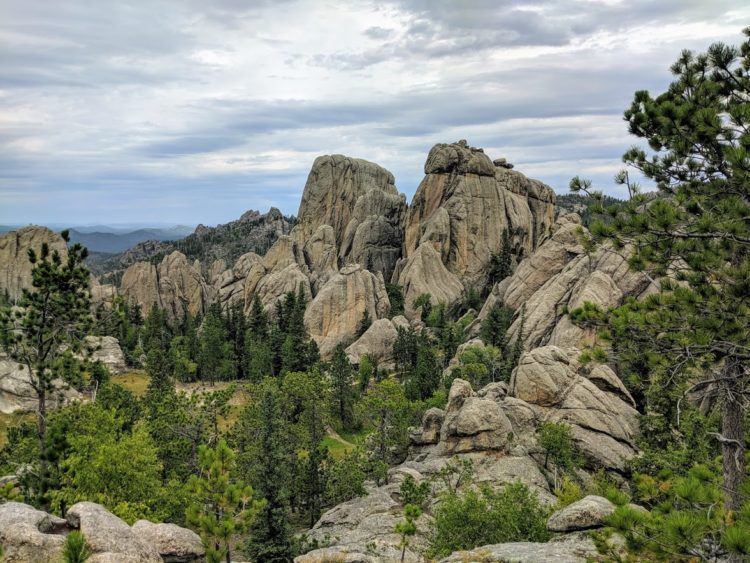 When to Visit Custer State Park
Custer State Park is open year-round, but you'd have to be a pretty hearty soul to visit in winter 🙂
Ice and snow can be present on some of the trails in May (particularly Sunday Gulch, since the creek keeps things wet) and new snow can start falling again in October. If you're an easy-going traveler prepared for a possible cold snap, you'll avoid crowds and save money at hotels — and maybe luck out with good weather.
July and August, in my opinion, would be worse than taking your chances in June or October. There are plenty of crowds, plus oppressive heat, and the possibility of hailstorms.
That leaves June and September as the best times to visit Custer State Park. We went the week after Labor Day and had fabulous weather (in fact, if I go back, I'd plan even one week later).

Custer State Park Lodging
You can stay right in the park, and if so, the Custer State Park Game Lodge is your best bet. Presidents Coolidge and Eisenhower both stayed there and you can specifically request their rooms! You'll pay for the privilege, but basic rooms at the lodge are reasonable (reserve far in advance; they sell out quickly).
If you're only spending one day at Custer State Park, I don't think it makes sense to stay this far south in the Black Hills. I'd choose somewhere more central. Keystone has a nice location, but is filled with super cheesy attractions.
We stayed in Hill City, a good base, at Whispering Winds Cottages. I appreciated having a kitchen to prepare meals (restaurants in the area aren't exactly gourmet). If you just want a basic room, I'd pick somewhere in walking distance from Main Street, like the Holiday Inn Express or the Harney Peak Inn.
For us, one day in Custer State Park was just the beginning, but for most travelers, it's just the right amount to provide a thorough, varied visit.
Read More About South Dakota