This post may contain affiliate links. As an Amazon Associate I earn from qualifying purchases.
* * *
Do you remember when Sunday drives were a thing?
I haven't taken many of them — I'm really the wrong generation for that — but like anyone, I've taken a few, going here or there or nowhere at all.
It's been forever since the last time I drove somewhere simply for the sake of driving, but I couldn't get the thought out of my head as Mike and I were driving the Badlands loop road.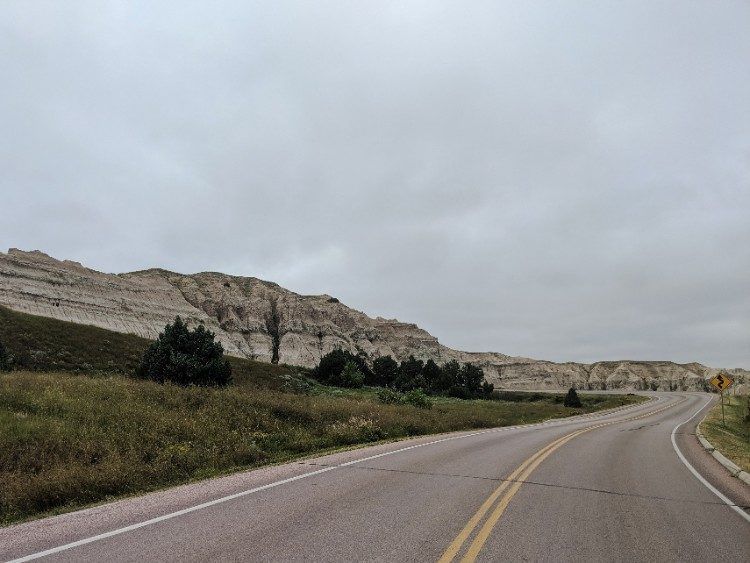 It felt like we were going nowhere in particular, but it was beautiful, fascinating, and the exact definition of leisurely as we poked around at 20 miles per hour, stopping often for photographs.
A Sunday drive at its finest.
The Badlands aren't like Other National Parks
Badlands National Park doesn't feel like any of the other national parks I've been to. It seems much smaller than the others (it's actually not; it's roughly the same size as Rocky Mountain National Park in Colorado, which feels HUGE).
But unlike other national parks, there's really nothing to do there. There's literally only 8 trails in the whole park and I'm convinced that some of them don't even count (five of them are less than a mile long, round-trip).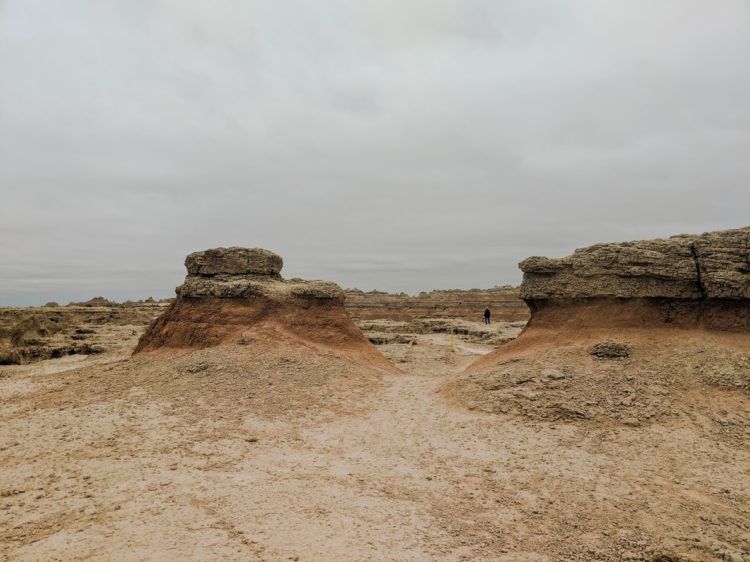 When you come to the Badlands, your options are to drive the scenic loop road, look for wildlife, photograph the buttes, pinnacles, spires, and prairies, or take a hike. Even if you sample it all, you'll finish in a single day. And assuming you don't feel the need to stop at every overlook, you can see it "all" in a few hours.
So the Badlands don't feel like the national park I'm used to, where you can spend three days and still leave feeling like you only saw a fraction of its great wilderness.
The Badlands is 100% a different type of park — first and foremost, a scenic drive — but I spent a night anyway, figuring we'd at least see a gorgeous sunset and sunrise, if nothing else. (Ironically, it was too overcast for either).
The Badlands Loop Road
The main road through the park is known as the Badlands Loop Road, and on some maps you'll see it labeled as Highway 240. It runs roughly 27 miles, from the Pinnacles entrance of the park to the northeast entrance, somewhat paralleling interstate 90 from Wall to Interior, South Dakota. You won't make good time, since it's just one lane in each direction, with slow speed limits and a fair share of traffic jams from photographers and wildlife watchers.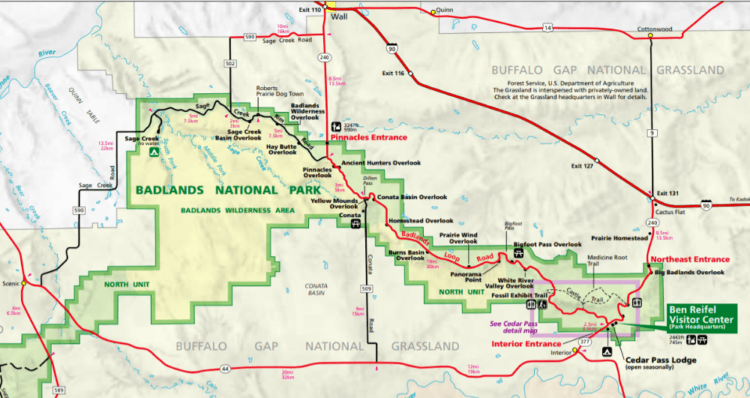 If you drove straight through, it would take you about an hour, maybe an hour and a half (a worthy detour from the interstate even in the tightest of schedules).
Of course, the point isn't to make good time. The point is to enjoy the ride.
Overlooks on the Badlands Scenic Byway
For the first fifteen minutes in the park, I was unimpressed.
There are a bajillion overlooks along the Badlands scenic loop and my husband was set on stopping at every single one. I thought this was going to be like going to the Grand Canyon — where your first few views are awesome, but eventually everything seems to look the same. Oh how easy it is to get jaded!
When it comes to nature, I never want to miss that sense of bewilderment and sometimes "less is more". My approach would've been picking and choosing some overlooks, but never all of them. But it didn't matter who was right: pretty soon each and every view was uniquely different.
The park changed from looking down into the Badlands to a perspective of looking up toward the rock formations. Some areas were full of color; others mysterious and creepy. All of it intriguing in its own way.
For what it's worth, it's the section between Yellow Mounds Overlook and the Ben Reifel Visitor Center that will keep you craning your neck for more. Several hiking trails also leave from this area.

Sage Creek Rim Road
Heading the opposite direction from the Pinnacles entrance, we turned off the main Badlands loop road onto Sage Creek Rim Road, a dirt road that I thought simply offered more of the same. It drives along the north rim of the Badlands and at first seems to offer nothing other than a bumpier ride.
I sighed and looked out the window.
SHEEP!
BIGHORN SHEEP!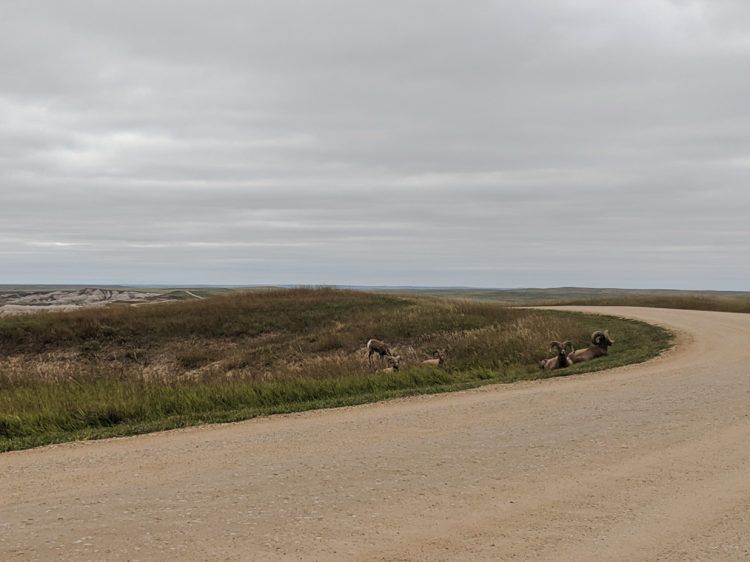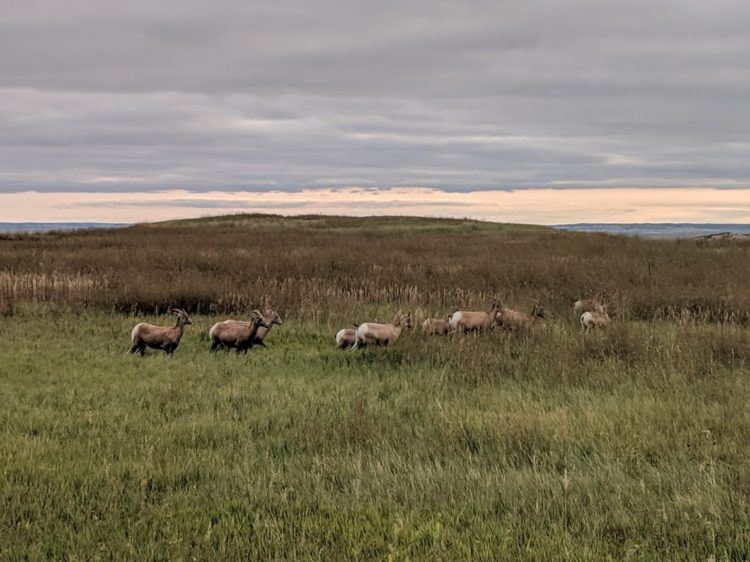 I'd seen these incredible animals before, but never so close to the road.
We watched the sheep, then prairie dogs, then bison. For a place known as the "Badlands", it sure was full of life.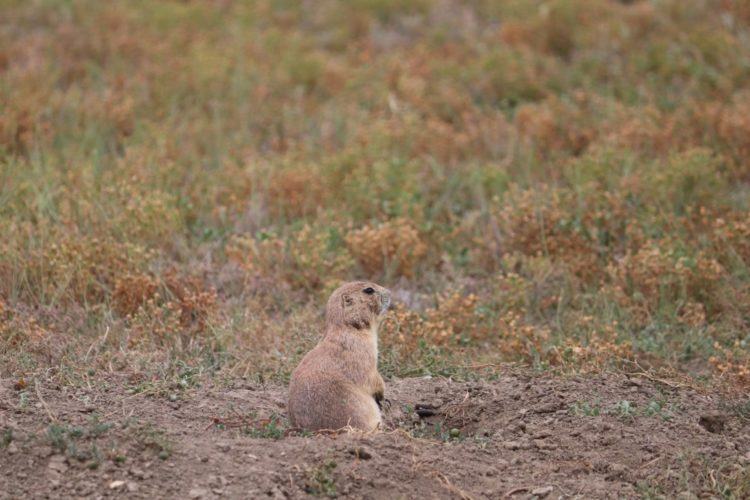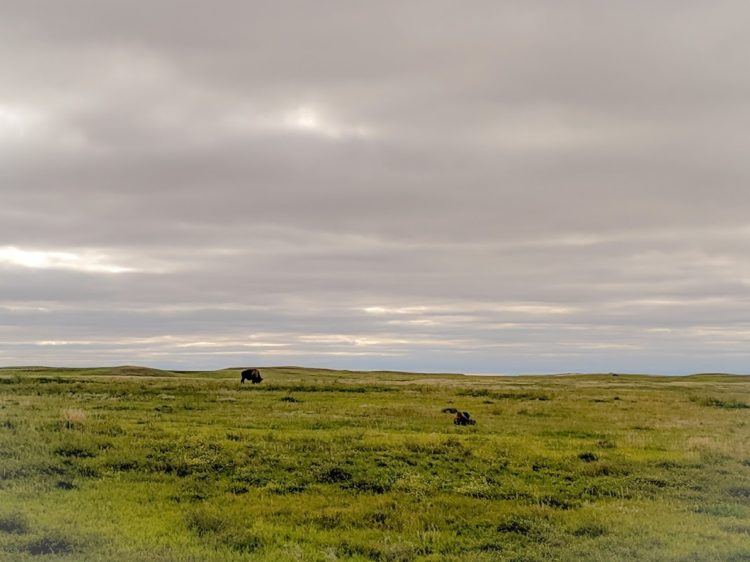 This national park was nothing like my favorites, but the Badlands Loop Road turned out to be one of the best scenic drives I've ever taken. One worth a detour and even one worth a special visit.
Heading to South Dakota?
Most people daytrip into the Badlands from their bases in Rapid City, Keystone, Hill City, Custer, or as far away as Spearfish. It's totally doable, although you'll miss when wildlife is most active at dawn/dusk.
We spent the night at the Badlands Budget Host Motel, a basic but clean and comfortable property just outside the park. There's also the Cedar Pass Lodge and Cabins which is technically inside the park, but just barely. Personally, I couldn't justify spending more than double the cost to stay five minutes closer to sunrise or sunset locations.
While you're in South Dakota, my favorite spot was Custer State Park. Another one of the state's scenic drives was Spearfish Canyon.
North Dakota's Theodore Roosevelt National Park is several hours away but equally worthwhile if you have a few spare days.
Are you a fan of scenic drives?