This post may contain affiliate links. As an Amazon Associate I earn from qualifying purchases.
* * *
I caught myself judging North Dakota before I went. Even though Theodore Roosevelt National Park is the North Dakota national park that inspired our country's conservation efforts, I didn't expect much.
Ask anyone: North Dakota is just a boring plains state. It's home to Little Missouri National Grassland — that's one MILLION acres of fields, by the way. And that doesn't include the Sheyenne Grasslands or Cedar River Grasslands or, you know, any of the grasslands not protected by the government.
So yeah…I'll admit it. I expected North Dakota to be boring (or at least uninspiring). I'm guessing you thought that, too.
But then I got there.
And, oh!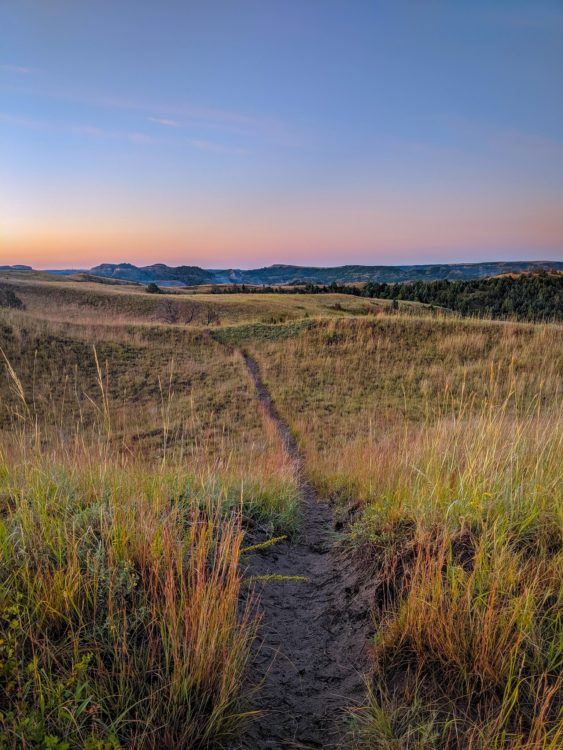 North Dakota is not boring at all. It's not just farm fields. It's not just plains.
Theodore Roosevelt National Park is outright spectacular and just as deserving of its national park designation as any of the other 60 units nationwide.
"I grow very fond of this place, and it certainly has a desolate, grim beauty of its own, that has a curious fascination for me." – Theodore Roosevelt
Painted Canyon at Teddy Roosevelt National Park
There's a surprising amount of topography in Theodore Roosevelt National Park and the areas outside of park boundaries that lead up to it. I started noticing it as I was driving westbound on I-94. The speed limit here is 80 miles per hour (!!) and you cannot believe how disappointed I was to have the scenery zooming past my windows at lightning speed. I wanted to pull over in a dozen places to take pictures but on the interstate, that's just not the smartest idea.
So instead I made my first stop at Painted Canyon, which although it's part of Theodore Roosevelt National Park, it's outside the main park entrance. Most visitors treat it more as a scenic viewpoint just off the highway, but there are a few trails here: a short 1-mile "nature trail" loop and the more strenuous Painted Canyon trail that goes steeply downward into the canyon, eventually connecting to the Paddock Creek Trail that will in turn connect onward to just about anything in the south unit.
I think you know which one I chose.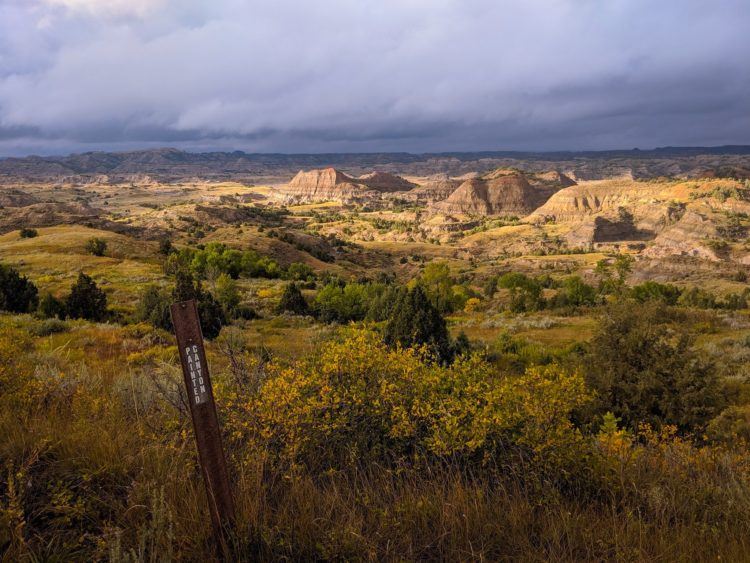 Down I went on the more strenuous Painted Canyon trail.
Distracted by wildflowers and fall colors and bison scat, I almost lost the trail a few times. There are dozens (hundreds?) of "spur trails" which aren't spur trails at all — they're just paths trampled by buffalo who make their way through this canyon. This is one of those places where you'll want a map (or at least, a more focused mind than I had that day).
Besides, there was just too much prairie sage to smell along the way.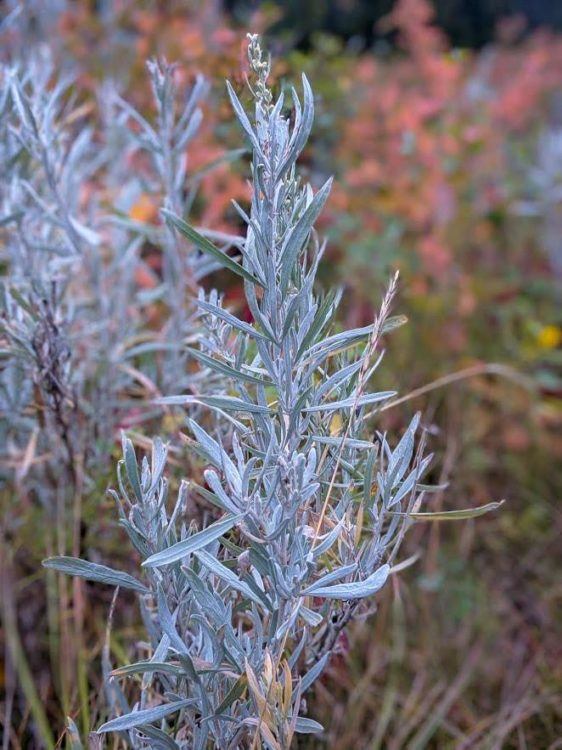 Unfortunately I didn't make it as far as I wanted. After several days of downpours, the trail was slick and before long, my shoes were caked in mud. And more storm clouds lingered in the distance, so although it was clear when I started, I worried about impending weather.
Inside Theodore Roosevelt National Park South Unit (near Medora, ND)
"The beauty and charm of the wilderness are his for the asking, for the edges of the wilderness lie close beside the beaten roads of the present travel." – Theodore Roosevelt
The park has two main units, the north unit and south unit, separated by about a 65-mile drive (there's also a third area — Elkhorn Ranch Unit — that is much smaller and requires a 4WD to visit).
The south unit is just off the highway near the small town of Medora, best known for its summer "Medora Musical" and the Pitchfork Steak Fondue, both of which seemed too kitschy for my tastes. If there's anything else interesting nearby, the locals sure aren't marketing it.
But this North Dakota national park is absolutely worth the hassle of getting there even without any other attractions in the neighborhood.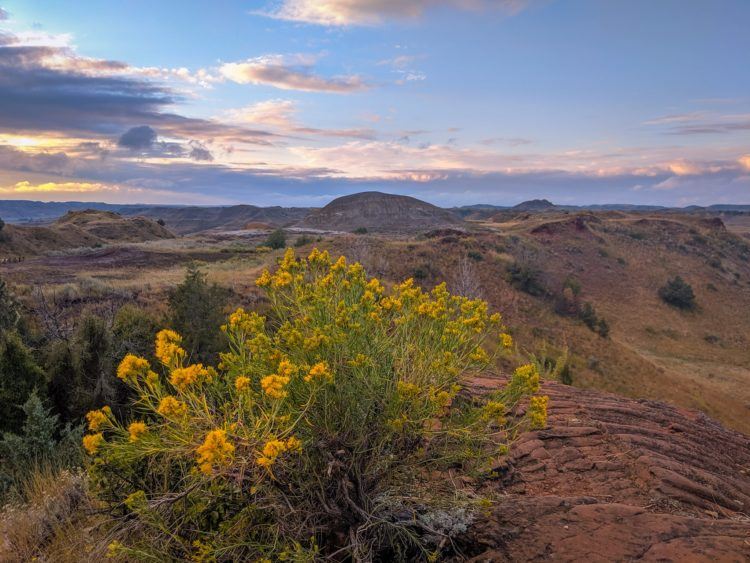 In fact, I'd argue it's worth driving or flying out of your way to visit. I just didn't know it ahead of time.
The South Unit Scenic Loop Drive
In some ways, TRNP reminded me a lot of Alaska's Denali National Park. (That one came out of left field, didn't it?) The road through the park is probably the most famous activity, with wildlife watching second, then a few short trails, and many longer ones best suited for intrepid trekkers.
The first thing most visitors do at the park is take the 36-mile scenic loop drive to take in the dramatic landscapes and keep an eye out for wildlife.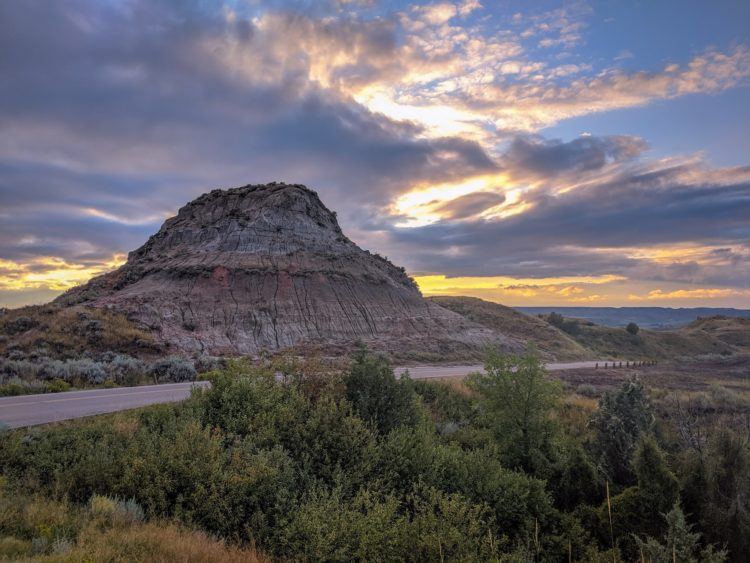 Thirty-six miles doesn't sound like a lot on paper, but it'll take you a decent chunk of time to cover it all. The speed limit seems to hover between 15-25mph and you're going to want to stop frequently for photographs.
During my visit, a portion of the road was closed for construction, meaning it wasn't a loop at all. I had to drive roughly 30 miles in and then backtrack out the same way for another 30 miles. That meant doubling my travel time — something I was pretty frustrated about when I first realized my plans would have to totally change.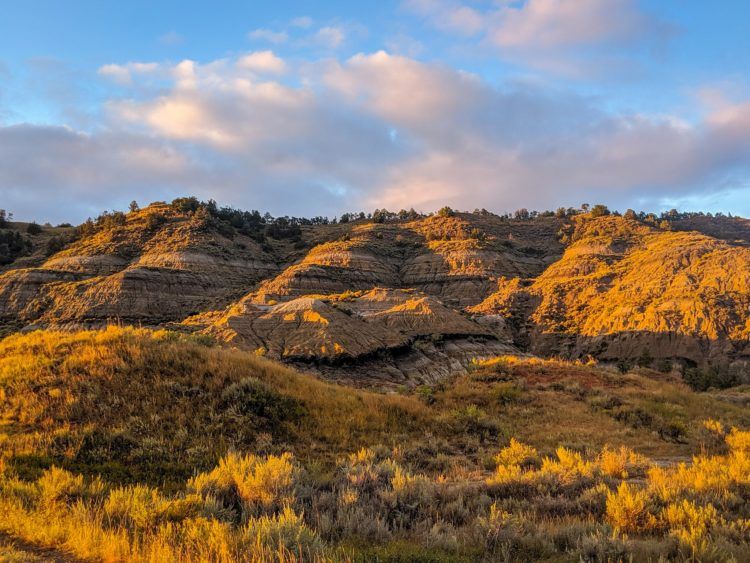 What started out as a downside ended up being a major selling point:
Twice as many chances to see wildlife.
The ability to see scenery from two different sides.
The hills and grasslands catching light from two different times of day.
Give Theodore Roosevelt National Park plenty of time. I promise, it's worth it.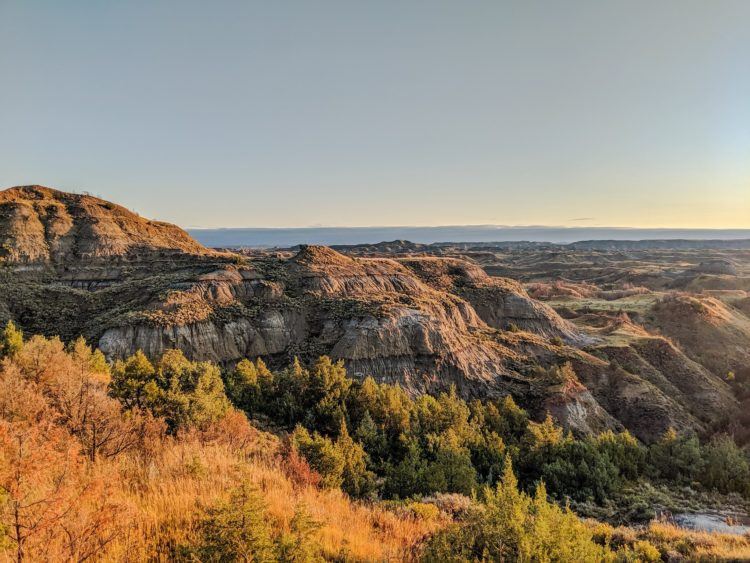 Amazing Wildlife Opportunities in this North Dakota National Park
If you want a safari without flying overseas, this is a great bet. The wildlife here is unbelievable — and relatively easy to spot.
"We get exactly as much in hunting with the camera as in hunting with the rifle; and of the two, the former is the kind of sport which calls for the higher degree of skill, patience, resolution, and knowledge of the life history of the animal sought." – Theodore Roosevelt
Teddy Roosevelt Park is best associated with the North American bison for good reason: there are healthy herds here, which you can see right from the road sometimes (in fact, watch out for wildlife traffic jams.)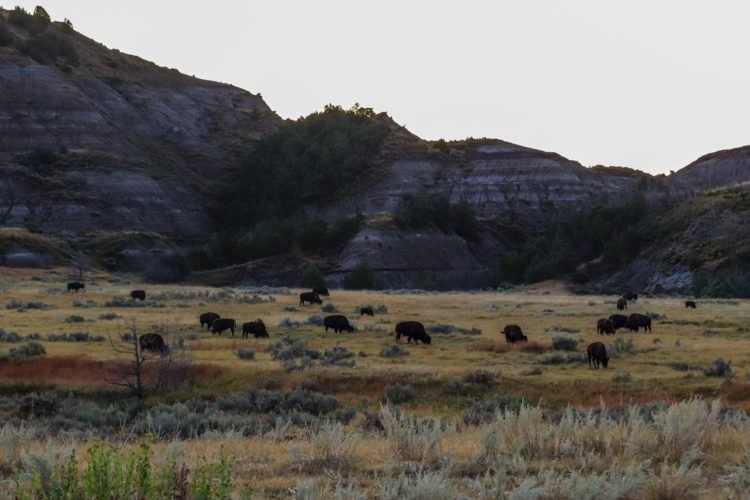 Beyond the bison, you'll also find wild horses and prairie dogs pretty easily.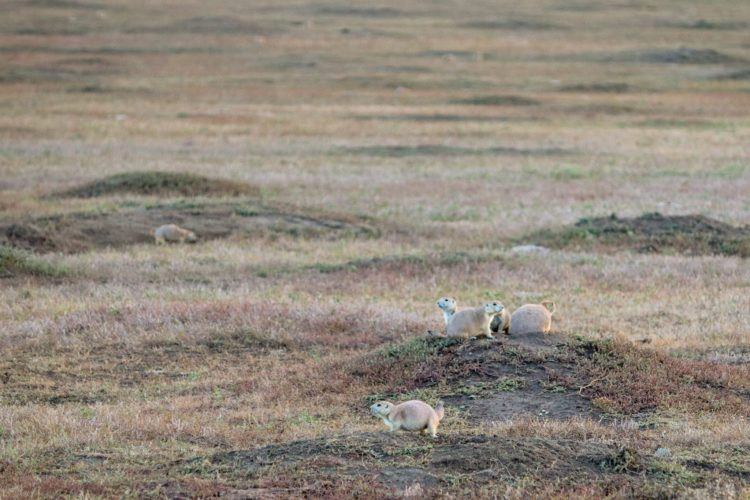 The lucky might see badgers, coyotes, or even bobcat. I saw a coyote right outside a prairie dog town (the coyote went hungry that morning, although fate can't work that way every time).
I tried my hardest to spot elk and was unsuccessful, but did see a lone pronghorn. I'm sure there must've been a whole herd of them, maybe just on the other side of a hill.
Also keep an eye out for birds — my favorite were the magpies — and serious birders should print out a checklist before they go.
All optical equipment — like binoculars or camera lenses — is expensive but is one of those things where "you get what you pay for". Don't bother with $40 binoculars: pay up to get quality and it will last you a lifetime for anything from North Dakota to Africa to whale watches.
Binoculars come labeled with two numbers: a magnification and the objective lens diameter. For the zoom, 8-10x is the sweet spot where you can get a great view while still having a wide enough field of view to pan for animals. For the lens, you want 30-50mm to balance low-light visibility with a small enough size you can carry it in your daybag comfortably.
I use Nikon 8×42 binoculars, meaning 8x magnification and a 42mm diameter. They are fogproof and waterproof, making them perfect for all weather. A harness is handy to keep your binoculars handy without straining your neck.
My husband uses a Leupold spotting scope instead. It's a lot more money, but it's lightweight, compact, easy to pack, and performs better at great distances (with adjustable zoom) and/or low light conditions.
Wind Canyon Overlook and the Little Missouri River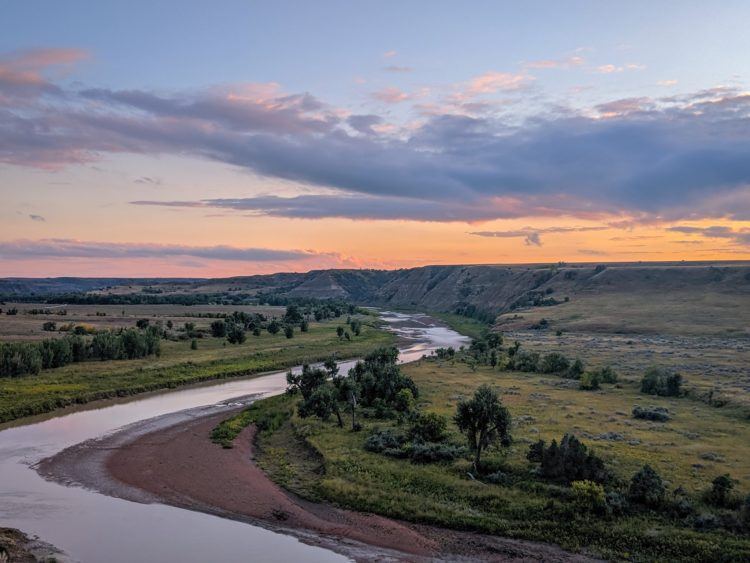 The park says Wind Canyon Overlook is the most photographed spot in all of TRNP and it's easy to understand why. It's easy to reach from the park entrance and has a trail short enough to appeal to anyone (about a half mile).
It's particularly popular at sunset; on the day of my visit, there were about 15 people here to photograph the sky…and it did not disappoint.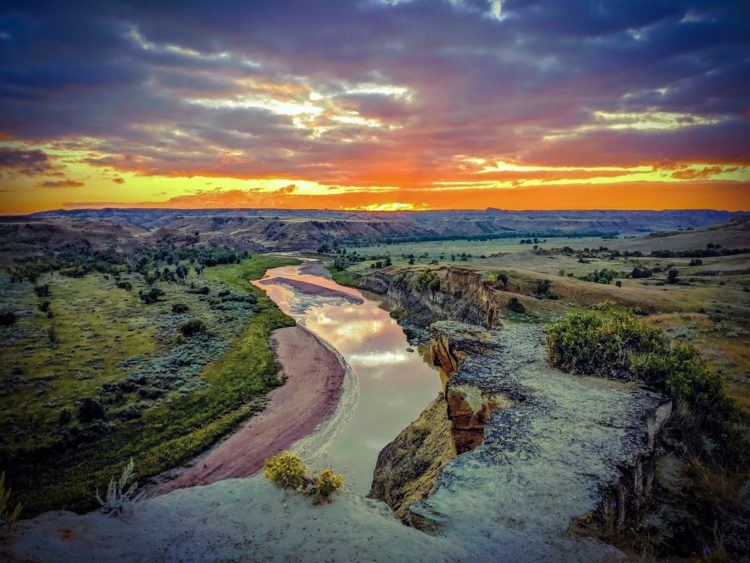 I broke one of the ten commandments of sunset photography, which is to stay all the way until the sky turns black. I've been told over and over that often the best colors — those incredible reds and purples — come out at the very final moment and sure enough, that happened to me the moment I got in my car and drove away.
On the bright side, I saw mule deer and bison at twilight on my way out of the park.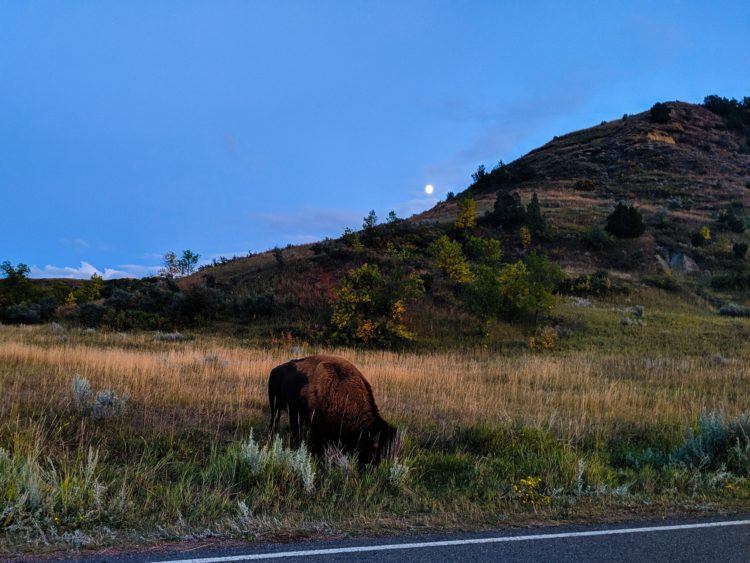 "Nothing could be more lonely and nothing more beautiful than the view at nightfall across the prairies to these huge hill masses, when the lengthening shadows had at last merged into one and the faint after-glow of the red sunset filled the west." – Theodore Roosevelt
Sunrise in Theodore Roosevelt National Park
The best part of my entire visit was sunrise. It beat sunset, no contest, and was worth the pain of setting an alarm for oh-dark-thirty (check sunrise times here).
I had grand intentions of watching the sunrise from Badlands Overlook, but I had to take the long way there due to the road construction. Under the best of circumstances, that made it about an hour drive away.
I left on time but stopped over and over. Wildlife was everywhere, beckoning me to watch. Other overlooks called my name, even before the sun was up, for that miraculous blue hour.
I eventually saw the sun rise over the wilderness, nowhere near where I intended and that was quite alright by me.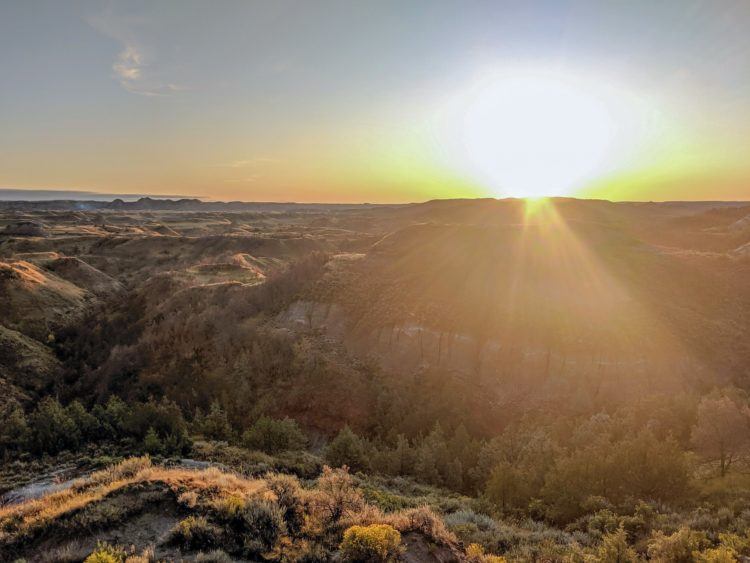 If you take only one travel tip from this entire article, enter the park an hour before sunrise. Drive slowly and carefully along the way, your eyes peeled for wildlife under magical twilight glow. In a perfect world, you'll have someone with you so someone can pan the foreground while the other looks farther afield.
Stop often and everywhere. If you make it to the North Dakota Badlands Overlook before sunrise, congratulations. If not, I'm sure it's because you saw so many other amazing things along the way.
The #1 Thing That Makes TRNP So Special
We live in a world where national parks are getting a lot of visitors. I'm thrilled that so many people are discovering the joys of nature. Truly, I am.
However, there are a lot of parks that are suffering from overtourism, at least in peak season and at the most "Instagrammable" spots.
Theodore Roosevelt National Park — and North Dakota in general — still hold onto their wilderness feel. There was no one on the road at sunrise (and I mean that quite literally). Even at a busy sunset overlook or parked in front of prairie dog villages, all the visitors had a common goal of enjoying the natural world for what it is.
There is a freedom here and an almost mysterious force that you don't find just anywhere. That's what makes this North Dakota national park incredibly special.
"Life is a great adventure…accept it in such a spirit." – Theodore Roosevelt
Plan Your Trip to Theodore Roosevelt National Park
As you can tell, I only visited the south unit of the park. I wish I had carved out time to also visit the north unit, outside of Watford City. Learn from my mistakes.
If you have a few days, you should also look into horseback riding (after all, that's what Teddy Roosevelt would've done!), biking part of the 144-mile Maah Daah Hey trail, or visiting the North Dakota Cowboy Hall of Fame. I wish I had done ALL of these…yes, even the museum. I did make it to Makoshika State Park, across the border in Montana about an hour away, and that's also worth a stop.
The town of Medora is pretty small, but it does have a few stores, restaurants, and bars. The Little Missouri Saloon seemed to be open later than anywhere else (and has fun Old West decor).
There aren't a ton of hotels in town and they are expensive in high season. The shoulder season — May before Memorial Day or September after Labor Day — has decent weather but half-price rates.
The Rough Riders Hotel looked like the nicest place in town.
The Amble Inn appeared to be the cheapest place in town that still had good reviews.
The Badlands Motel, where I stayed, was far nicer than you'd expect for something labeled "motel".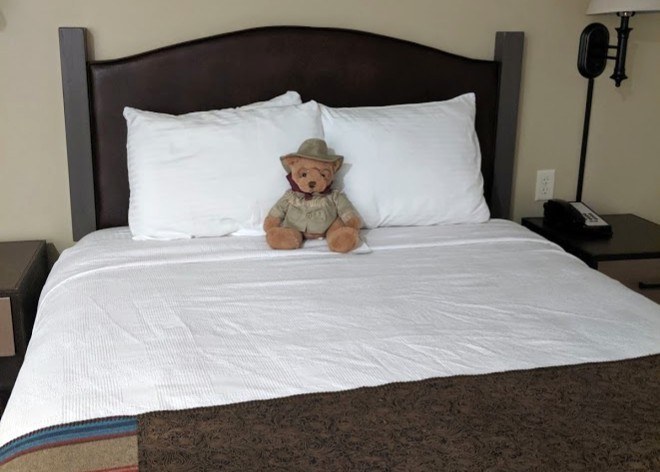 Be aware that trains run through Medora day and night and are mentioned in reviews everywhere in town. Pack a pair of earplugs.
Both the South Unit Visitor Center and North Unit Visitor Center are only open during business hours, so be sure to plan ahead if you need information about hiking trails in the park.
Looking for a Different North Dakota National Park?
Theodore Roosevelt National Park is the only "official" national park in the state, but it's also home to Fort Union Trading Post and Knife River Indian Villages, both historic sites managed by the National Park Service.
* * *
Many of the quotes listed here are from Theodore Roosevelt's popular books Hunting Trips of a Ranchman and The Wilderness Hunter. For a lighter read on my favorite president, check out the chapter about him in Gumption by Nick Offerman.