This post may contain affiliate links. As an Amazon Associate I earn from qualifying purchases.
* * *
What if I told you you could go on a safari without leaving the country? Alaska is a hotspot for animals, a state full of moose, bears, whales, and more. You'll likely stumble on some no matter where you go, but these are favorites on where to see wildlife in Alaska. All three areas are relatively easy to reach, semi-affordable, ripe for wildlife opportunities, and offer plenty of other sightDOING while you're there anyway.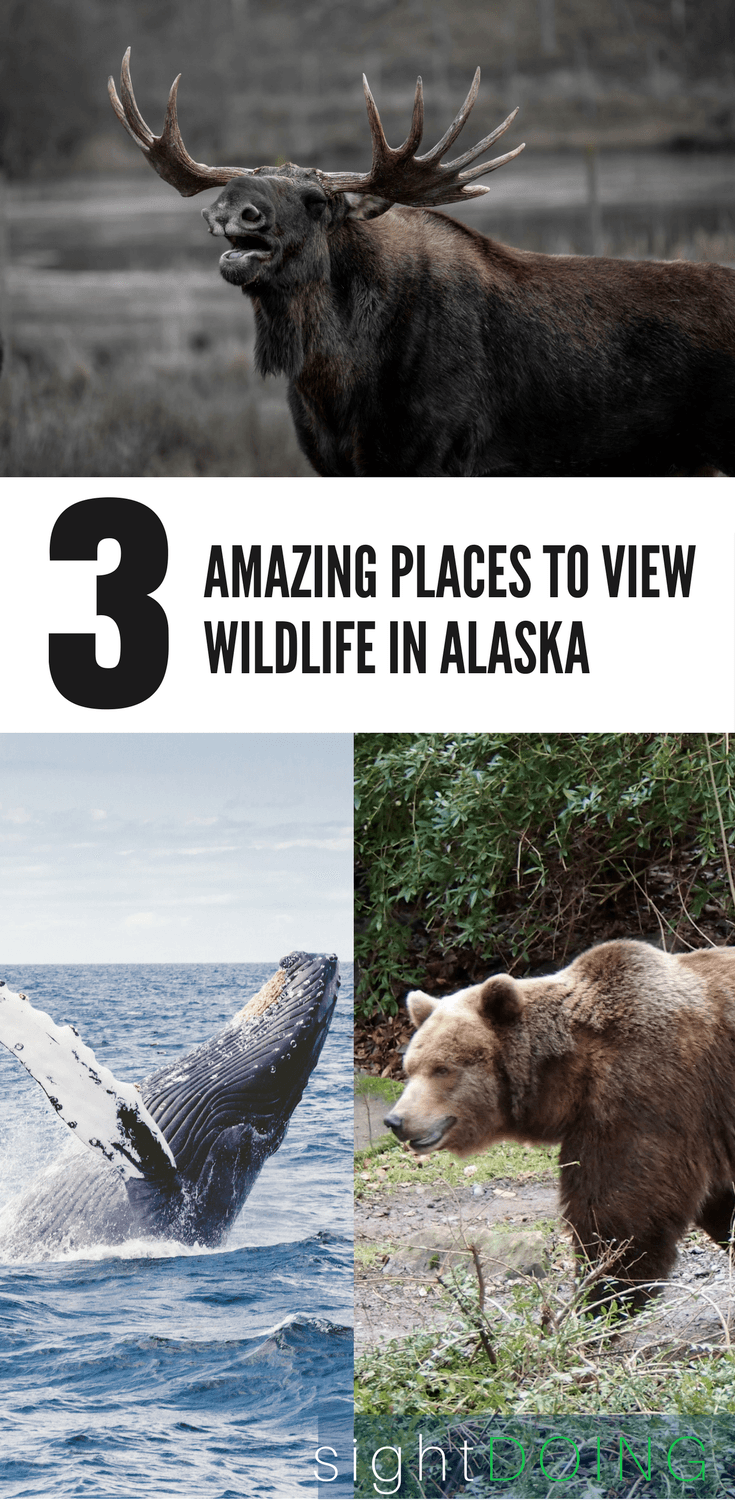 Denali National Park
Wildlife in Denali: Look for grizzly bears, black bears, moose, caribou, wolves, Dall sheep, arctic ground squirrels, red squirrels, foxes, snowshoe hares, marmots, golden eagles, bald eagles.
If you go to Alaska without going to Denali, you're missing out on one of the things that makes Alaska so great. Not only is it a huge expanse of wilderness with plenty of hiking opportunities (and a fabulous view of the country's tallest mountain), but it's also the #1 recommendation for where to see wildlife in Alaska.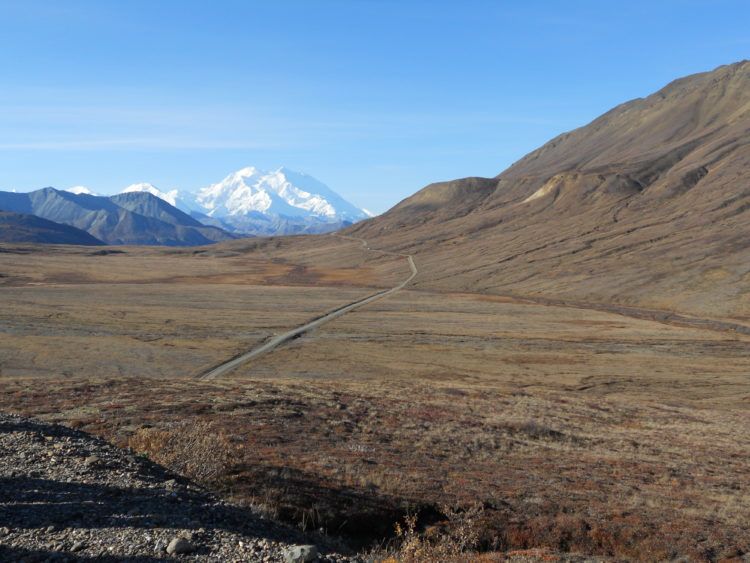 Why? There is an abundance of animals living there, very little human infrastructure to interfere with their habitat, and wide open spaces that make viewing easy, unlike a lot of forested areas in the rest of Alaska.
So hop in an old converted school bus for an all-day journey down the park road. Your driver will stop the bus when there is wildlife within sight, giving you ample opportunity to look for a dozen different species.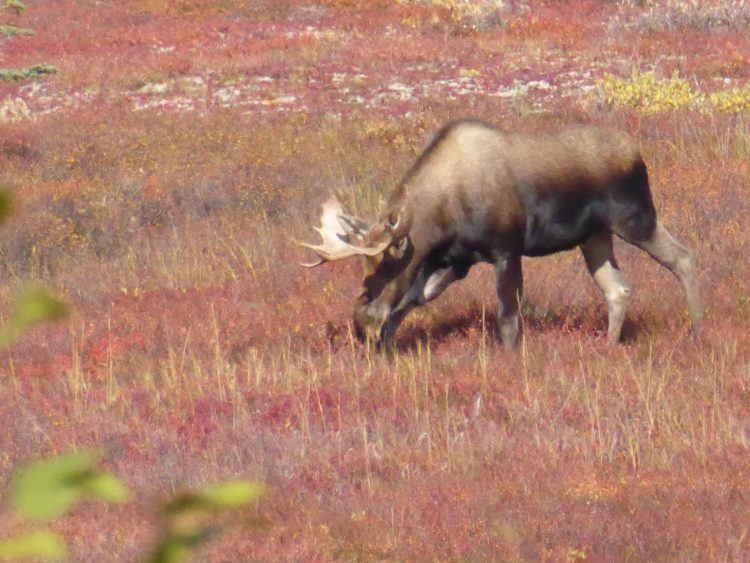 Along with the must-do bus trip to Wonder Lake, I recommend driving independently to Savage River every dawn and dusk for a good chance of spotting moose. This is especially cool in September when the rutting season is in full swing.
Kenai Fjords National Park
Wildlife in Kenai Fjords: Steller sea lions, sea otters, Dall's porpoise, mountain goats, black bears, humpback whales, orcas, puffins, kittiwakes, cormorants, harbor seals, and if you're lucky, grey, fin, or minke whales.
A trip to Kenai Fjords is my favorite Alaskan boat tour. Full day trips leave from Seward, making it easy to schedule for cruisers and even day-trippers from Anchorage. At first glance it might look expensive, but you're getting a chance to view all sorts of wildlife, witness an active tidewater glacier, and enjoy beautiful Alaskan scenery.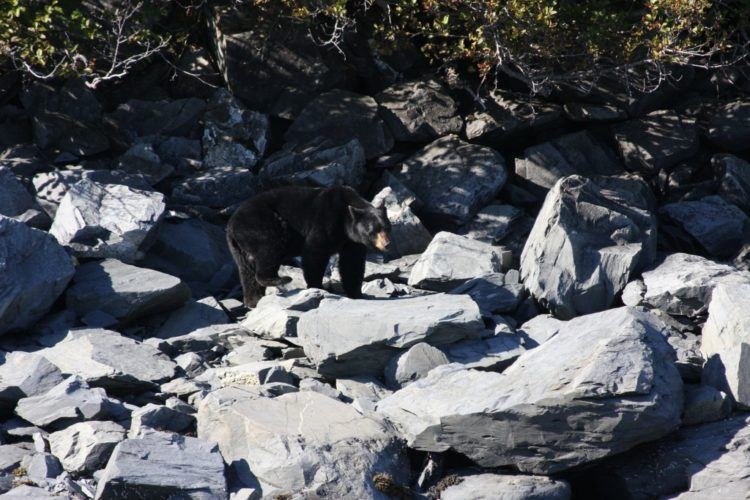 For the best chance to see whales and puffins, go before the end of August. But for fewer crowds — which means more space on the boat deck to move around for a prime viewing location — go in September. Either way, make sure you take a trip at least 6 hours long so you can get into the heart of the area. Pack a raincoat, and bring bonine or other motion sickness meds just in case it's a rough day.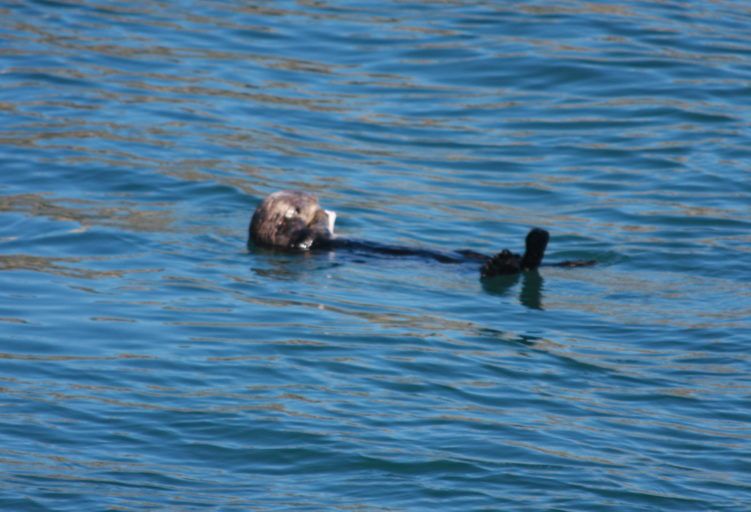 To save money on your tour, sign up for the email lists at Major Marine and Kenai Fjords Tours. Both offer significant discounts if you book and prepay far in advance. If you have to book last-minute (I did), consider booking your trip through the links below. You'll pay full price, but a portion of your ticket will support this site.
How to Buy Binoculars
A good pair of binoculars is essential for wildlife viewing anywhere in the world and particularly in Alaska. You don't want to get too close to moose and bears. Other animals are often far from the road or trail by happen-chance.
I always recommend buying the best pair of binoculars you can afford. "You get what you pay for" holds true for the vast majority of optics! Consider it an investment, since they last a lifetime and can be used for everything from Alaska to rainforest birding to African safaris.
All binoculars come labeled with two numbers: a magnification and the diameter of the objective lens. The binoculars I use are 8×42, meaning 8x magnification and 42mm diameter.
For wildlife, I think 8-10x is the sweet spot of giving you a great zoom without compromising on brightness, hand shake, or field of view (especially important for whale watching and other times you'll be panning to find animals). For the objective lens, try anywhere from 30-50mm to balance low-light visibility and portability.
Unfortunately, the model I bought is discontinued, but these Nikon Prostaff 8x42s are very similar and still have features I think are a must: a rugged, waterproof, fog-proof design. A harness is handy to keep your binoculars handy without straining your neck.
If you can splurge, my husband swears by a Leupold spotting scope. It's a lot more money, but you're paying for a lightweight, compact scope that's easy to pack and will amaze you with the viewing quality.
Sitka (Southeast Alaska)
Wildlife in Sitka: humpback whales, sea lions, harbor seals, sea otters, brown bears, black-tailed deer, eagles, and tens of thousands of seabirds (murrelets, guillemots, cormorants, puffins, auklets, petrels, and more).
Of all of southeast Alaska, Sitka is the crown jewel. The history here is amazing, both for native Tlingit culture and Russian influences, and it's the perfect walkable town.
From a wildlife perspective, there are two huge draws to Sitka. The first is the chance to see humpbacks late in the season. Most humpbacks migrate away from Alaska in the late summer and early fall, but humpbacks stick around Sitka for a few months past that. That's great news for September visitors (my favorite month for Alaska travel).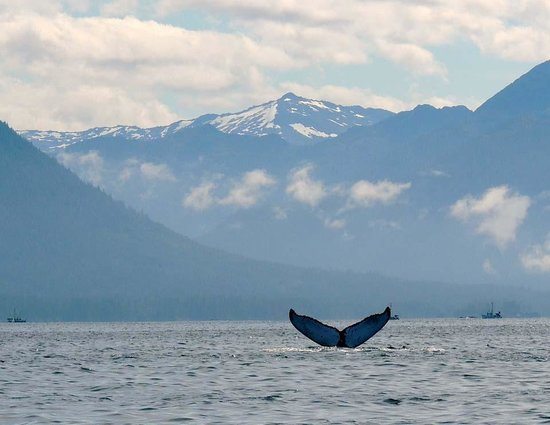 You'll also love the seabird rookeries at Saint Lazaria Island. I'm not a birder by any means, but it's easy to be impressed by the sheer numbers of seabirds just outside Sitka. Besides, along your journey to the island, you'll see plenty of marine life like otters and sea lions plus gray, killer, and minke whale sightings are possible if you're super lucky. Go out for a half-day with Captain Davey, one of the nicest guys you'll ever meet and a huge source of knowledge about local wildlife.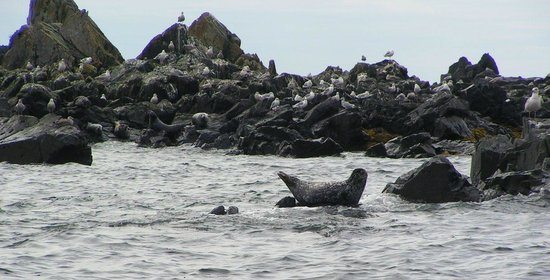 Alaska is the perfect example on how strategic packing can make or break your experience!

Surprise, surprise…if you want to see wildlife in Alaska, you'll need to spend time outside! Alaska weather can be unpredictable, uncomfortable, and sometimes unbearable. I've camped in Denali when it was 27 degrees, kayaked in Valdez when it was 40, and climbed a glacier when strong winds whipped me in the face.

You need the right gear. I've shared my favorites time and time again, so I won't get into too much detail:
* Dress in layers, so you're prepared for chills and breezes as well as when the strong sun comes out to warm you up
* Wear synthetic fabrics (never, ever cotton which will leave you damp and cold)
* Look for anything labeled windproof or waterproof
* Happy feet = happy you, so invest in good socks (I love Smartwool) and good hiking shoes

Need more tips? Read my guides on hiking in the rain or packing for winter trips (which also applies to Alaskan shoulder season)
Where to See Wildlife in Alaska — EVERYWHERE!
There are other places to go as well, like Katmai National Park for grizzlies, Barter Island for polar bears, or walruses at Cape Seniavan. All of those will cost you a lot of money just to get to these remote areas and you'll be limited in activities beyond the wildlife watching. That's why Denali, Kenai Fjords, and Sitka make my list of where to see wildlife in Alaska. They're a lot easier to reach and a great bang for your buck.
But honestly, you're likely to see wildlife anywhere you go. Keep your eyes peeled throughout your visit and allow enough flexibility in your travel plans that you don't have to rush if you find yourself with an opportunity to sit and watch the animals along the way. Alaska is an amazing place to take a North American safari and a state that astounds me every time I visit.
–> Read My Favorite Two-Week Alaska Itinerary to See How to Combine These Places (and More!) <–
Read More About Alaska