This post may contain affiliate links. As an Amazon Associate I earn from qualifying purchases.
* * *
I wasn't exactly excited when my sister told me the only time of year she could go to Peru was smack dab in the middle of rainy season. Almost everything I wanted to do was outside, but we weren't about to let a little (or a lot) of rain stop us. All we needed to do was set the right mindset.
…and pack the right gear. That was most definitely another part of the equation to ensure we actually enjoyed our trip to Peru.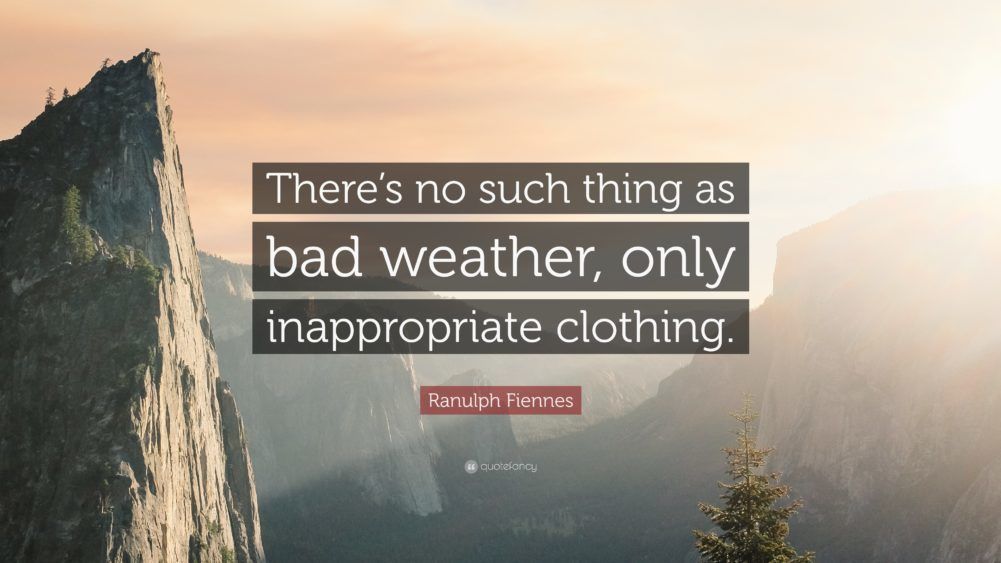 My hiking outfit for the rain isn't stylish (not one bit), but it's practical. This isn't dinner with the queen — unless you're Instagramming your trek, no one will ever know what you look like. Either way, I'll take dry and happy over drenched and gross.
How to Hike in the Rain…the Preparation
There are only two questions I ask before hiking in the rain:
Will it still be safe?
Will I still have fun?
Most hikes are still perfectly safe in the rain, but summiting Old Rag during a thunderstorm isn't one of them and neither is Yosemite's Half Dome when it's super slick. Use your best judgement and remember: "If it's a maybe, it's a no."
Whether or not you'll still have fun can be a whole different story. I've had dozens of amazing rainy hikes (my cloudforest hike in Ecuador was one of the wettest but one of my all-time favorites) and I'm *so* glad we hike Wayna Picchu in Peru even though our view was totally obscured.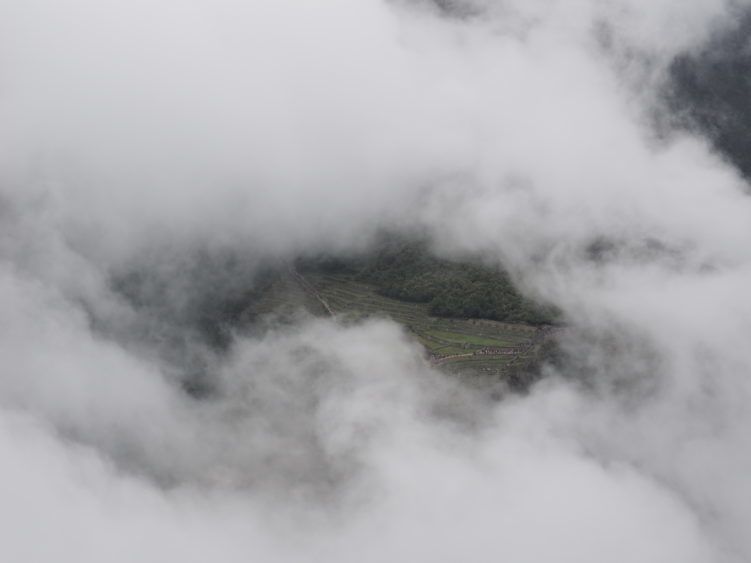 Who are you hiking with? Will they be complaining the whole way? And will you be able to dry off afterwards or are you doomed to be soggy for hours? Hiking in the rain can go either way.
How to Hike in the Rain…the Gear
Merino Wool Socks
For years, I've upheld that happy feet are the key to a good trip. And I'm going to go out on a limb here and say that I think the right socks are even more important than the right shoes. I've hiked in everything from gym shoes that are falling apart to high-end waterproof hiking boots to rugged water shoes.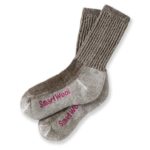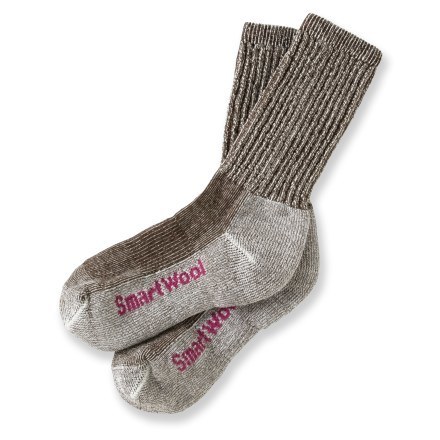 Spend the money on socks — something breathable and quick dry with a touch of padding for comfort. I swear by Smartwool but any type of real wool or Merino wool should do. Yes, they're expensive, but on a $1000+ trip, a pair of $15 socks is worth its value.
I don't like to recommend specific shoes because everyone's needs and preferences are different. I like lightweight, low-rise trail runners, but my husband swears by rugged boots over-the-ankle. Go to the store and try a ton on before investing $100 or more. This guide to the best hiking shoes will get you started.
Pants That Don't Drag
You don't have to spend a ton of money on specialty pants to hike in the rain, but be careful that you're choosing something that doesn't drag on the ground. They call them high-waters for a reason 🙂
You'll also want something other than jeans, which take hours to dry out once they're soaked. You probably already have some ugly polyester pants you normally wear to the gym. Those are the ones to wear. I've been beating up the same pair of Columbia pants for years. They have "omni-wick" quick-dry technology and UPF sun protection, but more importantly, they roll up and stay buttoned so you can wear them as capris.
A Raincoat
Look, when it's warm but wet, I just wear a shirt made from technical fabrics and call it good enough. This is a great time to hit outlet malls or clearance racks for running shirts. But when it's cool and damp, you need a good raincoat.
Two things to seek out when buying a raincoat: something breathable and in a perfect world, something with underarm/side vents that you can unzip. As the classy hiker I am, being able to unzip means I can stay dry without overheating.
Try: the Columbia Women's Switchback II jacket.
A Waterproof Bag That Actually Works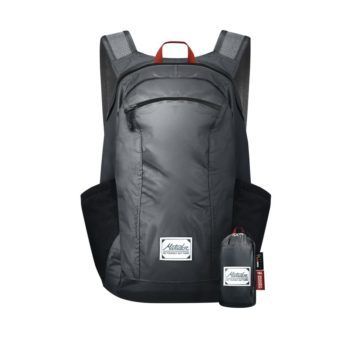 Matador answered my prayers by designing a lightweight backpack that's actually waterproof. No, it's not submersible (but why would you do that anyway?) but I've tested this one through some heavy rains and not even a drop of water makes it inside. These days, I don't think twice about throwing my expensive camera inside because I know it'll be safe.
If you do need something even more waterproof, I own a few drybags also — but they're a pain in the butt if you think you'll be reaching inside to grab things every ten minutes.
Trekking Poles
A lot of hikers swear by trekking poles for uneven or slippery terrain, like a muddy trail. On solid ground, I don't use them and in fact I think they can be a hindrance to carry. But if you're not steady on your feet, I've used my mom's before and they hold up well.
The one time I like trekking poles — crossing streams when you don't want to fall in! They definitely keep you stable as you hop from stone to stone.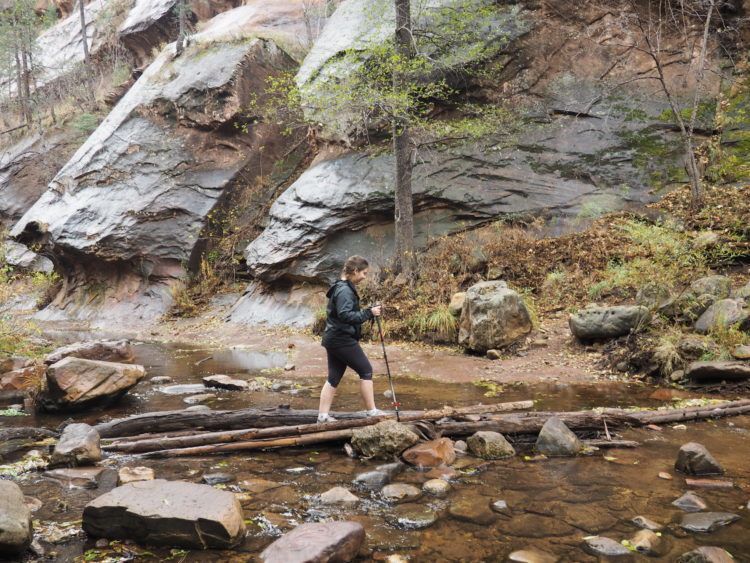 So why hike in the rain anyway?
Because some hikes — like Wayna Picchu — are still pretty magnificent, even in bad weather.
* * *
This post contains affiliate links.
* * *