This post may contain affiliate links. As an Amazon Associate I earn from qualifying purchases.
* * *
As a college freshman, I was excited to find flyers advertising the Elizabethtown College Ecuador trip, a school-sponsored spring break. Ecuador sounded so much cooler than spending a week in Miami or Cancun, so I spent a few months working extra hours at my on-campus job and scrimping pennies in order to pay for the trip.
The trip was organized by one of the school's Political Science professors, Dr. Wayne Selcher. The trip would be nine days long and include a short homestay with local Ecuadorians in Quito. We would also visit the Bellavista Cloud Forest Reserve, Otavalo, and Baños. Before leaving, I knew nothing about Ecuador so the short trip would be a real learning experience for me!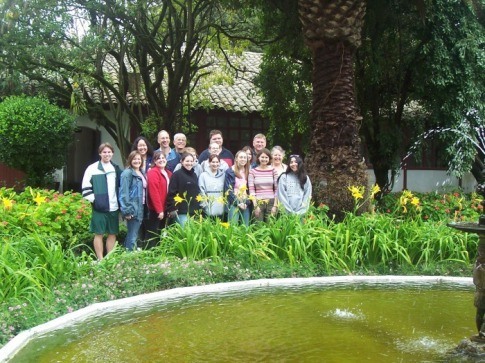 I was really excited to be getting out of classes today, a day early, in order to catch my flight to Quito. I was packed and ready to go and met the group in front of Alpha Hall in order to catch our chartered bus to Newark airport, almost three hours away. The bus ride was fun; everyone on the bus was excited for the trip and this was the first time many of us met each other. Before we knew it, we were at the airport, having talked and chatted the entire trip.
Our flight would have one stop in Bogota, just long enough to let some passengers off. We wouldn't even have to disembark the plane. I was a little disappointed not to see any of Colombia, but knew that we would get a chance on the way home.
Our flight departed on time and the flight, too, passed quickly with more conversations and shared excitement. We landed late in the evening and at the airport, we were directed toward our homestays.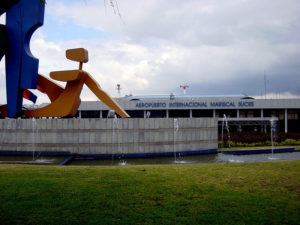 Each individual on the trip would have a different host family for the next two nights. My host "father" greeted me at the airport and helped me with my bags. He told me I should go straight to bed, since it would be strenuous to do much at an elevation of 10,000 feet – not to mention I was exhausted from travelling all day.
Arriving at their home, I met the rest of the family and was shown to my room, a comfortable room that was more than adequate for my short stay.
I awoke well rested and was pleasantly surprised to find out that I felt great; I was worried I might be affected by altitude sickness. I dressed and went downstairs, where my host mother had prepared a breakfast of yogurt, rolls, and the freshest, sweetest fruit I had ever tasted. Yum! We chatted a little bit, and then she drove me to the Office of Experiment in International Living (EIL), the organization that had set up our homestays.
At EIL, we met our guide, Myriam, who would accompany us throughout Ecuador. Myriam spoke perfect English, was friendly, and very knowledgable about her country. At EIL, we were introduced to the program, given more details about what to expect on our trip, and taught about the cultural differences, history, and political situation of Ecuador.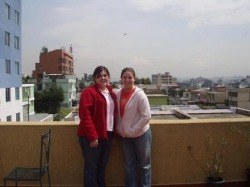 My host mother returned to pick me up at lunchtime, and we went home for a delicious lunch. She made a traditional Ecuadorian dish of shrimp ceviche: the shrimp is marinated and cooked in vinegar and lime juice (enough for a broth), and is served with diced tomatoes, onions, and unsalted popcorn. It is eaten like a soup, and was absolutely delicious. The fact that we were able to eat outside in the beautiful sunshine made the lunch even better.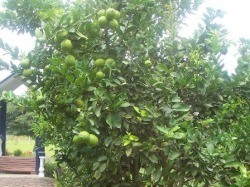 After lunch, we drove through Quito, stopping at one point to take pictures of Panecillo, a hill seen from almost all of Quito. The Virgin Mary stands on top of Panecillo, and is said to watch over Quito. Almost everyone in Quito is Catholic, so this statue holds high importance. Elsewhere in Ecuador, indigenous religions are still highly followed.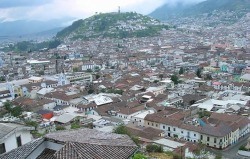 We left our viewpoint to go to an agricultural fair that was being held that weekend. In what appeared to be a convention center of sorts, there were many people who had set up booths to feature their fruits, vegetables, meats, or dairy products. We sampled breads and honeys, cheeses, and even some seafoods. It was really interesting to see all the different products from around the region. It also gave me an opportunity to practice my Spanish, since all of the vendors spoke only Spanish.
On the way home, we stopped at a gas station to refuel. This was the first time I was struck by the poverty in Quito; my host family was certainly affluent compared to most so I was initially sheltered from the poverty. Children, some as young as four or five, came up to the car while the attendant was pumping gas, selling gum, toys, and other small items. All the children looked malnourished and poorly clothed, and it broke my heart seeing them work in order to help their parents provide. I bought several packs of chicle (gum) to share with my friends on the tour and wished them blessings. They were all excited to meet an American, and were surprised that I spoke Spanish.
Upon returning home, I met the young son of the family for the first time. We conversed in Spanish, telling stories and learning about his schooling, while waiting for dinner to be ready. He was friendly and not shy at all! At dinner, I also met the foreign exchange student (from UK) who was staying with them. She invited me out for the evening, and I gladly accepted.
We went to a friend's house, who would be hosting a party for the evening. A quick cab ride later, we were there and I was introduced to 8 or 10 other people. We had fun snacking, drinking, and dancing until late at night. One of her friends drove us home and it was exhilarating (and a little scary) riding in the back of a jeep with no windows on the twisty, narrow roads of Quito. The fog added to the effect! It was a lot of fun though, and I was so tired when we returned that I went right to bed.
This would be my last morning with my host family, and they wanted to take me through Old Quito to visit some of the churches. This area has many streets blocked off on Sunday mornings and is accessible by foot only. There we so many people out and going to church since the Catholic faith is very important to them.
One of our stops was at El Conjunto Monumental San Francisco. Construction began on this church just one month after the Spanish arrived in the 1500s, but took 100 years to complete. The church itself was beautiful and very ornate, decorated with lots of gold leaf since gold was abundant in this area during that time period.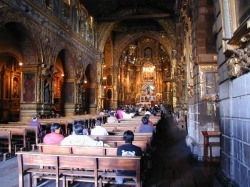 Afterwards, we met back up with the group to continue on toward the Bellavista Cloud Forest Reserve near Mindo. I said goodbyes to my host family and thanked them immensely for their hospitality. They were wonderful hosts and I enjoyed how much time they took to show me around.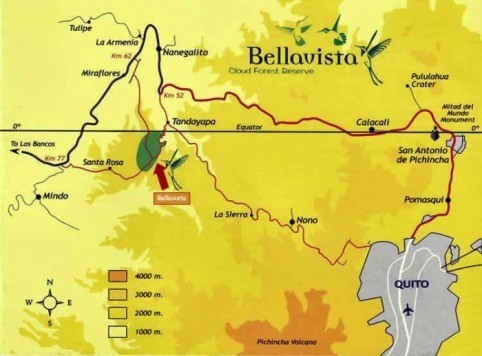 As we drove outside of Quito, the poverty became more apparent, with many run-down houses and people walking barefoot on the side of the road. This was the first time I fully understood we were still in a developing country and I felt grateful for my home in the United States.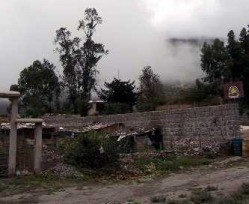 After just a short ride, we passed El Mitad del Mundo (middle of the world), one of Ecuador's tourist traps. This monument marks the equator, and it's possible to take a picture of you standing with one foot in the northern hemisphere and the other foot in the southern hemisphere. Ironically, the actual equator is about a hundred feet away from the marker, so in fact, everyone in those photos is only standing in one hemisphere. It was enough for me to drive over the equator, knowing that I would spend some time during this trip on both sides of the equator. I was glad that I did something more unique with my host family.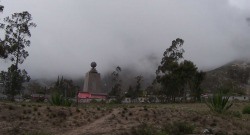 We also stopped along the way at a well-known photo stop; however it was much too foggy to see the valley below. Instead, I made a new friend with a donkey.
We arrived to Bellavista after a beautiful drive up a mountain. This cloud forest reserve is even higher in elevation than Quito. A cloud forest is different from a rainforest; a cloud forest is high in elevation (hence, in the clouds), cooler, and certainly moist. Mostly, in a cloud forest, you will see a large variety of flora, including trees, mosses, ferns, flowers…It is also known for the many birds that live in the canopies. The hotel had many hummingbird feeders set up on the premises that attracted the birds. There were also dozens of beautiful overlooks since the cloud forest was in the mountains.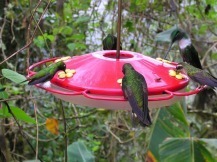 We were able to take a guided hike that afternoon, so we put on some rubber boots and got started. March is during the rainy season at the cloud forest, so there were puddles, mud, and lots of rain during our hike. This moisture, along with the coolness (which slows evaporation) helps keep the cloud forest green and lush. By the time we returned from our hike, we were all soaked, and covered with mud from slipping on the downhill trails.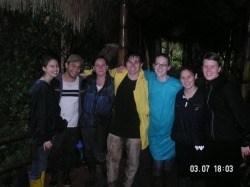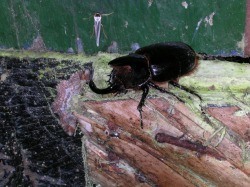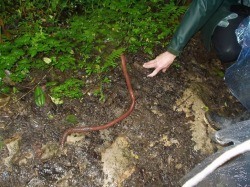 We cleaned up before going to dinner. Afterwards, there is nothing to do since you are in the middle of nowhere and with minimal amenities. The hotel had board games to rent, so some of us borrowed Monopoly and we made our own fun.
The sounds of the cloud forest helped lull us all to a peaceful sleep.
This morning, I woke up to the sound of birds sweetly singing in the Bellavista cloud forest. I had overslept and missed the guided birdwatching in the morning. Though I was a little disappointed, I knew I needed the sleep before our hike today. Last night, we had signed up for different hikes, and I had chosen the strenuous one, known as "Suicide Trail" in the rainy season.
This morning was much clearer than the day before and it looked like we would have perfect weather for our hike.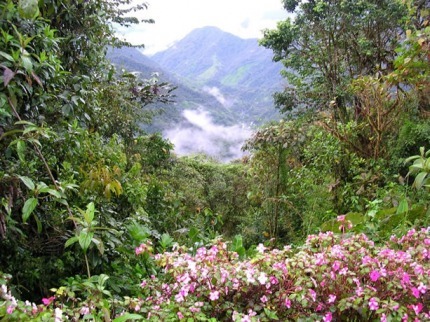 Our hike started out easy enough. Our guide pointed out some of the different orchids and taught us about the medicinal qualities of some of the plants in the cloud forest. We examined a dragon's blood tree and contemplated the healing powers of its sap. I was impressed by our guide's vast knowledge.
Soon, the hike got harder and we had to walk through creeks, up steep hills, and try not to fall in the slippery mud. At one point, we had to climb up a waterfall and over a small gorge.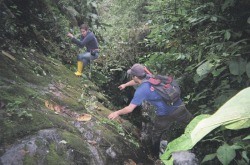 We had a great time, and before I knew it, we were back at the lodge.
After lunch, we had about a 2-hour drive from Bellavista back to Quito. We settled into our hotel and then went out for dinner. We had an exciting evening ahead of us: we would ride the Chiva Quiteña, a festive ride in an open-air trolley through the colonial section of Quito. A band in the back of the bus would play typical local music while we made even more noise by blowing the provided whistles. To make the trip even more obnoxious – and therefore even more fun – they handed out a local brew of some sort that quickly got all of us in a good mood!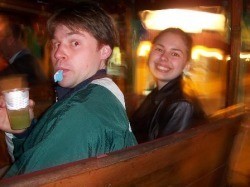 Eventually, the trolley stopped at one of the squares in Old Quito and allowed us to get off. The band continued to play and all of us were dancing and clapping along. It was a lot of fun, and also great to see the old buildings lit up at night.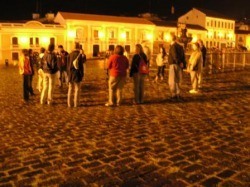 Toward the end of our journey, the trolley actually broke down and we waited while a mechanic came to fix it! Thankfully none of us cared…which I'm sure had something to do with that brew that was being shared!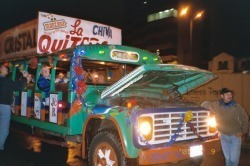 Some of us stopped at a convenience store near the hotel in order to get some snacks and cold beverages to help lessen the effects of the brew which were now taking hold of us. At the store, we were told it was National Woman's Day, and the women in our small group each received roses in appreciation of being women. The roses brightened up our room, where we fell fast asleep.
Today we would take a day trip from Quito to Antisana National Park. In this ecological reserve, you can find Antisana Volcano, Ecuador's fourth-highest volcano which reaches an incredible altitude of 18,870 feet. The park is only about 50km southeast of Quito, but the entire road twists around the side of the volcano. I felt queasy along the drive, and I'm still not sure if it was because of the winding roads, the high elevation, or a hangover from the night before. I like to think it is a combination of all three.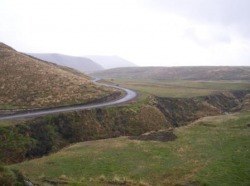 Thankfully, we made several stops along the way to observe the strange landscape and weird flora.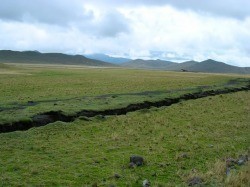 To be honest, I had expected something largely different. I hadn't researched any of the volcanos in Ecuador before our trip, and upon seeing a volcano scheduled, I just assumed it was an active volcano with lava flows and smoke and ash spitting. What we saw was nothing like this, but instead an alien landscape at the high-altitude páramo.
We had lunch at the Antisana House. I still didn't have much of an appetite, but most of the others in the group said the food was terrible, so missing lunch was not that much of a problem.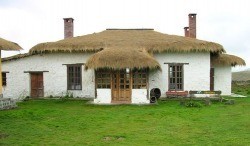 Outside the Antisana House, there were a number of llamas and I had a good time sititng outside with a cup of tea and just watching the llamas. This was the only "wildlife" we saw in the Antisana area.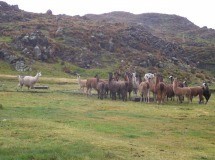 We finished the evening by going to the National Folkloric Ballet Jacchigua. The show highlighted a number of indigenous dances from the different regions of Ecuador. The music, the dances, and even the costumes were wonderful and it was a great introduction to some of the cultures. I loved how all the different dances were different and I am glad I was able to see such a great presentation.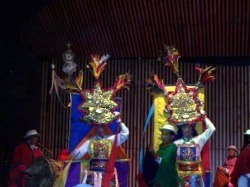 On the way back down the volcano, we saw some cool lagoons, that looked almost eery with the clouds and mist around them.
By the time we returned to Quito, I was feeling much better and was getting very hungry! We had free time to get dinner on our own, and in the interest of time, we chose to eat at the food court of the local mall. I went to Taco Bell, thinking that familiar food would be easier on the stomach. As I bit into my taco, I was pretty sure it wasn't "familiar" food. The taco meat was definitely not ground beef…maybe llama? alpaca? goat? It wasn't a flavor that I recognized. Oh well – I was so hungry I would eat anything!
From Quito, we drove a short ways to Silustaní to visit the local indigenous Indian market. As soon as we got off the bus, the first thing I noticed was the smells. A lot of livestock is sold here and the sheer amount of animals in a small area can create some interesting smells.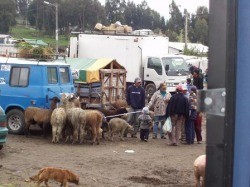 This market is really intended for the locals, and we were the only tourists there. We walked down the aisles, past produce. There were fruits, vegetables, and bag after bag of potatoes. There were also stands of people preparing food for others to eat, including a regional specialty: cuy (guinea pig).
We spent some time exploring the market, and some of us haggled to buy some fruit to snack on.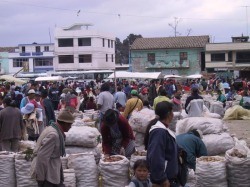 For lunch, we stopped at Hostería La Cienega, a Cotopaxi hacienda. Lunch was delicious and we had plenty of time to walk through the grounds afterward. The yards were beautiful, with lots of flowers and other plans.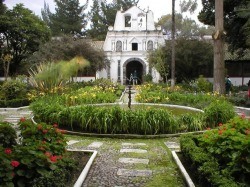 We also walked around the area and stumbled upon some local boys playing soccer. We stopped to watch them and cheer them on. Even though we couldn't play, we had a great time rooting and hollering!
From there, we drove back to Quito and had an early night. We were tired from a busy week and needed to rest!
We had an early morning departure from Quito to head south to Baños. This town was by far the most touristy out of all our stops! There were souvenir shops abounding! We had lunch at our hotel and then had time to drop our things off and get settled.
It was a beautiful afternoon, much warmer here than in the higher elevations we'd been touring, and so we decided to walk through town. We stopped to tour the cathedral; it wasn't as grandiose as the church in Quito, but it was still beautiful and still obvious that Catholicism remains an important part of Ecuadorian culture.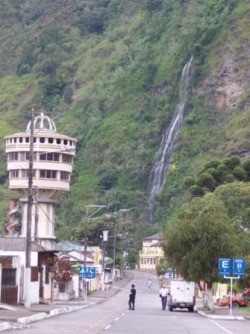 We decided to spend some of our time doing what Baños is famous for: soaking in the hot springs. The local springs are naturally heated from underground thermal activity (the local volcano is Tungurahua, which erupted in 1999 and still spews smoke and ash). The hot springs required only $1 for entry and was well worth it. There were a number of pools, each of varying temperatures, including a cold-water pool which felt VERY cold after soaking in hot water. One was way too hot for me, but I managed to find a good temperature in the largest pool. We talked amongst ourselves and with some other tourists. There were a number of Europeans on holiday here; many more so than we had seen in the Quito area.
We had dinner again at the hotel and then went out to the Peña Ananitay. There was folkloric music, dancing, and plenty of drinks. The whole group had a lot of fun, and I danced the night away. After a few hours, I was ready to go to bed…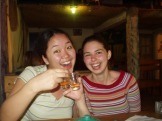 …yet somehow I got talked into going out for an even later night! Four of us from the group decided to enjoy a little more of the nightlife in Baños, but this time ended up at the more contemporary bar ("The Leprechaun") with a strobe light and a fog machine. The music varied from 80s tunes to latin music and everything inbetween. The bartender talked our group into taking "Bob Marley" shots: shots layered with grenadine, mint liqueur, and banana liqueur so that you can see each color separately. Some white rum is then added in, without disturbing the bands of color, and then it is set on fire. Talk about a shot that burns on the way down!

After another two hours of dancing, and a few Long Island Iced Teas (a bargain at 75 cents a drink!), we called it a night and made it safely back to the hotel.
The next morning I woke up, feeling great and ready to go! We would bike in the direction of the nearby town, Puyo. I am not much of a biker, but since the ride was supposed to be downhill, I chose this option instead of the alternative bus ride.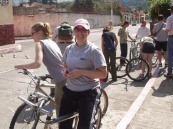 After biking a ways, we took a cable car ride over the Pastaza River. Regardless, the views were great and it was a fun ride. Anyone who didn't want to go on the cable car could walk across a bridge instead.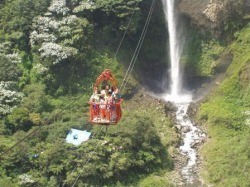 We continued our bike ride, which by the way was NOT entirely downhill, and stopped at a beautiful suspension bridge. The sign made me a little worried, stating that the bridge could only support five people at a time. Everyone waited their turn, also too nervous to load the bridge with more than it could handle.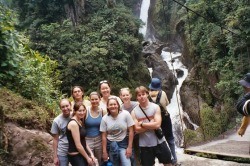 We saw beautiful waterfalls, each more spectacular than the last. We were able to get close enough to feel some of the mist, which felt great since I was so hot from biking and the sun in general.
We had a late lunch, picnic style. After biking and hiking, we were ready to chow down. We relaxed in the sun a little before returning to the hotel to gather our things.
We drove back to Quito for the night, another three hour bus trip. After dinner, some of my new friends and I decided to go out once again. A short taxi ride away, we were at Futbol News, a dance club. The prices here were much higher than in Baños and it made me wonder how any local Ecuadorians could afford to come here given the cost of living. At prices similar to bars in the USA, $3 a beer, it seemed hard to believe that they'd be able to afford a night out unless they were very rich. Along with good music and dancing, they were showing fútbol (soccer) games on many big-screen TVs.
Today we would drive to Otavalo, a town known for it's Mercado Artesanal (artisan market) which is held on Saturdays. The two-hour drive there was beautiful, past volcanoes and gorgeous mountain scenery. The Andes would never get old or repetitive!
Close to Otavalo, two young Quechua women boarded our bus to sing some songs (for a small propina, or tip). They also had hand-woven scarves for sale, each more beautiful than the last. I bought a green and gold scarf for myself for only $5. It was gorgeous and I knew I would wear it often.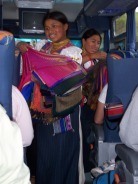 Unlike in Saquisilí, this market caters primarily to tourists. There were a few people selling food, some sacks of potatoes and some prepared food, but mostly there were people selling handicrafts. I saw hammocks, blankets, sweaters, handmade jewelery, and other artwork.
I have never been much of a shopper, but I enjoyed browsing the stalls to look at the wonderful woven designs. I bought a few small knick-knacks for my sister and a rug made from alpaca fur for my boyfriend. I also found a beautiful butterfly wall hanging for my grandmother. I found nothing for myself, so I was glad I had already purchased a scarf. None of the scarves at the market were as nice as the one I had picked.
One of the men called us over to look at his work, and I remarked on his perfect English, unlike most of the other sellers who spoke only Spanish and Quechua, or perhaps broken English. He told me he spent his summers in New York and had plenty of time to practice English. I told him I was from New York as well, in the city of Rochester which is far from NYC. His face lit up immediately, saying he lived with his brother in Fairport in the summers – a suburb of Rochester! He sold his things at the Rochester Public Market for ten times the price he could in Otavalo. I told my new friend I would come to visit him at the public market and was amazed at how small the world is!
We had a delicious lunch before moving on to Ilumán. This indigenous village makes you feel like you have stepped back in time to a mystical world even though it is just fifteen minutes away from Otavalo. There, we met a shaman (medicine man) who would perform a traditional ceremony on Dr. Selcher, our group leader. He chanted in Quechua and used herbs, fire, and even his own spit! Though I'm not sure exactly what went on, it was very interesting to observe.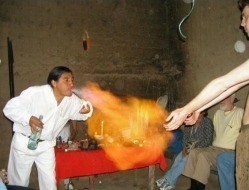 We spent the evening at Hacienda Guachalá, twenty minutes farther from Otavalo. The hacienda had a lot of history and we enjoyed a delicious supper as a group. Afterwards, the owner told us all about the history of the hacienda, from its beginning in 1580 to today.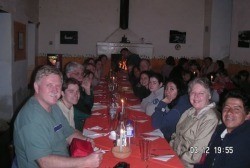 After dinner, we returned to our rooms. It was a cool evening and there was no central heat in the room, so I took a crack at building a fire to warm us up. Firewood was provided, making it an easy task. Before we knew it, we were warm and cozy and ready for bed.
We spent the morning at Guachalá horseback riding. We met our friendly horses and embarked on an easy ride through the countryside. Along the way, our guide told us about the greenhouses we passed and about local life in the Cayambe area. The ride was pleasant and I realized that even though I knew nothing about Ecuador when the trip began, I now knew a lot.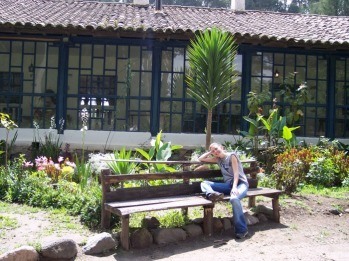 After saying goodbye to our host at Guachalá, we reboarded the bus for one final trip back to Quito. We stopped at the Hacienda Chorlavi on the way back for lunch. During lunch, there was local music and dancing and we had a leisurely lunch watching the dancers. It was nice to break up the drive with this stop.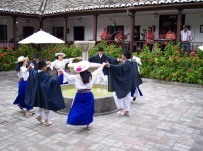 We didn't have much time in Quito before our dinner and farewell party. We would be reunited with our host families for a night of socializing. We all showered and got dressed up for the big night.
The farewell party was a lot of fun and I knew I would miss my host family. I exchanged contact information, hoping they would have email, but they didn't have a computer so we would have to rely on letters and phone calls. I thanked them again for their generosity.
After the party, we strolled around Quito one last time, enjoying how pretty it was at night. We got back to our hotel around midnight and realized that it would be a short night since we had to be at the airport by 4am for our flight home!