This post may contain affiliate links. As an Amazon Associate I earn from qualifying purchases.
* * *
The summer before my senior year of college, I was going stir crazy with a huge desire to go abroad. I had just determined I would be able to graduate a semester early, meaning that I would not have a final Spring Break (there went my Costa Rica plans). I had a chunk of money saved up and set aside for Spring Break, so I decided to go ahead and spend that money on "Fall Break", a long weekend that I would transform into a week-long vacation.
I had several friends living abroad, and thought this would be the perfect opportunity to visit them:
My friend Erin would be studying abroad in Lancaster, England for the semester, and she was the real initiative to get up and go!
My former roommate Anaïs, was born and raised in Paris but going to graduate school in Lille, France.
My friend Sarah from college, who had graduated and gotten a job teaching English in Strasbourg for the year.
I mapped out a route for the week and knew I would be busy trying to see all three friends in just one week! But how could I go to Europe and not visit all of them? Additionally, I knew I really wanted to see Paris and London and planned a brief visit to each of those cities as well.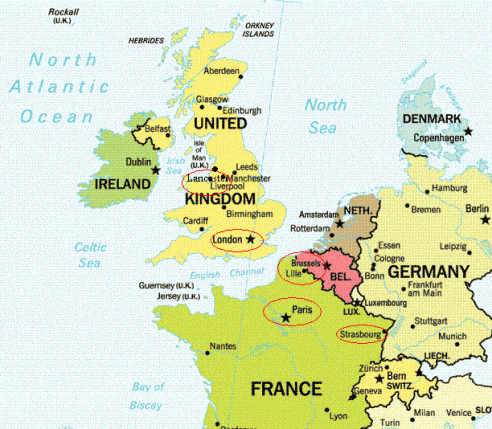 Somehow, even with this busy schedule, there was one day when none of my friends were able to host me, so I decided to visit Brussels en route to Lille (just 35 minutes apart by train). Talk about a busy introduction to Europe!
=========================================
Amateur travelers often make stupid mistakes, especially when they don't think they're amateur. And I wasn't new to this travel thing at all — after all, I had been out of the country before! — but to be perfectly honest, I had never gotten myself on an international flight before and I had no idea what I was doing.
That's how I ended up almost missing my very first transatlantic flight.
You may recall that I had decided to spend a week in Europe visiting friends during my final semester at college. I started planning and booking my trip right before the semester started and at the time, I booked a nonstop flight from Philadelphia to London. As all college students do, I procrastinated at figuring out how I'd get to Philadelphia to catch my flight and so my plans ended up being poorly thought out (at best).
You see, in order to take this trip, I already had to skip three days of classes. I didn't have any more time to spare, so I made a point to make it to Friday afternoon's Abstract Algebra class, which got out at 3:20pm. Part 1 of my plan was still being able to make it to the train station in order to catch a 3:37 train. Luckily, nothing went wrong with my tight connection.
Part 2 of my plan was a tad crazier. Experienced travelers will tell you that you should arrive at the airport no later than 2 hours before your flight, meaning I had just 83 minutes for the 90-minute train ride followed by a 15-minute shuttle (not to mention making the connection itself or hoping I didn't have to wait long for SEPTA to come along).
Did I make it? Sure — I was in line for security a whopping 1 hour and 15 minutes before my flight, just barely enough time to get through Philadelphia's long queues and to the gate. The only thing that saved me was a short delay to boarding, allowing me just enough time to grab some dinner to go.
Ready to be on my way, I was excited and entirely unaware that I could have missed my flight if even one thing had gone wrong. Instead, I was about ready to learn just how tricky travel connections can be.
Officially, my trip would begin in Paris, but I had chosen to fly round-trip to London, instead of booking a multi-city flight, Philly to Paris and coming home from London. My entire reasoning for this was because riding the Eurostar through the Chunnel was on my bucket list, rational or not. That meant that even once I arrived in London, I still had several connections to make in order to get to France.
My flight delay in Philadelphia initially seemed to be just 20 minutes. Everyone was on board, relatively on time, and I assumed it was time to go. Unfortunately, Philadelphia is a huge airport and our delay had put us at the back of the line to take-off. We waited in line patiently until it was finally our turn, and ended up in the air an hour and a half later than originally scheduled.
Perhaps it was the amateur in me that kept me from worrying about making my train to Paris. Perhaps it was the free wine onboard. More likely, it was the fact I was so exhausted that I couldn't think straight (for the life of me, I can't sleep on airplanes). As we approached Heathrow in our final descent, we flew over castles and other large estates and I was entirely distracted from my connections and smitten with being in a completely different world.
In London, I turned my watch back and suddenly realized it would be a close call to make it to Waterloo station, where I would board the Eurostar. I forgot about having to stand in line at immigrations and was immediately thrilled I didn't also have to wait for any checked luggage. Somehow, I made it through formalities quickly, boarded the Heathrow Express, and then transferred to the tube to get to Waterloo. Even the frugal college student in me decided taking the tube the entire distance would be a bad idea given the time crunch.
Catching my breath, I raced through Waterloo only to find more security lines before I could board. A smile, a plea, and probably a very desperate look helped me make it. I wouldn't miss my train this time.
I was on my way to Paris.
The train was comfortable and fast. I found that the excitement of the Chunnel was overrated; from my seat in the train, it really was just a very long tunnel. The darkness helped put me to sleep and I napped for about an hour before waking up in time to watch us pull into Paris Nord station.
Even though I was staying with friends for most of my trip, I had two nights booked at hotels: one in Paris and the last in London (along with a hostel in Brussels). I was able to use Priceline to get a great rate in Paris, but I was staying outside the tourist center. The metro was easy, as expected, and before I knew it I was at the right stop.
Though the metro was easy, finding the hotel (a short walk away) was not. Street signs in Paris are on the sides of buildings, not prominently displayed over the street like I am used to in the USA. It took me some hunting to find the signs and then shuffling between dozens of maps to orient myself. Eventually, I found myself at the Sofitel Pullman Paris Rive Gauche, about five miles from the main attractions of Paris.
Thankfully, the receptionist spoke wonderful English (I speak no French) and had a room available for me immediately, so I was able to drop my bag off for the afternoon. I got right back on the metro (now that I knew how to find my way), and headed toward the Louvre.
I found a small cafe near the Louvre to eat a quick lunch; I didn't have much time since the Louvre closed at 6pm, but I was starving. I ate quickly, much to the dismay of the French, and then toured the huge museum. I only had about an hour to spend there, but it was plenty long for me. I am not an art afficionado, but wanted to say that I had been inside this magnificent museum.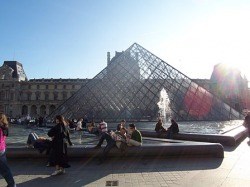 I was surprised at the sheer number of bridges over the Seine as I walked. I hadn't realized how central the Seine was, and a short read-through my guidebook told me that at least 37 bridges across the Seine existed.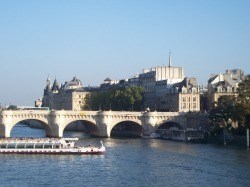 I walked past Notre Dame without going in; I had plans to attend mass the next morning. From there, I walked through the streets of Paris toward the Champs Elysées, but with no real destination in mind. I was just excited to be in the City of Lights!
I found myself in the Jardin des Tuileries, which was a lovely place to walk. The weather was perfect for a stroll! Along the way, I stopped to have my picture drawn by an artist. He was friendly to chat to as he was drawing and it was pleasant to just sit outside and watch the people go by. I was surprised that a passer-by "outbid" me on the drawing and so the artist sold the sketch to a Russian boy, who I will likely never see again!
I found myself at the Place de la Concorde, and considered riding the Grande Roue, but decided against it when I saw the long line!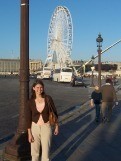 A short walk further took me to the Arc de Triomphe. There was a marching band of some sort playing while I was there; I still don't know if there was any significance to the day I was there or what the occasion for the band was. Still, I enjoyed it while also watching the busy streets of Paris.
I walked further, in the general direction of the Eiffel Tower. I didn't want to go up it, but rather wanted to see it up close. How could you take a picture of the Paris skyline without the Eiffel Tower in it? For me, there was no reason to go up!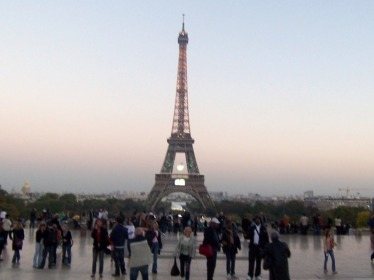 I bought a savory crepe from a street vendor and watched some street performers before deciding I had spent enough time at the tower. I walked back to Pont Neuf, where I would take a cruise down the Seine.
Though it was spectacular to see Paris at night, my favorite part was watching the Eiffel Tower "sparkle". Unfortunately, my camera didn't capture the effect quite right, but it was a sight to be seen! Truly magical.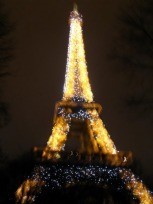 I took the metro back to my hotel after the cruise, ready for a full night's sleep. Somehow, my short nap on the train wasn't enough to keep me going any later! I am embarrassed to admit that when I got back to my room, I couldn't figure out how to turn on the lights, but it didn't matter much since I was asleep before I knew it.
My alarm went off far too early the next morning and I decided that rest was more important than my touring plans. I had hoped to go to mass at Notre Dame (what better way to visit a cathedral?), but I was all too aware that I would fall asleep during mass if I tried. I hit snooze and rolled back over for another hour of sleep. Notre Dame will have to wait for my next visit.
Eventually, I made my way to the Latin Quarter of Paris. I loved this part of the city, with its small streets and peaceful quiet. Even though it was Sunday, I found a small bakery and got some coffee and pastries for breakfast. Yum! I ate while I walked and took in some more of the atmosphere.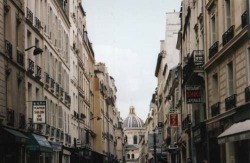 My destination for this morning was Le Panthéon, a huge building finished in 1791 that was modeled after the Pantheon in Rome.
I especially wanted to see the crypts, here. Among others, Voltaire, Victor Hugo, and Marie Curie are buried here.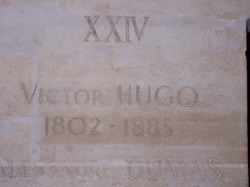 Unfortunately, I had only enough time to explore the Pantheon, but not the surrounding quarter. I had to return to the hotel to get my bag and head to the train station for the next leg of my journey.
While planning this trip, I found that I had a day between my visits with Sarah and Anaïs when neither of them were available. I was debating where to spend the day and had narrowed it down to either Luxembourg or Brussels. As I was pondering this decision, my roommate told me that her cousin's boyfriend lived in Brussels. I was able to email him before the trip and he offered to accompany me to dinner if I came to Brussels, so I settled on Brussels instead of Luxembourg! Even though he was a stranger, it would be nice to have a local to show me around.
Just the day prior, while in Strasbourg, I had received an email from Sebastian (my new friend in Brussels) offering to host me at his apartment. This sounded much nicer than the hostel I had been planning on, so I accepted his generous offer and he told me to make my way to his office to drop off my bag and then I could be on my way to sightsee until he was done with work for the afternoon. I guess I was a couch-surfer before it became trendy 🙂
The train ride to Brussels was again comfortable, and except for a brief interruption in Luxembourg when customs officials came onboard to check our passports, it was pretty boring.
I made it to Brussels and had a rough time trying to navigate their metro system. Though everyone in Brussels speaks both Flemish and French (and likely even more languages!), all the machines dispensing tickets didn't seem to have an option to convert the language into anything other than Flemish. Surprise, surprise; I am not at all familiar with the Flemish language and wasn't sure what I needed to choose. I tried to ask for help, but my attempts in both English and Spanish were ignored with turned up noses. Yes, the people of Brussels were entirely different than in France!
(Let me now digress and mention that the French are not at all snooty and are more than willing to help if you ask with a smile and at least attempt some French phrases. A simple s'il vous plaît will get you far. Plus, in France, at least I was able to recognize written words and phrases due to the similarity in roots to Spanish, whereas with Flemish, I was completely at loss.)
Finally, I figured out the machine on my own and already had a bad taste in my mouth for the Belgian culture. Thankfully, the metro was easy enough (once I had a ticket!) and from there it was only a short walk to Sebastian's office.
Sebastian was very friendly and we had a lovely chat. He pointed me in the direction of a few places to visit during the few hours I had to kill before he would be done with work.
I was starving, so I bought a Belgian waffle, topped with fresh strawberries, for "lunch". This was the best street food I've ever had. Their Belgian waffles are so much better than the ones served at breakfast in the USA. The outside is crispy and flaky, but the center soft and chewy. Perfection!
Since I am a dedicated musician, I decided to make theMusical Instruments Museum my first stop. This museum is great; it has a huge collection of instruments and they are sorted by family (i.e. strings: violin, viola, cello) and also have many examples of how the instruments have changed over time. The museum provides headphones, and at almost every instrument displayed, you can listen to a short clip of music played on that instrument. It was really interesting to hear the nuances between say a flute from the 1700s and a flute today. There was no English commentary at the displays, but the sound clips were plenty ample for a guided visit.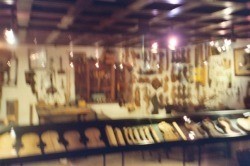 I walked through more of the historical center of Brussels, but to be honest I'm not really sure what I was looking at and for the most part, I found Brussels to be an ugly city.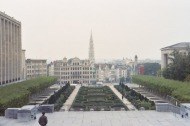 My last stop was at the Cathedralis SS. Michaelis et Gudulae – Bruxellis. This cathedral was cool because architecturally it is intriguing, but not pretty. I didn't spend long here but I did enjoy how unique the pulpit was.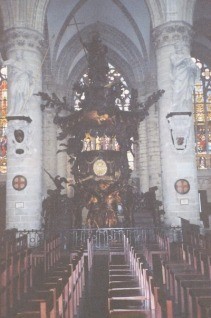 I met Sebastian back at his office and we were off for the evening. Our first stop was to make an appearance at an EU awards presentation that he was invited to. Many of the people there spoke English, so I had a good time socializing and hearing about their work, plus the free cocktails were a nice touch!
Afterwards, it was still too early for dinner according to Sebastian (we would meet his friends at 9:30), so we went to a bar – wish I could remember the name of it because it was fantastic! It was loud and crowded and busy, with a beer list a mile long! Sebastian and I ordered several to share. He let me taste each of them first so that I could sample a wide variety of local brews. I chose two of my favorites and let him have the others to finish. He told me a little bit about himself and we had a great time.
We met his friends at a small restaurant, also busy. All of them spoke English, so we had a great time chatting. One of the women was from Estonia and we hit it off immediately, joking and talking.
At the restaurant, the entire menu was in Flemish, so I decided just to order whatever looked easiest to pronounce. It arrived, and it tasted like a lamb chop, but I guess for sure, I'll never know. It was cooked as rare as possible and I'm pretty sure I wouldn't have eaten it if the drinks hadn't been flowing, but at that time, I didn't care if it was undercooked. I passed on dessert and Sebastian and I said goodbye to his friends around midnight.
I woke up late to bad weather and decided to skip the trip to the Atomia. Instead, I went to the Grand Place for a look around and some coffee. I decided to dine inside, figuring the rain would start any minute and it wouldn't be worth the extra charge to sit outside. The caffeine helped to wake me up and I made a quick stop at a chocolate shop to buy some Belgian chocolates to put aside for my friend Erin (who I would visit later in the week) since she is quite a chocoholic!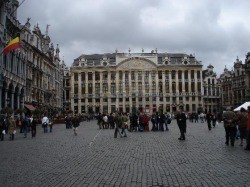 It was a quick visit to Brussels, but to be honest, that was all I needed. I enjoyed my short trip, but I didn't like it enough to return.
I caught my train to Lille easily and was off the train before I could even get comfortable. My friend Anaïs had sent a friend to meet me since she had class until later that afternoon. Her friend was very friendly and was funny practicing her English (not as funny as me speaking French ;)), but I appreciated the gesture. We dropped my things off at Anaïs' apartment and then went shopping, a favorite pastime of Anaïs. We shopped at the Euralille mall, which was huge! I didn't buy anything, but we both had fun window shopping. Prices were much higher than anything in the USA.
Eventually, her friend also had class so I was left to explore on my own. I went to Carrefour, a grocery market, to get myself a late lunch. It was really interesting wandering the aisles to see the different foods offered. In the end, I stuck with the familiar: a baguette, an apple, some yogurt, and a small pre-made salad.
I met Anaïs back in her apartment and we spent some time catching up. We hadn't seen each other in over a year, so this was a great reunion for us.
We walked through Vieux Lille, the old neighborhoods and she pointed out a few of her favorite places. We ended up eating at Flam's again for dinner – once again, the tarte flambee was spectacular and this time I didn't feel the need to eat so much of it! We didn't get back to her apartment until late, just enjoying the local nightlife.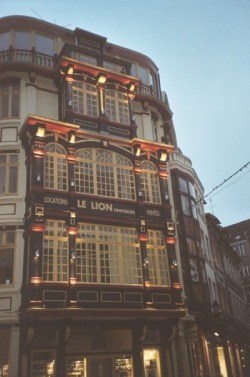 Anaïs had class again this morning, but she invited me to join, so I did! The class was held in a big lecture room and even though I couldn't understand what the professor was lecturing on, it was interesting to see the similarities between universities in France and at home. Lots of students had laptops out and were playing games instead of taking notes, so I guess I wasn't the only one bored. I politely ducked out and went to walk through town for a little while.
Lille is, in my opinion, a very pretty city and somewhere that seemed like a great place to live with friendly people, a good size population (without being too big), and certainly safe. However, there isn't much for tourists to do. I just walked around and explored and got some sunshine. I stopped in a bookstore and flipped through a book about Lille and purchased a magazine (in English) to read. Even all this didn't take me very long, and I ended up back at Anaïs' school to use the computer lab. I checked my email and wrote home and just caught up with what was going on at home.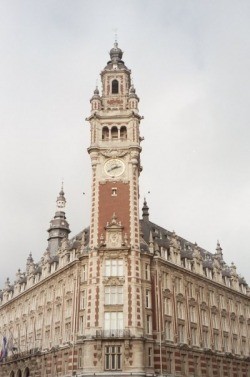 We chatted while she packed up – she was heading home to Paris for her own fall break and I'd be joining her back in Paris for one more evening. I helped clean up from lunch, and we were on our way.
The train ride from Lille to Paris is quick since it's on a high-speed rail and it was even faster since I had someone to talk to. Anaïs and I reminisced a little about living in New York City together and I told her she should come back to the USA and visit sometime.
The part of Paris that Anaïs is from is very different from where I had been before; it was certainly the business district. We walked from the train station to her mom's apartment and she pointed out some of the buildings along the way. At her house, she introduced me to her mother and brother, who were both very welcoming.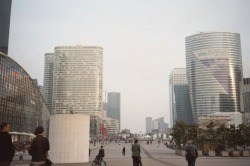 After dinner in the apartment, we headed out. We had a simple evening planned of just driving through the city and stopping every once in a while to see her favorite places. We had a great time and it was fun to stay off-the-beaten path.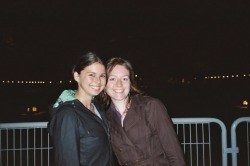 When my friend Erin told me she'd be living in Lancaster, I had to laugh…I'd be going from Lancaster County, Pennsylvania all the way across the ocean to Lancaster, England!
I had a full day of traveling planned for today: I had to fly from Paris to Liverpool, where I would then transfer to the train station to take my train to Lancaster.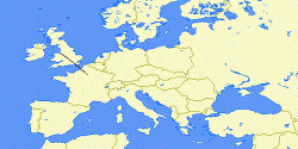 Anaïs's brother was nice enough to drive me to the airport in the morning, which was much more convenient than the metro. I checked in for the flight and made it through the ridiculously large Charles du Gaulle airport to make it to my terminal. I was flying on EasyJet to Liverpool, England.
The flight ended up delayed for reasons that I'm sure were explained, but certainly not in English. I was getting antsy waiting for my flight since I knew Erin was going to meet me at the train station in Lancaster and at this point I would miss my train and who knows when the next train would be? I tried to find an internet terminal somewhere to send her an email (I didn't have a phone number to reach her at), but was out of luck. Finally, after what seemed like an eternity but was really only three hours, we took off.
I arrived in England and was thrilled that once again everyone spoke my language. I found a cab easily and the cab driver was very friendly, telling me all about Liverpool as we drove to the train station. He even offered to let me use his cell phone when I told him how late it was, but since I didn't have Erin's number, I declined and thanked him anyway.
Thankfully, trains depart regularly for Lancaster so I was able to get a ticket on a train departing soon afterward. I quickly bought a sandwich and some chips to go, so that I could eat lunch (at 3:00, mind you!) on the train.
To be fair, the train ride is actually fairly quick, but it couldn't have gone quick enough since I felt bad being so late! I figured when I arrived in Lancaster, I'd have to take a cab to the university and find Erin from there.
My good friend Erin was there waiting for me, though, when I finally arrived. I apologized profusely for the delay and she took it in stride (thankfully, she had brought a book!) It was great to see her and end the trip with one of my best friends.
The town of Lancaster is cute, and was remarkably different from anywhere I had been in France. I liked it immediately and didn't even mind the walk uphill to the University of Cumbria.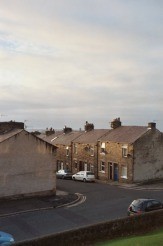 Erin introduced me to all the girls in her dorm building; all of them were friendly and welcoming immediately. We went to dinner immediately since we wouldn't have time to do anything else due to the delay. Funny thing is…British cafeteria food is rather boring and bland compared to French cuisine. I managed to find some chicken and potatoes and called it good enough. Even Erin said the food was rather plain.
We spent the night going out. Erin suggested a club close to her dorm where we could dance and have a few drinks with all her friends. We had a lot of fun going out for the night and when we returned to Erin's room, we realized there was no way we'd be making the 6am train to London as we had originally planned. I was disappointed; as it was, we had very little time in London, but I knew it was irrational to think we'd be waking up in two hours to spend another day touring!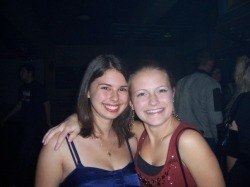 Erin and I took the train to London, sleeping for most of the journey because even with taking the later train, we were both exhausted. We got to London about three hours later and made our first stop the Hilton hotel in Kensington: another win on Priceline. The tube was quite convenient and again the hotel had a room ready for us immediately. Even better – the room was on the executive floor, so we had access to the executive lounge where we scored some free snacks to take on the way. Who needs lunch when you have free snacks?
Since we had limited time we decided to do a self-guided walking tour in London. First stop: London Bridge. Frankly, it was less exciting than we expected but we walked over it nonetheless.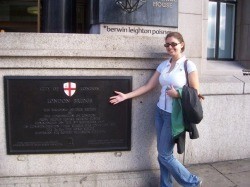 Our next stop? Walking back over the river – this time on the Tower Bridge – and to the Tower of London.
Since Erin is an English major, avid reader, and lover of Shakespeare, we decided to tour Globe Theatre. We learned a lot, but I think we would've appreciated it more if we had the time to see an actual production there. Another reason to return to London!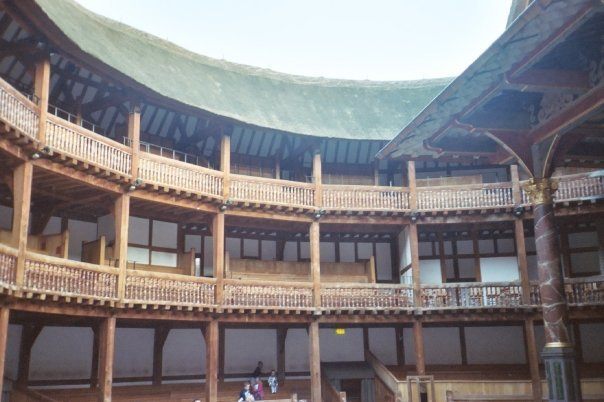 We continued our walking tour with a few more important sights in London…
Somehow we had lost track of time and we had to eat a quick dinner before our evening plans: seeing the musical "Wicked" at the Apollo Victoria Theatre.
For lack of time, and lack of a better option, we ate at McDonald's. Erin had been craving a Big Mac ever since she moved to England so I was happy to appease her. Besides, my small experience with budget British food is that McDonald's would be better anyway!
Wicked was awesome and I'm really glad we saw it. The music was really catchy and the plot was intriguing. One thing that I didn't expect was that all the actors spoke/sang with an American accent. It was weird to be in London, have everybody around us speaking with a strong British accent, and yet hear "American" on stage.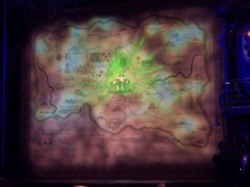 On the way back to our hotel, Erin and I goofed off a little bit, not ready to call it the end of a night. We even found Drury Lane in London and of course started singing "The Muffin Man". We were still tired from the night before though so we went back to our hotel for what would be the final night of my vacation.