This post may contain affiliate links. As an Amazon Associate I earn from qualifying purchases.
* * *
In the winter of 2007, my sister (Cindy) and I had the bright idea to go on a vacation together. We were sick of the winter blues and decided that the following December we would get away to somewhere tropical and fun. The problem with this idea is that Cindy and I have very different personalities and interests, so we couldn't decide on a destination. In the end, after reading countless guide books and travel articles, we decided on cruising. It offered the opportunity to see a variety of different places along with some days to just chill and relax on the ship. We figured it was a good way to spend some quality time with each other while still being able to split up and do our own separate things on sea days.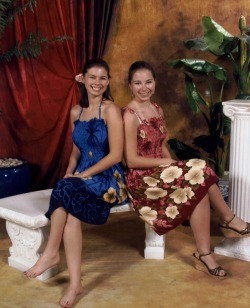 After even more research, we settled on Norwegian Cruise Lines – a cruiseline known for their "freestyle cruising". This concept really appealed to use since it meant we would not have to dress up for dinner or eat at assigned tables at assigned times with assigned dining companions.
We chose their Exotic Western Caribbean itinerary for its enticing ports: Costa Maya, Mexico; Santo Tomas de Castilla, Guatemala; Belize City, Belize; and Cozumel, Mexico. We were also really excited to be departing out of New Orleans, since neither of us had ever been there before. We booked the cheapest cabin available and were lucky enough to get an upgrade to a higher category cabin when prices dropped closer to the sailing date.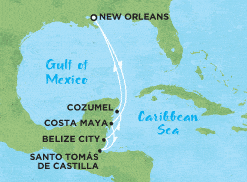 Our plan was to fly to New Orleans the day before the cruise in order to spend some time sightseeing and get into vacation mode a little earlier. We'd board the cruise on Sunday afternoon and were excited for a new experience!
Our trip began with a rough start. We had a 6:15am flight from Rochester, NY to Atlanta on Delta, where we would connect to a flight in New Orleans and arrive around 10am. We had set the alarm for 4:30am, hoping to leave the house by 5:00 so that we could be at the airport an hour before our flight departed. Unfortunately, the alarm never went off!
Out of pure coincidence, I woke up at 4:58am, sat straight up and woke Cindy up. I told her there would be no shower, just get dressed and go! Thankfully, we had packed the night before. Our father was kind enough to drive us to the airport, and we made it to the airport at 5:25am. Since we had checked in online and printed our boarding passes the day before, and had no checked luggage, we made it through security and to the gate with time to spare. Talk about a small miracle. I finally calmed down, realizing we wouldn't miss our flight.
The flight itself was uneventful, and departed on time – a rare occurrence for flights out of Rochester in winter when the planes are usually delayed from needing to be de-iced. After starting the day off on the wrong foot, we were glad to be able to relax on the first leg of our flight. We had another easy flight to New Orleans and felt lucky that we had made it to New Orleans on time. We smiled to ourselves as we walked out of the airport and to a cab. It was already warm and sunny in Louisiana and we were on vacation!
The cab ride to our hotel was only about 20 minutes long and I was really glad we had decided to splurge instead of taking the local bus to our hotel – it sure sounded complicated with the transfers involved. We had gotten a room at the Courtyard Marriott on Priceline for a mere $42 a night. The reviews online were mixed, but we are used to no-frills hotels, so we were sure it would be fine. When we walked in, any worries vanished. The hotel was nicely decorated and was immaculately clean. The staff at the front desk were friendly and were full of Southern charm. Our room wasn't ready, which wasn't a surprise since we arrived at 10:30am, but they happily agreed to store our luggage until later that afternoon.
A front desk attendant pointed us in the direction of the Riverfront streetcar, a very short walk from the hotel, where we caught the streetcar and rode it into the French Quarter.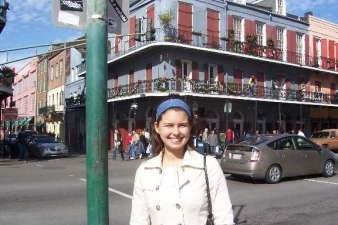 We walked through the French Quarter a little and our first stop was at Johnny's Po-Boys for lunch. We were starving after such a small breakfast! We ordered a catfish po-boy to share since we saw that everyone else had huge portions. The po-boy was delicious and we ate quickly since we were so hungry!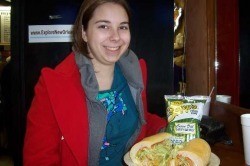 Afterwards, we walked through the French Quarter some more before meeting our guide for a Cemetery & Voodoo Tour. It turns out that only one other couple was there for the tour, and it was great to be in a small group. Our guide had a cheesy sense of humor, but was also very informative. We explored one of New Orleans' cemeteries
and heard a lot of history about the city, and the people, of New Orleans.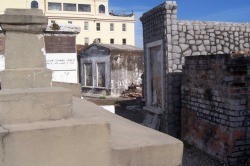 The tour continued with a stop at Priestess Miriam's House. Priestess Miriam talked to our group a little and allowed us to view her voodoo altar. The altar was kind of cool, with hundreds of items on it. However, she told us absolutely nothing about voodoo and our guide didn't tell us much either. We had been hoping to hear more about voodoo's origins, history, and customs, but instead just listened to unrelated ramblings while looking at the altar. At least the first half of the tour was interesting at the cemetery.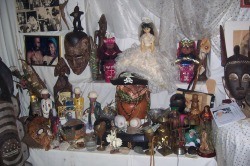 We decided to head back to our hotel and settle in after our tour. We walked to the hotel this time instead of taking the streetcar – now that we were oriented with how the area was laid out we felt comfortable finding our way back. The walk was no more than 20 minutes and it was fun to walk through the neighborhood. Our room was ready at this point, so we took our luggage upstairs. The room itself was clean and quiet with two queen size beds, a mini-refrigerator and microwave. It was huge and way more space than we expected.
We went to an early dinner at Cajun Cabin on Bourbon Street because I had a Buy 1-Get 1 Free coupon. I ordered alligator tail and an Abita Purple Haze – a local brew that really hit the spot. Cindy had ordered a crawfish sampler…and every preparation of crawfish was delicious. We ended up with leftovers since the portions were so large, so we boxed them up to put in our mini-fridge for breakfast the next day.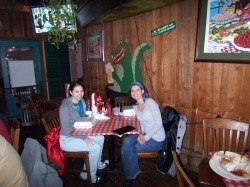 After dinner, we took a different route of the streetcar down Canal Street to City Park, where a huge holiday festival was going on: The Celebration of the Oaks. We met a wonderful family from Montreal who was a lot of fun to chat with and it helped pass the time on the streetcar. All 5 of us laughed when the streetcar driver stopped the streetcar in the middle of the trip to run into a pizza shop to get his dinner. Maybe he doesn't get a scheduled dinner break! The locals didn't seem concerned about the delay at all, so we decided when in New Orleans, do as the locals do and we shrugged and went with the flow! The Southern way of life is much more relaxed than the New York pace!
At the Celebration of the Oaks, the lights and decorations were phenomenal. We walked around for about two hours, just enjoying the displays and getting in the Christmas mood.
I was a little disappointed they weren't playing Christmas music along all the pathways, but it was still really beautiful and a good way to spend the evening in New Orleans without partying on Bourbon Street. We returned to the hotel and went straight to bed after a long day of traveling and an awful lot of walking!
Cindy and I started the next morning with a nutritious breakfast of alligator and crawfish, leftovers from the evening before. We decided to spend the morning in Algiers, at Blaine Kern's Mardi Gras World. It was a quick walk to the ferry from New Orleans to Algiers and the ride itself was quick and fun. The shuttle to Mardi Gras World was unmissable and really convenient.
This tour was the highlight of our brief visit to New Orleans. It started with a brief video about the history of Mardi Gras and how Blaine Kern got started designing the floats and props. Neither Cindy or I knew much about Mardi Gras, so it was a great introduction. We also posed in some crazy costumes and had a lot of fun with it.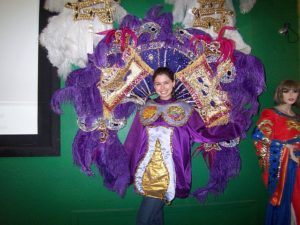 We were able to walk through some of the workshops where artists were working on props – it takes all year to prepare for Mardi Gras. Most of the props are made out of styrofoam (and some from fiberglass), and all were wonderfully made.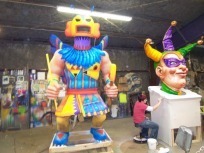 My favorite part was seeing all the different floats – they ranged in sizes, with some being absolutely huge!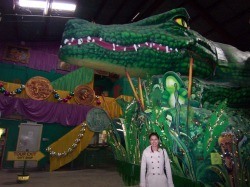 After the tour, we made it back to the hotel where we picked up our luggage, checked out, and walked through the Riverwalk Mall to the New Orleans pier. It was an easy 5-minute walk through the mall to the port, and from there we were excited to embark on the next part of our journey.
Walking next to the Norwegian Spirit is incredible – these ships really are huge and since neither of us had cruised before, we had no idea what to expect. This would be our floating resort for the next week and we were sure we would have a great time.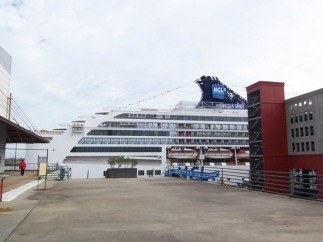 Our first impression of the inside was that the Spirit was absolutely gorgeous! We really loved the Asian themes. The décor was beautifully done and we felt it was well-kept. We had read reviews that it looked worn, but I didn't see any evidence of that anywhere. We also had read that they decorate for Christmas, but there were no decorations in sight.
We went straight to the Windows dining room for lunch instead of trying to fight with the crowds in the buffet. It was really relaxing to eat in the dining room. It was almost entirely vacant and we had a great table by the window. The food was delicious and I knew I'd never go hungry on the cruise ship 🙂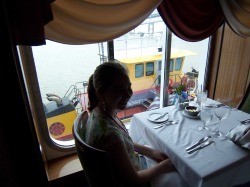 We started the afternoon by going to our stateroom to unpack. We were in cabin 9025, an interior category JJ, forward starboard. The room was amply sized and we never once felt crowded. It was very clean…until my sister fully settled in. There were plenty of drawers for our things, and about 15 hangers in the closet. We had a small coffeemaker with coffee/tea provided. The bathroom was stocked with shampoo, body wash, hand soap, and lotion. Throughout our stay, we never once met our steward but he kept our room clean and we had no complaints (or requests). We had never stayed in the same place for an entire week of vacation, so we found it nice that we could unpack everything and get "settled" instead of living out of a suitcase.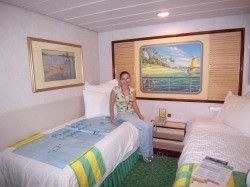 After checking out our room, we had a little time to explore the ship. The Spirit, while beautiful, is set up rather strangely and it's not always intuitive how to get to certain areas of the ship. But after a quick self-guided tour, we knew where everything was and had no problems getting around. Our tour was interrupted by the muster drill – we giggled at how silly everyone looked lined up with their lifejackets on, but we knew that it's actually really important to know the procedure and we're glad that we didn't have to do something like that for real!
After the muster drill, we changed into our bathing suits to enjoy the hot tubs for sailaway. This was the moment when I realized this would be a tropical vacation – it was sunny and warm, the band was playing upbeat songs poolside, and everyone was in a great mood. What a way to start the cruise! We met some great people in the hot tubs and found that it was a surprisingly good place to socialize and relax at the same time. It would be one of my favorite activities for the duration of the cruise.
After spending way too long in the hot tub (I think the signs recommended no more than 20 minutes), we changed and headed back outside to watch us sail down the Mississippi River. It was cool to see the lights from shore and feel the cool breeze in your hair as we watched the world go by.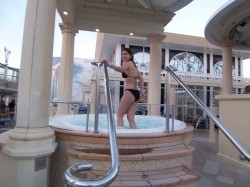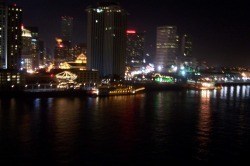 Since we had enjoyed Windows so much earlier at lunch, we returned there for dinner. We ordered way too much food and had a fantastic meal. Service that night, and at every meal, was absolutely fantastic.
The evening segued into a Welcome Aboard show, which was entertaining and a great way to kick off the week. It featured a comedian known for his great impressions. We had a fabulous time but afterwards headed to bed. The motion of the ship lulled us to sleep quickly.
In the middle of the night, we woke up because of that same motion – only this time it was much more noticeably rocking. I hadn't expected to feel the waves so much, but managed to get back to sleep.
When we awoke, the ship was still rocking. My sister is prone to motion sickness so we were a bit worried that she might get sick on the cruise. We brought along Bonine, pressure wristbands, and ginger. She didn't take any Bonine, though, and managed to adjust rather quickly. I don't get motion sick EVER but felt a little queasy myself. I found the best remedy is simply to distract yourself from the motion.
I was up very early, probably since we had gone to bed so early the night before. I wandered throughout the ship, and went up to the top deck. It was so breezy up there since the ship was cruising so quickly! It was incredible to see nothing but ocean and entirely relaxing. Very few people were up at this hour. There was coffee available on the pool deck, so I helped myself to a cup to wake me up a little bit before I went back to the room to meet Cindy.
We returned to Windows, again, for a full-service breakfast. I won't embarass myself by telling you how much we ordered…but I'm pretty sure we could've fed an entire army. Suddenly, it dawned on me why so many people claim they gain weight on a cruise! We weren't impressed with the quality of the breakfast food, and the speed of the service, but had an enjoyable meal nonetheless. At breakfast, Cindy and I looked over the Freestyle Daily – the schedule of activities offered that day. We talked about what looked interesting and what we wanted to do that day. Since Cindy and I like to do different things, we agreed to split up at some points but made plans on when to meet up with each other.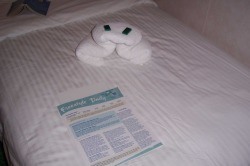 After breakfast, Cindy and I headed to the pool to claim some lounge chairs. We had both borrowed books from the library onboard and thought reading and tanning simultaneously would be a relaxing start to the day. We slathered on SPF 45 and enjoyed the sunshine.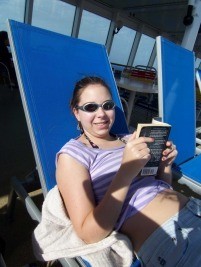 Just before lunch, I had a "Meet & Greet" event. I had joined amessage board online and had signed up for a roll call where I met about 25 people that would also be on our cruise. We had been chatting for several months, getting to know each other and share information on the ship and tours in each port of call. It was fun to count down to our sailing date with other people. The Meet & Greet was held in Henry's Pub. It was a lot of fun to put faces with the names (screennames) of people I had been talking with. There were a few young adults, but most of them were older than me. Still, they were genuinely friendly people and we'd say hello and share stories whenever we passed them on the ship. I exchanged room information with a few others so that we could meet up for dinner later that evening. Many of the crew members were there as well, so I met the cruise director, Latitudes director, and other important people. I also got an invitation ticket to the Past Cruisers party to be held that afternoon.
Afterwards, I met Cindy in one of the lounge areas for Bingo. The Freestyle Daily had advertised a free game of Bingo, so we figured we'd give it a shot and see if we won. We didn't play any other Bingo other than our free game because it was very expensive!! Neither of us won, but we had fun anyway.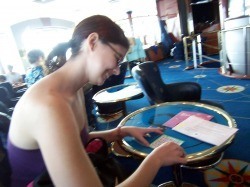 We ate in the Blue Lagoon for lunch. The food was delicious and it was a lot more casual than the main dining room. Service was lightning fast, so we made it back to the pool in the early afternoon for some more sun and lounging.
After a little more sun, I went to the Past Cruiser "Latitudes" party. I was not a past cruiser by any means, but heard there was free rum punch and giveaways, so I went to check it out. I was sorely disappointed – one glass of rum punch and a sales presentation – so I snuck out early.
Back outside for a bit, and then Cindy and I decided we had seen enough sun for the day, so we went to the Galaxy of the Stars for a line dancing activity. It was fun at first, but then the steps got very complicated and everyone kept running into each other! We left early but are glad we went for the beginning.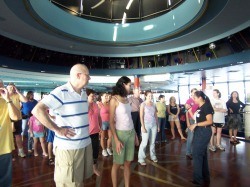 I also checked out the aqua swim to do some laps. I knew I had to exercise somehow or else my clothes wouldn't fit at the end of the week. The current was very weak though, and I ended up running into the wall while trying to swim my laps. I decided I better just use the stairs instead of the elevator to work off my meals.
Lastly, another trip to the hot tub where I met some more friendly people!
Before dinner, we met our new friends in their room. They had a balcony stateroom, so we wanted to check it out and see what we were missing. We were unimpressed, especially given the extra cost. The room was basically the same size and set up as ours; the only difference was the balcony itself. I didn't think it was worth the money; after all, we were rarely in our room anyway and there are hundreds of public areas on the ship where you can sit and enjoy the view. It made us feel a little bit better about saving our money by staying in an inside cabin.
One of the reasons we were drawn to Norwegian Cruise Lines was their relaxed dress code. While most cruise lines require cruisers to wear "resort casual" clothing in the dining rooms, Norwegian allows jeans and t-shirts, as long as they are clean and not ripped or torn. Additionally, other cruise lines have formal nights, where nicer clothing – cocktail dresses and suits (or even more elegant, depending on the cruiseline) – is required. Norwegian, instead, has a "Formal or Not" night, where it is encouraged, though not required, to dress up. We split the difference by wearing sundresses.
This time we tried the Garden Room restaurant, for a change of pace. It was also very nice, but we all preferred Windows for its ambiance. We dined with Mark and Jason. It was fun to have some other people to talk to, and we had a great time.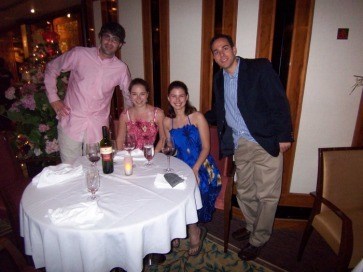 We took our time at dinner and afterwards made it to another evening show. This time it was "On Broadway". The production cast sang and danced to top Broadway hits. It was okay, but I've seen a lot of real Broadway shows and this was of a much lower caliber.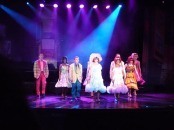 I ended the evening by going to the "Not So Newlywed" game show. It was really entertaining and a little raunchy, but all in good fun. It was a good way to end the night.
We docked in Costa Maya at 10am and had until 5:30 to explore this port. Cindy and I were so excited that we were some of the first people off the ship. The port area was a little tacky, but who cared?? It was bright and sunny and a perfect day for vacation.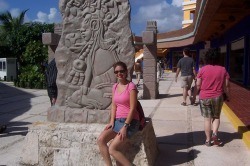 We had prearranged a tour with El Tucan de Costa Maya for the day. We took a shuttle from the port to meet the tour in the village of Mahahual. From there we met our tour guide: Diego Oscar Gomez Stovall. We were surprised that Cindy & I were the only ones on his tour, but it was great to have a private guide! Today we would head to Chacchoben, a Mayan ruins site, before returning to the village of Mahahual for snorkeling, lunch, and time on the beach. It would be a busy day before heading back onboard.

The ruins are located about 70km from the Costa Maya port, in southern Quintana Roo. The drive takes about 45 minutes and our guide was happy to share facts about the region, the culture, and the history of the ruins while we drove to Chacchoben. On the way, we stopped for a delicious treat of fresh pineapple. The pineapple there is much sweeter than anything you'd ever find at a grocery store. We tried it with roasted jalapeno sprinkled on top and a brushing of limon juice (similar to a key lime)…and it was by far the most delicious thing I ate in the entire week. Yum!
We arrived at Chacchoben (which means "red corn" in Mayan) and began our tour. Our guide was incredibly knowledgeable about the ruins, and the Mayans in general. It was very obvious that he loved his job and was happy to share his interests with us. It was very cool to see the ruins and we were amazed by how well preserved they were – most of the bigger pyramids were from around 700 AD, with some of the smaller sites from as early as 1000 BC.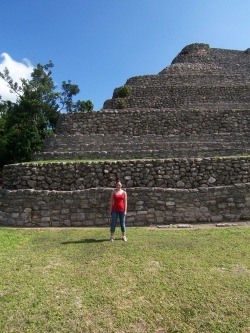 Our guide also took the time to point out a lot of the local plants – my sister is a biotechnology major in college, and has taken several botany courses, so that was right up her alley!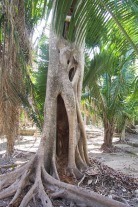 At the end of our visit to Chacchoben, we bought a fresh coconut to share. We drank the delicious juice and then the vendor used a machete to open the coconut for us. The coconut tasted nothing like the coconut we are used to…and despite the juice being delicious, neither of us liked the flesh of the coconut. It tasted funny and was a little slimy! Still, we are glad we tried it. Cindy bought a dress from a small stand by the ruins, and then we headed back to Mahahual.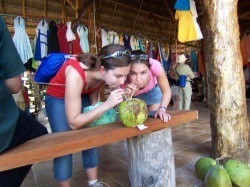 In Mahahual, we changed into our swimsuits for the next part of our tour: snorkeling! The water was warm and we were excited to float in the ocean, and we were on our own to discover the fish and the coral. It was fun, but not really spectacular.
We ended our afternoon on the beach in Mahahual near the Maya Bar, relaxing with a giant plate of fresh ceviche and some delicious frozen drinks. Nothing beats lounging on the beach and listening to the waves.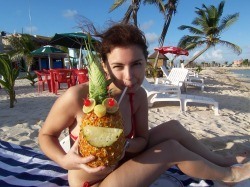 We took a cab back to port for a mere $4 and reboarded the ship, where I promptly spent sailaway in the hot tub. It would be a recurring activity for me 🙂 We ended the evening with dinner and a Second City Comedy show. The show was fantastic scripted comedy and we all laughed hysterically throughout the show. It was an early night, since we had to be up early for port the next day!
By this point in our cruise, we had given up on eating breakfast at Windows, so we decided to try out Raffles (the buffet) instead. The variety of food was the same as what was offered in Windows, but we were able to serve ourselves much more quickly. We sat outside and watched the ship pull in to Guatemala. The scenery was absolutely breathtaking, even though it was cloudy. Cindy and I continued our routine of looking over the Freestyle Daily during breakfast and we both really hoped it wouldn't rain!
Today, we would be in port from 8am-5:30pm and had pre-arranged a tour with Happy Fish. We disembarked first thing to get a headstart compared to everyone else.
The port of Guatemala is largely an industrial port, so there are containers everywhere, but there is a touristic building within walking distance of the ship, and this is where we were to meet our tour for the day. After checking in, we were told the tour would not leave until 9:30am, so we had some time to kill. We walked through the tour building, browsing the craft stands, and listening to some folk music.
Our tour had about 10 people on it, and all of us were excited. It was a short, but bumpy, ride to the waterfalls area up steep hills. I'm glad I wasn't driving! The day began with a trip to Las Escobas waterfalls. We walked through the rainforest, which was very lush and green.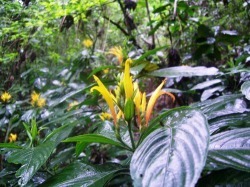 It was a nice walk and we lucked out with another informative tour guide. She even gave us a taste of the cacao plant used to make chocolate. It was very bitter and didn't taste a thing like chocolate!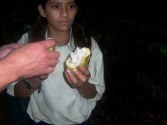 Near the first set of (small) waterfalls, there was a nice area to go swimming. I jumped right in and the water was pretty cold, but it still felt refreshing.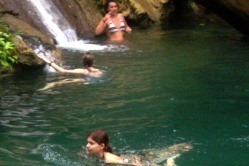 We kept walking and came upon some other waterfalls, but they were very crowded with other tour groups so we didn't stop to swim again.
After the waterfalls, we were dropped off at Green Bay Resort. We thought it would be a relaxing way to spend the afternoon. It ended up being pretty boring – the sun wasn't out so we couldn't lie out and tan and the pool water was even colder than the waterfalls! We took a canoe out in the bay for a little while, but since it was windy it was too hard to paddle.
We really didn't enjoy ourselves, which was a shame since the grounds themselves were beautiful. We had to swat away hundreds of mosquitos, but we both still ended up covered with bug bites.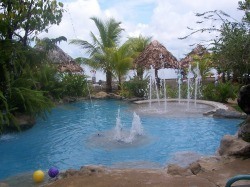 We reboarded the ship early, around 3pm and made a beeline to the poolside grill for a late lunch. They had hot dogs, hamburgers, and assorted side dishes, along with delicious soft pretzels upstairs at the Bier Garten. We spent the afternoon by the pool – magically the sun had come out as soon as we left the resort, plus there were no bugs on the pool deck, so it ended up being a better place to lounge than the resort.
I stood on deck, watching the locals sing and dance as we were ready to leave. It was quite a sight and truly wonderful to see the Guatemalans have so much pride in their country.
What I took away more than anything from Guatemala was the country's spirit, pride, and friendliness – three great reasons to go back for a longer visit in the future.
I've been back twice more now! Read all about it in my Guatemala travel summary.
Cindy and I had made plans the night before to wake up EARLY in order to see the sunrise. Around 5:45, we got out of bed and grabbed some coffee and sat outside with our books. Shortly after, the lighting was great for photographs, so we stopped reading and instead enjoyed the absolutely beautiful sunrise.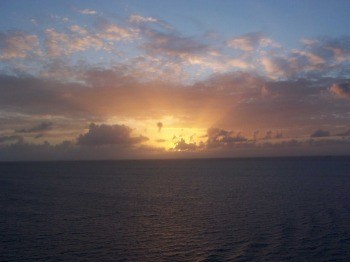 At the time of our visit, cruise ships were not allowed to dock in Belize since the water is too shallow and they could damage the reef by sailing in. Instead the ship anchors off shore, and smaller tender boats come to the ship to take you the rest of the way to shore. Unfortunately, this process was an organizational nightmare. We got in line for our tickets early, and were lucky enough to get Boat #1…which is actually like Boat #5 because they let all the passengers doing ship excursions off first (even though our tour began just as early). The tender ride was about 15 minutes and then we had a short walk to the Radisson hotel to meet our tour, which we booked through Jaguar Paw for zorbing/cave tubing/ziplining.
When we arrived, we found out that we were the only ones on the tour, so we had a private ride to the start of the tour (just under an hour drive). The tour started at Jaguar Paw hotel, which looked like a nice place to stay if we ever vacationed in Belize.
At the hotel, we were informed that due to some sort of issues with private tour operators vs. ship operators, we were not allowed to use the ziplining and that instead our price would be reduced. I was disappointed with this alternative, given that we weren't notified in advance nor was the price much cheaper, but after some persistence, we were able to compromise that they would substitute repelling for the ziplining and we were happy with that arrangement.
Our first activity was the zorbing, which is where you roll down a hill in an inflatable 11-foot ball. I was freaking out a little because I tend to get claustrophobic and being strapped to the inside of the ball made it even worse. It was really hot in there with the sun beating down on you and no air circulation whatsoever. Thankfully, the ride was only 45 seconds long. On the other hand, my sister loved it!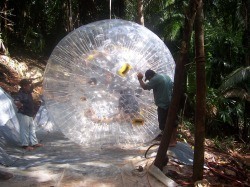 From there we had a fairly strenuous hike through the rainforest up to the top of a cliff. There, we geared up to begin our 180-foot descent down the cliff to the start of the cave system. This was a bit scary (and my sister dreaded every moment of it) but overall exhilarating. The first 15 feet or so was really difficult to get down because you are so close to the rock. You have to be careful about your footing so you don't smash into the cliff! After that, it is an easy drop down. The cliff overlooked the river which other people were tubing in, and it was weird that even though they were very far below you, I could hear every word of their conversations crystal clear. It was as if I was standing right next to them! Cindy and I made it safely to the bottom.
At the river, we met our cave tubing guides. Most groups had about 15 people for each guide, but Cindy and I had two guides just for the two of us!! Both of them were very friendly. We jumped into the river and swam around a bit before getting into our tubes for our trek through the caves. Most of the time, the water was very shallow and in some places you had to lift your butt out of the water so it wouldn't get scraped on the rocks. There were also some friendly fish; they tickled a little as they swam by you and were perfectly harmless. Since there were only 4 of us in our group it was very dark and quiet in the caves. I really think that added to the experience versus going in a group of 20+ people. We probably tubed about 45 minutes, but I wish we had time for more.
At the end of the cave, it was a short walk back to the hotel where a delicious lunch was waiting for us. We also enjoyed our Coca Cola – the first soda we'd had since we boarded the cruise.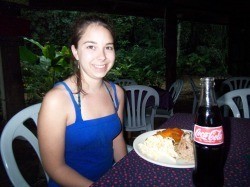 Our sneakers were soaking wet and muddy from the cave tubing, so we were glad we had worn old shoes and packed flip flops to change into. We actually had come prepared to donate our old shoes, something that was suggested to us by others who had visited Belize in the past and arranged by the hotel. It was a simple solution for everyone.
We drove back to the port area and spent the remainder of the afternoon shopping. I was really surprised at the prices of the items. Considering Belize's economy, I didn't expect souvenirs to cost double what I'd pay for items at home. Some things were handmade and of high quality, but most things were cheaply made and obviously from a factory. We bought a few small things, but mostly browsed. Tendering back to the ship was much easier than it was in the morning.
Belize had been a lot of fun and I'd love to back someday, but at that point, there was nothing better than a cozy hot tub and some Caribbean tunes.
When we arrived at Cozumel, I realized that our week was almost over…this would be our last port for the week.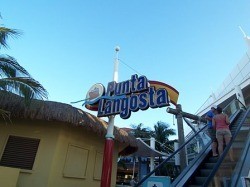 This morning's tour would be a diving trip booked through Scuba with Alison. Cindy had gotten PADI certified over the summer, and though she had done a few dives in Upstate NY, this would be her first dive in the open ocean and she was very excited for it! Since I don't know how to scuba dive, I would be joining the trip as a snorkeler.
We easily caught a cab to the pier for the start of our tour. When we got there, we found out Alison hadn't even arrived yet! If there is one thing that I am a stickler about, it is punctuality. Our time in port was short (8am-4:30pm) so I really like to make the best out of our short visit. Unfortunately, our tour began 45 minutes late. I was certainly disappointed, but there was nothing I could do about it.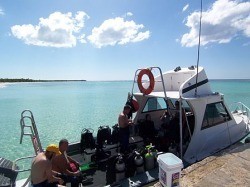 Other than being on "island time", Alison was wonderful. She was friendly, outgoing, a great dive instructor, and loved what she was doing. Our first stop was at Palancar Gardens, for about an hour. My sister said the diving was spectacular; from where I was closer to the surface it was by far the best snorkeling I have ever done. We saw an assortment of fishes, corals, and anemones and my sister saw turtles, stingrays, and eels as well.
Afterwards, we had about a 40 minute surface interval at Playa Palancar, a less commercialized beach area. It was beautiful and I liked just walking along the shore.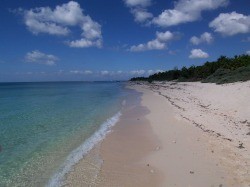 We then went to La Francesca reef, which apparently had great diving but the snorkeling was better at Palancar. We spent about another hour there. Toward the end, the water got very choppy and it was really hard to see anything since the waves kept filling up my snorkel and I had to continually adjust it and come up for air. Cindy had another great experience diving.
After our trip, we went to San Francisco beach club to spend about two hours soaking up the sun before returning to the ship. We had intended on going to Paradise Beach, but the chairs looked comfier at San Francisco, which is right next door. We spent very little time in the water since we had swam so much earlier in the day, but had a great time relaxing and drinking quite potent beverages.
We barely made it back to the ship on time and were really sorry to see the end of our port day, but at least we still had two more days of vacation left.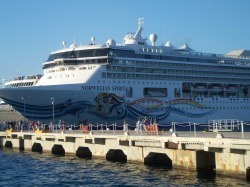 True to tradition, I enjoyed sailaway with a poolside snack and a soak in the hot tub.
After our day in Cozumel, we had evening appointments for manicures. Our travel agent had given us $100 ship credit (like a gift certificate to be used onboard) and we had decided to treat ourselves in the spa.
My sister and I both got the hand ritual (aka the deluxe manicure). Unfortunately we couldn't get it done at the same time. The nail technician did a great job shaping my nails, but the soak and massage (the parts that made it "deluxe") were very short and rushed. Now here is one of my few complaints about the cruise: I was rushed out of there before my nails were fully dry despite mentioning that I'd rather wait for them to continue drying. As a result, I had some noticeable smudges right afterwards. The spa facilities were very nice, and I enjoyed being able to use the sauna/steam room free of charge.
We had a late dinner at Windows, just the two of us and then went to yet another show. This time it was the crew talent show! It was great to see all the staff supporting each other by coming to the show and the theatre was packed! There were a lot of great acts and I'm glad we didn't miss it.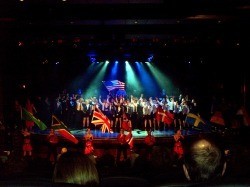 I was sad to wake up on our last sea day, but determined to make the most out of the day! Cindy and I again started our morning with breakfast at Raffles, looking at the Freestyle Daily to see what we could do that day. There was a lot more offered on the last day than any other day of the cruise! Or maybe just more things that appealed to us.
I wanted to get some more sun so I could go home with a tan, so I brought my book out on deck to read a little bit. The sun felt so wonderful; I really wished I lived somewhere warm instead of cold, snowy Rochester!
The morning went by very quickly, and finally it got too hot to sit outside comfortably, so I met up some other cruisers to go to the onboard art auction, mainly because I had never been to anything like it. Actually, it was a lot of fun even though I had no intention of buying anything. As they presented each painting that was to be auctioned, they told you a little bit about the painting. I knew nothing about art, so the little presentation was very informative and I learned a lot. Maybe I'll have to check out more auctions in the future.
We went to Raffles for a late lunch, and couldn't believe we hadn't eaten at the buffet for lunch or dinner any other time during the cruise. At home, we rarely dine out, so it is a real treat for us to have served meals with so many courses and delicious food. The food selection at the buffet was rather disappointing though, so we left hungry and headed down to the Blue Lagoon to finish our meal.
I took some time to say goodbye to my favorite staff member, Peter the photographer. I had had a lot of fun talking to him about his home country, Slovakia. All of the crew members were incredibly friendly and very enthusiastic. It was hard to pass by anyone without getting a smile and a hello. The crew members, in general, were willing to go out of their way to make sure you had a special trip. Many of them knew us by name (and we knew theirs!). It was a treat to stop and talk to them about their home countries and get to know them.
I spent more of the afternoon in the sun and a little time in the hot tub as it began to cool down. Dinner was at Windows again, one last time. Cindy and I got dressed up, and she wore her new dress from Costa Maya.
As we walked around the ship that night, we were excited to see that the crew had finally begun decorating the ship for Christmas. It really made it pretty and an extra special time of year for cruising.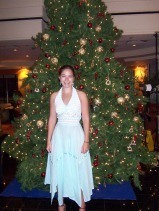 After dinner, there was tons to do. We started off with the game show "Who Wants to be a Bazillionaire", which was really entertaining and had some tricky questions.
Then was the evening show – a variety act from the performances over the week – and a very funny crew production called Fountains.
Next, the Second City Improv show. The show was very different from their other (scripted) show earlier in the week, but still a lot of fun. I actually preferred the scripted show with its many skits, but they really were quick thinkers for this show!
Lastly, we went to the "Quest" activity. It was a lot of fun! Teams were given assignments from things as simple as finding a tube of lipstick to the crazy activities such as men wearing the bra of a woman on their team. We had so much fun, and came in 3rd place, which meant we got to go home with a deck of cards. After Quest, I went downstairs to Maharajah Nightclub for a night of dancing. Too bad no one was there…it ended up being a little lame. Instead, we talked to one of the onboard comedians for a while and then eventually went to bed.
It was depressing to eat breakfast onboard and not have a schedule to look over for the day. Cindy and I would really miss the Spirit. She is a beautiful ship with wonderful crew and was a terrific symbol of the fun we had over the past week.
Despite being sad to leave, we were off the ship early since we had a full day planned for New Orleans. We used the self-disembark and left the ship around 8:05 and made it through customs in about 15 minutes since most people weren't ready to get off the ship that early. We sent our bags to the airport through a service available at the port. It was a little pricey, but well worth it since we had a lot of time before our flight that evening and we didn't want to drag our bags around.
We went to the French Quarter post-cruise for a free guided history tour provided by the National Park Service. It was about an hour long and very informative, though I felt like walking added nothing to the tour since nothing was pointed out along our route – it was more like a lecture that we happened to walk during. Maybe I felt this way because it was cold in New Orleans! After a week of warmth and sunshine, we were disappointed to return to 40 degree weather, especially since the weather in New Orleans was great the weekend before when we were there. Regardless, we liked the tour. Since we ended in Jackson Square, we thought we would grab some beignets for a snack but the line at Café du Monde was about 100 people long so we ditched that idea and instead bought coffee at another place to keep our hands warm as we walked to the St. Charles Ave Streetcar.
We took the streetcar uptown to the Garden District. It was interesting to look at the mansions and the different architectural styles along the way. After about a 30 minute ride, we got off at Audubon Park to go to the zoo. My sister is a zoo-aholic so this was a must-see for her. I thought the zoo was nicely laid out and the swamp and jungle exhibits in particular were wonderfully designed. We spent about 2.5 hours there, and saw the place thoroughly.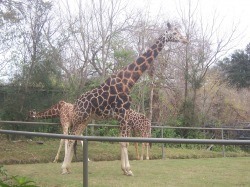 We returned to the French Quarter for some more good food and had a lovely lunch before taking a cab to the airport. It was really nice to have the day in New Orleans to slowly get back to reality instead of leaving straight from the cruise.
At the airport, we found our bags easily and went to check in for our flight. We found out our flight was delayed, so we'd have an even longer flight than otherwise planned. Then it was delayed again…and again…and ended up being 90 minutes late. We finally made it to Dulles airport, where we had to connect to our other flight. We had 25 minutes to make the connection, so we were nervous, but we were ready to hurry off the plane.
Unfortunately, there was a truck parked in front of the gate, so we had to wait for it to be moved before the plane and we ended up with only 10 minutes to make our connection! Cindy and I ran at top-speed through the airport, heading in the direction of our new gate which was in an entirely different terminal. We made it to the shuttle between terminals and were incredibly out of breath only to find out the shuttle wouldn't depart for another 7 minutes. After trying (and failing) to have a phone agent hold the plane for us, we finally made it to the gate. Luckily (?), that flight was also delayed since they were waiting on the captain. Eventually, we boarded but sat on the runway waiting to take off for a very long time and ending up getting home at 2am. At least we made the flight!
After crashing into bed that night, I went to sleep with a smile – we had a fantastic time on the cruise and loved the city of New Orleans and despite the small hiccups along the way, it was a perfect vacation. Cindy and I already couldn't wait for the second annual girls getaway!