This post may contain affiliate links. As an Amazon Associate I earn from qualifying purchases.
* * *
We just returned from a week-long trip to California, so thought I'd share my trip report. Over the past few years, I've gotten tons of great advice from locals, but have often found that traveler's experiences are one of the best references since they often see things from a slightly different slant. Hopefully my experience in combination with other resources can help you with your trip planning.
We went through several revisions of our itinerary while planning and eventually cut our time in Yosemite because a large portion of the hikes that interested us would be inaccessible due to weather/trail conditions in late May. All in all, we ended up spending one week in California, including the Monterey Peninsula, Yosemite National Park, and San Francisco.
Day 1 –
After a rather uneventful flight, we arrived at SFO at 11:25am. There were no issues with our flights, and despite a very early start to the day, we were ready to go once we got off the plane. We picked up our rental car on-site, and coincidentally lucked out that there was almost no line with Dollar Rent-a-Car, so were in our little Nissan Versa leaving the airport by 12 noon. There were much larger lines for some other rental agencies, so be prepared to allow much longer to pick up your rental car and don't schedule anything too tightly on your arrival day.
TIP: Keep checking rental car prices. We ended up snatching our rental car for about half the price of what I saw when we originally booked the trip – prices fluctuate frequently, and rarely require a nonrefundable deposit, so it pays to shop around.
Leaving the airport, we took the locals' tip of heading on 380 W – 280 S – 1 S on our way to Monterey rather than 101-South in order to avoid traffic. We hit a delay just north of Santa Cruz where there was a traffic light out, leading to a back-up on the highway, but overall, we thought it was a smooth ride. It was kind of a miserable day (cool and WINDY!), so we decided that instead of rushing to kayak at Elkhorn Slough as originally planned, we'd spend the afternoon in Santa Cruz. This worked out great! We had lunch at Betty's Eat-In, enjoying burgers, onion rings, and milkshakes…a dietary splurge compared to how we normally eat at home 🙂 Trust me, this is when we first felt like we were on vacation! We had great seats by the window and we loved people-watching along Pacific Avenue. After our lunch, we drove to the surfers museum and ended up spending more of our afternoon walking along West Cliff Drive. Saw plenty of crazy surfers braving the cold waters, the Natural Bridge, and had fun on the Boardwalk (though didn't go on any rides). It was a leisurely, but enjoyable, way to start our trip out.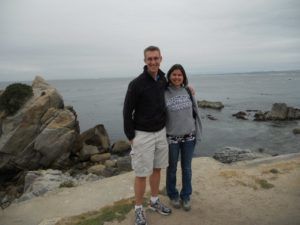 TIP: Parking is expensive by the boardwalk ($10-20), but was plentiful and free further down on West Cliff Drive if you are willing to walk for 20 minutes. We enjoyed the walk and surfer-watching along the way, so this was not a downside for us.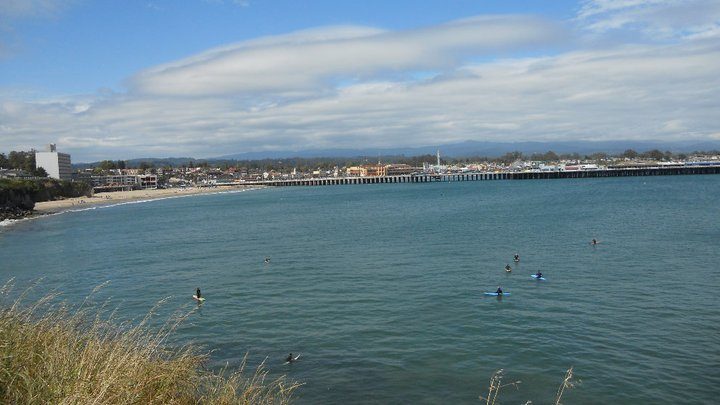 We ended up continuing south to Monterey after a few hours in Santa Cruz, and were amazed at how different the two cities looked and felt despite only being an hour apart. We checked in to the Portola Hotel and were glad to freshen up in our room since we felt a little gritty after 7+ hours of flying in the morning. We typically stay at a lot of Hampton Inns/Holiday Inn Express or similar, so the Portola was an "upgrade" compared to our normal travel style, but we were here for our anniversary and were hoping for something a little more special. While the Portola was adequate, I wouldn't recommend it to someone paying $200+ and requiring a true 4-star hotel (see more in my TripAdvisor review).
TIP: Parking at the hotel is $17/night, but if you are like us and only need overnight parking (no in and out privileges) since you are out exploring all day long, you can get parking at a garage a block away for about $5/night.
We had hoped to spend the evening in Carmel at the outdoor Forest Theater, but given the damp, cool weather, we decided to forego those plans (luckily we hadn't prepurchased tickets). Instead, we headed out to Lovers Point and watched the ocean for a while, and afterwards went out for a seafood dinner at Massaro & Santos. Our food was great, and service was wonderful. We returned to our hotel about 9:00 for an early bedtime…after all, we had been up at 3:45am EST in order to catch our flight!
Day 2 –
We were both up early this mornin and headed out for breakfast at Santa Lucia; my husband loves all things German, so this seemed like a good choice for us. Unfortunately, I had read that they opened at 8am, so we had specifically waited at the hotel until it would be open, but when we got there, the sign on the window said it wouldn't open until 8:30! For us, this seemed incredibly late for breakfast, so we ended up getting breakfast at Plumes coffee shop, just a block from the Portola, instead.
We backtracked north to Elkhorn Slough for our rescheduled kayak trip. The slough (pronounced "slew") is a saltwater depression, and a great place to see wildlife! My husband had never kayaked before, and was unnecessarily worried about how he'd do. We had a great guide with Kayak Connection, and spent three hours on our tour – about 2.5 hours on the water, along with some orientation info ahead of time. We literally saw at least 100 harbor seals, another hundred sea lions, maybe 2 dozen otters, tons of pelicans and other sea birds, shore crabs, and jellyfish. The breeze started picking up toward the end of the tour (typical, our guide told us), so we were glad to have gone in the morning when it was a little easier to get around.
TIP: Kayak Connection uses sit-in kayaks while Monterey Bay Kayaks uses sit-on-top kayaks (a little less stable in my opinion), so plan accordingly if you have a preference.
After our lovely kayak trip, we headed south to Carmel-by-the-Sea. We spend an hour or so walking through the town, window shopping at some of the galleries, detouring to check out Ocean Beach (sorry to everyone who loves it, but it looked like any other beach to me…maybe I'm spoiled with the beaches near home?), and trying to soak up the atmosphere of the town. I would've loved to spend all afternoon looking around, but we cut that short for two reasons: 1) Not my husband's cup of tea. I need to return for a "girls trip" to take in the galleries, wines, teas, and maybe a spa visit… and 2) Being an afternoon during Memorial Day weekend, it was BUSY! Part of the charm of galleries/boutiques (in my opinion), is talking to the owners for a personalized visit.
We were surprised at how many restaurants were packed with a waitlist even at 2-2:30pm, but kept looking around at the menus posted until we found somewhere that looked good, affordable, not too busy and not too quiet until we found one: Cantinetta Luca. We enjoyed sitting at the bar near the kitchen, watching them pull pizzas out of the wood-fired oven and our food (salad & paninis) was great.
We finished out our daylight hours with a trip to Point Lobos State Park. As expected, the parking lot was full, so we parked on the street and walked in. We walked a ton of the outer perimeter, including Bird Island, China Beach, Sea Lion Point, Cypress Grove and cutting inland to return to the entrance via Whaler's Knoll…all in all, about 3 hours or so. It truly was beautiful, and while you could certainly spend longer there, we felt we had seen a good portion of the park in the time we had spent there.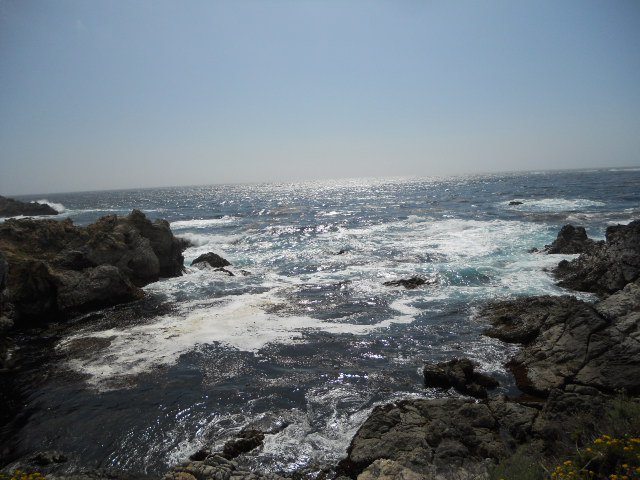 TIP: The crowds spread out as soon as you get about 50 feet from the parking areas…take the time to walk around a little – the park just feels different when it is quiet.
We returned to the hotel to get dressed for dinner. This was our anniversary, so we wanted it to be a little special, and we settled on the Sardine Factory since it looked a little over-the-top (it is). We fully planned on splitting a bottle of champagne, and therefore wanted somewhere with a reasonable taxi fare home, so a lot of the nice restaurants in Carmel will have to wait for another visit! Unfortunately, we received a phone call with some bad news from home which put a damper on the evening, but we had excellent service, food, and drink and would certainly recommend the Sardine Factory.
Day 3 —
I must have still been on Eastern Time, since I was up again at 5:30, so after a shower, I went back over to Plumes to pick up some coffee for myself and my husband. We hit the road fairly early, this time south to Big Sur. This early in the morning, it was foggy, and the whole drive looked somewhat mystical. Perhaps not beautiful the way it is in the photographs when the sun is out, but beautiful nonetheless. We also enjoyed having the road to ourselves…something you otherwise wouldn't get on a holiday weekend.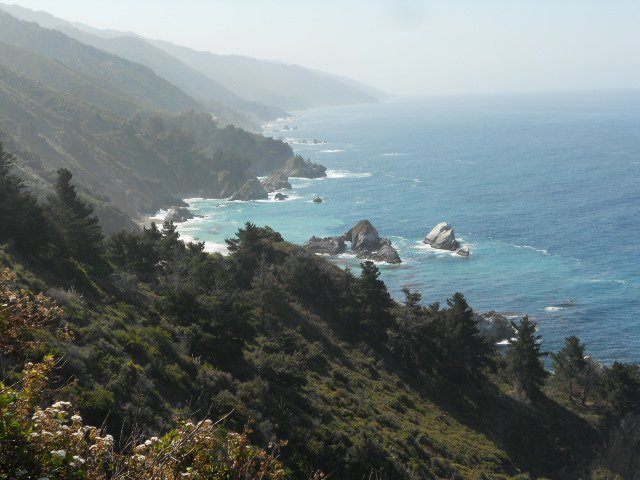 We stopped for breakfast at Deetjen's, and yes, it is worth the drive. We both ordered eggs benedict, though with different toppings, and loved the food, service, and cozy atmosphere. The fireplace was a nice touch, and by the time we left breakfast, the fog had lifted!
TIP: Ask the waitress for a book on the history of Deetjen's to read during your breakfast.
We continued south to our first stop – Julia Pfeiffer Burns State Park. We walked down to the McWay Falls overlook, which was stunning.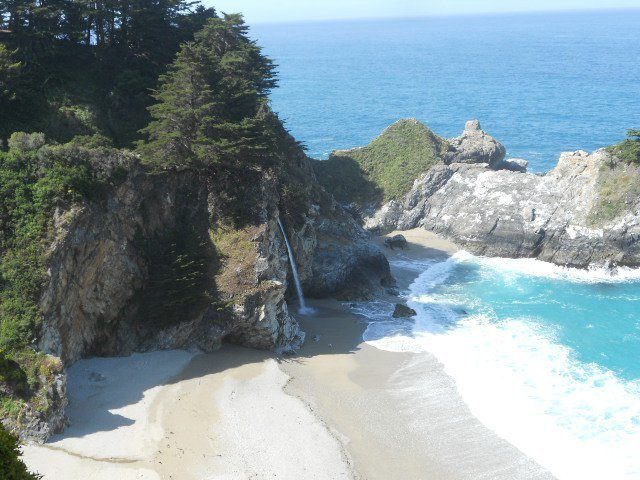 We loved that we had the park to ourselves, so sat outside soaking up the view, listening to the waves, and enjoying each other's company until some more tourists came along. Truly a romantic spot, if you can get it to yourselves for a moment! While we were at the park, we also went hiking on another trail (I believe it used to be part of the Ewoldsen Trail until it closed?). Great little walk, with a hugely different feel than walking along the ocean. We loved looking at the tall redwoods, checking out the fire damage, and enjoying the wooded setting rather than simply an entire day on the ocean (though admittedly both settings are gorgeous!).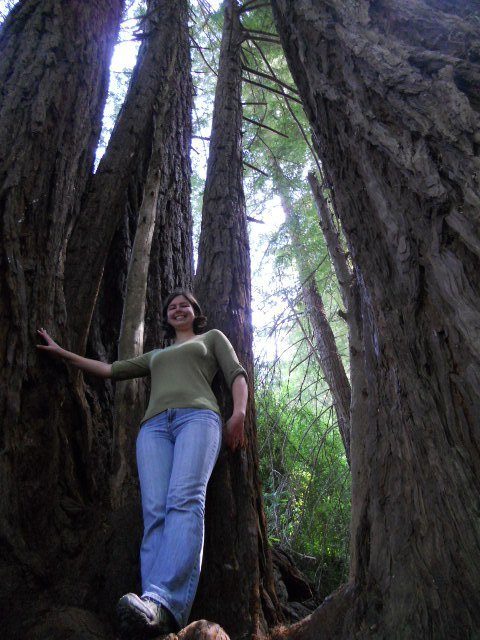 TIP: Bring exact change for entry ($10). It's an unstaffed park (at least during our visit), so you'll deposit your cash into a box to get a parking stub, with no way to make change.
We stopped again for a short trail down to Partington Cove, where it was particularly great to watch the waves crash along the rocks, and surprisingly, most people ventured toward the beach rather than the cove (go through the tunnel to get to the cove). Our final scheduled stop in Big Sur was at Pfeiffer Beach, a hidden nugget. You'll have to look carefully for the turnoff, which is unmarked, but easily found with a GPS or good set of directions. This is a windy, 2-mile drive downhill to get to the beach, and for most of the way, it is only 1-lane. Keep your eyes on the road to get to the side when there are cars in both directions! We were glad to have our tiny Versa – can't imagine trying this in a big SUV, though we saw some parked at the bottom, so it must be possible. We loved strolling the beach, checking out the purple sand, great big waves, and even dipped our toes in the cold water.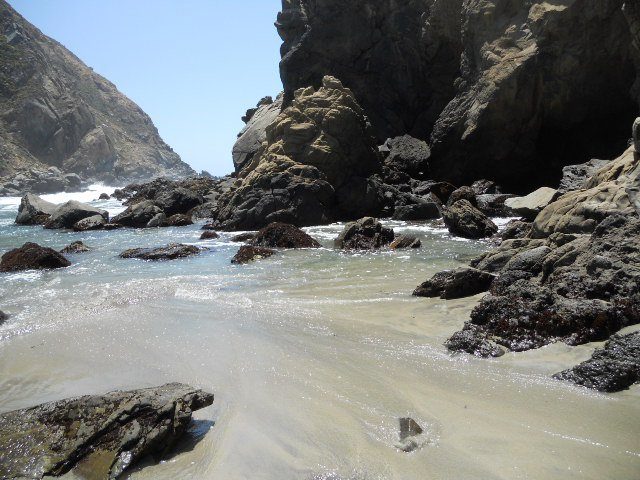 TIP: Bring a windbreaker (it's windy, for sure!) and sunglasses to keep the sand out of your eyes.
After our beach outing, we got some gas from the Shell station near the Pfeiffer Beach turnout. From here, we backtracked a mile or two to Nepenthe for lunch. Unfortunately it was packed, and when we went up to put our name on the list, we decided the view wasn't worth a 45-minute wait. Yes, the views are great, but so were the views we enjoyed from highway pull-offs and state parks.
TIP: Leave for your daytrip to Big Sur with a full tank of gas. We paid $5.69/gallon (ouch!) out of necessity, though luckily just enough to get us back to Monterey!
We ended up driving to Carmel Valley, a detour that was well worth it. We had a very late lunch at Corkscew Café, which was perfect. The garden setting was great, and we enjoyed lovely service. We split a cheese plate, which was the bargain of the menu at only $12 for a generous sampling of cheese, fruit, nuts, and crostini, and also split an imaginatively tasty butternut squash pizza. Fantastic. Afterwards, we (okay, mostly just me…hubby had to drive!) tried some of the wines next door at Georis, which were all lovely (liked the blends the best). I could have stayed for days sampling more wines and take the tour at Chateau Julien, but unfortunately I'll have to save that for my girls trip as well 🙂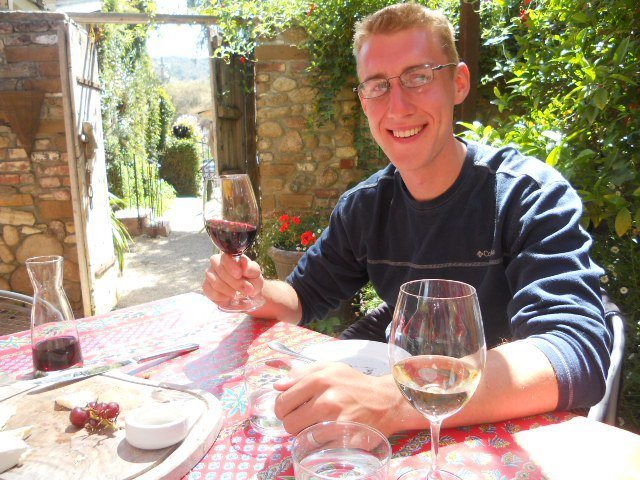 We had grand intentions of finishing our day with sunset on the 17-Mile Drive. Frankly, I wasn't too interested in this, figuring I had seen better views between Point Lobos and Big Sur, but for my husband, a scotch on the rocks, cigar, and bagpipes is the perfect trifecta (golfers being yet another bonus). He surprised me when he said he wasn't interested in doing this after all…we had plenty of time since sunset isn't until 8:30 or so, but I think he just wanted to call home to check up on things and then take it easy for awhile. We ended up going back to the hotel, and I walked down to Cannery Row and the wharf, which were a little too cheesy for my tastes, but still enjoyable to watch the seals in the water, the tourists learning stand-up paddling, and in general just strolling with a cup of hot tea! We finished up the night together with a tasting sampler at Peter B's Microbrewery, which was both convenient and tasty.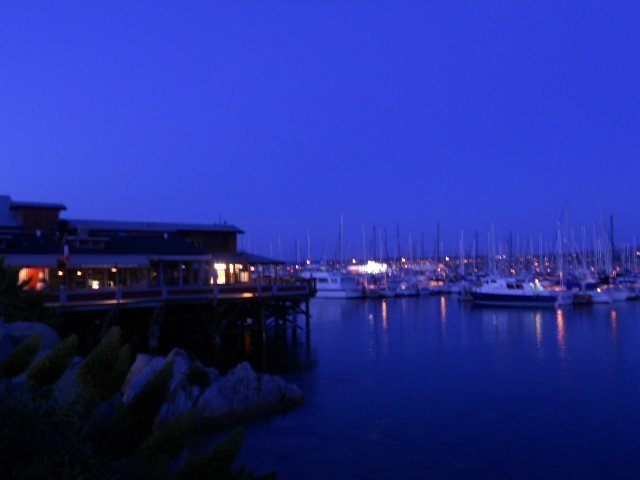 Some final thoughts on Monterey…
All in all, we loved it – both of us truly did. And as much as we could've filled a whole week of activity into this region, I'm glad we kept our visit to the length we did. There is something exciting about moving on to another area, and that is a part of vacation that we craved while planning this trip. Three days here was just right to balance the rest of our trip. That being said, both of us would be happy to return, and I can 100% guarantee I'll be back either with my husband as part of a grander trip (driving down Hwy 1 to LA?) or as a long weekend girls getaway. Next time we'll hit some of the things we missed: for sure incorporating more time in Carmel-by-the-Sea and Carmel Valley, along with a few activities we ran out of time for in Monterey (mission, aquarium, whale-watching).