This post may contain affiliate links. As an Amazon Associate I earn from qualifying purchases.
* * *
This guest post is courtesy of my husband (Mike) and summarizes his first trip up the Haul Road. As of 2019, he's now driven it 3 times!
For me, a roadtrip starts over 300 miles; otherwise it's a weekend getaway. I'm a self-proclaimed driver and my standard may be off from the general public as a guy who once put 50K on a Dodge Charger in a year (not to mention a new set of tires, a windshield, a heat exchanger, brakes, rotors, and wipers). I know what windshield time is, and I know what a roadkill resume looks like, as I lost my pervious set of wheels to a deer in upstate New York.
All that aside, driving the Dalton Highway (or the Haul Road if you're a real sourdough) truly reset my standard as to what a roadtrip can be. If you get excited by the idea of "the journey" as much as the destination, than this is one ribbon of road you can't pass up!
Let me set the stage from Anchorage…852 miles of road (each way), 20 hours of road time, 5 guys, 100lbs of camping and outdoor gear (each), 1 Ford F250, 1 boat trailer, and a metric boatload of Snickers bars. That's a roadtrip.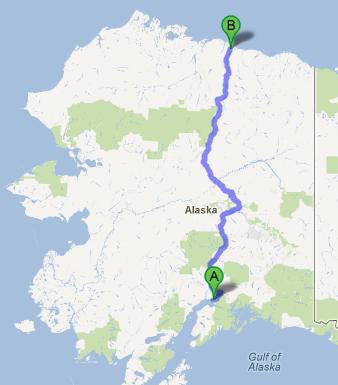 First let me start by saying that road is a strong term when referring to the Dalton; remember this is the same road you see sometimes on Ice Road Truckers. Before the snow flies it's really 414 miles of mud-bathed, pothole-ridden, packed gravel: the true manifestation of suspension hell on earth for any vehicle. Fortunately the Haul Road comes with a heaping side of dramtic scenery and wildlife to help get you through, like mint jelly for your mutton.
Part of the allure to driving the Haul Road is that it is not easy for a non-resident to do. Hertz won't let you take that Ford Fiesta on it, and for good reason: the decaying remains of more than one family sedan can be found along its length as testament to the tortures this stretch of dirt can throw at a vehicle. You really need a truck, and royalties on a gold mine, as gas is gonna run you about $5.39 a gallon. The pain at the pump is augmented by the fact that you drive next to the same pipeline that the crude probably came down, before you paid to import it back. However private rentals do exist and rumor has it U-Haul doesn't care where you go as long as you come back…
We looked pretty good by Fairbanks, already 350 miles into the drive, before the real fun started.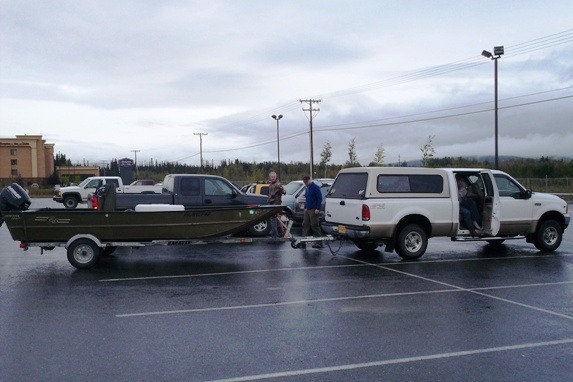 Construction was at a feverish pitch, and once we hit the Haul Road, it did not take long before we were forced to take our first of many stops to wait for a pilot car to bring us through a work site. Crews were racing to get needed repairs done by winter and these construction delays accounted for several hours of the total travel time.
We saw a great deal of wildlife from the road including a sizable grizzly bear hanging out by the pipeline. Other critters included musk ox, dall sheep, caribou of course, and ptarmigan. For such a remote and desolate habitat, the tundra is surprisingly full of life and provided far more opportunities for wildlife viewing through our cameras and binoculars than I could have hoped for.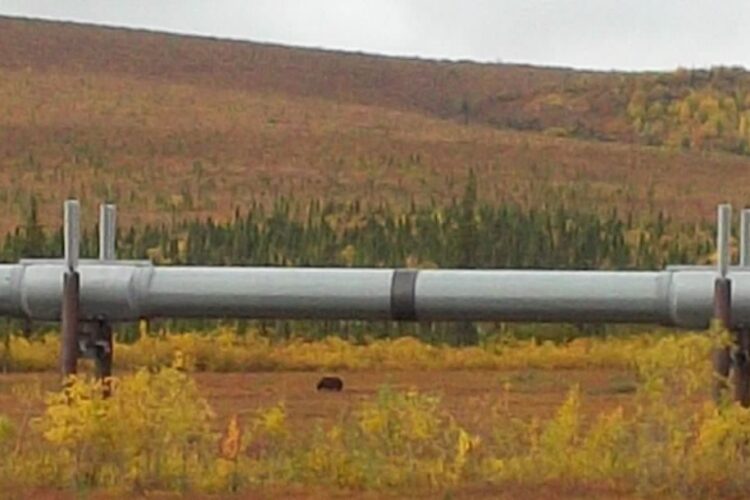 Atigun Pass has been thrown into popular culture through TV shows documenting travel along the ice roads. Make no mistake about the real challenges that exist in traveling on this stretch of ground. The steep grade which must be negotiated on the downhill portion of this section was tense driving with a small boat trailer even on a sunny autumn afternoon; I can't even imagine trying to maneuver an oversized load of critical equipment and supplies down the back of this pass in a winter setting.
The folks that make their living on the Dalton earn every penny of their paycheck and my full respect.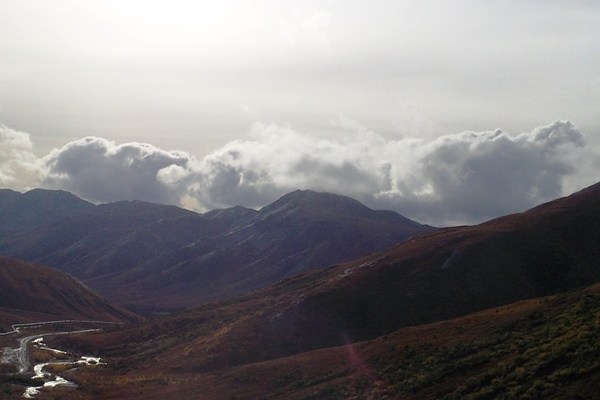 The closest indication of civilization was about three miles north of our base camp along the Sagavanirktok River, nearly all the way to Prudhoe Bay.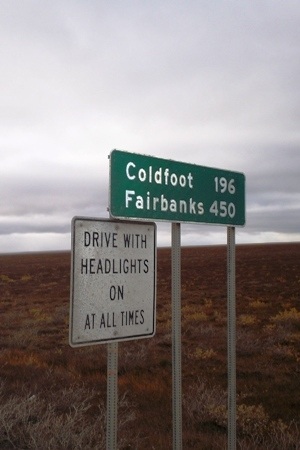 As with any travel adventure, the weather can always be an influencing factor. Here a change in the weather system would not mean a delayed flight, or a missed connection – it might mean a week snowed in waiting for the roads to clear!
Trust me I was already in need of a shower and some vegetables and another week in a tent was not high on my priority list! With that in mind, we beat a hasty retreat at the end of the trip, traveling through the night to avoid construction delays and to get in front of a growing and gathering weather system.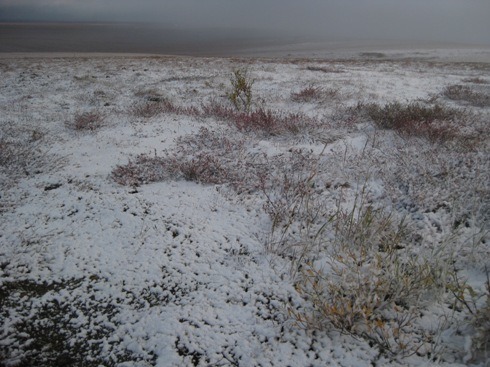 If you are a Roadie, a Driver, or any other kind of Motorhead, you need to put the Dalton Highway on your bucket list. It's nowhere near as sexy as the autobahn nor does it have the mystic of the Pacific Coastal Highway, but it does have its own beauty, wonder and challenge that should not be missed.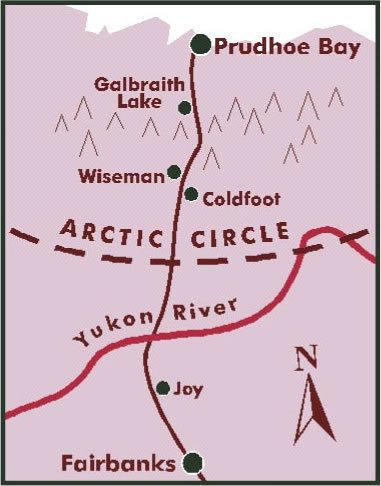 As the week wrapped up, a tired and happy bunch of guys started the long drive back to civilization and our families. But first that meant back in the truck and back down the Dalton, all five of us, next to each other for many hours after a week without running water….we smelled. We smelled so badly the best I can do is steal a line from Anchorman: "…it smells like, like a used diaper…filled with….Indian food." I kid you not when I say we "accidentally" spilled gasoline on ourselves topping off the truck and it smelled better.
The snow covered tundra made for a picturesque departure and we arrived back in Anchorage in one piece. Tired yet happy. I was able to avoid the hotel cost by staying with family before the flight home and gored myself with caribou and salmon after a week of snickers bars and Mountain House meals.
Points and Miles to Alaska
Now I can spend money like a drunken sailor on shore leave, but Becky runs the books and gave me a budget of airline miles to get home. With her tight restrictions on this trip it was a challenge, but I did it. It's a good thing she does this; otherwise I'd be living is a storage shed with everything Cabela's makes but eating cereal every night for dinner and thinking a 401K was a type of lawn mower or something…
Traveling with essential gear: Unlike my normal carry-on only for flights, there were make or break items I needed on this trip (my cousins and I would be backcountry camping in the absolute middle of nowhere). This gets complicated as no warm clothes = arctic death. And unlike travel for most of us, picking up a replacement item at my destination would either be hugely cost prohibitive or impossible, and I wasn't about to let Mr. Murphy get an easy win. So it was pretty important that my flight would not only be affordable, get in and out on that dates I needed, but also have enough time between flights to ensure my checked baggage could reasonably hit the ground at the same time I do.
Even though I do not understand what drives Becky to find these points and opportunities, I can say that her passion and commitment has paid off for both of us and I am especially thankful for this trip the travel bug allowed me to take. The game of travel deals does not always work out so nicely, and we have had our share of plans not pan out, but when they do the cost savings can be real. I was a doubting Thomas who needed to experience firsthand to believe, so I hope that this encourages some of you to put a goal from your bucket list on the calendar and try to make it happen. I am sure glad that I did.
First class coming home was a welcome sight on a 2:40am flight out of the Ted Stevens International Airport. Not quite the world's greatest bed but it still allowed for some quality sleep and dreams of returning once again to the great state of Alaska.
Read More About Alaska