This post may contain affiliate links. As an Amazon Associate I earn from qualifying purchases.
* * *
Even in the modern world of air travel with world capitals seemingly at your doorstep, it still amazes me just how large the contiguous United States are. The first leg of my journey north got me to Seattle through Atlanta where I chose to overnight before heading up to Anchorage.
Through daily award searches, Becky was able to use frequent flyer miles to book all my flights in first class and save me hundreds on baggage fees by thinking outside the box; a few extra miles meant I could bring 3 bags with me. Plus twenty minutes into the hunting trip of my dreams, I learn my Bombay Sapphires and tonics aren't going to be extra cash outta pocket (this is still a budget hunt believe it or not)! Forget it boys; Becky's already taken!
First class was great on my flight to Seattle for the legroom alone, but on Delta's aging domestic fleet (757), it was far from the international images we all have in our heads when we hear the term premium cabin, and if it was not for the hundreds of dollars I was saving in checked baggage fees, I would not go out of my way for it on less than a six hour flight – in my humble opinion.
My airport hotel actually turned into a two-room suite with kitchenette at…wait for it…a Holiday Inn Express! Needless to say, my sleep-deprived mind was blown when I turned on the lights and my honest to God first thought was that those jerks gave me a key to the breakroom after my late arrival; then I tried the next door and found a bed. Guess there are perks to platinum status after all.
My flight to Anchorage the next morning was uneventful and I enjoyed a complimentary breakfast of quiche with an Alaskan Amber on Alaska Airlines, a nice touch before living on the wild tundra for seven days.
Traveling with essential gear: Unlike my normal carry-on only for flights, there were make or break items I needed on this trip. And unlike travel for most of us, picking up a replacement item at my destination would either be hugely cost prohibitive or impossible, and I wasn't about to let Mr. Murphy get an easy win.
Checking firearms:
I got different directions from multiple Delta agents on what lock type was acceptable for my hard case. Their policy states firearms must be in a locked hard sided container, and that the lock key or combination must be presented to officials upon request. Knowing that if I gambled one way or the other I would lose, I used both types on my gun case and simply removed the "non-compliant" padlock and kept on the two cheapo "
TSA locks
" as advised by my Delta agent at check-in. On the way home, Alaskan Air was fine with the keyed padlocks that were not TSA locks. Having both was a marginal expense that gave me a piece of mind at check-in and helped smooth this process and I would recommend this play for anyone investing in a trip of this sort. My travel case was an SKB and I had no issue with check-in or the performance of my rifle upon arrival; it held up great through both legs!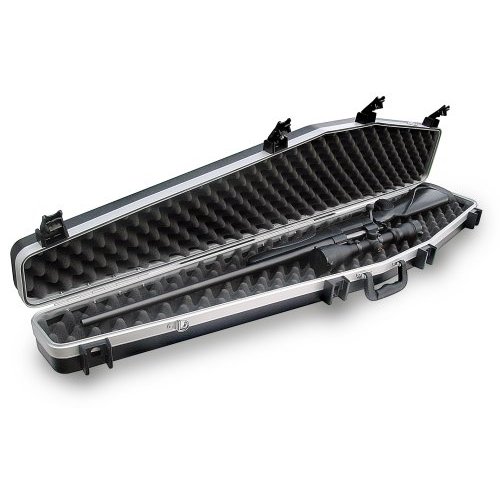 Luggage:
On this trip I brought a large external frame pack and bag (
Alpz Commander
) which I wanted to protect from damage. On the tundra, a broken pack would be a dealbreaker given the amount of gear and game that would need to be moved, and I didn't want to be up the Sagavanirktok River without a paddle. In order to protect my investment here I packaged the empty bag and frame into a huge canvas stuff sack (Rothco giant 30″x50″) which I duct-taped up for ease of airline handling and to squish everything flat to make sure I meet the 62″ maximum luggage allowance. This may have again been overkill but my gear arrived in the exact same shape I shipped it in for $30 which to me was cheap insurance.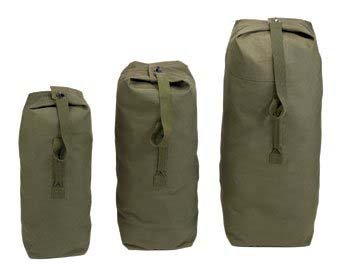 A great deal of planning went into this trip but for 45,000 miles (from an earlier Delta promotion) and a cheap one-night stay from Holiday Inn (that ended up earning cashback from
Mr. Rebates
), my cash-dollar cost to go on a dream hunting trip was at this point next to nothing, other than the time, research, and planning spent to coordinate and take advantage of the deals that were out there. I am living proof that it can be done.
For me, a roadtrip starts over 300 miles; otherwise it's a weekend getaway. I'm a self-proclaimed driver and my standard may be off from the general public as a guy who once put 50K on a Dodge Charger in a year (not to mention a new set of tires, a windshield, a heat exchanger, brakes, rotors, and wipers). I know what windshield time is, and what a road kill resume looks like, as I lost my pervious set of wheels to a deer in upstate New York. All that aside, driving the Dalton Highway (or the Haul Road if you're a real sourdough) truly reset my standard as to what a roadtrip can be. If you get excited by the idea of "the journey" as much as the destination, than this is one ribbon of road you can't pass up!
Let me set the stage from Anchorage…852 miles of road (each way), 20 hours of road time, 5 guys, 100lbs of gear (each), 1 Ford F250, 1 boat trailer, and a metric boatload of Snickers bars. That's a roadtrip.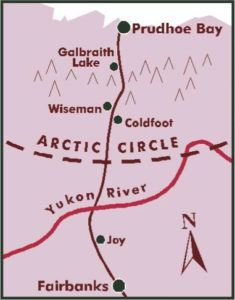 First let me start by saying that road is a strong term when referring to the Dalton; remember this is the same road you see sometimes on Ice Road Truckers. Before the snow flies it's really 414 miles of mud-bathed, pothole-ridden, packed gravel: the true manifestation of suspension hell on earth for any vehicle. Fortunately the Haul Road comes with a heaping side of dramtic scenery and wildlife to help get you through, like mint jelly for your mutton.
Part of the allure to driving the Haul Road is that it is not easy for a non-resident to do. Hertz won't let you take that Ford Fiesta on it, and for good reason: the decaying remains of more than one family sedan can be found along its length as testament to the tortures this stretch of dirt can throw at a vehicle. You really need a truck, and royalties on a gold mine, as gas is gonna run you about $5.39 a gallon. The pain at the pump is augmented by the fact that you drive next to the same pipeline that the crude probably came down, before you paid to import it back. However private rentals do exist and rumor has it U-Haul doesn't care where you go as long as you come back…
We looked pretty good by Fairbanks, already 350 miles into the drive, before the real fun started.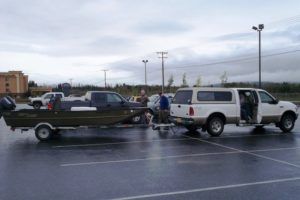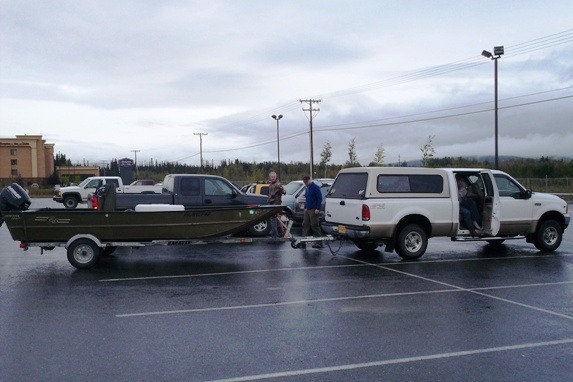 Construction was at a feverish pitch, though once we hit the Haul Road, it did not take long before we were forced to take our first of many stops to wait for a pilot car to bring us through a work site. Crews were racing to get needed repairs done by winter and these construction delays accounted for several hours of the total travel time.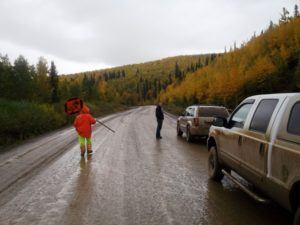 We saw a great deal of wildlife from the road including this sizable grizzly bear hanging out by the pipeline. Other critters included musk ox, dall sheep, caribou of course, and ptarmigan. For such a remote and desolate habitat, the tundra is surprisingly full of life and provided far more opportunities for wildlife viewing through our cameras and binoculars than I could have hoped for.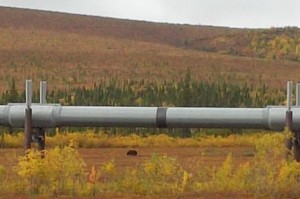 Atigun Pass has been thrown into popular culture through TV shows documenting travel along the ice roads. Make no mistake about the real challenges that exist in traveling on this stretch of ground. The steep grade which must be negotiated on the downhill portion of this section was tense driving with a small boat trailer even on a sunny autumn afternoon; I can't even imagine trying to maneuver an oversized load of critical equipment and supplies down the back of this pass in a winter setting. Those folks that make their living on the Dalton earn every penny of their paycheck and my full respect.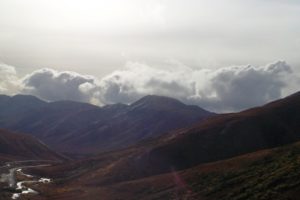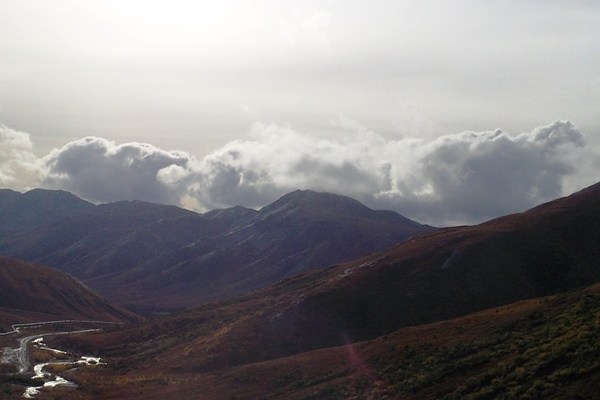 The closest indication of civilization was about three miles North of base camp along the Sag river, nearly all the way to Prudhoe Bay.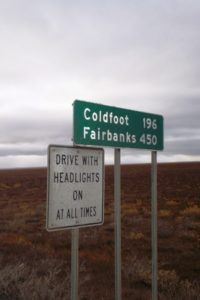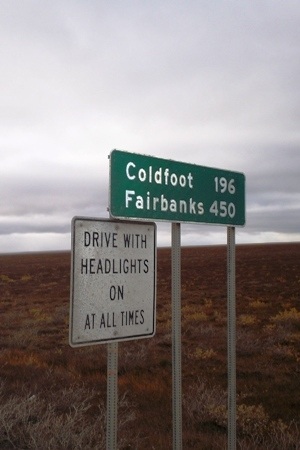 As with any travel adventure we undertake the weather can always be an influencing factor. Here a change in the weather system would not mean a delayed flight, or a missed connection – it might mean a week snowed in waiting for the roads to clear! Trust me I was already in need of a shower and some vegetables and another week in a tent was not high on my priority list! With that in mind, we beat a hasty retreat at the end of the trip, traveling through the night to avoid construction delays and to get in front of a growing and gathering weather system.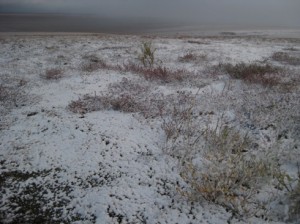 If you are a Roadie, a Driver, or any other kind of Motorhead, you need to put the Dalton Highway on your bucket list. It's nowhere near as sexy as the autobahn nor does it have the mystic of the Pacific Coastal Highway, but it does have its own beauty, wonder and challenge that should not be missed.
My first adventure as a traveling sportsman was a great use of points and miles as it let me get the full experience I was after without breaking the bank. When a cousin calls and asks if you want to go on a dream hunt next year, you immediately say "yes" and then spend the next 14 months figuring out hows you're gonna pay for this thing. Even with points and miles the state of Alaska still doesn't issue coupons on non-resident hunting licenses and caribou tags, so for the budget minded traveler like myself I needed all the help I could get to make this trip a reality.
Now I can spend money like a drunken sailor on a three day shore leave, but Becky runs the books and gave me some pretty tight restrictions on this trip so it was a challenge, but I did it. It's a good thing she does this; otherwise I'd be living is a storage shed with everything Cabela's makes but eating cereal every night for dinner and thinking a 401K was a type of lawn mower or something…so lots of money and points later, I put a great deal of personal pressure on my shoulders going into this hunt (more than just 60lbs of it in my pack). It's not often I take a vacation with such a finite objective.
Fortunately we were able to stalk up on some caribou about six miles off the Dalton – well within the legal shooting zone- but not so far as to make the hiking out impossible. Transporting meat and gear becomes a big factor when it all needs to be carried on your back. Each caribou added two round trips to take the meat out, plus we still had our tent and base camp to pack out. That comes out to 30 of the 46 miles I ended up walking on this trip.
Here is where Alaska Airlines comes in and provides some of the best customer service I have ever seen. Alaska operates out of Deadhorse, AK, about 30 miles North on the Haul Road from where we hiked in to make camp. This allowed us to take our meat to the airport midweek and fly it back home. We showed up looking every bit as rough and tumble as you're picturing and we were greeted with a congratulations and a smile by an agent who knew our arrival meant filled hunting tags and personal satisfaction, and they were happy to help us.
Now if I walked into the Richmond International Airport covered in camo, mud, blood, sweat, and a face full of scruff, I'm not sure anyone would smile at me, but I'm sure they'd all be starin'. Furthermore I think the poor Delta agent would be on the phone with security and I'm pretty convinced I'd be taken to a back room for extended questioning…
The airline's cargo service had meat bags and boxes ready to be packed up with meat and game as soon as we arrived; they even take MasterCard to cover the cost! Alaska charged us $0.50 per pound to send to Anchorage, making this not only an incredibly convenient option but also an affordable one. Alaska Airlines knows its customer base includes a number of sportsmans for game and fish since this is big business for the state, and they accommodate the needs of this market to the best of their abilities.
As the week wrapped up, a tired and happy bunch of hunters started the long drive back to civilization and our families. But first that meant back in the truck and back down the Dalton, all five of us, next to each other for many hours after a week without running water….we smelled. We smelled so badly the best I can do is steal a line from Anchorman: "…it smells like, like a used diaper…filled with….Indian food." I kid you not when I say we "accidentally" spilled gasoline on ourselves topping off the truck and it smelled better.
The snow covered tundra made for a picturesque departure and we arrived back in Anchorage in one piece. Tired yet happy. I was able to avoid the hotel cost by staying with family before the flight home and gored myself with caribou and salmon after a week of snickers bars and Mountain House meals.
First class coming home was a welcomes site on a 2:40am flight out of the Ted Stevens International Airport. I arrived in SeaTac just in time for a breakfast of Salmon Chowder at Ivar's before heading off to Atlanta. The flight to Atlanta was great due to a last minute equipment change that gave an internationally-configured first class seat! Not quite the world's greatest bed but it still allowed for some quality sleep and dreams of returning once again to the great state of Alaska.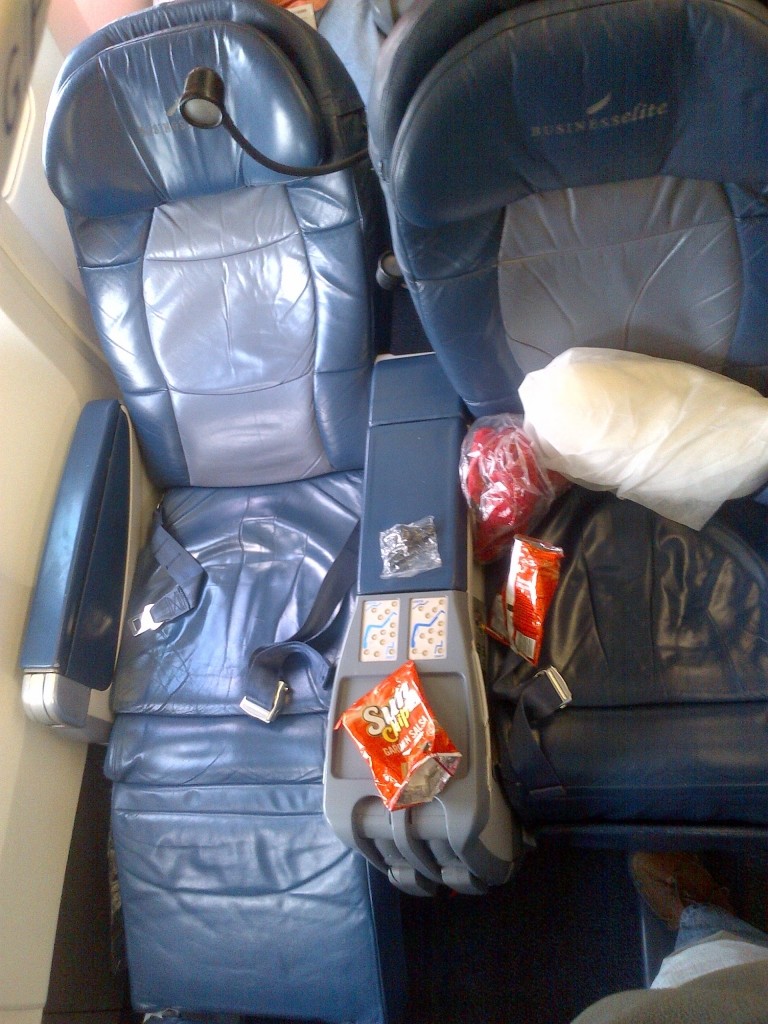 For starters, I am the polar opposite of my wife. Before I met her, travel to me had two components: when and where, and cost was not much of a consideration. My former ignorant self thought ,"it costs what it costs and I can't do anything about it." I have since seen the error of my ways and her insight into the inner working of points, miles, discounts, and deals has allowed me to travel with her to more places, more often than I ever thought possible on our incomes. To be fair, I am still a complete travel noob and get a deer in the headlights look when she starts telling me about "open jaw" flights or when she chastises me for trying to buy something with the "wrong" credit card…
Speaking of deer, did I mention I have an obsession with hunting as complex as my wife's obsession with travel? These two worlds were destined never to meet until my cousin moved to Alaska and my thoughts became fixated on hunting one of it most regal indigenous life forms, Rangifer tarandus or barren ground caribou. Suddenly I needed my wife not only to help balance the checkbook and keep me from eating nothing but cereal but also to set me up on the hunting trip of a lifetime with my family.
The game plan: Fly to Anchorage, buy food, drive 18+ hours north to Deadhorse up the Dalton highway, hike six miles in, shoot caribou, pack out caribou, drive back to Anchorage, fly home. (Ready…break! *hand clap*) All the details a group of guys needs to pull off a dream hunt. That is, if you don't consider cost in this equation or that it takes 2-3 trips of six-miles one-way carrying 80 pounds each time to pack out a caribou!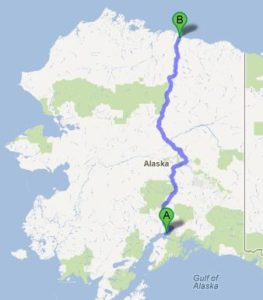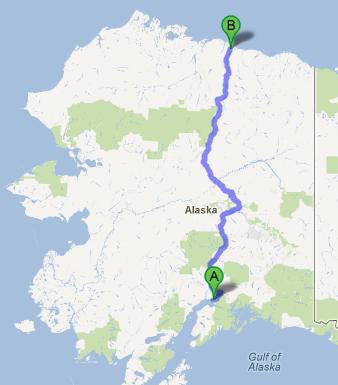 This trip required planning and all said and done has taken about a year to save for and put together for a hunt which will take place in September. For starters, the tag alone I need is around $400 and that's just for the right to legally pursue game; I'm not even in the state yet! The airlines posed yet another problem as unlike our normal travel routine of a carry-on only, I would need to check baggage and a firearm, quickly adding to my travel expenses. This gets complicated as no gun = no caribou and no checked bag = no warm clothes = arctic death. So it was pretty important that my flight would not only be affordable, get in and out on that dates I needed, but also have enough time between flights to ensure my checked baggage could reasonably hit the ground at the same time I do.
About six months ago as I was getting ready to secure my flights, Delta had a deal with Fidelity that if if deposited X dollars more than I make in a year then you get 50,000 Delta miles or something like that. Fast forward two weeks to a Saturday morning when I pulled up our bank statements online and realize 80% of our cash is gone, cue heart attack. When the numbness on my left side finally died down I reached for the phone to call Becky and then cancel all our bank accounts with my name on it since we were obviously the victims of credit card theft. Much to my shock Becky was fully aware of our account status and said she was using the money to get Delta miles…again as the details spilled out I started breathing again…this was OK? Well it turned out to be true with no need to squash her passion and by the end of the month our bank accounts were back to their far from large levels and Becky captured a boatload of Delta miles, enough to get me first class to Alaska for my trip, a $1000+ value not to be overlooked! The advantage here is two-fold, not only premium seating but free checked bags. This was huge as it covered the last big financial barrier for making this trip a reality. Without the free airfare I would have struggled to make the trip happen this year, and would have needed to postpone.
Even though I do not understand what drives her to find these deals, points, and opportunities, I can say that her passion and commitment has paid off for both of us and I am especially thankful for this trip her travel bug is allowing me to take. The game of travel deals does not always work out so nicely, and we have had our share of plans not pan out, but when they do the cost savings can be real. I was the doubting Thomas who needed to experience firsthand to believe, so I hope that this encourages some of you to put a goal from your bucket list on the calendar and try to make it happen. I am sure glad that I did.
As for the hunt, well, New Guy on the Ground will be sure to post all the ups and down of his tundra travels when he returns in the fall. If nothing else I will be making memories with family for sure.
Post Courtesy of Becky's husband, Mike
Some of the links included in this post may offer a small commission to me and your financial support of this blog is greatly appreciated. I did not write this post because of these credits and all opinions remain my own. For more information, please read my disclosures page.