This post may contain affiliate links. As an Amazon Associate I earn from qualifying purchases.
* * *
If there was one place in South Dakota that disappointed me, it was Spearfish Canyon.
I think it was a case of unrealistic expectations. Everyone raves about hiking in Spearfish Canyon — the "prettiest place in the state" — so I expected an environment so unbelievably beautiful that nowhere else compared. However, the rest of the Black Hills, between Mystic and Dumont and as far south as Custer State Park, had set a high bar.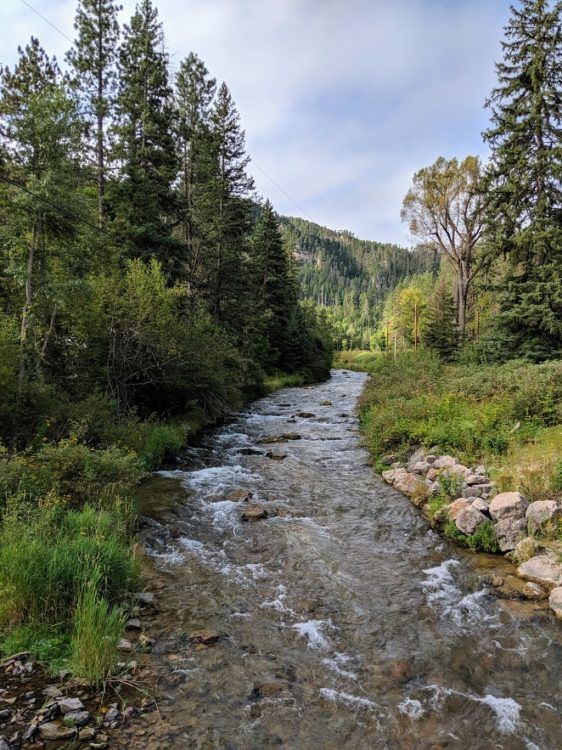 We came to spend a day in Spearfish Canyon, hiking some of the area's trails. There are waterfalls and views from the bottom looking up, plus views from the top looking down. And most of the hikes are relatively short, meaning you can pack a lot of variety into a visit.
After doing several of them I came to one conclusion: yes, Spearfish Canyon is pretty, but it's not la crème de la crème.
I'm half here to tell you about it so you can plan your own trip and half here to ask if I'm just missing something. Am I jaded by all the amazing gorges where I live in New York state? Did I overlook what makes this so incredible?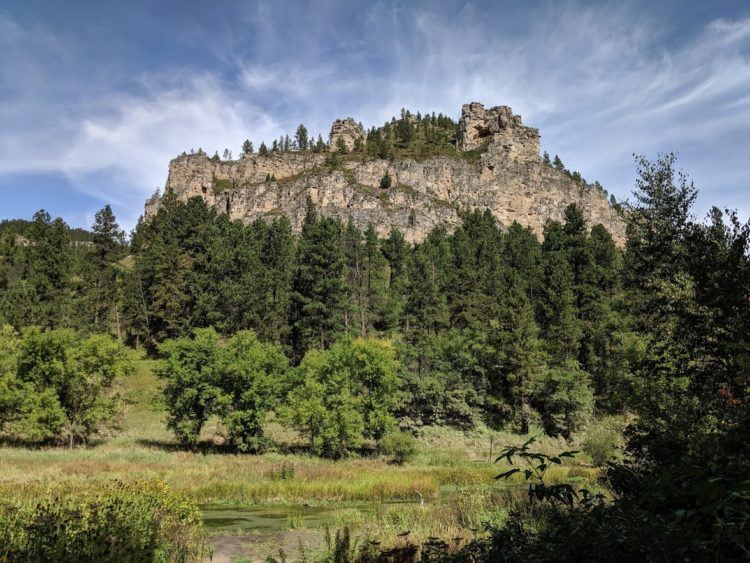 Spearfish Canyon Scenic Byway
The canyon itself is easily accessible — Highway 14A winds right through the canyon, passing a mountain stream (Spearfish Creek) and limestone canyon walls, sometimes 1000 feet high. It's about 19 miles from Spearfish on the northern end to Cheyenne Crossing on the southern end.
You'll want to make a few photo stops along the way, with 60-foot Bridalveil Falls being the most iconic view.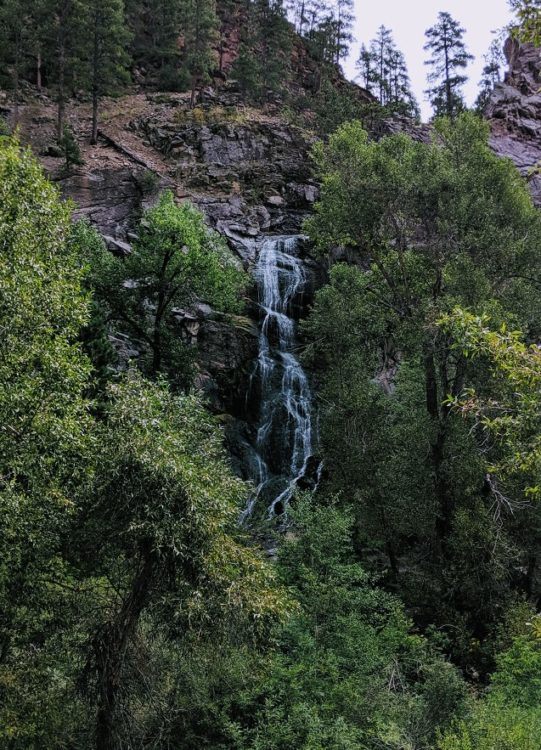 Like everywhere in the Black Hills National Forest, keep an eye out for wildlife.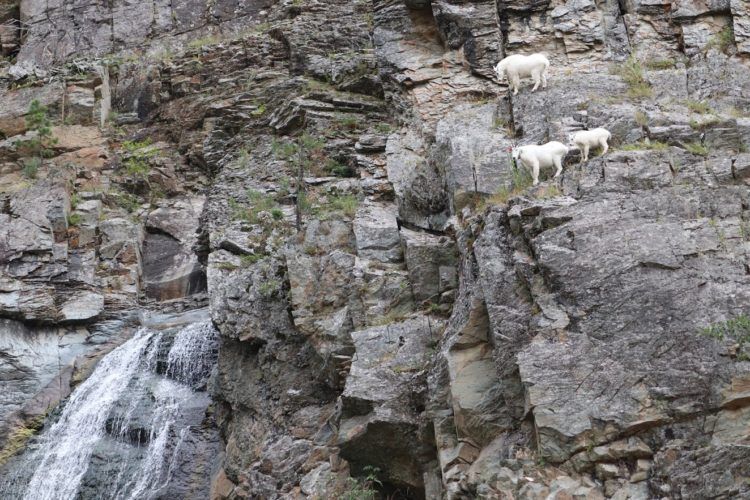 If you're going to the northern black hills anyway, the drive is a worthy detour. I don't want to give the impression that you should skip Spearfish Canyon entirely…just maybe that you should keep your expectations in check when it comes to hiking in the area.
Spearfish Canyon Hiking
Most of the land around the scenic byway is public land, meaning there's lots of opportunities to park the car and explore.
You won't find good trail maps online, so if you're heading out, this is one of those times you need a good paper map (you want National Geographic #751).
Some of the hikes are ridiculously easy — the path to Roughlock Falls is mostly flat and hypothetically handicap-accessible — but others are s t e e p. Those 1000 foot canyon walls? Climbing to the top requires effort.
Spearfish Canyon Trails
As you'll notice on any Black Hills hiking map, there are tons of trails criss-crossing the area, but some of the most popular are listed here (from north to south as you find them along the byway):
Community Caves
Devil's Bathtub
Eleventh Hour Gulch
Roughlock Falls
76 trail
Spearfish Falls
Fit hikers could do them all in a day; in fact, that was my plan. Leave my husband happily fly-fishing for trout while I worked up a bit of a sweat.
Community Caves
Park at: a small pull-off somewhere around milemarker 13 (just after a curve if you're heading southbound)
Distance: 1 mile round-trip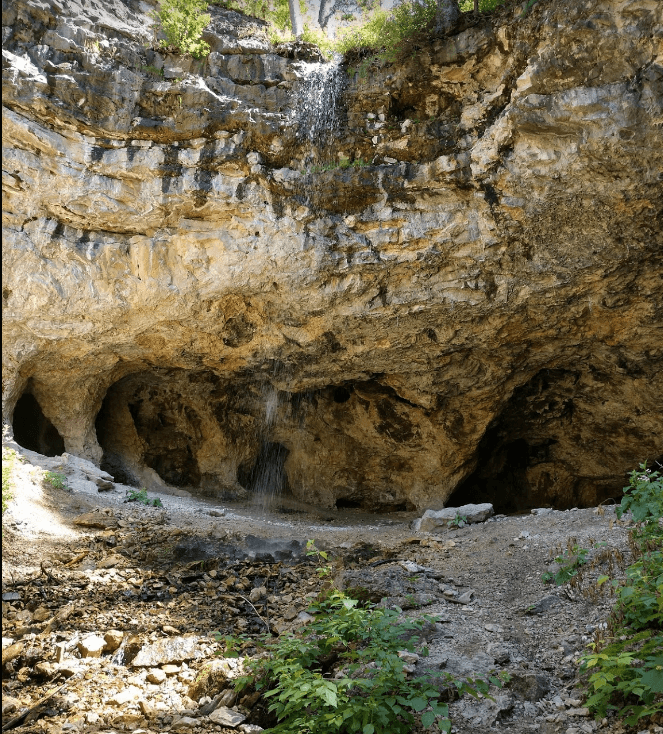 I thought this was as good a place as any to start hiking for the day — the trail is just about a half-mile each way, starting across the street from a small parking area. You'll head uphill, over some loose rocks, with a creek crossing and a little bushwhacking. You'll want to be steady on your feet while clamoring over uneven terrain.
The caves themselves are less like caves and more like rocky overhangs. The waterfall was barely trickling on my September visit, but would likely be impressive in spring.
This wasn't a great hike by my standards, but I did appreciate the solitude along the way.
Devil's Bathtub
Park at: a designated parking area near the hydroelectric plant (then walk northbound out of the parking lot toward Cleopatra Place)
Distance: 1.5 miles round-trip
Of all the Spearfish Canyon hikes I did, this was the one I was looking forward to the most. It's described as a trail leading to an area of the creek where a natural rock slide leads into a small pool (the "bathtub"). However, a large boulder now blocks the slide's path, so although you can splash around, you can't slip and slide.
The hike here is not marked and there are numerous well-worn offshoots for the entirety of the trail (about 3/4 of a mile, each way). At first I was worried about taking the wrong spur trail and losing my way, but all roads lead to Rome. As long as you follow the creek, you'll find your way to the pool.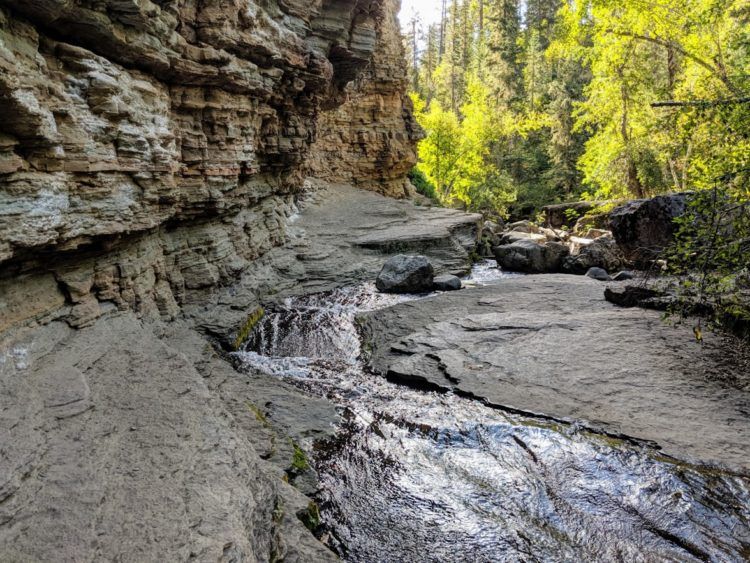 There were 8 or 10 times I crossed the creek, somewhat dependent on exactly which spurs you take, so either be prepared with sandals like I was or wear Smartwool socks to keep your feet cozy if they get wet.
Eleventh Hour Gulch
Park at: a small pull-off about 1 mile south of Devil's Bathtub; you can type "11 Hour Gulch" on Google Maps and it'll get you close.
Distance: 1.5 miles round-trip
So named because it supposedly only gets one hour of sunlight a day, this is the trail you'll want on a hot summer day because you'll stay nice and shaded.
This hike is hard to find: it's not marked or labeled so you're just looking for a clearing in the foliage on the side of the road. In fact, it was so hard to find that I missed it (I did find it on my drive back out of the canyon, but at that point I was done hiking for the day).
You'll want to look for a clearing in the foliage, leading to an unassuming trail near mile marker 20. The trail is on the opposite side of the road from the creek/parking.
Since this was the hike I missed, I can't give you too many details, but the reason it made my list is because there are some homemade ladders you can climb from the gulch to views over the byway. If that's your cup of tea, drive slowly and look for the entrance!
Roughlock Falls
Park at: a large parking area just beyond the Spearfish Canyon Lodge (don't park at the hotel itself)
Distance: 2 miles round-trip
Roughlock Falls are beautiful, no doubt, which makes this route a popular one. At the end, you'll see the multi-tiered waterfalls, with boardwalks leading up and around them for multiple viewing points.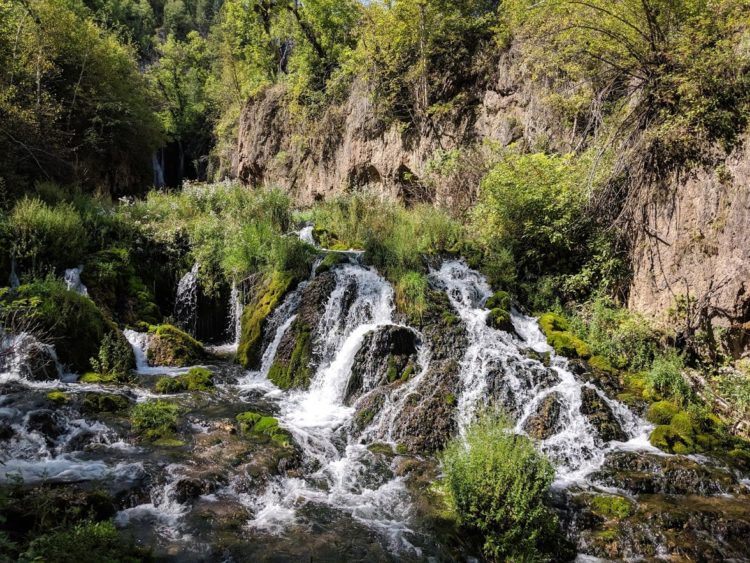 Calling this a "hike" is a bit of a stretch: these are designated walking paths like you'd find in a municipal park. Between its beauty and accessibility, the path gets crowded in a few spots, but it's worth doing anyway.
If I had planned better, I would've done this first thing in the morning, before most day-trippers arrive. It's easy enough to make a great trail run if you don't have to veer around human obstacles.
76 Trail
Park at: the Roughlock Falls parking lot, just 2-3 minutes away by foot
Distance: 2.4 miles round-trip
Looking for a short but steep hike? This is the one for you! This trail goes up — almost straight up — the entire time, leading you to the top of the canyon so you can look out below.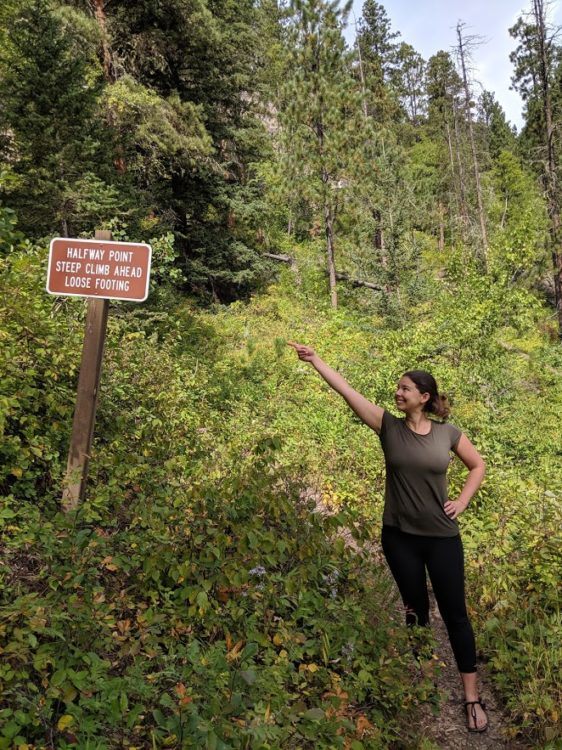 After doing several Spearfish Canyon hikes that take in the sights from the bottom, I was looking forward to a different vantage point. Unfortunately, there were quite a few trees at the top that obscured the view and I ended up a bit underwhelmed.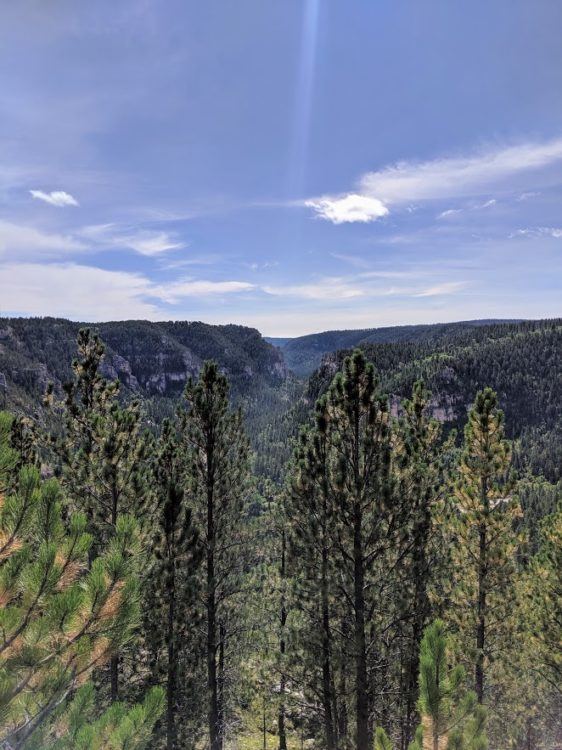 Since there aren't many switchbacks, you'll want to take it slow and steady on the way back down so you don't slide and fall. Prepare for sore calves afterward.
Spearfish Falls Trail
Park at: Latchstring Restaurant (or just stay parked at Roughlock Falls and walk over — it's quick)
Distance: 1.5 miles (round-trip)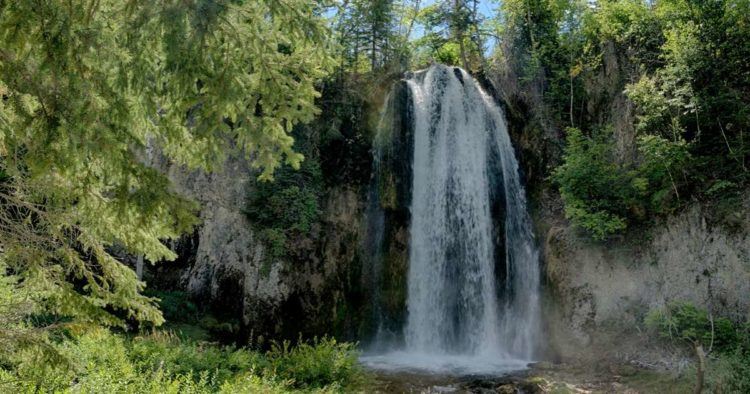 Last but certainly not least is the trail to Spearfish Falls. You can get a view of the falls at an observation deck right outside the restaurant, but the better view is taking the trail to the bottom of the falls.
The gravel trail heads downhill at first (hint: that means uphill on the way back), but the majority of the trail is pretty level. There were some aspens along the trail, so I'd guess this is a beautiful spot for fall foliage if you visit in October.
These waterfalls don't get nearly the traffic that Roughlock does, so if you're looking for an easy hike with fewer crowds, this is a better bet (although I think Roughlock is prettier).
The Best Spearfish Canyon Hikes for Anyone Short on Time
As much as I hate to say it, there are better uses of your time in the Black Hills than spending an entire day hiking in Spearfish Canyon.
By all means, visit for a day trip and drive the scenic byway. I'd encourage a visit to Roughlock Falls if you can come early or late enough in the day to avoid the crowds. If you want a second, easy hike, make it Spearfish Falls. If you're up for something more challenging, see if you can find the 11th Hour Gulch and climb the ladders to overlook the canyon. Tell me how it is.
Spearfish Canyon Lodge and Other Places to Stay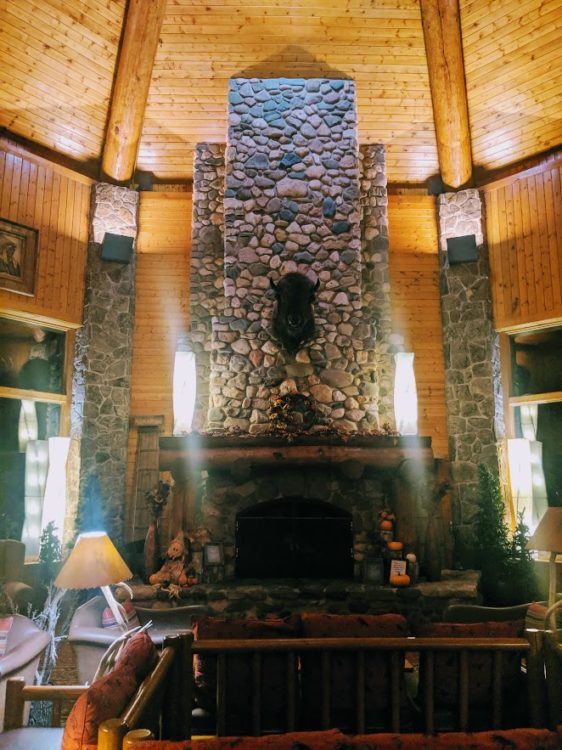 We spent a night at Spearfish Canyon Lodge, which is the only hotel within the canyon itself. It's not high-end, but it's nicer than I expected with comfortable rooms, affordable rates, and a hot tub to soak your muscles after a hike. If you only want one night in the northern Black Hills, it's as good of a place as any.
If you're spending several days in this part of South Dakota, the lodge is too remote in my opinion. If I were to do it again, I'd stay in town itself instead.
The town of Spearfish, SD gives you a central location for heading south to the canyon, east to Deadwood, or west to Devil's Tower. In general, the restaurants in Spearfish have better ratings than Deadwood and there are a couple of breweries, if you're into that after a day outside.
In Spearfish, you'll find several brands of chain hotels (the Hampton Inn and Best Western are rated the highest). If you prefer to support an independent property, try the historic Secret Garden B&B.
* * *
This post includes affiliate links; if my recommendations helped you plan your visit, I appreciate your support.
Read More About the South Dakota Black Hills