This post may contain affiliate links. As an Amazon Associate I earn from qualifying purchases.
* * *
For the most part, I'm not what you'd call an early adopter. I never have the latest or greatest phone and my clothes are all last season's styles. I'm three years behind on movies and five years behind on Pinterest food trends.
But Scott's Addition in Richmond, VA — I was going there before it was cool. And as of 2022, it is definitely a neighborhood that should be on your radar to visit. This former industrial district is now home to craft breweries, unique recreational spots, local restaurants, and other buzz-worthy spots. Plus, it's all walkable which means it's easy to stay all day.
Scott's Addition is still growing (seriously, there is SO much construction happening!) but there's already plenty to keep you occupied. Here's what to look for, including a few sightDOING picks that are my favorites in the city.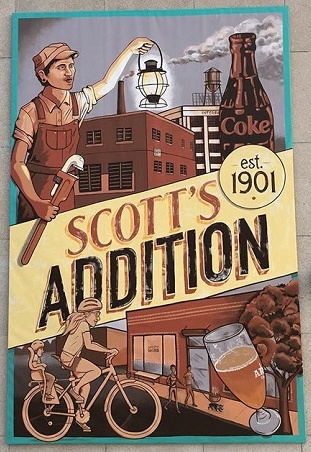 Where is Scott's Addition?
Scott's Addition sits within city of Richmond limits, roughly bounded by Arthur Ashe Blvd, Broad Street (Rt 250), Powhite Parkway (195), and a set of railroad tracks on the north.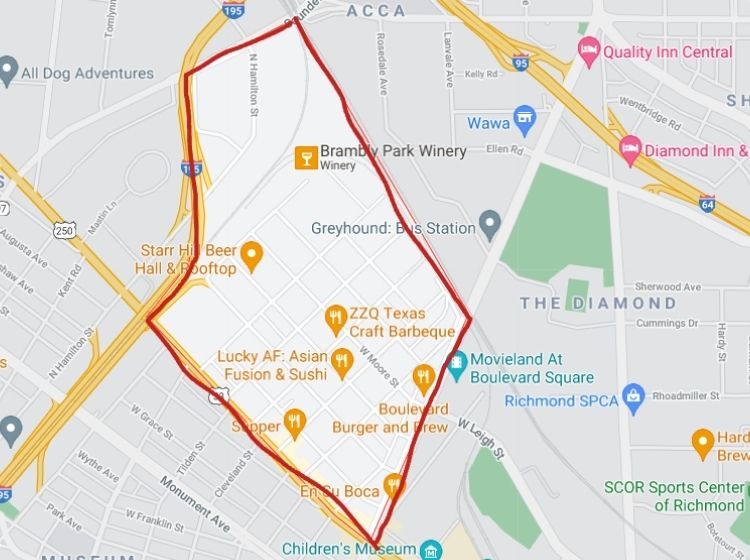 The neighborhood is within walking distance to other parts of town that travelers may be interested in (like the Museum District and Monument Ave). It's reasonably close — within a 10-minute drive — of the Fan, Carytown, Jackson Ward and the Arts District, and Shockoe Bottom. To get to some of these other neighborhoods, you could also pick up a bikeshare right in Scott's Addition and drop it off to a different location.
Honestly, you can get pretty much anywhere in Richmond or the surrounding counties within a 30-minute drive so Scott's Addition is easy enough to include no matter where you're coming from.
Scott's Addition Breweries, Cideries, Distilleries, and More
The neighborhood renaissance really started when craft breweries moved into the neighborhood to take advantage of reasonable rents. This started the gentrification about ten years ago and it really started to take off around 2016.
Today, most of the neighborhood is bustling and it's still a major centerpiece in Richmond's booze scene. You'll find microbreweries, cideries, distilleries and even a winery. Since everything is in walking distance, it's an awesome spot to do your own beer crawl — just Uber in, walk from point to point, and head back to your hotel when you're ready. There are so many spots, you'll never be able to do them all in one day (seriously, you'd hurt your liver), so here's where I'd recommend prioritizing:
For Beer: Ardent, Vasen, The Veil
You're spoiled for choice when it comes to Richmond breweries, but I have a few favorites.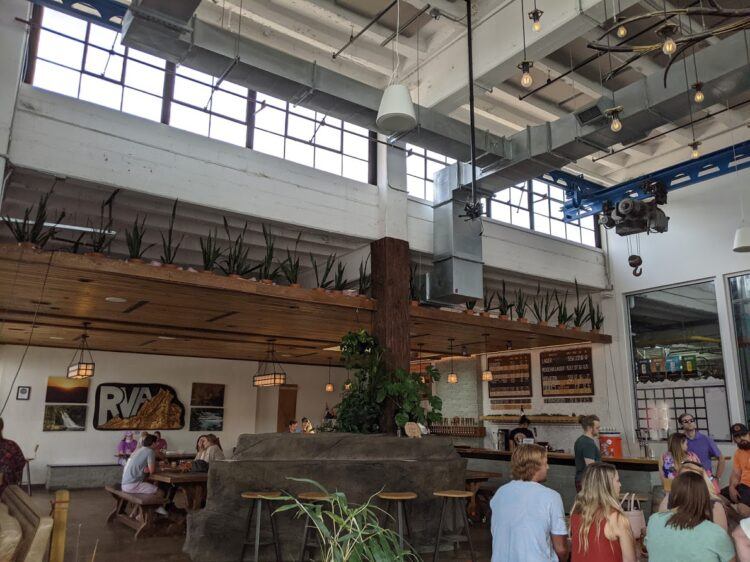 Vasen Brewing Company: Vasen tends to feature several styles of beer at any given time, making it a great choice if you have a group where everyone has a different opinion. They also have a large indoor taproom which is great year-round and they hold lots of events that appeal to active people (run clubs, bike clubs, climbing clubs) which is another reason I frequented. Bonus: they have a huge focus on sustainability so you can feel good about what you're drinking.
Ardent Craft Ales: Ardent is one of the original breweries in the neighborhood and I love their laidback (and dog-friendly) beer garden. I've also always had excellent service. Oh yeah, the beer's good too: you have to try their signature Honey Ginger Ale (watch the ABV!) and I love their darker beers that come out seasonally.
The Veil Brewing Company: The Veil has a handful of locations now, though Scott's Addition is the original (and the best). Their beers all lean toward the hoppier side of things. IPA lovers will automatically love it but I consistently like their beers even though that's not usually my style — this is quality beer that's worth a try.
You'll find other breweries including Isley, Three Notch'd, Bingo, Strangeways, and Starr Hill, but I'd consider those second priorities.
For Cider: Buskey
Scott's Addition now has two cideries, Buskey Cider and Blue Bee Cider. Of the two, I prefer Buskey. Their dry cider is fantastic and they always have some interesting limited releases with other fruit flavors.
For Wine: Brambly Park
Okay, don't go to Brambly Park for the wine (it's drinkable but forgettable) — come here for the park-like setting. There's tons of green space to lay out "picnic style", picnic tables, Adirondack chairs, and outdoor games like bocce and cornhole.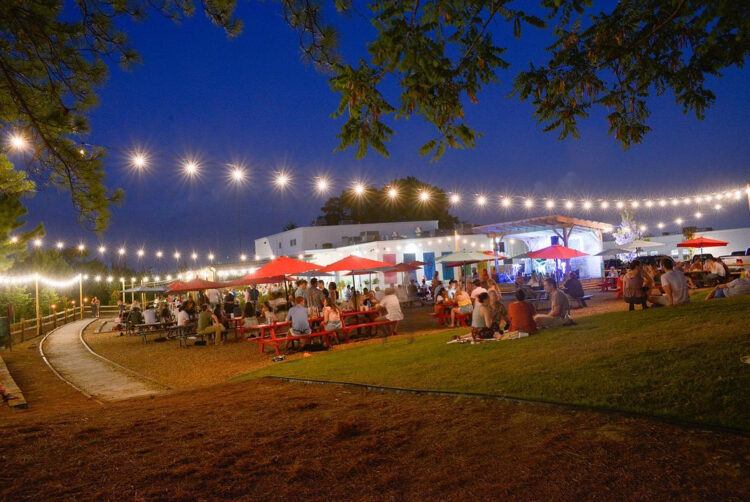 After dark, when the fairy lights come on, it's stunning. This is still new and popular so reservations are recommended.
Even More Alcohol
I'm not a whiskey expert (far from it, in fact) but my Richmond friends rave about Reservoir Distillery, which makes whiskeys, bourbons, and ryes. They do straight tastings as well as a cocktail menu. I haven't tried either so can't comment on it other than to say everyone else seems to like it and it's a pretty unusual option to have outside of Kentucky!
On a separate note, Scott's Addition is also home to Black Heath Meadery. If you like sweeter drinks, you can do a proper tasting here.
Coffee Shops in Scott's Addition
It doesn't always have to be about alcohol: Scott's Addition has a strong coffee game as well now.
Recluse Roasting Project: Recluse is first and foremost a roastery so that you can buy bags of freshly-roasted beans to brew at home. However, on weekends they also do a walk-up coffee bar. It's a super limited menu but the quality is outstanding. There's nowhere to sit here, so grab your latte to go and drink it while you're searching for street art or waiting for a brunch table at one of the area restaurants.
T.caf Salon de Thé: I actually drink more tea than coffee and T.caf is a super cute spot to enjoy a pot of tea. Sadly, they opened after I moved away but I enjoyed visiting when I came back in 2021. If I still lived in town, I'd definitely want to work my way through the entire tea list!
Where to Eat in Scott's Addition
ZZQ Texas Craft Barbecue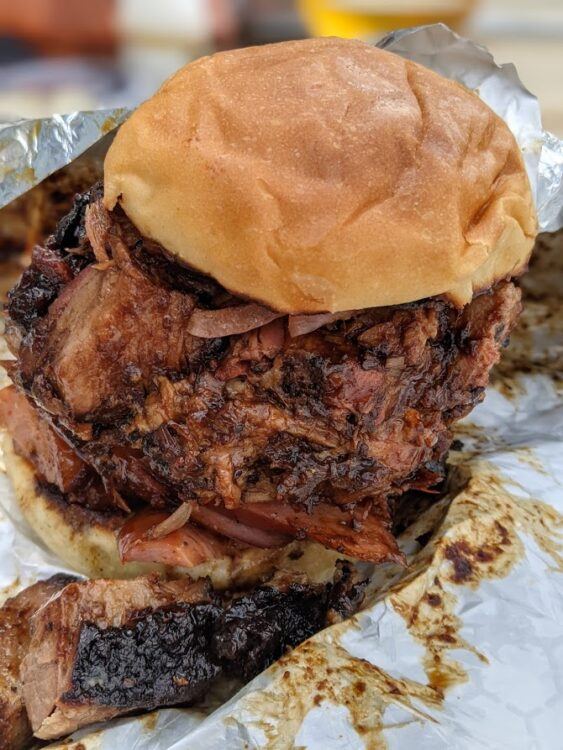 What do you want to eat after a few beers? A greasy, meaty sandwich and ZZQ delivers. I particularly like the brisket, turkey, and ribs…just get a bunch of napkins ready. Their sandwiches are huge and saucy!
Stella's Grocery
Stella's is one of my favorite restaurants in Richmond (make a reservation! now!) and they have a "grocery" outpost in Scott's Addition. The small market sells things like olive oil and specialty chocolates, but it also has a small cafe. They make great salads and sandwiches but I usually go for the lamb souvlaki pita. It's the same lamb they serve in their restaurant topped with a generous amount of tangy tzatziki and veggies.
Perch
If you want a meal a step up from casual, Perch is an awesome find that's still walking distance to everywhere else in Scott's Addition. The menu is heavy on seafood and heavy on Asian influence. I'd personally suggest ordering two small plates versus one large entree but that's usually because I have trouble making up my mind.
Gelati Celesti
For a sweet finish to your visit, Gelati Celesti serves up awesome homemade ice cream in Richmond. There are no gimmicky desserts here, just good gelato made in small batches.
Other Restaurants in Scott's Addition
My husband would kill me if I published this guide without mentioning Lunch or Supper, a standby in Scott's Addition he's always loved. In my opinion, their menu is a little basic but it's always executed perfectly. Go for brunch (when you expect classics like biscuits and gravy anyway) and sit outside if you can. It's lovely on their patio.
Peter Chang's — one of the best restaurants in Richmond — has a location in Scott's Addition, although in my experience the Short Pump location is better (more consistent). Still, if you're looking for a spicy, salty, finger-licking meal, the dry-fried eggplant is good no matter where you get it.
More Things to Do in Scott's Addition
Yes, Scott's Addition leans heavily toward eating and drinking but you can add some fun and games to your visit, too.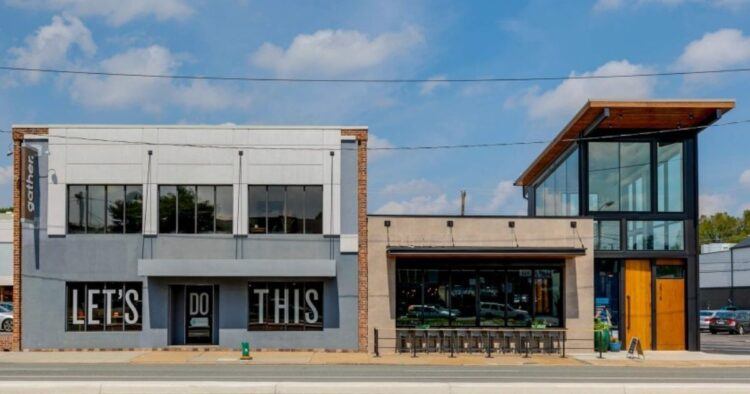 Tang and Biscuit
Tang & Biscuit is the world's largest indoor shuffleboard club, a cool claim to fame for the city of Richmond. Hours are limited (some nights are reserved for leagues) but it's a unique activity and they have live music some nights, too.
Slingshot Social Game Club
Slingshot offers a variety of games — I lean toward skeeball but there's also duckpin bowling, bocce, and a few others. Everything is priced per game rather than a cover charge, so you can pop in for a round or two even if time's limited.
The Circuit Arcade Bar
For all sorts of arcade games, head to The Circuit. You'll find classic favorites like Pac-Man and pinball, plus more contemporary games of all types. It's family-friendly during the daytime and switches over to 21+ in the evening, so plan your visit accordingly.
PARK365
Despite all the alcohol in Scott's Addition, it's actually a pretty family-friendly neighborhood. Almost every venue allows children but that doesn't mean you won't end up with a rambunctious kid. Give them an outlet to run around and burn some energy at PARK365. It's the kind of park and playground of everyone's dreams!
The park is way on the outskirts of Scott's Addition, so you'll want to drive over instead of relying on little legs to make it there and back.
River City Roll
Okay, technically this upscale bowling alley is on the wrong side of the Boulevard to qualify as Scott's Addition, but I'm counting River City Roll anyway. Take your game up a notch by trying "hyperbowling" instead of traditional. It's a high-scoring game with neon targets that you have to hit in the lane before knocking down pins and since it's new to everyone, it's a friendly competition.
TopGolf
I haven't been (and can't claim to be a golfer), but there's a Topgolf location just barely outside Scott's Addition. I've been told it's a lot of fun…it's jut not an activity that appeals to me.
Where to Stay in Scott's Addition Richmond
There aren't many hotels in Scott's Addition, though there is a Courtyard by Marriott that can't be beat for convenience. You'll also find a handful of Airbnbs, though with cleaning fees and such they may not make sense for a short stay.
Most downtown hotels are within a 10-minute drive/Uber from Scott's Addition which makes them a realistic alternative. If you choose one close to Broad Street, you can also take the bus.
Where to Go After Scott's Addition
As you can see, Scott's Addition is my favorite neighborhood in Richmond (Church Hill, in my opinion, is the prettiest). However, there's so much more to see in the city!
A few spots that are nearby:
Virginia Museum of Fine Arts: A huge, FREE art collection with a dazzling Faberge art collection and great special events.
Ownby Lane: Only about a mile and a half away from Scott's Addition is another selection of breweries, including favorites like Hardywood and Main Line.
Maymont Estate: Leave the urban setting for a spectacular green space. Maymont has indoor estate tours, but I love coming for the grounds and gardens, which are beautiful year-round (with donation-based admission).
Richmond is a thriving, happening city and Scott's Addition is one of the best neighborhoods to experience that. If you go, be sure to come back and tell me about your favorite parts!
More About Richmond