This post may contain affiliate links. As an Amazon Associate I earn from qualifying purchases.
* * *
For a tiny island, it's remarkable that Aruba has two world-class beaches. Palm Beach and Eagle Beach both feature powder-soft white sand with warm, clear waters and year-round sunshine. Plus, they're relatively close — you can walk, bus or bike between them, giving you two different experiences without too much hassle. Once, we even walked.
Regardless, I still debated over where to stay. There's something about the simplicity of walking out of your hotel room and onto the beach. I knew where we stayed would be where we spent more time. Though neither Palm Beach or Eagle Beach is a bad option, one might be a better fit for your particular needs.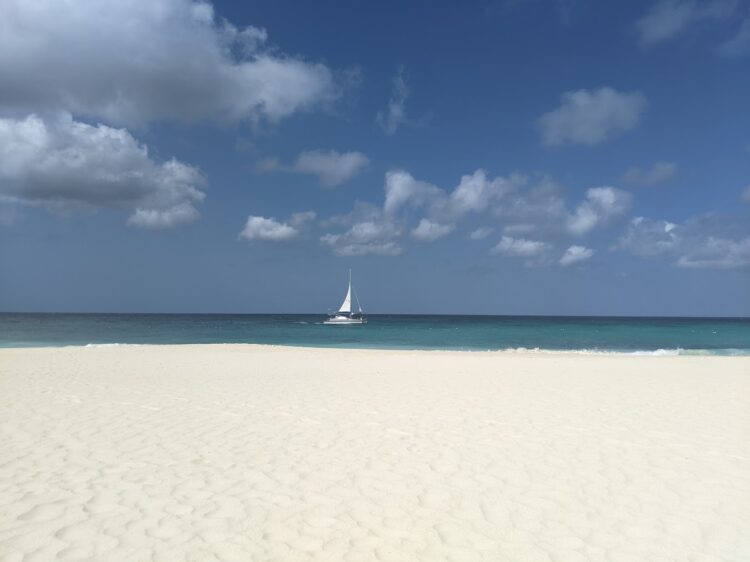 Spoiler alert: we ended up choosing Palm Beach but a quick comparison of Palm Beach vs. Eagle Beach should help you with your own decision.
Quick Guide to Aruba Geogpaphy
Both Palm Beach and Eagle Beach sit northwest of the capital (Orangestad) and the airport. Palm Beach is shown in red; Eagle Beach in green.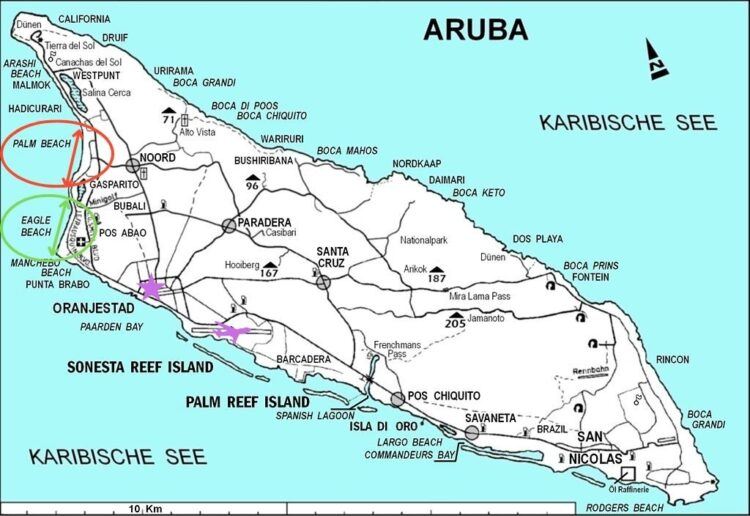 As you can see, Eagle Beach is closer to Oranjestad (shopping center of the island) but neither is far. After all, the island is only about 21 miles from end to end.
For reference, Arashi Beach toward the far north of the island is best known for snorkeling and windsurfing but less so for sunbathing or amenities. Arikok National Park sits on the undeveloped northeast side of the island. Southeast of the airport, you'll find more local and residential areas, though Mango Halto is worth a stop for snorkeling and Baby Beach on the very bottom tip of the island is popular due to its shallow waters. And the famous flamingos? They're not native but now live on a private island that belongs to the Renaissance Resort (and can only be seen by staying at the hotel or buying expensive day access).
Palm Beach Travel Guide
Palm Beach is the most popular and developed beach in Aruba. The water itself is calm and shallow, so many families choose to stay here. It has a lively atmosphere and plenty of water-based activities that leave right from the beach: snorkeling tours, sunset catamarans, tubing, banana boats, parasailing and more. That makes it really easy to roll out of bed and meet your tour (or join activities on a whim without planning in advance).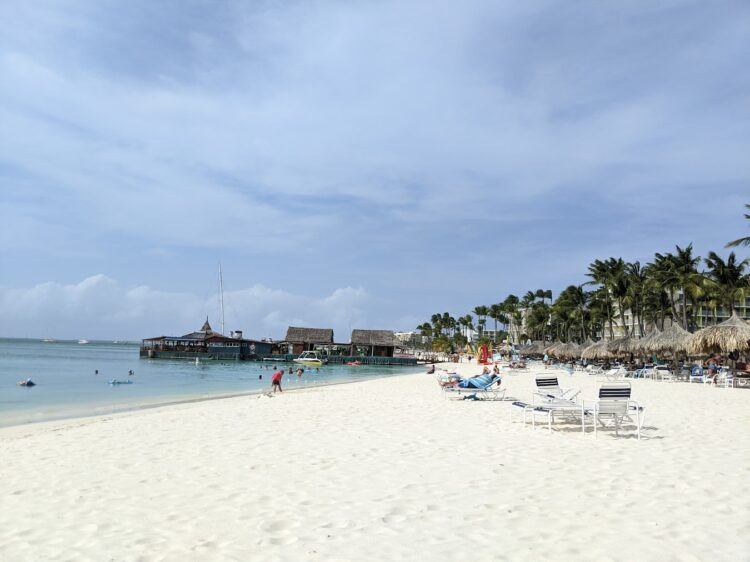 Palm Beach is also where you'll find most of the internationally-branded hotels and bigger resorts with more amenities. Most of them aren't all-inclusive (though a few are), but that's no problem. You can walk to restaurants, bars, and shopping. Nightlife is also centered in Palm Beach. From a convenience standpoint, you can't beat Palm Beach. You won't need a rental car unless you intend to venture off for independent day trips. However, you'll pay for all this convenience. Hotels can be pricey and restaurants often fall into "tourist trap" territory with mediocre meals that don't justify the high price tag.
One more thing to keep in mind: Palm Beach has a relatively generic identity without a lot that is uniquely Aruban (or even Caribbean). You'll find the same brands as what's in American shopping malls and restaurants that serve the same food as at home. Some travelers love this familiarity. Others will be frustrated to fly far from home and feel like they may as well be in Florida.
Pros and Cons of Palm Beach
Why You Should Stay on Palm Beach:
The water is calm and shallow and easy swimming
Beach chairs and umbrellas are easy to rent (many beachfront hotels offer them free to registered guests)
You'll find chain hotels to earn or redeem reward points
Lively atmosphere with group tours, activities, and watersport rentals
Easy walks to restaurants, bars, shopping, and nightclubs
Why You Might Not Like Palm Beach:
Can be expensive
Can be crowded
Traffic can get congested
Not uniquely Aruban
For what it's worth, we stayed in Palm Beach, more because we got a deal on a hotel than for any other reason. It wasn't the right choice for us and we preferred heading to Eagle Beach for long walks at sunset and delicious seafood restaurants.
Where to Stay on Palm Beach Aruba
Best Option: Hyatt Regency Aruba Resort, Spa & Casino
If you're looking for a high-end stay, this Hyatt Regency outdoes most properties with the "Regency" label. It has a stellar location (way better than the Ritz, which is too far north) and I love that they have both an adults-only pool and an all-ages pool with waterslide and swim-up bar so you can choose what you prefer. They also provide beach chairs and even a few palapas you can reserve in advance. Book directly with Hyatt.
For Extra Space: Radisson Blu Aruba
We stayed at the Radisson Blu. In full disclosure, it's not on the beach and sits across the road next to shopping and dining (about a 5-minute walk to the water). Rooms are a little spartan and service is on island time but the suites are huge which was a huge selling point for us. We had a living room area and a kitchen table (take-out only, no cooking facilities). Would be great for families or groups, since there are 2-bedroom options. It's often on sale via Travelzoo, or you can book directly with Radisson.
For All-Inclusive: Barcelo Aruba
Given that the restaurants in Palm Beach aren't anything special (and are quite expensive), an all-inclusive could make a lot of sense. It's not a giant resort like you'll find in other parts of the Caribbean, but it does have a great pool and multiple restaurants and bars to choose from to keep things interesting. The beachfront location is also top-notch. You can book directly with Barcelo although Hotels.com usually has it for the same price and allows you to use coupons and/or earn free rewards.
Eagle Beach Travel Guide
Though it's a close contest, Eagle Beach is often regarded as the best beach on the island. The beach here is much wider which gives it a more expansive feel and allows visitors to spread out more. Like Palm Beach, the sand is incredibly soft and white and great for sunbathing. The water itself is different, though. The slope into the water is steeper and there can be more waves on windy days (and there are a lot of windy days in Aruba). Families with small children could find this a deterrent.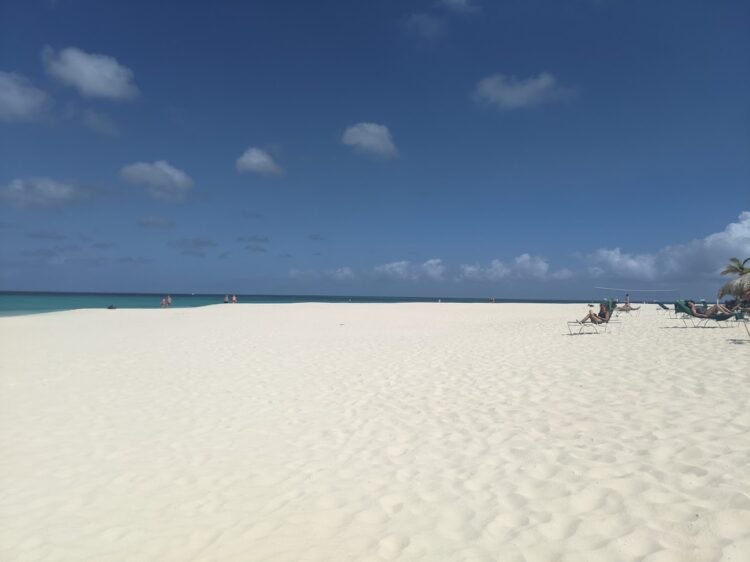 Eagle Beach has fewer high-rise hotels. Chains are uncommon and you'll find more variety in the types of hotels to choose from. There are condos and apartments as well as some value-oriented, basic hotels to save you cash. There are also some high-end boutique properties if you're looking for luxury in a quieter setting than a mega-resort.
Overall, Eagle Beach had a more peaceful vibe. There are fewer watersports and big groups. People are mostly sunbathing or swimming with their partner or family. A few beachfront restaurants pick up at dinner time–it's a great sunset spot–but they tend to be higher-end and often have a romantic atmosphere. There are fewer businesses along the beach and more spread out along the main drag. You can absolutely visit without a car, but since there's less selection, you'll need to be prepared to walk longer distances.
Pros and Cons of Eagle Beach
Why You Should Stay on Eagle Beach:
Wide sandy beach with long expanses great for strolling
Easy to spread out for a less-crowded feel
Quieter with less hustle and bustle
Options for all types of hotel stays
Higher-quality restaurants
Why You Might Not Like Eagle Beach:
Swimming can be rougher and deeper
Unless your hotel provides chairs and umbrellas, you'll have to search harder to find rentals
You may need a car (or taxi) to get around
No international chain hotels to choose from
Where to Stay on Eagle Beach Aruba
For Location: MVC Eagle Beach Aruba
The MVC is a small hotel without a lot of amenities but it makes up for it with a stellar location at a fair price. You'll be steps away from the ocean, making it great for sunsets, beachside strolls and daily swims. It's also an easy walk to my favorite restaurant on the island (Screaming Eagle) and Passions on the Beach (great for sunset cocktails). There's also a bus stop right out front and a Super Foods grocery store a few minutes walk away. Booking.com consistently has good prices and is also my preferred online travel agency.
For Space: Pearl Aruba Condos
You won't be on the beach itself at Pearl Aruba Condos, but you're a quick walk away and there's a pool on-site for when you need a quick dip immediately. Here, you'll have your choice of a 1 or 2-bedroom unit, each with a kitchenette (stovetop but no oven) and living room. It's not fancy, but it's a great option and has everything you need. Booking direct is usually significantly cheaper than going through a travel website.
For Luxury: Bucuti & Tara Beach Resort
This five-star hotel is on Manchebo Beach (a technicality; it blends into Eagle Beach without any separation) and is what honeymoons are made of. We ate dinner here one night and the property looked fabulous. Beware that they have minimum stays–usually 3 nights in low season and 5 nights in high season–and the entry-level rooms sell out far in advance. If money's no object, this is where to stay. Book direct.
Overall: Where to Stay in Aruba
Both Palm Beach and Eagle Beach have a lot to offer travelers. In both spots, you'll find clear waters and a tropical climate. They're gorgeous and have hotels and restaurants in easy walking distance to the water, though the exact options provide two different experiences.
Palm Beach is best for travelers who want to be in the middle of the action. If you're looking for a lively atmosphere with plenty of things to do, this is your place.
Eagle Beach is best for travelers looking for a more relaxing getaway. If you want to feel like you're away from the crowds with more personal space, choose Eagle.
Read More About the Caribbean