This post may contain affiliate links. As an Amazon Associate I earn from qualifying purchases.
* * *
One of the reasons cruising makes a great family vacation is because it's easy and safe for individuals to split up and do their own thing, yet still reunite in the evenings for dinner and conversation. Because of this, my sister had no hesitation in booking a scuba dive for the day in St. Thomas, leaving me with my parents.
My parents idea of a perfect day in port is a quick two-hour tour to get an orientation to a few of the best (or more accurately, most touristy) spots on the island with the next four hours on the beach for swimming, snorkeling, and sunbathing, followed by an hour of souvenir shopping, and ending with an early return to the ship because they "don't want to miss the boat". Well, let's not kid ourselves…lounging on the beach and shopping are not high on my list of pastimes, and with a whole week coming up with my parents, I thought it might be best to take the day solo in a preemptive attempt to avoid pushing someone overboard later in the week.
However, I had a tough time planning my day in St. Thomas ahead of time. Beaches and shopping are definitely the main activities for tourists on the island. I thought about heading to Sapphire Beach in hopes of parasailing and jet-skiing, but that seemed like it would only entertain me for two hours, leaving much of the day to play with. So upon my husband's glowing recommendation of St. John (can you believe he's gone on vacation without me?!), I decided to spend my day there.
St. John requires some logistics in transport, including a taxi from the cruise port to the ferry dock, a ferry that runs just once an hour, and then a taxi from Cruz Bay in St. John to wherever your final destination might be. All in all, this is an hour each way in transport…if you time the ferry exactly perfectly. No biggie, until you realize you have only 9.5 hours in the day to play with before your ship takes off for Barbados. This is way beyond my parent's comfort zone, so imagine my surprise at breakfast when they announce they're coming with me. Okay, I can work with that.
There were no hiccups in our ferry ride, and St. John was pretty quiet at 8:15 a.m. when we arrived. Our taxi driver was kind enough to stop for a few photo opportunities, including our first gorgeous peek of Trunk Bay.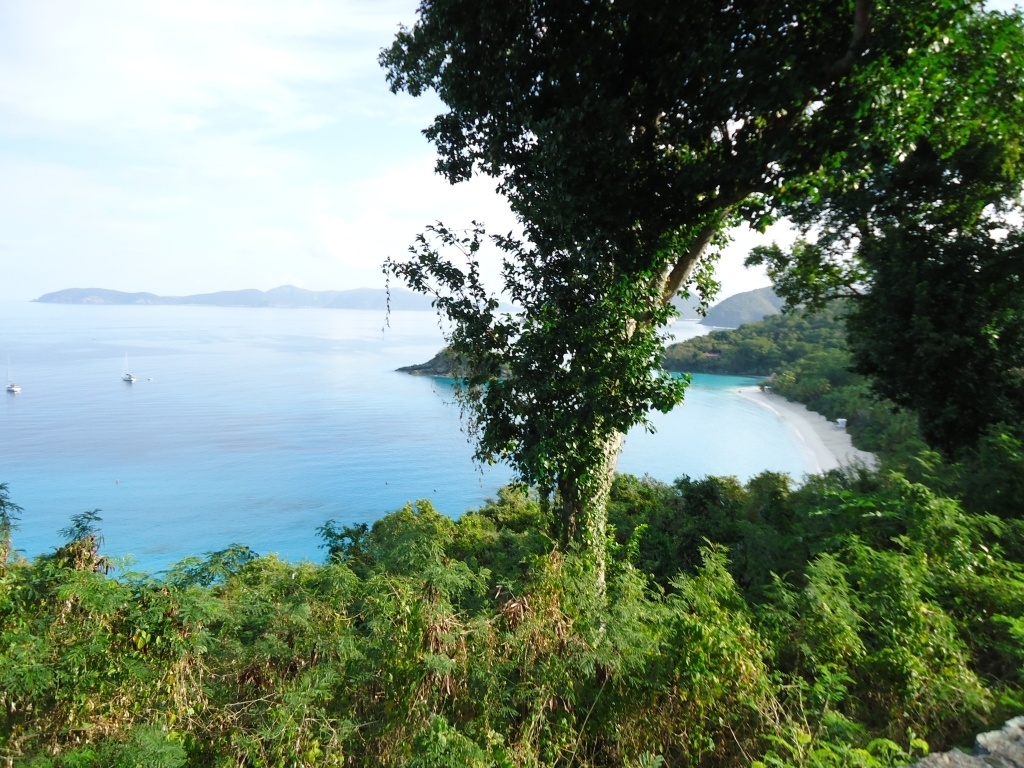 Yes, Trunk Bay is just as beautiful as everyone claims. It was deserted at this early hour of the morning – a good thing, since the beach itself is much smaller than I expected. You can't walk very far and the sandbar itself doesn't have room for many rows of towels, so get there early if you want a good spot.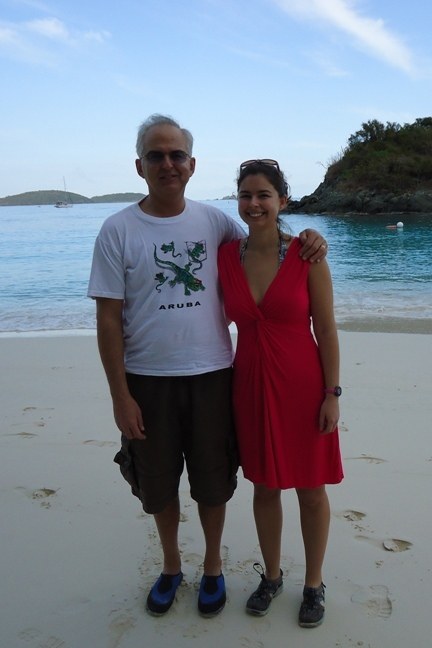 Now, I know what you're thinking. Why would a girl who doesn't like beaches go to a beach? Couldn't I have just stayed on St. Thomas if that was my plan? Well sure…except St. John has a novelty that St. Thomas doesn't: an underwater snorkel trail. Much of the island of St. John is designated as a national park, and that includes some of the water around it. Years ago, someone installed underwater signs pointing out some of the underwater ecosystem, and I wanted to check it out. Honestly, the trail was fun because it was different, but I didn't think the snorkeling was amazing.
Still, Trunk Bay is gorgeous, the water was warm, and the sand was powdery soft, so it's hard to complain about a morning here. I did enjoy some quiet time for swimming, and had a great conversation with a lifeguard about life on St. John…and about how much I need to try stand-up paddling sometime. Maybe on the next cruise?
Unfortunately, all good things must come to an end, so when the cruise ship excursion buses started unloading about 90 minutes later, it was time for me to leave. Just a five minute taxi ride away, Cinnamon Bay is a much wider beach, still with powdery soft sand and turquoise waters. It's just as beautiful, with much fewer people despite the additional space making it a nice stop. There's a bit more snorkeling by the rocks, although again, I wouldn't call it out of this world.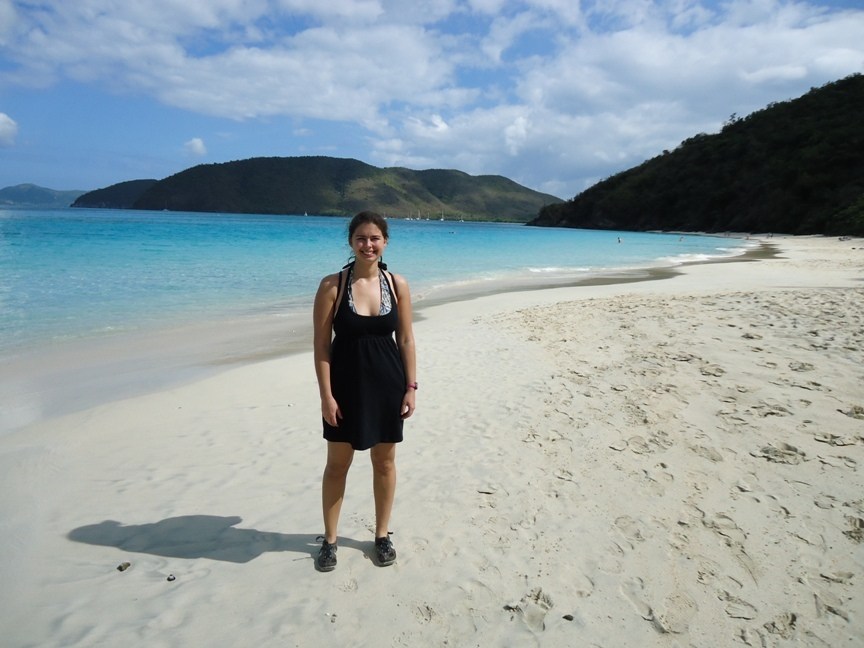 Remember, I can only spend so much of my day at the beach, so after thirty minutes or so at Cinnamon, I was ready to move on. I left my parents cozily sunbathing to explore a little. A quick walk across the street brings you to some old sugar mill ruins. For the most part, you have to use your imagination to imagine the history here, but I had a bit of an advantage by coincidentally coming across two archaeology students who knew a bit more than I did.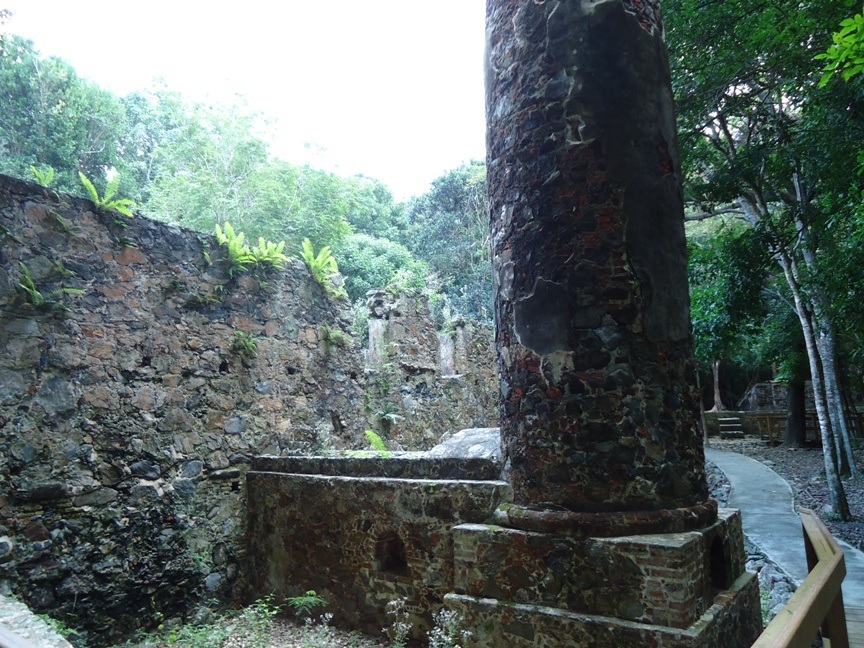 Also within spitting distance of Cinnamon Bay are some hiking (walking) trails. This isn't surprising, given that 60-70% of the island is protected by the National Park service, but it is wonderful just the same. The air is refreshingly cool in the shade, and I'm always up for a walk. I enjoyed the quiet before meeting back up with my parents and taxiing back to Cruz Bay.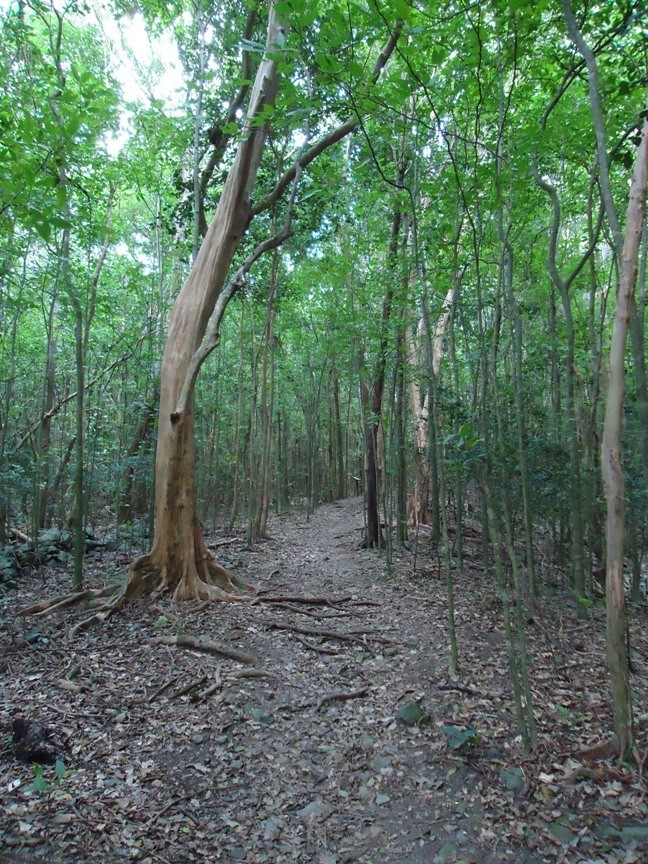 Upon our return to the ferry dock, there was a small crisis as my parents realized they had left their ship-provided towels in the taxi. Afraid they'd be charged for them, it was time to split up briefly once again while they tried to track down their towels. We had time to kill before the hourly ferry return, anyway, so I went off in search of a local joint I had read about, Shela's Pot, for some island cooking. Failing miserably (apparently it closed? or relocated?), I settled on a fruit smoothie and some people-watching. What else does a girl need?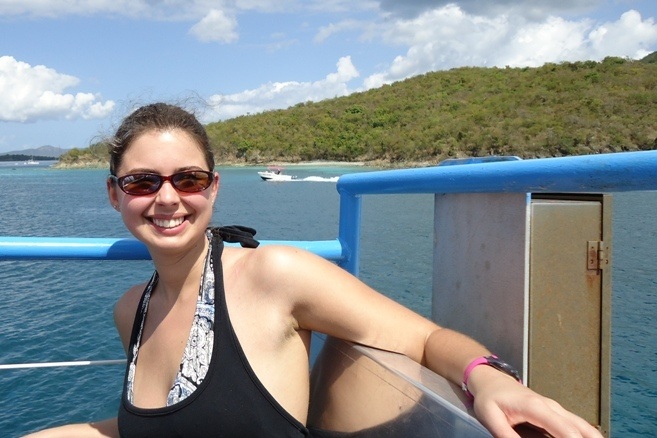 I had managed to spend most of the day on St. John, but had a little bit of time to explore the port area before returning to the ship for the night. I considered heading up the tram to Paradise Point, but given I wouldn't have time to look around, I decided against it and simply reboarded a bit early.
St. John is beautiful, no doubt about that, but the slow pace of the island would probably drive me bonkers on any longer of a stay. I'm glad I got to go, but most likely won't be planning a trip back there in the future. That's okay – I have a lot of the world to see!
Check back later this week for more of my cruise adventures.