This post may contain affiliate links. As an Amazon Associate I earn from qualifying purchases.
* * *
Barbados, Barbados, Barbados. I don't actually know what to say about this port, except that even after visiting this island, I'm not sure what to make of it. Barbados is an island with money – there are some celebrity homes, some ritzy resorts, and in general, a higher standard of life compared to some of the other islands we visited. Because of all this, I expected the island to be gorgeous, but it wasn't. I certainly wouldn't spend $500/night for a mediocre beach so there must be another draw to the island…I just didn't find it on my short visit.
To be fair, Barbados was the one day of the cruise where the weather didn't agree with us, and that may have had something to do with it. Although this was less than perfect, there's not much you can do about the weather, so we took it in stride, determined to still have a good time (and we did!).
Upon arrival at the port, it was pouring. SHEETS of rain were coming down from the sky. Enter Plan B: an early-morning arrival to an internet cafe (it was about time I skyped with my husband) and a little bit of souvenir shopping before we met our tour for the day. Luckily, by then the rain had settled to more of a drizzle.
The one thing I really wanted to do in Barbados was swim with the turtles, mainly because I've never gotten very close to a sea turtle before. There are two ways to do this: taking a public bus to a public beach and then swimming maybe 100 yards from shore (approximate cost $5) or by going with a group that points out island attractions along your drive, stops for a few photos along the way, sails by catamaran to three different snorkeling destinations, and throws in a few free drinks (approximate cost $60). I got suckered into the expensive way of doing it — hey, it's vacation! — but in retrospect, it would have been just as easy to go on your own. Hindsight is 20/20.
So we geared up, jumped in the water, and said hello to the turtles!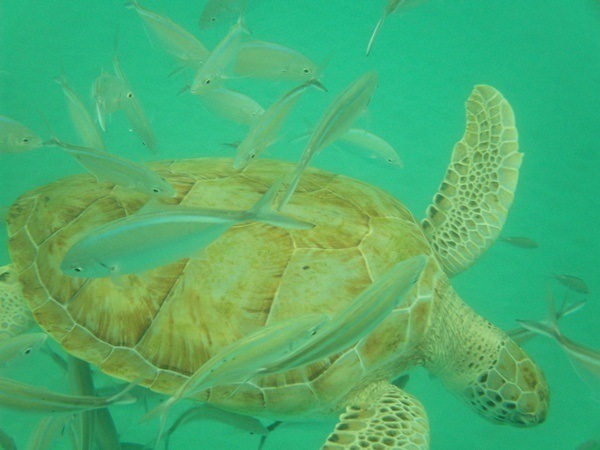 Two things I noticed about these turtles: First, that they aren't scared of you at all. They'll nudge right up against you and think nothing of it. Secondly, they're fast! You wouldn't believe the speed they can dive at; some of those fish don't stand a chance!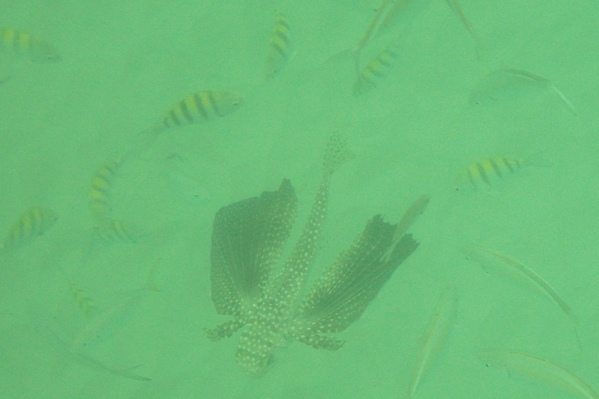 About twenty turtles, one eel, and a million photos later, we climbed back onto the catamaran for a slow sail to the next snorkel stop. Normally, the sailing would be half the fun, but it was chilly, breezy, and rainy, so we mostly curled up until we could jump back in the warm ocean.
We spent another hour or so snorkeling, this time ushered in by tremendous schools of fish. Usually, I'm distracted by how many different types of fish there are: the many sizes, shapes, and colors, but this time, there were maybe only two or three types of fish…but thousands of each of them! It was a pretty incredible experience to be surrounded by them. A picture can't do it justice.
We snorkeled over a shipwreck, too, which was a first for me. This is a time when I wish I was scuba certified – although I could dive deep enough to check it out, I couldn't hold my breath long enough to explore!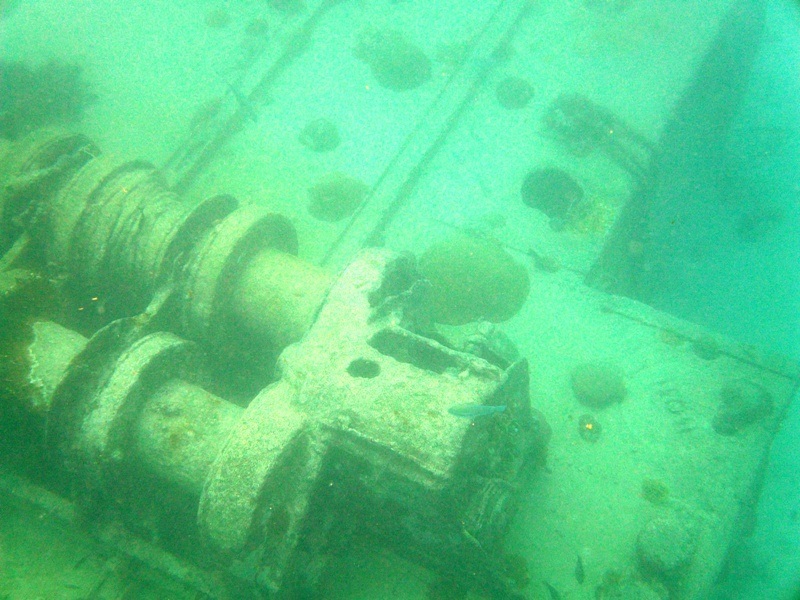 At the end of our snorkel tour, it was still raining, so we scrapped our original plans for the second half of the day. Swimming in the rain might be acceptable, but a lot of other things lose their appeal when you're cold and wet. I'm a little ashamed to say I reboarded the ship for lunch (rather than sampling island cuisine like I normally do) but part of me really just wanted to get dry!
I did make it back on shore for the afternoon, and luckily by this point, the weather was alternating thirty-minute bursts of sunshine with light afternoon showers. I may not have sampled island cuisine, but I did sample a few island beverages!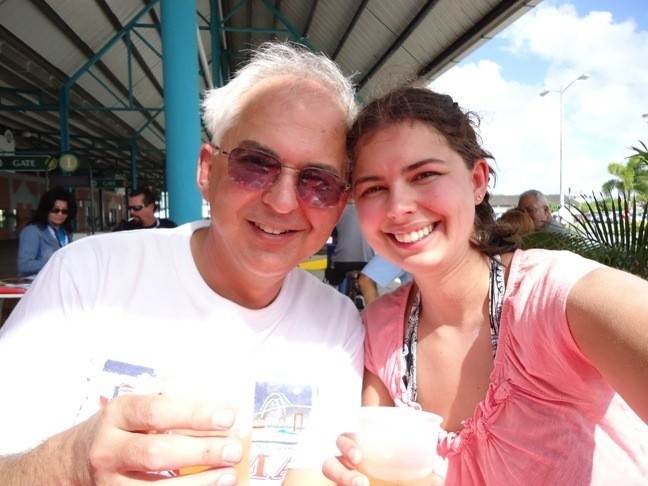 Overall, it was a fun day, but not an island that blew me over the top with its natural beauty, hospitality, or affordability. Will I return? Most likely – it's an island stop on a ton of cruise itineraries – but I wouldn't make a trip for an extended stay on the island. That's okay; leaves more time for
Puerto Rico
and
St. Lucia
.
* * *
2018 Edit: I went back to Barbados…and loved it! Find out why Barbados was better the second time around.