This post may contain affiliate links. As an Amazon Associate I earn from qualifying purchases.
* * *
It sounds crazy to leave one island for another, but that's exactly what I did. There are two small islands off the east coast of Puerto Rico, each with major claims to fame:
Vieques, the largest island other than Puerto Rico itself, is home to the brightest bioluminescent bay in the world.
Another great side trip, Culebra consistently wins prizes for having one of the world's 10 best beaches.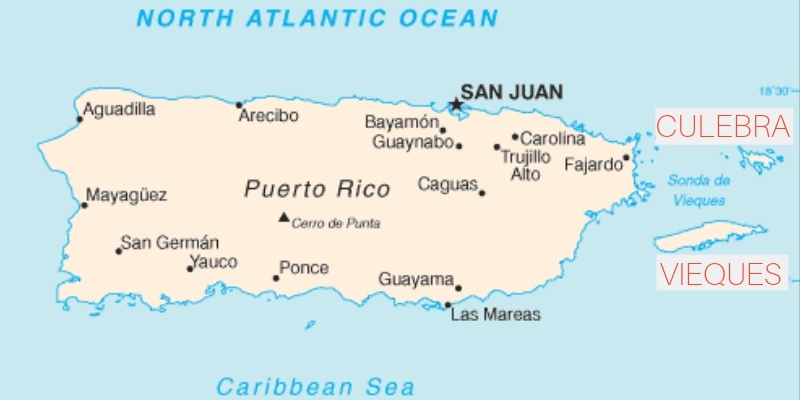 I couldn't decide whether to spend my time in Culebra or Vieques so I did the only rational thing and visited both.
Why Visit Either, Anyway?
In my opinion, the beaches around San Juan aren't great. They win points for being convenient (and, you know, for year-round tropical weather), but they don't have the soft white sand and warm turquoise water that I dream about. You have to head to either Vieques or Culebra for that.
Both islands also offer a laidback vibe in the best of ways. There's none of the crazy traffic you'll find around San Juan, no crowds, and plenty of peace and quiet. Our goal on this trip was to "get away" from real life which meant I wanted to subtract stress and these destinations fit the bill.
Neither Vieques nor Culebra is jam-packed with attractions, but if you want sunshine, beaches, and an easy-going trip, either one will work for you.
Short on time? Watch the video below instead of reading the article.
Culebra
I almost didn't go to Culebra, assuming that Vieques would fit the bill for what I was looking for, but I let their marketing get to my head. If you read online forums, you'll find a huge group of loyalists saying it's the greatest vacation on earth. There's one story after another of someone who visited for a day trip, came back for two weeks the next year, and bought a vacation home the year after that.
I had to see it myself.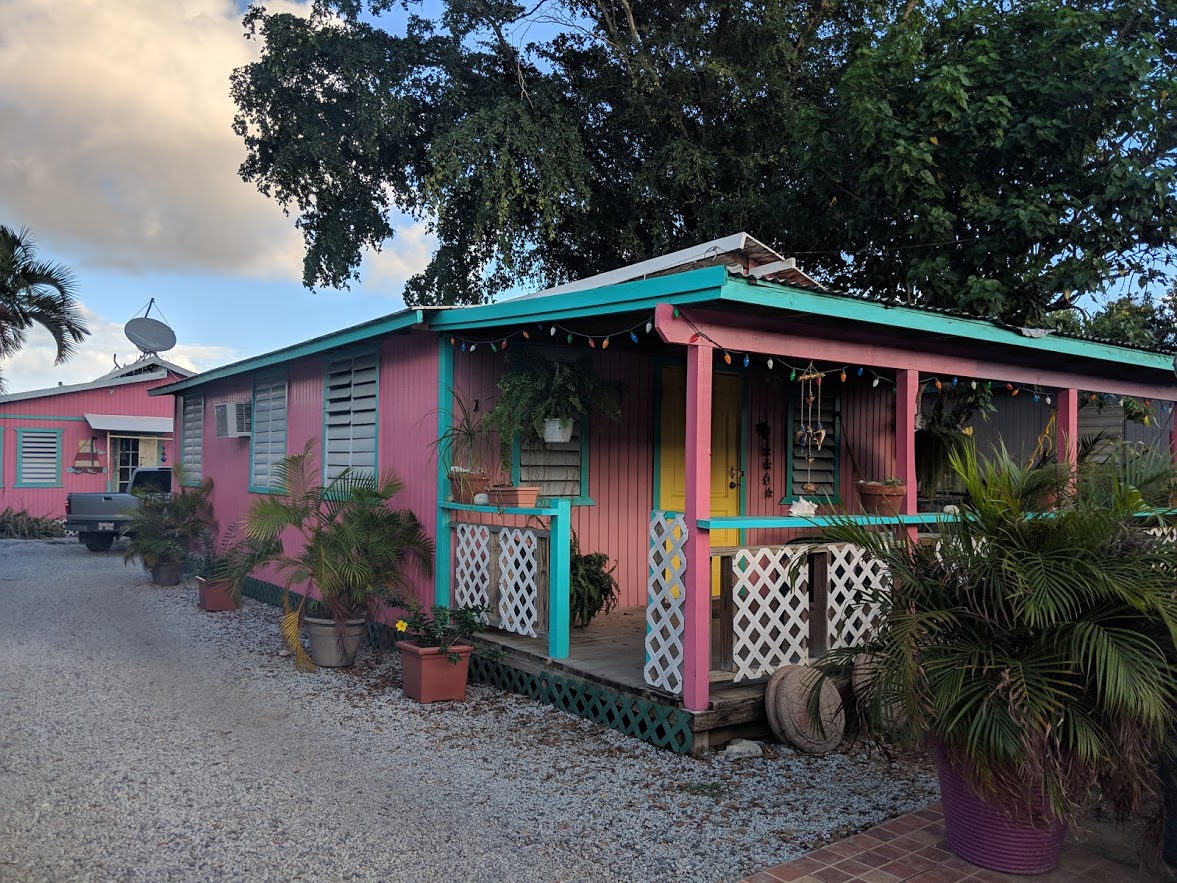 The Famous Culebra Beach: Playa Flamenco
The reason most travelers visit Culebra is for Flamenco Beach, consistently voted one of the world's best.
I mean, just look at it.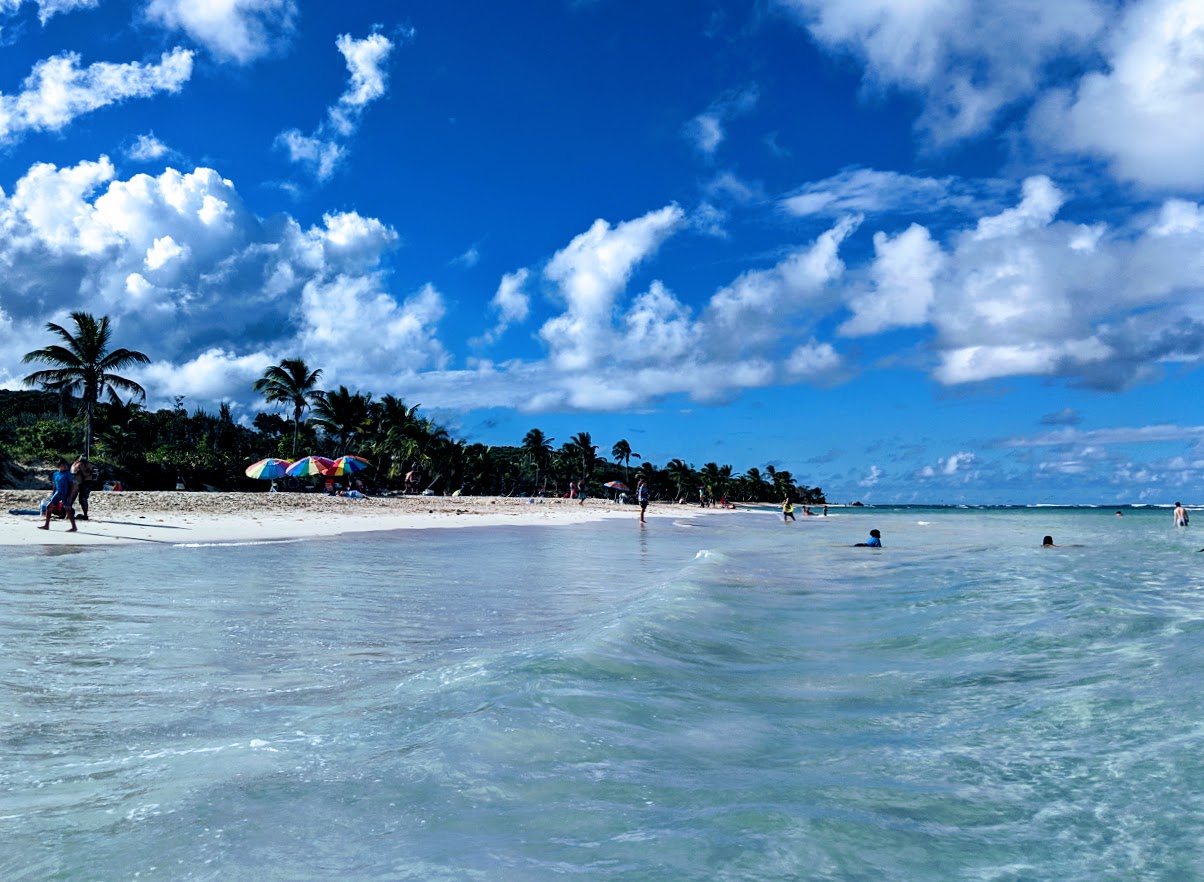 That clear water? Not photo-shopped. Even on a weekend, the crowds were light and there was no trash, no vendors coming by every three minutes to sell you a necklace you don't want.
Walking that beach is like floating over powdered sugar. The sand dusts between your toes, never sticking to your skin, while softly massaging your soles.
Is it the greatest beach in the world? No, probably not. I liked a few in Barbados better, but then again I prefer a few amenities for my beach day such as a rental chair and umbrella. At Flamenco Beach, you'll need to bring your own (a cooler of cold drinks and snacks wouldn't hurt either). Regardless, it's a world class beach!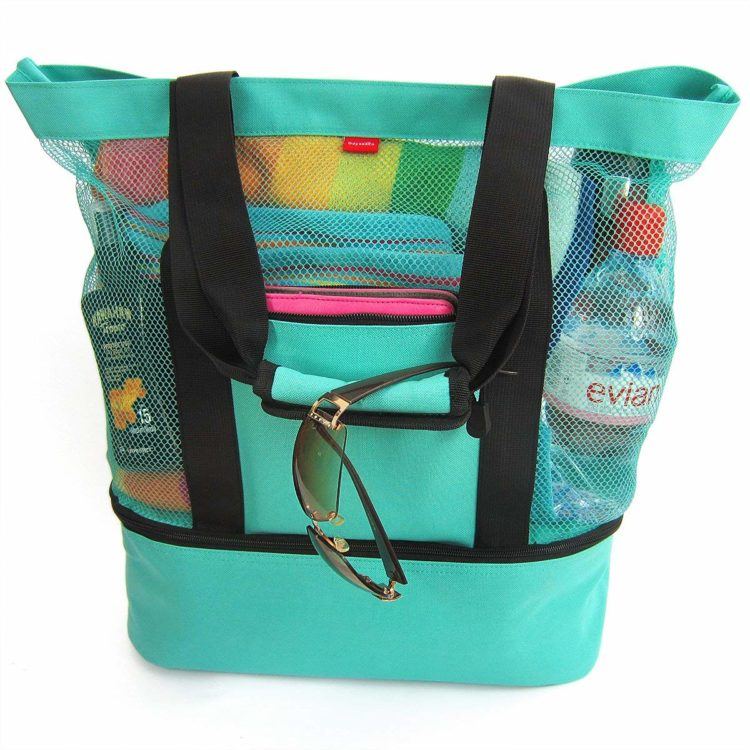 Pack for the Beach
Find out why I take baby powder to the beach, plus more must-have beach items (link opens in a new window).
Culebra Snorkeling
The island's best snorkeling is on Playa Tamarindo, a hop, skip, and jump away from Flamenco.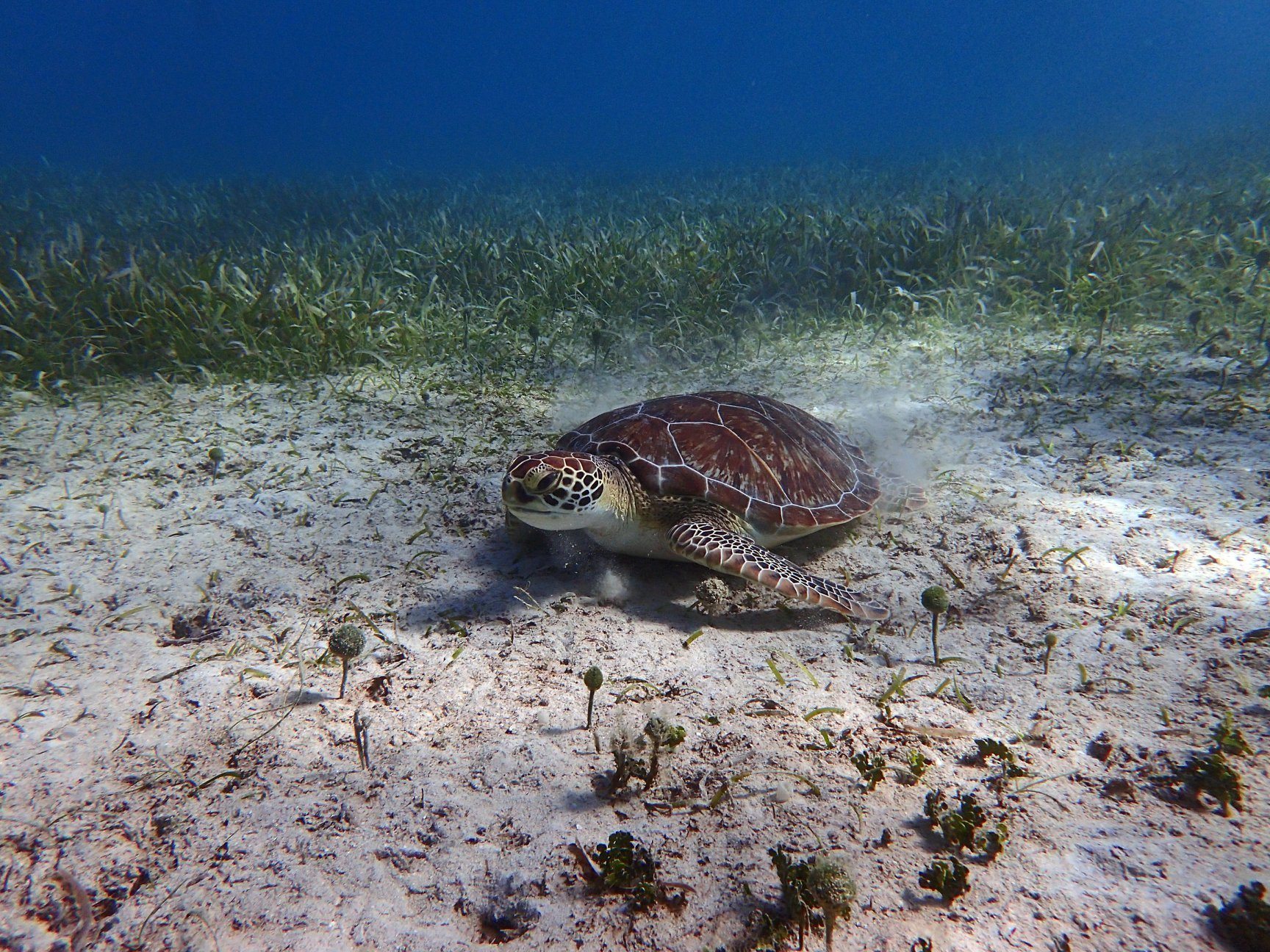 Like many snorkeling spots, the beach here isn't the best for lounging: the sand is coarse and there are rocks in the water…precisely what makes sealife more prominent.
But assuming you're here for the underwater exploration and not a lazy day on the beach, you'll be treated to tremendous visibility.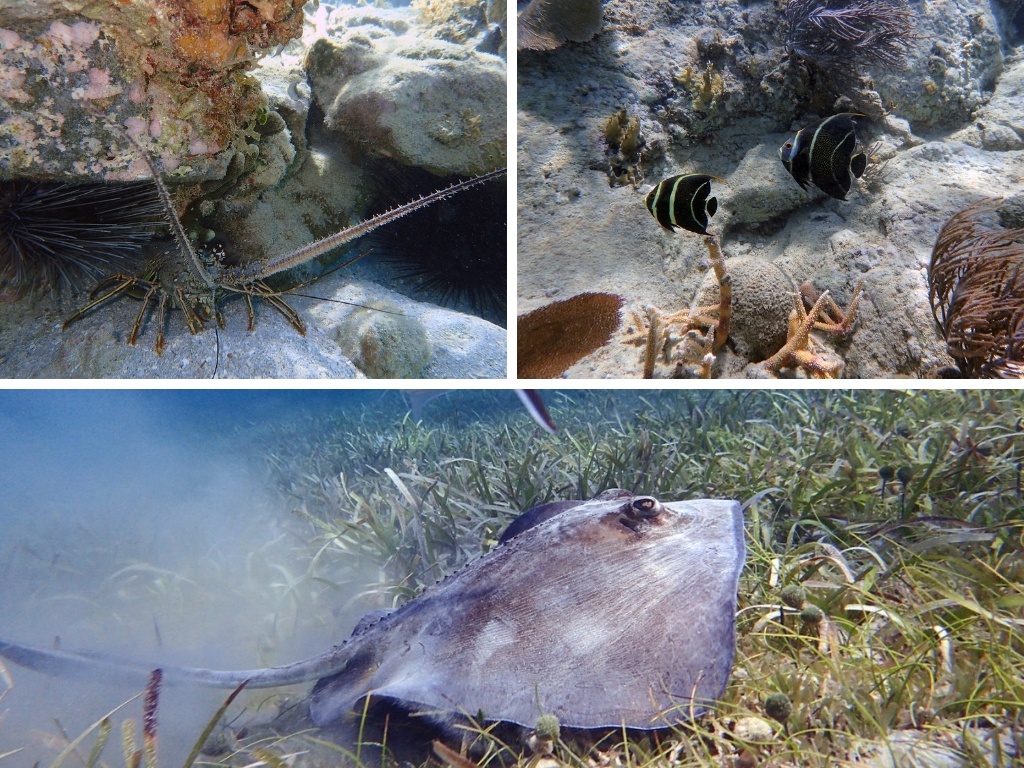 Playa Carlos Rosario
From Flamenco Beach, there's a trail in the back of the parking lot that takes you on a 30-minute walk to Carlos Rosario. The snorkeling there is also supposed to be great, but I ran out of time to squeeze this in. If you have time, I'd add it to your exploration plans as well.
How to Get to Culebra
There are three ways to get to Culebra: by ferry, small plane, or tour.
The ferry is the cheapest option at $2.50 each way but it was too time consuming for a day trip.
Culebra Ferry

There were several reasons I didn't take the ferry to Culebra.

1) It's time-consuming, at least for a day trip.

You'll need to drive an hour from San Juan to Ceiba where you'll then catch a 45-minute boat ride. That's not too bad, but you also need to arrive at least an hour early to buy tickets in person (and even then, it might already be sold out).

2) It's a very limited schedule.

Assuming you want the fast catamaran, there are only three departures each way.

Ceiba to Culebra: 6:00am, 10:30am, 3:00pm
Culebra to Ceiba: 7:15am, 12:00pm, 4:45pm

If you're coming from San Juan for a day trip, only the 10:30am & 4:45pm combo makes sense.

Technically there is also a cargo ferry (which does sell foot passenger tickets), but it takes longer and gives priority to residents who NEED to transport goods back and forth so it's hard to get tickets.

3) It's prone to delays.

Seems like everyone I spoke to had a story of themselves or someone they knew who had significant delays — or were even stranded because it stopped running unexpectedly.
I chose to fly to Culebra. You can drive to Ceiba, just like you would for the ferry, and catch a 10-minute flight for $100 or less round-trip. You can also fly out of Isla Grande airport in San Juan, which is a 20-minute flight but no driving time. That makes it the fastest option, but also the most expensive, at about $180 round-trip.
Whether you take the ferry or a flight, once you get to the island, you'll need to rent a car/golf cart (pricey), call for a taxi (yes, you have to call; you won't magically find one), or walk. It's a 40-minute walk from the airport to Flamenco Beach, making it borderline doable.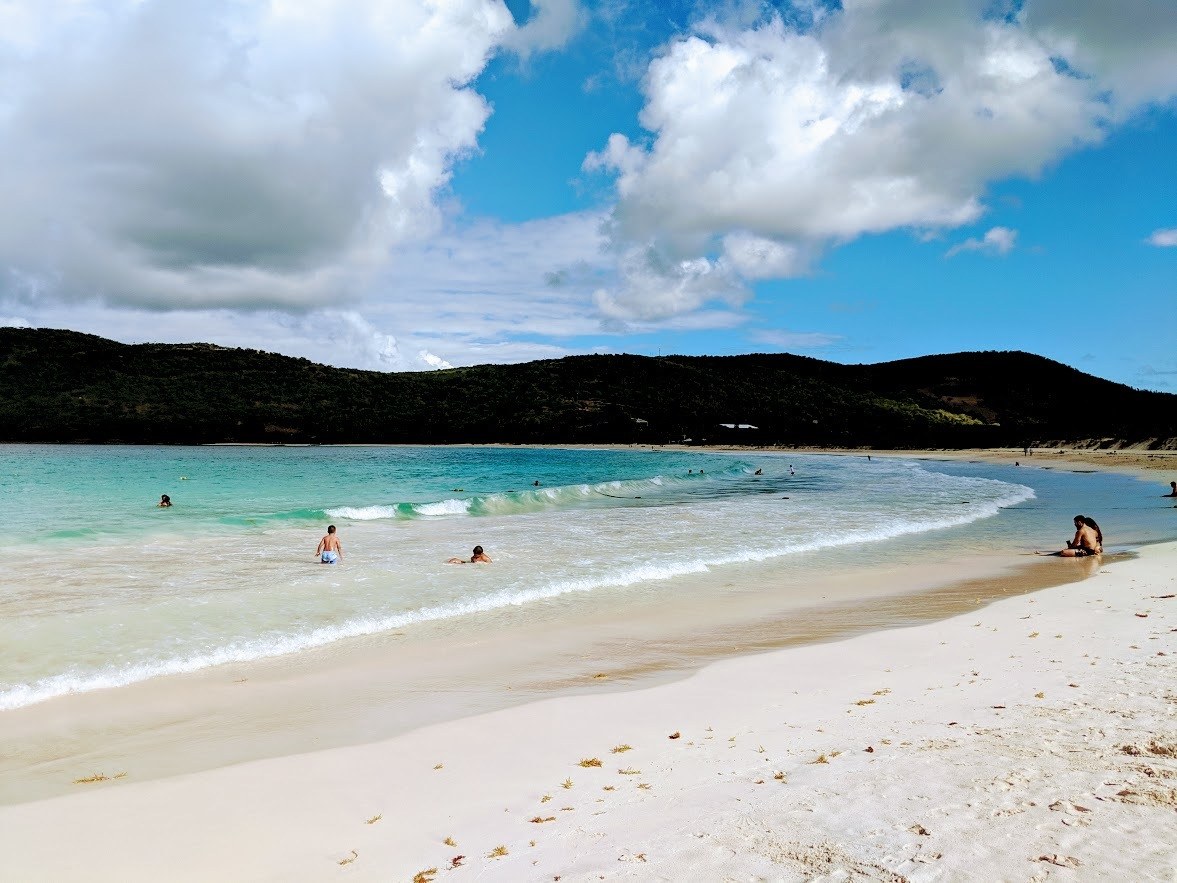 Culebra Tours
In retrospect, I should've joined an organized tour — there are several that take you out on comfortable catamarans from the mainland to Culebra. They make a snorkeling stop to see the turtles and give you a few hours on Flamenco Beach and throw in lunch plus all the rum punch you can drink.
The group tours aren't cheap, but either is flying. The tour below is the one I had my eye on… if you have a rental car, you can drive yourself to the pier in Fajardo to catch the boat or you can add on round-trip transportation from San Juan for $26.
For me, Culebra is too small and too quiet to spend the night, but a day tour is just right.
Vieques
Five times larger than Culebra, Vieques has two towns (Isabel Segunda and Esperanza), 40 beautiful beaches, and plenty of unspoiled terrain. Wild horses wander the coast — and the streets for that matter — and return visitors come back year after year for it's unmatched ability to promote relaxation.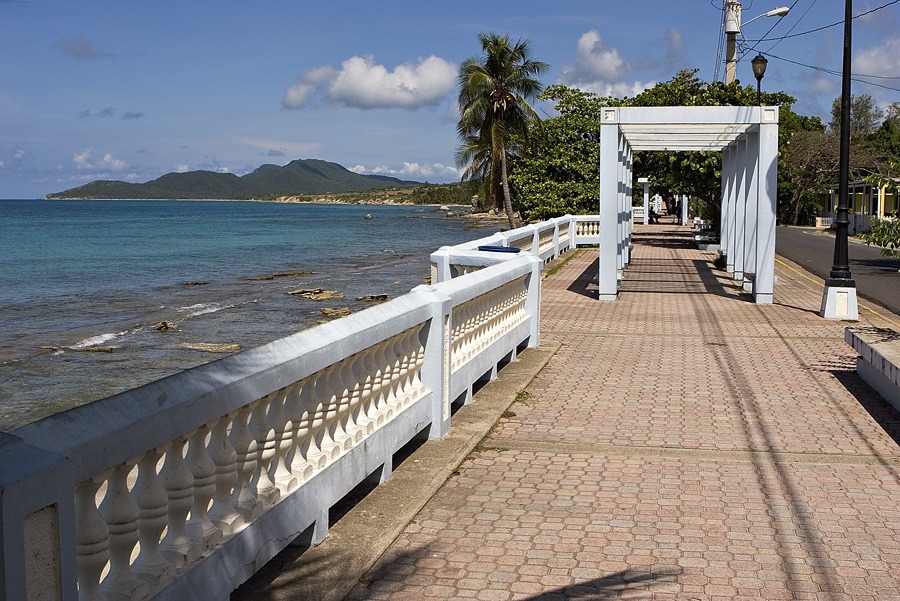 Vieques Biobay
Without a doubt, the biggest draw to visiting Vieques is the world's brightest bioluminescent bay. Kayak tours leave after dark, paddling under a starry sky into Mosquito Bay where billions of dinoflagellates glow in the protected waters.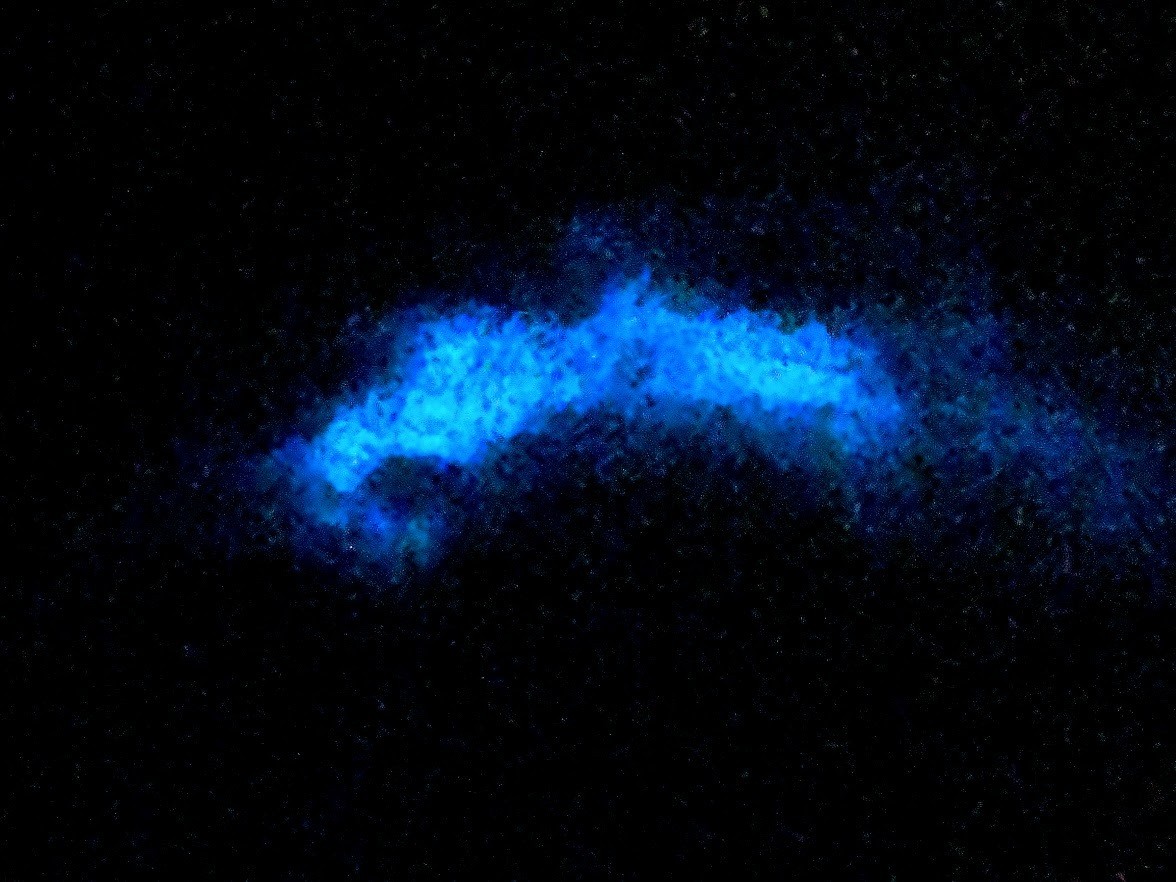 Having been to two other biobays in the past, I can assure you: there is no comparison. Not only is Vieques the brightest, but the glass-like water means you can see schools of fish, maybe even stingrays, clear as day as they dart through the glowing waters.
Every minute you're in your kayak is an opportunity to see something magical.
Vieques Beaches
The island boasts 40 beaches, pristine and undeveloped. Like Culebra, there's a significant lack of river run-off which keeps the water unusually clear. Many of the bays are protected with perfectly calm waters; others have more wave action for boogie boarding and other pursuits.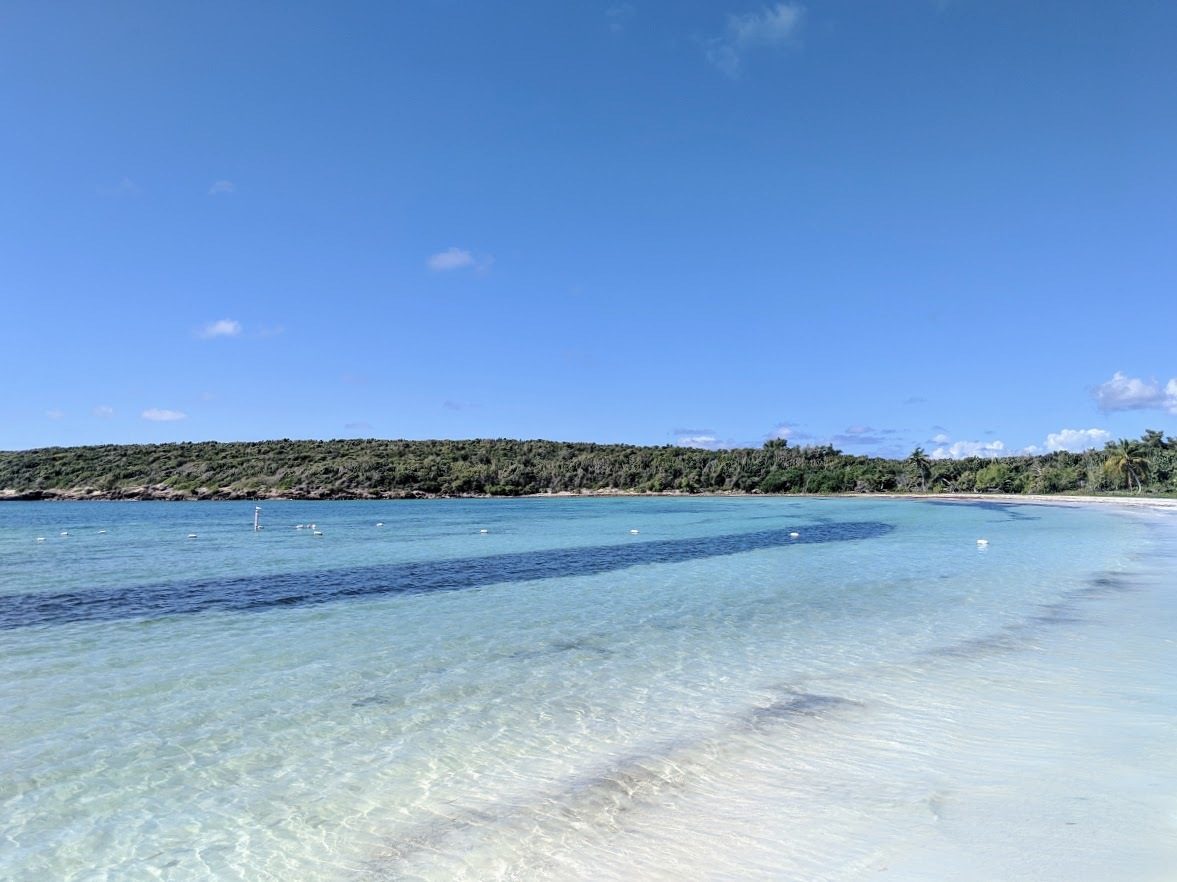 We had limited time, but of the three Vieques beaches we visited, my favorite was Sun Bay, just outside of Esperanza. The side closest to town has some coarse sand and seaweed, but if you walk to the far end, it was just as nice as Culebra's famous beach.
We floated without a care in the world; there's something about Vieques that makes you want to close your eyes and relax rather than swimming up a storm.
Also on Sun Bay were a few tidepools, if your timing is right.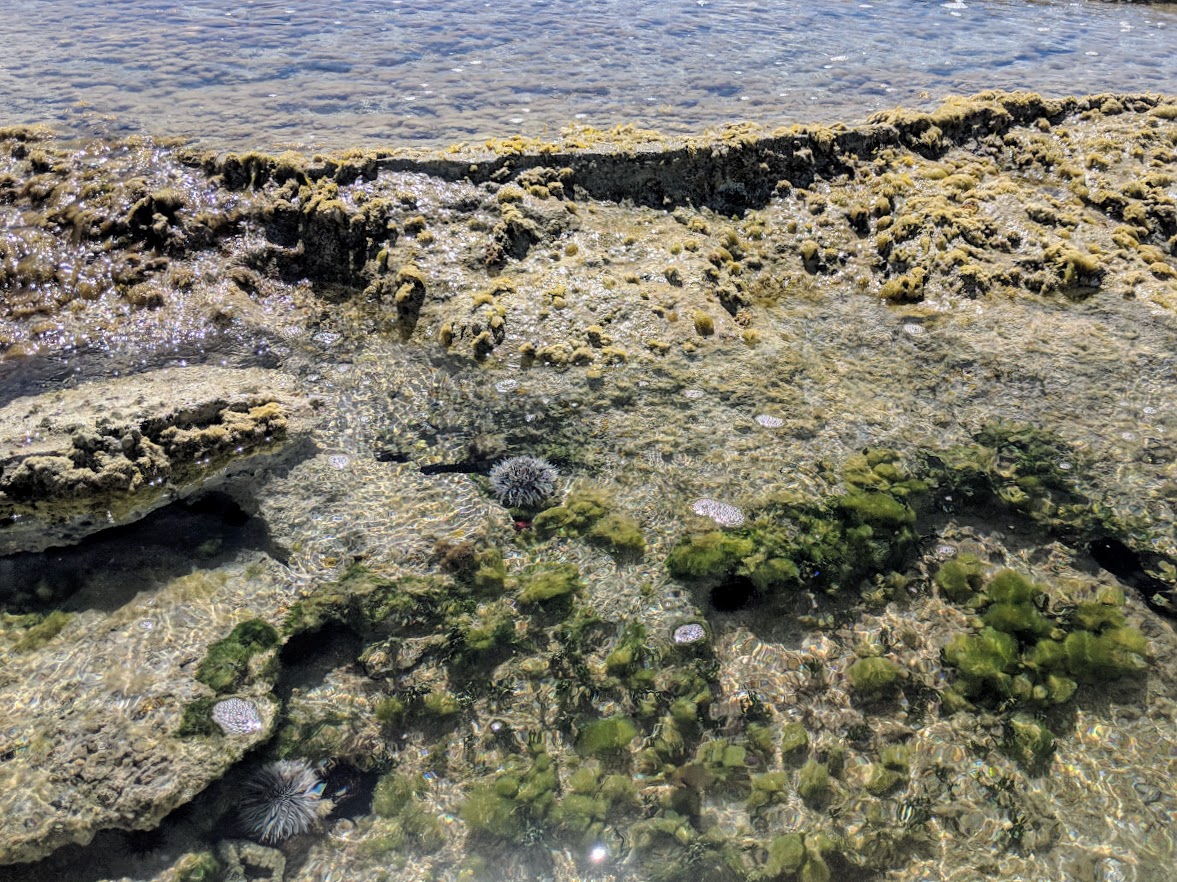 Vieques After Hurricane Maria
Vieques got hit hard by Hurricane Maria and is still in the process of reconstruction — but lucky for me, that made it even more of an undiscovered paradise. It used to be a popular side trip for Puerto Rican vacation-goers; now, with the W resort and other hotels closed, there's nothing crowded about it.
Vieques is ready for you, but not if you require perfection. Power outages are still common (and indeed the town lost power for ~40 minutes one morning during my stay) and you can expect to cool down from cross-breezes instead of air-conditioning. Depending on your foodie status, you'll either label restaurants as "unpretentious" or "downright basic", but on the bright side, you'll find craft beer and live music.
Visiting Vieques
There's enough to do on Vieques that you could spend several days: horseback riding, snorkeling, fishing charters, watersports, even a small fort. We chose to spend our time in San Juan exploring instead, but it's definitely cheaper and more easy-going on Vieques if that's your thing.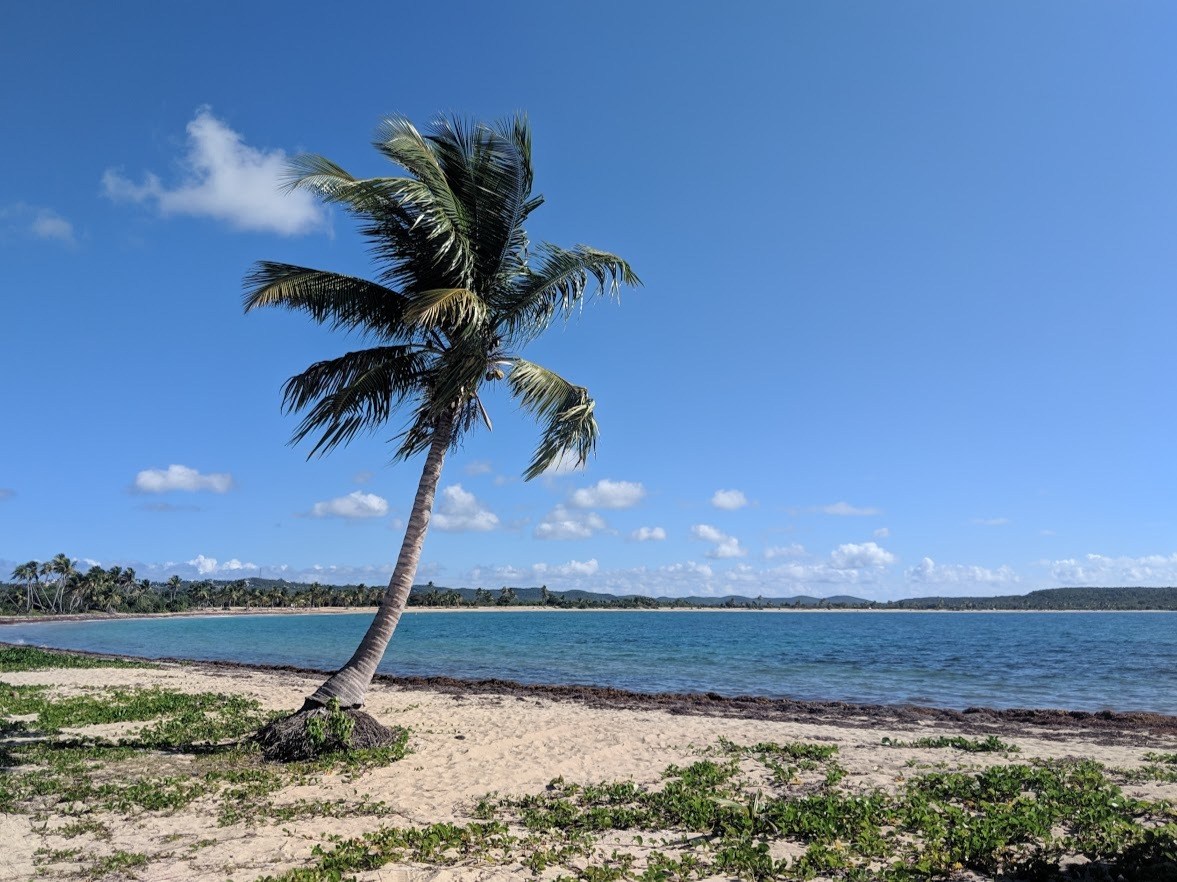 For a single night, you can easily visit Vieques without a car rental. Base yourself in Esperanza so you can walk to the meeting point of the biobay tour, make your way to restaurants, and spend time at Sun Bay independently. A taxi from Isabel Segunda (where both the ferry and airport are) will cost you $15 each way and MUST be arranged in advance. Cars won't be waiting for you!
For longer visits, I'd recommend getting a rental car so that you can visit both towns, see the beaches in the natural reserve (Playa La Chiva and Playa Caracas in particular), and explore more in-depth.
We stayed at Casa de Tortuga: with a pool, air-conditioning, and mini-fridge, it's the third nicest place in Esperanza. Malecon House and El Blok are nicer, but double the cost.
How to Get to Vieques
Your options for getting to Vieques are similar to those for Culebra: ferry or short flight. Day trips here don't make sense, since the biggest draw is the bioluminescent kayak tour (which requires spending the night).
Since you're spending the night and precise scheduling is less important, the ferry is a more viable option for Vieques. The trip from Ceiba takes about 30 minutes; again, you'll need to arrive early to buy your ticket in person, but in general there are less horror stories about trips being sold out.
Ceiba to Vieques: 6:30am, 9:30am, 2:30pm, 4:30pm
Vieques to Ceiba: 7:45am, 10:45am, 3:30pm, 5:30pm
You can also fly from Isla Grande or Ceiba…and even directly from San Juan International Airport, though those tickets are quite a bit more expensive.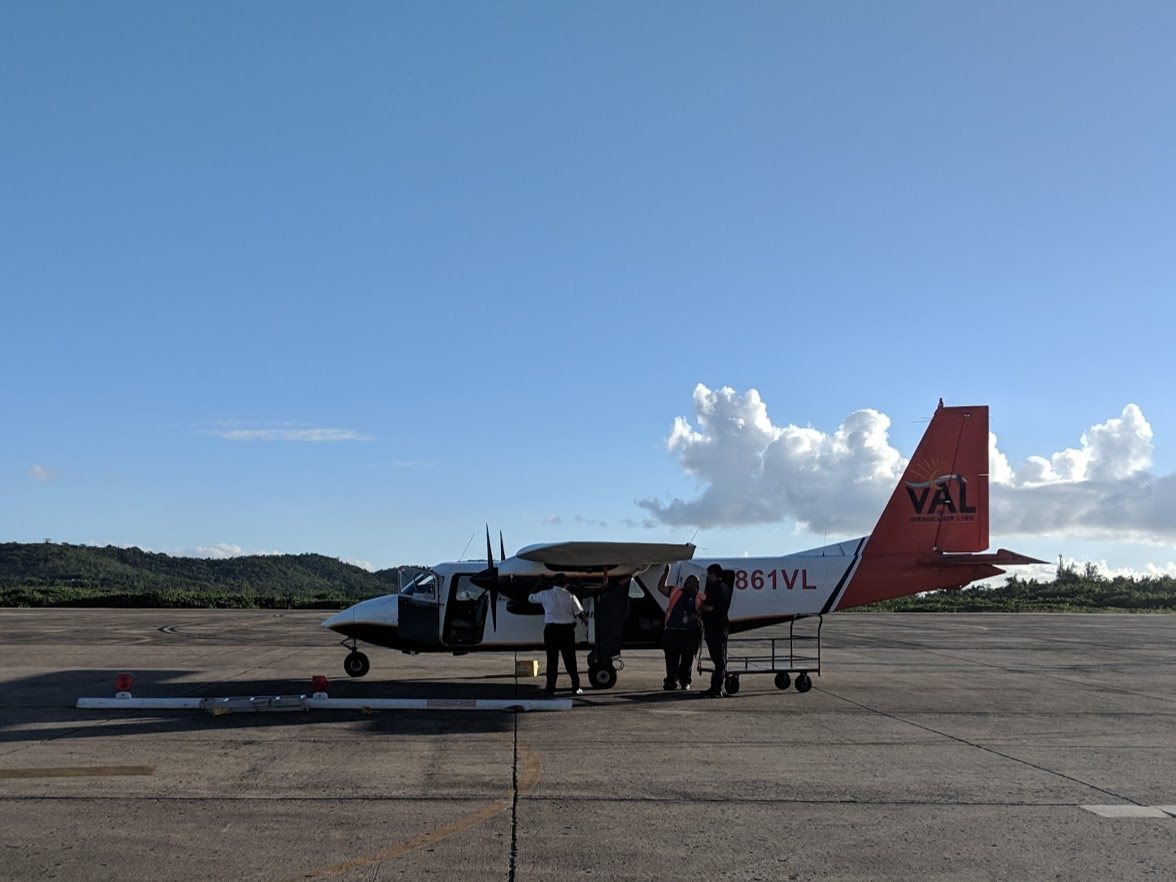 So, Which is it? Culebra or Vieques?
There really isn't a stand-out winner for the Vieques vs Culebra battle. Both of these smaller islands are perfect for a beach day and unwinding.
In general, Culebra makes a better day trip: it's size (and optional group tours) make it easier to experience in a short amount of time.
Vieques requires an overnight in order to experience the bioluminescent bay; if you can't spend the night, it might be better to save it for a time when you can. Its larger size and extra activities make it a better fit for someone who loves sightDOING, although if you want a super active trip, Puerto Rico itself is the best bet of all.
Read More About Puerto Rico