This post may contain affiliate links. As an Amazon Associate I earn from qualifying purchases.
* * *
While most visitors spend just 2-3 days in this compact city, I've visited a few times, adding up to more than three weeks in the city. That's given me lots of chances to try Antigua activities — most of which I've enjoyed! Since I was fortunate enough to explore the city thoroughly, here's what I recommend as the best things to do in Antigua Guatemala.
The Best Things to Do in Antigua Guatemala for Outdoor Lovers
Hike Pacaya Volcano
As an outdoor lover, the main draw to Antigua was being close to so many hiking opportunities and in my opinion, Pacaya is one of the best. There's something about saying you hiked a volcano that is bucket-list worthy and roasting marshmallows over volcanic vents is a fun story to tell back home!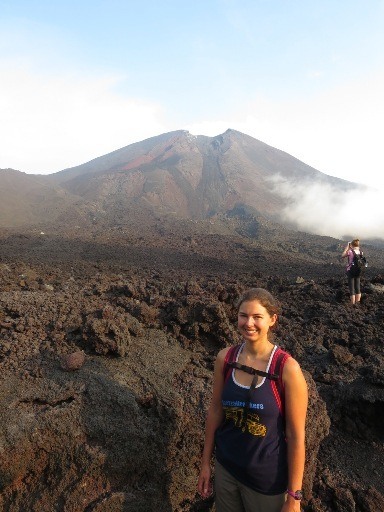 Pacaya is a half-day tour in Antigua, and I recommend the afternoon trip so you can see sunset from the top. It's steep and challenging if you're not used to trekking (or if you haven't acclimated to the altitude). If you have mobility issues, ask about horseback riding because the landscape is other-worldly.
Camp on Acatenango to Witness an Eruption
If you're looking for a challenge, the overnight on Acatenango should not be missed. The hike itself is killer, but the views of erupting Fuego in the distance make it worthwhile.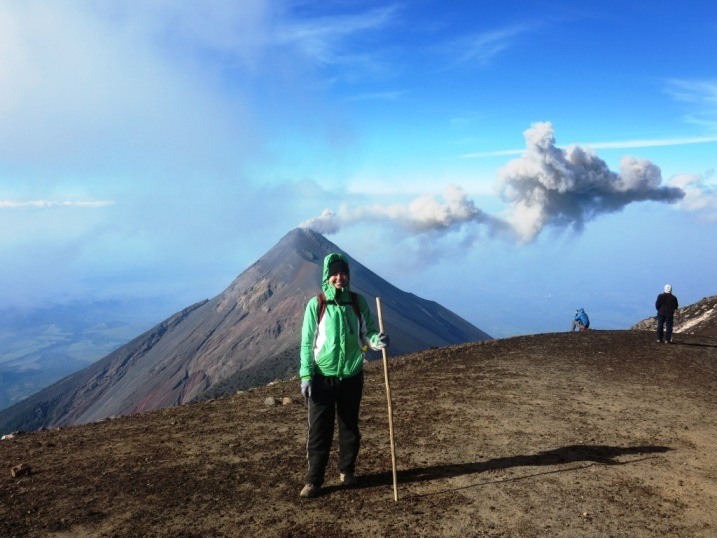 If I'm being honest here, this is one of the toughest hikes I've ever done. You'll hit elevations of 14,000 feet, so breathing is a chore and climbing through volcanic ash is similar to climbing a sand dune: two steps up, slide one step down. But not only do you get great views, there's also the tremendous sound of Fuego erupting all night long — something you don't hear everyday back home!
Read More: Hiking Acatenango Volcano in Guatemala

My personal account of the Acatenango hike and seeing an active volcano from the top.
Cerro de la Cruz
The "hike" up to Cerro de la Cruz is well-known in Antigua and is more of a strenuous walk than a nature hike. Just walk uphill from 1a Avenida Norte — follow the road up and climb 300+ stairs until you reach the cross (after all, cerro de la cruz means "hill of the cross"). From there, you'll get panoramic views of town and the volcanoes in a distance. I love looking down to see if I can identify the main city landmarks.
Historically, this hike has been a site for muggings but it's gotten much more popular and well-traveled and there's safety in numbers. That said, better safe than sorry: go between 8am-4pm when there's a police presence along the route. (Still worried? Hire a tuk-tuk or Uber to take you).
Since it can get cloudy in the afternoon, the best views are in the morning. If it's cloudless when I wake up, I like to have breakfast at Fernando's Kaffee (open at 7am) and then make the ~25 minute walk up afterward.
Hang Out at Earth Lodge
Just above Cerro de la Cruz is the Earth Lodge — a property overlooking Antigua with hiking trails, volleyball, corn hole, yoga, and a great Saturday night BBQ.
You can spend the night here in one of their treehouses, although having done it, I don't think it's necessary. Come for the day (it's great!) and head back into town after sunset.
The Best Places to Visit in Antigua for History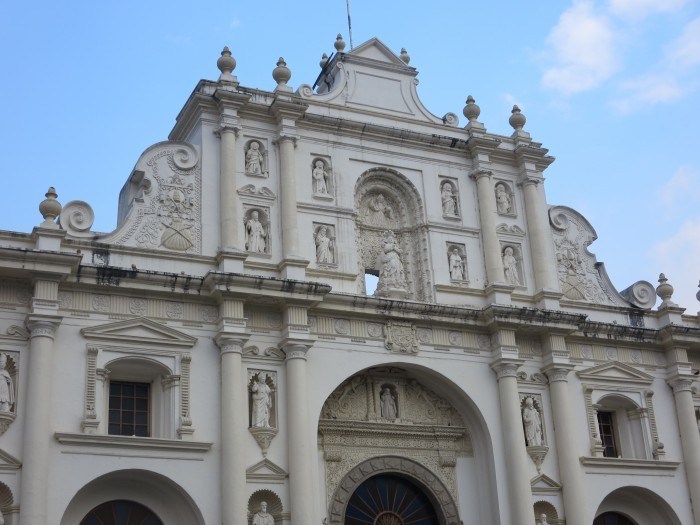 Since Antigua is compact, you can really walk everywhere. There's a lot to see, including gorgeous churches, ruins from the earthquake of 1773, and colonial architecture. Unfortunately, the walking tours I tried weren't great, so I'd advise picking up a book and guiding yourself.
DIY Antigua Walking Tour
You can easily see all of these places on your own instead of taking a formal tour. Go in the order I have here to create your own self-guided walking tour of Antigua, Guatemala.
Parque Central
This park in the center of the city takes on lots of different personalities: quiet and peaceful in the morning, a social hub in the afternoon, and a fun spot for ice cream after dinner.
Saint Joseph Cathedral
Formerly the national cathedral, this church has architectural influences from Baroque, Renaissance, and Rococo styles.
Santa Catalina Arch
This yellow archway is probably the most iconic view in all of Antigua, Guatemala.
La Merced Church
Take your time admiring the carvings on the front of this colonial church.
Capuchinas Convent (Ruins)
This convent has quiet gardens and unusual architecture. Just be careful...rumor has it, this place is haunted!
Casa Santo Domingo
Formerly a convent and now a five-star hotel, it's worth visiting for its on-site museums and a walk through the 16th-century ruins.
San Francisco Church
The oldest church in the city (1542), it holds the tomb of saint Hermano Pedro.
Convento Santo Clara (Ruins)
Walk through the old cloisters and imagine what life was like.
Cathedral de Santiago (Ruins)
These are the best ruins in Antigua for exploring: the 1545 church was massively damaged in the 1773 earthquake and you can walk between giant pillars and arches
Things to Do in Antigua for Foodies
Cook a Meal
The best way to learn about a region's food is by preparing it yourself. Learn about all the ingredients that make up Guatemalan meals by attending a class at Frijol Feliz. The class ends with more food than you could possibly eat, but save room for dessert anyway because it was the best part!
Looking for the best restaurants in Antigua, Guatemala? I've got you covered with nine recommendations for my favorite places!
Learn About Chocolate
If you want to skip right to dessert, head to the Chocomuseo. I've done both their signature "Bean to Bar" class and the Truffle workshop and they each have their strengths.
If your goal is learning about chocolate, the "bean to bar" class is the one you want. They do a great job describing cacao's history, harvesting, and other uses as well as letting you taste chocolate in its many forms and some indulgent drinks. The workshop part, though, is a little underwhelming since you're basically just pouring melted chocolate into molds and adding in mix-ins like almonds or coffee grounds.
The truffle class is better for someone who wants to feel like a chocolatier, making fancy treats with rich fillings. If your goal is to get more involved on the cooking side of things, or take home a gift for someone, this is the better choice.
Visit the Market
Surprisingly few visitors ever make it to the local market (by the bus station), but it's a great place to learn more about local flavors. On Mondays, Thursdays, and Saturdays from 7am-2pm, the market draws people from nearby villages to buy and sell everything from produce to meat to handicrafts and household goods.
There are TONS of street food stalls within the market if you're looking for a snack; as always, choose one that's busy and popular with locals to make sure what they're serving is fresh. Not ready to venture on your own? Join a market tour with plenty of food samples.
Go to a Macadamia Nut Farm
The Valhalla Macadamia Farm is an easy do-it-yourself day trip from Antigua. From the bus station near the market, catch any chicken bus heading to San Miguel Duenas (this alone could be one of the most interesting Antigua activities!). Ask the driver, or his assistant, to let you know when it's the stop for "las macadamias". It's just a 15-20 minute ride, or faster by Uber if you're not feeling adventurous.
At the farm, you can walk the pathways independently if you just want to look at the trees or you can join a short English tour to learn about harvesting and processing the nuts. Either way, you'll get to sample some of the nuts, including a few dipped in chocolate. Be sure to try their skincare products, too! You can also arrange spa treatments in advance or try their famous macadamia pancakes at the restaurant.
Try a flight
Guatemalan beer isn't popular back home for a reason: the nation's staple, Gallo, is pretty boring. Finally, there's a craft brewery in town and it's definitely worth a stop.
Antigua Brewing Company offers flights that let you taste six of their most popular house beers. If that's too much for you, go straight for the coffee stout.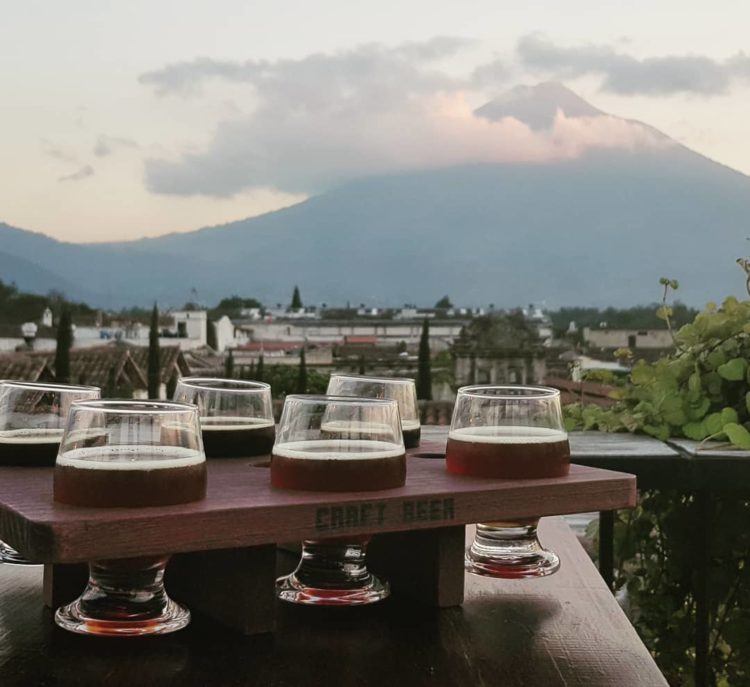 In a perfect world, go about an hour before sunset to enjoy the views from the terrace and then stay as their patio lights twinkle after dark.
Make Your Own Peanut Butter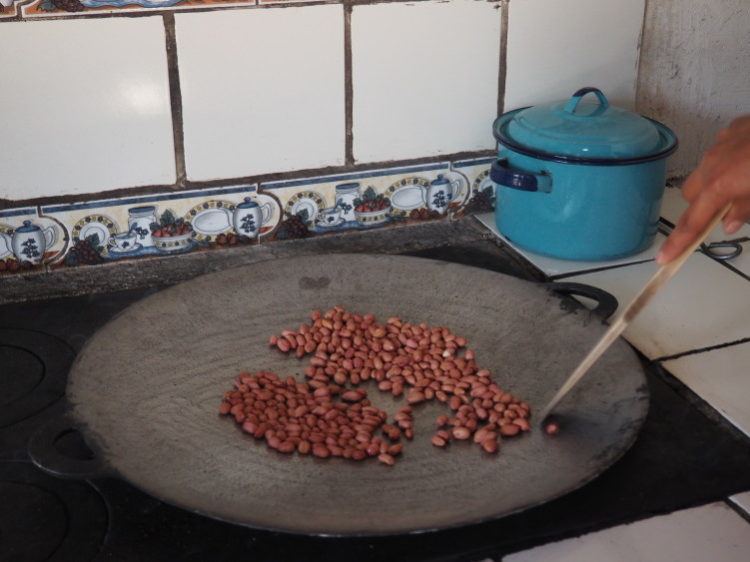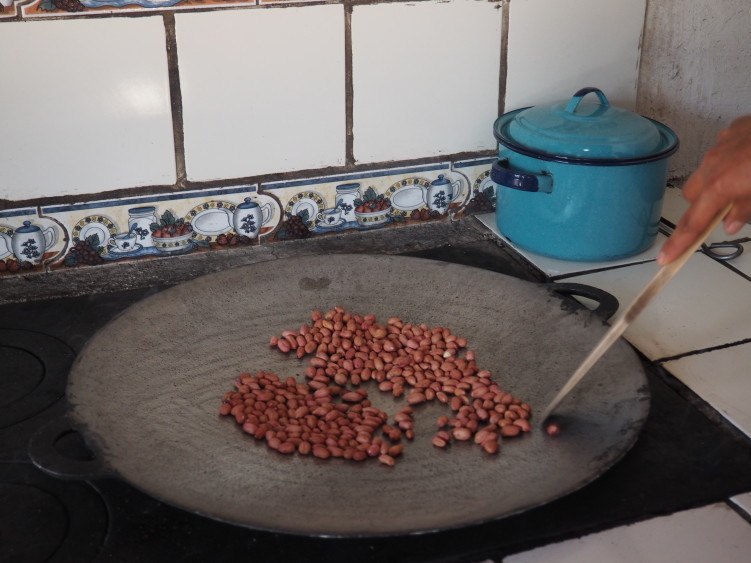 The volcanic soils outside of Antigua are incredibly rich and fertile, making it a strong agricultural center. Coffee is the big one around here (and there are plenty of tours), but you can also get hands-on and try your skills at peanut farming!
A short bus or Uber ride from town takes you San Miguel Escobar, a small town just ten minutes from touristy Antigua. You'll have a chance to sample the best peanuts of your life and learn how to roast them and grind your own peanut butter. It's a great look at life outside the city and a yummy souvenir.
Wanna try it yourself? Read more about peanut farming in Guatemala.
Best Things to Do in Antigua for Cultural Exchange
Spanish School
Guatemala is a top place to learn Spanish because the dialect has less of an accent and slang compared to other countries' variations. Although you'll find schools all over the country, in my opinion, this is the best place for someone who wants to combine studying with vacation. Take classes in the morning and in the afternoon, enjoy the dozens of things to do in Antigua Guatemala.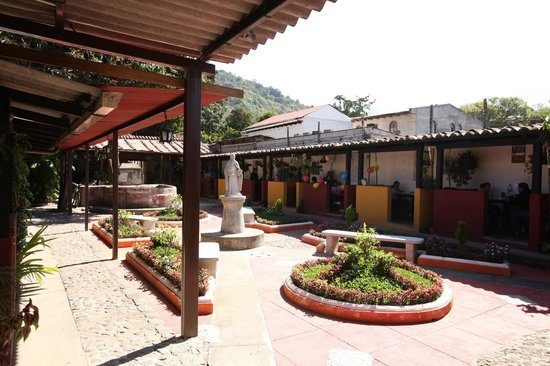 Most schools teach in weekly increments; I attended classes at Ixchel Spanish School and Spanish Academy Sevilla; both were good, but I preferred Sevilla. With so many reputable schools, some of it just comes down to learning style and preference. Get more information on how to choose a Spanish school before you register anywhere.
Semana Santa
I'd be remiss to ignore the greatest event in all of Antigua: Semana Santa (Holy Week, or the days between Palm Sunday and Easter). This is an incredible time to visit Antigua and I timed one of my trips to fall over the entire week.
The week is a combination of festivities and colorful alfombras as well as more somber processions on Good Friday.
Semana Santa is a major draw for travelers and you'll find thousands of people on the streets for the processions. However, you find almost NONE of them out in the evenings watching locals make the designs and fewer still helping with the work. Some local families will gladly take your assistance; others will prefer to do it on their own but either way I recommend going out while everything is still a work in progress. If of interest, the masses and religious events are also very worthwhile.
Keep reading about Semana Santa: Personally Experiencing the Semana Santa Preparations
Relaxing Things to Do in Antigua
Get a Massage
After my volcano hikes, I was sore as can be, but thankfully spa services are affordable in Guatemala! Antigua has a number of spas throughout the city; my pick is Rejuvenece, where most hour-long treatments are about $20. Packages are also available for an even better deal!
Visit the Art Gallery at Panza Verde
I discovered Panza Verde on accident, since it was where YogAntigua holds morning yoga classes. However, it's worth a visit even if you're not a yogi: the art collection there features works by Guatemalan artists in rotating exhibits. The restaurant is also great!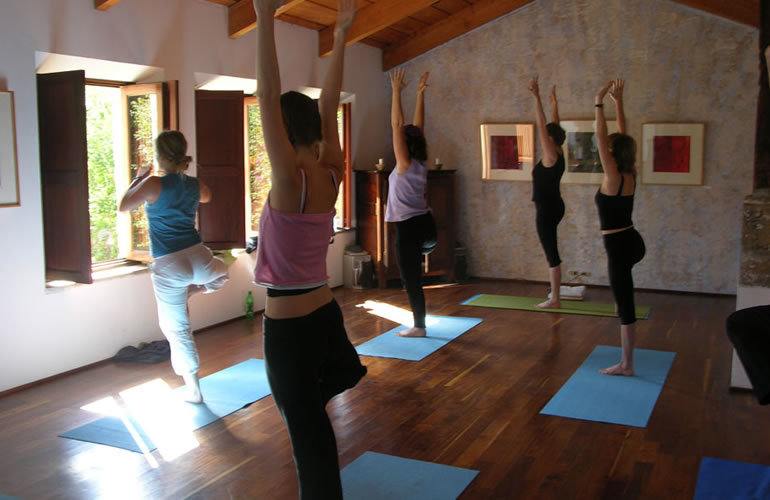 Have a Drink on a Rooftop
Seems like every time I re-visit Antigua, there's a new rooftop patio somewhere, but my favorite is still one of the originals: Cafe Sky. The food there is just average, but their smoothies and other drinks are great and they don't mind at all if you spend an hour taking in the view without ordering food. On a clear day, it doesn't get much better than this!
Try a Lazy Day at the Pool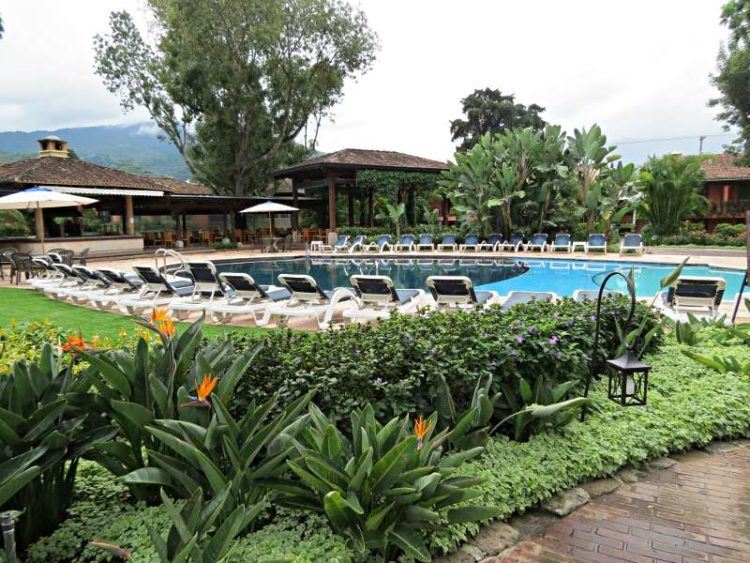 The weather in Antigua is pretty mild year-round due to its elevation, but there are still some very nice days. If it's warm and sunny, head to the Porta Hotel and buy a day pass to their gorgeous pool. While you're there, take advantage of a nice wine list and friendly bartenders.
Go Shopping at Nim Pot
There are a number of markets throughout Guatemala selling handicrafts like textiles, jewelry, and ceramics, but the negotiating process can be overwhelming. That's why everyone's first stop should be Nim Pot.
Nim Pot is set up like a typical store with set costs and price tags. Everything is sold on consignment from artists, and you can take your time examining everything to see its quality. Even if you don't buy from here, it's a great way to get a feel for what things should cost when you shop elsewhere.
Once you've got a good feel for items, styles, and prices, you can head to other markets where you haggle with the sellers and you'll have a good feel for what's high-quality and what things should cost.
The Best Hotels in Antigua Guatemala
At this point, if you're still reading, hopefully you're inspired not only to visit Antigua, but to give it the time it deserves. Here are a few recommendations on where to stay in Antigua while you're here.
Taanah Guesthouse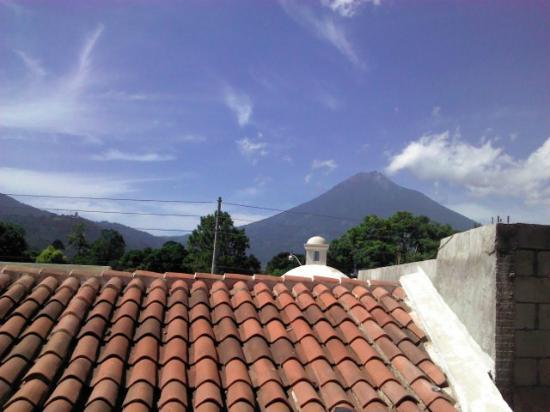 A few blocks from the main square, Taanah Guesthouse was a delightful place to stay with plenty of hot water and strong wi-fi. The owners, Evelyn and Fernando, are friendly and helpful and provide a fantastic breakfast in the morning…all for a mere $30/night. If you're new to Airbnb, you can even receive $20 off your first stay when you join through my link.
El Hostal
The aptly named El Hostal was the perfect place for me to stay while traveling solo. It's a cutely decorated hostel with a great courtyard. Guests are social, but not partiers, and I got a good night's sleep on the comfortable beds. Breakfast in the morning was great!
Book through Hostelworld in advance; dorms do fill up and they were sold out when I went back for a return visit two years later. The other hostel I stayed at, Yellow House, wasn't as nice.
Casa Santa Domingo
One of the great things about Guatemala is that you get a lot for your money. Casa Santa Domingo is a true five-star hotel with gorgeous grounds, museums on-site, and restaurants that will make a special occasion shine. This would be where I went for a honeymoon, no doubt about it.
The Bottom Line About Visiting Antigua
Antigua is one of the most popular places to visit in Central America, and a city I highly recommend. The city is relatively close to a major international airport (an hour or less from Guatemala City), has a lot of history from colonial times starting in the 16th century, and there's a great assortment of things to do in Antigua Guatemala. Whether you're visiting briefly or planning an extended stay, you can't go wrong with a trip here.
* * *
Get More Information to Plan Your Trip