This post may contain affiliate links. As an Amazon Associate I earn from qualifying purchases.
* * *
It's hard to narrow down what made me love Antigua so much. There were volcano hikes, colonial architecture, and cheap Spanish classes. And there's the food. So much of it, from traditional meals to street food to high-end entrees that would cost a fortune at home.
Over the course of multiple visits, I've spent more than four weeks in this town which adds up to a lot of meals. Though I've never had a bad meal, I've had many that weren't memorable and a handful that were amazing enough to repeat.
Assuming you don't have the time to replicate my sampling all over the city, here are my recommendations for the best restaurants in Antigua to try on your next trip.
Where to Find Antigua's Best Restaurants
My All-Time Favorite Antigua Restaurant: Porque No
Out of all of Antigua, Porque No is probably my favorite restaurant. The staff treats you like family from your very first visit and the food is phenomenal. Prices are reasonable and the house wine is decent.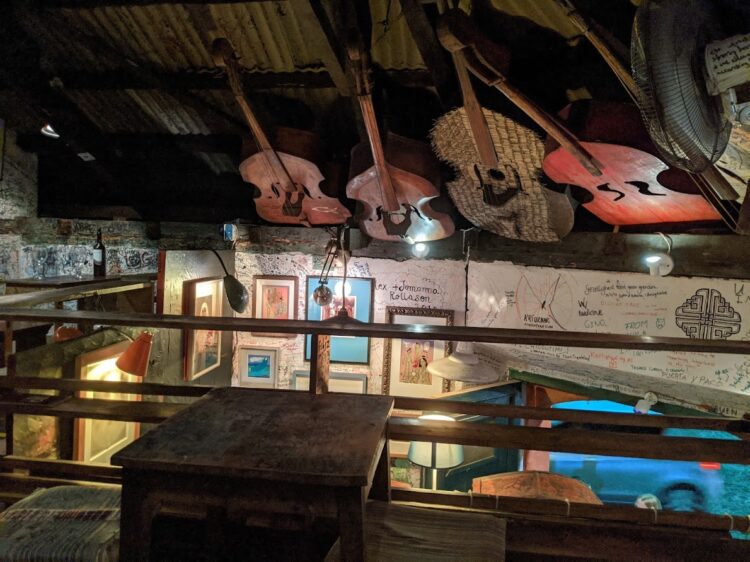 Expect a wait for a table because the place is tiny (reservations are highly recommended!). Climb the ladder to eat upstairs and order the lomito en salsa de vino if you want a treat.
Where to Eat in Antigua on Weekends: Caoba Farms
The shining stars at Caoba Farms are the fresh vegetables, all grown on site, and prepared to perfection. Meals here are exceptional and there are lots of bright, light options which is a wonderful change of pace from the heavy portions you normally find at restaurants.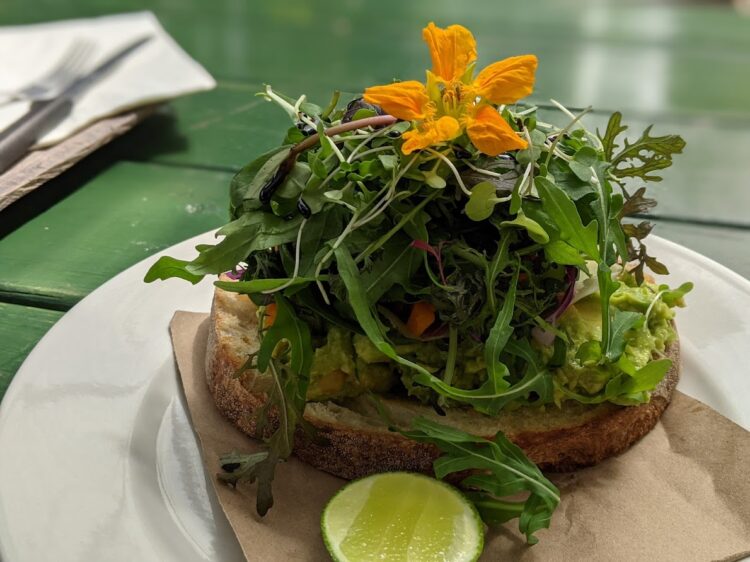 Go on weekends for events like a farmer's market, yoga, and live music (they're closed most weekdays anyway). It looks far on a map, but it's an easy walk or Uber ride.
Best for Traditional Foods: Guatelaria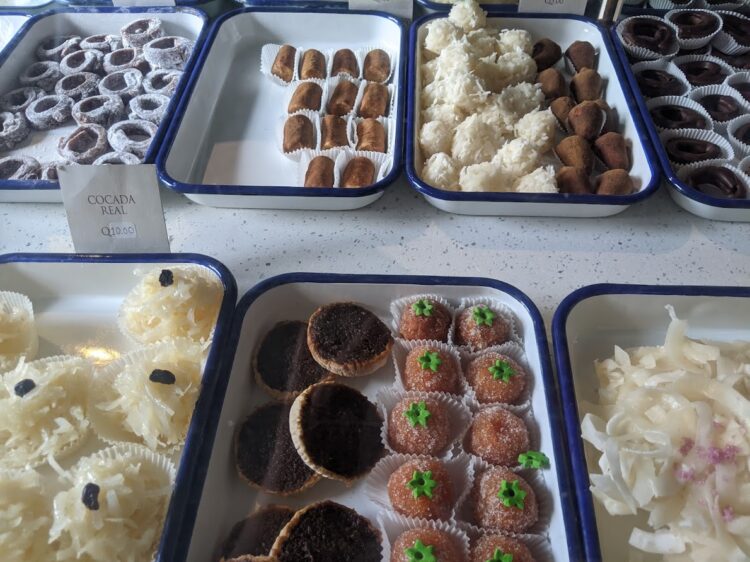 Right near the yellow arch, Guatelaria is my favorite place to go for traditional Guatemalan foods. Order one of their main dishes — they're all basically stews, typically served with rice and tortillas — or you can even get a sampler of a few. They also have a small sweet shop up front if you saved any room for dessert.
Antigua Food on a Budget: La Merced Square
While not a restaurant exactly, the street food at La Merced is one of my favorite places to eat. You can get delicious meals for about $2 here, ranging from freshly grilled meats to stuffed plantains to fresh fruit. If you see a long line of locals at a particular stand, I guarantee that's where you want to eat.
Heads up: you'll find quadruple the options on weekends vs. weekdays.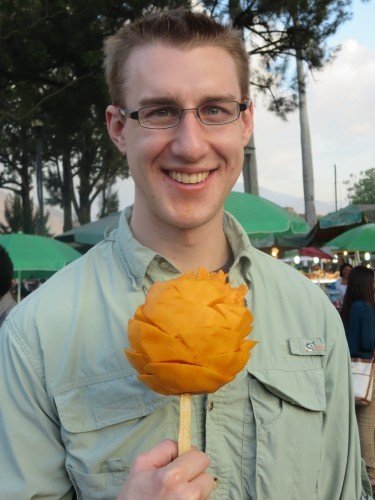 Best Vibe: El Bosque
A few blocks from La Merced Church, you'll find El Bosque which primarily hosts Antigua Cerveza. They have great beer, but there are also a few eateries (order and pay separately from your drinks) on-site.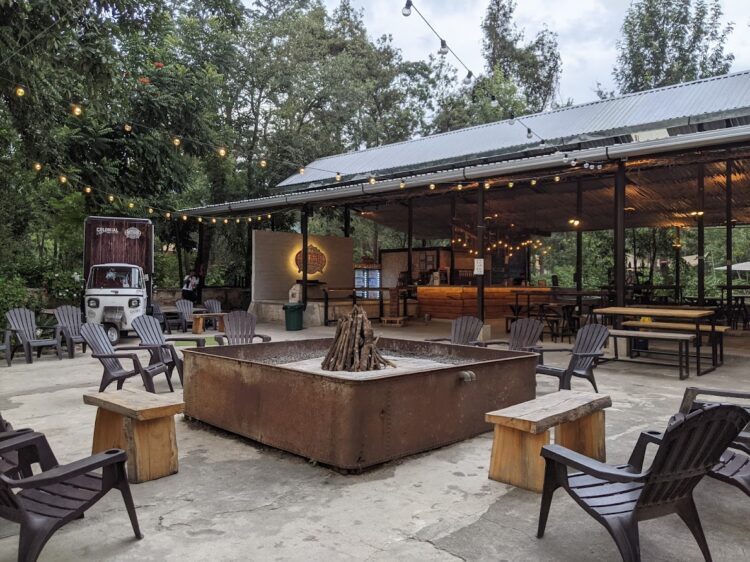 What makes this place so awesome is it's magical vibe. It's at a former coffee plantation, so the grounds are perfectly green with lawn games, events, and evening bonfires. Don't miss it.
Best Breakfast Restaurant in Antigua Guatemala: Fernando's Kaffee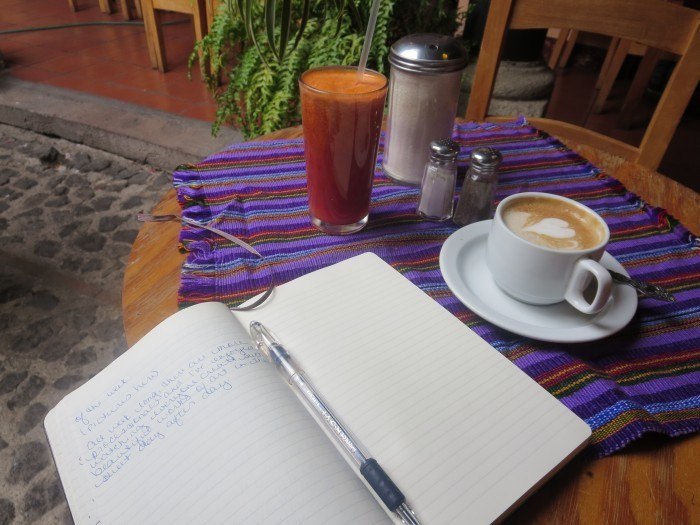 I didn't often go out for breakfast since it was included at my hotels, but Fernando's is the place to go. Their juices are phenomenal and the breakfast plates are hearty enough to fill you up until dinner.
Best Getaway Restaurant: Earth Lodge
On Sunday afternoons, you need to head out of town past Cerro de la Cruz on an Antigua day trip to El Hato. The restaurants up there overlook the mountains for awesome views. Though my favorite chill spot is El Hato Verde, Earth Lodge has better food.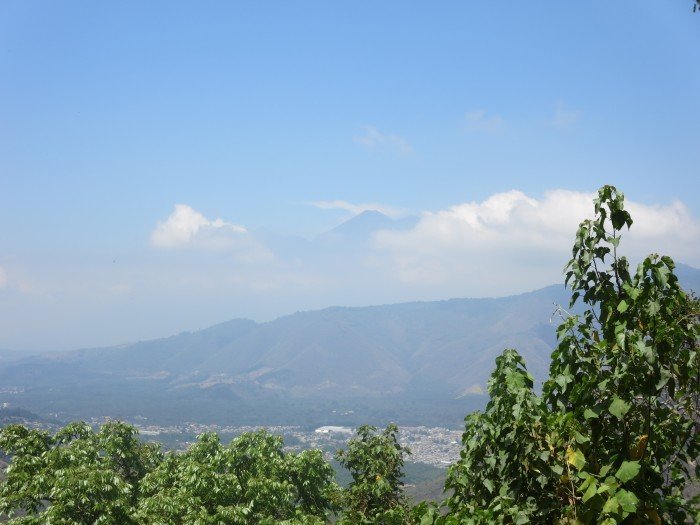 Sundays are great for live music, cornhole, darts, hiking, and of course…a great meal at their Sunday barbecue. If you stay for dinner (or overnight), you'll be served a vegetarian family-style meal featuring their own organically grown produce, herbs, and spices.
Best Place to Grab a Snack: Amanecer
Primarily a juice bar, Amanecer also serves up a few light meals and really banging smoothie bowls, which are my favorite choice for a refreshing snack. They're made with a base of fresh fruit but aren't too sweet and toppings like oats or nuts can make it heartier.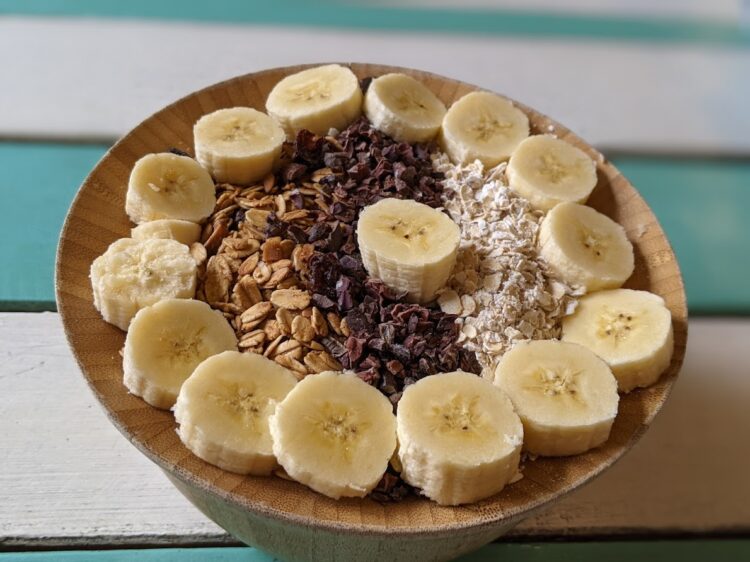 You'll usually need to wait about 10 minutes to get your juice or smoothie but for Guatemala, that's still a quick bite.
Best Cocktails in Antigua Guatemala: Charleston
With a 1920s vibe, Charleston is a great place to go in the evening for a drink. They specialize in cocktails, though you'll find beer, wine, and soft drinks as well.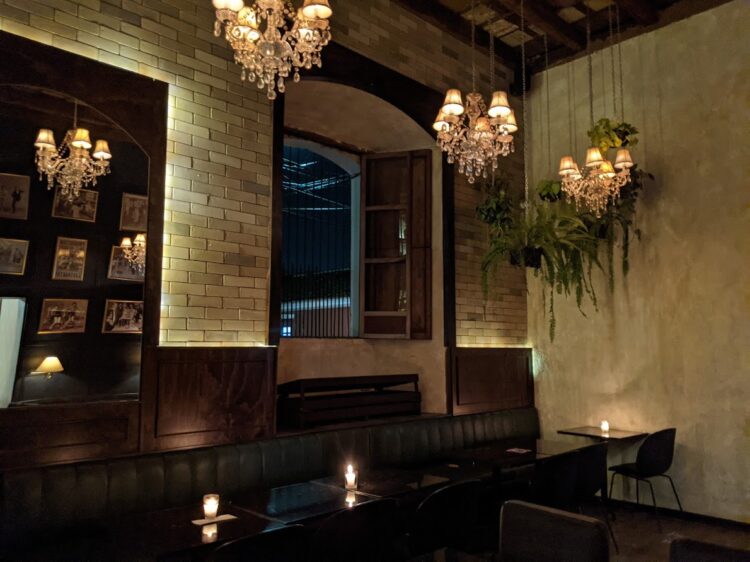 I love this spot for its dim but not awkward lighting, great playlist, and different types of seating options.
Best Bar to Meet People: Ulew
I almost didn't go to Ulew, a new speakeasy in Antigua, because I don't drink hard liquor and you won't find beer or wine here (though you can get mocktails). There's no menu here: instead, you'll tell the very-talented mixologists what you like and they'll concoct something on your behalf.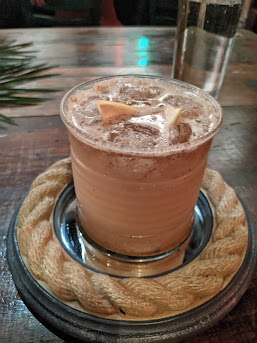 Conversations start easily here, due to the intimate nature inside as well as the fact that everyone is curious about what you got. Ask for something cheerful with mezcal or a smoky after-dinner drink. The more you use adjectives instead of requesting specific ingredients, the more people seemed pleased with the end result.
Best Place to Sit With a Book: Samsara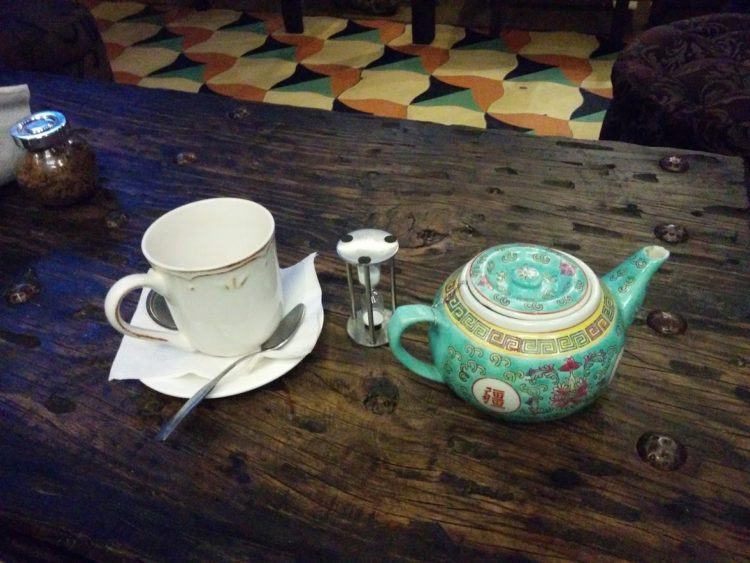 I went to Samsara for their great selection of teas, but this vegetarian-friendly restaurant is also a great choice for light meals or the very odd but very filling kale and peanut butter smoothie. Hey, don't knock it til you try it.
Best Coffee in Antigua: La Vid
The good news is every coffeeshop in Antigua serves excellent coffee (it has to be, with so much competition and farms just down the street). But my personal favorite is La Vid. It's smooth yet full-bodied with options for Aeropress, Chemex, or espresso-based drinks.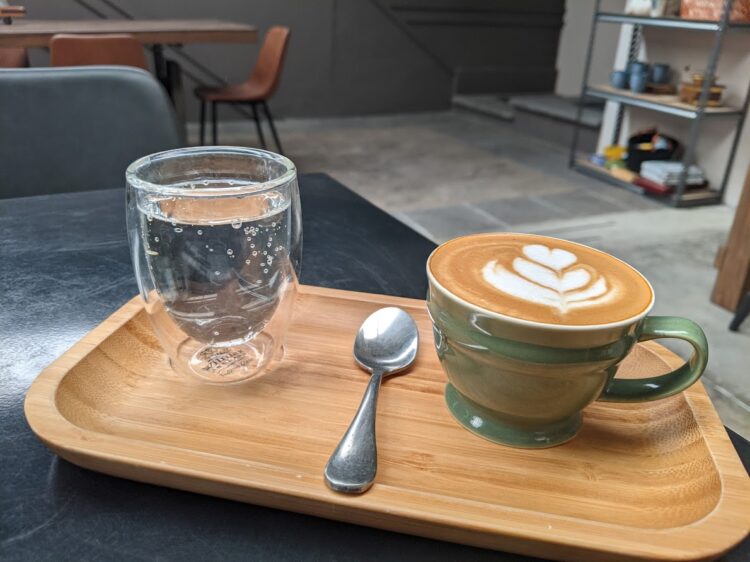 It's also a great spot to get work done with a few seating choices and a nearly-hidden back room if you can't handle any distractions. Wi-fi is strong and a few seats have power outlets.
Best Restaurant With a View of Antigua: Aqua
Aqua was brand new to me on my most recent visit and I'm thrilled it opened up. Yes, it's expensive. Yes, there's an overrated pool you can grab a day pass to. But it also has the best view of Antigua and (on a clear day), the volcanoes in the distance.
Head up the terrace for 360-degree views. Sunset is most popular but the views are often better earlier in the day before the sky clouds up so don't be afraid to go for lunch (or a smoothie) instead.
Other Restaurants in Antigua Guatemala on My List to Try
My next trip to Antigua isn't until January, but I've already got a bucket list of other places to try on my return. I've still never been to Santo Spirito, which comes highly recommended. Who knows — maybe it'll eventually end up on my list of best restaurants in Antigua, Guatemala too!