This post may contain affiliate links. As an Amazon Associate I earn from qualifying purchases.
* * *
When I started telling people I was going to Guatemala, I was surprised that the most frequently asked question is, "What's on your packing list?".
Believe it or not, packing for an extended trip is almost the same as packing for a week. As long as you get used to the idea of doing laundry, it's actually quite simple!
I was determined to keep my luggage to a carry-on packing list. As such, I second-guessed every item that I packed. I want to be prepared for everything, but on the flipside, I only want to carry it if I'll actually use it.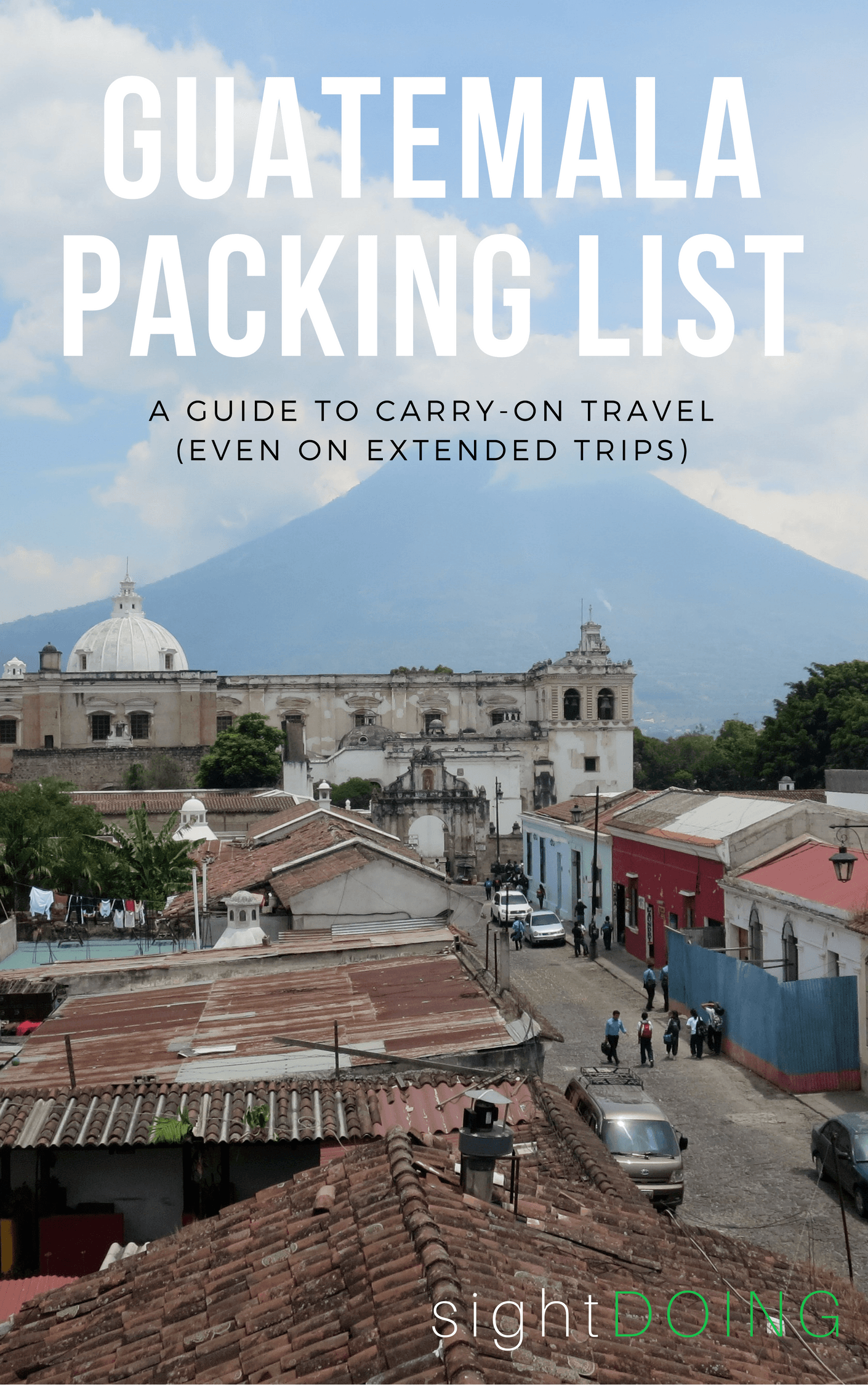 Carry-On Only for Seven Weeks: My Packing List for Guatemala
Luggage
In Central America, the land of chicken buses and muddy roads, bringing a backpack instead of a suitcase is a no-brainer. However, I literally unpacked and re-packed between two different backpacks several times, trying to decide which to bring. The great debate was between an Osprey Ariel 65 and the eBags TLS Mother Lode Weekender Convertible Junior and in the end, my standard carry-on won. I'll be traveling with my eBags backpack.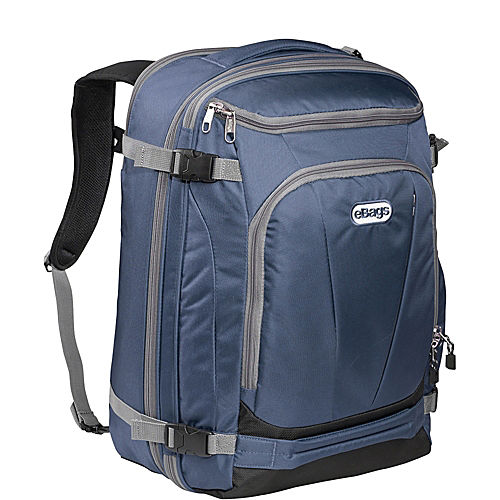 It's just the right size, has plenty of organizational features, and fits comfortably in case I need to walk a ways to reach my destination. I wish it had a hip belt to take some of the weight off my shoulders, but I've yet to find the perfect bag.
I'll also be traveling with a separate laptop bag to carry my computer and a few other things I'll need for my studies.
As packed, the backpack measures about 19″ x 14″ x 9″ and weighs 21 pounds; the laptop bag is 16″ x 10″ x 5″. Technically, these items fall into a standard airline carry-on allowance (as one bag plus a personal item), though I didn't pack for that intentionally.
What's Inside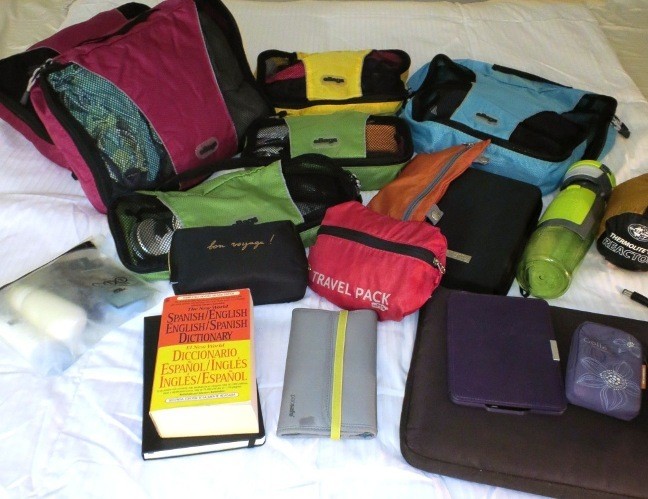 Inside, I've organized my things with packing cubes to find what I need quickly instead of needing to rummage through my bag on a daily basis. It's a great solution for anyone who won't have drawers to unpack in and one of my favorite travel gear items.
Read more: Using Packing Cubes to Stay Organized (Link opens in a new window) Packing cubes have revolutionized my packing.
Clothing
Choosing which clothes to take was the hardest part of packing for me. I expect to encounter temperatures varying between 40 and 100 degrees Fahrenheit so I've included quite an assortment of items. A combination of layering techniques and weekly laundry should help me prepare for all scenarios and have enough to wear for several weeks.
Although it took a lot of energy, I refrained from buying specialty clothing items intended for travel. Yes, they may be useful, but locals get by with just the basics so I can too.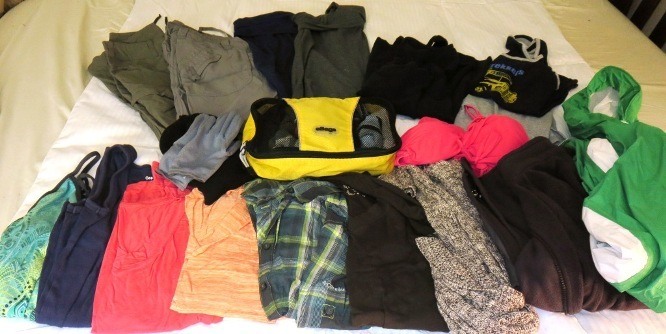 Packed: 2 tank tops, 2 t-shirts, 2 long-sleeve shirts, 1 lightweight cardigan, 1 fleece sweatshirt, 1 raincoat, 2 pairs pants (1 convertible to shorts), 2 skirts, 1 bathing suit, 1 cover up (terry cloth to double as a towel), 1 pair pajamas, 1 hat, 1 set of gloves, 3 bras, 8 pairs of underwear, and 6 pairs of socks.
Yes, I probably overpacked in this category.
Related Reading: Anti-Theft Underwear Read more about an amazing product that actually lets you hide your passport in your undies.
Shoes
Cutting down my shoe list to small number was hard. I'd love a pair of sneakers for running and a pair of slip-on walking shoes for everyday wear. Unfortunately, it just wasn't going to happen.

Packed: flip flops, water shoes, and hiking shoes.
Personal Care
By my best guess, I have enough of everything in this item to last for the full trip, despite the fact that things like soap and toothpaste can easily be obtained within the country.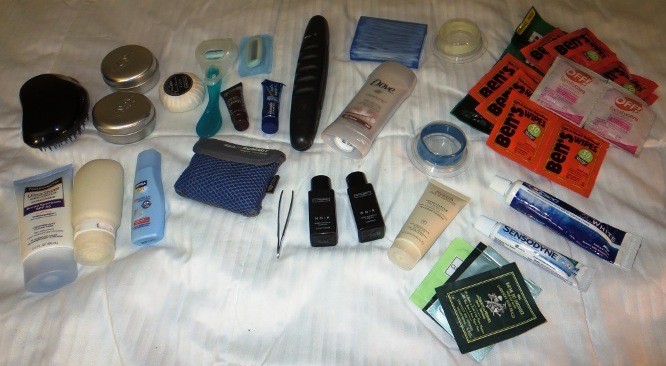 In several cases, I've opted against liquid products to reduce weight and minimize potential spills (solid shampoos, soaps, and insect repellent cloths instead of sprays). As a bonus, as the trip goes on, I'll be using these products up and will have less to carry.
Packed: hairbrush, toothbrush, toothpaste, razor and replacement blade, shampoo, conditioner, soap, shaving cream, hand sanitizer (not pictured), deodorant, lotion, sunscreen, aloe, insect repellant and bug bands, Q-tips, mini-towel (more like a shammy), and tweezers.
Electronics
My biggest debate in the electronic category was whether to opt for a laptop or iPad; bringing both was never a consideration even though I use them for different things. Although the tablet wins instant points for being more compact and having a longer battery life, I chose the computer for easier blogging and photo editing.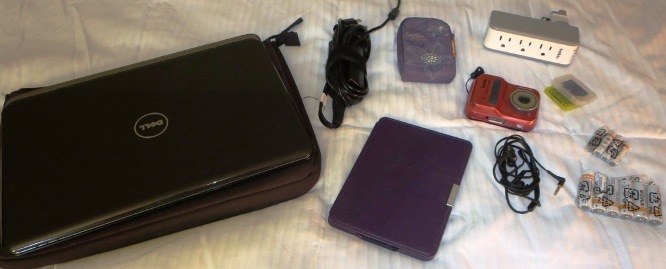 I've decided to start out without a cell phone, but will buy a simple prepaid option if I end up needing one. Am I crazy to think I can get by without one?
Packed: laptop and charger, camera and case, underwater camera, Kindle, headphones, multi-plug outlet, spare memory cards, and spare batteries.
Want specifics of the brands and models I use for luggage, electronics, and more? Check out my travel gear recommendations!
Miscellaneous
This catch-all category could easily grow out of hand if you let it, but I tried to keep things to a bare minimum. My Girl Scout background had me wanting to prepare for all scenarios, but that's simply not a practical option. I tried to leave out anything that can be easily purchased in-country if necessary instead of bringing everything with me to begin with.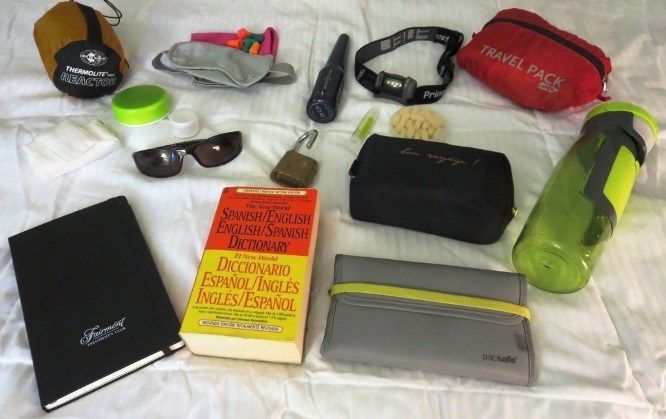 Note…the sleeping bag liner in this photo didn't make the final cut but I ended up adding a Tide to-go pen for stain removal and I'll be wearing a watch that doubles as an alarm clock.
Packed: Eyeshade, ear plugs, Steripen, headlamp, packable day pack, tissues, hairbands, spare earrings, sunglasses, padlock, lip balm, vitamins, first aid kit, stain remover pen (not pictured), water bottle, watch (not pictured) notebook, pens (not pictured), dictionary, and wallet.
The Final Product
Amazingly, the end result is almost the same as my packing list for vacation normally.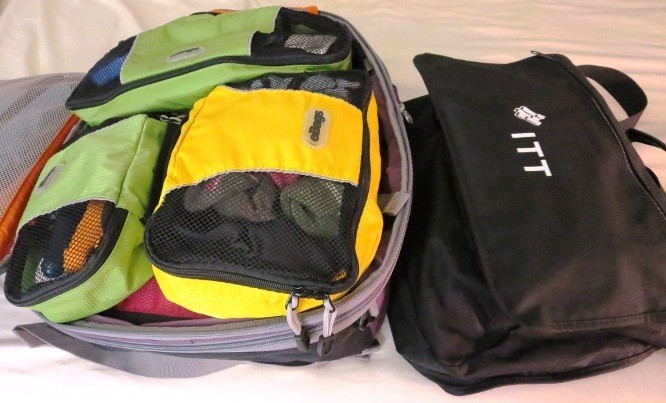 I'll be interested to see which items I never pull out and what I end up buying while I'm there because I didn't think to pack it.

* * *
Read More:

Do You Really Need It? A Comprehensive Printable Packing List