This post may contain affiliate links. As an Amazon Associate I earn from qualifying purchases.
* * *
I've never chosen a destination specifically for its food, but I love to eat and sampling local flavors is a fun part of discovering new places. In Iceland, though, restaurants can be expensive. Finding a restaurant with good food and reasonable prices isn't something you can automatically count on. Luckily, I've done the research, tried it personally, and am here to report back on Reykjavik restaurants that are delicious and relatively affordable.
4 Yummy & Affordable Reykjavik Restaurants
Restaurants listed in approximate order of cost, cheapest to most expensive. And, all of these are easy walking distance to most downtown hotels so you can save on rental car or taxi costs, too!
Even Icelanders know their food is expensive, which is why they've so openly embraced the hot dog as an appropriate meal, snack, and late-night munchie.
So what makes an Icelandic hot dog different? To start with, they're a blend of beef, pork, and lamb, which gives it a richer flavor. They're then topped with ketchup, sweet mustard, fried onion, raw onion, and remoulade (sweet relish and mayonnaise). The combination of a real casing and fried onions gives it an interesting texture, but it's the mustard that ties it all together.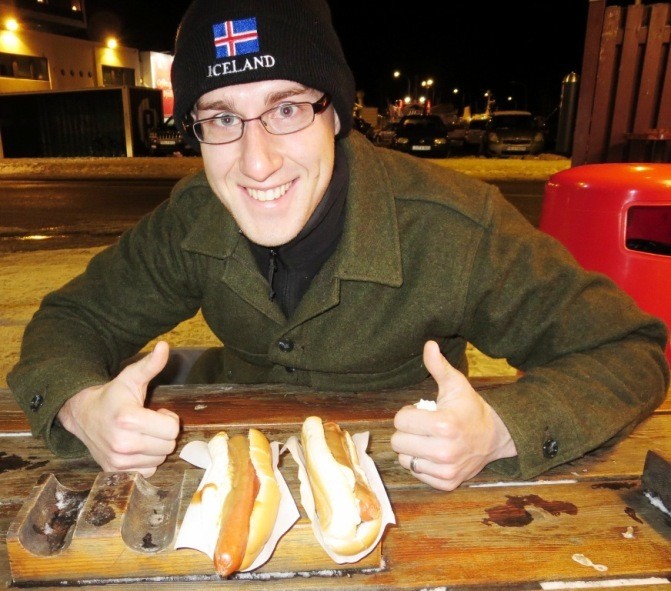 Bæjarins Beztu is considered Iceland's finest, though you'll more likely see the locals buying a hot dog at a gas station while on the run. Regardless, the main location of Bæjarins Beztu on Tryggvagata is open late (1:30 or later on weekdays, 4am on weekends), busy, and as casual as it gets for Reykjavik restaurants.
Cost: 380 kr (~US$3) per hot dog, or about 1,000 kr. for two hot dogs and a soda, which is what it'll take to make a meal.
Looking for another unique take on the hot dog? Try a Detroit Coney Dog (opens in a new window)
Have you ever heard of a fish and chips place that refers to itself as an organic bistro? Now you have. Icelandic Fish and Chips tries to be a bit upscale — at least with their food, certainly not with their ambiance. Choose your favorite fresh-caught fish, add chips, salad, or other sides, and maybe sample a Skyr-based dipping sauce.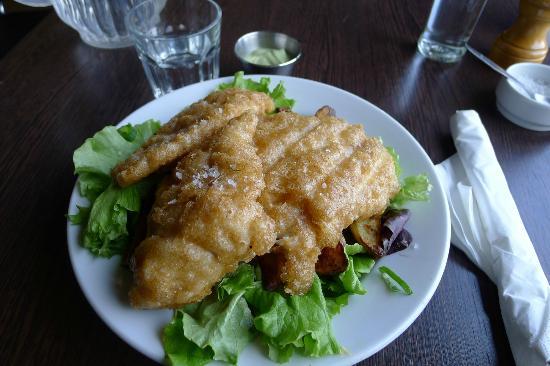 The fish was tremendous, lightly battered and crispy fried. For anyone watching their health, you'll find oven-roasted or grilled seafood options as well. I was on vacation and had no intention whatsoever of counting calories when sampling Reykjavik restaurants 🙂
My salad was bright with a tangy dressing and my husband's onion rings were addicting. It's a good thing because their "chips" are really oven-roasted potatoes, and underwhelming at that. They were oily, salty, and a poor accompaniment to an otherwise delicious meal. Stick with the fish and one of their other sides instead. The worst disappointment, though, were the expensive dipping sauces, none of which wowed us. Be smart and don't order half a dozen the way we did.
Cost: About 2,000 kr. ($16) for fish and your choice of side, and an additional 280 kr. for a dipping sauce. Assuming you didn't build up an appetite while ice climbing, portions are definitely big enough for sharing (yes, that's three pieces of fish shown above with a salad and potatoes).
Is Iceland Expensive? A little bit, but sharing meals is commonplace. Check out other ways to save money on your Iceland trip (opens in new window).
Restaurants that are smack dab in the middle of a tourist area with hundreds of tourist recommendations make me wonder if it's actually a good restaurant or just a good restaurant given the immediate competition in the harbor area. Saegreifinn passed both tests.
Chilled to our bones, we walked into Sægreifinn to join tourists and locals alike at low, communal tables. Every tourist had a steaming bowl of the restaurant's famous lobster soup. Every local had a freshly grilled seafood skewer. We tried both.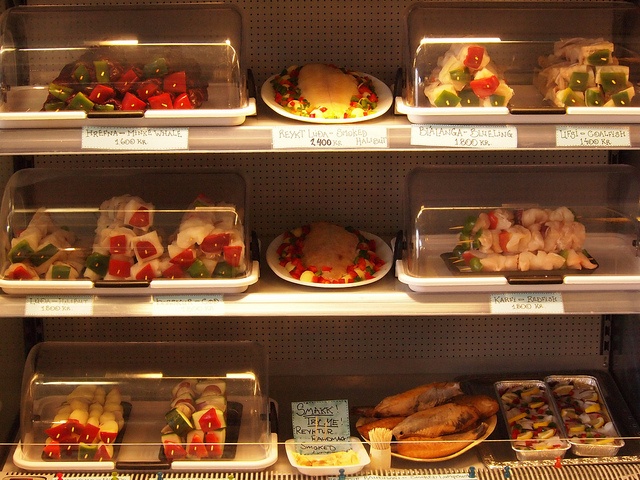 The soup was okay, certainly not the "world's-best lobster soup" as they claim. There was only a moderate amount of lobster that was a bit mushy from being cooked in the soup. On the other hand, the fresh fish was incredible and a generous portion. Their simple preparation was light seasoning and grilled to order, but it was delicious.
Cost: About 1300 kr. ($10) for a bowl of soup served with fresh bread and butter or ~1800 kr. ($14) for a skewer, depending on the type of fish selected. Water and coffee are self-serve and sharing an entree is an acceptable option. Considering the price of seafood in general, this one chalks up as a reasonably-priced option.
Need another way to warm up? Learn how to dress — and pack — for winter vacations (opens in new window).
There's controversy surrounding minke whale, puffin, and horse at Reykjavik restaurants despite the fact that none are endangered. The ethics are up to you, but each of these contributed to Iceland's culinary heritage, and I wanted to try them. That said, I didn't want a large portion of any of them, just a bite or two. Tapas Barinn was the perfect opportunity to get just a small taste of strange meats and supplement them with flavors we knew we'd love.
Even with a shot of the local liquor and a glass of wine in me, it was hard to choke down the puffin. In all my life, I can't think of a food I disliked as much as this fishy, gamey sea bird. However, the minke whale wasn't half bad (not good enough to order again, but good enough to enjoy trying) and the other offerings on the tasting menu were delicious. I could've eaten about a dozen of their lobster tails and their Skyr mousse was similar to — and better than — most cheesecakes I've had.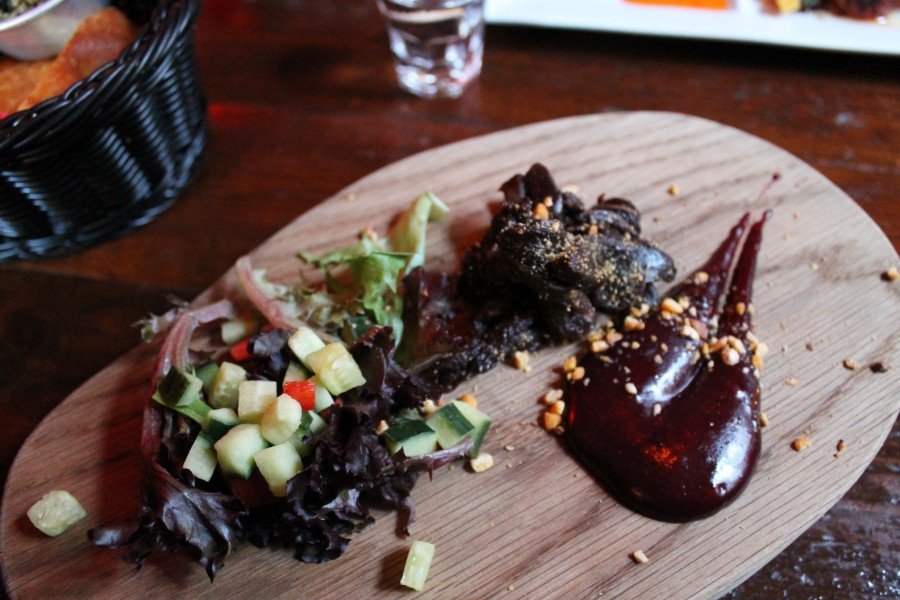 Considering most of our meals were casual, Tapas Barinn was a relative splurge. The restaurant was packed, lively and a lot of fun. A group was celebrating a birthday at the table next to us and families were laughing and dining at other tables. This was definitely a popular restaurant and it was easy to see why.
Cost: The tasting menu was 5890 kr. ($45) which I thought was reasonable for the quality of food and service. Better yet, we had plenty of food sharing just one tasting portion plus two additional a la carte tapas and a complimentary bread basket, keeping the total price down.
Before your trip, be sure to read all my Iceland tips and advice so you're not surprised by weird aspects of the country.
Bonus! Geysir Cafeteria
This isn't a restaurant really, just a cafeteria inside a visitor center, and it's not even in Reykjavik. But if you're touring the Golden Circle, skip the picnic lunch and make it a point to try the lamb soup from the cafeteria. I'm seriously still dreaming about this soup: hearty, rich, and with lots of tender lamb. At about 1200 kr. (if I remember correctly), it's an expensive bowl of soup, but it'll fill you up for hours and isn't so bad when you factor in the free rolls and water.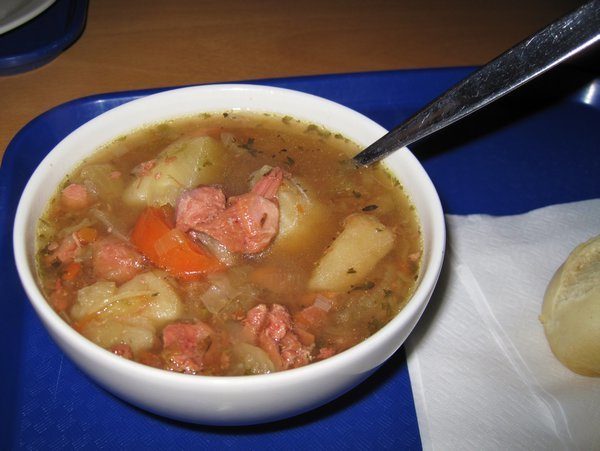 Generally speaking, Iceland has a lot of great restaurants and if you have the money, you could be eating some world-class meals. However, for the money, we still had some really great meals. I'd return to each one of these restaurants and recommend them without a doubt.
* * *
WANT MORE INFORMATION ABOUT VISITING ICELAND?

Check out my complete Iceland Travel Guide to learn about the Reykjanes Peninsula, Golden Circle, and even explains why I think the Blue Lagoon is totally overrated.