This post may contain affiliate links. As an Amazon Associate I earn from qualifying purchases.
* * *
Detroit may not be the first city that comes to mind when you brainstorm culinary getaways, but for anyone looking to trade in Michelin stars for casual good eats, it's the perfect choice. I gladly support deep dish pizza, craft brews, Greek specialties, Mexican plates, and some amazing Polish dinners (trust me, I'm an expert on that one.) Out of all of the local options, though, it's Detroit coney dogs that stand out as truly unique.
What is a Detroit Coney Dog?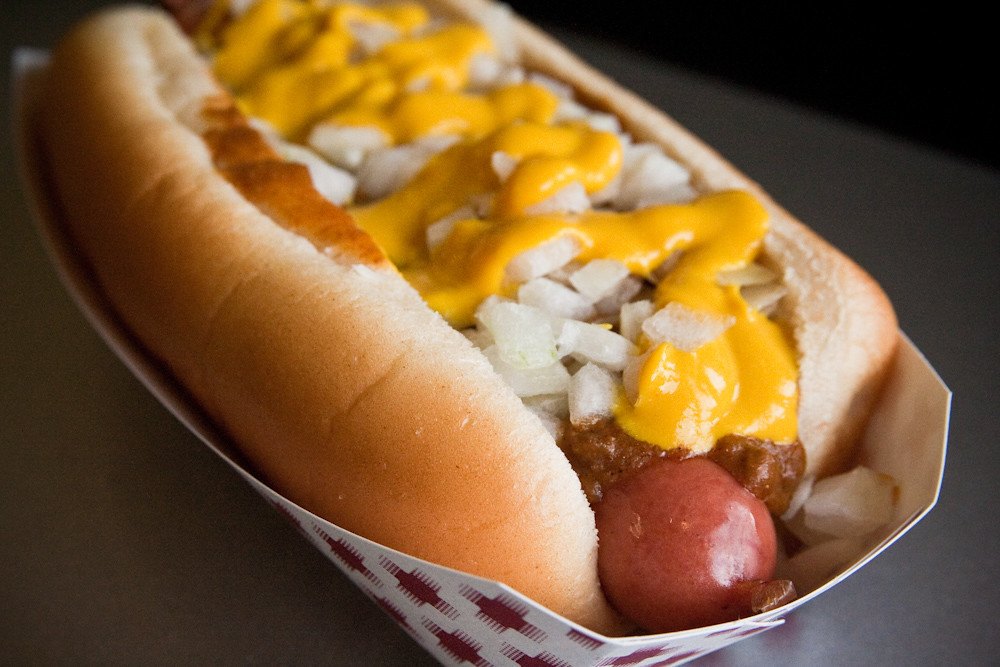 At first glance, you may say that a Coney is just another hot dog, but it's more than that. The Coney is Detroit's signature hot dog, typically made of beef and pork in a natural casing, then topped with an all-meat chili, mustard, and diced raw onion.
Each local establishment has their own highly-guarded chili recipe, but all of them are bean-less and more of a spicy meat sauce than the type of chili you'd eat in a bowl. Rumor has it that popular ingredients include beef heart, cinnamon, and bacon grease.
The Detroit Coney Dog Rivalry: American Coney Island vs Lafayette Coney Island
You'll find Coneys all over Michigan as a local specialty, but the real deal is in downtown Detroit where the first Coney is thought to have been invented in 1917.
Today, American Coney Island and Lafayette Coney Island are the two most beloved hot dog shops. Every local is fiercely loyal to their own favorite, but if you're a traveler, you can't go wrong with either option.
As for me, I felt compelled to try both, so that I could see which one I preferred. Given that the restaurants are side-by-side, this was simple to accomplish.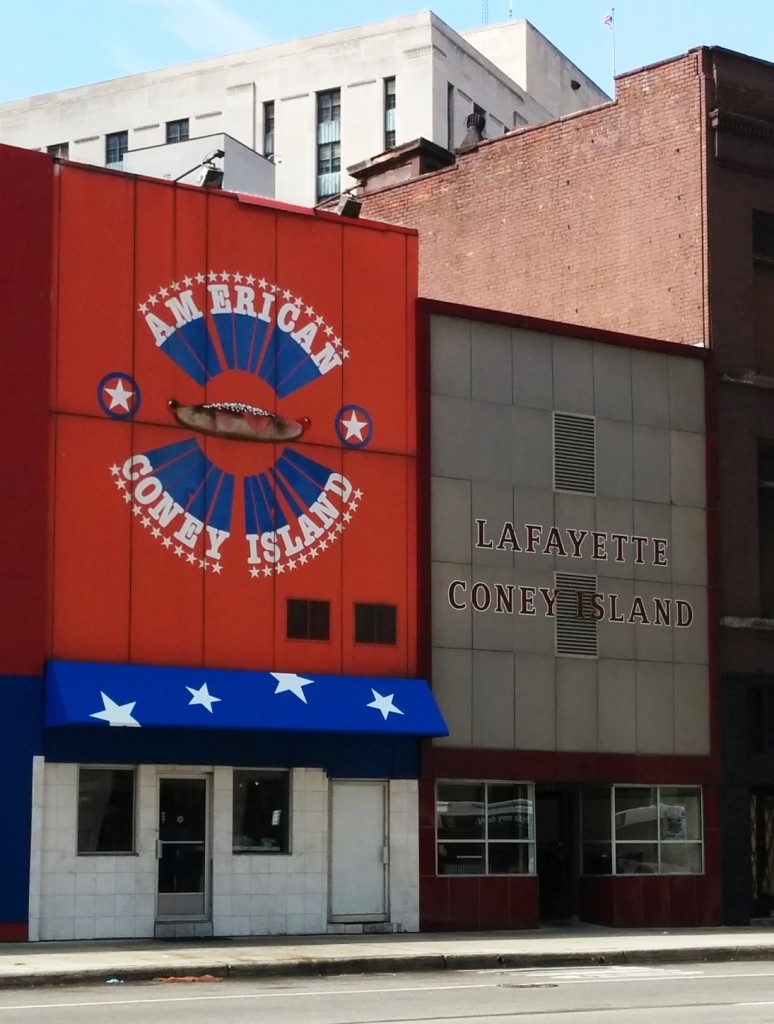 Trying American Coney Island
The first thing I noticed when I entered American Coney Island is that it didn't have the vibe I expected from a century-old favorite diner. There's no atmosphere, no dirty grunge, and nothing that gave it the feel of an all-hours institution (after all, a meal consisting of a hot dog and chili cheese fries seems like a better idea at 3am after a few drinks).
Instead, American is a cute, family-friendly place somewhere between a fast food chain and a diner. The menu is simple, but since everyone comes for the Coneys, that's no surprise.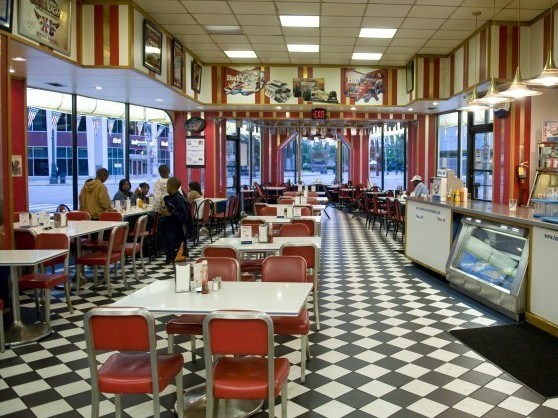 The meal's popularity was apparent at first bite: the casing snaps, the meat is nothing short of delicious, and all three toppings play off of each other: mild vidalia onions, tangy mustard, and almost-sweet chili. This place is popular for a reason, and I was close to ordering a second hot dog on the spot.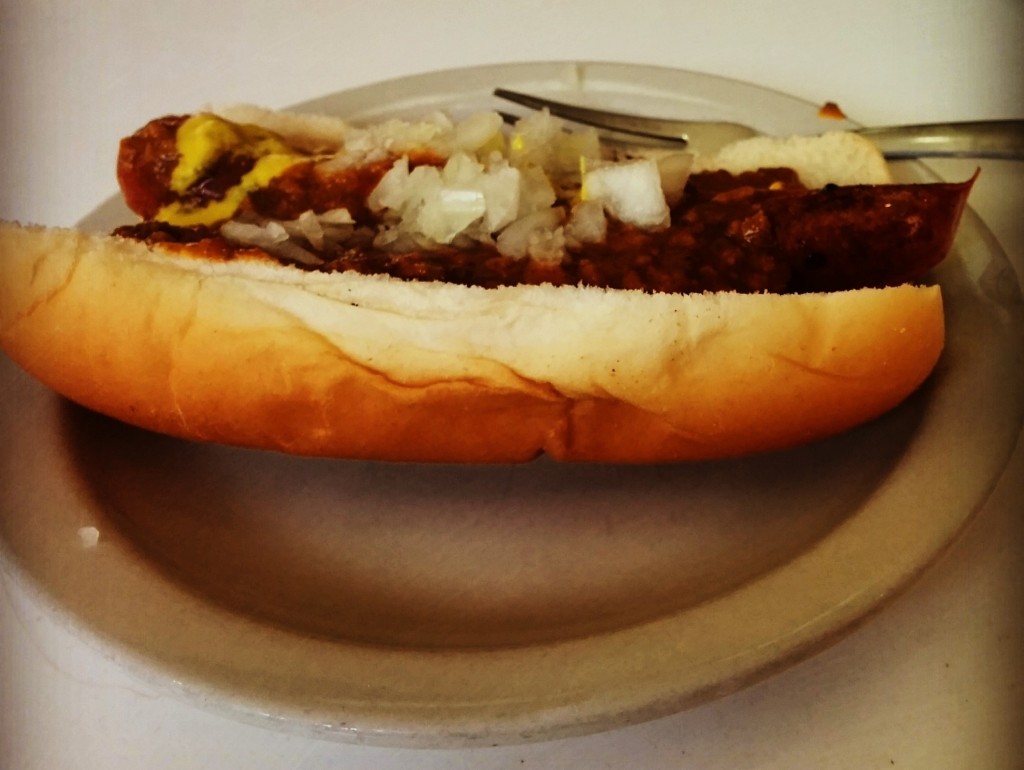 Another Great Hot Dog at Lafeyette Coney Island
I walked next door to Lafayette Coney Island and ordered a "one up" (a hot dog with everything), fries, and diet soda, fully aware of the irony. At Lafayette, it feels like more of a late-night hangout spot, with a bar counter and stools, orders being barked out in foreign languages, and ultra-low prices. The restaurant decor hasn't changed much over the past decades, and that's a draw for me.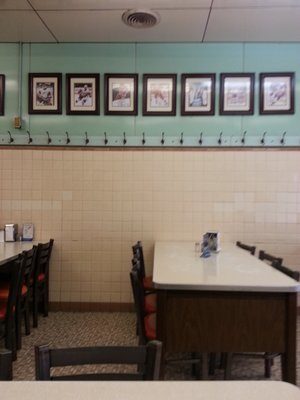 I wanted to love Lafayette, given the interesting ambiance and local feel, but my meal wasn't love at first bite. The hot dog itself was great and the toasted bun was a superior holder for a meal that can otherwise become soggy.
Unfortunately, that delightful snap of the casing and homemade chili sauce was quickly overwhelmed by mustard with too much bite and powerful yellow onions. These seemingly small choices in their recipe gave the win to American Coney Island.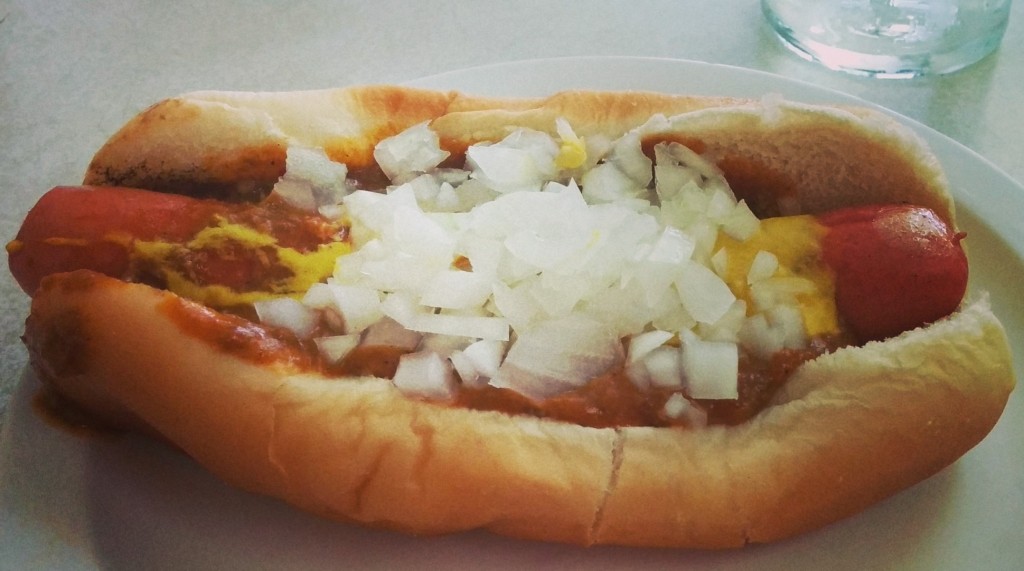 The Best Coney Dog in Detroit
Both of my Detroit coney dogs were good and each restaurant caters to a different customer, giving me two very different experiences talking with locals.
However, the clear winner for me was American Coney Island: the entire point of a coney is how the toppings play off each other, and American had better balance to create a perfect bite. If they toasted their bun like Lafayette does
This regional delicacy is a Michigan must-have.
Try Your Own Detroit Coney Dogs

American Coney Island and Lafayette Coney Island are literally right next door to each other in downtown Detroit, so you can try both or choose the one with the shorter wait. Neither has a designated parking lot, so bring quarters for street meters or use the People Mover (public transportation).

Lucky for you, American is open 24/7 and Lafayette is open from breakfast until 4am, so you can get your Coney fix anytime you want. While American takes credit cards, Lafayette operates cash-only (never fear, there are a handful of banks and ATMs within a 3-minute walk).
* * *
Heading to Detroit? Don't forget to try fowling, a local favorite mash-up game!