This post may contain affiliate links. As an Amazon Associate I earn from qualifying purchases.
* * *
I was always the last one chosen in high school gym. Football was the worst: I can't catch a ball to save my life and throwing isn't much better. So when I invited my family to try a round of fowling in Detroit — that's football bowling for anyone who's not in the know — I got a lot of raised eyebrows.
For starters, no one knew what fowling was. Once I told them about this new sport, they were even less convinced. That's no surprise; both my parents and sister are even less athletic than I am.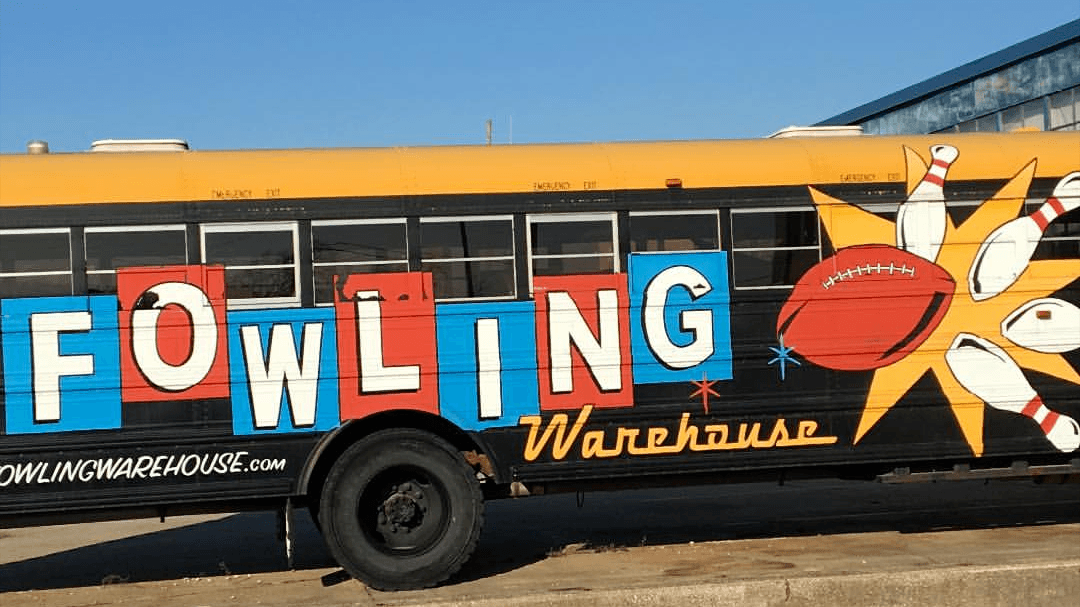 What is Fowling?
If you were to set up two sets of bowling pins across from each other, as if two opposing teams were playing beer pong, and then used a football to knock down pins…you've got fowling.
This was originally a tailgating game, which means the brilliance is in its simplicity. The goal is to throw the football across the lane and knock down all your pins before the other team does. Unlike traditional bowling, you don't reset pins between rounds.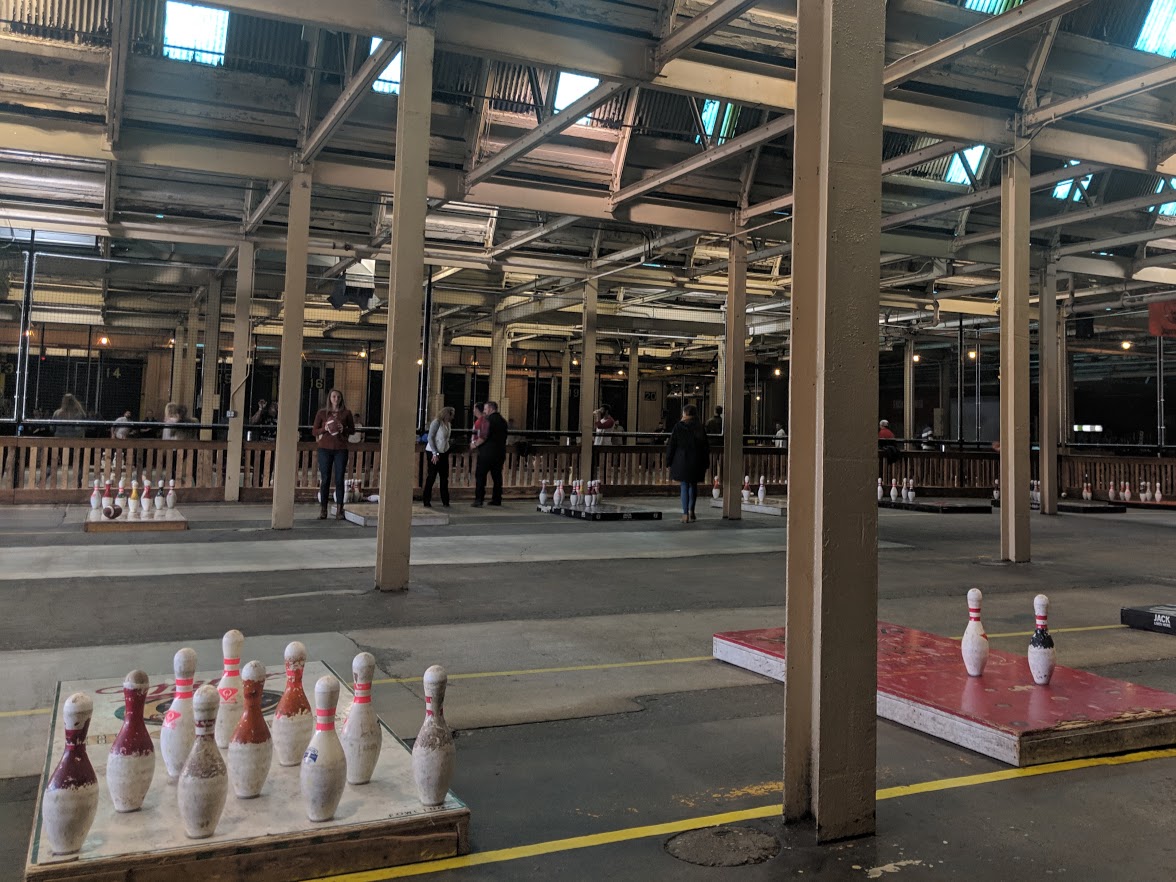 There aren't many rules, other than that you can't defend your pins unless the football has already bounced from the ground.
And oh yeah, if you knock down the middle pin without hitting any others, that's a "bonk" and you get to sound a freighter horn.
Bottom line: throw the football, hit the pins. Sounds easy, but football bowling is easier said than done.
The Fowling Warehouse in Hamtramck
On a winter afternoon, my husband and I walked into The Fowling Warehouse outside of Detroit, in Hamtramck, MI. Like a lot of Detroit, the former industrial warehouse looks a little rough around the edges but it's really well converted.
Inside, you'll find 30 fowling lanes. At the time of my visit, about half were saved for groups with reservations, but half were ready for open play. You'll also find a a bar with a lengthy beer list (with beers that fill from the bottom, for a perfect pour every time) and a stage where they sometimes feature live music.
To add to the whimsical nature, there's also a beer vending machine with $2 mystery beers. That's a darn good deal if you don't mind being surprised with what comes out.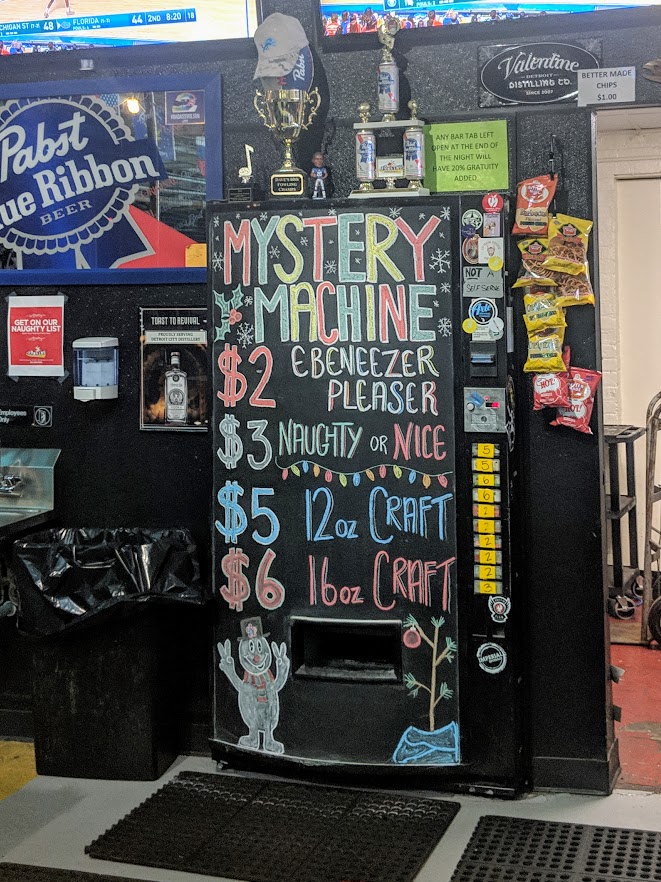 Fowling Detroit Style
Assuming you're not traveling with a large group of friends, your first task in the fowling game is finding a team to challenge.
This is not the time to be shy. There were plenty of people who (like us) showed up with a date but without someone else to compete against. Go make a friend and invite them for a friendly round or two. This is the midwest: chances are they'll say yes.
Since there aren't many rules, you can experiment with your fowling strategy. You don't necessarily have to throw the football in a normal spiral. Use both heads to chuck it from over your head. Give it an underhand throw. Different throwing styles offer different combinations of force, bounce, and aim. It takes some practice to figure out what works in each situation, but that's half the fun.
My Football Bowling Results
My first time wasn't pretty: we were newbies and it showed. The other team managed to knock down 9 of 10 pins before we got any of theirs. I assumed we were out of luck, but that last pin turned out to be elusive.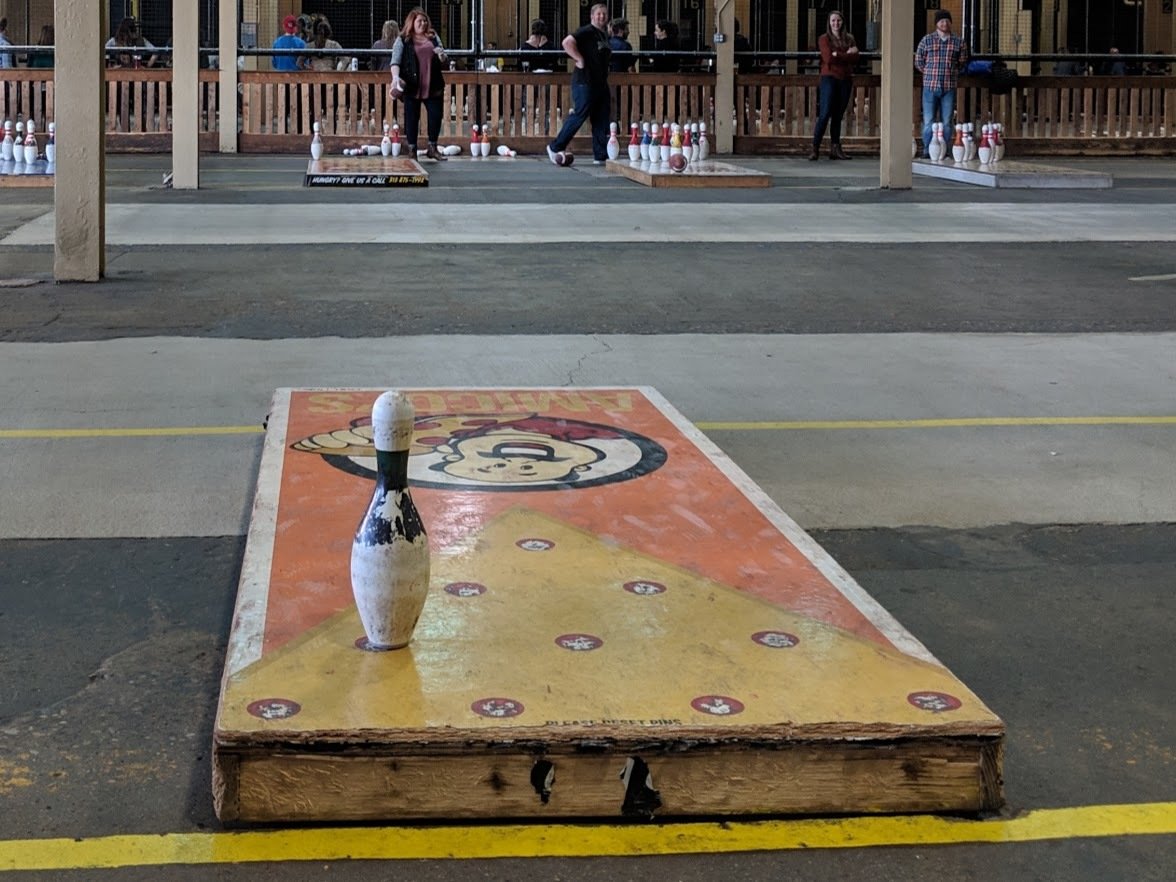 In a total upset, we came from behind for a surprise win. Even the Buffalo Bills hit the playoffs every once in awhile, and apparently even a girl chosen last in gym class can score unexpectedly.
After that round, we found a different team to compete against and pulled out another W. Making quick friends with our opponents, we mixed up our team compositions for a few rounds to get to know them better — after all, this is a social game that you shouldn't take too seriously.
There were some wins, some losses, but no matter how bad my throws were, it was a blast.
While You're in Detroit…
There's no food at the Fowling Warehouse, but if you're in Hamtramck April through September, don't miss a Vernor's Float at Burk's Igloo. When you mix their homemade soft serve with Michigan's favorite ginger ale, it really brings out the oaky undertones.
And even though it isn't fancy, you should get yourself a Detroit Coney Dog. The local favorites are at American and Lafayette: find out which coney dog was my favorite or do the side-by-side challenge.
Where to Stay in Detroit:

Over the 5.5 years my sister lived in Detroit, I stayed in several different neighborhoods and hotels. Downtown, despite being more expensive, is by far your best choice. You'll love being in walking distance of restaurants and nightlife, especially since driving in Detroit is not always easy (beware of potholes, "Michigan lefts", and lots of one-way streets).

The Aloft @ David Whitney is unlike any chain hotel I've ever stayed at, centered around a jaw-dropping atrium with skylights, marble, and terra cotta. It's in the heart of the Entertainment District and is right on the People Mover and QLINE for easy transportation.

If you're after great value, I recommend The Athenium. Every room is a spacious suite and the staff were fabulous during my stay. Since it's in the heart of Greektown, it's a fun and lively neighborhood to stay in.
I've had the pleasure of visiting Detroit several times and if you use one of my links to book your own trip, I'll earn a little beer money for my next fowling misadventure. After all, when you mix alcohol and football bowling, what could possibly go wrong?