This post may contain affiliate links. As an Amazon Associate I earn from qualifying purchases.
* * *
Chichicastenango Guatemala has built a reputation for being the tourist market in Guatemala. Twice a week, hundreds of vendors set up their shops, anxiously waiting for busloads of visitors to arrive to buy colorful textiles, jewelry, and masks.
But beyond the Chichicastenango market, you'll also find a town that still honors and celebrates its Mayan traditions with ceremonies you can (respectfully) observe.
Even though Chichi is a bit out of the way, it's worth a visit if you have free time in Guatemala — and for most people, a morning is sufficient.
Shopping in the Chichicastenango Market
Like many Guatemalan cities, Chichicastenango has held a local market for many years. It started as a locals-only affair, with people in Chichi and the surrounding villages in the El Quiché department gathering to sell and/or shop for their necessities. At some point, a few tourists stumbled upon it, noticed the high quality handicrafts for sale, and word spread until more and more visitors came to check it out.
Now, every Thursday and Sunday, the town turns into a bit of a madhouse, full of Americans, Australians, and Europeans all anxiously waiting for a vendor with "a good price for you".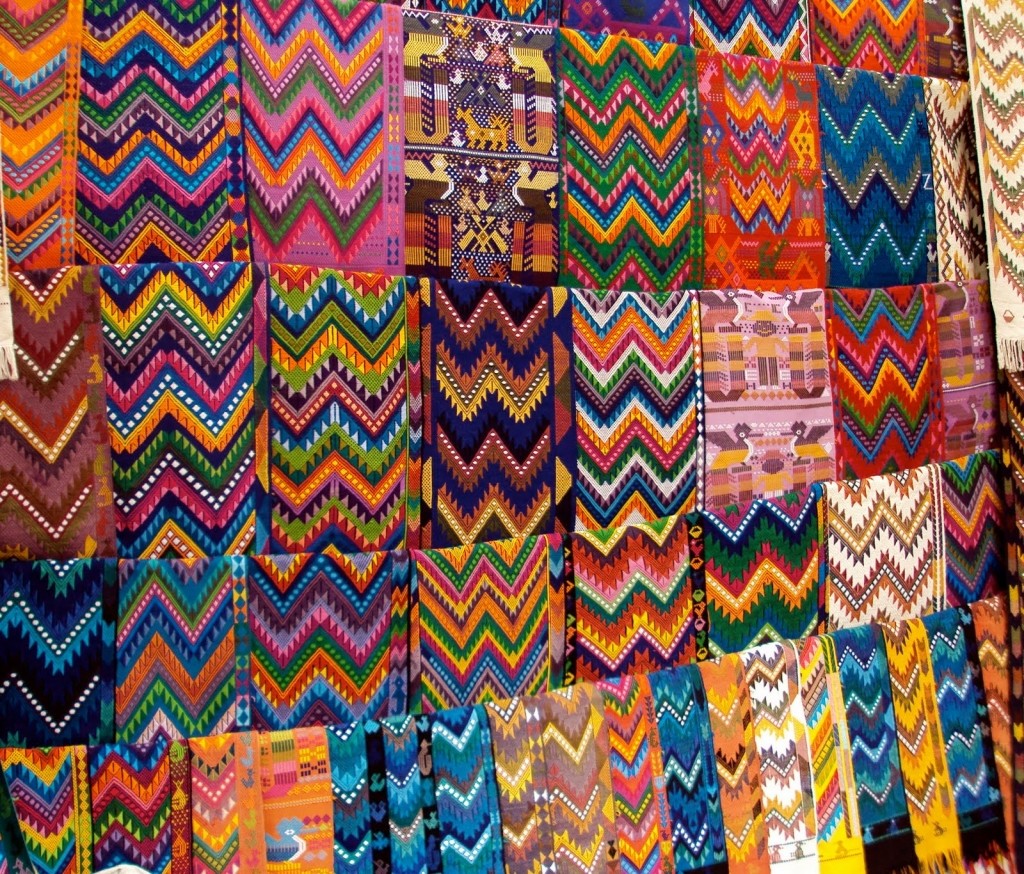 Now that the secret is out, the market is larger than it ever was, trying to keep up with demand for the many visitors coming to shop. Vendors know they can charge tourists a higher price than they would for locals and everyone wants a piece of that action.
Unfortunately, for every beautiful display of handcrafted items, there is another shop with mass-produced knock-offs — beautiful quality items side-by-side with cheap ones (probably made in China) to entice tourists with low prices.
Other sellers disregard Guatemalan heritage entirely, offering souvenirs that have nothing to do with the arts and crafts that originally brought visitors to this mountain town.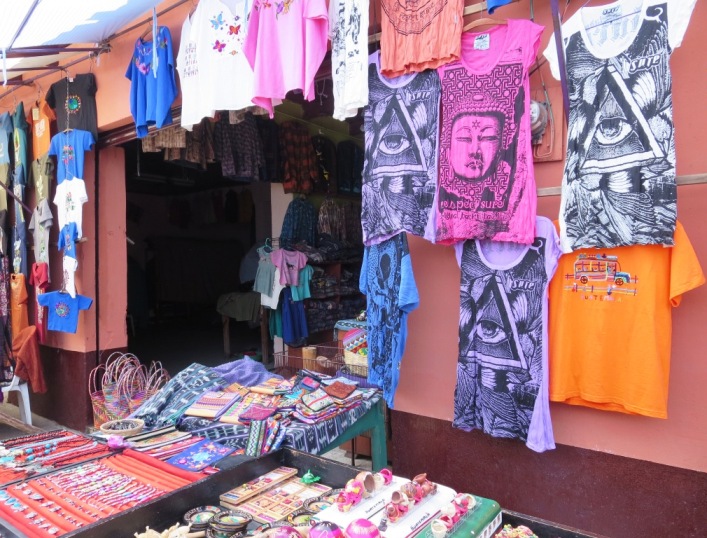 If you're shopping for artwork, be sure to research how to tell the real ones from fakes before you go so you come home with what you were hoping for. There are still treasures to find, but you'll have to spend some extra quetzales to buy them.
Where the Locals Shop
Even on market days, you can escape the souvenir madness and mingle with the locals. People still commute in from mountain villages on Thursdays and Sundays to shop or trade in the Chichicastenango market.
Hidden inside the town's basketball court is where the real shopping goes on.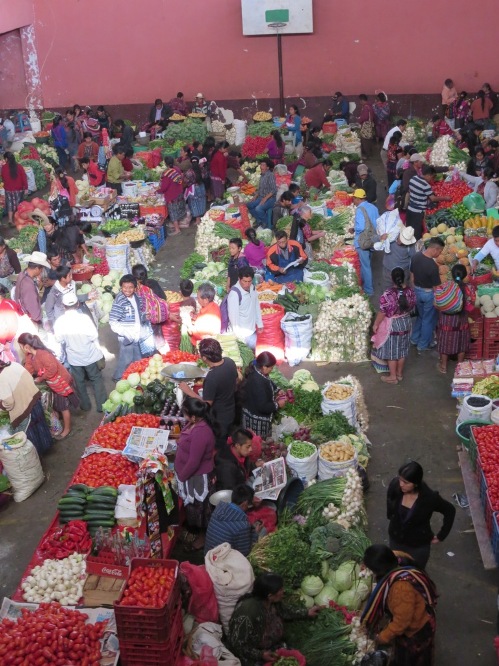 Here in the basketball court, you can observe from the second floor to watch everything going on or head down to the main level if you'd like a closer look (or to buy anything of your own!). This part of the market isn't particularly different from the other produce markets throughout Guatemala, so even though it's worth a quick peek, I didn't spend much time here.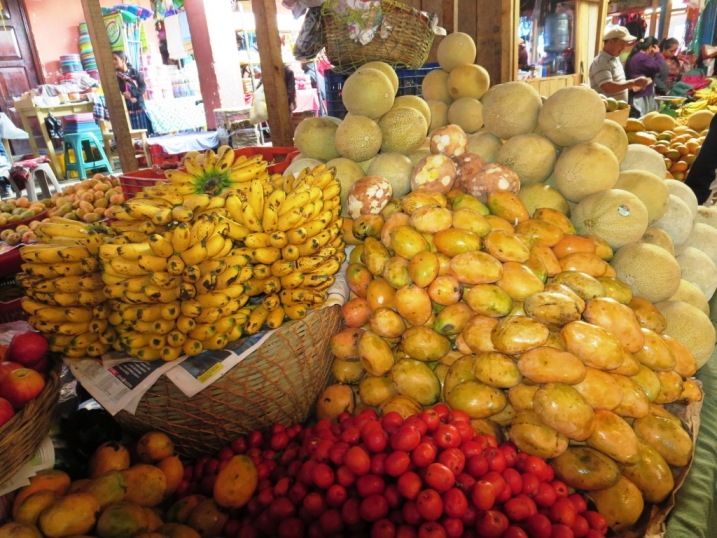 A few blocks away is the animal market, an area you won't find in some of the other tourist towns and a part of Chichicastenango most tourists never see.
It's interesting enough to watch the haggling over next month's dinner, but I found myself continually wondering just how some of these animals got to or from the market on public transportation…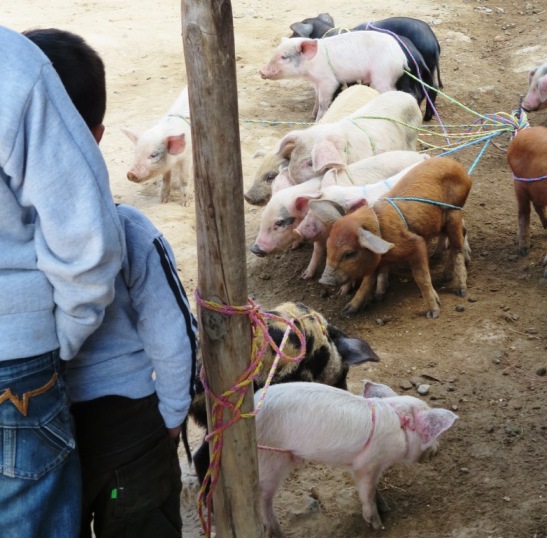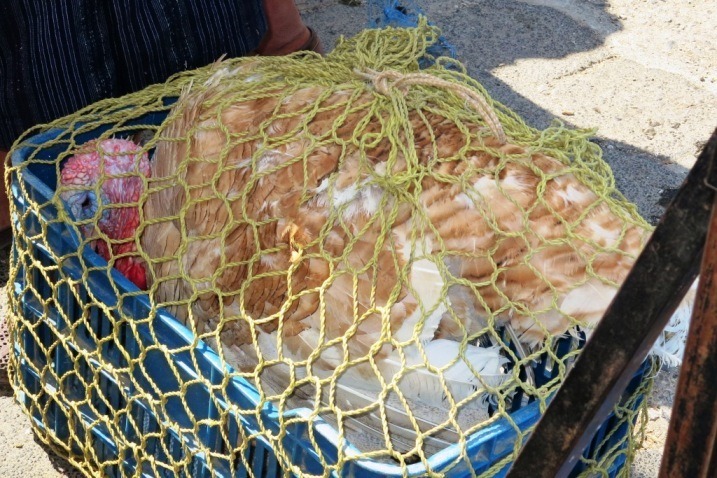 Chichicastenango Church
More so than the markets, it's the Chichicastenango church that is a unique wonder in Guatemala.
The 400-year-old Iglesia de Santo Tomás still stays true to its Mayan traditions rather than converting all the way to Catholicism.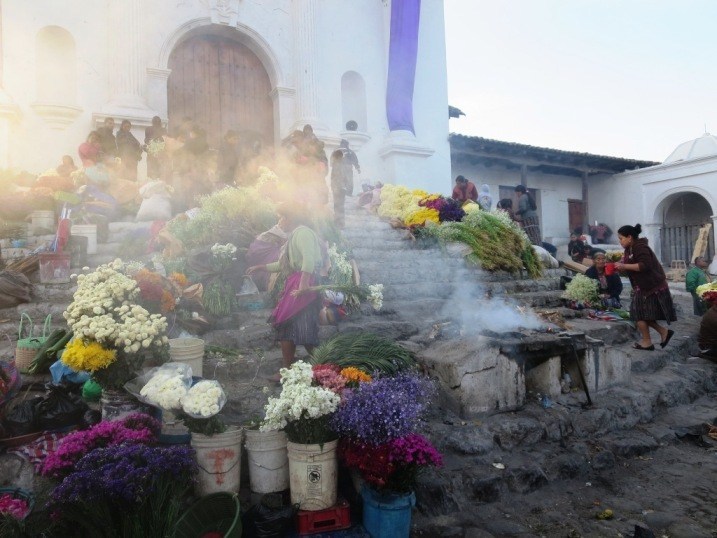 On Sundays, right next to the market, you can observe how today's Catholic masses are interwoven with Mayan rituals due to the fact the church was built over an Mayan temple platform.
On the front steps to the church — one step for each month of the Mayan calendar — incense is burned and flowers and candles are sold for elaborate ceremonies. Inside, some locals chant in the K'iche' language overlooking Mayan offerings in the back while others kneel in pews and recite the Nicene Creed in Spanish.
Even if you aren't religious, this is an incredible coming together of languages, cultures, and religions. Please step in quietly and take a seat in the back; photography is not allowed.
The Chichicastenango Cemetery
Outside of town, traditions are even stronger, and two commonly active worship sites include the town cemetery and Pascual Abaj, a Mayan shrine. Unfortunately, both of been locations of previously-reported crimes against tourists, and so I hired an Inguat guide to accompany me, overpaying to make my point clear: no shopping, no commissions, and no kickbacks. I just wanted to observe the local culture.
The cemetery is an easy hike from town and an interesting place to visit even when shamans aren't practicing traditional rituals. Tombs are typically above ground and are elaborately painted, the different colors representing purity, protection, and the age of the deceased.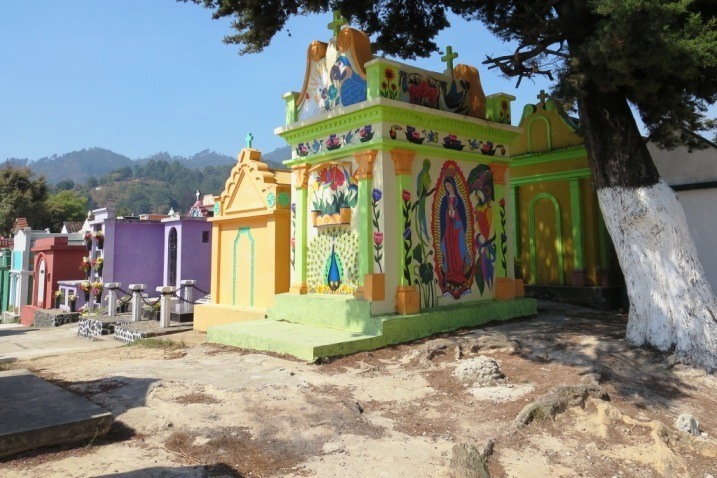 While there's no specific time to visit to guarantee you'll come across a family praying for their loved ones or making requests to the gods, there are signs of how important this area is no matter when you go.

Pascual Abaj
Huffing and puffing my way up the hilltop to Pascual Abaj, thanks to the altitude and my under-acclimated body, I hoped there may be a ceremony going on when we reached the top.
Sure enough, there were several locals praying and making offerings. My guide explained that the gods were pleased by incense, flowers, candles, food, and alcohol. We stayed back so as not to interfere with ceremony or prayer.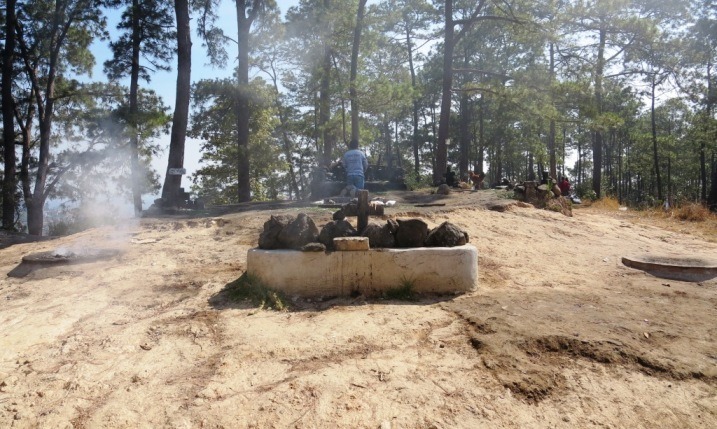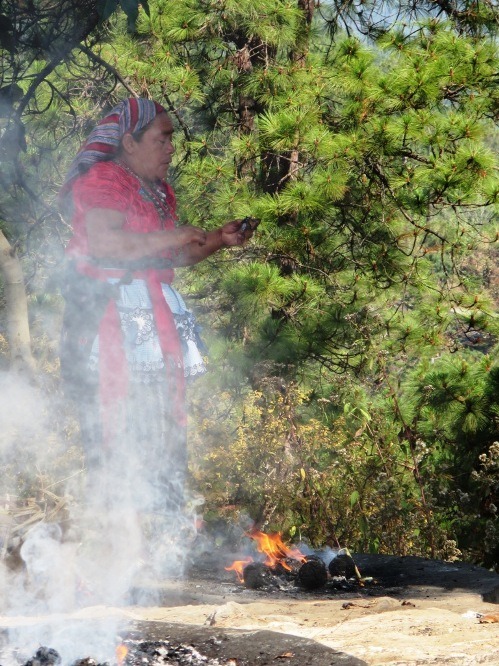 I am not a religious person, but there is something on this hill that does make it feel very spiritual, like you are connected to another world, so it was easy to understand why it is a sacred place.
Is Chichicastenango Worth Going To?
Chichicastenango is worth visiting if you're interested in Mayan traditions and ceremonies. After three trips and ~7 weeks (collectively), I haven't been to any other Guatemalan towns with the same types of rituals and observances.
If you're only interested in shopping, you can find very similar products anywhere in Guatemala and it's not worth going out of your way to go to the Chichi market specifically. A good alternative — for the real handcrafts, not fakes — is the Nim Pot store in Antigua. Actually, that store is worth a visit even if you go to Chichi; since Nim Pot has price tags on everything, it'll give you an idea of what things should cost.
Read more of my Antigua suggestions before your Guatemala trip.
How to Get to Chichicastenango
Most travelers visit Chichi just for the day — in theory, this makes sense, since you can see the market, cemetery, and Pascual Abaj in 3 or 4 hours. Most day trips from Antigua also include a stop at Lake Atitlan; this makes for a VERY long day with lots of time in a van and little time actually exploring. For this reason, I don't recommend taking a package tour.
A better option is to take a shuttle from Antigua to Chichicastenango, stop over for a few hours, and then continue on a different shuttle to Lake Atitlan to spend the night (or vice versa, starting in Atitlan). Since most travelers visit both spots anyway, this is a logical and time-efficient way to get between Antigua and the lake. The downside is that you'll end up visiting Chichi precisely at the same time as everyone else — the busy hours of 10am to 2pm. Expect crowds.
To see the town while it's quiet first thing in the morning before the busloads arrive, you'll need to rely on public transportation (cheaper) or a private driver (more comfortable). From Antigua, you can leave as early as 5:30am, and it'll take 2.5-3 hours depending on how well you can time the connection in Chimaltenango. From Lake Atitlan, make your way to the bus station in Panajachel for a 7am departure, which may mean an early start from places like San Pedro. Either way, you'll get to town a solid hour or two before everyone else does.
Where to Stay in Chichicastenango

Very few travelers spend the night in Chichi, but I was one of them. I loved being able to walk around town first thing in the morning while everyone was setting up. It also allows you to visit the church when only worshipers are there, making it a more special experience.

By far, the nicest hotel in Chichicastenango is the Hotel Museo Maya Inn, just a two-minute walk from the market. By Guatemalan standards, it's pricey, but it should still set you back less than $100 including breakfast.

I actually stayed elsewhere, at the Hospedaje Giron, which is a spartan but clean hotel in Chichicastenango that also has a great location. Bare bones rooms cost 150 quetzales (about US $20), but you'll need to call to book: +502-7756-1156 (or just show up).
Chichicastenango is on every tourist's radar but for all the wrong reasons. Shop in any town you're visiting anyway — prices and selections of goods aren't that different. Instead, spend your time learning about Mayan traditions, many of which have been unchanged for centuries. The colors, sounds of prayer, and incense will enchant you more than any souvenir you could possibly take home.
* * *
Learn more about traveling to Guatemala.