This post may contain affiliate links. As an Amazon Associate I earn from qualifying purchases.
* * *
As a self-described "museum hater", it's rare I find somewhere I like as much as the Boston Tea Party Museum. I've never been much of a visual person, so I'd rather read a book to learn something than look at old artifacts or displays, meaning most museums don't offer much to my interests. But I surprised myself while walking on the Boston Tea Party Ships (and museum) — this is definitely different than your traditional academic experience.

The real reason I visited was that I was curious. This museum claimed to be different, presenting things as an actual experience rather than as a typical museum. Would it really be interactive sightDOING or were they making marketing claims to get people like me in the door?
And so I set off in hopes of being inspired by a different way to visit a museum.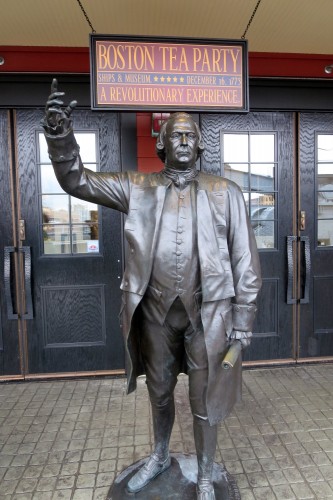 Visiting the Boston Tea Party Museum
The experience began with receiving my 18th century personality for the day. For the duration of your experience, each visitor is given a role to play. As the angry colonist Thomas Porter, I was given lines to read during our interactive reenactment, transporting me back in time to 1773. Of course, everyone contributes "Huzzahs!" and hisses throughout the scene.
The museum continues with a tour through an authentically restored tea ship, where actors again present the Boston Tea Party as if it were a live event.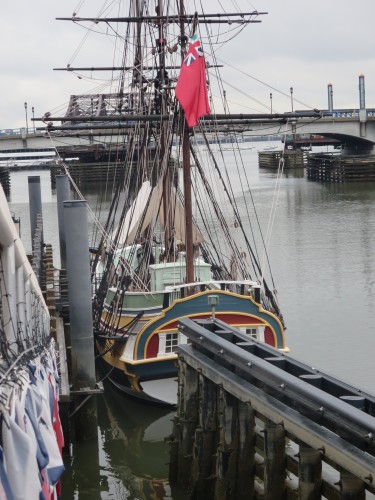 In fact, visitors even get the chance to throw fake tea chests into the harbor. While the hands-on approach was a little corny, I'll admit it keeps you engaged throughout the experience. The characters, or docents, sprinkle interesting facts within their commentary to ensure you learn something new even if you're well versed on American history, something I really appreciated.
The museum continues inside with a surprisingly interesting film and 3D holographic exhibits. Since the display method was constantly changing, I found myself staying intrigued the entire time. There are cute surprises, a summary of events after the Tea Party itself, and an opportunity to stand proudly and patriotically at the end of the presentation while singing America's first national anthem. (You'll know the words even if you don't know what the anthem was prior to The Star Spangled Banner).
Overall, the experience took about an hour: exactly the right of time for a museum-hater like myself. It never felt like a stale museum or display, making it a fun way to experience history. Tickets can be purchased online at Boston Tea Party Museum.
* * *
Are you a museum lover or hater?