This post may contain affiliate links. As an Amazon Associate I earn from qualifying purchases.
* * *
The Golden Circle of Iceland befuddled me before my trip. It's included in every tourist recommendation, but the description meant nothing to me. I could regurgitate the words in no time flat — it's a popular day trip from Reykjavik to Þingvellir National Park, Gullfoss Waterfall, and the Geysir hot spring area — yet I was completely at a loss for what you'd do on this excursion. Curiosity alone was enough for me to put the Golden Circle on our agenda.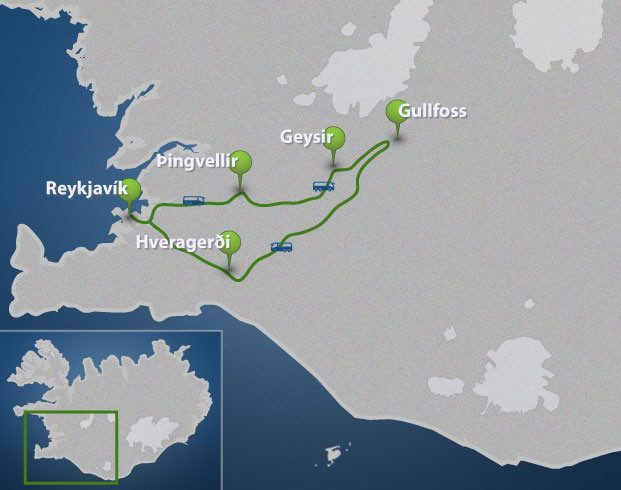 With over 300 kilometers to cover and only six hours of daylight at our disposal, we met our tour guide, Kristján of Iceland Unlimited, just after breakfast to set out for the forty-five minute drive to Þingvellir (Thingvellir) National Park. Anytime I hear the words "national park" I get excited about including the destination on my agenda. The scenery upon arrival did not disappoint.
Although I knew that Þingvellir is a UNESCO World Heritage site and Iceland's first national park, I was unaware of its historical significance. Back in 930 AD, Vikings established the world's first democratic parliament at this site (come to find out, Þingvellir means "Parliament Plains"). Kristján told us stories of what gatherings would have been like one thousand years ago, creating a scene I could visualize perfectly.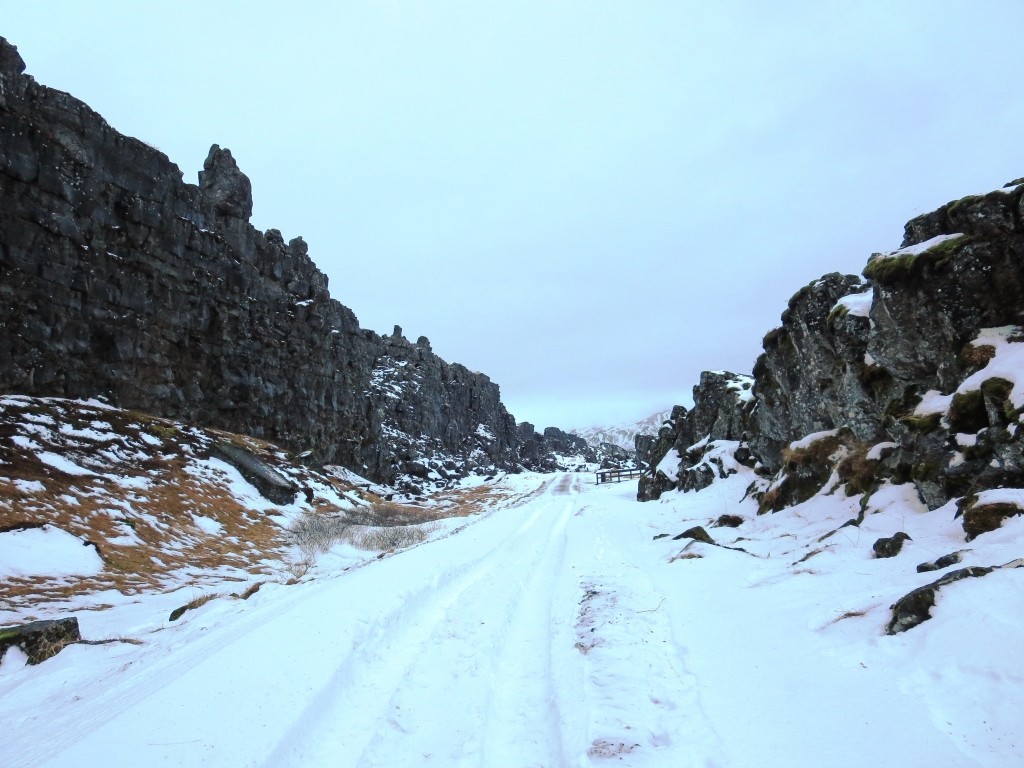 Unfortunately, not all of Þingvellir's history is so pleasant: it's also the site of roughly 80 executions that occurred beginning in the 17th century. The Icelandic names sound so innocent, but the realities are dark: Gálgaklettur (Gallows Rock), Gálgaeyri (Scaffold Beach), Brennugjá (Burning Gap), and Drekkingarhylur (Drowning Pool).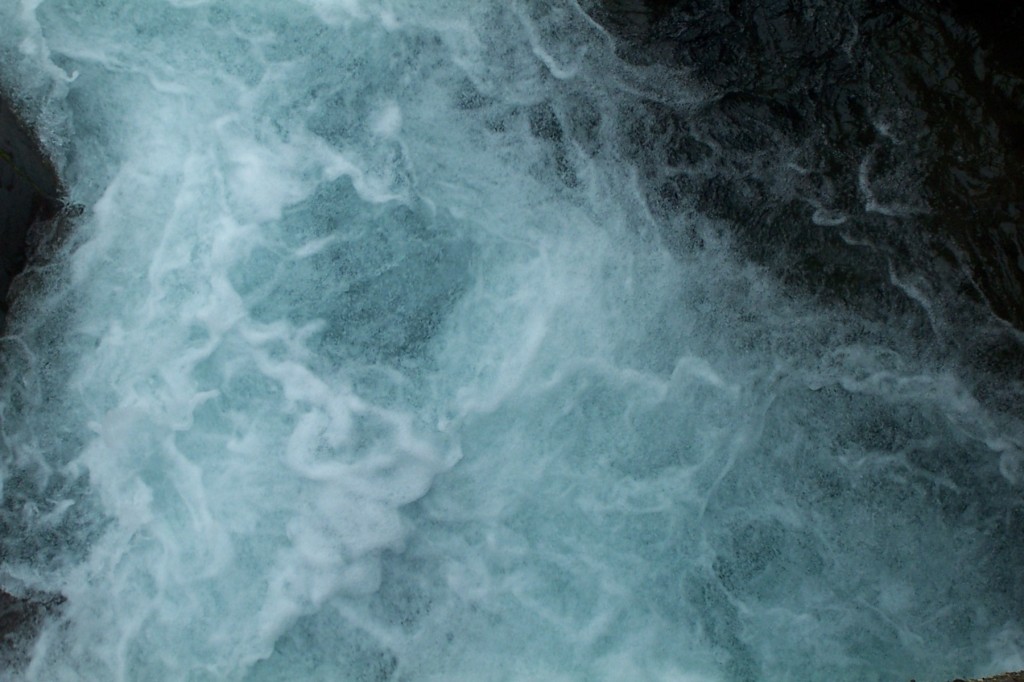 Leaving Þingvellir, we drove east to the Haukadalur geothermal area. Seeing smoke rising from the ground, steam escaping hot springs, and bubbling mud pots is one thing that makes Iceland seem so far removed from other travel destinations. It's relatively unique and despite seeing similar activity on the Reykjanes Peninsula, we were excited for this stop.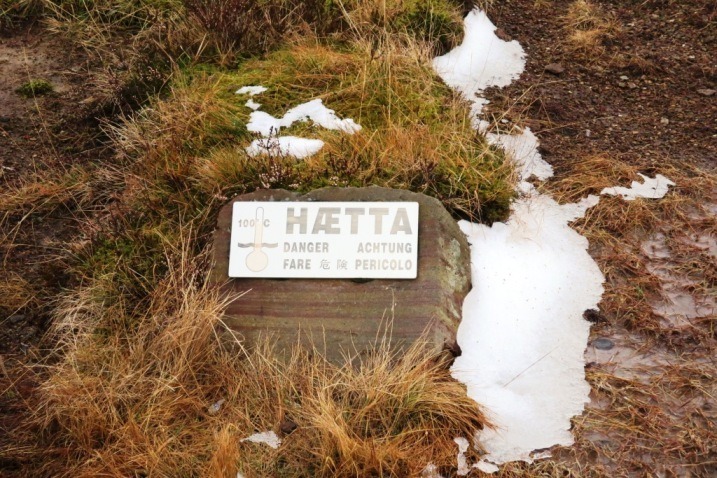 This is the home of Geysir, the hot water eruption after which all other geysers are named. Ironically, Geysir itself is no longer the main attraction, but nearby Strokkur erupts reliably, with activity every 7-10 minutes reaching heights of up to 30 meters.
[youtube=https://youtu.be/9pp5X8CjGEo]
Finally, we were ready to see Gullfoss, the last main site on the standard circuit. It's been said the Golden Circle gets its name because of this waterfall ("Golden Falls"). In reality, there's nothing golden about it and a more descriptive name would be Mighty Falls. You'll hear the rushing water long before you see the waterfalls themselves. The force of a geyser pales in comparison to the crushing power here.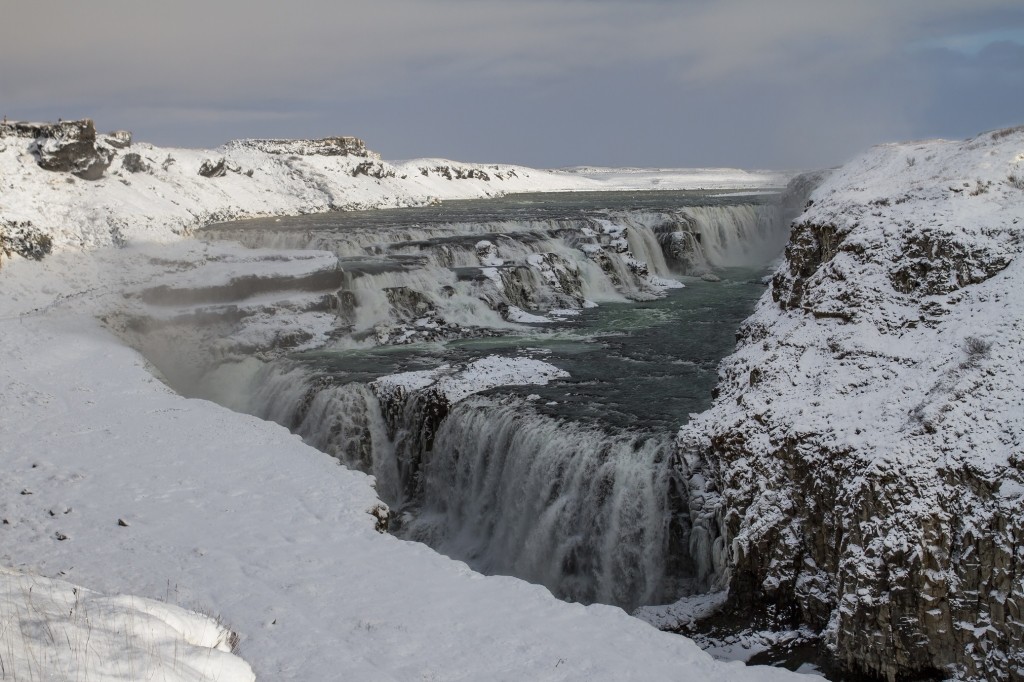 Having a private guide gave us the ability to make one final stop on the way back to Reykjavik, taking advantage of those final moments of daylight. We chose to skip the Hveragarði greenhouse and spend our time in the fresh air!
Kerið is a now-inactive volcanic crater, more evidence of the natural power of Iceland. It's quiet today, but picturing the explosion that led to a hole in the earth bigger than two football fields and 180 feet deep will make you think twice about whether or not this is a peaceful area.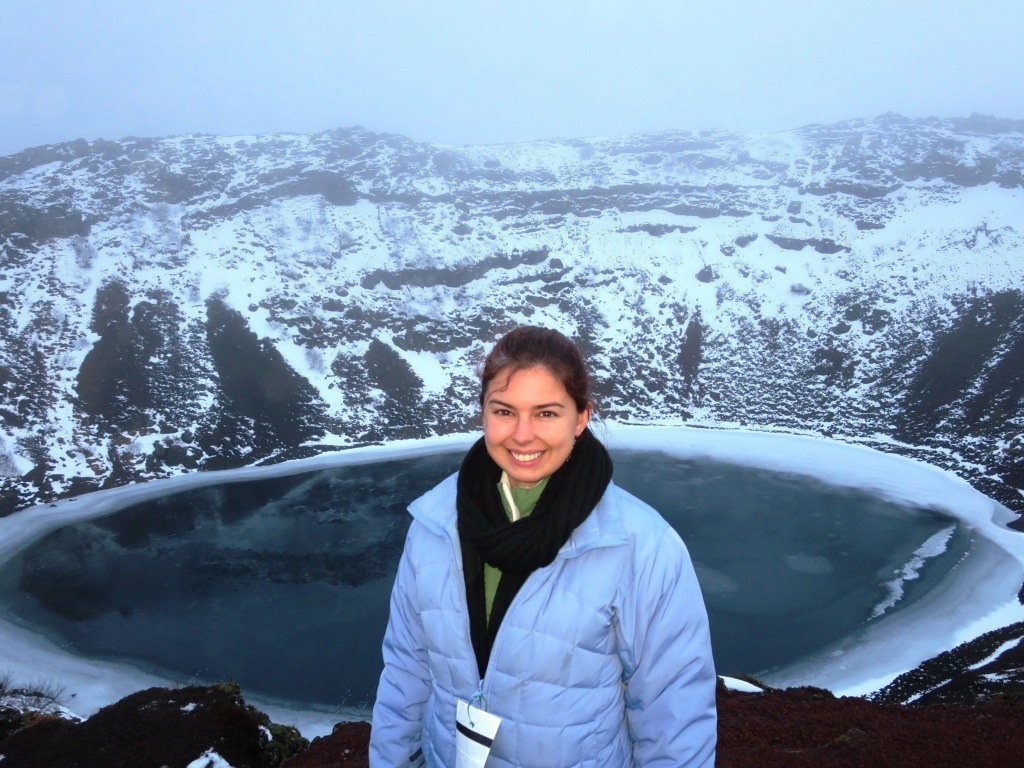 The Golden Circle shows off Iceland's natural beauty, great diversity, and extreme power, but it was killing me to see all these sites without getting active. I enjoy a scenic drive and a photo stop as much as anyone else…as long as its on the way to or from some form of recreation.
Normally, visitors can choose from options like hiking, horseback riding, fishing, snowmobiling on Langjökull glacier, swimming in hot springs, or even scuba diving. But in the winter? There's barely enough time to see everything in a day, let alone squeeze in anything else. You'll run out of daylight if you try to do more in a single day.
I'm not suggesting you skip the Golden Circle if you visit in winter. Stay overnight near Þingvellir if you can or otherwise make a second visit. It's really a shame not to take advantage of these surroundings. Having a guide helped us make the most of our short day, but it still wasn't enough.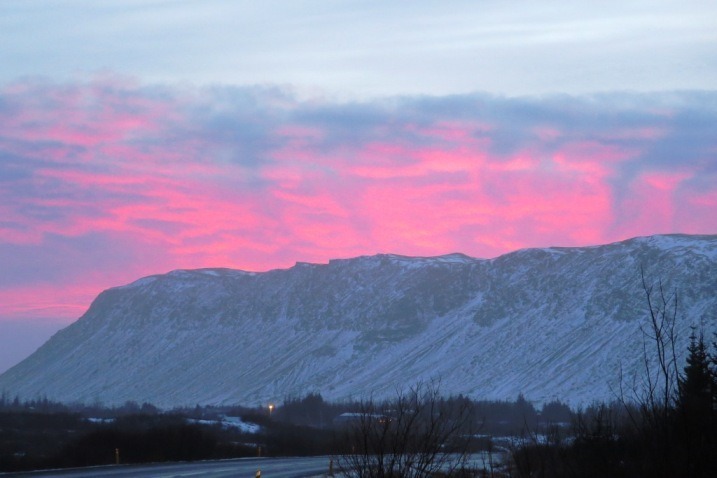 If you go…
I can't stress enough how disappointing it would have been to see the Golden Circle on a 40-passenger bus with only 3-4 photo stops. Like with many tours, you get what you pay for and it's not worth the savings if it means you're spending your time souvenir shopping instead of being outside.
Self-driving would be relatively straightforward to navigate since there are asphalt roads and English signs pointing you in the right direction. Winter road conditions vary from day to day, but generally speaking, even a compact car (and knowledge of winter driving!) will get you where you need to go.
Hiring a guide like we did adds in the context and information that bring this area alive (and help you relax and enjoy the sights instead of stressing over the details). Unfortunately, small group and/or private tours in Iceland are very expensive and from what I saw, not all companies are created equal. When this much money's on the table, take the time to do some research and ask the company questions ahead of time. Some guides didn't even bother getting out of the vehicle at stops to explain the surroundings or answer questions; others were engaged and excited to share their knowledge of Iceland. I was very pleased with Iceland Unlimited both before and during my tour and would highly recommend them.
Hint: Driving offroad is illegal in the national park, so the Super Jeep upgrade is totally worthless in the Golden Circle. If you want a Super Jeep adventure, choose it for something else, like a Northern Lights tour.