This post may contain affiliate links. As an Amazon Associate I earn from qualifying purchases.
* * *
A travel medicine kit is an essential part of packing. Getting sick on vacation is miserable, but sooner or later, it happens to everyone. I seem to get hit with a bad cold every year while traveling (those darn airplane germs!) and my husband is so sensitive to stomach issues we call him "the canary in the coal mine".
The good news is that it's remarkably easy to find just about any medication anywhere in the world — but it often takes a big chunk of time, especially if you're staying in small towns or rural areas where you have to drive a long distance to the nearest pharmacy. And take my word that you don't want to get food poisoning at 1am and have to wait until morning for a store to open to get supplies.
The faster you can solve your problem, the better. But unlike Mary Poppins, I can't carry everything all the time — there has to be a balance between having enough to be useful without weighing you down.
After tons of travel, I've created a comprehensive, mini first aid kit. This DIY first aid kit is quick and cheap to make plus has all the essentials. When you're not traveling, throw it in your day bag for local adventures or keep it in your car so it's always handy.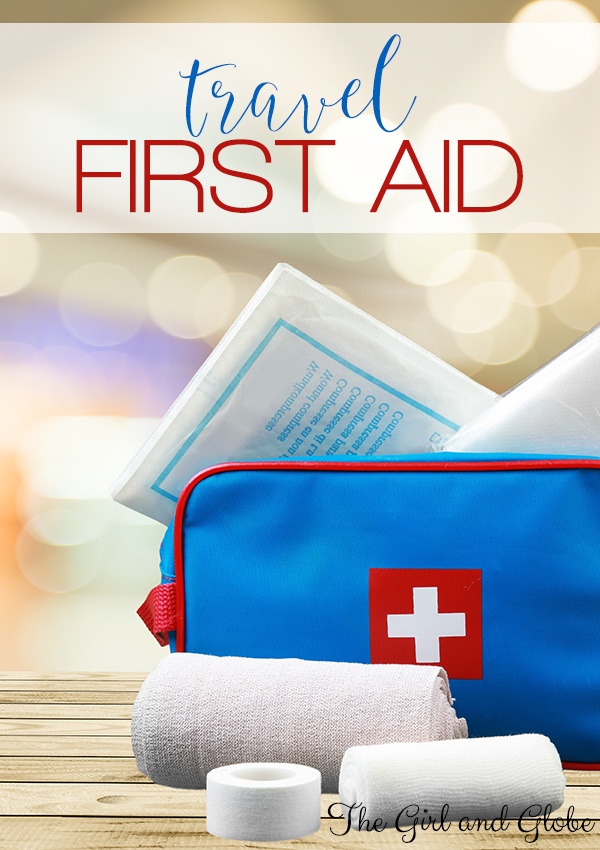 Travel Medicine Kit Basics
Although you can buy a pre-packaged travel emergency kit, I recommend tailoring it to your specific needs. That way you're 100% familiar with what's in it ahead of time and have products you trust.
Generally speaking, there are three sets of items that should be on your travel first aid kit list:
Medications You Definitely Need (prescriptions you use at home on a regular basis + special medications for your destination, such as something to help with altitude sickness)
First Aid Items You Commonly Use (in my case, that's band-aids for a myriad of adventure activities + ibuprofen as the "all-purpose drug" for fevers, muscle soreness, and headaches)
Items You Can't Get Easily at Your Destination (I include items I'll want immediately in this category; i.e. anti-diarrheals, so you can solve the problem at 3am instead of running to a store)
Your first aid packing list might change a little for every trip. You can take just the necessities for a weekend in New York City but will need a more comprehensive first aid kit for remote destinations.
Organizing Non-Prescription Medications
No one wants to pack a dozen pill bottles in their carry-on! Besides, it's highly unlikely you'll need all 200 aspirin! Better to condense a 2-3 day supply into a more compact case. That's likely all you'll need — if that! — but in any case, it's at least enough to buy you time into you can restock during your trip.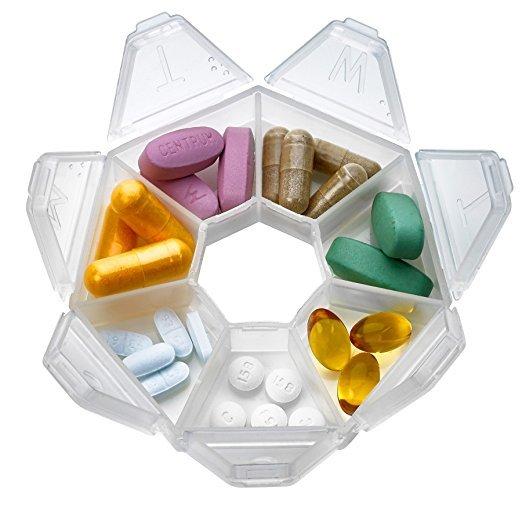 That's why I use a standard 7-day pill case to organize my over-the-counter medication. Instead of using each compartment for one day's worth of pills, I use each space for a single type of medicine. So, for example, Monday will hold ibuprofen and Tuesday will hold allergy meds.
Just be sure to label, either by writing with a Sharpie marker right on the case or taping a legend to the back.
I'm sure you can find these pill organizers at your local pharmacy, or you can order a basic pill case on Amazon.
These are the 7 medications I divide in my organizer, although you can tweak it for your own travels:
Ibuprofen (I prefer it for pain relief but you could easily substitute Tylenol or aspirin)
Decongestants (after ibuprofen, this is the most reached-for drug I pack; airplanes are a hotbed for germs!)
Antihistamines
Anti-diarrheal
Antacids or indigestion meds
Motion sickness meds
For me, it's lactaid, but this is also a great spot for vitamins or probiotics
Pick the Perfect Bag
My first aid kit is about the size of a paperback book, giving me enough space to work with without weighing me down. I keep it stocked with essentials so I can "grab and go" for most trips without having to worry about a last-minute supply run.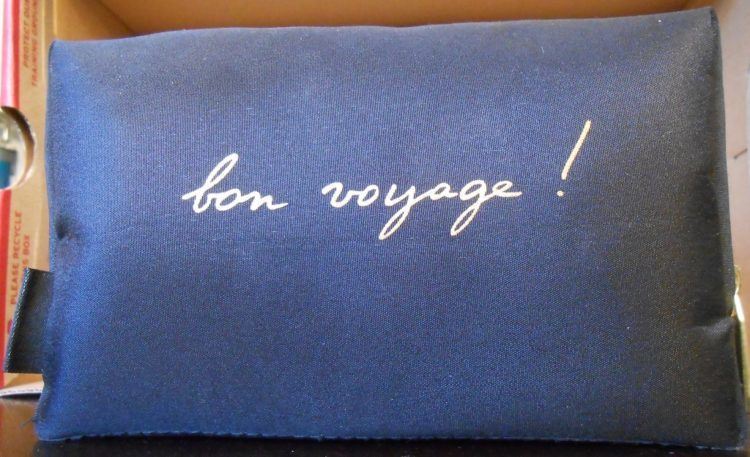 First Aid Kit Supplies:
My over-the-counter pill box
Bandages (I prefer ones with built-in antibiotic cream for convenience)
Antiseptic wipes for minor cuts
Throat lozenges
All-purpose first aid balm (hint: Green Goo works great for bites and stings, is all-natural, and the TSA considers it a solid for packing purposes)
Moleskins for blisters
Oral rehydration salts – for cases of food poisoning, over-exhertion, or one too many late nights
Ginger chews (for nausea)
For those of you thinking this is overkill, yes, you can buy premade kits. Here's the problem: the cheap ones are worthless: you'll get bandages that don't stick and so few pills that you'll be replenishing them after one trip anyway. And you'll likely get a few medications you've never tried before, which would make me really nervous if I was far from a hospital.
The best travel first aid kit is made by Adventure Medical. It's crazy comprehensive and probably bulkier than need be, but I trust all the medical supplies in it. (Making your own will be cheaper, but obviously not as easy).
Don't Overstuff Your First Aid Kit Contents
I don't bother packing items that I don't use at home, but if these are more common in your household medicine cabinet, you might want to bring them with you while traveling:
Medical equipment you may need (i.e. syringes, inhalers, epi-pens)
Aloe wipes or other sun relief items (I may not bring aloe, but I do pack sunscreen!)
Multi-vitamins and other nutritional supplements
Sleep aids
Antifungal gels or creams
Separate antibacterial ointment
Disposable gloves
Elastic bandage wrap
Eye drops
Thermometer
Tweezers
Gauze Pads
Medical Tape
Remember you don't need a lifetime supply of everything, so count out what you'll most likely need and leave the rest at home. I find small GoTubbs to be a good size for packing specialty items.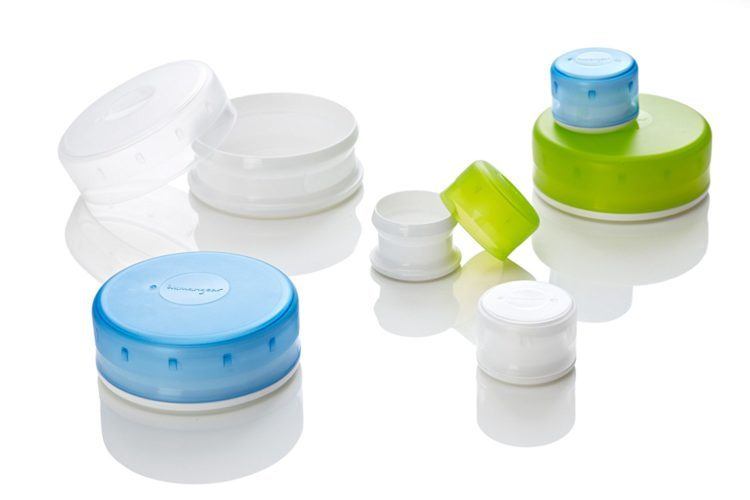 Be Smart About Your Travel Health

Your first aid packing list is just one piece of the travel health puzzle.

Particularly when traveling abroad, you should start by researching if there are any diseases that are common in that area. The CDC has an official traveler health resource to get you started on things like zika virus, malaria zones, etc. (although I find the UK version easier to navigate).

For many destinations, especially in tropical countries and/or developing nations, you may also need to ask your doctor about travel vaccines. Read my complete guide to budgeting for travel immunizations.

Lastly, it's always a smart idea to purchase travel insurance which will help cover health care costs if you seek medical treatment abroad or if you need emergency help. I always purchase through RoamRight, but no matter who you choose, you should educate yourself about policy options.
The Most Important Tips for Your Travel Medical Kit
If you've got safe drinking water and health insurance and wash your hands often, that'll get you most of the way there.
My last piece of advice when it comes to a travel first aid kit is to make sure it's accessible! If you get a headache onboard an overnight flight but your first aid kit is in your checked suitcase, it does you no good.
Make sure what you need is easy to get to when you need it. That's a mistake I'll only make once!
* * *
DIY Travel First Aid Kit List
A first aid kit prepares you for illness, common injuries, and minor accidents. Homemade first aid kits can pack small to fit in suitcases, purses, or cars.
Instructions
Divide over-the-counter medications into small dosages to save on space.
Notes
I recommend restocking when you get home from a trip so you're ready to "grab and go" when you pack for the next one!
Recommended Products
As an Amazon Associate and member of other affiliate programs, I earn from qualifying purchases.
* * *
What's in your travel medicine kit?
Is there something different in your carry-on first aid kit? Do you have other travel tips?