This post may contain affiliate links. As an Amazon Associate I earn from qualifying purchases.
* * *
Three years ago, I thought we were moving to Tempe, Arizona. My husband traveled there frequently for work, and after 12 or 15 trips, someone in corporate decided it might be smarter for him to live there than commute in from the east coast. As you might imagine, that led to a lot of conversations at the dinner table about how great Tempe is and how well it would fit our lifestyle (crazily enough, I never did join Mike for a weekend in Tempe to, you know, actually check it out).
Long story short, we didn't move there and life got busy in other ways. Instead of moving to Tempe, we moved to Buffalo. There was a new job, the unexpected relocation, a mischievous puppy, selling one house and buying another…so any thoughts of traveling to Arizona fell by the wayside. I completely forgot about it until I met with the Tempe Tourism office at an event and they invited me out to visit. It was an automatic yes — anywhere my husband recommends is somewhere I'm interested in (plus, my curiosity was beyond extreme).
I finally got my weekend in Tempe after all!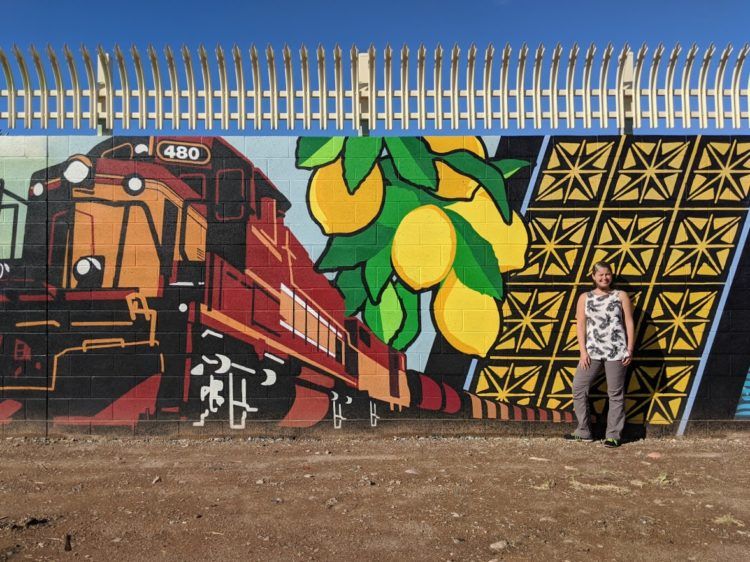 I knew I'd love it there, but it wasn't until after a few days in town that I realized it's a great destination for almost everybody. Tempe feels different from the rest of Phoenix: the downtown core is ultra-walkable and feels like a city within a city. It's carefree, it's easy, and everybody is happy all the time (or very good at faking it). It somehow manages to feel like a vacation town while still feeling very lived in. That's a rare combo to find in this world.
Tempe makes an awesome weekend getaway destination, whether you're flying in specifically for Tempe (worth it!) or if you've got a few extra days on a longer trip through Arizona, one of my favorite states. You could spend tons of time golfing, watching ASU sports or spring training games, or checking out the art museums and galleries.
Or you could basically live outside, like I did, and steal all these ideas for an adventurous weekend in Tempe, AZ. Read on to find out the best things to do — you'll probably end up intrigued about how a small city can pack all this in.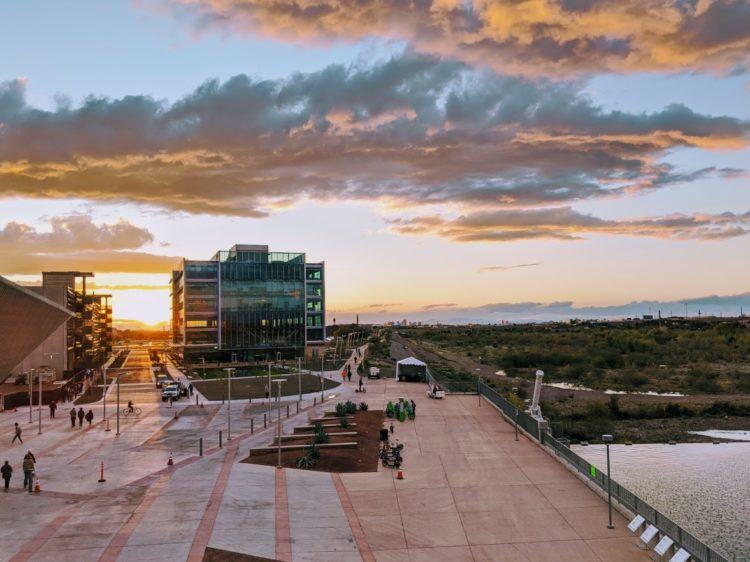 Getting to Tempe
Tempe is right next door to Phoenix, in case you need a little context on the map. Phoenix Sky Harbor International Airport (PHX) is the closest airport to fly into and is connected to downtown Tempe by light rail. It costs just $2 and takes 30 minutes (more or less, depending on which terminal you arrive at and how well you time the connection between Sky Train and light rail). Driving takes about 15 minutes.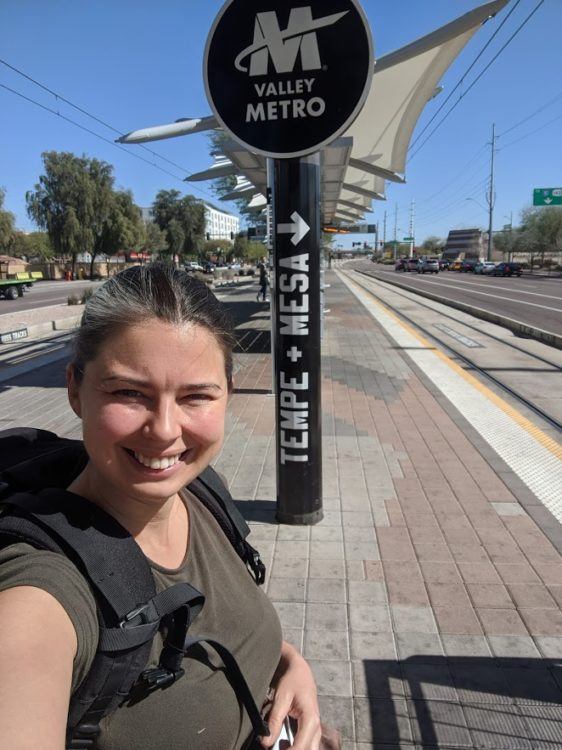 Phoenix-Mesa Gateway Airport (AZA) is much farther: about 30 miles. It's totally doable, but you'll want a rental car to get into Tempe.
The SightDOING Guide to an Outdoorsy Weekend in Tempe AZ
I actually spent longer than a weekend in Tempe, but not everything from my trip made the cut for my recommended itinerary. This really is the best of the best, if you've got 48 hours in town.
Friday Sunset on the Salt River
If you're able to make it to Tempe before sunset on Friday, make your first stop the riverfront. Yes, you heard that right: Tempe has a river running right through town (locals refer to this stretch of river as "Tempe Town Lake", for reasons I totally don't understand).
You can rent a boat — kayaks, paddleboats, or even paddleboards — and head out anytime, but by far the best time is twilight. The skyline feels more interesting after dark and you can paddle under the bridges while they're lit and watch the water glitter underneath.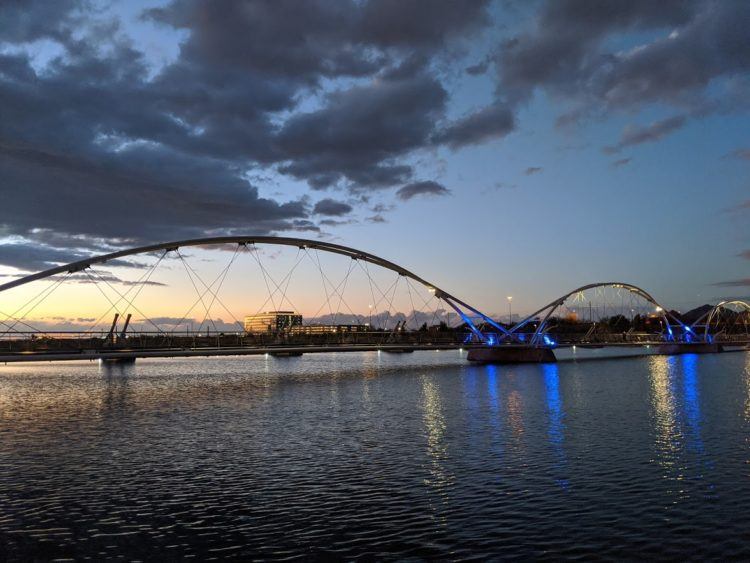 Boating in Tempe is less about the sport itself and more about seeing the city, so this makes a great introductory activity for an hour or so. When you're done, it's an easy ten-minute walk to dinner.
Grab a Late Dinner at Culinary Dropout
The one place Mike said I absolutely had to visit in Tempe was Culinary Dropout. When he first told me that, I wasn't quite sure why. From the online menu, it seemed like glorified pub food — yummy for sure, but what's the fuss?
Turns out, there's a lot more to this restaurant than the menu itself. There's live music several nights a week (starting at 8pm) and there's a huge game room off to the side of the restaurant with things like cornhole and shuffleboard. There are tables with built-in firepits, perfect for lingering over cocktails or an orange blossom ale, and I watched some practically-professional ping pong games going on.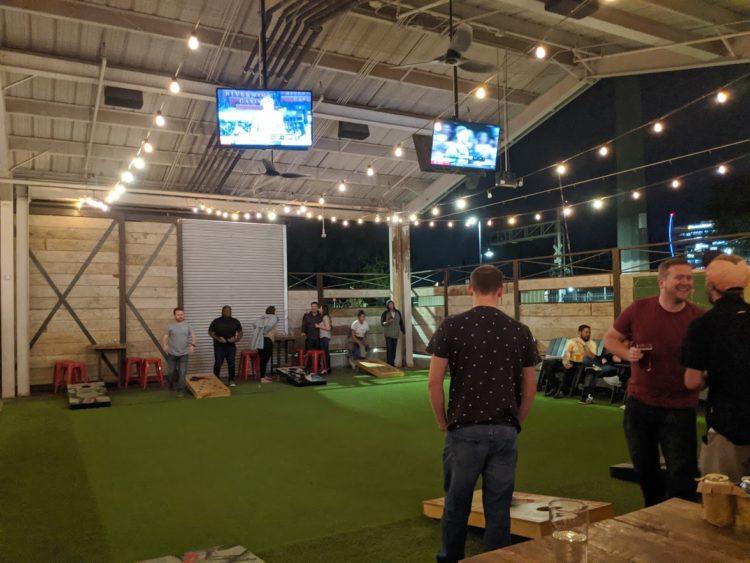 In other words, it's an experience. Best of all, it's open til 1am on weekends, so you can stop in for a bite to eat even if you flew in after work. Now I understand why he was such a frequent visitor.
Pro Tip: You can get a $10 off coupon by signing up for their email list — which you should totally redeem on the soft pretzels and provolone fondue.
Sleep Tight! Where to Stay in Tempe
Good news: Tempe hotels tend to be quite a bit cheaper than staying in Scottsdale where many travelers (including myself) get sucked into staying on their first trip to the area. Less money on a bed = more money for the fun stuff.
I stayed at the Graduate Hotel Tempe, a brand new property with a retro vibe. It has the absolute perfect location for anyone attending an event at the ASU Gammage — you're practically right on campus. It's also pet-friendly, something I always keep an eye out for since my golden retriever is beyond spoiled.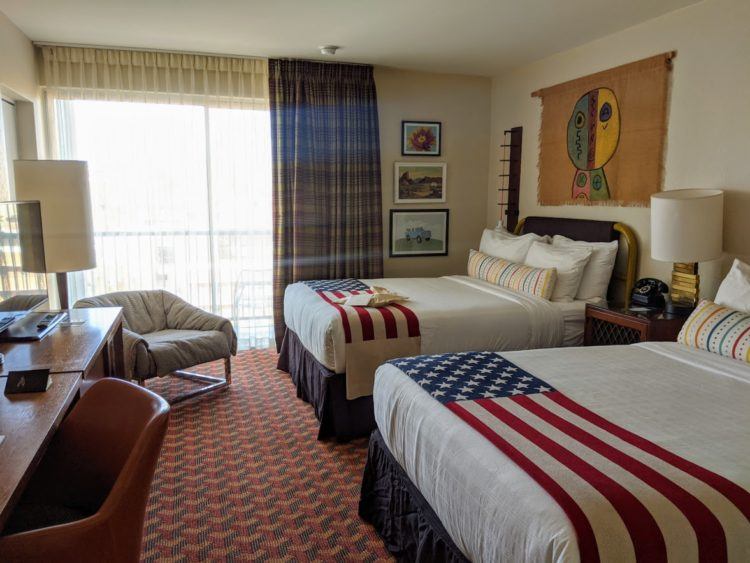 My bed was comfy and I was thrilled that I could keep the sliding door to my balcony open overnight instead of relying on air conditioning. Fresh air for the win! Skip a day of housekeeping and you'll get a $5 voucher for the restaurant/bar (another score, if you have a latte addiction like me).
If you're looking for somewhere with more of a resort vibe — like I usually do on my girls getaways — check rates at the Tempe Mission Palms Hotel. It has a large pool and is centrally located in the heart of downtown. Hyatt members can earn or redeem points there, which is a nice bonus.
Travelers that need more space will be thrilled that there's a Residence Inn just a five-minute walk from the main drag. I don't think a suite is necessary on a busy itinerary like this one, but if you're traveling with more than one companion, it might be a good value compared to reserving multiple rooms.
Start Your Saturday at Snooze A.M. Eatery
Have you ever walked into a restaurant where you want to try one of everything on the menu? That was me on a Saturday morning in Tempe at Snooze A.M. Eatery. Thank goodness it's a chain (at least in Arizona) so that maybe someday I can make it through the entire list.
I can never decide between sweet and savory for breakfast, but on this particular visit I went straight for pancake utopia. Snooze allows you to build your own flight of pancakes — three flavors of your choice. Even that was a hard choice to narrow down!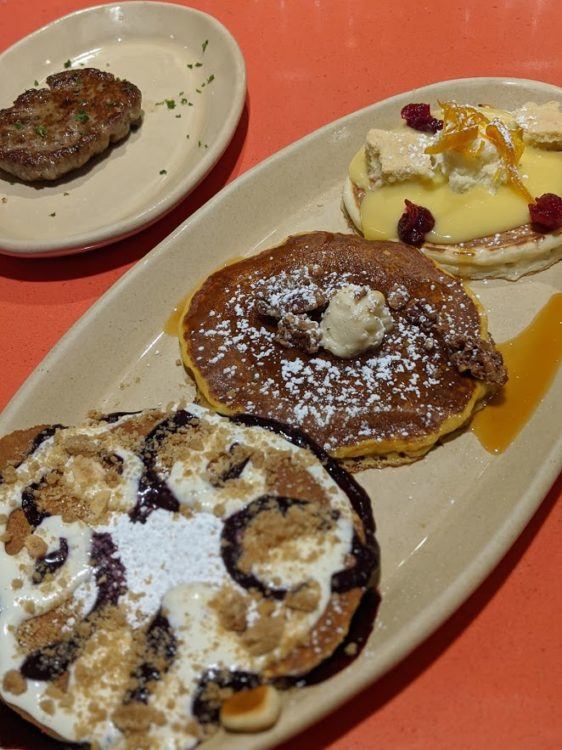 But beyond the delicious food, I also loved the bright and cheerful colors in the restaurant, perfect for waking you up and getting you started.
First Adventure! A Saturday Morning Horseback Ride
I've never been a horse fanatic, but I always enjoy an excuse to spend time outside so I saddled up at KOLI Equestrian Center for a trail ride through the desert. This was unlike any group ride I've ever been on: we were encouraged not to ride single-file and it was so nice not to just stare at another horse's butt for an hour or two!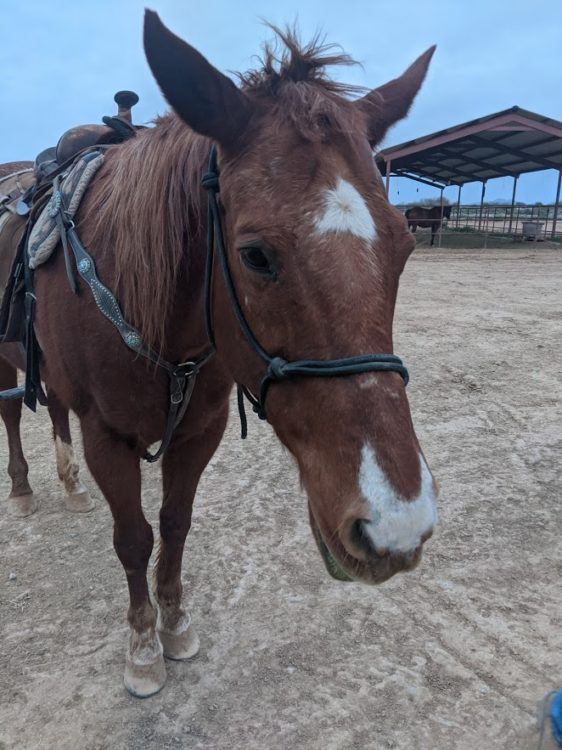 The scenery on our ride was nice but repetitive, so I'd recommend you do what you can to sign up for the first ride of the morning when wildlife is still active. Even though the desert brush didn't capture my attention, the wild horses and coyotes sure did!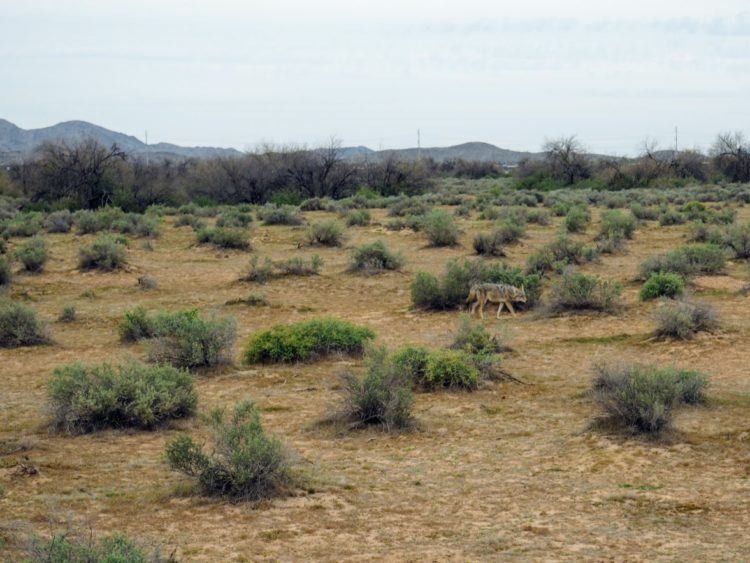 When I wasn't busy searching for wildlife, I was captivated by the stories and openness of our guide, a member of the Gila River Indian Community. I never expected my horseback ride to also be a cultural exchange, but I asked all the questions I had while riding my horse, Rosie.
Visit Four Peaks Brewing for a Tour, Sampling, and Lunch
If you plan ahead, you can book one of the coveted tours at Four Peaks Brewing in Tempe. Not only do they have great beer (perhaps you've tried the Kilt Lifter? It's pretty famous) but they give the most in-depth brewery walk-through that I've ever been on. You'll get beer science, Tempe history, and even a little architecture knowledge, all rolled into one…but only if you come on a Saturday.
This particular site only brews their experimental flavors (the more mainstream beers are brewed at a larger off-site facility), but that means the taproom has plenty of interesting beers to choose from for your flight. Try a green tea lager, barrel-aged beers, "limeade" sours, rose IPA, or anything that's a collaboration with the coffeeshop next door.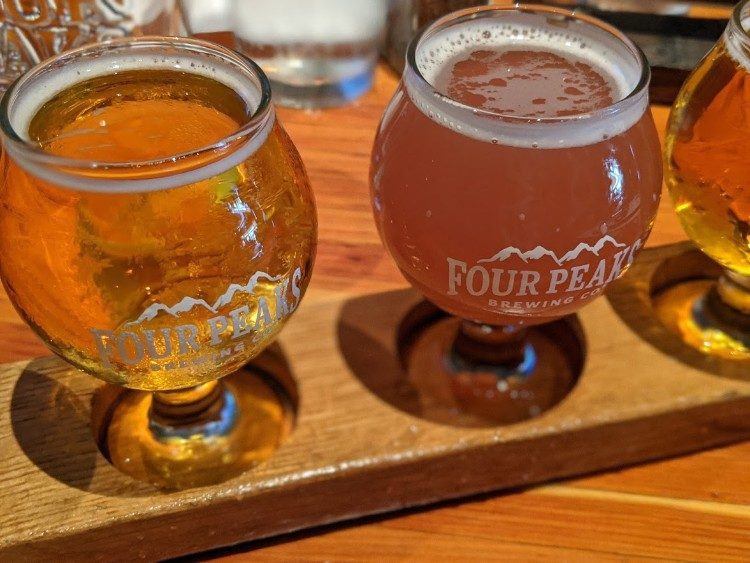 This is a great place for lunch while you're here. My wrap was okay but the Salmon BLT seemed to be a runaway hit by others in my group. Not hungry enough for a full meal? Order a side of beer-battered french fries and thank me later.
Soak up the Sunshine
Tempe gets 330 days of sunshine a year so it would be a shame not to enjoy that for how amazing it is.
I'd be lying if I said I spent my whole trip sightDOING without spending at least a little time reading in the pool (yes, in the pool, because even in February it was warm enough to swim!).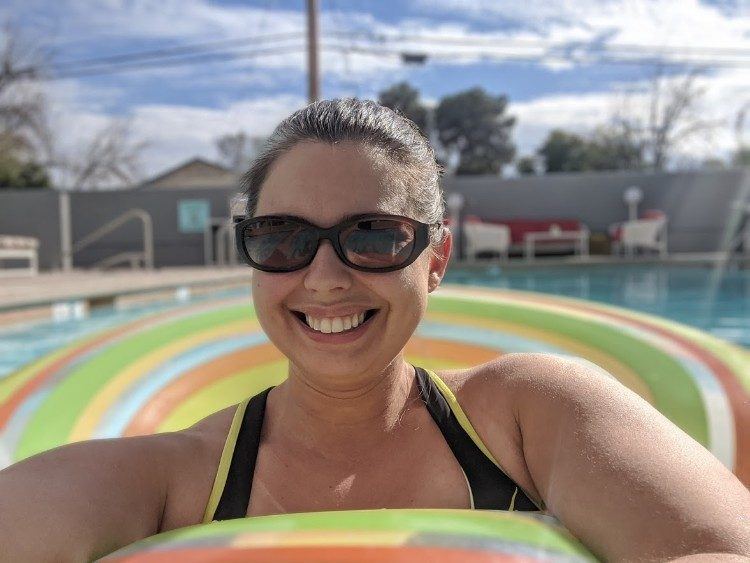 This would also be an excellent time to layer on some sunscreen and take a cat nap on a lounge chair because there's still more things to do in Tempe!
Wander the Desert Botanical Garden
This is my favorite place in all of Tempe — I first went in 2016 on a trip through metropolitan Phoenix and had to return this time around, too. The gardens cover 140 acres of landscaped desert. There are hundred-year-old saguaros and exhibits about conservation and if you're lucky, you'll see little bunnies hopping through some of the bushes.
The Desert Botanical Garden hosts a bunch of special events and it's worth checking their calendar before you go to see if your visit coincides with happy hours, live music, or other activities. Even on a regular day, though, it's worth a visit.
The best time to arrive, in my opinion, is about 90 minutes before sunset: you'll get to walk the garden in daylight, pause briefly for a desert sunset, and then exit the garden after dark (it's lit beautifully).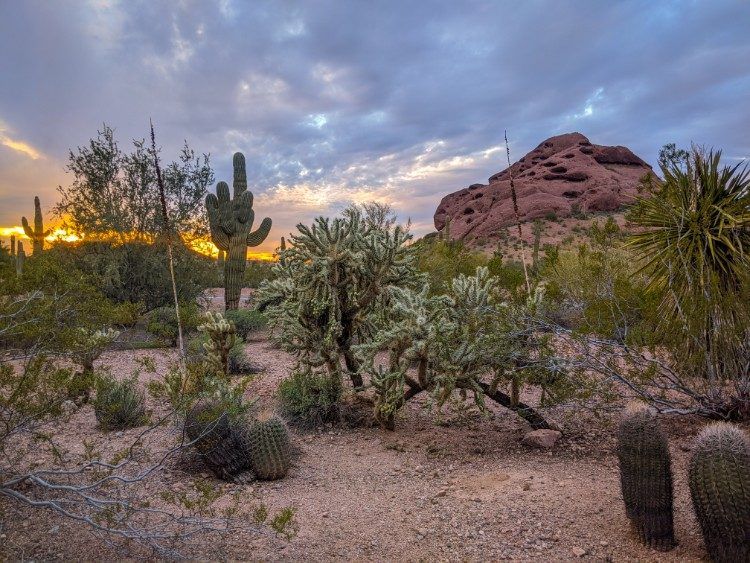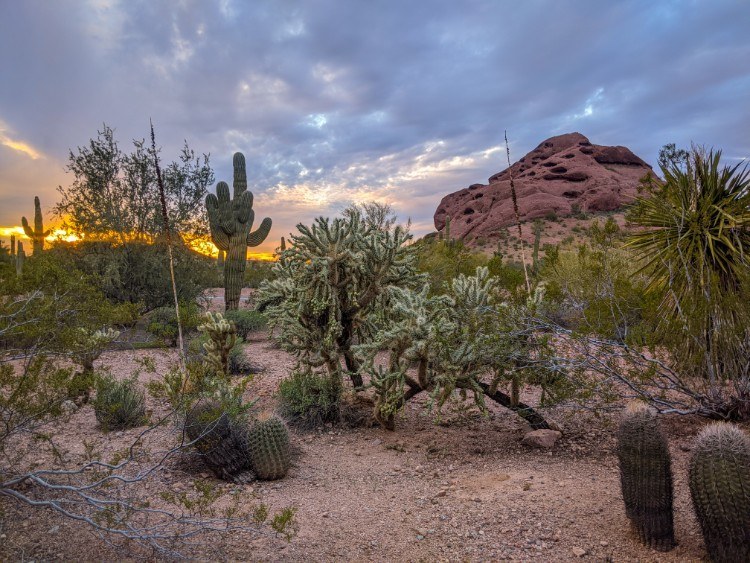 Taste Southwest Flavors at Ghost Ranch
Way on the other side of town — which is only a 20-minute ride away, if anyone's keeping track — is an unassuming restaurant in a strip mall with delicious southwestern food.
My meal at Ghost Ranch stood out for its ability to blend cowboy cuisine with a southwestern/Mexican spin. That added up to some delicious takes on old favorites. While everything I had was good, my mouth is still watering over the mesquite-grilled flank steak from my sampler platter: a smoky, succulent cut of beef that not everyone can pull off.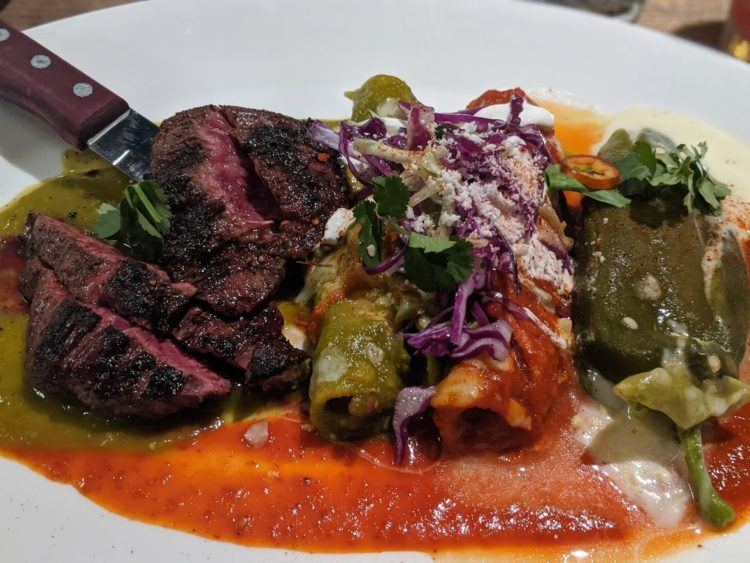 This is also a great place to try prickly pear, if you've never had it before. This desert cactus fruit tastes like a cross betweem a watermelon and a fig with a splash of tart for good measure. Get it in a margarita, a bellini, or a mocktail. Either way you'll end up hooked.
Watch the City Wake Up
Start your Sunday from above the city: we're climbing up "A" Mountain (so-named for the giant yellow "A" as in Arizona that sits on the side of the mountain).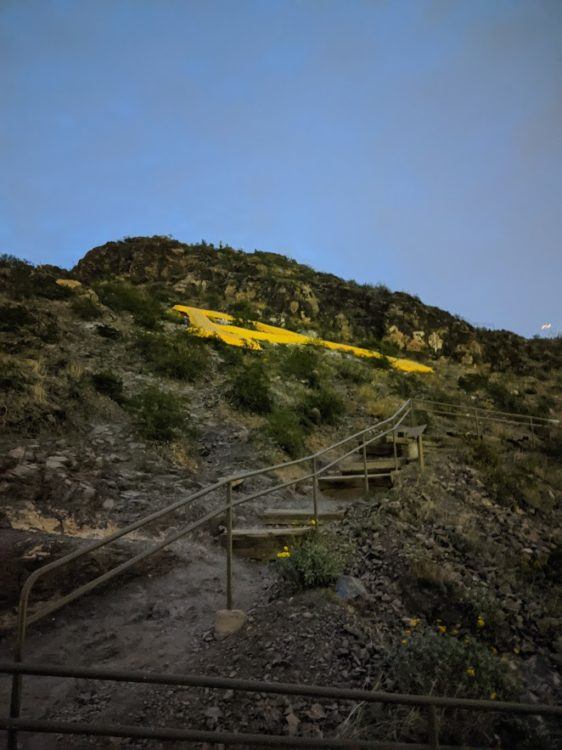 The trail through Hayden Butte Preserve is easily accessible from downtown Tempe, and if you're staying at any of my suggested hotels, that means you can walk right from your room to the top of the mountain. From the trailhead, it'll probably only take you 10-20 minutes to the summit (it's not long at all, but might feel steep if you don't hike often).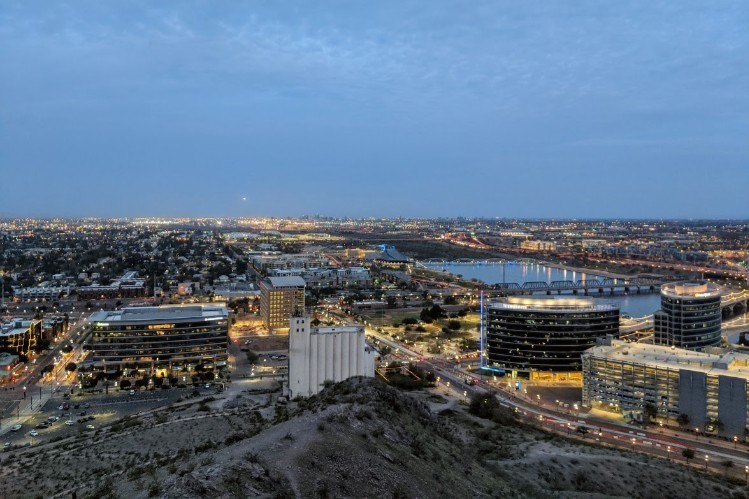 I was hoping to catch a spectacular sunrise, but nature wasn't kind that morning. Still, you'll get great 360-degree views of Tempe (and Phoenix in the distance). This is definitely worth the climb.
Fuel Up at Morning Squeeze
The best part about an early morning workout is that there's no guilt when you indulge at breakfast! Morning Squeeze has a nice assortment of classic breakfast favorites as well as some original creations to get your day started.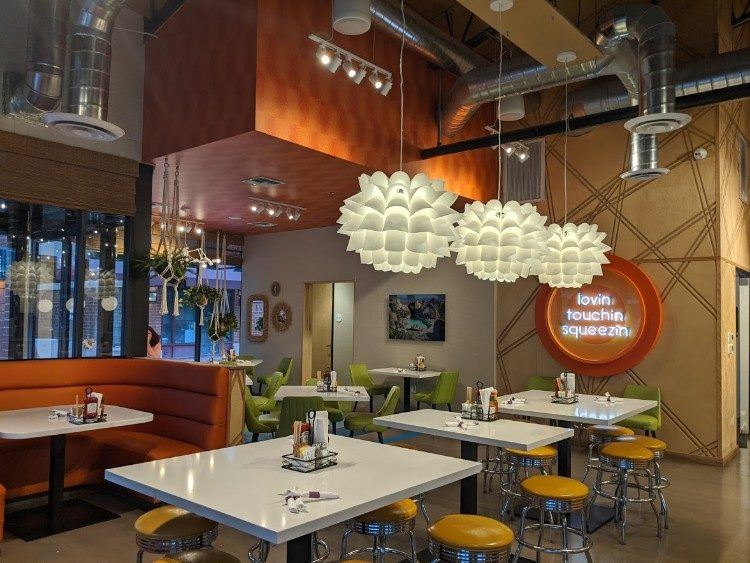 I ordered the Cali Eggs Benedict, a perfect combination of healthy and unhealthy. My eggs came layered with spinach, tomato, and avocado — and then topped with hollandaise. It was rich in just the right way and I chose a side of fruit instead of potatoes to balance it out.
Pro Tip: Check in on Yelp for a free cup of coffee with your breakfast…and if you bring a friend, order a mimosa flight to share (it's way too much for one person, in my opinion).
Spend Your Last Day Going for a Spin
Papago Park is one of those places best explored by bike: it's big enough that you won't get too far by walking but small enough you can cover a lot of ground. There are nice paths leading to and through the park, making it easy to get around without worrying too much about traffic.
I explored the park with Tempe E-Bike Tours, riding a roughly 10 mile loop through the park, along the Salt River, and crossing a few bridges. I've ridden e-bikes a few times before, but if you're not familiar with them, they are basically power-assisted bicycles. You pedal like normal and every stroke will take you 10-50% farther (depending on what setting you put it on). That means riding 10 miles won't feel as long as it actually is. If you want to challenge yourself, no problem: just turn the power off and ride normally!
In addition to getting a good ride and learning about Tempe on the tour, my small group also stopped at Tempe's famous Hole in the Rock. It's a quick walk past some cactus to a very cool rock formation.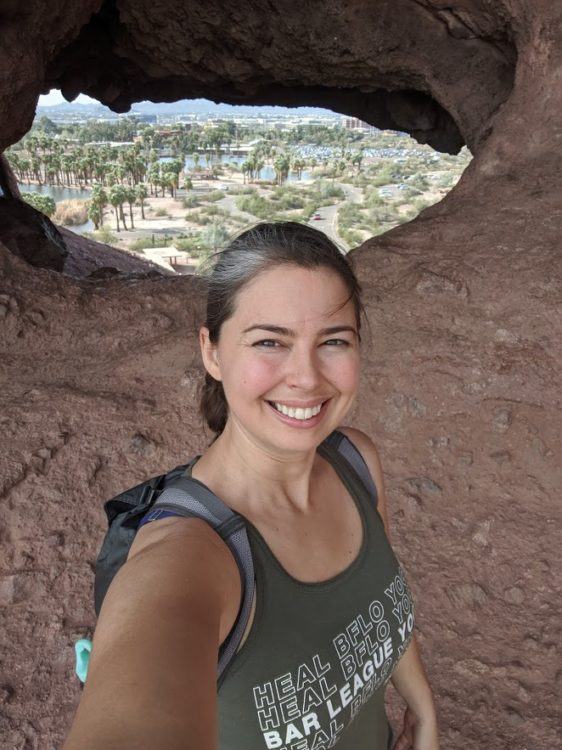 Say Cheers to Tempe
If you still have time, there's plenty more to explore in downtown Tempe. Spend as much time as you have meandering through town and popping into what catches your eye. Mill Avenue and ASU campus are great places to start — you'll find great coffeeshops, lots of shopping, streets lined with palm trees or orange trees or flowers, and even some free museums.
When you're out of time, head to Pedal Haus Brewery to finish out your trip (after all, you did go pedaling this morning!). Unlike the experimental brews at Four Peaks yesterday, Pedal Haus specializes in easy drinking beers, no matter your preferred style. They've got a great outdoor patio to go with your drink and specials all day long Sunday.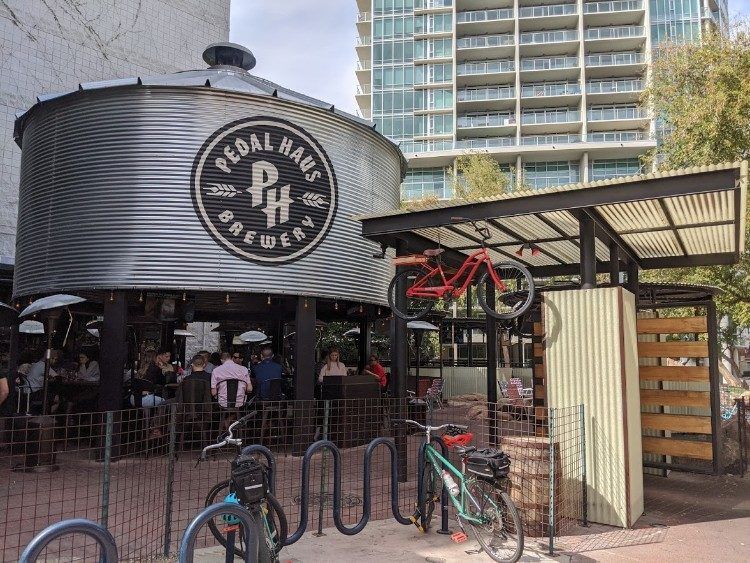 Based on my server's recommendation, I had the fried pickles and Nashville Hot Chicken sandwich. The pickles were great, but the sandwich was a delicious mess. Next time I'd order the fried chicken plate so I could eat it with a fork and knife!
Ready to Book Your Weekend in Tempe?
I actually spent longer than a weekend in Tempe, but this outdoorsy itinerary hits all of the best things to do in town.
If you've got a few more days to spare, you can base camp from Tempe to hit some other highlights of the metro-Phoenix area or head out on a roadtrip through Arizona. Looking for more inspiration? Don't miss some of my favorite Arizona experiences.
* * *
I was a guest of Tempe Tourism but as you might be able to tell, I was also an immediate fan! As always, all opinions are my own and my love for Arizona is 100% genuine.