This post may contain affiliate links. As an Amazon Associate I earn from qualifying purchases.
* * *
I totally nerd out over travel gear, especially when it fits right into one of my needs. I've been looking for a womens travel backpack for years — ever since I went to Guatemala and carried an ill-fitting pack two miles through the jungle to a practically unknown national park. My back and shoulders were aching after that and I knew there had to be a better way.
But for some reason, it took YEARS for a company to finally recognize what works for men won't necessarily work for a woman's stature. I mean, I'm 5'4″ on a good day and after a long flight I'm probably slouching even shorter.
Tortuga finally came out with a carry-on backpack specifically for women and sent me one to test. My first impressions were pretty positive, but after trying it out last week on a real trip, I've got a much better feel for what I love, what it's missing, and even a few things I was neutral on (but might be game-changer for you). In fact, the "Setout" Tortuga Backpack might be the best carry on backpack for women — and men!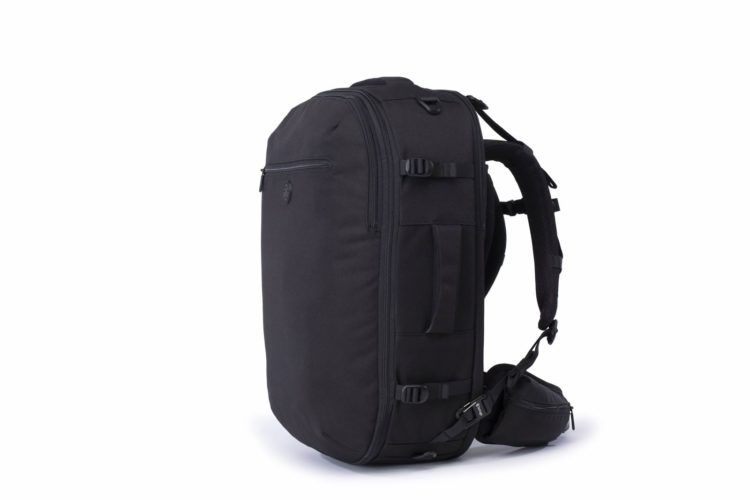 Why Every Traveler Should Have a Carry-On Backpack
I want to clear the air here. I love rolling suitcases and I'll continue to use my standard roll-aboard suitcase where it makes sense…but rolling suitcases don't work for all trips.
I'm sure you own multiple pairs of shoes for different functions and frequent travelers feel the same way about luggage.
I use backpacks when:
I'm flying low-cost carriers and don't want to pay luggage fees (backpacks almost always sneak onboard without a second glance)
I'm doing any type of expedition travel (like heading to a jungle lodge or safari camp where you can't roll a suitcase behind you)
I'm taking lots of public transportation (backpacks fit into overhead bus racks or even on your lap in a worst-case scenario)
If you never fall into any of those categories…maybe you don't need a carry-on travel backpack. However, if you're the type of adventurer who loves sightDOING, I'm guessing you find yourself in one of those groups from time to time!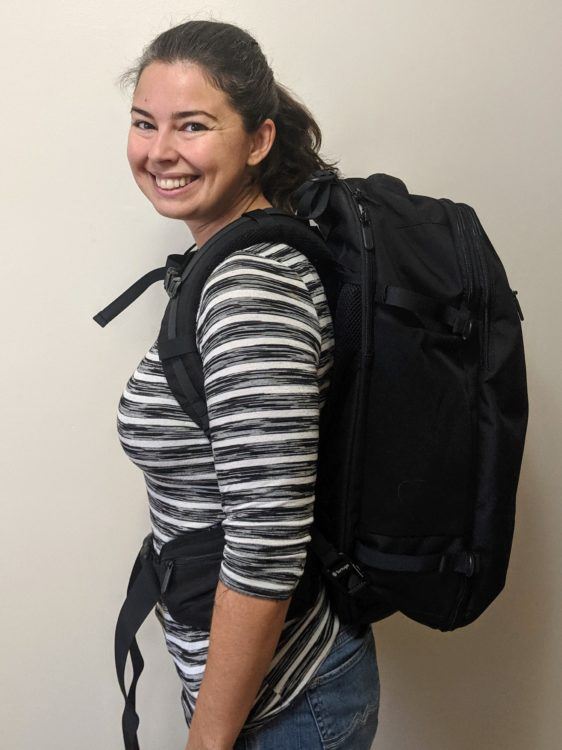 Introducing the Tortuga Setout Travel Backpack
The Setout Travel Backpack is the latest backpack by Tortuga and does a great job balancing features with a minimalist design and affordable price.
The Setout comes in 4 sizes:
The 35-liter bags measure 21.5″ x 13.5″ x 7.5″ which is under most airline's carry-on sizing guidelines, but still big enough to pack plenty.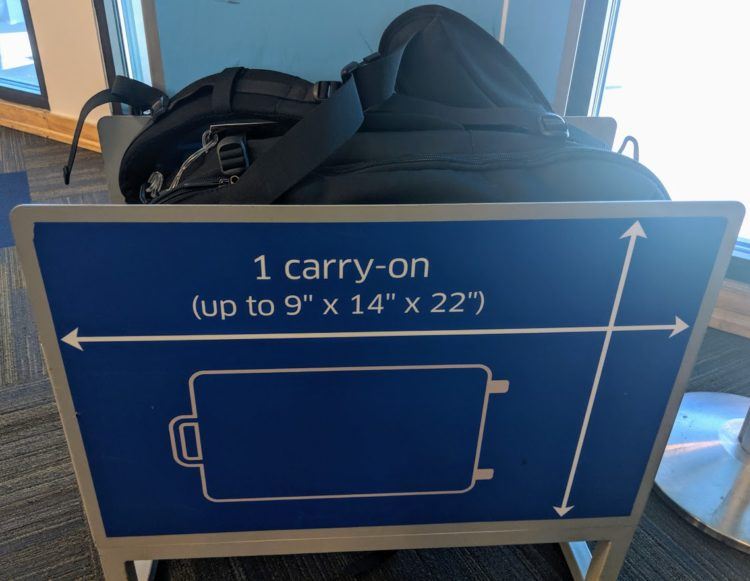 Unlike rolling suitcases, you're not wasting any of your dimensional space on plastic handles and wheels — so every inch of your pack is usable and packable. In my experience, you can fit MORE into a backpack than you can into a suitcase.
The 35-liter bags weigh just 3 and a half pounds when they're empty, which is awesome when you're dealing with weight restrictions (most rolling carry-ons are double that).
The 45-liter bags measure 22″ x 14″ x 9″ which is exactly the dimensions of maximum carry-ons for airlines like United, Delta, American, etc. The larger size gives you a little extra space if you tend to pack on the heavier side. These larger bags weight about 4 pounds.
The men's and women's fit have the same packing dimensions — the differences are in the strap placements and adjustments. The women's bags are meant to fit narrower shoulders and shorter torsos, which was great for me!
If you're a larger woman, you might do better with a men's bag, and similarly, smaller men might do better with a woman's bag. Like you'd expect, the straps are all adjustable, so of course there's wiggle room for you to get things "just right".
Buying the perfect travel backpack
No matter what travel backpack you choose, when you're shopping I recommend looking for two things:
1) A front-loading backpack that packs like a suitcase (most school bags and hiking bags are "top-loading", which causes your things to end up in a jumbled mess that you can't access easily).
2) A hip belt that puts the weight on your stronger, lower body and protects your back, neck, and shoulders. It's a necessity if you plan on carrying your bag more than 10-15 minutes at a time.
Tortuga Backpack Pockets and Compartments
Tortuga advertises the Setout as the more minimalist of their two bags, since it has fewer organizational pockets than its big brother, the Outbreaker.
That said, there are still a lot of dividers and pockets — so many that I didn't use about half of them!
Starting on the front, there's an easy access zippered pocket on the outside. A lot of bags and suitcases have these outer pockets; I always use mine to store my ziploc bag of TSA-approved liquids so I can get them out quickly at airport security.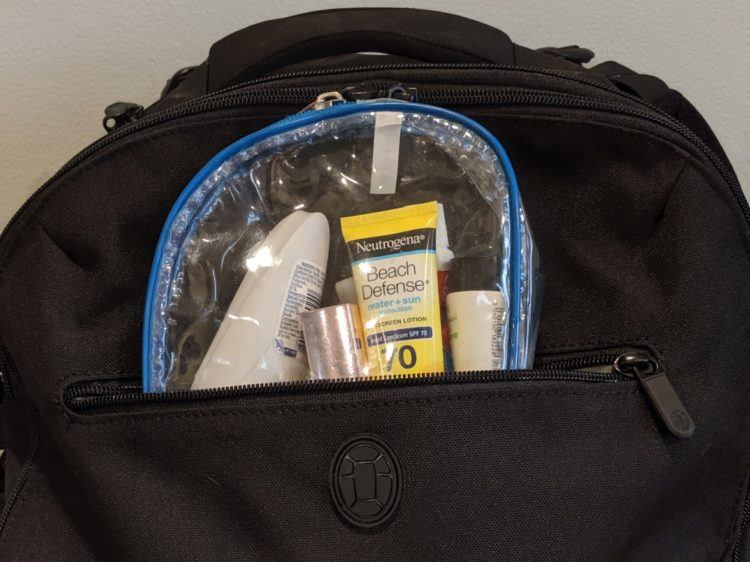 Next, there's another zipper pocket that opens up to lots of smaller organizational pockets: room for pens, your passport, credit cards, etc.
If I'm being honest, I always think these sections are a total waste. You won't be able to get your passport out without taking your backpack off and later on, you'll want your essentials in a day bag or purse as you go sightseeing. Having the option is nice, I guess, but I ended up keeping everything in my separate day bag so I wouldn't have to shift items back and forth during the trip.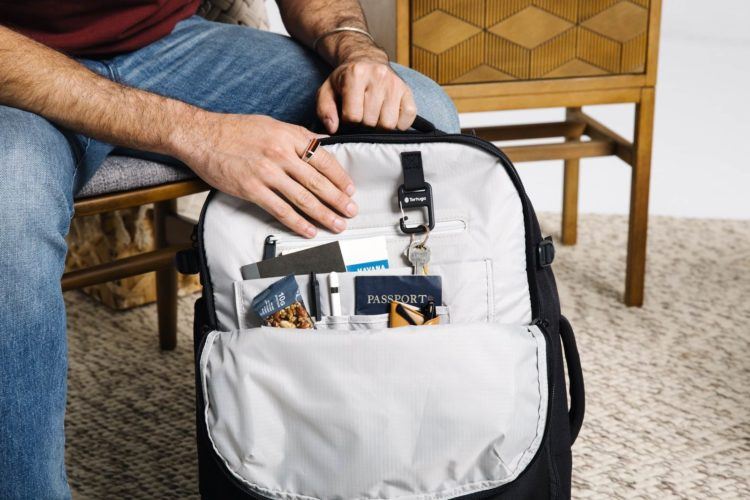 But I did appreciate having a designated spot to keep my house keys while I was away from home — no digging to find them a week later!
Inside is the main packing area, which has one big compartment (like a suitcase would!) and two mesh pockets on the side.
Out of habit, I kept all my things organized with packing cubes, although you wouldn't necessarily need to. In the main pocket, I had no problem fitting in a week's worth of clothing and two pairs of flat shoes.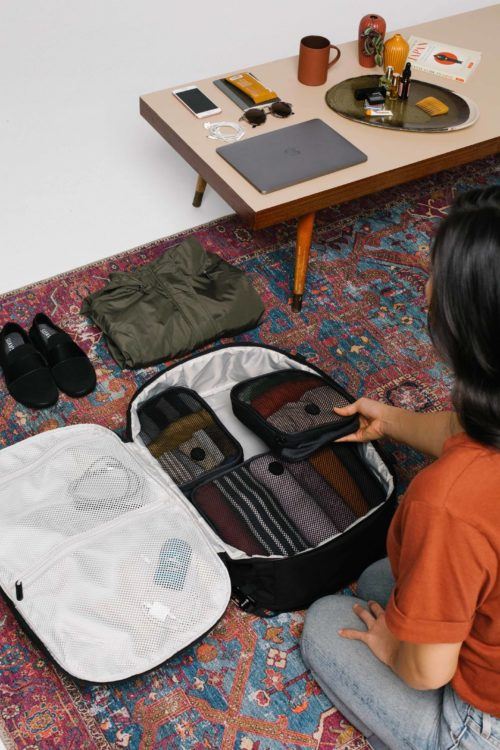 The zippered mesh pockets work well to keep your loose things from falling out anytime you unzip the backpack. Keep your chargers, toothbrushes, and first aid kits organized.
On the back, there's a padded section with room for TWO electronics. You can fit up to a 17-inch laptop and a standard 9.7″ tablet in the back. It's easy to access these at TSA security to pull them out for screening if you need to.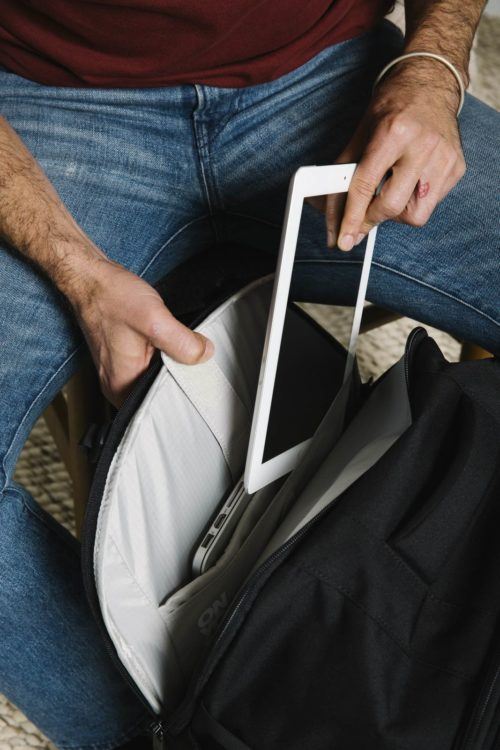 On the side, you'll find two exterior water bottle pockets. If you've been slacking on packing a reusable bottle, you no longer have any excuse! I actually ended up using one of mine for a compact photography tripod (it stayed securely in place thanks to some of the side compression straps).
Lastly, there are two small zipped compartments on the hip belt (one on each side). I thought I would love these, but I never ended up using them, perhaps out of habit from using my clothing pockets! If you have a Tortuga backpack, I'd love to know how you end up using these storage spaces.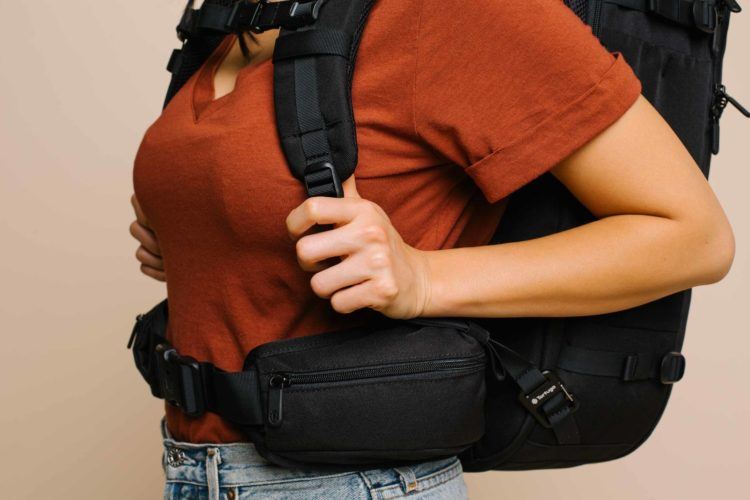 What Makes This the Best Carry On Backpack?
Although packing is a breeze with this travel backpack, that's not what sets this apart. It's the build, design, and details that make a Tortuga backpack better than other brands.
Most importantly, the hip belt helps distribute the weight in a way that's safe to carry the bag, whether's it's while you're walking down European cobblestone streets between the metro and your hotel or if you're sprinting to make your connection at the airport (I can't be the only one who's ever had to do that). The adjustable sternum and shoulder straps also help get that perfect fit so your bag isn't bouncing around while you're traveling.
Everything I know about getting the right fit on a backpack is from years and years of hiking and backcountry camping (try carrying a tent and sleeping bag on your back for 20 miles and you'll understand how important a perfect fit is).

Tortuga bags can (and should!) be adjusted precisely, even though I doubt you'll be wearing this for as far. If you don't know where to start, check out this backpack fit guide from REI.
Although a proper fit is an essential start, the Tortuga Setout also comes with padding and cushioning on the back, shoulders, and hip belt to make it more comfortable. The back panel is also quite breathable, since it's a combination of wicking foam and mesh for better air flow. Next time you're walking the streets of Bangkok or Costa Rica, you'll be very thankful for that!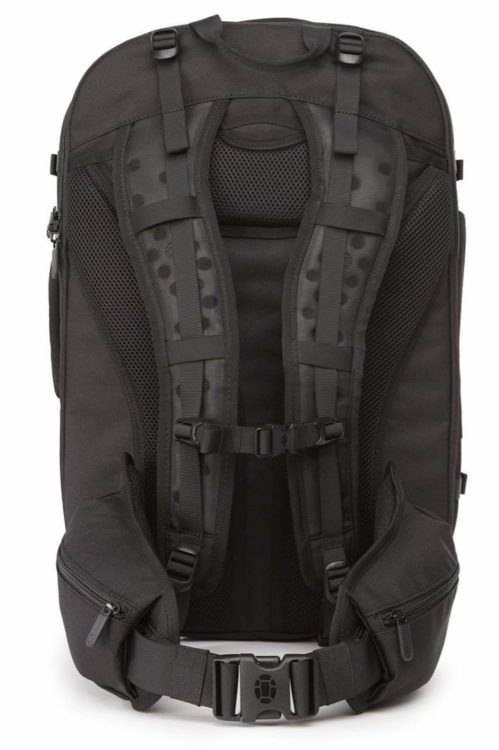 The Setout backpack also comes made with a durable, water-resistant coating (with optional rain-cover if you expect to be caught in a Hong Kong monsoon like I was once). You'll also find high-end YKK zippers that don't snag or break and Duraflex buckles.
All of these things, that might seem so little and easily overlooked, make it the best carry on backpack that I know of.
Bonus, even within Tortuga's own product line, the Setout is roughly $100 cheaper than their "Outbreaker". You get all of the quality and save a little cash to keep in your travel budget. Just like you, I'd rather spend all my money on travel itself, so having the right gear without going into bankruptcy is a tremendous balance!
Testing my Womens Travel Backpack in the Real World
Everything I've said above is the basics you can find right on the Tortuga website, just with slightly more context and explanation.
The true test is using a carry-on backpack on a real, actual trip. So how did my Setout hold up?
What I Loved About My Tortuga Backpack
First and foremost, the Setout was easy to pack. I fit everything I needed for an 8-day trip with room to spare, even in the smaller, 35L version. To be fair, I did not have bulky shoes which normally eat into your space — but I would argue that this size bag is adequate for just about any travel style for 4 or 5 days (it could work for 10 or 15 days if you're strategic).
Secondly, the Setout was easy to wear. I didn't have to carry my bag far on this trip (that was on purpose; I wanted to test before depending on it for a more adventurous expedition), but it was comfortable enough that I wouldn't hesitate to wear it for any type of travel going forward.
Lastly, I loved that my Setout fit in the overhead bin of a regional jet. I hate having to gate check my bag on small aircraft without full-size overhead bins — not only do I save time getting off the plane (and it can matter on tight connections!), but there's no worries about damaging anything valuable inside or having it get rained on while airport staff is loading your bag. For what it's worth, only the 35-liter version of the bag will fit here; the 45 liter will be too big.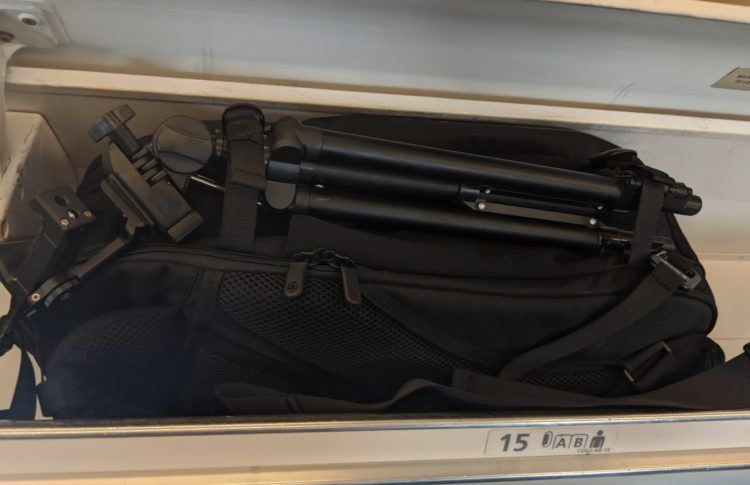 If it's not overstuffed, the smaller Setout will also fit under the seat in front of you, which is another great alternative if there's no more overhead space or if you just want a foot rest on long flights.
What I Didn't Like About My Setout Backpack
Those lovely padded straps that are oh-so-comfortable make it difficult to lay the bag flat. If you're trying to rest your backpack on a luggage rack or flat surface, the shoulder straps on the bottom get in the way. You can easily unclip the straps to move them out of the way, but it's worth being aware of.
The other thing I didn't like was that I kept getting the zipper pulls mixed up between the front organizational pocket and the main interior pocket. They are quite close together and look exactly the same, so I accidentally opened up the front pocket more times than I should admit. I'm solving the issue by using nail polish to color code each set of zippers.
Final Observations in my Tortuga Setout Review
I have my packing down to a science — everything goes in a specific packing cube and I nearly always travel with a separate laptop bag so that I can head out to coffeeshops without having to carry my main backpack. Because of this, many of the pockets and compartments were overkill. For a "minimalist" bag, this is anything but.
If you normally just jumble everything into one big suitcase, you'll find that having designated areas and organizational help is a great bonus. You'll use your space more efficiently and find things more quickly. If you're the opposite, like me, the extra compartments are an unnecessary extra.
For Sure, it's the Best Carry On Backpack for Women. But What About For Men?
In general, there aren't a lot of travel backpacks for women. Most bags are unisex and aren't always comfortable for a woman's build. Finding a backpack with this many features, sized for a woman's body, and at a reasonable pricepoint makes the Tortuga Setout a clear winner in women's travel backpacks.
Men have their choice in travel backpack shopping. Other popular brands like eBags (my old backpack), Nomatic, and Peak Design have front-loading designs and similar dimensions. However, hip belts are rare and these other brands don't have the same padding and suspension built-in.
For men who expect to wear their backpack for more than a few minutes at a time, the Tortuga Setout is still a terrific carry on backpack in comparison to other bags. However, if you don't think you'll ever have a need to carry your backpack very far, or if you're on a super-tight budget, men have more options to shop around.
Bottom Line: This Carry-On Bag is Worth a Try
I know not everyone will want to use a travel backpack as their primary luggage. And I know not everyone will ultimately decide this is the best carry-on backpack for them. Don't spend money if it's not for you.
If you're interested in the bag, Tortuga offers free shipping and free returns so you can see it in person, put it on, and decide whether or not you like it. If you have problems later on down the line, their "common decency guarantee" means you'll talk to a real human about issues and they'll do what they can to make it right.
Pair this Tortuga carry-on backpack with my favorite packable day bag and you've got yourself an unstoppable travel gear duo.
As I mentioned, Tortuga sent me this backpack (for free) to test, but all opinions are my own.
Keep Reading on SightDOING:
More Travel Gear Recommendations – Want to know what's INSIDE my bag? I've got you covered.
Printable Packing List – Get my tried and true carry-on only packing list (and printable PDF checklist!).
Are Packing Cubes Worth It? – Once you've got the best carry on backpack, here's how to keep it organized.