This post may contain affiliate links. As an Amazon Associate I earn from qualifying purchases.
* * *
I've never been a big fan of Halloween. Costume parties are more of a hassle than a festivity and handing out candy gets old after the fifth doorbell ring. But boy-oh-boy, I like pretty things, which is why I drove 375 miles to see a bunch of pumpkins.
Not just any pumpkins, of course. I went to Croton-on-Hudson's "The Great Jack O Lantern Blaze", a harvest event of more than 7,000 meticulously hand-carved pumpkins arranged into a spectacular work of art.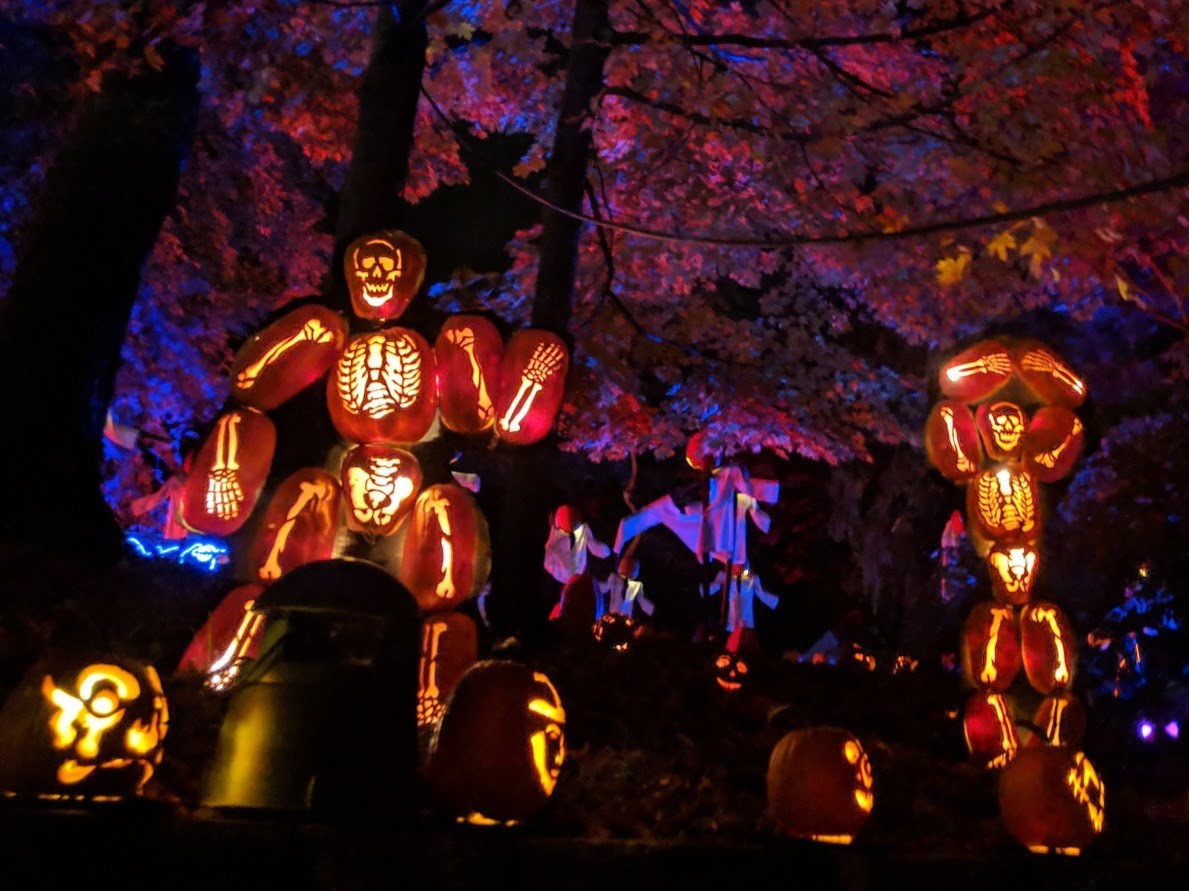 Everyone who lives within 100 miles of the Hudson Valley knows about and recommends the pumpkin blaze — but outside of the region, it's entirely unknown despite the fact it's now in its 14th season. I only found out about it by happenstance, while looking for Sleepy Hollow Halloween events, as if no one is bothering to market it outside the New York City tri-state area. Talk about a lost opportunity.
Entering the event, you're greeted by mood lighting and a creepy soundtrack: not enough to be frightening but enough to give an eerie event. As you wander down the promenade and over the "Pumpkin Zee Bridge", the first thing you'll notice is the sheer number of jack o'lanterns carved around you.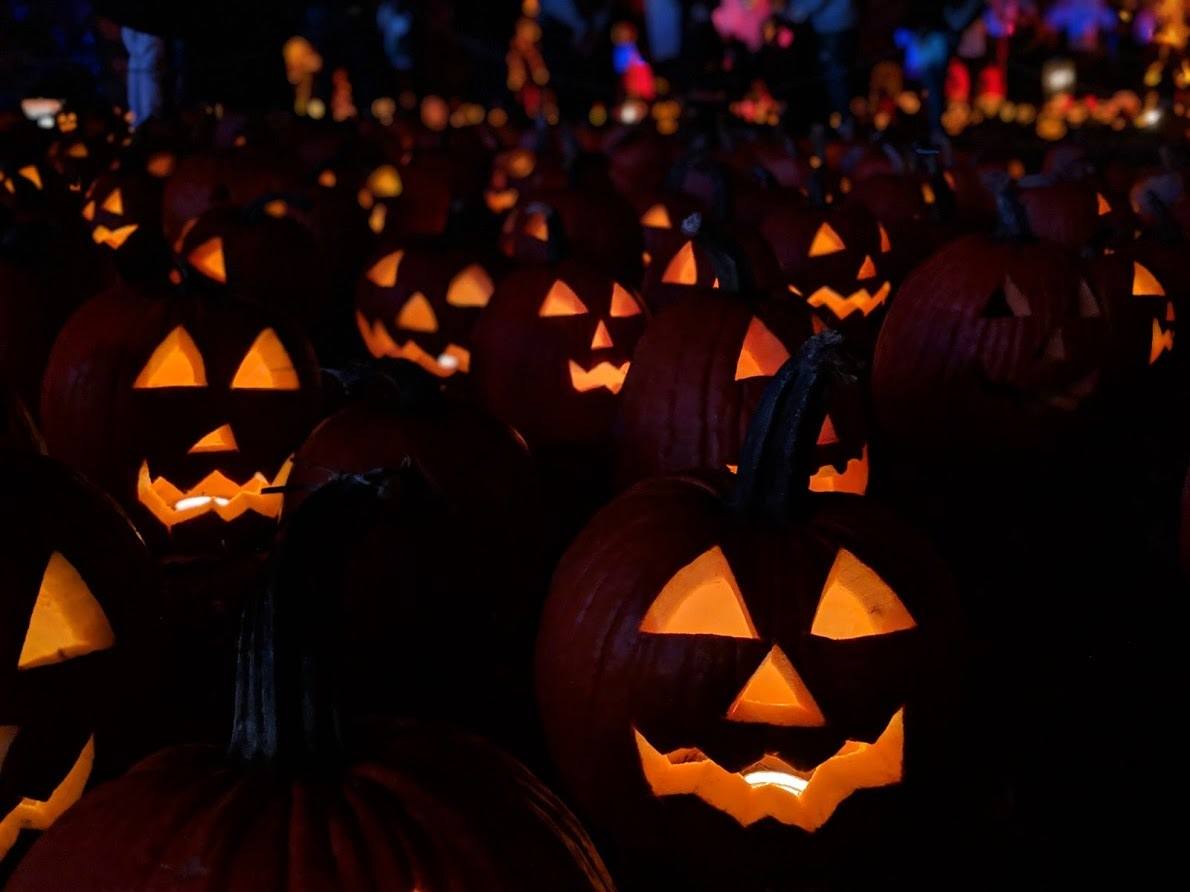 They start simple, with standard grinning faces complete with the flicker of candlelight, but as you go farther, the display of impressive structures begin. Pumpkins are strung together to create life-size displays, with this year's installations ranging from circus trains to dinosaur habitats.
Each individual pumpkin is a work of art, some much more elaborate than others, but it's the overall effect that makes this incredible.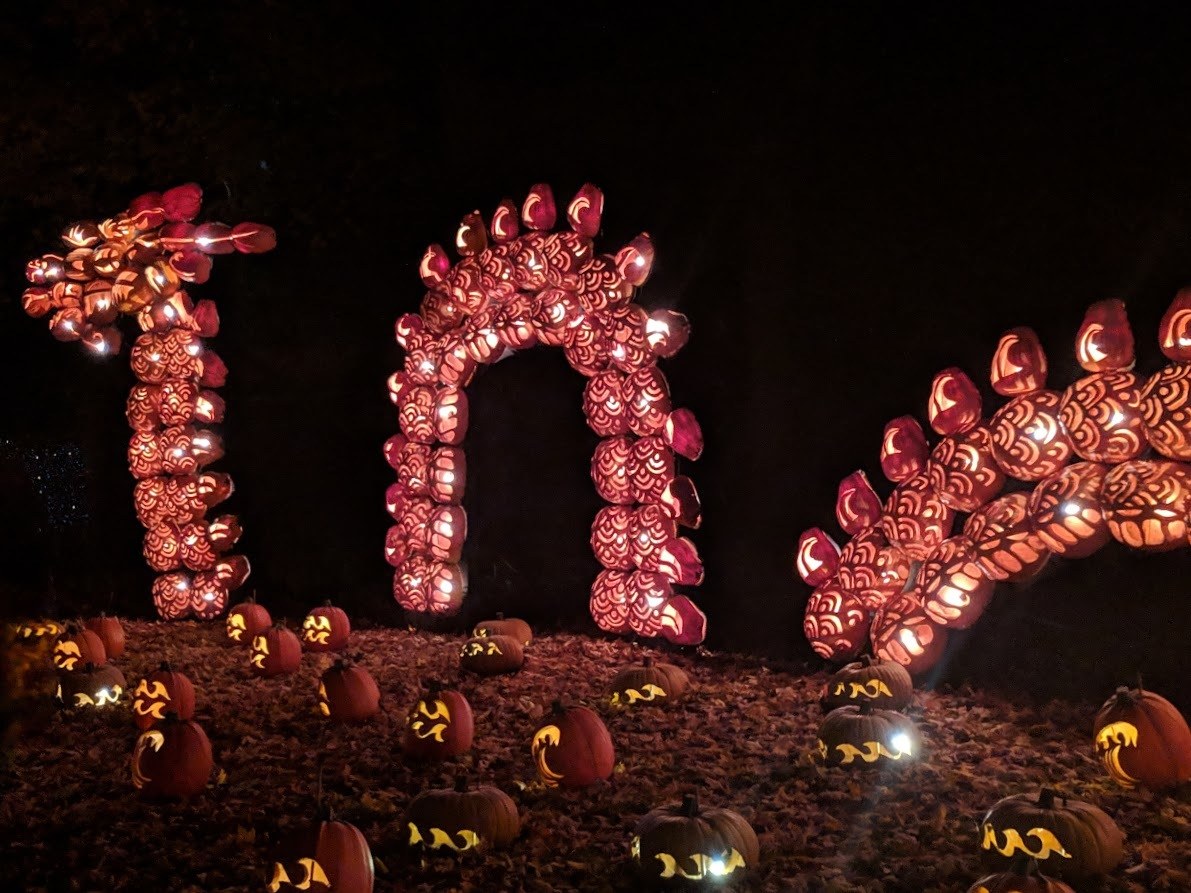 Like the holiday lights displays you see in December, special care goes into synchronizing flashing lights and music within the pumpkin displays to make this an atmospheric event. (Fun side note: you can actually buy the Blaze soundtrack and play it at home to keep the ambiance going.)
How to Get to The Hudson Valley Blaze
The Great Jack O'Lantern Blaze is held on the ground of Van Cortlandt Manor in Croton-on-Hudson, a smallish town on the east bank of the Hudson River. It's roughly a two hour drive south from Albany or 90 minutes from midtown Manhattan by car. Free parking is available, although be prepared to wait in line to enter the parking lot — traffic slows things down considerably.
You can also take Metro North trains from Grand Central Station to the Croton-Harmon station. The 1-hour trip runs frequently and costs $22-28 round-trip, depending on the time of day you travel. Once you arrive at Croton-Harmon, it's a 15 minute walk to the event grounds.
>>>>> Check Metro North schedules here.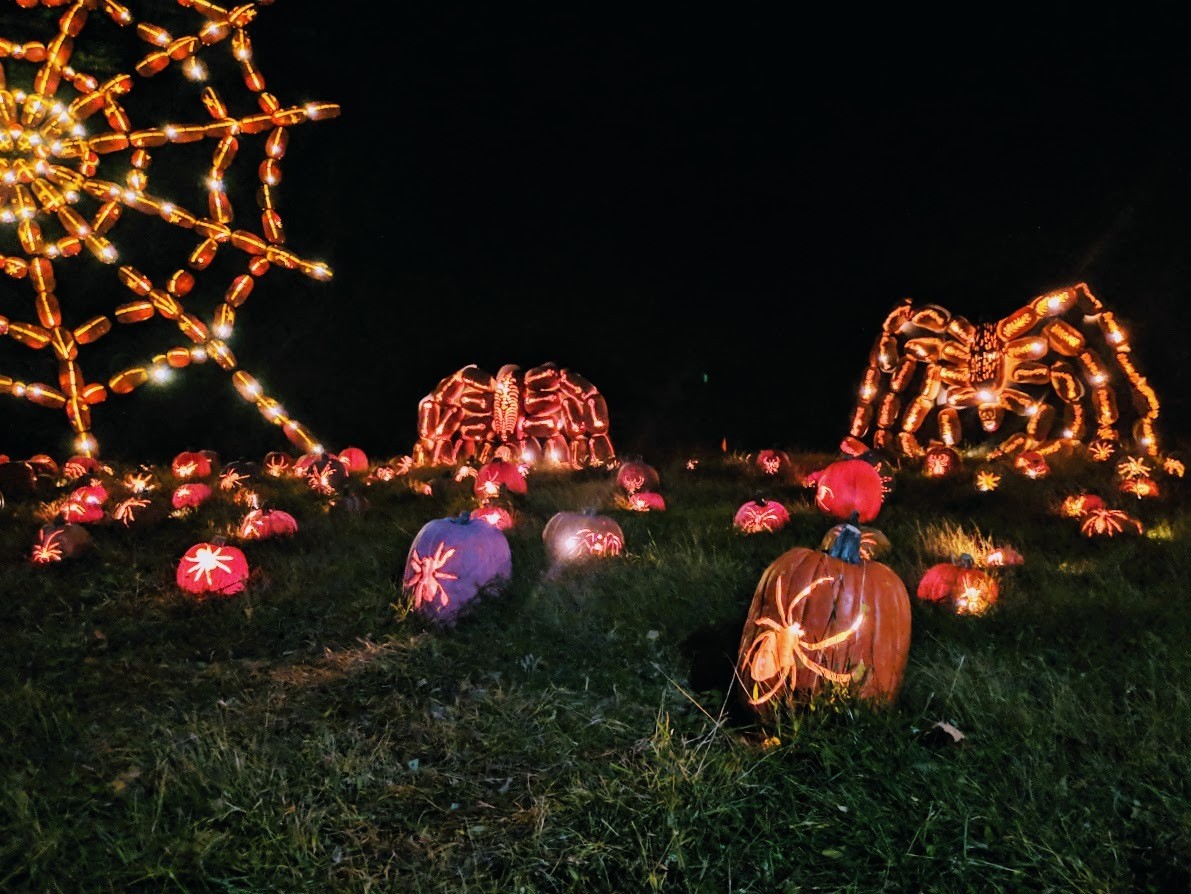 The Great Jack O' Lantern Blaze Tickets
Tickets to the 2021 event start at $36 and must be purchased in advance. In theory they sell them at the door, but it sells out so frequently that you shouldn't chance it. For weekends, you'll want to buy at least a week in advance; for weeknights and/or November dates, you might have more luck last-minute.
All entries are based on timed tickets to keep the crowds spaced out as best as possible.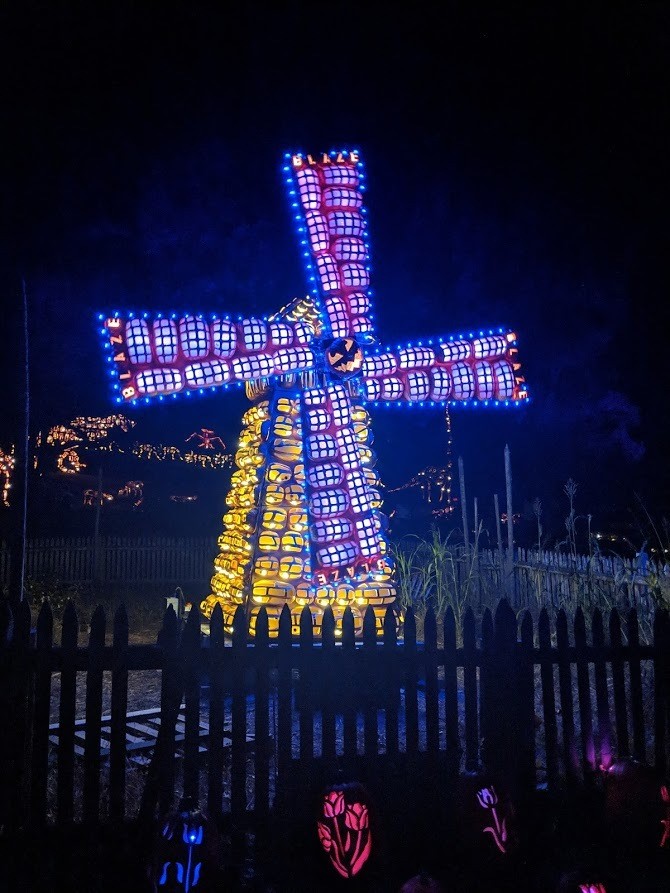 When you arrive, you'll be welcomed into an area with tents selling food and drink — this is before ticketed entry so you can arrive any time. No food is available for purchase once inside.
I purchased the last entry of the night (9:30pm) in hopes of avoiding strollers and other obstacles. It definitely worked and if I go again, I'd do that again. In fact, I'd probably grab a pumpkin beer on my way in and enter closer to 9:45-9:50 to let even more of the crowds die out and/or get ahead of me. Absolute last entry for 9:30 tickets is at 10pm. Don't be late.
What's Nearby The Great Pumpkin Blaze
With a car, it's easy to explore several other attractions in Westchester County, although do check operating hours when you make your plans: some attractions and historic sites are only open on weekends, like most of the Hudson Valley.
My absolute favorite is the Chagall stained glass windows at the Union Church in Pocantico Hills (unfortunately photos are not allowed). You may also like hiking amongst fall colors at Rockefeller State Park Preserve, hayrides at Wilkens Farm, or even camping in the Wolf Conservation Center. Another favorite is Kykuit, the former Rockefeller residence. You'll see antiques, fine art, sweeping views of the Hudson River, and lovely gardens.
Halloween lovers should also head just barely south to Sleepy Hollow, a town with so many seasonal events that it deserves its own article. Hint: Sleepy Hollow cemetery is a highlight.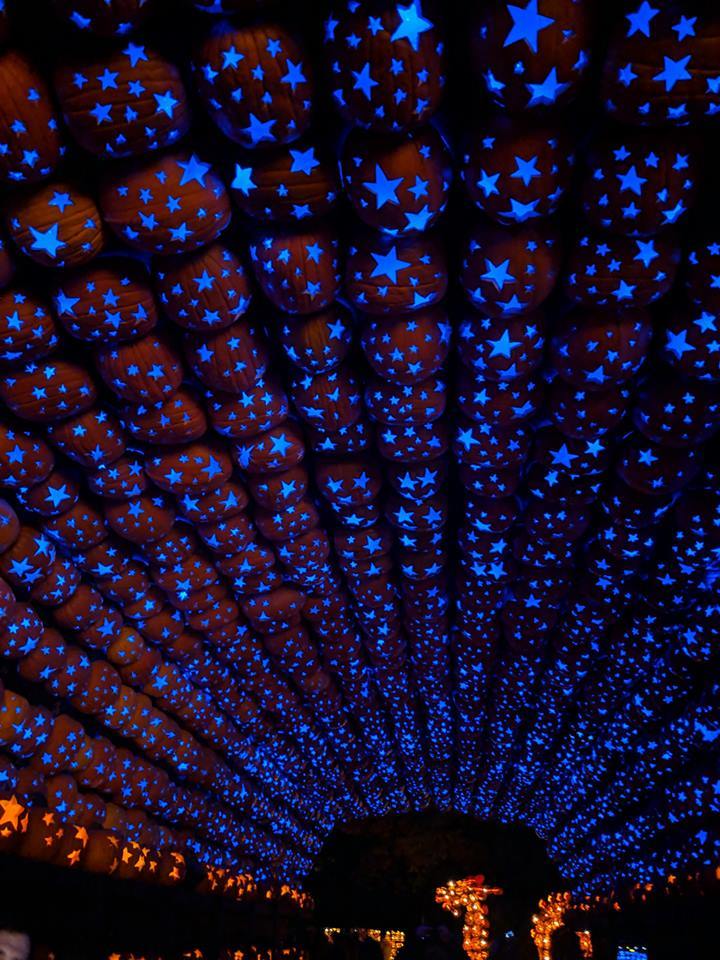 Where to Stay Near the Pumpkin Blaze
Honestly, I wouldn't stay in Croton-on-Hudson itself.
My top pick is to stay just across the river at the Bear Mountain Inn and Overlook Lodge. It's not fancy, but the views are unbeatable — remember, the glorious reds of maple trees in autumn are spectacular. You can spend all day in the fresh air before warming up by the stone fireplace.
For a hotel right in the the thick of things, head to the DoubleTree Tarrytown. It blends the service you trust with a midrange price and easy accessibility up and down the Hudson. If you don't have a car, you'll still be able to take cheap Uber rides into Sleepy Hollow (about 3 miles away) and grab a train to the great pumpkin blaze.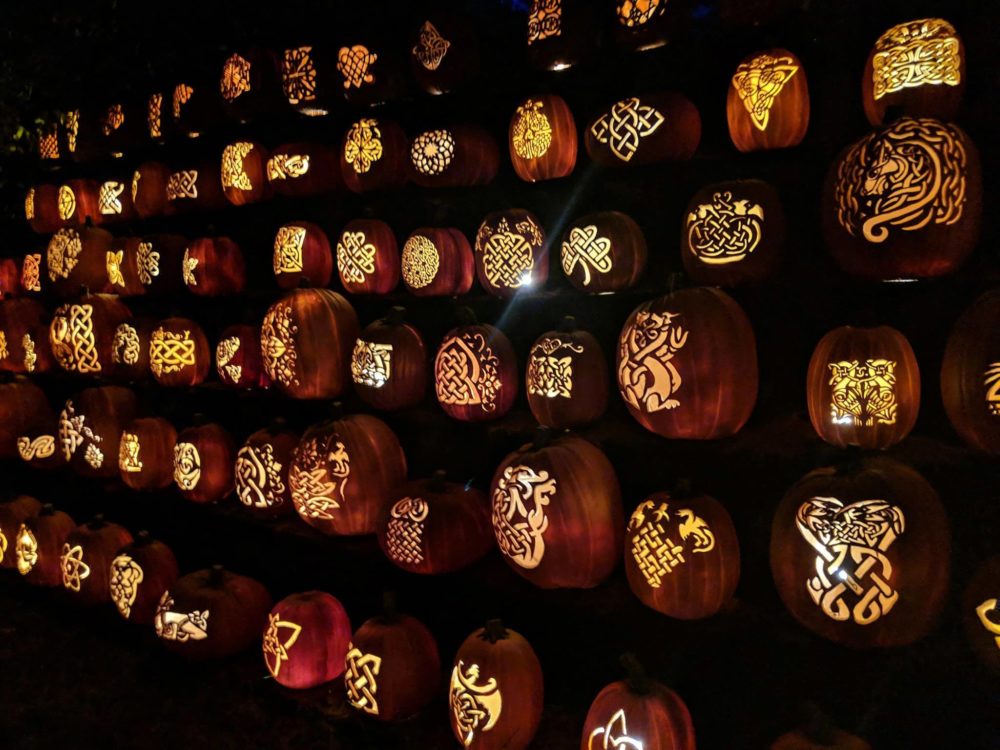 Just the Facts: The Great Jack O Lantern Blaze

The event runs from late September through Thanksgiving, coinciding with the local harvest season. October is the best time of year to visit the historic Hudson Valley anyway to take advantage of local farms, apple picking, cider and donuts, and of course…lots of fall colors.

You can walk through the whole thing in as little as 45 minutes, but I'd double that to give you time to take plenty of photos, soak the whole thing in, and maybe even grab a hot cocoa.

The event is held rain or shine and I got very lucky with great weather. Dress appropriately if you're not so lucky. Honestly I think a foggy, drizzly night might be more atmospheric so don't sweat it!

Lastly, tickets do sell out (especially weekends and peak entry times, like 7pm). Buy tickets in advance and remember, they're nonrefundable.
* * *
More Fall Trips