This post may contain affiliate links. As an Amazon Associate I earn from qualifying purchases.
* * *
All the civilization you need: that's what the sign read as we entered town. Sure enough, Pinedale, Wyoming has all the basics but nothing more. There's a health clinic, grocery store, gas station, some drive-through coffee shacks and a few hotels. But there's no confusing Pinedale for its distant cousin down the road. Pinedale and Jackson Hole don't have much in common.
That's exactly why we chose to visit. After a few glorious days in the Tetons, we were seeking something different. Sixty-eight miles away, we found Pinedale and the Wind River Range.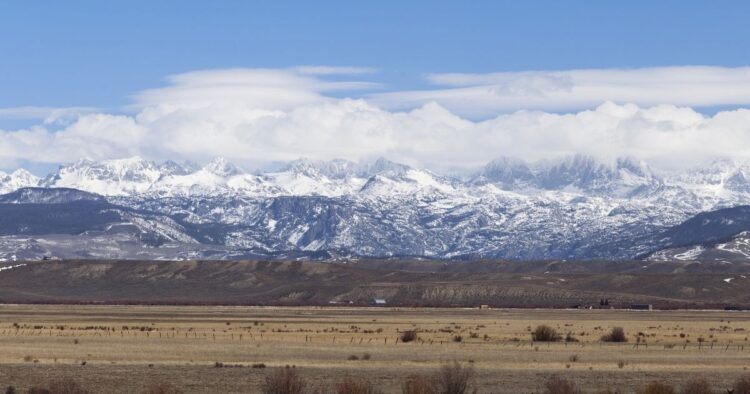 Our original intention for the day was to hike (surprise, surprise). The trails here are reportedly less trafficked, availing themselves to trekkers in search of solitude. Unfortunately, Mother Nature had a different idea, inviting in a 90mph windstorm two weeks before our visit. Trees were downed. Trails were impassable. Our timing wasn't ideal.
Not one to let the unexpected deter me, we changed our plans entirely. One phone call later, a small fishing boat waited for us on Fremont Lake, the second largest in Wyoming.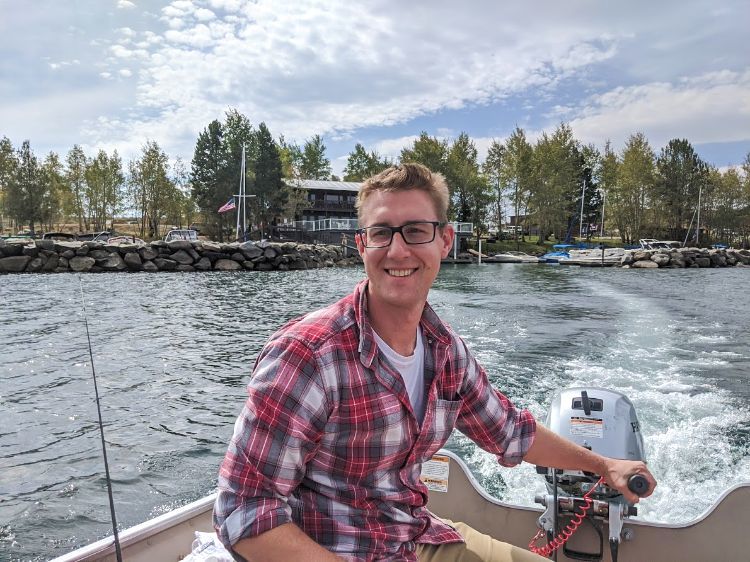 I'm not much of a fisher so I spend the afternoon enjoying the sunshine, alternating between reading my Kindle and scanning the shoreline while my husband cast behind me. His line whistled through the air until it hit the open water, the only noise for a dozen miles.
Pulling out my binoculars, I scanned dry land, half expecting to see a bear lumbering along the lake's edge. No such luck, no more than a scurry of chipmunks scuttling through a grove of aspens.
Switching gears, we trolled slowly, nothing biting along the way. My husband wasn't frustrated in the slightest. "We've only just begun," he tells me. Fishermen have more patience than I'll ever have. While I prefer high-action sports, he thinks nothing of this moment of peace.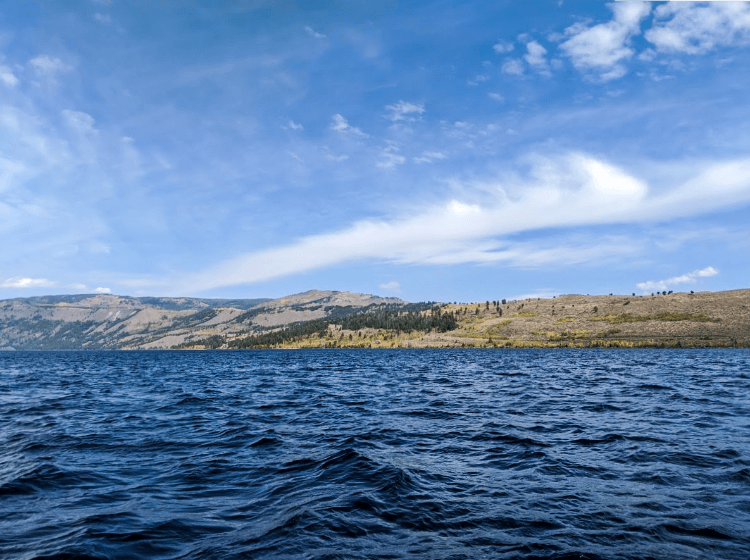 At one point, I had no choice but to jump in the lake to relieve myself, cursing my decision to crack open a second drink so far from the marina. The air temperature's about 65; the water, about the same. Thankfully there's no one around to see my goose-pimpled skin as I clamored back in the boat, counting my blessings the sun is strong enough to dry me off.
In the distance is the Wind River Range, a group of lesser-known mountains that don't have the same triangular peaks as the Tetons. They're beautiful in their own way, a rugged beauty made more enticing when it feels like they're your very own discovery. Knowing we didn't have time to explore is bittersweet. I immediately felt a twinge of FOMO while smiling at having a reason to come back.
Pinedale is the type of place I can envision staying awhile. This year's day trip was far too short for an outdoor lover like me. Fishing and hiking are just the start: the region is ripe for off-roading, horseback riding, and wildlife watching. Somewhere on Skyline Drive, I'm sure, there's even a perfect sunset spot.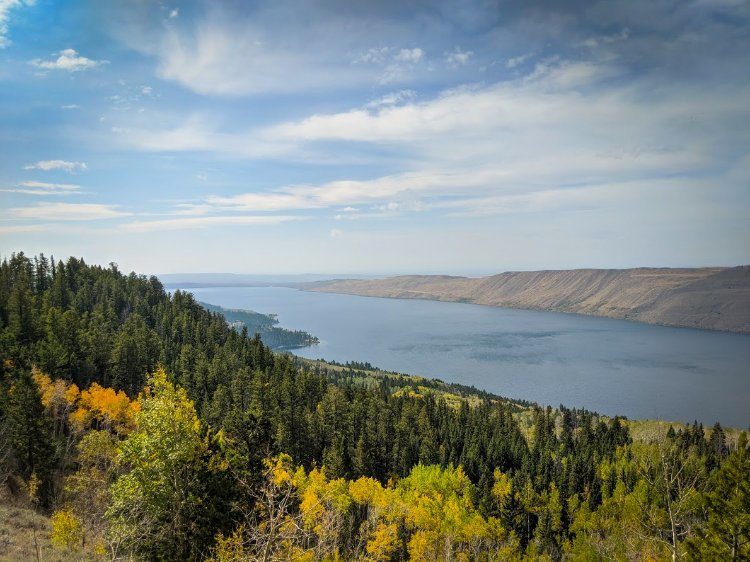 For the moment, though, I'm happy watching a family of ducks in a glassy cove, the gurgle of water under our aluminum boat. Here in Pinedale, with the sun shining and the sound of a reel next to me, it feels like the day is all mine.
If You Go…
There's a Hampton Inn and a Best Western right on the main drag, but if you can, stay on one of the two lakes. The Lakeside Lodge (on Fremont Lake) and Half Moon Lake Lodge (on Half Moon Lake) both have excellent reviews.
Driving in from Jackson is fastest on Highway 191, which coincidentally is part of the Centennial Scenic Byway. Hoback Canyon is especially beautiful, but we enjoyed the whole ride. Keep your eyes peeled for wildlife — we saw a hundred pronghorn and a handful of deer. We were also lucky enough to catch some ranchers driving cattle by horseback along the way. This is the real Wyoming.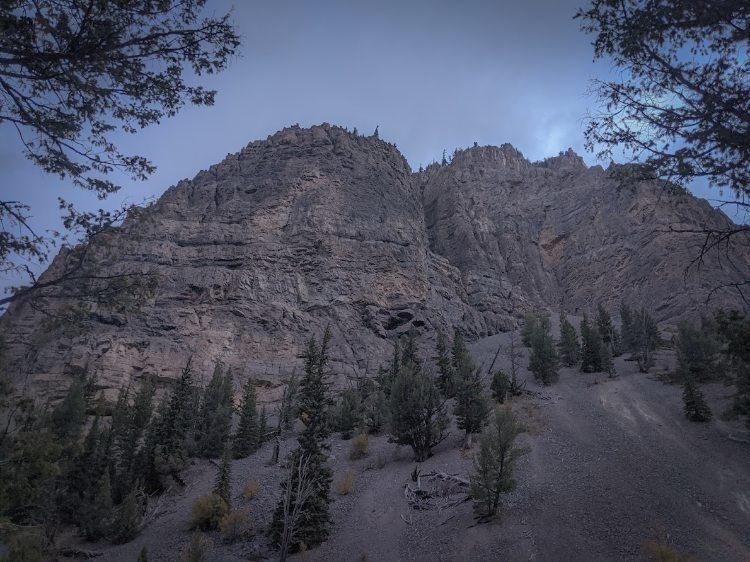 With such a short visit, I can't make too many specific recommendations, but the sandwiches at Obo Deli are delicious (we wiped out the generously-sized "Hey Steve", a corned beef, banana pepper, and horseradish concoction). I also loved Steve's Beer at the Wind River Brewing Company, the perfect semi-dark beer for a fall afternoon. I'm left wondering who exactly Steve is…but he seems to have impeccable taste.