This post may contain affiliate links. As an Amazon Associate I earn from qualifying purchases.
* * *
Everyone says winter is the worst time to visit China — unless you're heading to the Harbin International Ice and Snow Sculpture Festival, that is.
Before my visit, I found plenty of inspirational articles and photographs but I couldn't pinpoint a recent Harbin ice festival guide to walk me through the logistics.
I had zero desire to join China tours and be shepherded around on someone's schedule, so despite the fact I don't speak any Mandarin (and English is not spoken in Harbin), I took a leap of faith and traveled independently. Spoiler alert: it's worth the hassle to get there.

I've never been to another man-made location that's more beautiful; wouldn't you agree?
Just the Skinny on the Harbin China Ice Festival
If you're not familiar with the event, it's basically a fairytale come true. The city of Harbin works tirelessly to build jaw-dropping ice sculptures the size of buildings, lighting them at night for a glittery effect that wows everyone. There's also an entire separate section with snow sculptures soaring several stories high: think of them like sandcastles on steroids.
Artists travel from all over the world to compete in the festival, particularly on smaller, more intricate structures (and by "smaller", they can still be 6-10 feet tall!).
For fun, the festival also builds ice slides and toboggan runs, with skating rinks, ice labyrinths, and several different versions of bicycle-inspired contraptions for the ice.
The Harbin Ice and Snow Festival is the world's largest (attracting 17 million visitors last year) and is one of the greatest winter trips you can take anywhere.
Where is Harbin China?
Harbin is in the far northeast of China, in Heilongjiang province.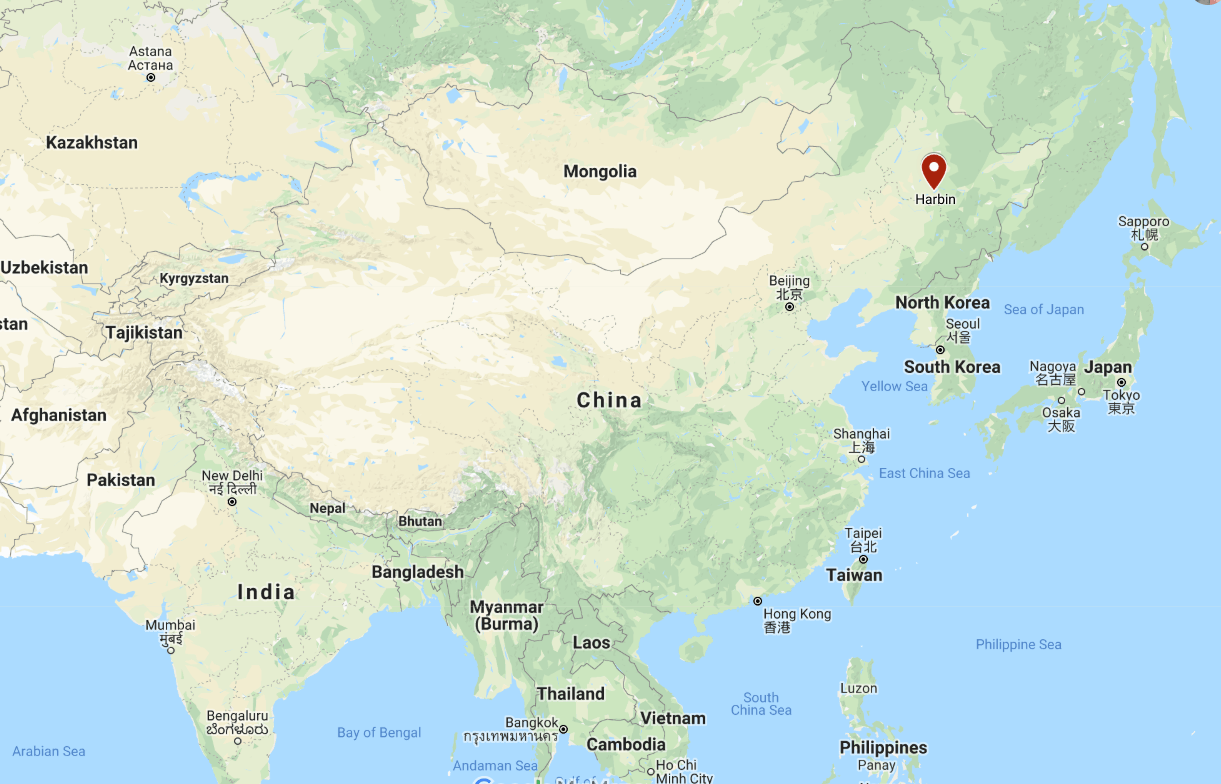 The climate closely resembles that of Russian Siberia and they've capitalized on the cold, fierce winters by hosting the world's largest ice and snow festival.
Harbin is a large city (10+ million), so the airport is a decent size with flights to almost everywhere in China as well as international flights to hubs in Bangkok, Seoul, Tokyo, Singapore, and more. Harbin is also connected by train; the most relevant route for travelers is Harbin-Beijing which takes about 8 hours.
For flights within China, I recommend using Trip.com

Booking directly with Chinese airlines can be a pain. The English versions of airline websites often break and others require you to jump through hoops just to buy a ticket. And booking through online travel agencies like Expedia or Priceline forces you to buy higher fare classes on tickets — call it a "foreigner surcharge".

On average, every flight I checked for this China trip and my previous one was $50-100 cheaper on Trip.com because they book the lowest fare classes.

Trip.com is easy to use, even if you need to change or cancel a ticket. ★sightDOING recommended★
When is the Harbin Ice Festival?
The winter festival occurs in January and February, with 2021's festival officially beginning January 5 and ending February 5.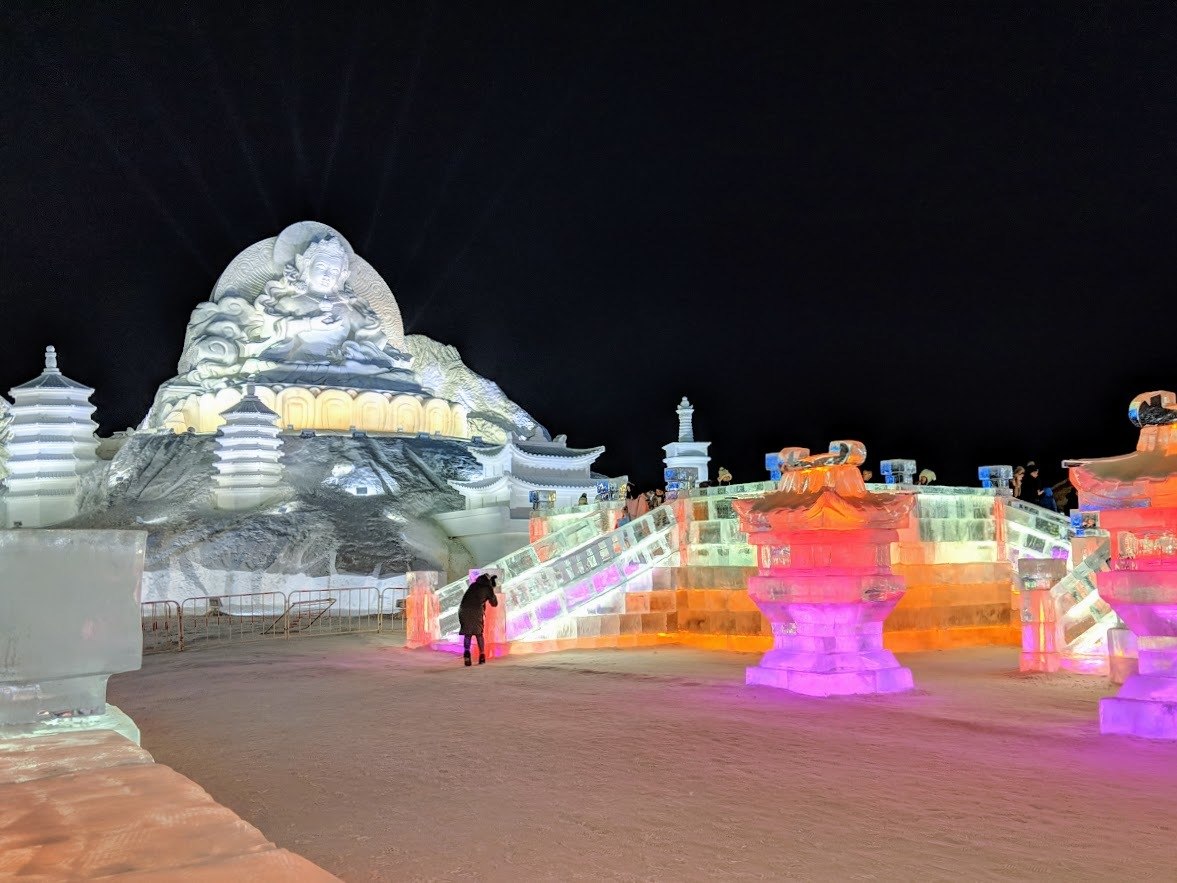 Unofficially, you can usually start to see some of the sculptures as early as Christmas and some will remain until they naturally melt which can be a month or longer than the scheduled end date.
My visit in early January was lovely because there were still a few artists working on some of the smaller ice and snow features. That meant I didn't see everything completed, but I did get the chance to watch them skillfully sculpting away, which was a great bonus.
The best time to visit the Harbin Ice and Snow Festival is mid-to-late January. Skip the first week which is crowded for opening festivities and definitely avoid the week around Chinese New Year when everyone in China is visiting!
Harbin Weather and What to Wear
Harbin's climate is frigid, but not as cold as I expected.
Harbin gets many sunny days, so even though it's bitterly cold at night, it can warm up to reasonable daytime temperatures. I was fortunate to have windless days; not everyone will be so lucky.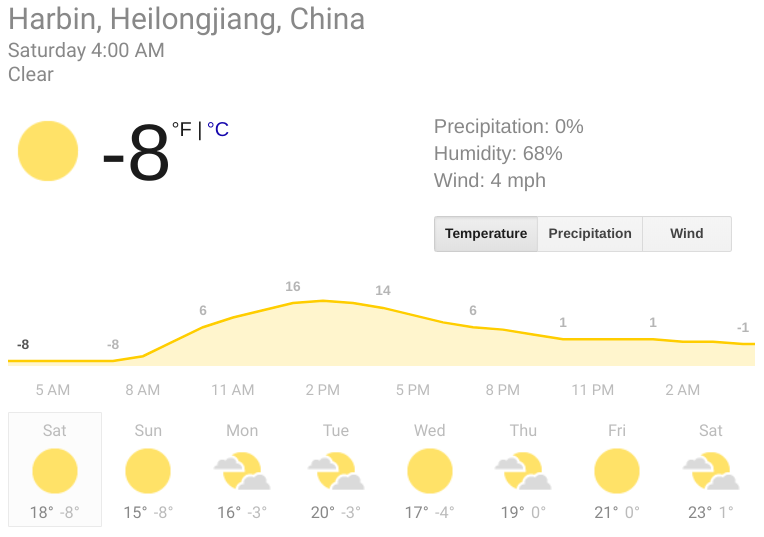 Since you'll be outside at the festival, you'll need to wear several layers, the exact number dependent on what you're acclimated to and the quality of your gear. With high-quality gear, I got away with wearing THREE layers each on my top and bottom:
Long underwear, sweatpants, and windproof/waterproof shell
Under Armour top, fleece sweatshirt, and winter coat
Add in wool socks, snow boots, gloves, a hat, and (for part of my visit) a balaclava.
I looked ridiculous, but I was warm for all but an hour of my trip. Even in that final, cold period, I was chilly but not miserably so (and there were other moments when I was warm enough to take off my hat and unzip my jacket, so it all balances!).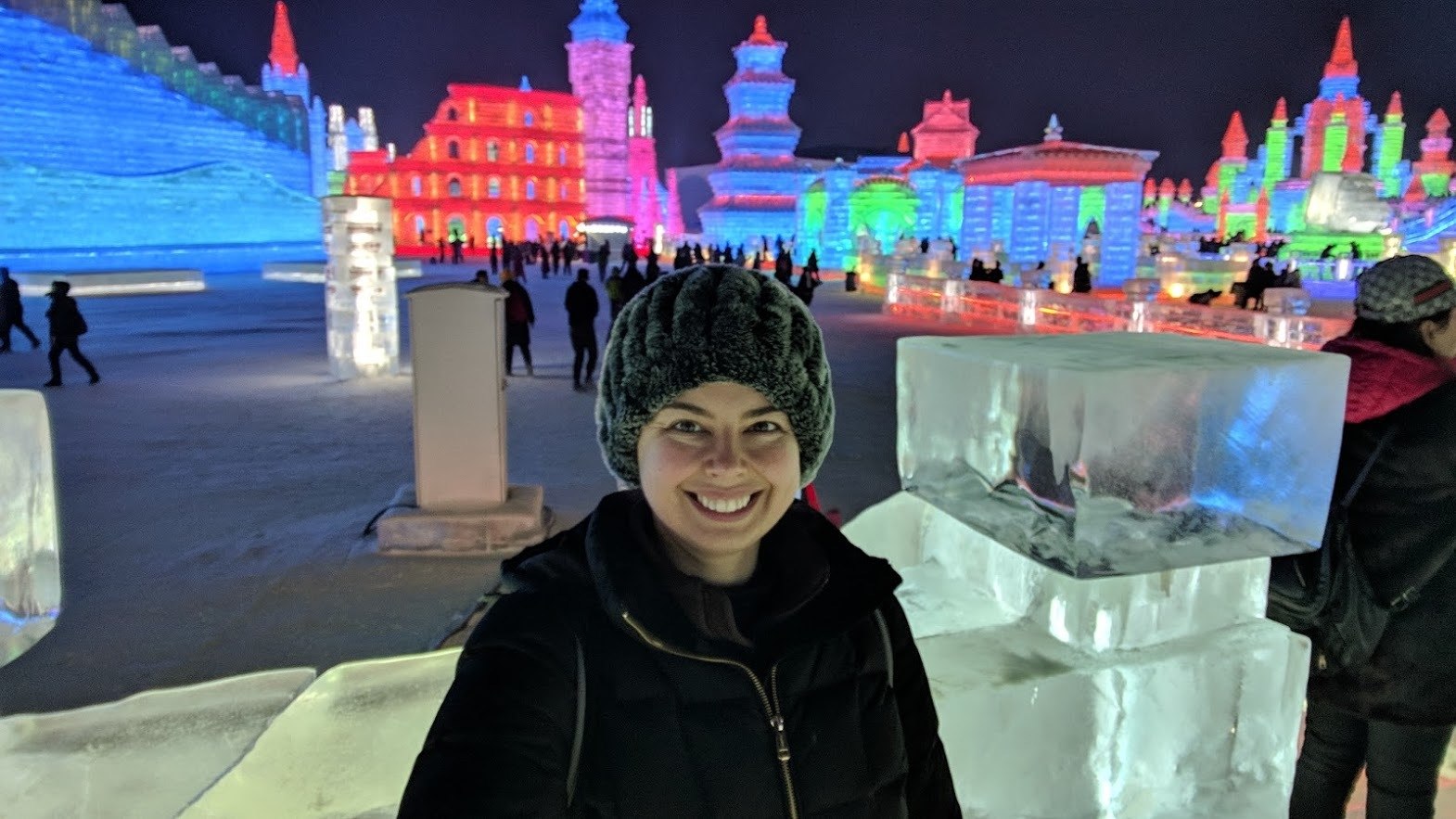 Read More: How to Dress For Winter Trips (Plus Packing Tips!)
Harbin Ice Festival Guide
The Harbin International Ice and Snow Sculpture Festival has three different sections in different locations throughout the city:
Ice and Snow World
Sun Island Snow Sculptures
Ice Lantern Garden Party (Zhaolin Park)
The Ice and Snow World is the part of the festival that gets the most publicity, but each section has an entirely different focus and it's worth making time to see them all.
Harbin Ice and Snow World
Ice and Snow World is the largest part of the festival and the priority for most visitors. It's huge (600,000 square meters, or about 150 acres) and has more than 2,000 ice sculptures. This year, some of the sculpture themes included a cathedral, a castle, and several pagodas.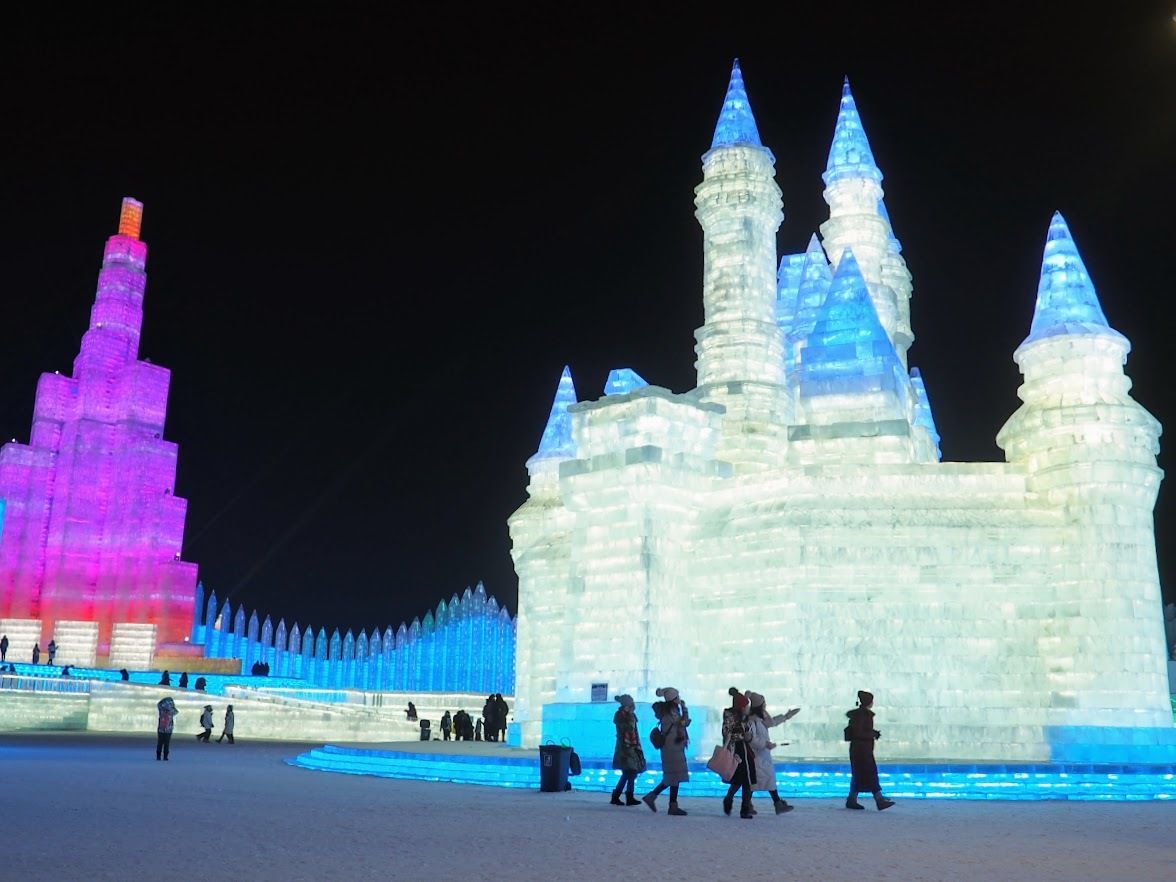 Many of the sculptures are gigantic and all of them are beautifully colored with LED lights at night. Because of this, the best time to come is after dark to get the full effect.
Even if you've seen photographs online, walking amongst so many structures is mind-blowing. You really have to visit to get the full effect.
JUST THE FACTS

Opening Hours: 11am-9pm; best after dark.

Duration: You'll need a minimum 1.5 hours to walk the grounds, but could easily spend 3-4 hours if you include ice slides or other rides or any of the shows (figure skating, dancing, etc.)

Price: 330 RMB (about US $48), cash or WeChat/Alipay only. Harbin ice festival tickets include rides and shows at no charge.

When to Go: Like Disney, the waits for rides can be an hour or more. To avoid these queues, enter the festival at 3-4pm and go straight to the rides or shows. For photographs with fewer crowds in your shot, your best bet is 8-9pm as everyone starts to get cold and leave the festival.

How to Get There: My DiDi (rideshare app, like Uber) was about 25 RMB from downtown, but I couldn't find an available car for the way back and needed to grab a taxi at 40 RMB. Buses 88, 118, and 336 should also get you there (2 RMB).

Bring:

Your passport (many reports of needing it to purchase tickets, though no one asked for mine).
Spare battery for your camera and/or an external battery if you're using your phone camera. The cold kills your battery life!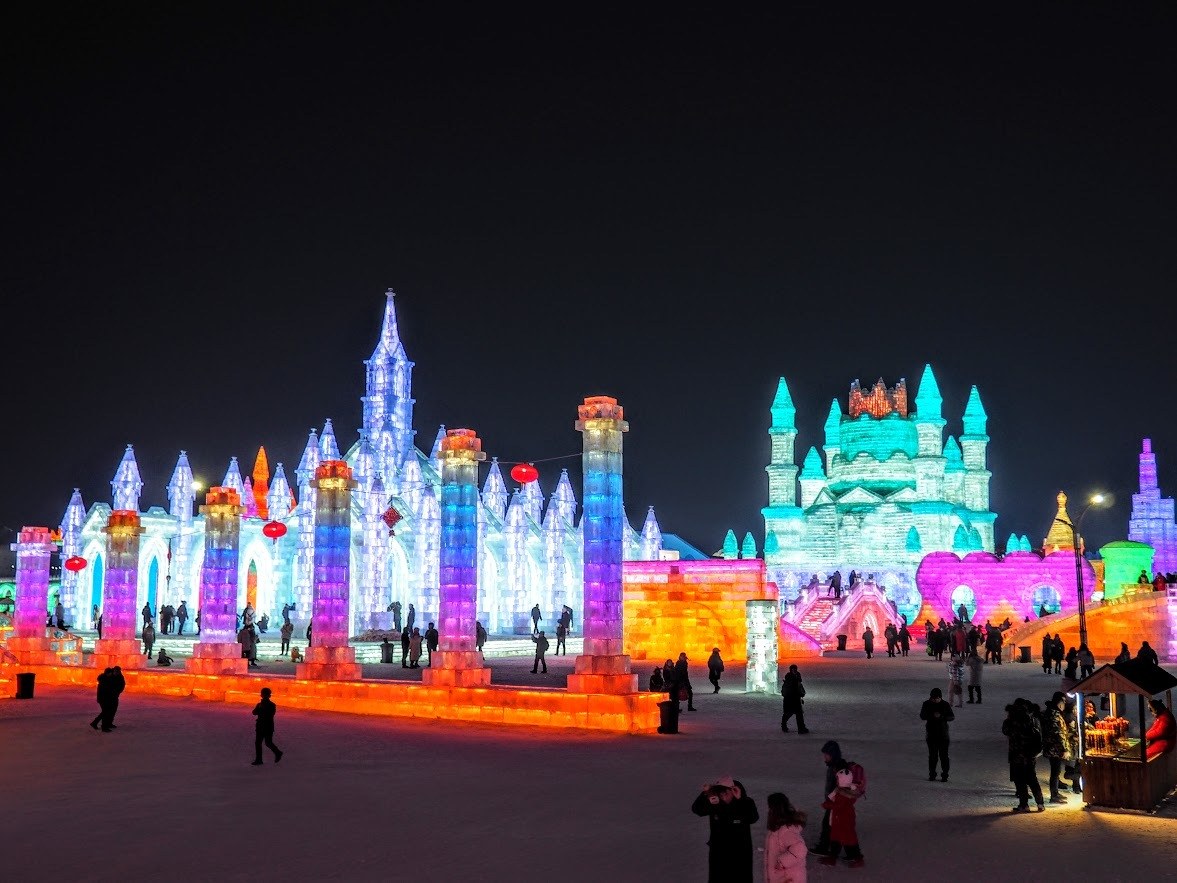 Theoretically you can buy tickets online with WeChat Pay but the website is only in Mandarin and a lot of the text is actually graphics, meaning Google Translate won't work. Like most visitors, I bought my ticket on-site. You'll need to look for the ticket building, which was off to the side. Thankfully, lines move quickly and then you'll need to pass through a second queue for security in a separate building.
Be aware that most tickets sold from hotels or tour agencies require you to enter with your assigned group, which means you won't have any freedom or flexibility on what time you arrive at the festival.
Sun Island International Snow Sculpture Park
The Snow Sculpture Exposition on Sun Island is the perfect complement to Ice and Snow World, focusing on snow sculptures of incredible size and detail. Everything is artistically crafted from snow alone and ranges from smaller, intricate creations to towering snow murals.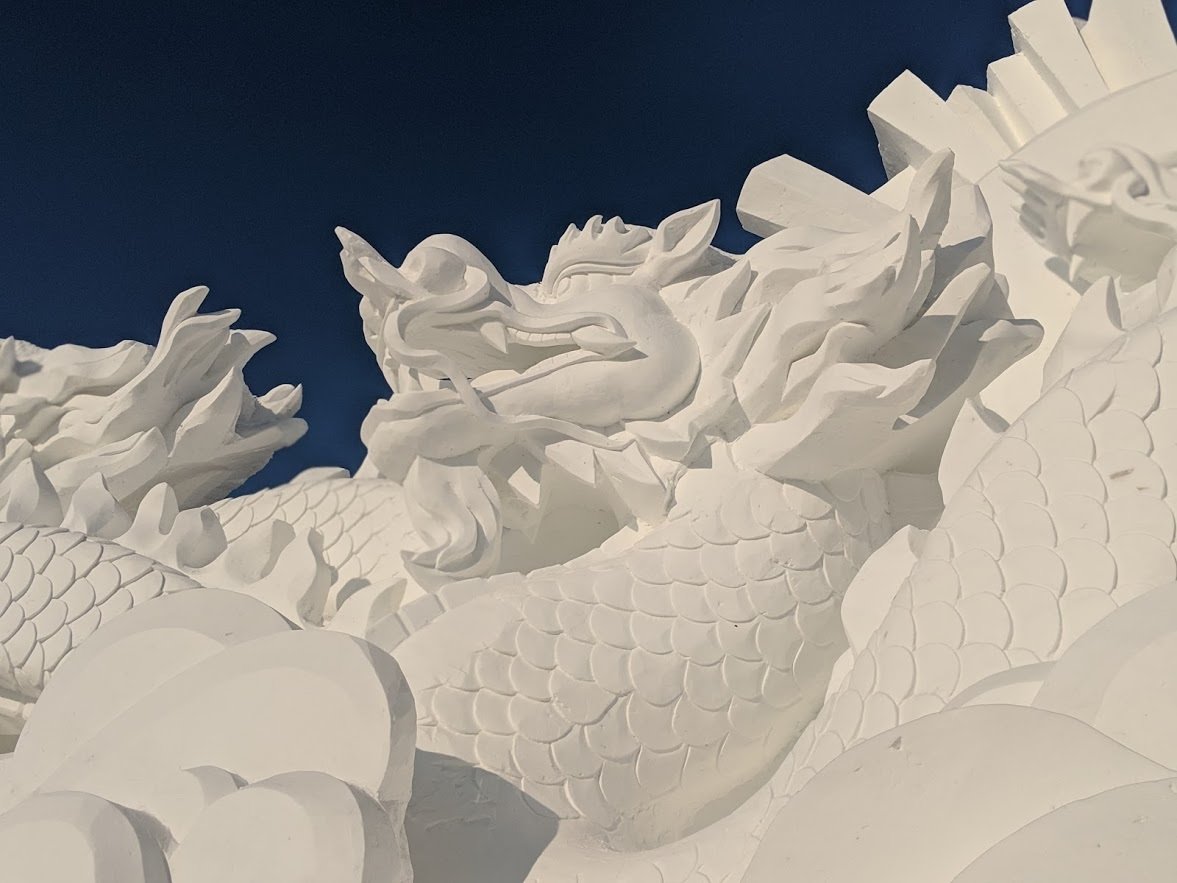 In addition to looking at the snow art, there is a large section in the back with ice slides, ice bikes, and other winter sports that you can do for free! Lines here were much shorter than at the Ice and Snow World, so this is a great chance to try the slides out without waiting forever.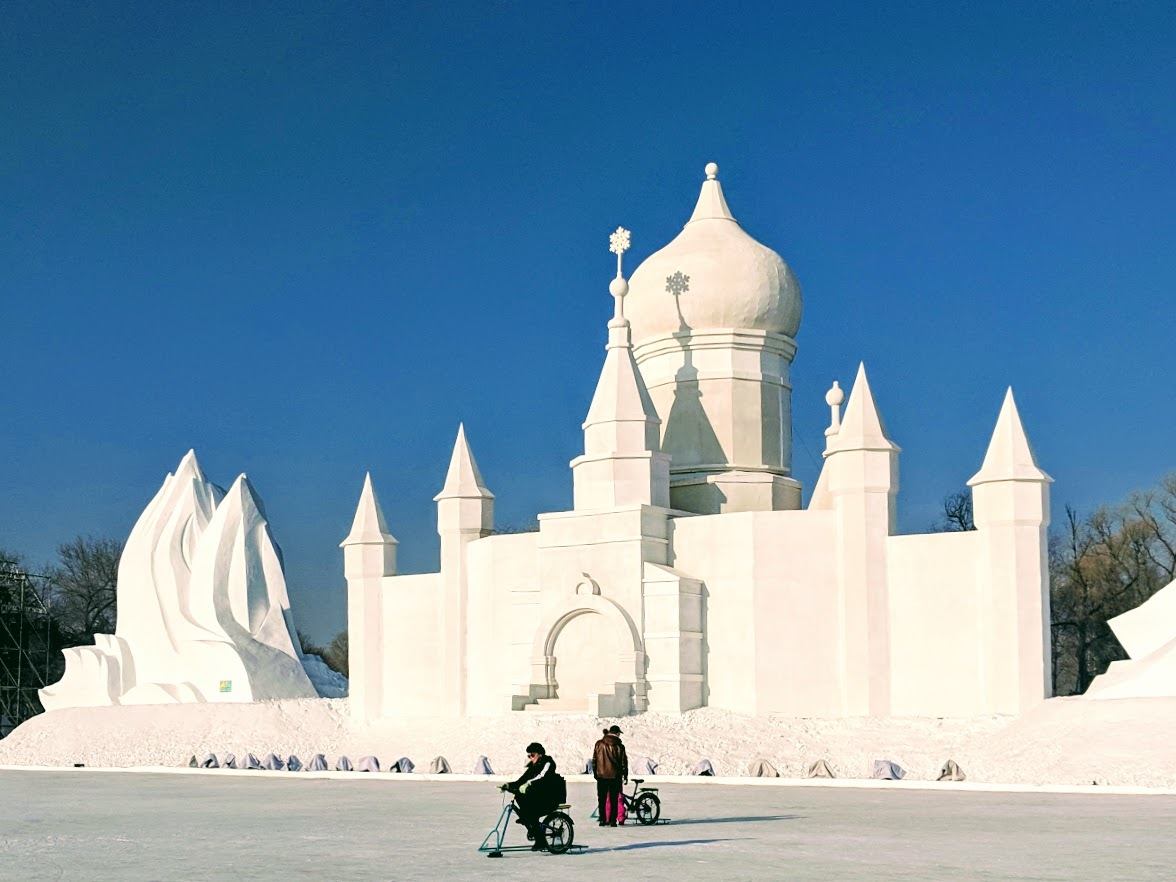 JUST THE FACTS

Opening Hours: 8am-5pm.

Duration: You'll need a minimum 1 hours to walk the grounds, but could easily spend 2-3 hours if you include ice slides or other winter sports.

Price: 330 RMB (about US $48), cash or WeChat/Alipay only. Tickets include rides and rental equipment at no charge, although some required a fully-refundable cash deposit. If you speak Mandarin, you can get discount tickets online.

When to Go: You'll likely have the place to yourself if you get there at 9am, which makes for a lovely chance to take photographs.

How to Get There: The most fun way is to take the cable car from Swan Castle (50 RMB) but you can also walk across the frozen Songhua River. Buses (#29, 54, 85, 88, 346) and taxis are also available.

Bring:

Your passport (many reports of needing it to purchase tickets, though no one asked for mine)
Sunglasses! The glare from the sun on the snow is intense.
Zhaolin Park Ice Lantern Fair
Right in the city center, Zhaolin Park's "Ice Lantern Garden Party" is by far the smallest section of Harbin's festival. This is a small city park featuring dozens of smaller ice sculptures, none of which come close to the size and scale of the main events.
This is where the festival all began. Local traditions included smaller ice lanterns illuminated by candles and even though today's event is on an entirely different scale, it's fun to see the city pay tribute to its beginnings.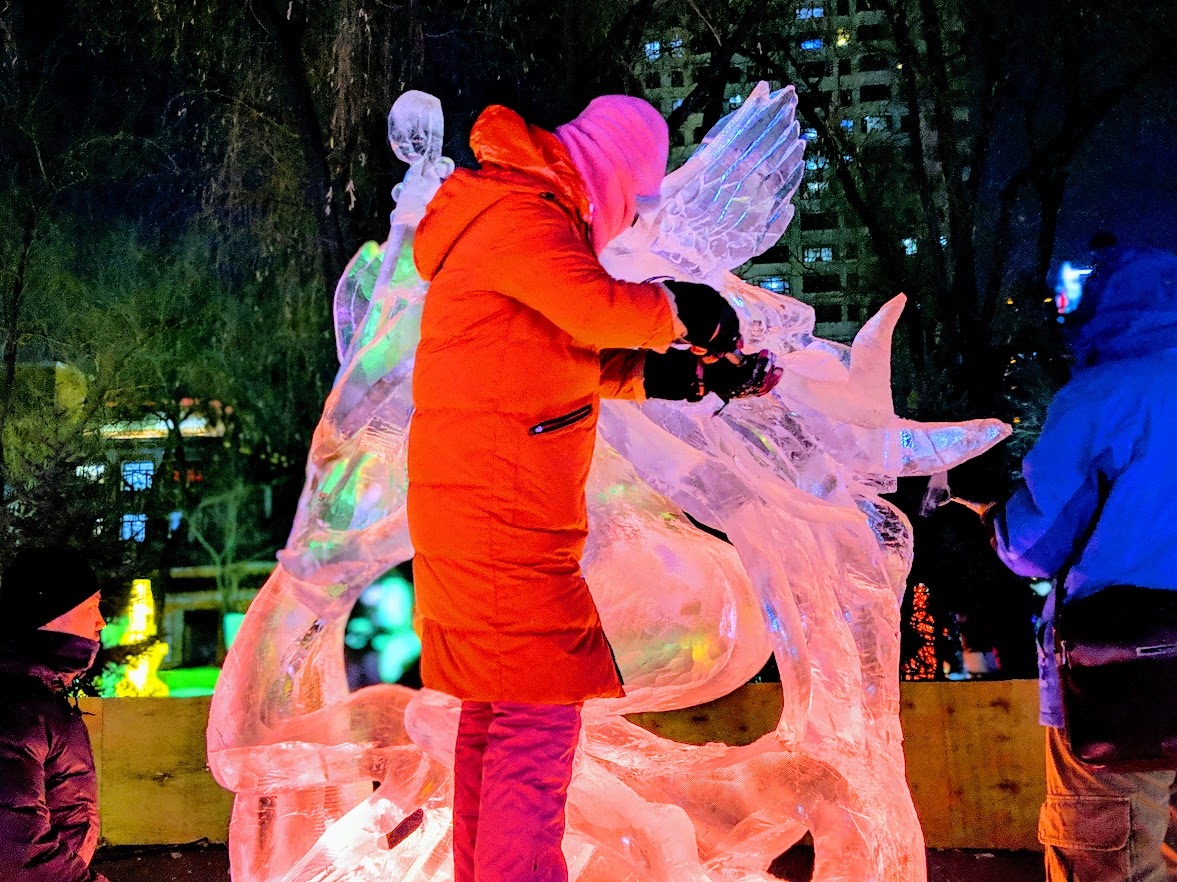 What this park lacks in size is made up for by the fact that you can get right up close to each individual sculpture and often watch the artists at work with chainsaws or hand-tools. If you want a selfie right next to an ice statue, here's your chance.
JUST THE FACTS

Opening Hours: 10am-8pm

Duration: An hour is plenty for this small park.

Price: FREE in 2019, although in past years it has cost 150 RMB. No one knows what 2020 will cost yet.

When to Go: Best after dark to see everything lit; it was consistently busy in the evenings.

How to Get There: Walking distance from Saint Sophia Cathedral and Zhong Yang pedestrian street.
Where to Stay in Harbin
Absolutely stay near ZhongYang Pedestrian Street: this puts you in walking distance to plenty of restaurants, Zhaolin Park, Saint Sophia Cathedral, and even Sun Island if it's a nice day (about 30 minutes walk). Like everywhere in China, traffic in Harbin can be frustrating so for short trips, walking can actually be faster than a taxi!
Unfortunately, it's pretty slim pickings for hotels with decent reviews and a great location, but I was pleased with the Ibis Harbin Sophia Church. It hit all my criteria: clean, quiet, dark rooms, no smoke odor (!), plus a good location and a fair price.
If you prefer something a step up, you'll have to stay farther afield. Of the higher-end hotels, the Shangri-La is probably the best location you'll find (for those of you who don't get your fill of ice at the festival itself, the Shangri-La also has an ice bar where you can even order hot pot!).
What to Eat in Harbin
Dongbei cuisine is what you'll find in China's three northeastern provinces, including Heilongjiang. It's a unique combination of Beijing-style Chinese, Mongolian, and Russian influences and it's delicious enough that the cuisine alone would be enough reason to justify a trip to Harbin.
I have a whole separate guide about what to eat in Harbin (including which restaurants to try them at), but for now, here are a few highlights:
Guo bao rou – pork coated in potato starch and crispy-fried in a garlic vinegary sauce
Di san xian – potatoes, peppers, and eggplant stir-fried in a sweet and tangy sauce
Bing Tanghulu – you'll find this candied fruit on a stick everywhere; the traditional is hawthorn berry
Jiaozi – the local dumplings are filled with a mixture of pork and pickled cabbage and never dipped in soy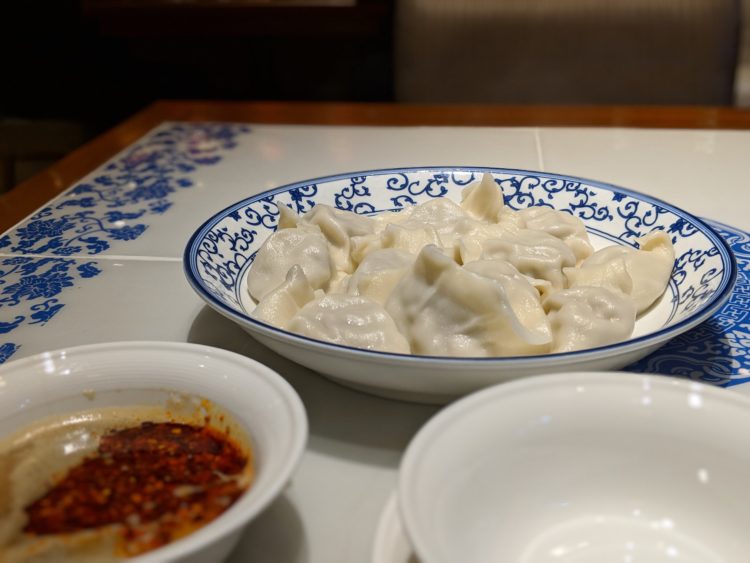 Other Things to Do in Harbin
Saint Sophia Cathedral
Harbin's most famous landmark is a Russian Orthodox Church from 1907, built after the completion of the Trans-Siberian railway which continued from Harbin onward to Vladivostock. In the early 1900s, about a third of the population in Harbin was Russian. Now, Russians make up less than 1% of the population but the church and surrounding square are still reminiscent of Moscow's Red Square.
Zhongyang Pedestrian Street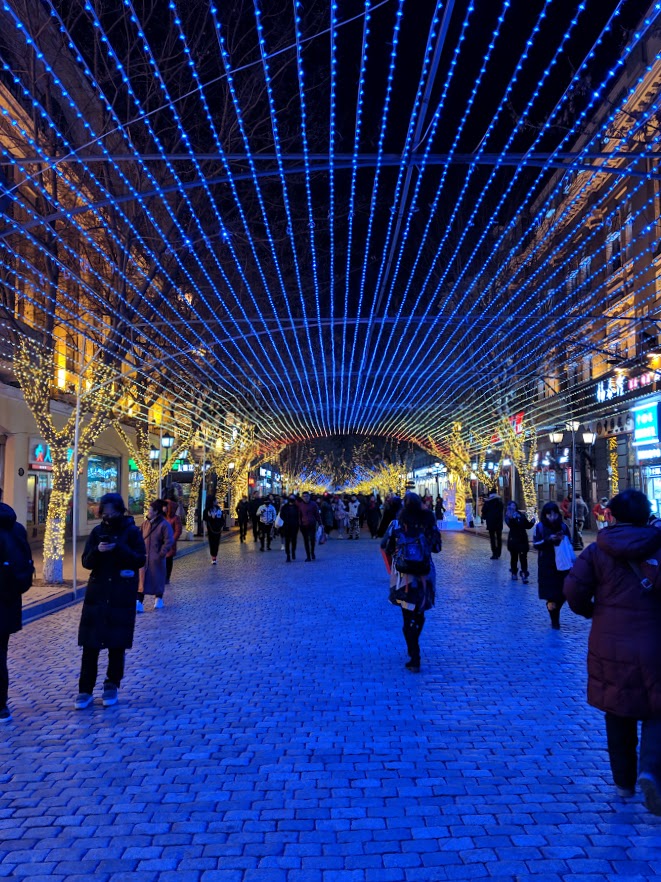 A fifteen minute stroll will take you down this picturesque street, full of European-style architecture, cobblestone sections, and twinkly lights in the evenings. This is a great place to find street food (try the grilled Russian sausages and of course, fruit on a stick!). There are plenty of other restaurants and stores to keep you busy, although be aware everything closes up by 10pm.
Siberian Tiger Park
Harbin is home to the world's largest Siberian tiger park, with over 500 tigers on-site as well other big cats like lions and pumas. In addition to watching the tigers roam, you can also purchase live chickens or goats to feed the tigers. Unfortunately, the standards of care and ethics seemed questionable at best and I chose not to go; I suggest you research in advance before making a decision.
Songhua River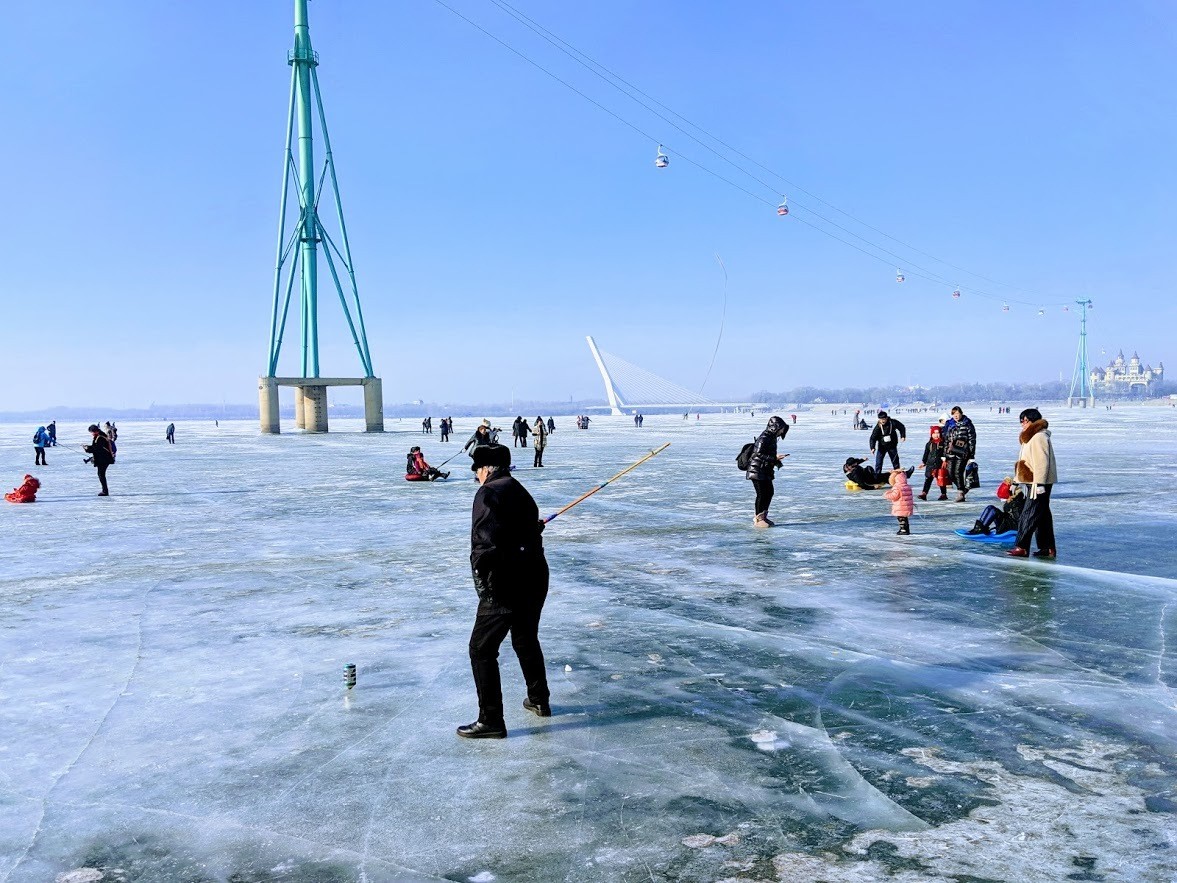 Although not officially part of the ice festival, there are dozens of winter sports and games on the riverside and on the frozen river itself! On nice days, you'll find locals and tourists alike playing games, flying kites, and participating in everything from ice skating to ice biking. Rentals are widely available and the merchants will go out of their way to show you how to use them, bringing big smiles to everyone.
Harbin Grand Theater
Strangely, there are no shows in the winter season (normally isn't that when anyone wants to see a performance?), but the architecture here is just as stunning as other worldwide icons like the Sydney Opera House. Worth a visit for architecture buffs, but taxis/Didis are scarce here so have your driver wait while you explore the exterior! It's outside the city and would pair nicely with the Siberian Tiger Park nearby.
Unit 731 Museum
The former Unit 731 biological warfare research center was converted into a museum a few years ago, walking you through the war crimes and human experimentation that the Japanese carried out in the 1930s-40s. Although this is obviously a rather dark attraction, it is detailed and well-done with an excellent English audioguide. It's hard to find a taxi back (although you can certainly try!), but bus 338 will take you back to town in less than an hour.
Polarland
Harbin's aquarium, just outside Sun Island and the snow exposition, specializes in polar animals such as beluga whales, seals, and penguins. I'm not a huge fan of aquariums in general and this one gets mixed reviews.
Don't speak Chinese? No problem — just use this quick guide to point to where you want your taxi driver to take you (and pick up a hotel business card from the front desk to get home):

Sun Island – 太阳岛 (Tàiyáng dǎo)
Harbin Ice and Snow World – 哈尔滨冰雪世界 (Hā'ěrbīn bīngxuě shìjiè)
Zhong Yang Street – 中阳街 (Zhōng yáng jiē)
St. Sophia Church – 圣索非亚大教堂 (Shèng suǒfēiyà dà jiàotáng)
Songhua River – 松花江 (Sōnghuā jiāng)
Side Trips from Harbin
Due to flight delays and an unplanned overnight in Hong Kong, I didn't have the time to check out any of these myself — but I loved Harbin so much that I'd enjoy any excuse to stay in the region longer.
Volga Manor
Although doable as a day-trip (it's only about an hour by car), this former Tsarist manor has been converted into part theme park, part hotel and offers plenty to do. You can tour the Russian buildings on-site or take part in snow tubing, skiing, or sleigh rides before digging into a hearty dinner and watching Russian dancers. I'm sure it's touristy, but it's top of my list for next time.
Yabuli Ski Resort
Supposedly the best in China, although in general China isn't really known for it's skiing! I'm only bringing it up because within Harbin you'll often see Yabuli day trips advertised and at 3 hours each way, you'll probably spend longer on a bus than on the slopes.
China Snow Town
It sounds dreamy: picturesque wooden villages nestled in the forest blanketed with pure snow and lit by red lanterns. You can go snowmobiling, dog-sledding, or snowshoeing. All of this would be good and well, but it's a 5-6 hour trip from Harbin and I was warned of price-gouging for everything from restaurants to taking photographs. If you go, keep in mind that Yabuli is on the way to break up the trip (and you can fly out from Mudanjiang airport instead of back-tracking to Harbin).
Putting it All Together for a Winter Harbin Itinerary
You can squish a Harbin ice festival itinerary into a 2 day/1 night trip, but you'll feel rushed the whole time and won't have many opportunities to pop into teahouses or shops to warm up between activities.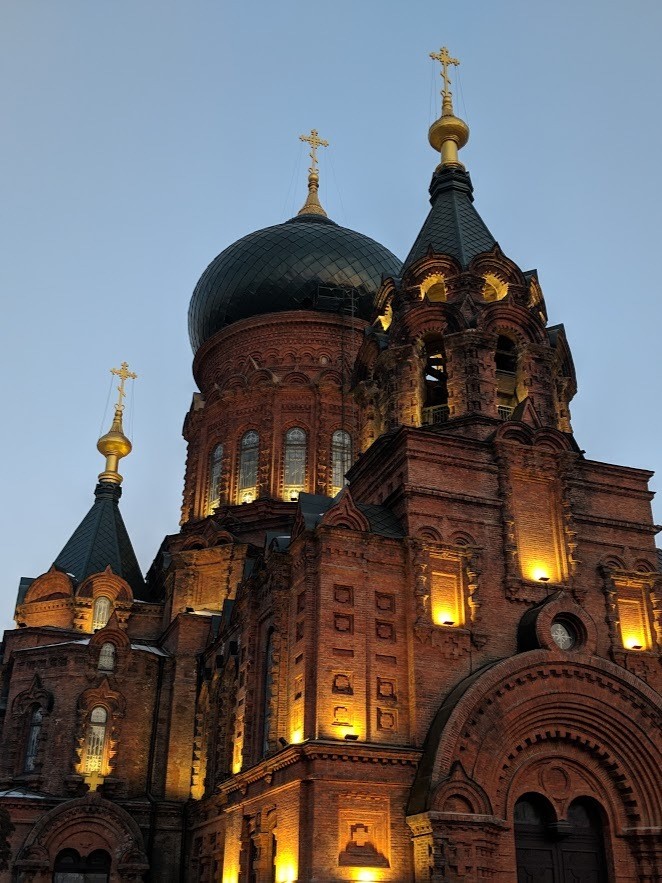 If time is no issue, a 3-day winter Harbin itinerary balances a reasonable pace with the reality of limited vacation time.
Day 1: Fly into Harbin and spend the afternoon walking through the city, including Saint Sophia Cathedral and Zhong Yang pedestrian street. In the evening, view the ice sculptures in Zhaolin Park.
Day 2: Start your day with one of the non-festival activities, like the Unit 731 museum. Be sure to warm up all the way before heading out at night for the Harbin Ice Festival — since the sun will be down, this is likely to be the coldest portion of your visit.
Day 3: Take the cable car to visit Sun Island and the snow sculptures in the morning, walking back over the Songhua River to try your hand at some winter games before flying out in the afternoon.
Harbin Travel Generalities
In general, few foreigners visit Harbin and fewer still venture beyond the festival grounds or ZhongYang pedestrian street. I spent plenty of time exploring everyday areas — markets and squares beyond the tourist zone — and locals seemed surprised but happy to see me.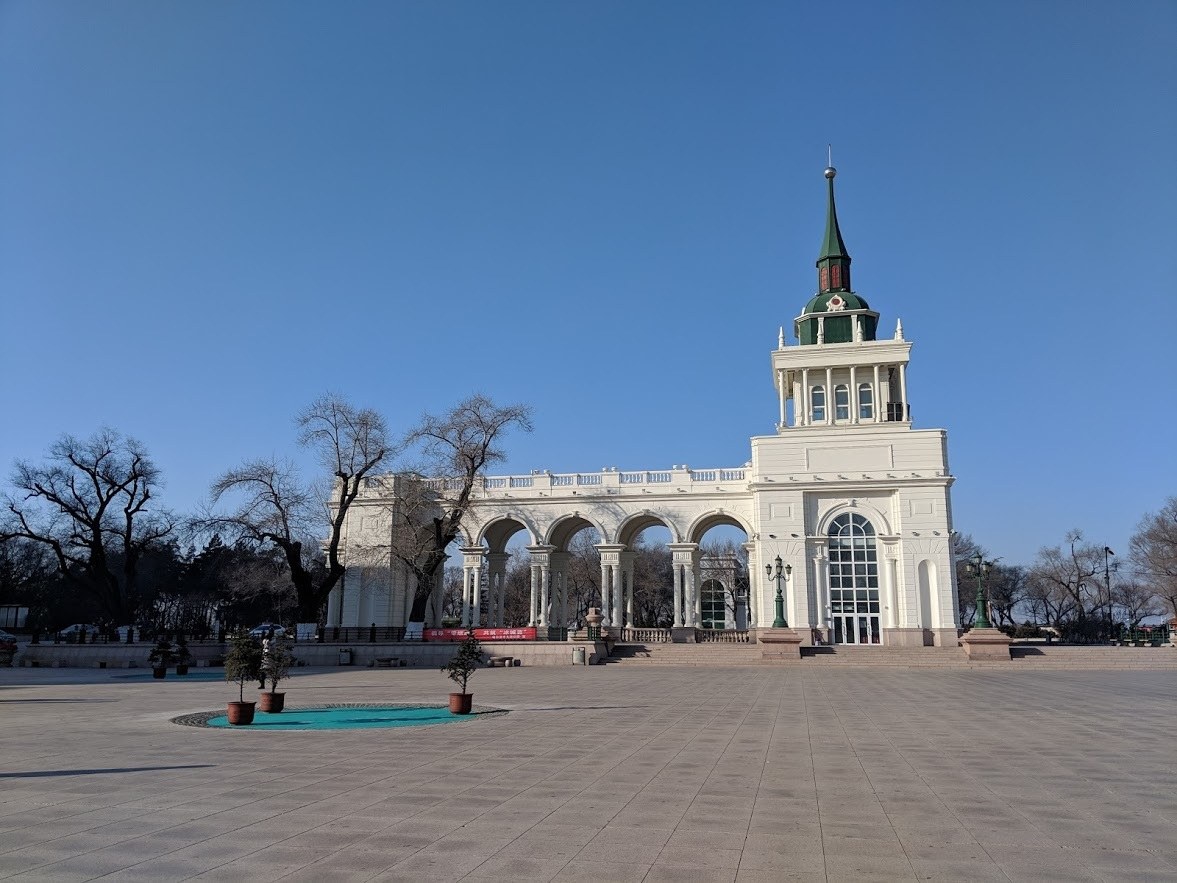 Almost no one speaks English, but I was met with kindness and hospitality. Picture menus were more common than I expected and charades have never failed me. I can't recommend Harbin China enough (read more about what set Harbin apart from other cities).
Harbin Ice Festival Map
This map will help you get your bearings, since not everything was obvious before my trip.

* * *
Anything else I should add to my Harbin Ice Festival Guide? Let me know in the comments!
* * *
This post contains affiliate links — if my information helped you plan your winter Harbin itinerary, I appreciate if you make your travel bookings from my links to help support the site. Thank you!