This post may contain affiliate links. As an Amazon Associate I earn from qualifying purchases.
* * *
When I went to Harbin, I didn't expect it to be a culinary standout. Like most visitors, I went for the ice festival and didn't think much about the rest of town. Turns out, there are a bunch of Harbin food specialties worth going out of your way for. Some of them, you'll likely stumble on by accident; others, you'll have to seek out. But all of them have one thing in common: they are mouthwateringly delicious.
A Quick Primer on Harbin Food
Like the city itself, foods in Harbin draw influence from several neighboring regions; there's north China itself (of course), but also Russia, Korea, and Mongolia.
Vinegar is a star flavor in Harbin's Dongbei cuisine, but you'll also notice lots of green onions, garlic, and ginger. In general, I found food in this part of China to have far more spices than Shanghai (where seafood and vegetables often speak for themselves) but far fewer than typical Sichuan cuisine where the peppers can be so strong you lose some of the main ingredients.
And although rice is still common here, you'll also find plenty of wheat, sweet potatoes, and even oats and barley.
Top 3 Famous Dishes in Harbin
Guo Bao Rou (Sweet and Sour Pork)
Do not leave town without trying Harbin's signature dish. Unlike the westernized version, slices of Dongbei pork are battered in potato starch and fried in super hot oil, keeping it extra crispy.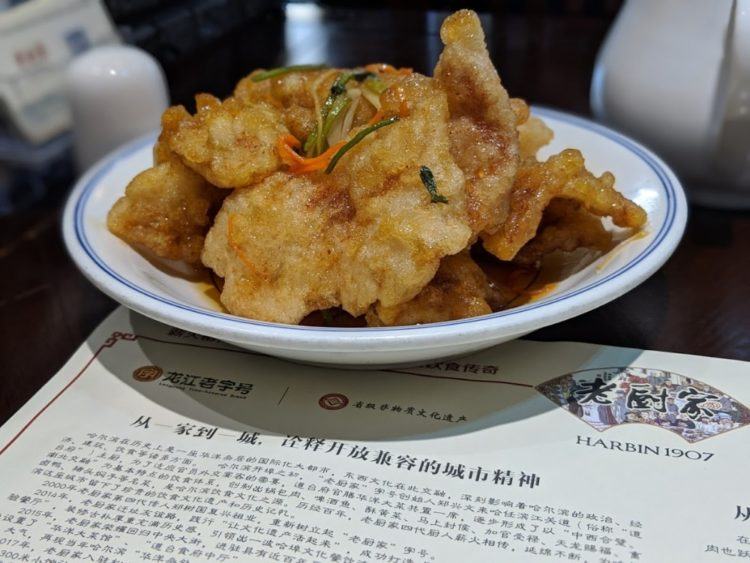 The sauce has depth you'll never find in a generic bottle, layers of rice vinegar, real sugar, and fresh herbs. The tang hits your taste buds first, the sweet coming next, followed by a hint of salt on the meat itself. I'm pretty sure anyone who orders it will end up gorging themselves, unable to stop. Thank goodness I was a solo traveler who ordered a platter more appropriately sized for a family-style meal because I couldn't get enough of this porky goodness.
You can find guo bao rou at just about any Harbin restaurant (and even at some stalls at the night market), but it's particularly popular at Lao Chu Jia, about a 30-minute walk from Saint Sophia's Church and worth the trek. I also had an okra dish there that was exceptional.
Di San Xian (Three Delicacies on Earth)
This home-style vegetable dish doesn't look like much, but looks can be deceiving. It's just potatoes, green peppers, and eggplants stir fried and then coated in a sauce primarily made from soy sauce and salt. I almost didn't order it, for fear it would be too salty for my palate, but there's the smallest hint of sugar (and garlic — always garlic in Harbin) to balance that out.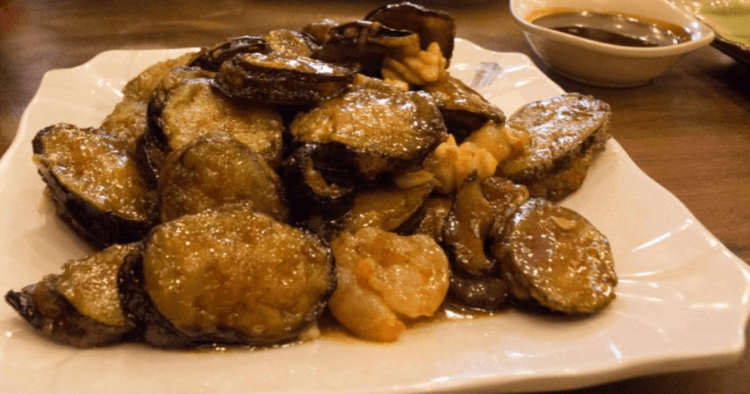 It's simple yet spectacular and a nice, hearty meal if you've come in from the cold. Again, this is such an iconic Harbin dish that you'll find it on almost every restaurant menu, but I ordered mine from MaoMao XunRou DaBing, better known for their smoked meat.
Assuming you order the smoked meat while you're there (everyone around me did!), here's what you should know: it's served cold and frankly, quite bland when eaten by itself. You need to separately order pancakes, dipping sauce, and raw onion. Don't skip any of those accoutrements…they really transform the dish.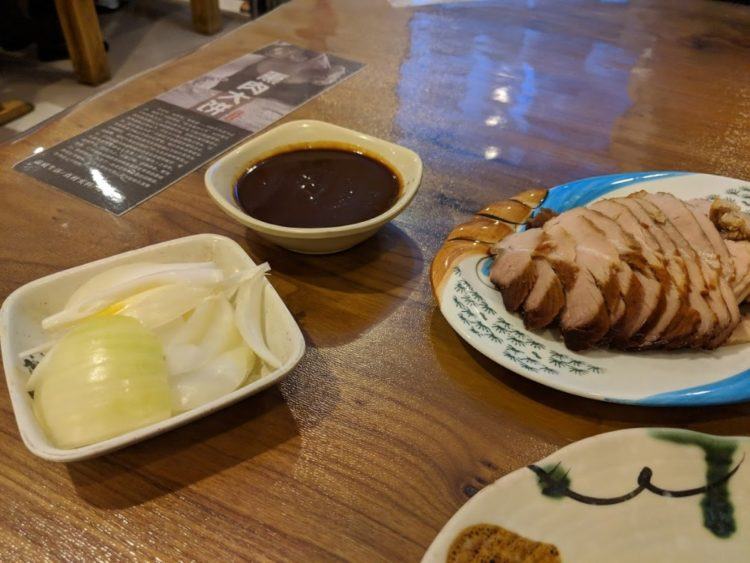 Xiao Ji Dun Mo Gu (Stewed Chicken and Mushroom)
Call me a hypocrite, but I'm going to recommend one other dish for you to try even though I missed it: chicken slow-cooked like a stew with mushrooms and herbs and served over noodles.
I had every intention of tasting this during my visit, but after a series of unfortunate airline events, I arrived in Harbin much later than planned and simply ran out of time for another meal.
I can only imagine that the earthy mushrooms fragranced with star anise would be the perfect way to warm up in winter.
Must Try Street Food in Harbin
It's impossible to visit Harbin without stopping for quick, on-the-go meals. You'll find permanent stalls along central street as well as vendors watching over their carts all over the city. As with anywhere, expect slightly higher prices in touristy areas like Saint Sophia's Church or along the Songhua River during the ice festival.
Chuanr (Grilled Meat Skewers)
Particularly at night, it seems like everyone is eating meat on a stick. Chuan'r (pronounced something like "chwar" is most commonly lamb, beef, or pork and it's common to order an assortment.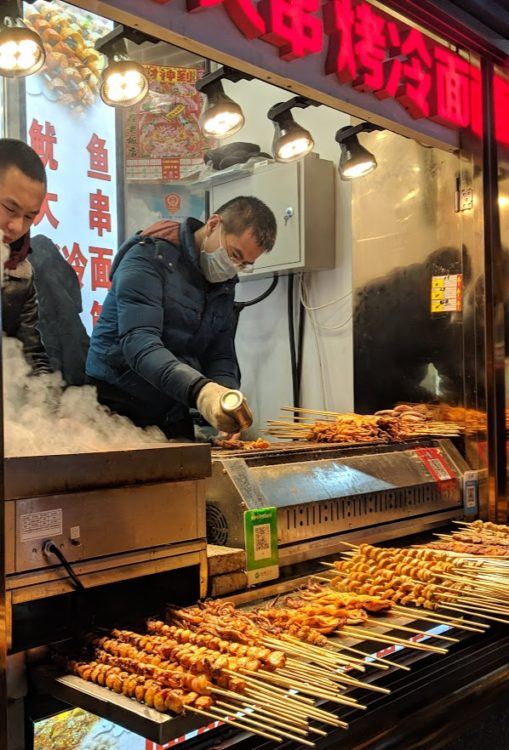 All of them are seasoned with cumin, salt, and chili powder before being nicely charred on the grill with a hint of smoke flavor (not too much, since they are cooked quickly). There are literally dozens of these stalls, so shop around, looking for somewhere with freshly-finished meat and your preferred ratio of fat to meat.
They're good right off the stick, or you can alternate bites of meat with bites of raw garlic like the locals do (everywhere will have a bowl of garlic as a condiment, guaranteed).
Hong Chang (Smoked Sausage)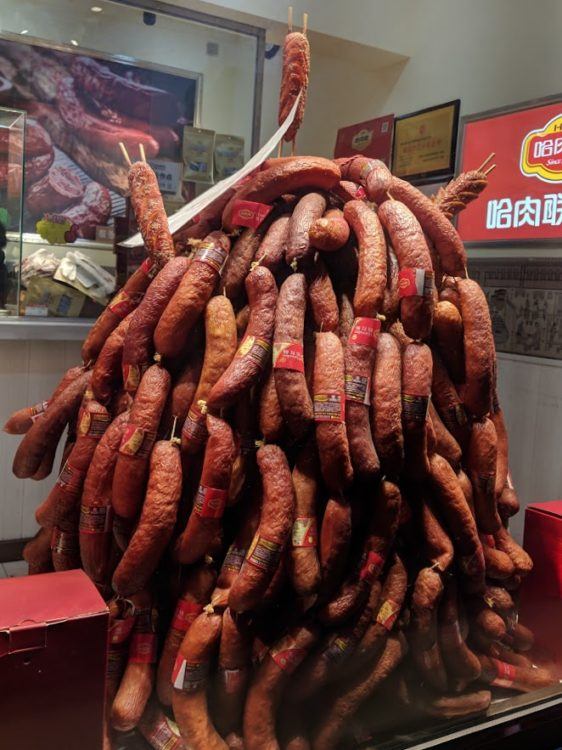 If you prefer — or if you just want both — you can order sausage instead of barbecued meats all over Harbin.
Similar to what you'd find in Russia, this red sausage is smoked and flavored with (you guessed it) garlic and salt. The sausages are sold ready-to-eat from stores or grilled and served on a stick. Be sure to either eat it wrapped in a slice of bread or on a stick to keep your fingers clean. Hint: if you eat it on a stick, be sure to say yes when the vendor asks/pantomimes if you want spicy herbs served with it.
The meat inside the casing is a very soft texture that I found awkward and unpleasant, but the sausages are quite cheap and are worth sampling to see if you differ in opinion.
Da Lie Ba (Big Wheat Bread)
Da lie ba basically means big bread — and the loaves are, in fact, very large and heavy! These recipes resemble Russian khleb, a rye bread, although the Harbin version is made from wheat flour.
Other than being unusual in China, there's nothing special about this bread, which I was disappointed to find. As an American who eats bread nearly every day at home, I think you'll find this a letdown. It had a slightly chewy crust, very soft flavor, and a hint of sourdough (not as much as a sourdough).
That said, loaves are cheap and easy to find (Churin is a popular brand, which you'll see all over town) and you can slice it up for a quick, if uninspiring, breakfast back at your hotel. That alone was a selling point for me, since otherwise nowhere except McDonald's and KFC open early.
Candied Hawthorn Berries
You'll find candied fruit skewers in plenty of other Chinese cities; this isn't unique to Harbin (although it is different from home).
Street vendors will sell all sorts of fruits, though hawthorn berries are one of the most common — and cheapest — compared to skewers of strawberries, pineapple, or other fruits.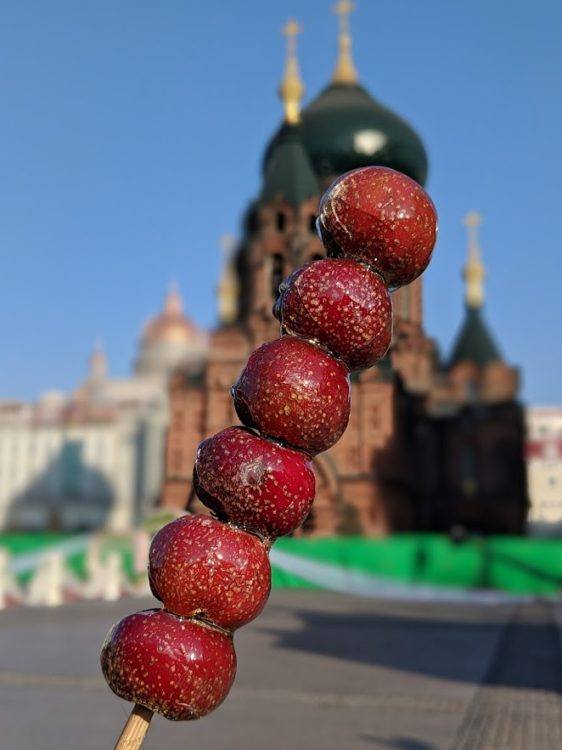 It's one of the best things to eat in Harbin because the semi-sour berries pair nicely with the candied sugar crunch on the outside. And in Harbin, at least in the winter, they're naturally frozen for an extra special treat.
Harbin Restaurants for Russian Cuisine
There was a sizable settlement of Russian immigrants from roughly 1900-1960 and even though most of them are now gone, the Russian influence on architecture and food is hard to ignore.
In addition to the sausages and bread easily found, there are several sit-down restaurants focused on Russian food. I chose not to eat any of these, as I was enamored by Dongbei cuisine, but if I was there longer, I'd make more of an effort to try one of these surprisingly authentic Russian spots.
What to Eat in Harbin for Dessert: Ice Cream!
Yes, ice cream! It's delicious even in winter.
On Zhongyang Pedestrian Street, you'll find the small Madieer ice-cream shop by the Modern Hotel. Go in the evening, and you can't miss it — there will be a crowd around it (if you're having trouble, look for the "1906" on the sign, signifying that these ice creams have been sold since the year 1906).
It's ice cream, so of course it's delicious, but the flavor is more subtle than you'd find home. It's more milk, less vanilla and sugar. Still, this simple ice cream on a stick is special because you're eating it in the deep cold. Like M&Ms, melts in your mouth, not in your hand. And, for the first time ever, I didn't get any brain freeze while eating it since your mouth is already acclimated to the cold air.
For ¥10, treat yourself. Of the eight flavors, vanilla is by far the most popular.
Other Things to Eat in Harbin
Just in case you're still hungry, here are two more places to eat in Harbin that are easy on your wallet. At either one, you can get a light meal for about ¥30 (double that if you're ravenous).
Dongfang "Orient King of Dumplings"
This local chain ended up being one of my favorite places to eat in Harbin and not just because it has quick service, picture menus, and low prices.
Obviously you can find jiaozi all over China, but these ones are made in-house daily (go early if you want a specific filling) and were very good. In Harbin, dumplings are never dipped in soy, so mix up some vinegar, garlic, and chili for your dish.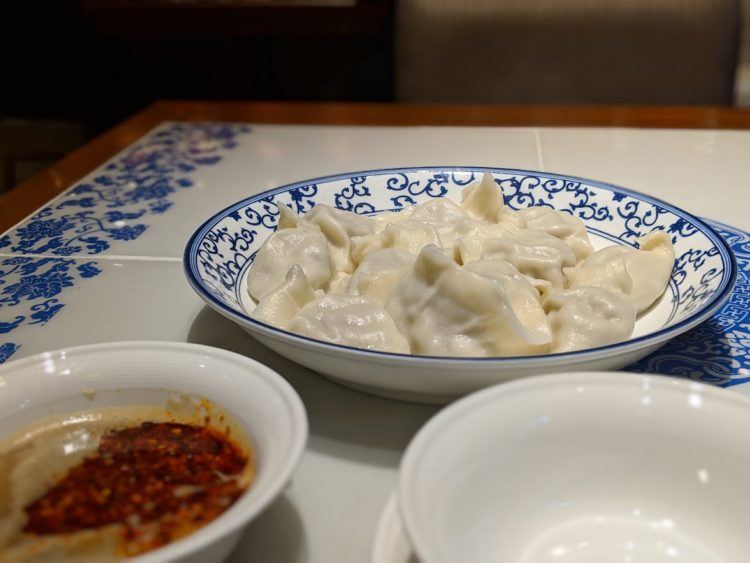 Find one on Zhongyang Pedestrian Street next to McDonald's (but there are other locations scattered throughout Harbin).
Lao Chang Chun Bing
This spring pancake restaurant is another popular but basic chain in Harbin. It's a great option if you want to eat where the locals eat — it's popping at lunch.
Although they offer a full menu, you should go straight for their namesake plate: chun bing. As a rule of thumb, you'll want two pancakes and one filling per person and sharing is encouraged. Fill your pancake like a crepe with whatever you ordered, top it with the garnishes you ordered (julienned cucumber, raw onion, cilantro, and sauces), and then roll it up to eat. Be careful not to overstuff it, or your ultra-thin pancake will rip.
Find one on Zhongyang Pedestrian Street next to Yishion Clothing Store (other locations available, too).
Final Tips for Eating in Harbin
1. Don't be intimidated by places without an English menu. For one thing, most of them don't and you'll just go hungry! But realistically, it's easy to order in Harbin either by using picture menus, iPad menus (yup, that's a thing), or pointing to what you want on the street.
2. Have cash. Most restaurants in Harbin don't accept credit cards, so you'll need cash to pay (or WeChat/Alipay, if you can get it to work as a foreigner).
3. Bring a friend. Like everywhere in China, most restaurants serve food family-style, so if you want to order multiple things at a restaurant (like an entree, vegetable, and rice), you'll end up with WAY too much food if you dine solo.
4. Feel free to try other foods not mentioned here! You'll see lots of other foods, like sweet potatoes roasted in coals and oysters grilled and topped with garlic and vermicelli, and it will all smell delicious. Eat to your heart's delight!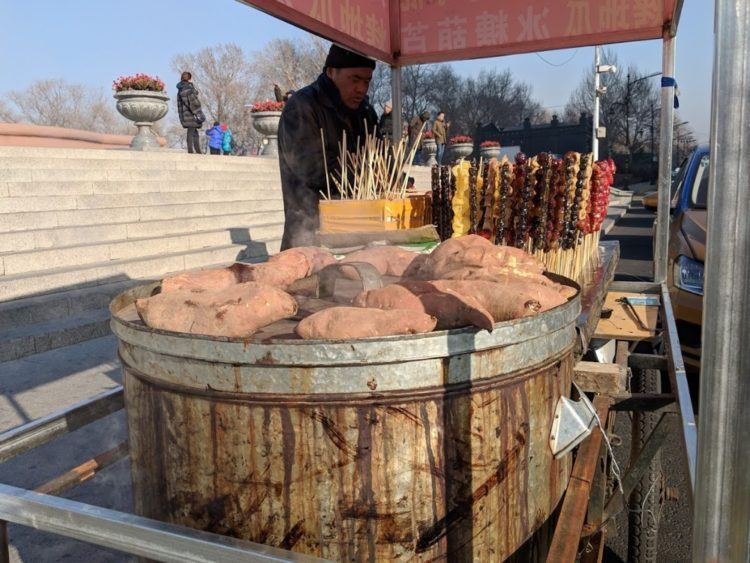 Going to Harbin? Keep Reading