This post may contain affiliate links. As an Amazon Associate I earn from qualifying purchases.
* * *
I've never been much of a history buff. I've learned the basics of world history and when I feel like diving further in-depth, I prefer a well-written book to learning facts of dubious accuracy from a tour guide. So when I was planning my trip to Guatemala, I almost excluded the Mayan ruins of Tikal. The site is far away from everywhere else I was going, is expensive to visit, and I've seen my fair share of Mayan ruins in Mexico on previous trips.
Tikal is one of the largest archaeological sites from the pre-Columbian Maya civilization, and one of the most important due to the city's domination in the Classic Period (roughly 200 to 900 AD, though some buildings date back as far as the fourth century BC). Entering the park in the late afternoon, I was hopeful — but not convinced — that Tikal would be different from the other ruins I've seen.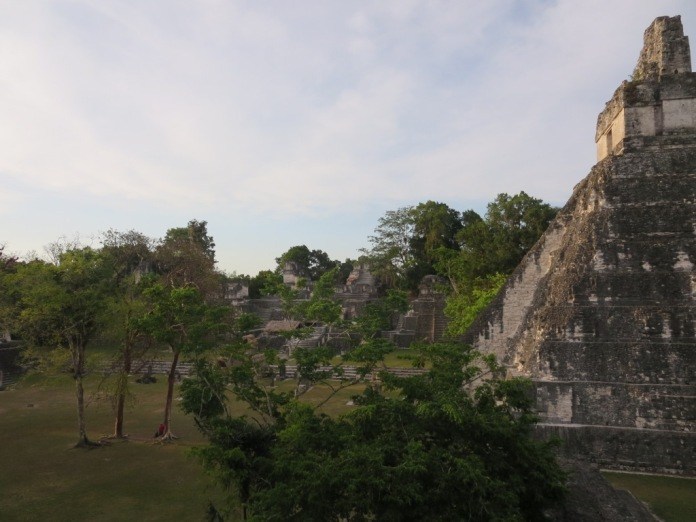 My mother and I had arranged for a private guide and explained we wanted to see only the highlights of the ruins and were far more interested in the jungle setting. Happy to oblige with our wishes to gloss over the temples themselves, our guide led us down back trails rather than the standard pathways and ran into almost no other tourists during our visit. Instead, we spent the next few hours observing howler and spider monkeys, coatimundis, fox, and numerous birds.
Our time at Tikal was surprisingly the best wildlife watching I encountered in all of Guatemala: better than an
eco-resort
, the coastal areas near Rio Dulce, or remote national parks. And yes, even though we were focused on nature, you have to admit it's still pretty cool seeing ancient ruins scattered throughout the Peten jungle.
We had such a great time exploring the park that we set our alarms for 3:30 the next morning, ready to enter the park again before dawn. The forest awakening is other-worldly: the sky was still pitch black but you could hear the animals begin to move, almost feeling the branches move above you as spider monkeys jump around and wondering what types of fights will break out as howler monkeys stake their territory.
Just before sunrise, we climbed up the many steps to Temple IV, the double-headed serpent temple, and the largest in Pre-Columbian America. Shrouded in mist, we sat at the top, watching the colors change and being serenaded by the sounds of the jungle. The entire experience was mystical and transported me back 1000 years to when the Maya called this area home.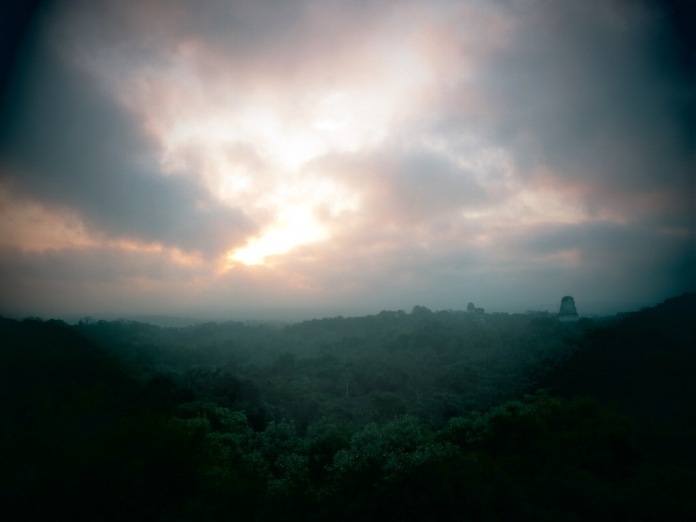 With 3,000 structures covering 6 square miles (and the protected jungle spanning to 220 square miles), we barely scratched the surface of this Mayan city during the eight hours we spent inside the national park. The history is clearly a compelling reason to visit, with the city covering a millennium worth of stories from the people who called Tikal home. But even if historical tours aren't within your interests, Tikal is still a special place. There is a spiritual connection to the earth while sitting on the temples and the amount of wildlife is amazing.
I loved Tikal and would recommend it to every traveler in the area. Don't skip this incredible region.
If you go…

The main ways to arrive at Tikal include taking an overnight bus or 1-hour flight from Guatemala City to Flores followed by 90-minute shuttle to the park. Other travelers arrive overland or via flight from Belize. None of these options are particularly cheap, convenient, or comfortable.
My mom and I traveled on the Maya de Oro bus (220 quetzales for the seat, with additional costs for booking fees and connecting shuttles) and found the seats very comfortable: there are only 8 seats downstairs so its relatively quiet. Seats reclined deeply and were wide enough to make it seem like you were sleeping in an armchair. The downside is that you still feel the motion of the bus as it winds over mountains, goes over speed bumps, and lets passengers on and off. Security seems to be an issue on ALL bus travel, so keep your valuables on your person.
Tikal national park is open to independent visitors from 6am-6pm daily and costs 150 quetzales ($20) per day. You are able to visit the park outside of standard hours (such as for sunrise and/or sunset tours) only if you have a guide and if you pay an additional access fee of 100 quetzales. As of my visit in April 2014, tickets from the previous day were valid the next day until 8am, allowing you to return for a sunrise tour at only the additional early morning fee. Policies change frequently, so don't count on your ticket being valid again. Private guides were available at park entrance for about $20/hour (per private group, not per person) or ~4 hour group tours were available for $18 per person. All fees are cash only and there are no ATMs nearby.
I cannot stress enough how important it is to stay inside the park itself rather than commuting from Flores. This allows you to visit the park during extended hours and listen to and observe animals round the clock. There are only three hotels inside the park itself and we stayed at Tikal Inn, which I'd highly recommend for its location, proximity, and swimming pool (a true delight when it's 100 degrees and humid outside). Electricity is limited and the food is terrible, but it's absolutely worth it. Our rate of $110/night including tax for double occupancy included a basic room, dinner, breakfast, and a group tour (your choice of sunrise or sunset). We also spent two nights in Flores where the luxurious Casona de la Isla is well worth the $64 price tag.
* * *
Be sure to read my full Guatemala guide and check out more articles about Peten wildlife experiences and other Guatemalan attractions.