This post may contain affiliate links. As an Amazon Associate I earn from qualifying purchases.
* * *
In Antigua, it's hard to forget that Guatemala is home to roughly 30 volcanoes. At times, you can even hear nearby Fuego's eruptions, echoing through the city like a crack of thunder, almost beckoning you to come closer and check it out. To get closer, you have to hike Acatenango volcano: a strenuous trek with tremendous rewards.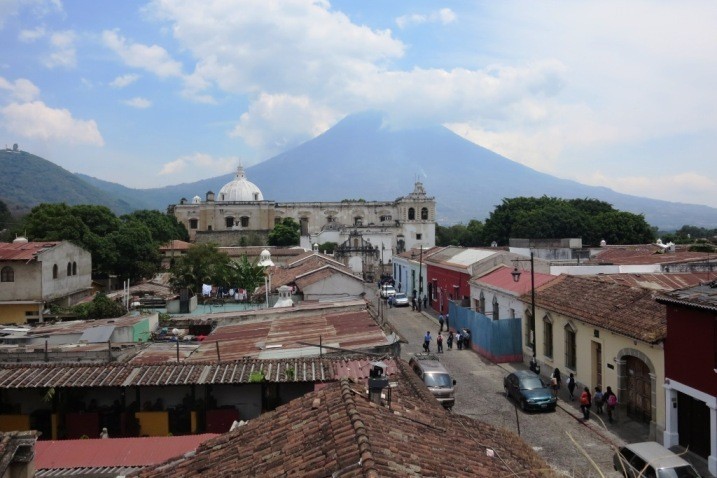 I'm a volcano junkie with a serious problem, my desires escalating from simply viewing a volcano to climbing one and boarding down to peering into a lava-filled abyss. Next on my volcano bucket list was watching an eruption in person. Guatemala's volcanoes are reliable erupters, offering people like me a chance to catch a glimpse of their power. Initially, I thought I might be the only crazy tourist who was excited by this, but sure enough, there were a dozen stupid visitors ready to climb Acatenango Volcano in order to (safely) look down on Fuego's explosions.
Just an hour away from Antigua lies the trail to Acatenango: an innocent path meandering through farmland, giving no visible evidence that we'd eventually be making our way through four climate zones to the summit at 13,045 feet.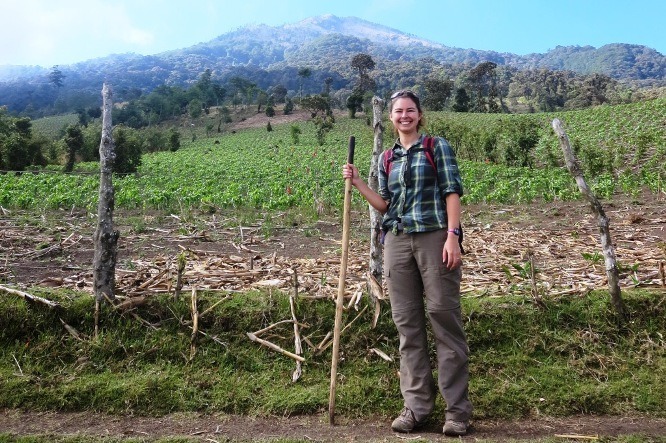 The easy stroll ended quickly, unsurprisingly given the elevation gain we had before us. We climbed up sandy trenches, through rainforests, pine forests, and to a barren volcanic landscape. I'm an experienced hiker, but I can assure you, this was one of the toughest hikes I've ever completed. It was also one of the most interesting, due to the incredible changing scenery along the way.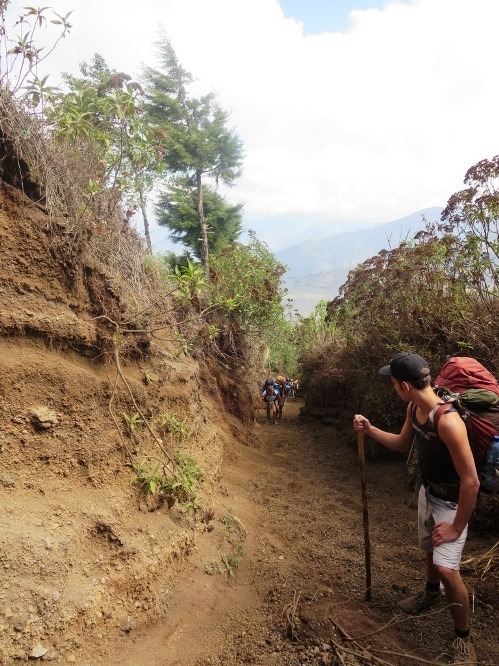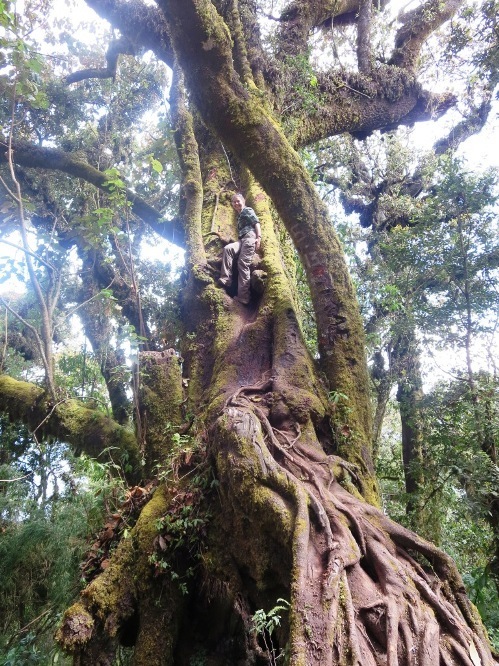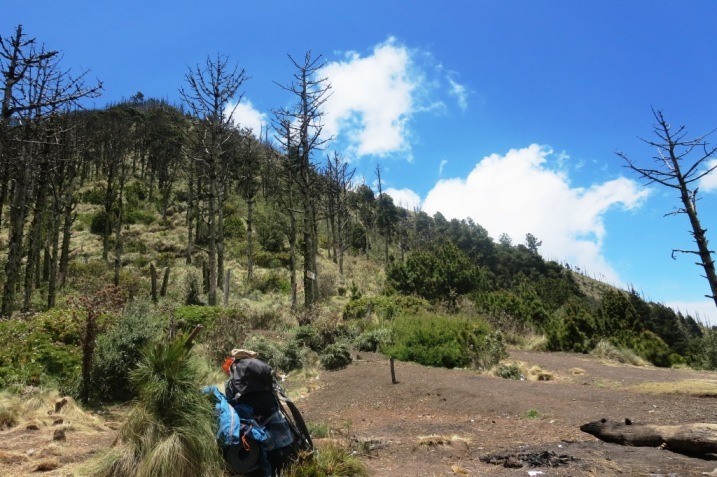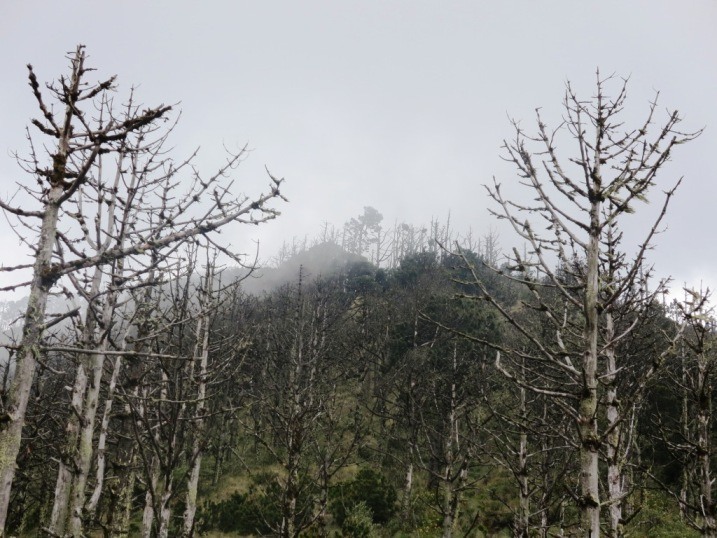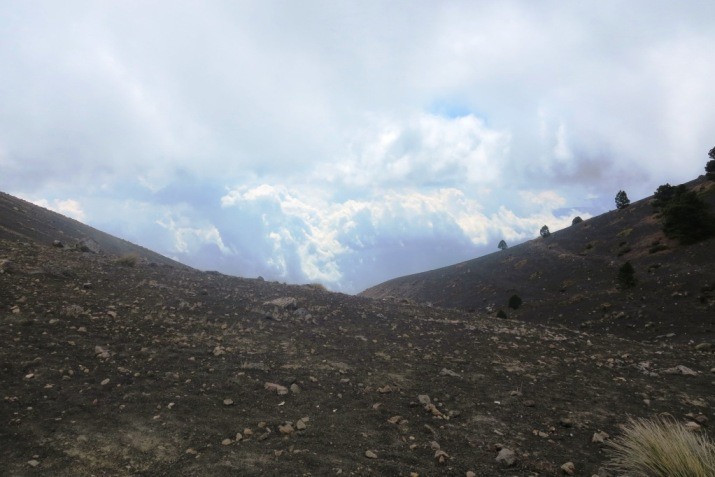 Sweating, panting, and counting the minutes until our next break, we climbed until we reached our campsite. Nearly six hours after we started, we made it, all incredibly thankful to have a bit of rest.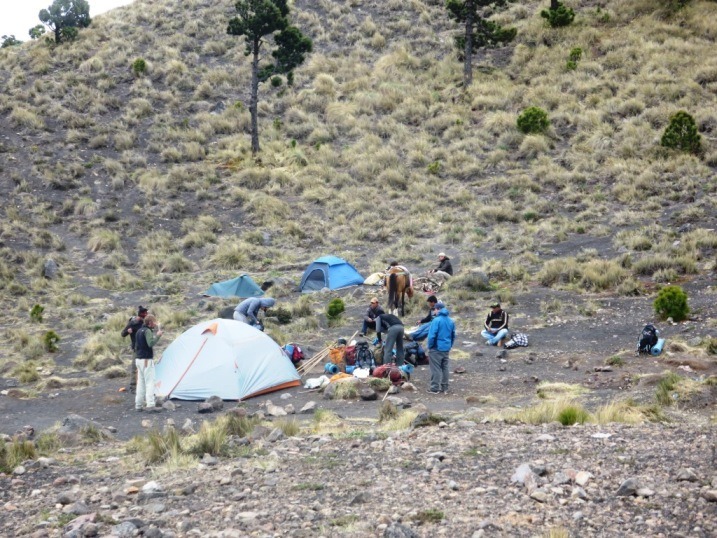 Our break didn't last for long, though. The entire reason we had come this far was to continue hiking to the summit, in hopes of a beautiful sunset and a glowing eruption in the distance. Cold, tired, and pessimistic at our chances to see anything on a foggy afternoon, I almost didn't make the last climb from camp to the summit. Some fellow Spanish students as well as new friends talked me into it, and I suffered through that last forty-five minutes of insanely steep trail, telling myself the view would be worth it.
It wasn't.
The weather changed from low-visibility to no-visibility, and so I had to tell myself my cardiovascular health was better for it as a justification to the energy I had used. We all sadly returned to camp, ate as much food as is humanly possible, and passed a bottle of wine around the campfire. Exhausted, we crawled into bed around 8pm.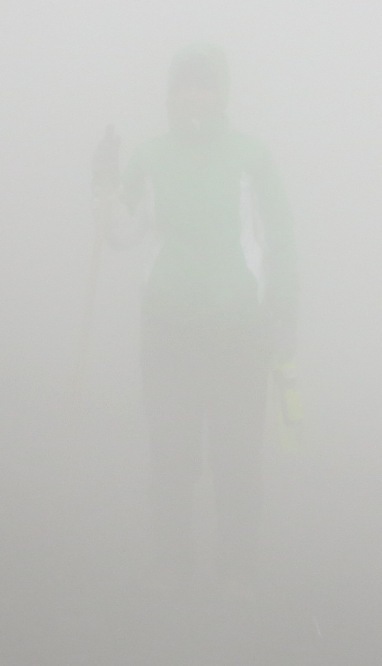 Disappointed from the night before's weather, we all woke up at 4am, hoping for better luck on an early morning hike. It was still cloudy out, with not a star in the sky, but we were all ever-hopeful that we might see an eruption. We could hear them and knew Fuego was performing if only the fog would cooperate, but since I couldn't even see my hand out in front of me, we kept postponing the climb. We'd miss out on a 360-degree sunrise as well.
Finally, the sky began to clear. Not a lot, but enough to justify a return to the summit. Climbing a second time was even worse than the first: we were sore, sleepy, and knew just how tough the trek would be, but the clouds continue to burn off and the sky cleared as we hiked onward.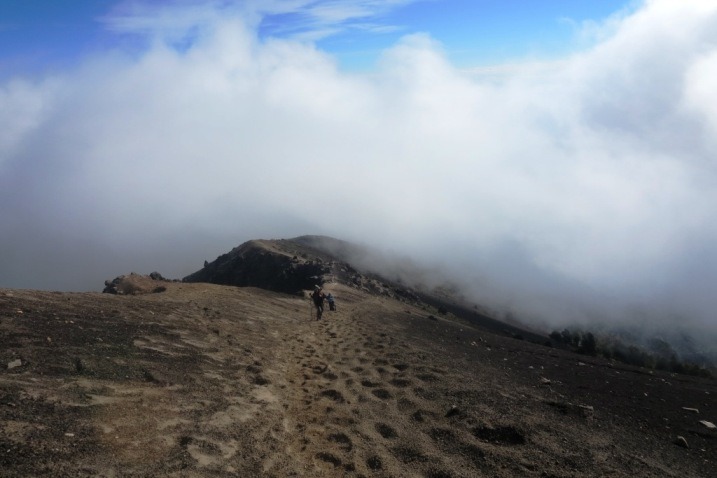 Sinking into the ash, we fell backward half a step for every two steps we moved forward, but forty-five brutal minutes later, the sky was clear. Sure enough, just as we made it over the ridge, we could see the ash cloud coming from Fuego. We had missed the eruption itself, but we could see the aftermath.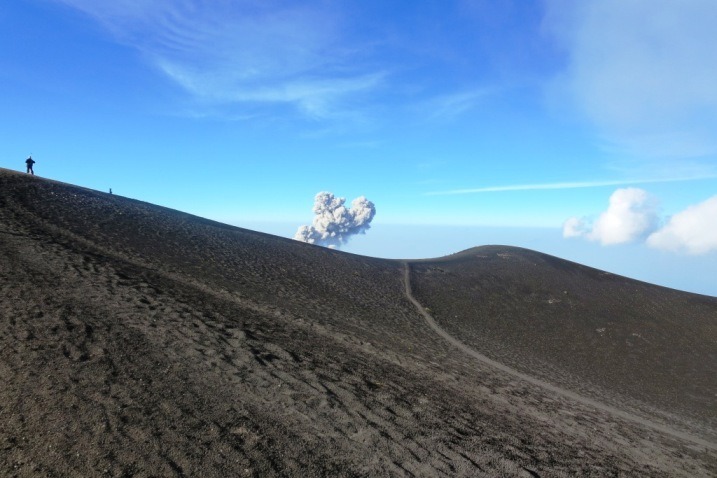 Here, patience paid off, and in less than twenty minutes, Fuego was erupting again. It was cold, windy, and my legs were shaking from the trek, but none of that matter. I was standing in front of an active volcano.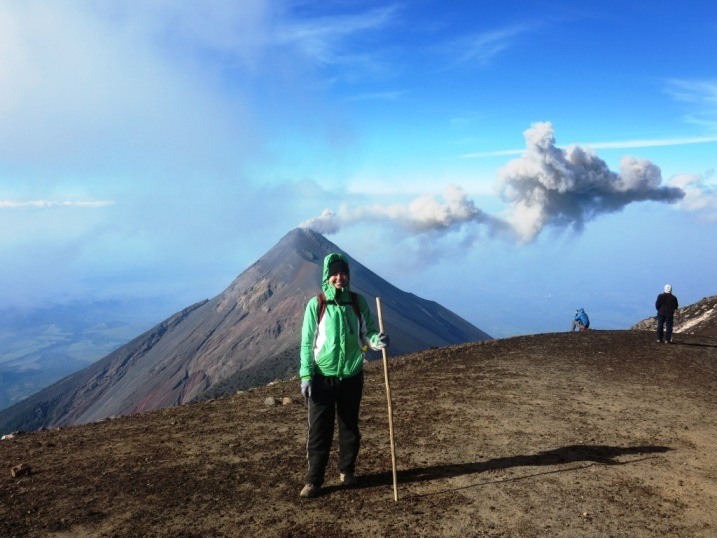 Every step I took to summit Acatenango had been worth it — so much so, I'd do it again. The only problem was that seeing a volcanic eruption only made me want to climb even more volcanoes…good thing there are a few more active ones in Guatemala!
If you go to Acatenango…
There are several travel agencies in Antigua offering a hike to Acatenango in order to watch Fuego erupt. While you can do it as a (long) daytrip, I'd recommend the overnight option simply because you'll get a second chance to return to the summit.
I went with OX Expeditions and would not recommend them: the guide was entirely disinterested in our group, there wasn't enough food, and our tent was so shabby it collapsed on us in the wind overnight. I'm happy to report that in 2021 I heard from multiple travelers that Wicho & Charlie's offers a high-quality tour including a solid cabin to sleep in. I'm sure it's nothing deluxe but it will protect you from the cold and wind and means you'll have less equipment to carry.
You may want to consider packing (or renting) some trekking poles as well.
* * *
Traveling to Guatemala?
Get all the answers to your Guatemala travel questions or read about the best Central American volcano tours.